If you're looking where to find the colourful houses in Bristol, keep reading this post.
As a girl that comes from the South West of England and a stones throw from Bristol, I have a shocking confession to make. I have never visited the colourful houses in Bristol until last week!
I've actually been to Bristol many times for shopping and nights out so when I saw this patchwork blanket of rainbow houses pop up on Pinterest, I couldn't believe what I had been missing out on.
In a big city full of traffic, tall buildings and industry, it's so refreshing to see these pops of colour. I know it may seem a bit odd to travel all the way to Bristol to visit a housing estate but in my opinion it is well worth it. I dare say, this might be Bristol's underrated must-see attraction!
Here's a complete guide on how to find the colourful houses in Bristol.
Where to find the colourful houses in Bristol: Start your adventure off in Clifton Wood Crescent
This is the street I arrived on heading down from Clifton village which is near Isambard Kingdom Brunel's famous Clifton Suspension Bridge.
If you haven't heard of 'Izzy K' (as me and my mates call him) he's pretty famous around these parts. Mostly due to the suspension bridge and his engineering in the railway lines which connected the South West. Anywho, enough of a history lesson.
Clifton Wood Crescent is quite easy to find if you plug it into your Satnav or Google Maps. It's a rainbow of bright colours from pinks, greens, purples and blues!
The streets are quite narrow with cars parked either side and cars zip through all the time, so watch out when taking some snaps!
Move onto Church Lane and Argyle Place
If you head on down Clifton Wood Crescent you'll come to Church Lane where is near the Lion Bar hidden away!
Then you can wander past Agyle Place which has more colourful houses in Bristol and is equally as pretty. There aren't many to see here but the colours are vibrant.
I was here on a Saturday and there were cars parked in all the spaces, so if you wanted fewer cars in the way, I would recommend coming here on a weekday!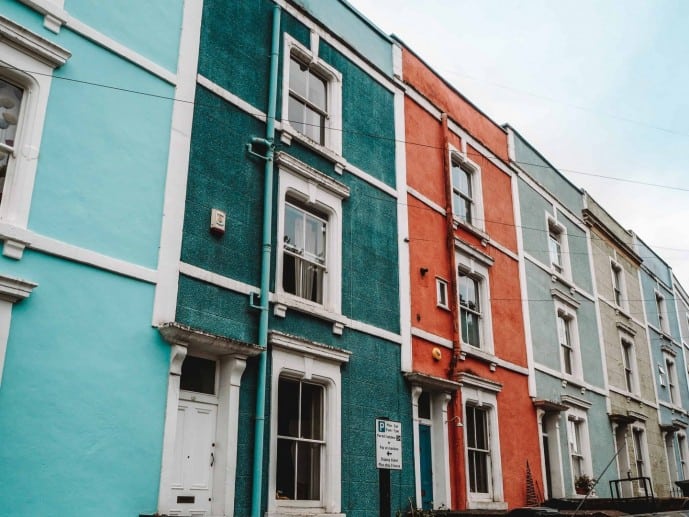 Next on the list is Ambrose Road
Another place to see the colourful houses in Bristol is Ambrose Road.
I think perhaps this was my favourite street of the lot! There were so many colourful houses that snaked down the road, you had no end of choice. I kept stopping to photograph them as the entranceways and flowers were the perfect addition.
There were also beautiful vintage cars parked around like old school MINIs, VW Beetles and Camper vans. I'd love to own one.
There was a super awkward moment where I was admiring the car in the picture above and the owner came out – oops!
Top tips for visiting the colourful houses in Bristol
The streets are quite narrow with cars parked either side and the roads are a bit of a maze – make sure you have a Satnav or Google Maps to find your way around
Clifton and the area around Clifton Wood Crescent is extremely hilly and so I would be prepared with good shoes to go walking!
Most of the parking spots on the roads are residents only, but there were some public spaces to park. We parked in a spot that was a maximum 3 hour stay and cost £3.
Saturday was really busy with cars parked up in all the spots in front of the houses so, if you're planning on taking photos, I would try to visit on a week day at non-peak hours
Remember this is a residential estate and people live in these houses!
For a different perspective, head to the Harbour!
Another beauty spot that I'm kicking myself for not visiting before is the Bristol Harbour. Bristol used to be a thriving harbour for major shipping trade routes back in the 19th Century.
You can still see and visit the S.S. Great Britain (another one of Izzy K's masterpieces) docked up there.
It's a real stunner of a location to spend an afternoon. There are a wealth of boat rides you can catch from here that will take you all the way down to the Avon Gorge and the Coast!
But, if you fancied staying on land, you can just take a leisurely stroll along the pretty Harbourside. An awesome feature here are boats docked up that have been converted into bars and restaurants!
The perfect place to come for dinner or a few tipples.
You may find, unless you want to walk for hours, there's no easy way to cross the river. So, you need to get a ferry to save you some time. I would recommend No. 7 boats as it's only £1 each way. You can grab a ride near the Broken Dock.
From the Marina side of the river you will come across the most picturesque view of the colourful houses in Bristol Harbour. This is a famous photography hotspot, so if you can work out getting here, the pictures will be well worth it!
That's my complete guide for finding the colourful houses of Bristol. It definitely won't be the last time I visit. Make sure you put these technicolour houses on your bucket list.
Read more of my Bristol inspired blog posts!
The perfect way to spend 2 days in Bristol
How to find the best viewpoint in all of Bristol
Why you need to visit Christmas Steps
A hidden house from Burgundy in the city centre!
An essential photography guide
Read more articles about the West Country
Things to do in Uffington White Horse
Silbury Hill – Wiltshire's very own Pyramid!
Secrets of West Kennet Long Barrow
The best places to visit in Wiltshire
The ultimate Castle Combe guide
Like it? Pin it!