Edinburgh's Royal Mile is filled with hidden closes, wynds, and courtyards that have unexpected and breathtaking views to discover. Recently, one of the hidden gems that I have fallen in love with is White Horse Close Edinburgh.
It's a little further down the mile towards The Palace of Holyroodhouse, so you may not find it if you weren't specifically looking for it!
But, I would highly recommend that you seek it out as it's a gorgeous hidden courtyard filled with quirky historic buildings and is also a fabulous photography location.
Here is a complete guide for White Horse Close and how to find it on the Royal Mile.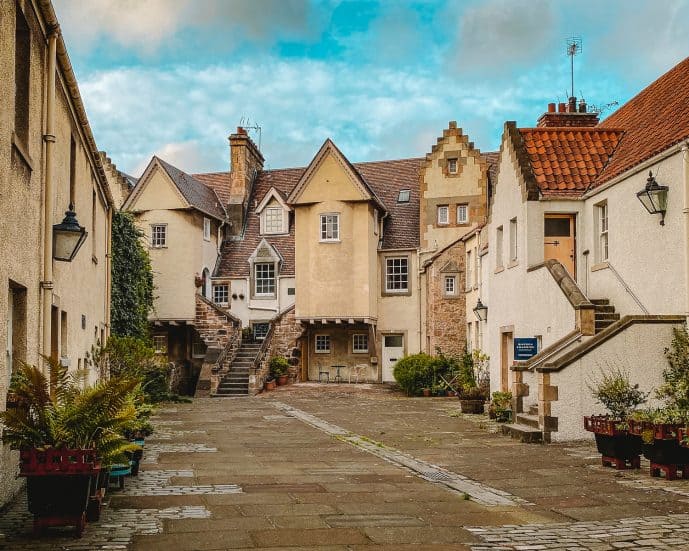 Firstly, why is it called White Horse Close?
There are many theories as to how White Horse Close gained its unusual moniker.
Many believe that the close got its name from this area being a royal mews for Mary Queen of Scots. She would stable her favourite white palfrey here as it was so close to Holyrood Palace.
However, White Horse Close wasn't this courtyard's first name. In fact, it was originally called Ord's Close after the architect Lawrence Ord.
Ord built this courtyard in the 17th-century and the famous 'White Horse Inn' was located at the north end of the close. The name of the inn was of course inspired by Queen Mary and her favourite white horse.
It was a popular coaching inn that provided accommodation for those travelling to and from London via stagecoach.
The pub closed its doors in the late 18th century and the courtyard at some point was renamed White Horse Close.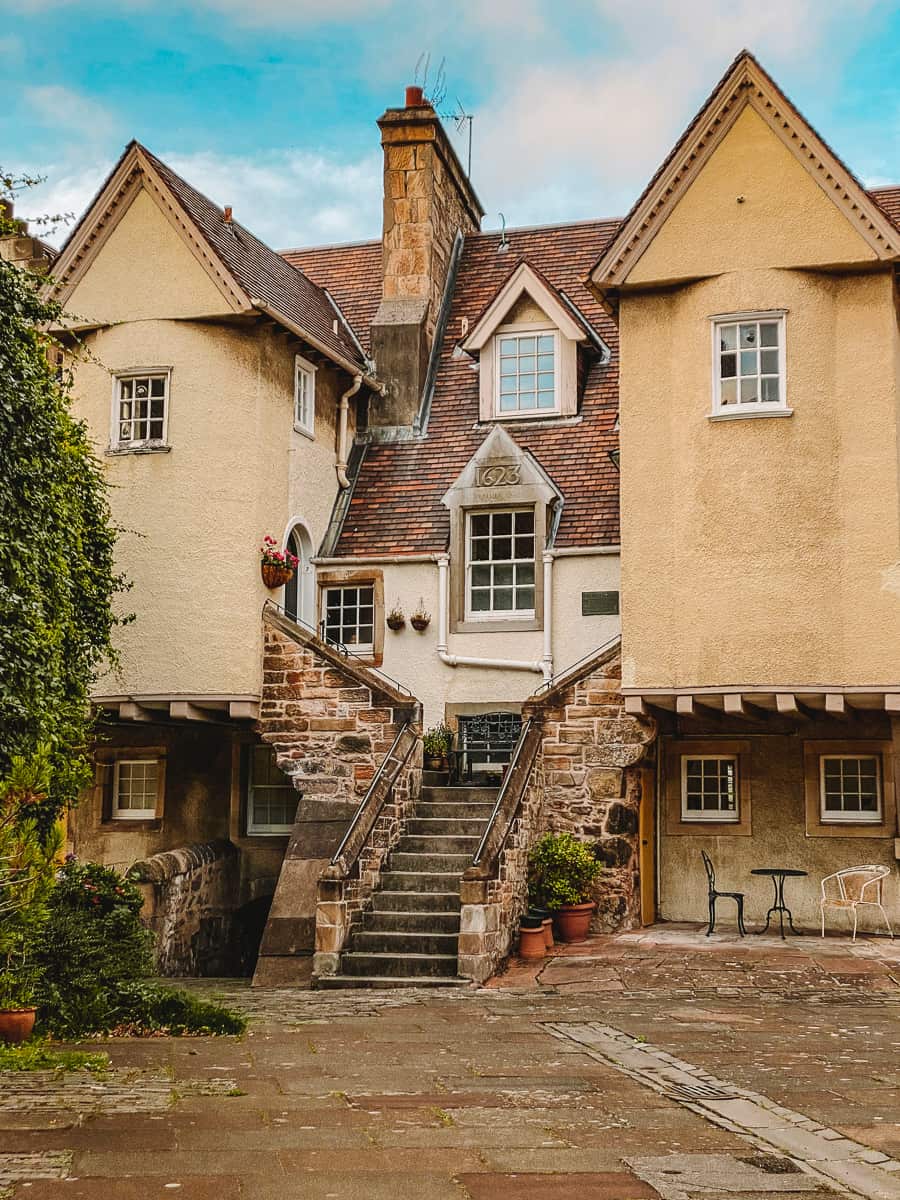 White Horse Close History
The first thing you'll notice in this courtyard as you walk in is the eclectic mix of architectural styles found in the buildings here.
It almost appears as if you've stepped through a portal and travelled back in time to a fairytale village of the past. However, in truth, it's not actually original.
Although one of the buildings is marked as 1623, it's really an illusion or a facade. Historians have even commented that the buildings look "…so blatantly fake that it can be acquitted of any intention to deceive."
Indeed, this quirky set of buildings are not as old as they look and the close we can visit today is far different than the one Lawrence Ord built in the 17th-century. It has had many transformations over time.
This courtyard used to mark the start of the journey to London on the Great North Road and the White Horse Inn was a popular stop for those travelling by Stagecoach.
In 1639, this pub was involved in the Stoppit Stravaig. At a time of religious turmoil, many were in open rebellion again King Charles I.
A group of Scottish noblemen gathered in this inn to discuss plans to negotiate with the king. Presbyterian ministers overheard their plan, gathered a mob, and then laid siege to the inn to stop them escaping!
After the inn closed its doors in the 18th-century, the courtyard steadily fell into decline throughout the Victorian Era. It was an overcrowded slum and one of the poorest areas of the city.
A Hollywood vision of history?
Eventually, this courtyard was renovated as part of the 'slum clearance' of Canongate during the 1950s. It was a difficult task to manage as many were living on top of each other and in deplorable conditions.
Although it was renovated, it wasn't rebuilt authentically to retain its heritage and it has been compared to a historical Hollywood set – hence why many historians hate it!
Personally, regardless of whether it is authentic or fake, I fell in love with this group of buildings at the bottom of the Royal Mile.
Although they are not centuries old, they are still spectacular to gaze upon, admire and photograph!
Things to do in White Horse Close
You must take a look at White Horse Close while you're in Edinburgh. In my opinion, it's one of the most photogenic courtyards on the Royal Mile!
I have to admit that there isn't a lot to do in this close specifically, but there are quite a few things to look out for here;
Admire the historical facade – So, although the houses here aren't necessarily authentic, I still think that they are gorgeous! You'll notice all these higgledy piggledy buildings in all shapes and sizes that are spectacular to look on.
Take photographs – Saying that, this is definitely one of the most photogenic places on the Royal Mile as well so make sure you have your camera ready to snap some photos!
See the memorial sign for William Dick – Did you know that William Dick, the famous vetenery surgeon was born here?! He was the founder of the Dick Vet School that is now Summerhall arts and theatrical centre! You can see his memorial sign in the close.
Enjoy the quiet – The Royal Mile can be such a busy place all year so taking a moment to enjoy the peace and quiet in this close is one of the best ways to escape the crowds! Just be respectful of the residents.
Where is White Horse Close in Edinburgh?
White Horse Close can be found in Canongate which is one of my favourite places in the city of Edinburgh!
A little-known fact about Canongate is that this historic area wasn't actually part of Edinburgh at all a couple of hundred years ago.
The boundary lines for the city of Edinburgh ended at The World's End pub. People would leave the city through a tollbooth and have to pay a fee to get back in!
That's why you'll find the Tolbooth Tavern just nearby Bakehouse Close as this is the place where people would pay their coins to enter the city.
White Horse Close can be found in an enclosed courtyard in Canongate. I'll give you some walking directions below.
Read more – a complete guide to The World's End Pub in Edinburgh
How to find White Horse Close Edinburgh
So, this hidden gem on the Royal Mile can be a little difficult to locate as it's not in an obvious place you'll pass on The Mile.
You'll need to head all the way down towards The Palace of Holyroodhouse and the Scottish Parliament Building to find it!
On the Royal Mile make sure you're standing on the roadside opposite the Scottish Parliament Building. Then, you'll pass the Scottish Veteran's Housing Association.
Once you've passed that, you'll walk through an overhead passageway with Pegasus Sound and Light Shop. Then, you'll find the entrance to White Horse Close Edinburgh there!
Click here for a Google Pin for White Horse Close to find it on the Royal Mile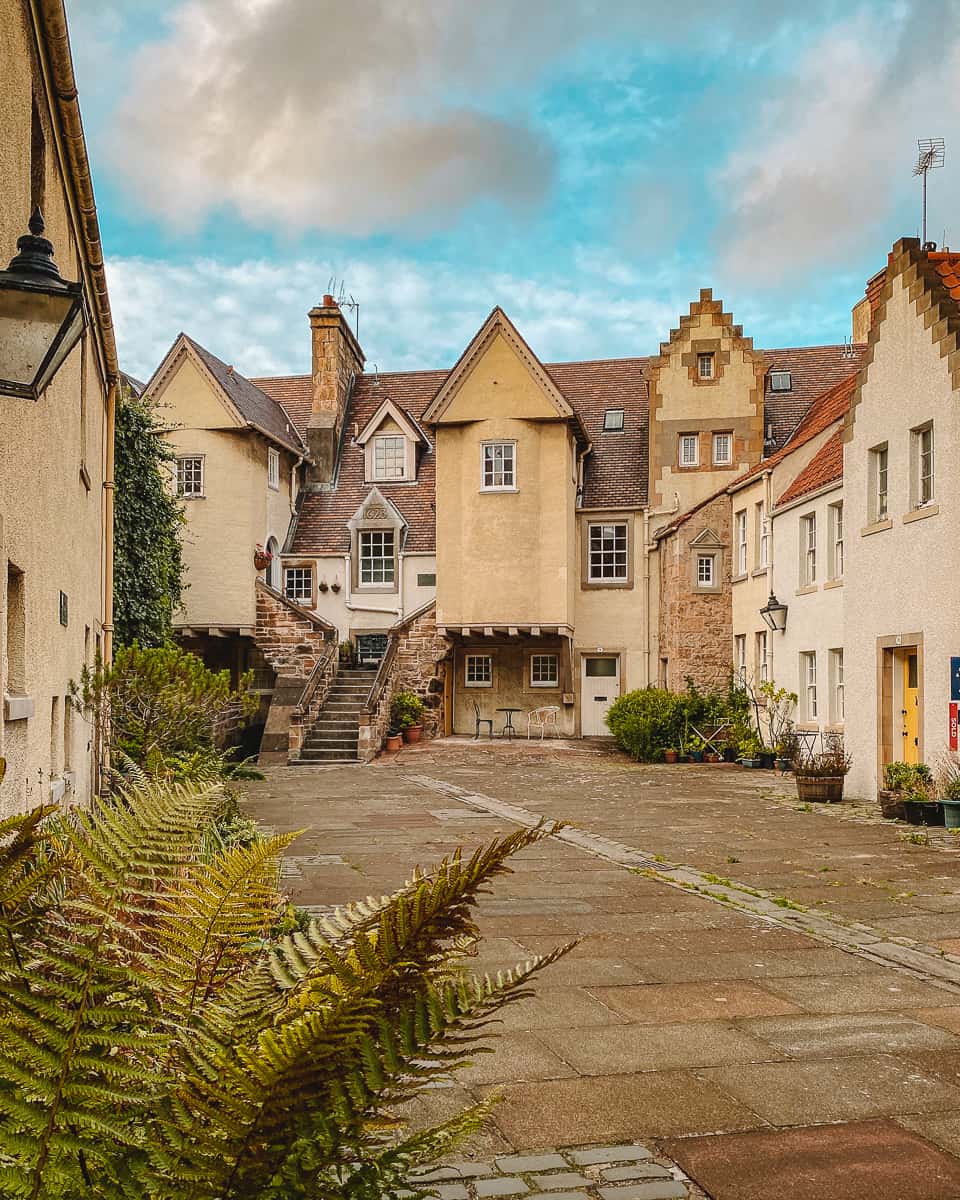 Things to do near White Horse Close
Although there isn't much else to see in this courtyard there are a few things that you can do around White Horse Close that are worth seeing;
The Palace of Holyrood House -A must-visit! This is the Queen's official residence in Edinburgh and they open it up for tours throughout the year.
Scottish Parliament Building – Not my favourite building on the Royal Mile as it's so out of place with all the modern architecture! But, you can check it out. It's sometimes open for tours in summer.
The Edinburgh Museum – I'm so glad I got to visit this museum on my last visit. It's an informative exhibit that tells you the people's story of Edinburgh. I loved the views and the Greyfriar's Bobby items.
Bakehouse Close – A must for Outlander fans! Here, you can see where they filmed Jamie's print shop. Click here to read my complete guide for Bakehouse Close here.
Queen Mary's Bath House – This quirky building on the borderline of Holyrood Palace is rumoured to be where Mary Queen of Scots bathed in wine! I have a post on the bathhouse here.
The World's End Pub – You must visit this famous pub on the border of Canongate. It's another Outlander location and has lots of history. Click here to read my World's End guide.
Read more – Find all these amazing Outlander locations on the Royal Mile!
Explore more secret closes, courts and wynds on the Royal Mile!
If you were interested in discovering some more closes, wynds, and courtyards on the Royal Mile, there are plenty of them to choose from.
In fact, at one point in time, there were over 248 of these closes that acted as residential areas of the city. Now, it's far less, but a lot of them remain and wait for you to discover them!
One of my favourites has to be Tweeddale Court. It's an Outlander location and it's home to a Sudan Chair house that is the oldest graded building in the city.
You also have Advocate's Close that provides a breathtaking view of the Scott Monument and Prince's Street.
You must also check out The Writer's Museum as Lady Stairs Close. It's one of the prettiest buildings on the Royal Mile.
Read more – A complete Outlander guide for Tweeddale Court!
Read more of my Edinburgh posts
The most Instagrammable places in Edinburgh
Harry Potter locations in Edinburgh
My ultimate Edinburgh Bucket List
A complete guide for The Vennel viewpoint
A complete guide for Dean Village
Why you must visit Circus Lane
How to find the Old Stockbridge Market Arch
Topping & Company Booksellers Edinburgh review
Why you must visit Craigmillar Castle
Lunch at the Witchery By The Castle
Afternoon tea at the Signet Library
Scottish National Portrait Gallery review
Discover Liberton Kirk in Autumn
Lady Stair's Close & The Writers' Museum in Edinburgh
Save this White Horse Close Edinburgh guide for later!