For years I have wanted to visit this temple after seeing a picture of it!
It was the most intricate thing I had set my eyes on and when I was travelling around the North of Thailand, I had scheduled a stop in Chiang Rai for a visit.
The Buddhist temple called Wat Rong Khun (or White Temple to foreigners like you and me) is situated a few kilometres out of the city.
The designer Chalermchai Kositpipat was a local artist who designed and constructed the temple all by himself using his own money.
He completely rebuilt the temple after the original had gone into disrepair and it still isn't finished yet!
The aim is to have 9 buildings in total in the complex and so I guess we need to watch this space!
It is spectacular and shines brilliant white in the sun! You can find mythical creatures, gods and goddesses in the designs as you explore.
The detailing is extremely impressive and it must have taken years and years to perfect – you must add this place to your bucket list and visit if you find yourself in Thailand. It's a must.
How to get to the White Temple from Chiang Rai?
You can get a taxi, ride your bike or go to Chiang Rai's main bus station and catch one of the many buses which are heading there.
It cost around 200 Baht (£4) for a trip and it takes around 20 minutes.
How much does it cost to visit the White Temple in Thailand?
The entrance is absolutely free.
However, you can donate your Baht to the renovations and receive an adorable intricate tag and hang them up to join in the artwork!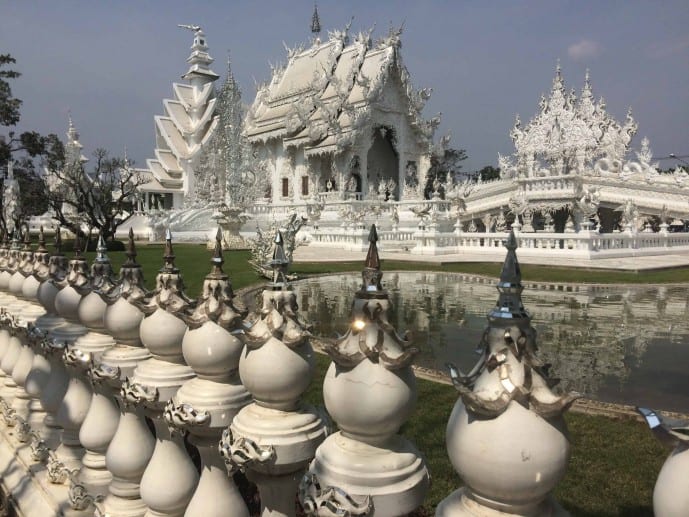 Dress code for the White Temple
Visitors are asked to dress respectfully when entering the temples. Women need to cover up their legs especially.
If you don't have any leggings/trousers which cover your knees you will be given a white skirt to cover you for free by the staff.
It's not the most attractive garment, so make sure you pack something to cover your legs with!
Things to do at the White Temple Chiang Rai
Visit the workshop – there are artists who work at the temple and you can visit the workshop to see them busy carving parts of the temple and making their famous intricate designs
Hang up your tag – You can donate to the temple renovations and write your own message on the back of it to hang up. There are so many trees and trellises to hang up your tag so you have your pick. Or, keep it as a souvenir!
Visit the temple – you can go inside the Buddhist temple while you're here! It is a working temple however so be respectful of who's inside.
Visit the museum of paintings – there is some great artwork presented here, so make sure you check it out.
Walk around the grounds – there are some pretty awesome sculptures around the grounds. You will see shrunken heads, famous characters and my favourite, Predator!
White Temple opening times
The temple is open every day from 6.30 am – 6 pm and the Museum is open from 8 am – 5.30 pm.
The temple shuts at lunchtime around 12-1 pm.
Where to Eat and Drink
There are many cafes around the temple selling drinks and refreshments.
You can even pick up one of my favourite watermelon smoothies too – so refreshing on a hot day around the temple!
Final Words…
This was one of my favourite Buddhist temples that I have seen in my time (and I've seen a lot!).
It's so detailed and everywhere you look there's a new sculpture to stare in awe at!
I swear when I arrived at the entrance of the building my jaw dropped.
All the arms reaching out and the pathway leading to the temple in the middle with the mythical guards outside? Out of this world!
I'm so glad I got to tick this magical place of my list, make sure you visit when you're in the North of Thailand!
Read more on South East Asia
Places to visit in Luang Prabang in Laos
Kuang Si Falls guide, Laos
How much is a Singapore Sling at Raffles
Visiting the Tiger Balm Gardens in Singapore
Visiting 'The Beach' AKA Maya Bay in Thailand
Top tips for travelling to Myanmar