Did you know that one of the prettiest libraries in the world is tucked away inside a historic monastery in Bavaria, Germany?
Wiblingen Abbey library is a baroque book hoard and one of the finest examples of Rococo architecture.
The good news is that book lovers can visit for themselves as it's open to the public as a tourist attraction.
I felt like I was walking through a ballroom in a Disney movie and you could easily mistake this room for the castle library in Beauty and the Beast.
It was like living in a fairytale and I loved every magical moment of my visit here. You simply must add this candyfloss reading room to your bucket list.
Here is how to visit Wiblingen Abbey library in Germany, a baroque fairytale book trove in Bavaria!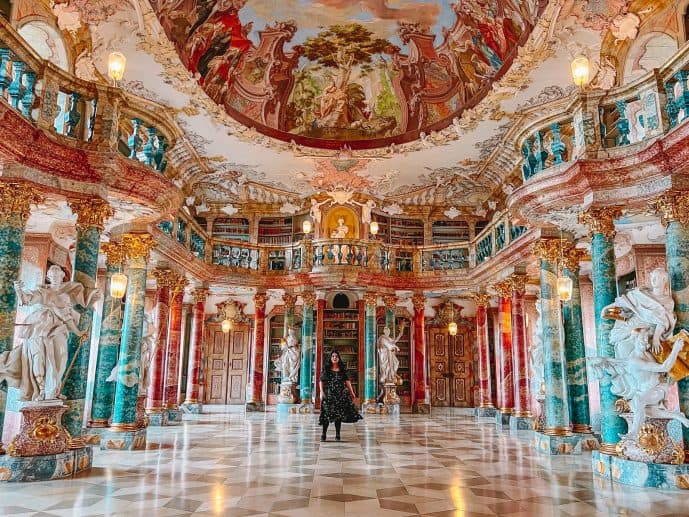 Wiblingen Abbey history
Wiblingen Abbey was a former Benedictine abbey that was founded in 1093 by Counts Harmann and Otto von Kirchberg.
The counts gifted the monks of San Blas Abbey land in the Black Forest near the Iller River and the monks used that land to establish this monastery.
In 1099, the first buildings took form and the first abbot to live here was Werner von Ellerbach.
That year, the founding counts gifted the abbey a slither of the True Cross from the First Crusade!
The religious complex followed the monastic rules of St Benedict and was famous for its scriptorium as well as its scholarship and educational programmes.
During the Thirty Years War, the abbey suffered from the conflict. The holy cross was hidden from the invasion of Swedish troops. But, all of the witnesses who buried the cross later died from the plague.
Luckily, the abbey managed to retrieve the cross years later and the surrounding buildings survived the war including the famous scriptorium where the monks handcrafted literary works.
After years of peace, the abbey was then renovated and transformed into a Baroque style during the 18th century.
Baroque Wiblingen Abbey library
The reason why Wiblingen Abbey is so famous today is due to its gorgeous baroque library that is located on the upper floors of the monastery.
It's considered to be one of the finest examples of Rococo architecture found anywhere in the world!
In 1740, Abbot Meinrad Hamberger wanted a space that would awaken and inspire the monks to want to learn.
The library was designed by baroque architect Christian Wiedemann and it occupied two floors with a length of over 23 metres.
The painter Franz Martin Kuen created impressive fresco paintings featuring Pagan and Christian figures. Written above the doorway is an inscription that reads "all the treasures of wisdom and science" are available here.
There are many statues around the room that look like they are made of porcelain but are in fact carved and painted wood. They were created by Dominikus Hermenegild Herberger.
Each statue has a meaning and they represent Faith, History, Jurisprudence, Natural Science, Mathematics, Obedience, Prayer, and Renunciation of the World.
In its heyday, this library used to house 15,000 books which was a huge collection for a university in those days.
But, over time these have been either stolen or relocated. Although most of the books you'll see today on the shelves are old, there are only 96 original volumes remaining from when the library first opened.
Today, the monastery is still an entire complex that has religious and educational sections as well as tourist attractions.
It houses buildings for the University of Ulm, St Martin's Basilica, and the Wiblingen Abbey Library Museum!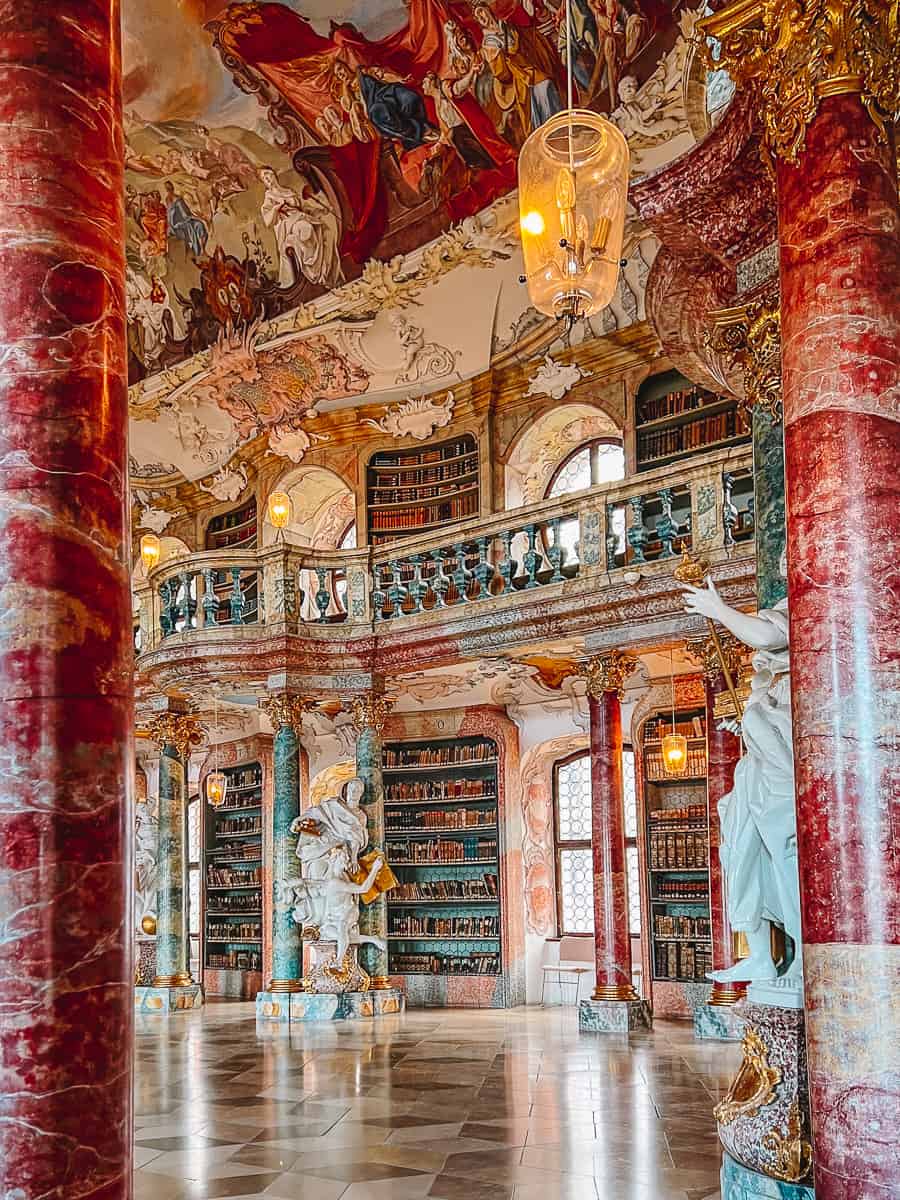 How to visit Wiblingen Abbey in Germany
If you wanted to visit this fairytale library for yourself then it's easy to do in Bavaria, Germany.
The closest city to Wiblingen Abbey is Ulm which is easy to access by car or public transport.
If you're travelling from Munich then it's 1-hour direct train ride to Ulm from Munich Central Station.
Once you arrive at Ulm station, you can then order a taxi to Wiblingen or you can take the tram number 4 heading to Pranger Steig C. From here, it's a 3-minute walk.
It's a 90-minute drive from Munich to Wiblingen via the A8 and then the B10 road. There is parking available when you reach the site.
Wiblingen Abbey address is Schlossstraße 38, 89079 Wiblingen, Germany. Click here for a Google Pin!
Wiblingen Abbey library opening times
When planning a trip to this baroque fairytale library in Bavaria it's always best to check opening times before you go.
If you are travelling in the winter season (November – February), as I did, then the Wiblingen Abbey library only opens on the weekends from 1 pm – 5 pm.
This is quite restrictive and means that the library can get quite busy as everyone has to visit in such a short amount of time.
But, if you're heading here in the high season (March – October), it's open from Tuesday – Sunday and on public holidays from 10 am – 5 pm.
Finding the library entrance at Wiblingen
When you reach the Wiblingen Abbey monastery complex, it can be quite hard to find your way around.
Although it's very straightforward to visit St Martin's Basilica, there are limited signs to direct you to the library.
In winter, on a weekend, most of the doors were closed (or appeared to be locked) and there were lots of us trying to find the library museum entrance.
You'll find the Wiblingen Abbey library entrance in the pink building to the left-hand side of the church if you're facing the entrance of the basilica.
It has a red sign in front of it with rooms but for some reason doesn't mention the Bibliothek.
Regardless, walk towards the door and it will automatically open for you. Then, you will need to follow the signs for 'Bibliothek' and climb up two sets of stairs to the museum ticket office. There is an elevator if you require further assistance.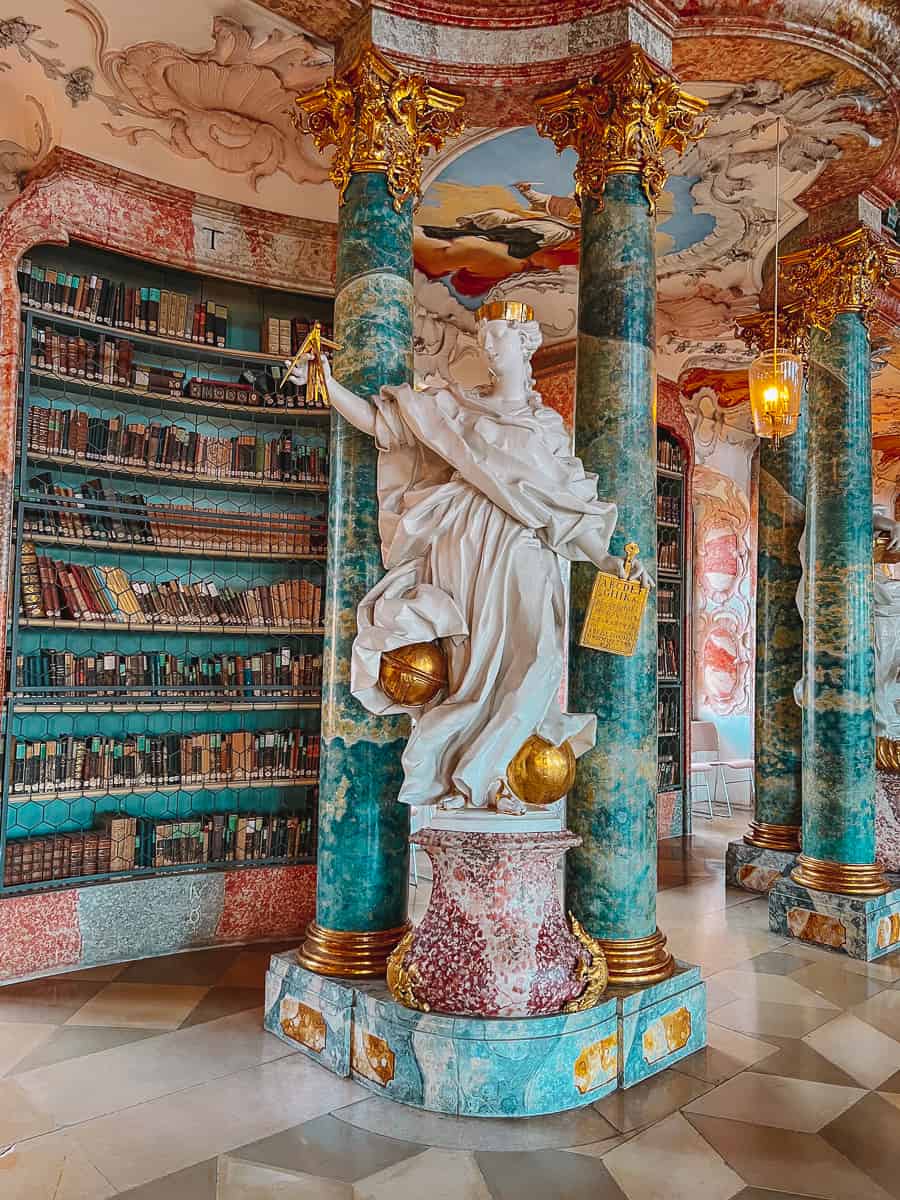 Wiblingen Abbey library museum ticket prices
Although visiting the Wiblingen Abbey complex and Basilica of St Martin is free to explore, you will need to pay to visit the baroque library.
It's not just a library but an entire museum and you will walk through lots of displays that explain the history of the monastery and events that took place here.
I was warned before I went inside that not much is translated into English but I wasn't too bothered as the library really is the main event here.
They will offer you an audio guide to explain more but it's good to note that the audio guides are for the library room only and these cost 2 euros extra.
Ticket prices for Wiblingen Abbey library are 5.50 euros for an adult and 2.80 euros for reduced tickets (children, students, and elderly). There are family tickets available.
The good news is that they take card, contactless, and cash payments here which is really convenient.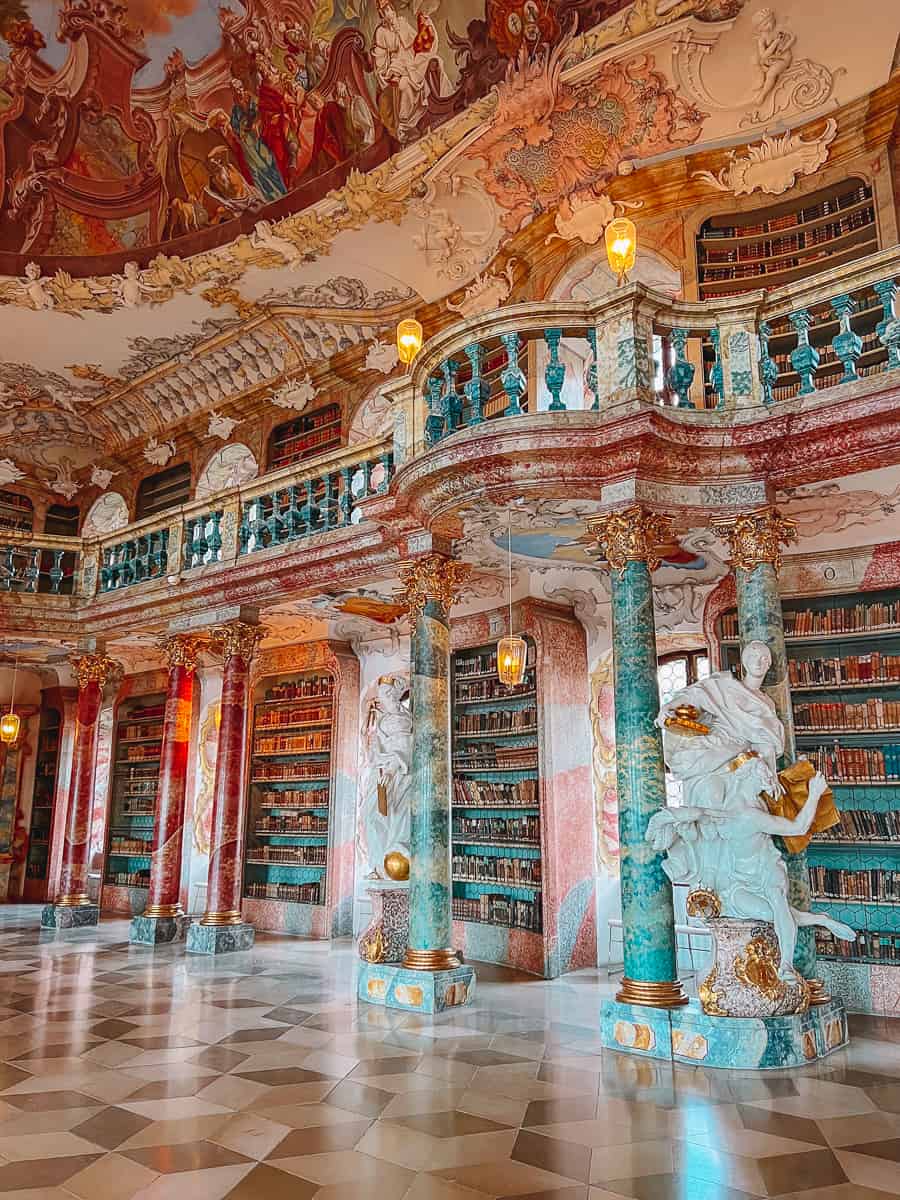 Exploring Wiblingen Abbey library
After you've passed through the museum exhibits, you will finally step into the breathtaking baroque library.
It's filled with candyfloss pink and teal marble, statues, and decorated with colourful murals on the ceiling!
The vintage books are caged away but you can admire their amazing collection of books through the honeycomb grates.
There are also displays you can check out situated around the outer edges of the library room as well as chairs to take a seat.
Unfortunately, you cannot climb to the upper floor of the library but what you can see at the bottom is stunning enough.
I felt like I was walking through a fairytale and you could easily fool yourself into thinking you've just stepped into a scene from Beauty and the Beast.
Feel like you're in Beauty and the Beast!
Beauty and the Beast is my favourite Disney movie of all time and Belle is my favourite Disney princess.
Honestly, walking into this library made me feel like I was stepping into the Beast's castle ballroom or his library from the movie!
Although it is a reading room, you could easily see a grand ball being hosted here as it's such a romantic setting.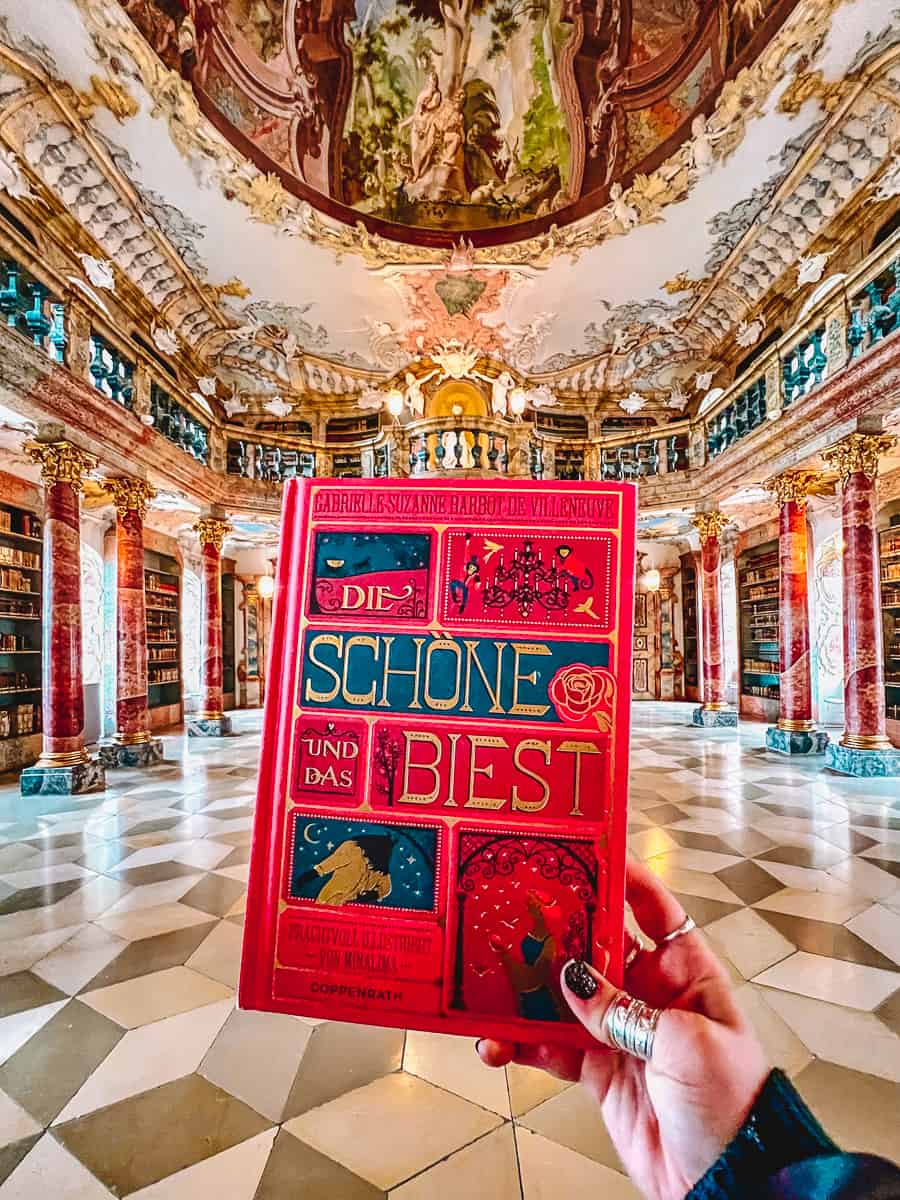 In fact, I met a fellow Disney lover here on my visit. She brought the most gorgeous hardback copy of Beauty and the Beast in German or 'Die Schöne und das Biest' and very kindly let me take a photo.
Later, she got out her Funko Pop collection of Belle, Beast, Mrs. Potts, and Chip here! It was so adorable.
I would recommend at least 1-2 hours for your visit to Wiblingen Abbey library. You may find that you won't want to leave!
Wiblingen library photography tips
Although Wiblingen Abbey is quite a remote place in Bavaria, that doesn't mean that this library will be quiet. Especially if you visit in winter.
Unfortunately, in the winter season (November – February) the library is only open on weekends from 1 pm – 5 pm. So, you only have a short window to visit.
As I visited on a Saturday in winter, it was packed. There was a constant stream of visitors, kids running around, and audio guide zombies. It felt impossible to get the place empty for just a moment to capture it.
But, luckily, there are some seats around the room to rest while you wait for a quiet space between visitors. Eventually, I did get this library empty for some photos and videos with my tripod.
I would highly recommend visiting on a weekday for opening time and being the first person inside if you wanted to film or photograph it completely empty!
I would normally say the very end of the day is also a good time. But, on my visit, there were still people listening to their audio guides at closing time, even when the staff was chucking us out.
Exit through the gift shop and café
After you've finished feeling like royalty in the library room you can exit the museum through their cute gift shop.
They have some books about the library as well as magnets and small souvenirs to purchase if you fancy a souvenir.
Also, if you would like a pick me up, the museum has a small café and seating area where you can purchase hot or cold drinks.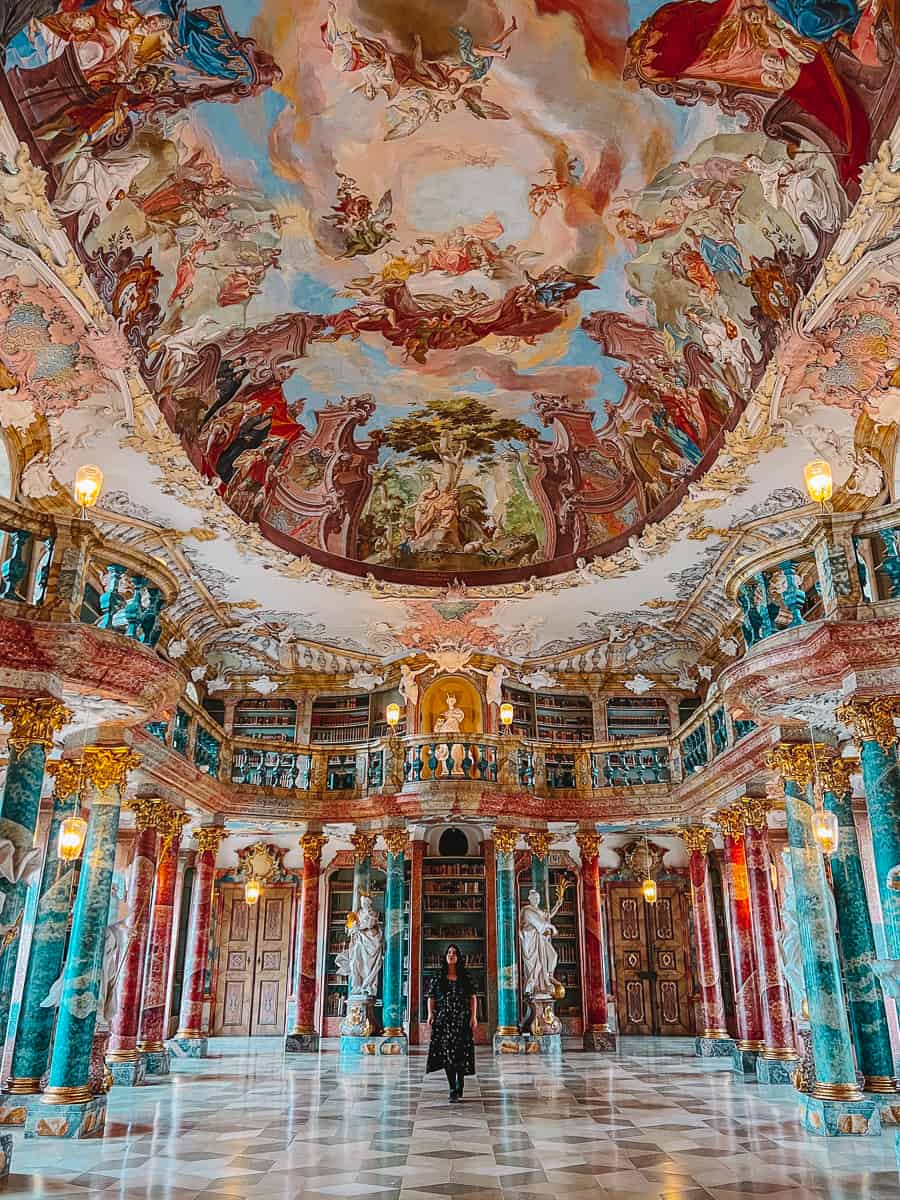 What else is there to do at Wiblingen Abbey?
Beyond the library, it's well worth exploring some of the monastery complex on your visit to Wiblingen.
It's not overly large but you can still discover quite a few interesting pieces as you stroll around the grounds.
Here is what you can expect to see on your visit to Kloster Wiblingen!
1. Explore the Basilica of St Martin
If you haven't already, I would recommend stepping inside the Basilica of St Martin which is the main church of the complex.
Although from the outside the building looks austere, when you step inside the bright baroque architecture will take your breath away!
Along with the library, this basilica was reconstructed in 1772 and the first master builder was Johann Georg Specht. In 1778, Januarius Zick took over the construction and artistic design.
It was decorated in the neoclassical style with white walls, gold flare, and blue-toned mural paintings.
This basilica is still in use today and is an important pilgrimage site in Germany. On Easter and Christmas, you will find the entire place lit by 200 burning flames & candles!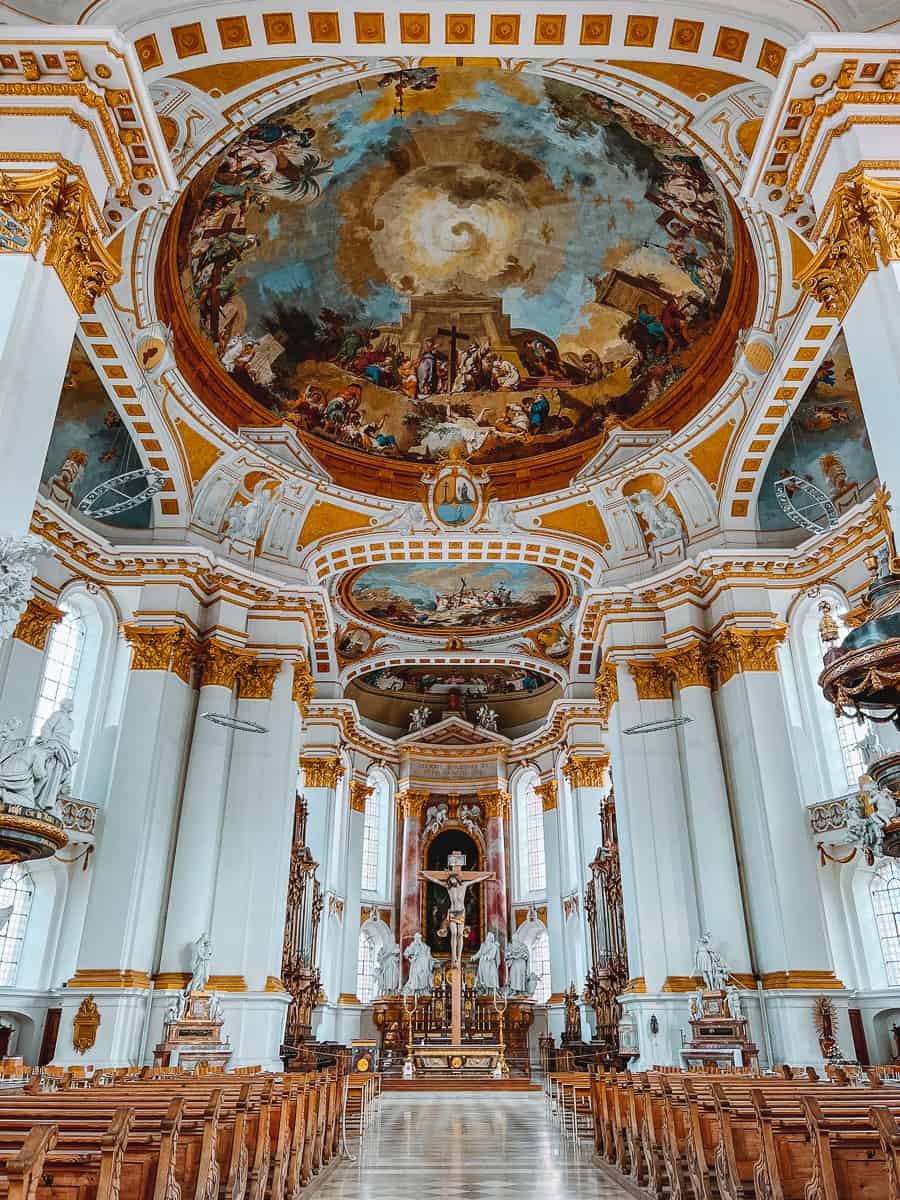 2. Admire the pretty pink gates and buildings
I absolutely loved that every building here was painted in a beautiful shade of pink! It made me so happy.
You can stroll around the grounds to see the old pink entrance gate and some of the candyfloss buildings that make up the monastery.
It was so refreshing to take a leisurely stroll around the area and walk through history. It's hard to believe this site was established over 1,000 years ago!
Although the city of Ulm is only a 15-minute drive away, Wiblingen is in the countryside so it's quiet. It's a nice escape from the traffic and chaos of the big city.
3. Wander around the city of Ulm
After you've explored Wiblingen Abbey library, I wouldn't run off without exploring the city of Ulm which is close by. This was the hometown of Albert Einstein.
My favourite part was the Fishermen's and Tanners' Quarter (Fischer- und Gerbervierte) which felt like you were walking through a fairytale.
This enchanted area is filled with historic colourful half timber-framed houses sitting beside the river Blau.
You'll find bridges, boutiques, restaurants, and the famous Hotel Schiefes Haus that looks like it's submerging into the water.
Ulm's most popular attraction is the Ulm Minster which is currently the tallest church in the world.
You can also walk along the town walls, visit Altes Rathaus, admire the Metzgerturm or go shopping down the high street.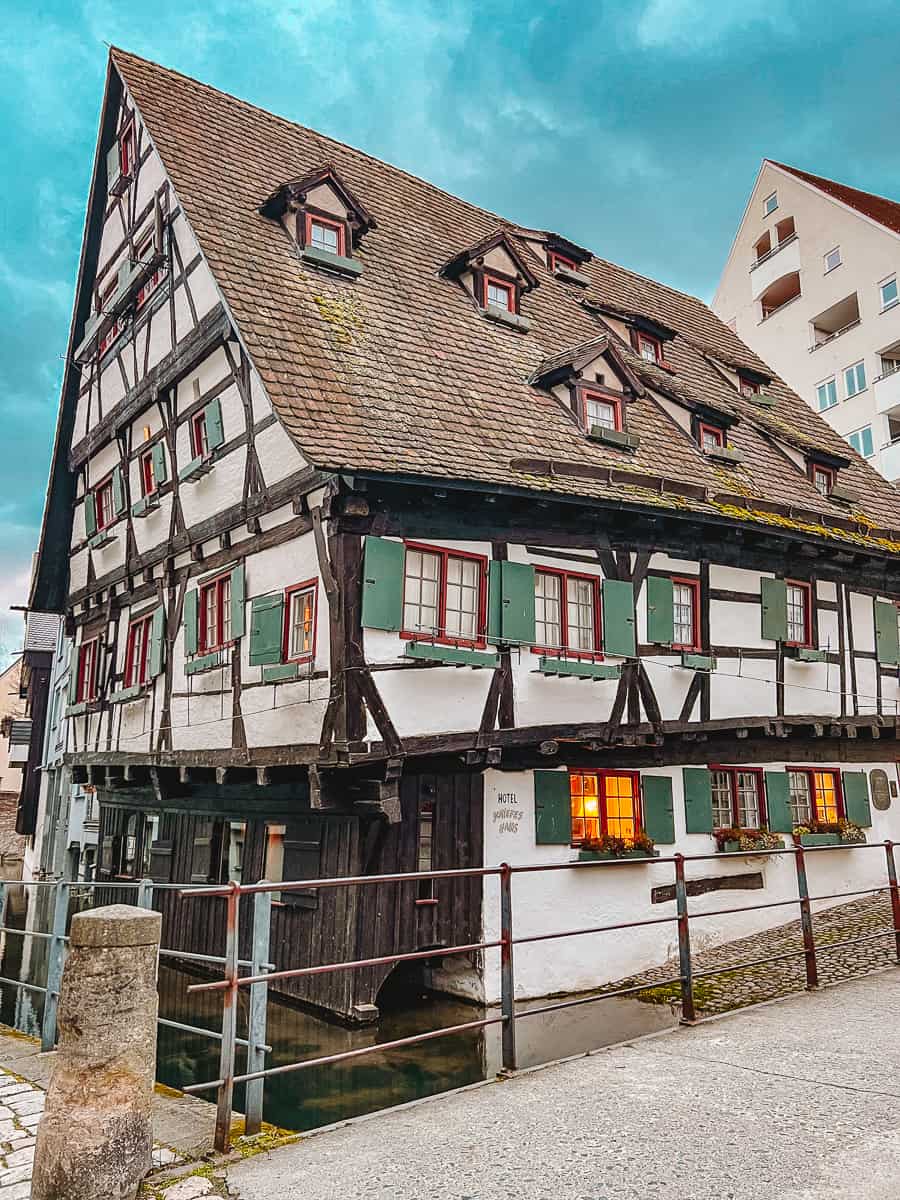 Is a visit to Wiblingen Abbey library worth it?
100% yes! Although it was a bit of a journey from Munich I still thought a day trip to Ulm to see this library was worth every penny.
There are some beautiful libraries in the world but Wiblingen's is absolutely breathtaking. The paintings, marble facade, and vintage book collection were a dream.
You really won't regret visiting so make sure to put it on your Bavarian bucket list!
Upper Swabian Baroque Route highlights
If you're a fan of baroque architecture, you may be interested to know that Wiblingen Abbey is part of the Upper Swabian Baroque Route.
This is a tourist trail established in 1966 that is 500 km (310 miles) long and features attractions of nature, culture, and baroque buildings.
The route is between Swabian Alb and the Allgäu Alps between the River Danube and Lake Constance.
It's filled with attractions like baroque castles, palaces, abbeys, churches, fortresses, and museums.
Highlights include Sigmaringen castle, Basilica Weingarten, Mainau Island, Meersburg New Palace, and Roggenburg Monastery.
Click here to plan your journey through the Upper Swabian Baroque Route
Read more of my Germany guides
How to visit the magical Munich Law Library
How to visit the hidden gem Justizpalast Munich
The baroque hidden gem of Asamkirche
Discover Nymphenburg Palace in Munich
Magical Plönlein in Rothenburg ob der Tauber
is visiting Neuschwanstein Castle in winter worth it?
Is Hohenschwangau Castle worth visiting?
Is it worth going inside Neuschwanstein Castle?
Save the Wiblingen Abbey Library for later!