Disclaimer 2023: It is now illegal to enter these premises, please DO NOT enter. As of December 2018, this park is no longer open to the public. Access is restricted to staff and residents only.
If you're looking for a place to find wild kangaroos while you're exploring the east coast, look no further than Morisset.
Kangaroos in Morisset Sydney are wild, not caged.
From Sydney's central train station, you can be there within an hour and a half.
From there, it's just a short bus ride to the hospital grounds and you'll be immersed in some of the amazing wildlife that Australia has to offer.
I didn't want to visit a zoo as I like to try and see animals in the wild if I can.
Morisset provided the perfect opportunity to get up close and personal with these incredible creatures.
It was the first time I had seen a kangaroo wandering around and so I definitely got a little giddy when I saw them hopping around in the fields!
The best part is, it's completely free to see them in their natural habitat – the way it should be!
How to feed the Kangaroos in Morisset Sydney
Before you go to see the Kangaroos in Morisset
You will need to buy some kangaroo treats. You'll need these to make some furry friends!
I would pick these up in your local Coles before you head to the grounds as there isn't much near Morisset park.
Food Kangaroos love to eat
Bananas: they LOVE bananas. If you bring a bunch, you'll definitely popular – they're also easier for the kangaroos to eat. Make sure you peel them though!
Carrots: Once, you're out of bananas you may wish to buy some carrots to feed them. Although not as sought after as bananas they also love eating these. You may have to hold it though as they will drop it straight out of their hands if you let go!
Apples/Grapes: Again, something that they love.
Don't feed a kangaroo
Any type of bread, sandwiches or any processed foods.
This isn't good for their digestive system and can make them aggressive or sick.
When to visit the Kangaroos in Morisset
The park is open all year round and so you can go whenever you like but I found the best day was Sunday.
As your Opal Sydney Transport card has a $2.50 cap, it's super cheap for the journey!
Just make sure that you have a way of getting back to the train station, it's a long walk if you don't!
To make sure, check the Sydney trains timetable for the best train and then align that with the bus service at the station.
When I was here, my friend and some backpackers went to visit and caught the bus there. We missed the last bus back as it was Sunday.
So, we had to hitch a ride to the station to catch the last train heading to Sydney. We were so lucky we weren't stranded.
Top tips for meeting the kangaroos in Morisset
Kangaroos are incredible animals and you'll find that Morisset is a lush green space which is swarming with roos ready to come and meet you!
Be mindful that you are entering a wild animals habitat and you should always approach with caution. You're in their territory now. I didn't personally find I had any problems but there are some big roos around. Some females may have joey's in their pouches and could be protective. Just use your instinct and if they don't want to be approached, let them be.
I found the best way was to get out your treats and let the roos come to you. Then you know that they're happy for you to feed them and get close to them.
Be mindful of their environment. Make sure you clear up your rubbish so that they don't end up eating any of the plastic or cardboard that's left. Plus, it's courtesy to clear up after yourselves in a wildlife park – clean and green, always!
Photos, the best part! You can get some amazing photos with the Kangaroos while you're there and these will be memories to keep for a lifetime. Just be careful and don't be too forceful, if they feel threatened they will back away. Make sure that the kangaroo you're with is relaxed and doesn't mind the photo taking. They will mainly just be interested in your food so don't keep it from them to take your photo, that's just mean!
There are picnic areas that you can visit if you're planning on eating lunch there. You will be joined by more kangaroos so make sure you packed extra for your new buddies!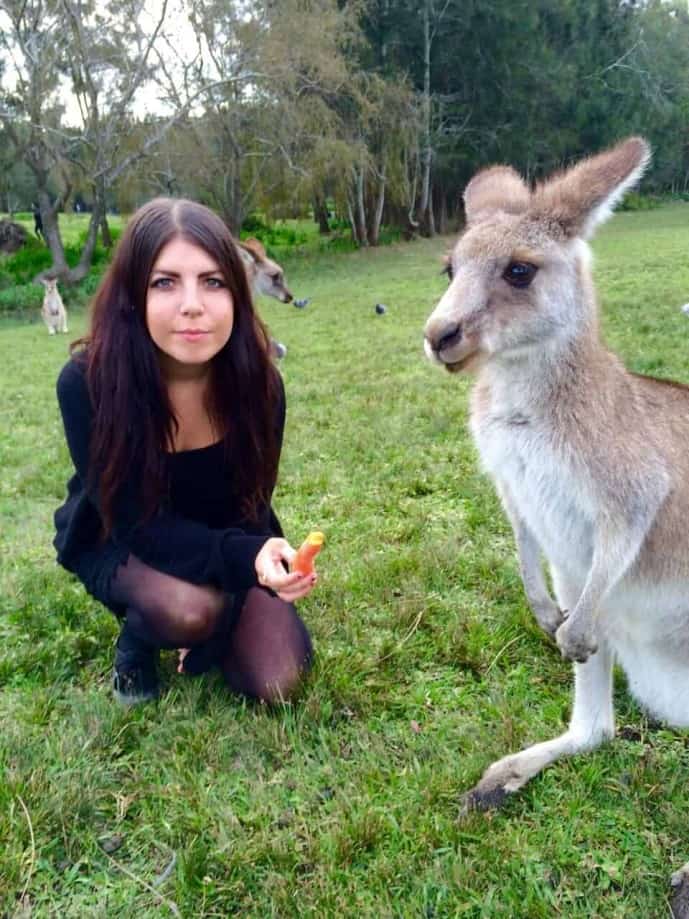 Don't miss a trip to see the Kangaroos in Morisset Sydney
Kangaroos are such gentle and kind creatures and are friendly when they approach you!
Of course, they will want to be fed, so make sure you have your food on show and ready to hand to them while you're there.
Getting close to them has been on my bucket list for a lifetime. It was a dream come true and there couldn't have been a more perfect place to meet!
Make sure you put feeding kangaroos in Morisset Sydney on your bucket list when visiting the East Coast of Australia.
Read more on Australia – Stone & Wood Brewery Tour at Byron Bay!