Are you looking for the best places to visit in Wiltshire! I have a few up my sleeve for you.
It's funny, sometimes we travel all over the world wanting something new and different but we forget the beauty which is available right on our doorstep!
After being in India for the first 5 months of this year, I desperately wanted to get into the countryside and explore my own home county of Wiltshire.
Although the hay fever from all the pollen has hit me like a truck and I've had streaming eyes, nose, and itchy throat.
I've been galavanting around on walks and visits to quaint little villages here to get the most out of my temporary visit back home.
I live in Swindon and even though this town isn't too attractive, the little gems you can find in and around it are honestly some of the most beautiful highlights of the English countryside.
Here are 5 of the best places to visit in Wiltshire which will blow your mind!
1. Avebury stone circle
Most people if visiting from outside of the UK will always turn to Stonehenge, which is the main draw of tourists in the area.
But, a much prettier, laid back, and more importantly free-of-charge stone circle lies only around 40 minutes away from it!
Avebury is honestly one of my favourite places in the whole world. You instantly feel a magical vibe, a presence or something which makes you feel peaceful.
You can wander around the stones, feel their energy, sit amongst the trees, visit the henge shop or have a pint in the haunted Red Lion pub.
If you'd like to find out more you can check out my article 'feel the magic of Avebury stone circle'.
Each year, the summer solstice is celebrated on the eve of the longest day in the calendar year. Avebury is a top location to feel the vibes.
Don't miss out on this hidden secret in Wiltshire.
2. Silbury Hill
Silbury is probably one of the most unusual places to visit in Wiltshire!
Resembling something out of Hobbiton which will make you want to scream 'I'm going on an adventure!', Silbury hill is the largest man-made mound in Europe. Not only that, it's 5000 years old to boot.
Although the purpose of the hill is still up for debate, my favourite part of this place is the legend of how it got here.
Supposedly, the Devil himself was on his way to the town of Marlborough to drop a shovel of soil on them (not sure what Marlborough did!).
The Devil lost his way and so asked a farmer in Avebury where the town was. The wise farmer could see the Devil was up to no good and so told him that it was too far to go.
As the Devil was too tired, he decided to drop the soil in the exact spot where Silbury hill is today! Lucky for Marlborough..
The hill is located around a 5-minute drive or 30-minute walk from Avebury stone circle.
You will be greeted by the most amazing views of the countryside all around you. It's well worth exploring.
Once you're done here, you can explore West Kennett Long Barrow which is another prehistoric gravesite of kings.
Click here to read my Silbury Hill travel guide!
3. Castle Combe
Hands down one of the prettiest villages in England has to be Castle Combe. It's a regular choice for location scouts hunting for historical drama film locations!
This is due to the town not having any pylons, TV aerials or signs of the modern era in sight…Apart from the double yellow lines which snake through the village so cars can't park there.
There's not an awful lot to do but marvel in and around the beautiful little buildings and head down to Bybrook river.
There are a few pubs and restaurants to enjoy a tasty lunch or dinner.
Read my complete guide for Castle Combe village here
My favourite part of this little village was The Manor House. Tucked away behind the church, this house is like stepping back in time.
The vine-covered country manor is not only picturesque to look at but you can also check in here for the night!
They have exclusive suites and even country homes. How cool would that be?
To actually feel like you could live in one of these beautiful stone houses!
If you can't afford the Castle Combe Manor's price tag, you can stop in for a spot of afternoon tea in their tea lounge. Don't forget to walk it off in their lush Italian gardens before you go.
If there is a wedding going on, you may be asked to leave! Only fair as it probably cost thousands. We can only dream girls, right?
Want to stay? See available dates and rates at the Castle Combe Manor here.
4. Bradford on Avon
Another favourite of mine is the hidden gem, Bradford on Avon. Although the quaint Cotswold stone town and the canal are gorgeous, the thing that makes me keep heading back is the delectable Bridge Tea Rooms!
This tea room is like stepping back in time. ou can munch on a scone, sip a cup of loose leaf tea and lose yourself in a world of Victorian decor and the chinks of china teacups!
If you wanted to find out more about afternoon tea here you can see my article 'A Victorian Afternoon tea at the Bridge Tea Rooms'.
Of course, after you've indulged in dainties and sweet treats you'll need to get walking to burn off some of the calories!
Luckily, Bradford on Avon has a beautiful canal path that you can take a stroll on.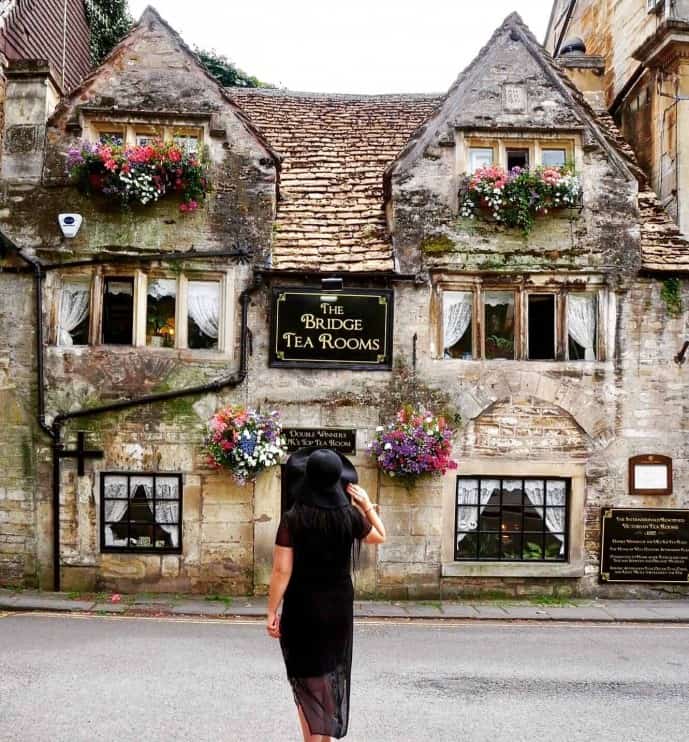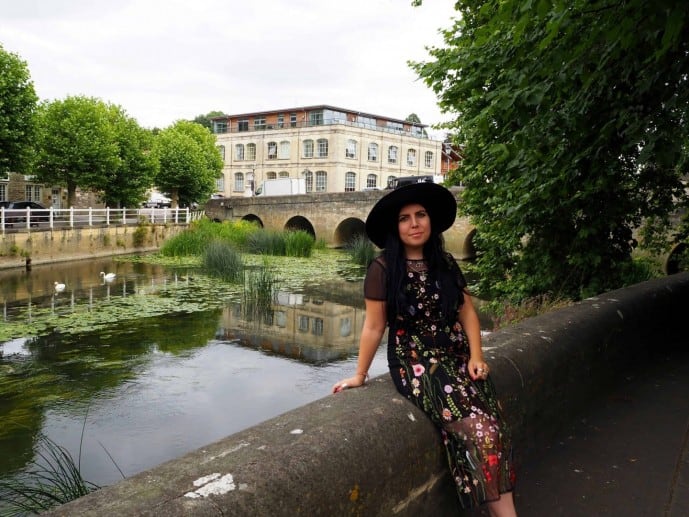 5. Lacock
A few minutes down the road from Castle Combe and you can head to the beautiful National Trust village of Lacock.
Another popular location for historical films there has been a number of big Hollywood movies shot here, including Harry Potter!
I promise that I don't indulge in afternoon tea everywhere I go, but Lacock does have an awesome tea room called King John's Hunting Lodge.
All their loose leaf tea and scones are served on the most striking blue willow crockery and all their jams for the scrummy scones are homemade!
If you fancy purchasing some of their preserves to take home, they're all available in the gift shop.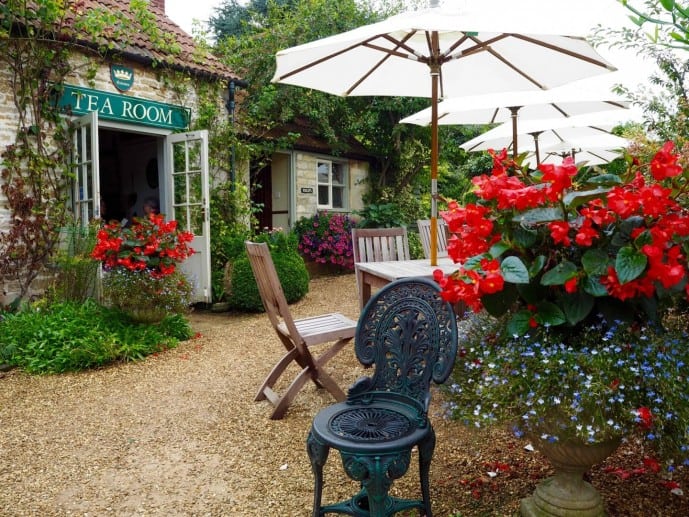 Save this list of the best places to visit in Wiltshire for later!
So, there you have it; 5 places to visit in Wiltshire which will blow your mind.
The next time the weather is pleasant in the UK, make sure you head out and explore some of this wonderful county.
There are so many places to visit and most of the countryside is completely free. I feel so grateful to live amongst the green, green countryside and it's one of the things I miss the most when I am in Asia.
So, I'm making the most of it, even if the Hay fever kills me.
Read more of my posts on Wiltshire & The Cotswolds
How to find the Devil's Den on Fyfield Down
How to see the wild Snakes-head Fritillary in Cricklade
Why you must visit King Alfred's Tower in Stourhead
How to visit Imber, the abandoned ghost village in Wiltshire
Harry Potter locations in Lacock
My complete guide for Hackpen Hill
The best spa experience in Wiltshire
A complete guide for Cotswold Lavender
My complete guide for Lower Slaughter
Top things to see in Upper Slaughter
The hobbit door of the Cotswolds
The best photography spots in Burford