If you didn't go on a Lake Cruise in the Lake District – did you even go?!
Hand on heart, I really don't think a visit to the Lake District is complete without getting out onto the water and seeing some of the sights.
A Windermere Lake Cruise is by far the most popular choice for tourists visiting the Lake District due to the stunning scenery and being able to stop off at the numerous pretty villages around the lakeside.
So, I was really excited to get the opportunity to do this on Lake Windermere on my recent trip with Go Lakes.
I spent a whole day cruising the water with Windermere Lake Cruises using their freedom of the lake ticket.
This pass gave me 24 hours of unlimited access to explore all the cruise routes on Lake Windermere and stop off at some top attractions too.
So, here is my ultimate Windermere Lake Cruise guide with all the places you can stop off on your boat trip.
Heads up: my Windermere Lake Cruise was sponsored on a press trip with Go Lakes. Although I was a guest, all photos and opinions are my own.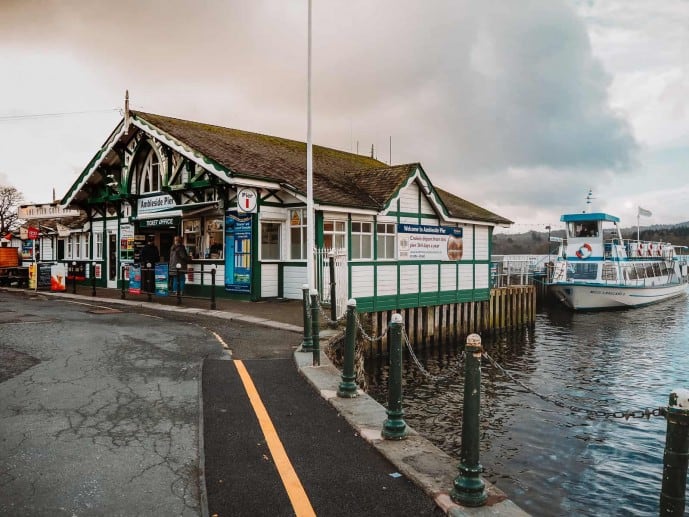 What is Lake Windermere?
Lake Windermere is officially the longest natural water lake in England (FYI the largest in the UK is Loch Neagh in Northern Ireland).
It's a 'ribbon lake' that was formed over 13,000 years ago by the last major ice age.
Windermere stretches over 10.5 miles long or 18 kilometres and, at points, it's over a mile wide. Its deepest point is 219 feet and that's just over 66 metres!
Out of all the Lake District National Park, the area surrounding Windermere is the most famous of all.
Not only due to the pretty scenery but also with the railway station which makes it accessible.
Many literary giants through time, like William Wordsworth, wrote popular guidebooks to the beauty of the lakes.
So, when Windermere train station first arrived in 1847 with some of the first railway hotels, it contributed to a huge Victorian tourism boom. Today, over 19 million people visit the Lake District each year!
Windermere is also the name of a small town that sits next to Bowness-on-Windermere.
Is Windermere a lake or a mere?
There are sixteen lakes in the Lake District National Park. But, did you know there is technically only one 'lake' by official terms of definition?! That is Bassenthwaite Lake.
In fact, the other bodies of water are classed as tarns, waters, and mere's, including Lake Windermere!
A mere by definition is a body of water that is shallow in relation to its size. But, many people still stay that lakes and lakes and that's all there is to it!
So, despite the scientific terms, I guess you have to decide whether it's a lake or a mere to you.
Personally, I don't see the difference and still call it a lake!
The history of Windermere Lake Cruises
Today more than 1.2 million visitors sail on the lake each year with Windermere Lake Cruises and its the most popular attraction in Cumbria but how did it all begin and become so popular?
Although today the lake is filled with tourist boats and leisure cruises, Lake Windermere used to be a route of transport for slate, coal, timber, and fishing.
There were a number of packet service boats taking passengers and goods across the water.
The first launch of a steamer boat on Lake Windermere was the 'Lady of the Lake' in 1845. It was suggested by John Fell of Greenodd and William Wordsworth greatly opposed the idea!
But the turnout for the launch proved so popular, with many famous figures like Harriet Martineau and Lord Cavendish showing up for the occasion, it took off with a bang!
Back then it carried 200 people and even had a swanky first-class lounge.
Over time, more and more ferries opened up with the stiff competition, competitive prices, and the race to be the fastest boat.
So, eventually, they were unionised and then owned by the British Railways as an interchange service from the train track to the lakes.
Once the railways were privatised, in 1993 the Windermere Iron Steamboat Company was bought by Bowness Bay Boating Company and they merged to create Windermere Lake Cruises.
How much is a boat trip with Windermere Lake Cruises?
Windermere Lake Cruises offer a variety of pricing options.
From one-way ferry rides, returns, steam railway and boat tickets, and ticket and attraction combos too.
Yellow Route – Bowness to Lakeside: £12.30 adult return, £7.40 children
Red Route – Bowness to Ambleside: £11.80 adult return, £7.10 children
Blue Route – Windermere Islands cruise: £9 adult return, £4.50 children
Green Route – Ambleside to Ambleside (via Wray castle and Brockhole: £9.40 adult return, £4.75 children
Can dogs travel on Windermere Lake Cruises? Well behaved dogs on a lead travel for FREE.
Click here to see their website with a list of options and attraction combo tickets. But, if you were planning a day out at Windermere, the best option is to buy their 'Freedom of the Lake ticket'.
Windermere Lake Cruises Freedom of the Lake Ticket
The Freedom of the Lake ticket is your gateway to Lake Windermere and you can take as many boat rides as you want with it.
You can buy either a 24-hour pass or a 48-hour pass and this gives you access to all the routes above.
Not only does this option save you a lot of money but it also gives you the option to explore the many towns, villages, and attractions on the lake stress-free without driving and taking in the sights on the water!
All you have to do is purchase your ticket at one of their main piers in Ambleside Waterhead, Bowness-on-Windermere, or Lakeside and once you have it, present your ticket before you get on any cruise.
Windermere Lake Cruises Freedom of the Lake Ticket prices are;
24 hours: £16.30 for adults and £8.15 for children
48 hours: £19.50 for adults and £975 for children
7 places that you can stop on your Windermere Lake Cruise
So, now we have our Freedom of the Lake ticket, where do we want to sail to?!
Well, there are plenty of places to visit around Lake Windermere to keep you occupied for a whole week. But, it is possible to cover some good ground in just one day too.
Here are all the places you can stop on your Lake Windermere Cruise.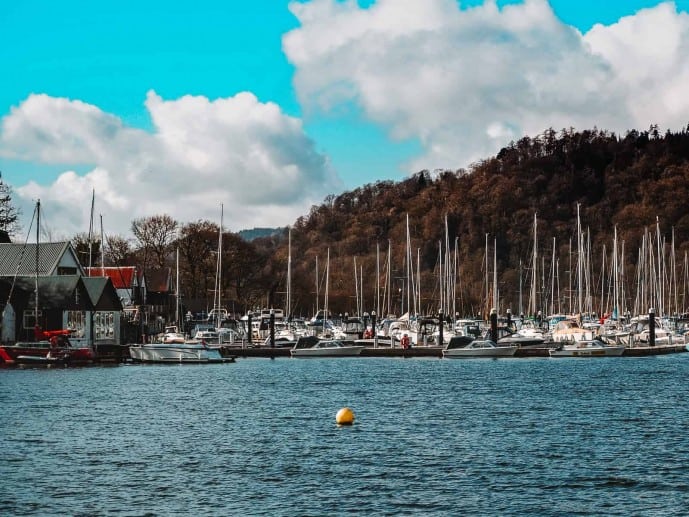 1. Bowness-on-Windermere
The bustling Bowness-on-Windermere is probably the most popular place in the Lake District.
As well as hundreds of tourists flocking around the bay to set sail on a cruise ship, there are plenty of restaurants, cafés, shops, and attractions that draw people here too.
I have to admit that Bowness wasn't my favourite place in the Lake District.
It was too busy and hectic compared to the quieter villages and towns and that was in March in the off-season. I can't imagine what it's like in Summer!
But, it is still worth checking out the area on your visit before you board your cruise.
Things to do around Bowness-on-Windermere
Walk around Bowness Bay
One of the most picturesque areas of Bowness-on-Windermere is Bowness Bay. This is just a short walk away from the Bowness Pier.
As well as providing a peaceful lakeside walk with spectacular views, you can watch the boats come into the harbour and feed the birds and swans on the shore too.
Along the shores of Bowness-on-Windermere, you have everything a holidaymaker here could want.
Ice creams, Fish 'n' Chips, cafés, arcades, and all number of attractions to keep you busy.
Just watch out for the birds here. Although swans are lovely to look at they can get really aggressive.
Go shopping in Bowness
Bowness is full of awesome little independent shops and big high street brand names too. So, you could easily shop until you drop here.
From crystal shops, art galleries, Lakeland souvenirs, sweet stores, and shops selling all things Beatrix Potter.
I would leave lots of time (and spare change) to look around.
Visit the World of Beatrix Potter
If you didn't get the memo, Beatrix Potter is a big name here in the Lake District.
Potter was a famous writer and illustrator who was born in London in 1866. But, throughout her life, she took long trips to Scotland and the Lake District.
On her first visit to Windermere in 1882, she stayed at Wray Castle.
Her sketches and illustrations became very popular and eventually, the Tale of Peter Rabbit was born.
This kick-started her career as a storyteller and she became a woman of means. She then used her profits to buy Hill Top Farm near Hawkshead.
Over the course of her life, she wrote 23 enchanting stories.
These feature loveable characters like Peter Rabbit, Tom Kitten, Jemima Puddle-Duck, and Mrs. Tiggy-Winkle. Many were set at Hill Top (more on how you can visit below!).
The World of Beatrix Potter at Crag Brow in Bowness is a delightful attraction that aims to breathe life into her stories and you can meet some of her favourite characters here too.
As well as a short history of her life and influence on the Lake District, you can walk through her tales with their interactive exhibitions, walks, and gardens. Plus, there's a café and a gift shop.
Click here for more information on visiting the World of Beatrix Potter!
Take the Bowness – Hill Top bus service
When Beatrix Potter was looking to print her stories, she was advised and commissioned by Norman Warne. The two eventually fell in love and Warne proposed marriage.
Although Beatrix accepted, this was highly disapproved by her parents who thought the match wasn't suitable.
But, as Beatrix Potter now had her own fortunes she decided to purchase Hill Top where the two planned to live together in the countryside.
Unfortunately, Warne died before they were married and so Beatrix decide to live at Hill Top by herself running the farm there.
She later bought a considerable amount of land in the Lake District – 4,000 acres and 14 farms to be exact! At 47 she married her solicitor who advised and managed her property, William Heelis.
Together the pair made considerable efforts to preserve the lands around the Lake District with Hardwicke Rawnsley, a founding member of the National Trust.
On her death in 1943, she left every piece of the land she owned to the Trust for members of the public to enjoy.
Today, Hill Top has been beautifully preserved as Beatrix Potter left it and you can visit it from Bowness-on-Windermere as part of an add-on to your Lake Cruise!
In the summer season, alight at Bowness Pier and take the connecting Mountain Goat bus service 20 minutes to Hawkshead and visit Hill Top nearby.
Click here for more information on visiting Hill Top Cottage!
Hire your very own boat
Did you know that as well as cruising on a ship around the Lake District, you can hire your very own boat to take out on Lake Windermere?
From traditional rowboats to self-drive motorboats you can explore the lake at your own pace and have some fun.
Usually, hiring a boat can be extremely expensive but here it's really reasonable, especially if you're splitting the cost with friends.
You can hire a rowboat for 1-2 adults as little as £16 for one hour and a luxury motorboat for £35!
You don't need to pre-book these just show up on the day to enquire on availability and rentals.
Where to eat in Bowness-on-Windermere
Bowness is full of incredible places to eat around the town and there is so much choice!
From traditional pubs, chip shops, and worldly cuisine, you can find pretty much anything your taste buds are craving.
One of the restaurants I was really impressed with and took me by surprise on my visit was BAHA in Bowness.
Usually, when you visit restaurants in the Lake District it's a traditional pub, that's got that old-world charm.
But, BAHA was like an Instagram haven with spectacular decor that sells amazing Asian-style street food.
How it works is you take their pen and paper and mark off anything you want on their menu.
When you need service just wave their BAHA fan they have on the table and someone will be over in a jiffy.
I had an incredible meal of Korean Chicken steamed Bao Buns, Chicken Ramen, and their own homemade roasted marshmallows.
It was delicious and a nice change from traditional pub food.
2. Windermere Jetty Museum
The Windermere Jetty Museum is a fantastic place that tells a big story about Lake Windermere and its colourful history over time.
Although it's a new attraction in the area, it's actually a renovation of the Windermere Steamboat Museum that opened in 1977.
It was brought together by George Pattinson who owned a priceless collection of historic boats. His original collection is one of the world's most important boat collections that pertain to one area.
It includes boats from the 18th century all the way up to the present day.
Highlights include Beatrix Potter's rowboat, The Branksome from 1896, and some water speed record-breaking boats too!
As well as learning about the boats and artifacts here, you can get acquainted with boat conservation in their workshop where the team regularly holds talks to answer questions.
As a bonus, if you really wanted to experience some of Windermere's history, you can even ride out on a heritage steamboat.
The Osprey is a steamer from 1902 that was renovated by the museum and now takes tourists out on the water.
I absolutely loved my visit here as I learned so much about the area. I also treated myself to Sunday Lunch in their café overlooking the water.
In Summer, you can take the Red Route service to the Windermere Jetty, and Windermere Lake Cruises will stop right outside the museum. In Winter, the museum is a 10-minute walk from Bowness Bay along with the Lakeside heading towards Ambleside.
It's a fantastic museum for all the family and a great activity rain or shine. Click here for my complete guide with even more reasons to visit.
3. Ambleside Waterhead Pier
Ambleside Waterhead Pier is your gateway to accessing some of the quaintest towns and villages in the whole of the Lake District.
William Wordsworth was extremely fond of this beautiful area and you can follow his literary trail by visiting some of his properties and favourite places too.
Although Ambleside is the nearest town to the Waterhead Pier, it is really easy to connect to the below nearby villages with the regular Stagecoach Bus Services.
Walk to Ambleside Village
Once you alight at Ambleside Waterhead Pier, a walk into the centre of Ambleside will take you around 10-15 minutes.
As one of the most popular towns in the Lake District, there are plenty of attractions here to keep you busy.
On your way down to the town, you can pop into the Stagshaw Garden owned by the National Trust. Or, head on in to find the Armitt Library & Museum centre that's filled with historic books.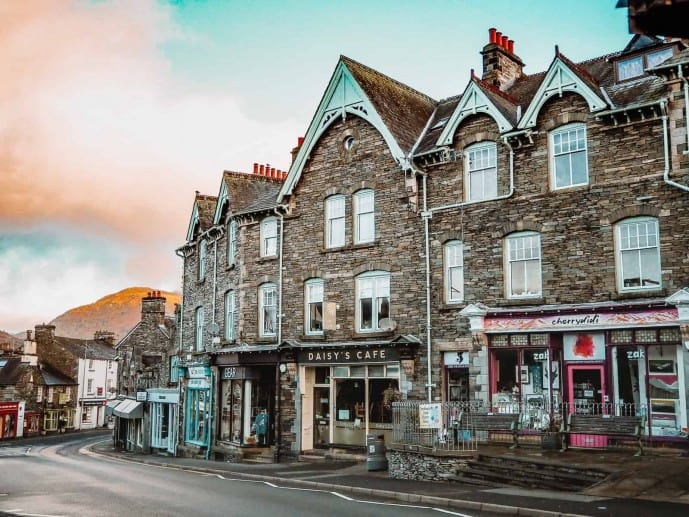 The Bridge House from the 17th century is now an icon of the National Park and the most photographed building too. So, don't forget to stop by and strike a pose.
You can also visit the 19th century St Mary's Church, pop in for a coffee at one of the many café on the Stock Beck Riverside, or go shopping in the stores on the High Street.
A hidden gem that is well worth a visit while you're in Ambleside is the Stock Ghyll Falls. In only ten minutes' walk, you can escape the town and find a 70-foot waterfall cascade in the forest! Click here for directions.
Click here for my complete travel guide for Ambleside!
Visit Rydal
Time to walk from Ambleside to Rydal: 30 minutes
If you have the time and aren't too restricted, I would recommend heading out to Rydal after your visit to Ambleside.
It's a seriously underrated area that is home to a pretty hamlet and walks around Rydal Water.
William Wordsworth lived here in Rydal Mount from 1813 until his death in 1850 and wrote some of his most famous works while in residence.
Today, the house is still owned by members of the Wordsworth family, and it's open to the public.
As well as Rydal Mount, you can visit the scenic Rydal Hall waterfall on the grounds of Rydal Hall, pop into the Rydal St Mary's Church, or head into the bed of daffodils at Dora's Field.
Click here for more places you can visit in Rydal
Rydal Water is another one of Wordsworth's favourite areas where he would picnic often. The circular walk around here provides some of the best views in the whole National Park.
As well as chasing magnificent viewpoints like Loughrigg Terrace, you can find some man-made wonders like Rydal Caves. Originally part of a slate mine, these are now open to the public and are worth visiting.
Click here for my complete hiking guide for Rydal Cave
Explore Grasmere
Now, the walk to Grasmere from Ambleside is quite a stretch, especially on a boat tour. So, click here for the Stagecoach Service timetable to Ambleside Waterhead to Grasmere.
William Wordsworth called Grasmere "the loveliest spot that man hath ever found" and I can see why now I've been there. It really is one of the most beautiful and quintessential villages in England!
He first took up residence at Dove Cottage with his sister Dorothy in Town End after a tour of the Lake District with Samuel Taylor Coleridge.
Then, once he married his childhood friend Mary Hutchinson and had three children, he moved to Allan Bank for more space.
You can visit both of these amazing properties here in Grasmere that tell their own unique story of this life and the influence he had on the area.
St Oswald's Church is where Wordsworth is buried and you can visit the Wordsworth memorial garden nearby too.
No visit to Grasmere would be complete without a stop at the Grasmere Gingerbread Shop. This tiny store has been serving up Sarah Nelson's famous recipe since 1854.
There are also plenty of amazing cafés and restaurants to check out around this beautiful village. Plus, walks to the countryside.
Click here for a full list of all the incredible experiences you can have in Grasmere
4.
Wray Castle

Did you know that the Lake District had castles? Because I didn't before I got here!

Technically, although it is called a castle, Wray Castle is a folly mansion home rather than a real historic castle but it is still magnificent to visit.

It is a Gothic Revival style home that was built for Dr. James Dawson, a retired Liverpool surgeon, in 1840.

It was actually built on his wife's inheritance from a Gin distillery fortune. But, once the house was built she took one look and refused to live in it.

Although William Wordsworth seemed to have something negative to say about every building that was built in the area, he actually liked Wray Castle. He said that it 'added a dignified feature to the interesting scenery in the midst of which it stands.

After Dr. Dawson died in 1875, the castle passed to his nephew Preston Rawnsley. Then it was sold to the National Trust in 1929.

It is now a popular attraction that you can visit. As well as exploring inside the house, the views from the hilltop it's perched on are amazing and you can see Windermere from there.

There is a Windermere Lake Cruise connecting service to arrive here by boat on the Green Route. Click here for more information.
5. Ferry House
After you visit Wray Castle you can head out on a scenic four-mile hike down to Ferry House if you choose.
Or, you can even catch a ferry here from Bowness-on-Windermere on the Cross Lakes Shuttle in the Summer.
Ferry House is your gateway to the Western shore of Lake Windermere and attractions in the area.
From here you can easily access Claife Viewing Station, which is a short steep walk from the Ferry House Jetty.
This historic Victorian building that was built in 1790 offers amazing views of the lake and you can learn about its interesting history and how it was popular for Victorian tourists.
As well as the viewing platform the National Trust runs a popular café here overlooking Windermere.
If you're planning a car-free adventure, you can head onto Hill Top near Hawkshead via the Mountain Goat Bus Service. Or, take the four-mile scenic walk along the Western shore towards Wray Castle.
Click here to read my complete guide for visiting Claife Viewing Station
6. Brockhole on Windermere
Brockhole on Windermere is a visitor centre that is popular in the summer season for outdoor activities, but it is open all year round for visitors too.
In the winter season, this is a request stop on the Red Route, so you will have to let someone know if you want to hop off here…and hail down the boat if you want to go back on board!
Although I was a little anxious to do this, it was pretty easy to wave them down (even though I was alone) and get back on the boat.
In summer, you won't need to do this as it's a dedicated stop on the route around.
Brockhole House, Gardens & Café
The magnificent Brockhole House was built by Architect Dan Gibson and commissioned by William Gaddum who owned the land in 1897.
He married Edith Potter who was Beatrix Potter's Cousin. She would visit Brockhole on many occasions and fell in love with the views of Windermere and the Langdale Pikes.
Once Gaddum died, the family sold the house and it became a convalescent home following World War II.
Eventually, the Lake District National Park purchased the property in 1966 and it became the very first National Park visitor centre in the UK.
Inside Brockhole House is a small shop selling locally made souvenirs plus the Brockhole Café, where you can have lunch overlooking the spectacular views.
I treated myself to a yummy jacket potato here and it was much-needed comfort food for a winter's day.
There are also 10 acres of formal gardens that were planned out by Thomas Mawson during the Arts and Crafts design movement.
He is a big name here in Cumbria as he designed many formal gardens in the area including Rydal Hall in 1909.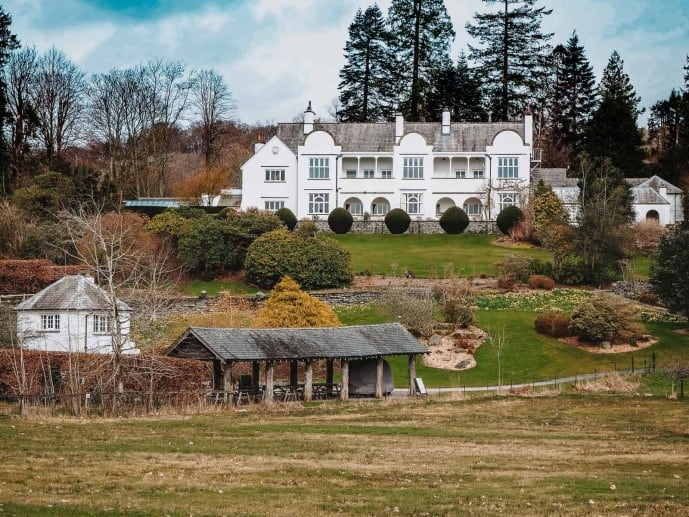 Outdoor activities & countryside walks
As well as the formal gardens surrounding the house, Brockhole has over 30 acres of grounds to discover.
So, it's perfect for some countryside walks by the lakeside and also some adventure trails to keep the kids occupied.
But, if you wanted something a little more adventurous, there are plenty of activities for adrenalin junkies too!
Zip lining, treetop treks, archery, kayaking, mini-golf, and a huge adventure playground will keep you occupied for hours here.
7. Lakeside
Lakeside is a stop that can be accessed on the Yellow Route. It will take you around 40 minutes to reach Bowness-on-Windermere or you can do a 90 minute round trip.
I decided to do the round trip as there wasn't much I wanted to see in this area and I found out most attractions were closed here for winter.
However, I'm so glad I decided to keep going on the cruise as the views heading down this part of Lake Windermere were absolutely incredible!
You got to pass some of the unique historic buildings, fancy boathouses on the Lakeside and see some of the islands that are on Lake Windermere.
But, if you did fancy hopping off here, there are plenty of attractions in arms reach. Windermere Lake Cruises offer many combo tickets you can purchase for some serious savings.
From here you can take the free bus shuttle service to the Lakeland Motor Museum that is home to over 30,000 exhibits and over 140 classic cars.
Or, head inside the Lakes Aquarium which concentrates on the conservation of marine life and has its own over lake tank and tunnel.
If you wanted to arrive in style then you can take the Lakeside and Haverthwaite Steam Railway where you can park, rail, and sail around the area!
Fell Foot is a Victorian Garden and park run by the National Trust where you can walk along the lakeside and enjoy views of the boats anchored on Windermere.
8. Take a Windermere Islands cruise
Did you know that there are 18 islands on Lake Windermere?! Yep, it was news to me on my visit too.
You can even take an islands cruise on the Windermere Lake Cruises Blue Route from Bowness-on-Windermere to see them all.
The largest and only inhabited island is called Belle Isle and is 1 kilometre in length.
Centuries ago a Roman Governor from Ambleside built a villa on the island, it was a Lord's residence in the medieval era and was even involved in the English Civil War as a Royalist stronghold.
Today, you'll notice a peculiar round property called Island House built in 1774 by John Plaw's design.
It was sold to the Curwen Family and it got its current name from Isabella Curwen who permanently renamed the island after herself.
Apparently, William Wordsworth hated the building so much he called it a 'tea canister in a shop window'. He requested that tall trees be built in front of it to hide it from view!
Belle Isle is private and you can't land on it, but you can visit the other islands by boat if you hire one.
Or, admire them from afar on your cruise! Other islands include Lady Holme, Hen Holme, Crow Holme, The Lilies, Silver Holme, Bee Holme Snake Holme, and others.
Facilities onboard Windermere Lake Cruises
So, beyond seeing and exploring all the amazing sites from your cruise ship. There are some all-important facilities onboard too.
The Lake District is partial to some rain in the area, so if you didn't fancy sitting on the top deck, you can sit inside the heated cabins that will keep you dry and save you from being windswept.
There is also a café/bar on the bottom deck that sells light snacks, hot and cold drinks, and also some beers and wines if you fancy treating yourself.
Thankfully, there is also a toilet onboard that's squeaky clean with toilet roll, running water, and soap!
How to find and board Windermere Lake Cruises
You can board a Windermere Lake Cruise at any of the piers mentioned above, but the easiest ones to start your adventure are at Bowness, Ambleside Waterhead, and Lakeside.
Each of these piers has a dedicated car park, but there are also public transport options as well.
By Car: From the M6, take the A590 heading into the Lake District. Follow the brown tourist signs for Windermere Lake Cruises at Lakeside Pier. For Bowness and Ambleside piers follow the A591.
By Train: Windermere Train station will bring you right into the heart of the Lake District for a car-free adventure. From Windermere train station, it's a 25-minute walk to Bowness Pier. Or, catch an interchange service to Bowness Bay.
By Bus: Stagecoach bus services in the Lake District can take you to Bowness Pier and Ambleside Waterhead. See here for details.
Windermere Lake Cruise parking
Bowness, Ambleside Waterhead, and Lakeside all have parking areas with reasonable rates for all-day parking;
Bowness: park up at the Braithwaite Fold Car Park with 400 spaces. 6 to 10 hours is £7.00.
Ambleside Waterhead: I parked up in the FREE car park opposite the pier. But, there is a dedicated car park with 21 spaces that costs £5 for the whole day.
Lakeside: 10 hours parking costs £4 in one of their 300 parking spaces right by the pier.
Read more of my Lake District guides
Places to visit on a Windermere Lake Cruise
A complete guide for the Blea Tarn walk
How to visit Hodge Close Quarry
All The Witcher filming locations in the Lake District
A complete Cathedral Cave walking guide
Save these places to visit on a Windermere Lake Cruise for later!