If you're looking for how to visit Wistman's Wood in Dartmoor National Park then I have directions for the Wistman's Wood walk from the Two Bridges Hotel in this detailed guide.
Although it looks amazing in photos, not many realise that it takes quite a walk to get here. The Wistman's Wood is an ancient place that lies high up on remote moorland in Devon.
You'd be forgiven for believing that you've stepped into a fairytale as the gnarled branches, mossy lichen-covered boughs and 'witches hair' make this place look like a fantasy world.
I stupidly decided to visit later in the day here and ended up on Dartmoor at night. I only found out afterward that I was standing in the most haunted place in Dartmoor…eep! (tip – don't do this).
Here's a complete guide for the Wistman's Wood walk with the history, legends, where to park, and walking directions.
Update: Unfortunately this magical woodland suffered damage with the amount of footfall and lack of respect for nature. Also, there was lots of rubbish left behind and even people robbing lichen (?!). Visitors are being encouraged not to go at the moment to give this ancient place a much-needed chance to recover. Thanks for your understanding.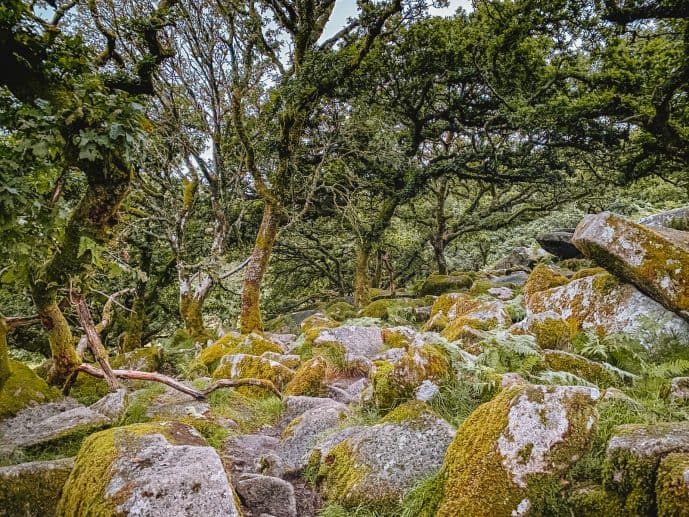 What is Wistman's Wood?
Wistman's Wood is a small and ancient high-altitude oak wood that is located within Dartmoor National Park.
Although only a 9-acre copse today, once upon a time this wood used to be part of a huge forest dating back to prehistoric times.
It's filled with gnarled and twisted oak trees, lichen-covered branches, mossy granite boulders, and wildflowers. It's quite unique in the UK.
Plus, it's meant to be home to lots of wildlife like the famous Dartmoor Adders that make a home here.
All of these things together give this magical place a Middle Earth, Potterhead, and mystical appearance. So, it attracts lots of nature and fantasy lovers alike!
Note: Wistman's Wood is a high risk for fire damage. Do not light fires, candles, or put out cigarettes here. For my photos, I was using a battery-operated lantern with a fake candle.
Why is it called Wistman's Wood?
The name of this small oak wood has many theories around its origins. Some say it's a wise man's wood due to the legends of Druids who would carry out rituals here.
Others say it comes from the Saxon word 'wis' meaning 'to know'. Or 'Wissman' meaning 'Wood of the Wise Man'.
Although associated with demonic hell hounds the word Wisht also means 'pixie led'. We often imagine pixies as twee creatures but pixies or piskies in folklore are in fact naughty pranksters who often play tricks on visitors here!
So, be aware of their mischief while wandering about on the moor. They have been known to lead you off track. Maybe it was a naughty pixie who made me lose my way back to my car?
Wistman's Wood history
Many people ask, how old is Wistman's Wood? Well, you could almost argue that this magical place is as old as time itself.
This small copse is actually all that remains of a larger forest that is dated back to thousands of years ago to around 7000BC!
It's been mentioned in writing by antiquarians for hundreds of years and the ancient oak trees here date back to around 500 years ago.
Nowadays, all that remains of this woodland is a tiny 9-acres – but, it's a miracle this part has survived for us to see today!
It's flora and lichens are unique and since 1964 it's been a Site of Special Scientific Interest (SSSI).
But, it's not the recorded history that makes this wood so mysterious and famous, it's actually the legends that surround it.
I stupidly decided to visit later in the evening. It was only after I left that I find out that it has a sinister reputation for being the most haunted place on Dartmoor!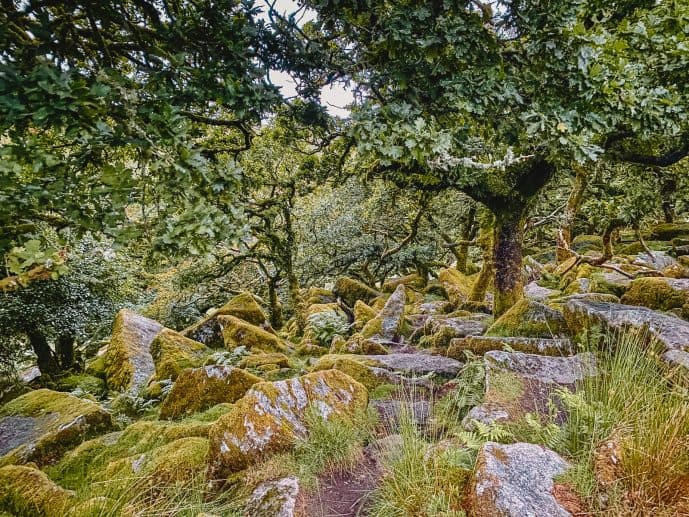 Legends of Wistman's Wood – Is Wistman's Wood haunted?
According to Wistman's Wood folklore, there are many legends and stories that surround this magical woodland on Dartmoor.
An ancient copse such as this is bound to gather a few folktales and legends in its time.
From bloody hell hounds, venomous adders, and the hooded druid protectors of this ancient place, these tales will frighten even the bravest of travellers.
In fact, even locals shudder at the thought of visiting this place at night as Wistman's Wood is the most haunted place on Dartmoor!
Wistman's Wood Druids
When I was here at night, I swear I saw a cloaked druid figure in the darkness. It may have been a huge mossy boulder but I still felt a presence while I was here. Turns out, I wasn't seeing things.
Legend has it that the Wistman's Wood is actually a sacred home of druids and in this place they carried out Pagan rituals.
Eliza Bray dedicated a chapter in her book 'Legends, Superstitions and Sketches of Devonshire' in 1844 on the druids of Dartmoor.
She writes that this was one of the last places in the country where druids carried out rituals. In fact, it still happens here. You may see some labyrinths and spiritual carvings that remain.
You may also see the Druid's Stone here otherwise known as the Buller's Stone. It's meant to be 163 years old!
Wistman's Wood Adders
The adders of Wistman's Wood is the next terrifying legend from this place. But, it's not really a legend as adders are meant to be common sight here on the moor.
Wistman's Wood is meant to be filled with adders and lots of people visit just to get sight of one!
The Wistman's wood adders are meant to slither and writhe around these woods camouflaged by the mossy trees.
Their bite is said to be venomous but they are not violent creatures seeking out to bite you. They won't attack unless they are provoked.
Luckily, I didn't see any here and I was mostly scrambling around in the dark. I could have easily stepped on one or worse, dropped my foot in an adder's nest!
However, If you are unfortunate enough to get bitten by the UK's only venomous snake call 999 immediately for medical attention. Although not fatal, the adder's venom can still make you very ill if not treated.
Wisht Hounds
The last and probably the scariest story is the legend of the Wistman's Wood Wisht Hounds! Wisht meaning spooky, eerie, or haunted.
These are bloodthirsty hellhounds of the Wild Huntsman. The devil and his pack of demon dogs prowl the moor at night time on their Wild Hunt looking to capture souls.
They are black with blood-red eyes and long yellow fangs and are reported to throw flames from their mouths.
They lay in wait, ready to pounce on lost ramblers on the moor near to the River Dart. Once they attack you, they would then drag your body to hell!
This also echoes the tales of nearby Buckfastleigh where the Squire Richard Cabell was thought to be swept off to hell in 1677 by a pack of hell hounds. He now haunts Buckfastleigh Church.
This tale is thought to have inspired Sir Arthur Conan Doyle and his Sherlock Holmes case The Hound of the Baskervilles.
I made a lucky escape but I definitely felt the presence of something. So, be on the lookout for the Wild Hunt of Devon while you're here (It totally reminded me of The Witcher 3 game).
Where is Wistman's Wood in Devon?
Wistman's Wood is located in the Dart River Valley which is a remote area of Dartmoor National Park.
It's nearest to Two Bridges and the large tourist hub of Princetown which is home to the National Park visitor centre.
Two Bridges Hotel is located in the centre of the national park on the B3357 road which is a slight turning off the B3212 road which spans the entire distance of Dartmoor.
If you didn't know already, Dartmoor National Park is located in the county of Devon which is in the South West of England.
Dartmoor is a remote and vast moorland reserve here in the UK which is filled with craggy landscapes, valleys, forests, wetlands, and rivers.
So, you'll need to prepare for a hike on this moor to reach this magical forest. Unfortunately, you can't park right next to it like other attractions.
How to get to Wistman's Wood in Dartmoor National Park
By far, the easiest way to explore Dartmoor National Park would be to drive as Dartmoor is a remote area and moorland.
If you are driving, the closest place to park for Wistman's Wood will be a place called Two Bridges which is just a few miles away from Princetown Visitor Centre.
From the Two Bridges Hotel, you can walk to the wood north of here in around a mile which will take you 30 minutes or so.
If you're travelling Dartmoor by public transport, the nearest train stations are Exeter St Davids, Plymouth, Tavistock, and Moretonhampstead.
From Exeter St Davids and Plymouth railway stations, you can then transfer to a bus service that will take you to Dartmoor National Park.
A Dartmoor Explorer pass is £10 and the service stops at Two Bridges on the way as well as other notable sights! There are only three bus services to Two Bridges per day so planning your journey in advance in essential. You don't want to get stranded.
Where to park for Wistman's Wood
The good news is that there is a small FREE car park right in front of the Two Bridges Hotel that you can use for the Wistman's Wood walk.
Use the postcode Two Bridges, PL20 6SW. Or, you can use this Google Map pin here.
The bad news is that this car park is tiny with limited parking spaces and gets full quickly. So, you may find it's too busy on weekends.
If you can't find space here, there are some roadside spaces as well on the roadside of Two Bridges but these also fill up fast.
I would also opt for a weekday or visit in the shoulders seasons of winter, autumn or spring to guarantee a space. Or, to visit as early as possible to avoid disappointment.
How long is the Wistman's Wood walk?
Although Google Maps says that it's a 10-minute walk from Two Bridges Hotel, it couldn't be further from the truth.
The Google Map pin ends at a farmhouse at the end of a beaten path. After that, it doesn't count the time and distance it takes to make the journey on foot through Dartmoor to the wood.
The Wistman's Wood walk is 1 mile each way but will take you at least 30-40 minutes to get there from the Two Bridges Hotel car park.
Although it's a relatively easy path to follow, it's not hard to get lost or veer off the beaten path on the moor. Plus, Dartmoor is uneven and boggy in places.
I would plan around 2 hours for the round trip including some time to explore the mystical woodland as you may find you fall in love with it and won't want to leave!
Wistman's Wood map
Here is a Wistman's Wood map to show you the route that you'll be taking from the Two Bridges Hotel!
The Google Map pin cuts off at the end of the road near to the farmhouse, so you're on your own after this point.
Fortunately, it's a relatively straight route on Dartmoor. So, keep heading forwards with the River Dart in the distance on your right until you see Wistman's Wood over the ridge!
Tips before you go
Toilets – Be mindful that there are no toilet facilities in Wistman's Wood car park, the closest is the Two Bridges Hotel for customers. The nearest public toilet is in Princetown.
Crowds – As it's so wonderful, this wood can get very crowded! So, I would opt to visit in the weekday or early morning to make sure to get a car parking space and avoid crowds.
Don't go at night – I made the mistake of going later in the day! Don't do this, it's stupid. Regardless of ghost stories you just don't walk on the moor at night. It will be pitch black and you can easily get lost. Always go during the day.
Water and food – have some water and food prepared as there are no facilities on the way to the wood
Boggy floors – even in July, I found the ground on the moor to be quite boggy and wet! Plus, there's lots of animal poop everywhere. So, wear a good pair of shoes.
Animals grazing – There are sheep and cows that graze in this area of the moor. Always leave them at peace and be mindful that they can bolt. Wistman's Wood walk is dog friendly but keep dogs on a lead at all times!
Fire hazard – don't light campfires, cigarettes or candles in this wood or on the moor as it's a high fire risk. Be vigilant and report anything suspicious by calling 101.
Protect the wildlife – don't scrape moss off the trees or damage any the flora and wildlife here. Also, remember to take rubbish home with you. Leave no trace and protect the beauty of this place!
Wistman's Wood walk directions from Two Bridges Hotel
So, are you ready to head out to Wistman's Wood?
Here are some detailed walking directions to help you find it on Dartmoor!
1. Firstly, find the Wistman's Wood parking at Two Bridges Hotel
The Wistman's Wood Car Park can be found just over the road from the Two Bridges Hotel which is just a few miles from Princetown.
It can be found in a place called Two Bridges and the Two Bridges Hotel postcode is Two Bridges, Dartmoor PL20 6SW.
This car park is free but there are limited spaces for around 8-10 cars at a push so I would aim to get here as early as possible to avoid losing out.
If you can't find parking here, head back out onto the road and there will be off-road spaces but these are limited.
Don't park on grassy verges or passing places if there is no space as this blocks the road. Always park in a designated car park or lay-by.
2. Head out on the Wistman's Wood walk through the fence and follow the path to Crockern Cottage
Once you've parked up nearby the Two Bridges Hotel, you'll notice a fence behind the car park.
Head through this fence onto the public footpath and bridleway and keep heading straight along this pathway.
Eventually, you'll see a white farmhouse called Crockern Cottage in the distance in front of you. This is where the Google Map pin trail ends.
3. Walk past the Crockern Cottage onto the moor and then through a stone wall
Once you reach the farmhouse, walk around it on the path and now you'll be walking on Dartmoor.
You will see a sign saying 'Footpath' pointing towards the Two Bridges Hotel. Not so helpful with directions but a good marker point to remember.
This is where the path can get pretty muddy if it's been raining as you're not only on a moorland but also you'll be walking over tributary streams that lead over to the River Dart.
Keep walking forwards over the moor until you see a stone wall that crosses horizontally over the moor.
Along this wall, you'll find two openings that allow you to keep heading forwards towards Wistman's Wood. But, if you're feeling agile, you could just climb over this wall at any point.
It doesn't matter which way you head through but, once you have, try to make your way back onto the beaten path.
4. Once you're through the stone wall, keep going straight until you see a stile
Keep following the moorland trail over a ridge. It is at this point on top of the ridge that you will see Wistman's Wood in the distance directly ahead of you.
It's quite distinguishable as it's the only cluster of trees for miles on the moor. You'll also see the River Dart in the distance to your left.
Keep walking forwards on this path, over some stepping stones and you'll eventually reach a stile you'll need to climb over.
5. Climb over the stile and walk ahead until you reach Wistman's Wood!
Once you reach the stile, climb over it and you should be in touching distance of Wistman's Wood at this point.
It's then just a short walk until you reach the entrance to the woodland. But, this part can be quite boggy due to footfall.
So, watch your step and mind out for any animals grazing. Then, make your way into this magical forest.
It's important to note that you'll be following this path all the way back to the car park. So, make a note of marker points for the way back!
Or, if you wanted to walk longer you can loop your way back via Longaford Tor, Littaford Tors and Crockern Tor.
You can just about see the top of Longaford Tor on the far right of this photo!
What to expect when exploring Wistman's Wood
As an ancient woodland, you can expect there to be gnarled and twisted oak trees with wildflowers and moss everywhere. There is very little that resembles a walking path in here.
The wood is dense and compact and the floor is filled with mossy and huge granite boulders and so you'll need to scramble your way over them very carefully.
It's only 9 acres so it's not overly large, much smaller than it looks on photos. But, what's here is absolutely magical.
As you get deeper in the woods, you'll see even more moss and you can even make your way down to the River Dart. You may even see some labyrinths carved into the stone.
I would leave at least 30 minutes to an hour to explore as it really is breathtaking and just like something out of Lord of the Rings or Harry Potter. I wish I could have stayed a bit longer but it was getting too dark.
Wistman's Wood photography tips
I have to admit, this place is certainly an Instagram vs. Reality moment. Don't get me wrong, it's gorgeous in photos and a dream to photograph but getting around this place can be a challenge.
Here are some Wistman's Wood photography tips:
Even during the day, the Wistman's Wood is low lighting and quite dark. So, if you have a tripod I would bring one for sharpness. Especially if you're coming here on a foggy day.
The best time to visit would be on a foggy or misty morning to get those mysterious magical photos. But, you'll find it's popular with photographers who arrive here very early morning too on a misty day.
I was thankful my iPhone 11 Pro Max had long exposure settings! I ended up using it for all my photos instead of my Olympus and they came out quite well and better than expected considering how dark it was. I didn't think I'd get any due to the lighting.
There are boulders everywhere in this wood and there is no set pathway in here. So, be prepared to climb over the rocks with all your equipment.
When I came it was not busy at all, I was the only one here (probably because of all the horror stories). I don't recommend visiting late at night. However, I would visit as early as possible to avoid crowds!
Wistman's Wood walk packing list
A waterproof layer / coat – Dartmoor is prone to showers, even in summer. So, I would recommend bringing a spare layer or a light rain jacket if it rains. The moor is exposed and there is no shelter until you reach the wood
Ankle supporting shoes – Although this is a short walk, the moor has uneven ground, boggy patches and rocks. The boulders in the wood are also hard to navigate. Bring a good pair of shoes with ankle support, preferably water proof
A bottle of water and snacks – there are no facilities on the way to the wood. So, make sure to bring your water bottle and snacks. However, bring all your rubbish home with you until you see a bin.
OS Map – although this wood is easy to find, you may wish to bring an Ordinance Survey map if you wanted to explore more of Dartmoor after your woodland walk. The moor is quite hard to navigate.
Camera – pictures or it didn't happen, let's be honest!
Is there a Wistman's Wood Harry Potter connection?
Dartmoor is a place that was mentioned in the Harry Potter books but, unfortunately, none of the Harry Potter movies were filmed in Devon.
Although there is no Wistman's Wood Harry Potter connection, I still feel that if there was any place in the UK that looked like the Forbidden Forest. It would be this one!
However, if you are exploring Devon, there is a Harry Potter connection in Exeter! J. K. Rowling studied at the university there and many Exonians claim that places in the city inspired her Wizarding World like Gandy Street as Diagon Alley.
You can check out my Harry Potter guide to Exeter here and the door that inspired the Room of Requirement.
A lot of visitors also feel that there is a Wistman's Wood Lord of the Rings connection as it really does look like something from J. R. R. Tolkien's Middle Earth. Alas, it was not a filming location.
However, if you would still like to frolic here and hide from Nazgûl Ringwraith's, there is nothing stopping you!
Wistman's Wood pub
If you're looking for where to eat near Wistman's Wood, then why not treat yourself to a pint or a hearty meal in the Two Bridges Hotel? They even do afternoon tea if you fancied a treat!
The Two Bridges Hotel is a welcome sight after trudging on Dartmoor and the good news is that it's under a minute's walk from the Wistman's Wood car park!
They are award-winning here in Devon having been awarded two AA rosettes and a Gold Award from Taste of the West. So, you know the food is going to be amazing.
They are open for both lunch and dinner but can get quite full! So, make sure to book in for a reservation.
The closest hotel to Wistman's Wood
The closest hotel to Wistman's Wood is the Two Bridges Hotel which is right by the Wistman's Wood parking area.
So, you could visit here for a well-deserved pint or meal after your visit or you can stay the night in one of their cosy countryside rooms.
There are many to choose from here and you have a top-rated pub and restaurant beneath you on-site!
Click here to book a room for the night
FAQs about Wistman's Wood
Who owns Wistman's Wood? Wistman's Wood is owned by Dartmoor National Park and has permissive pathways for the public to walk and explore this magical place!
Can you visit Wistman's Wood? YES you can! It's free to visit and open 24 hours a day. There are public pathways to access the wood. But, be mindful to avoid any of the scientific work going on.
What pubs are near Wistman's Wood? The Two Bridges Hotel is the closest pub to Wistman's Wood. But, you're only a mile or so from Princetown with even more pubs and facilities.
Are there adders in Wistman's Wood? Yes, there are Wistman's Wood adders, it's famous for it! But, many people don't see any as they hide here. Be careful as you don't want to get bitten. Adders are the UK's only venomous snake and their bite can make you seriously ill.
Can you go Wistman's Wood camping? Although wild camping is generally illegal in UK, there are some places where you have permission to go wild camping or backpack camping on Dartmoor as part of your walk. It's all the purple shaded areas on their wild camping map and there is a small area around Two Bridges that is included! You must bring your own equipment, be 100 metres away from the roadside and stay no longer than 2 nights. Check out this wild camping map from Dartmoor National Park and see more details.
Read more of my Devon travel guides
How to visit Lydford Gorge & White Lady Waterfall in Dartmoor
How to visit Brentor Church in Dartmoor
The House That Moved in Exeter
A Harry Potter guide to Exeter
Is this the narrowest street in the world?
Is this Exeter's Diagon Alley?
Why you must visit Burgh Island and things to do there
Walk the Agatha Christie Mile in Torquay
A complete guide for Babbacombe Cliff Railway
Things to do in Cockington Village
Taking the Lynton and Lynmouth Cliff Railway in Exmoor
What to do at Agatha Christie's Greenway
Woolacombe Bay Holiday Parks Review
Magical Valley of the Rocks Devon guide
Save this Wistman's Wood Walk Dartmoor for later!