The most delectable and magical dining experience you can have in Edinburgh is at The Witchery by the Castle.
Set in a sixteenth-century merchant's building on the Royal Mile, you'll dine by candlelight surrounded by tapestries, hand-painted ceilings, and ancient oak.
They serve up an award-winning a la carte menu or you can visit for their light lunch offer which I would always recommend.
As a lover of all things fantasy, gothic and magical, I loved eating here. The mystical atmosphere is unmatched and the food is utterly divine.
Here is an honest and detailed The Witchery by the Castle review in Edinburgh and if it's worth booking!
Why is the witchery called the witchery?
Most people wonder where the Witchery by the Castle gets its peculiar name and it stems from an era of Satanic panic and witch hunts in Scotland.
King James VI of Scotland is reputed to have sentenced more men, women, and children to death for witchcraft than any other monarch throughout Scottish history.
At first, he had little interest in magic and was even skeptical about the existence of witches and supernatural powers.
But in 1590, after his marriage to Anne of Denmark, a terrible storm battered his ship on his return from Scandinavia.
His advisors claimed that Dark Arts were at work and it was the fault of the North Berwick witches that he almost died at sea.
They were questioned (some even by King James himself) and tortured making forced confessions. Over 60 people were sentenced to die.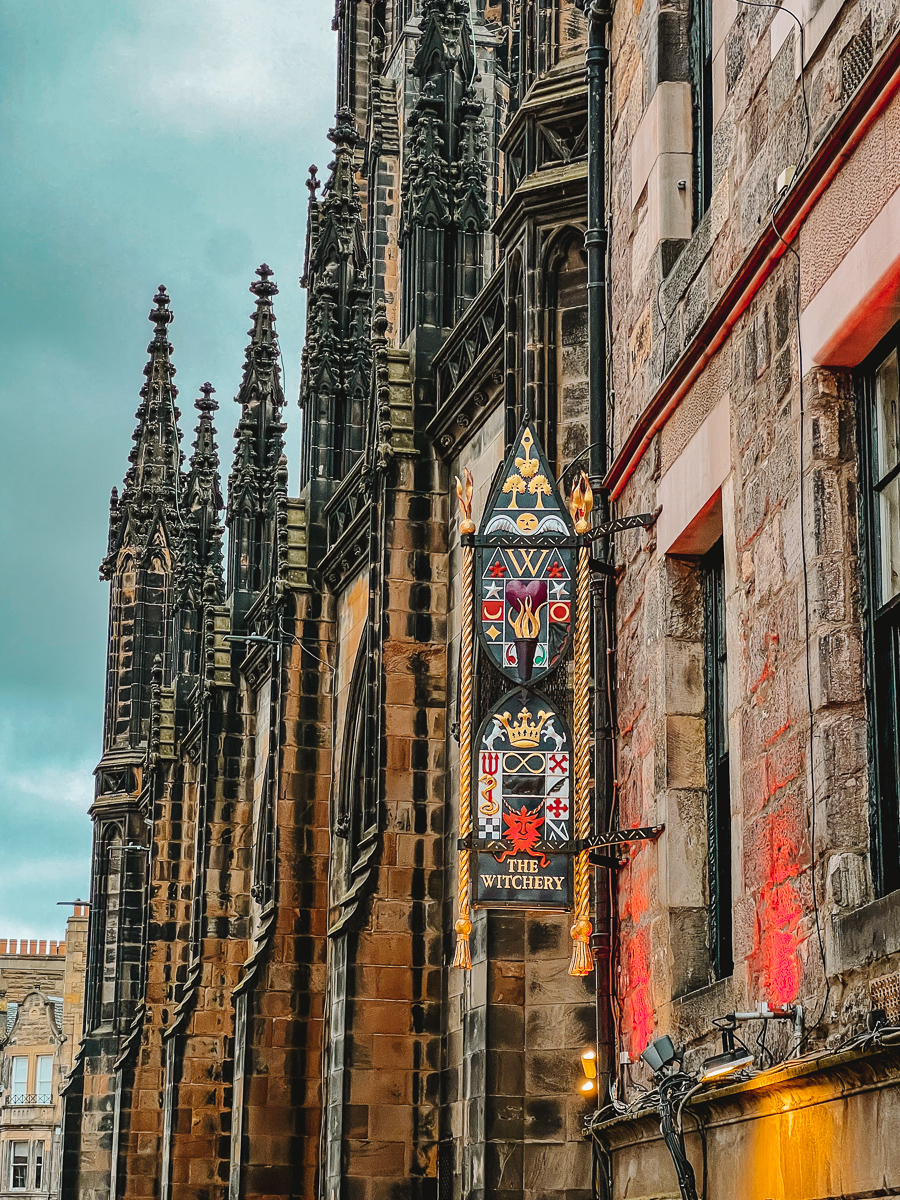 This witch hunt caused James to write his 'Daemonologie' and he made it his life's mission to rid the world of witches and the devil from the country.
He was obsessed with black magic and his sanction of witch trials caused national panic.
People were worried that witchcraft was to blame for all manner of things like failed crops and livestock dying. Fingers were pointed at neighbours and accusations ran ablaze.
Thousands of men, women, and children were tortured and burned at the stake during James I's reign of terror. 85% of the accused were women.
This is where the Witchery Edinburgh gets its name and you can find a monument called the Witches Well nearby to remember those who were accused.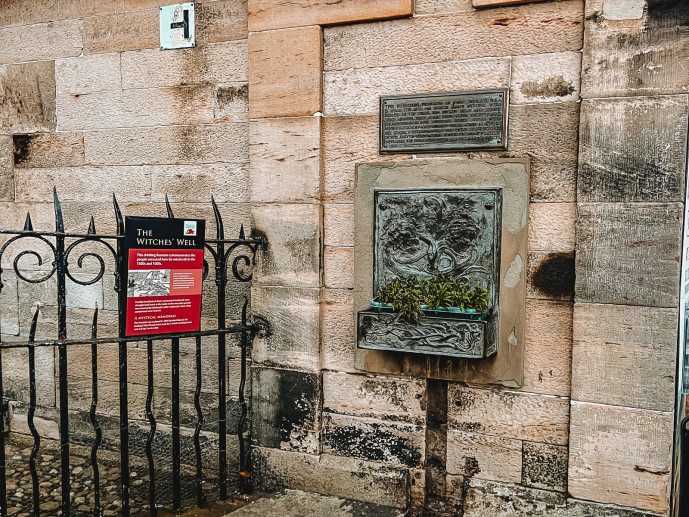 The Witchery by the Castle history
The Witchery by the Castle restaurant can be found in the mysterious Boswell's Court on the Royal Mile which is largely taken up by a sixteenth-century building.
This courtyard is named after James Boswell who was a former resident and Dr. Samuel Johnston's Biographer in the 18th century.
The building has been occupied continuously over the centuries and lies on Castlehill just inches away from Edinburgh Castle. The ancient seat of Scottish royal monarchs including Mary Queen of Scots.
The Witchery restaurant was established over 50 years ago and is one of the best places to eat in Edinburgh. It's a unique dining experience you will never forget.
You can choose to eat in their original baroque dining room with tapestries, dark wood, leather seats, and candlelight.
Or, dine in the elegant Secret Garden Restaurant that is located below floors, decorated with vines, flowers, and a hand-painted ceiling.
I've eaten in both and it's hard to choose between them! But, wherever you choose to eat, you can guarantee the food and ambiance will be spectacular.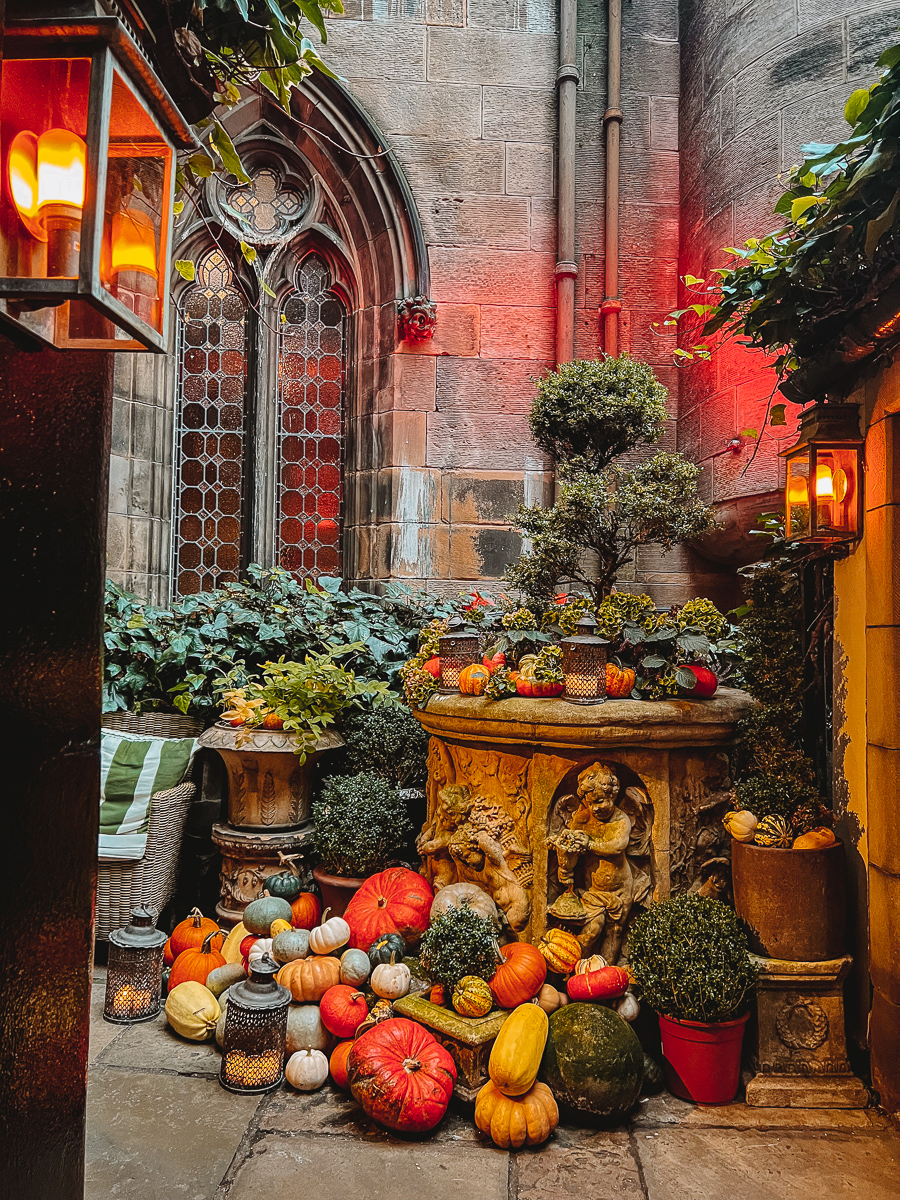 Can you book The Witchery by the Castle?
Yes, you can book to eat at the Witchery and I would recommend booking your table in advance as it is very popular!
Depending on the season and day, you may get lucky with a walk-in or last-minute booking but it's always a risk.
When booking, you do have to enter your card details and there is a fine per guest if you do not cancel in enough time or fail to show up for your booking.
You can easily book a table via their website, giving them a call or popping into the restaurant itself on your visit.
When booking, you will be asked whether you would like to eat at The Witchery's original dining room or The Secret Garden restaurant.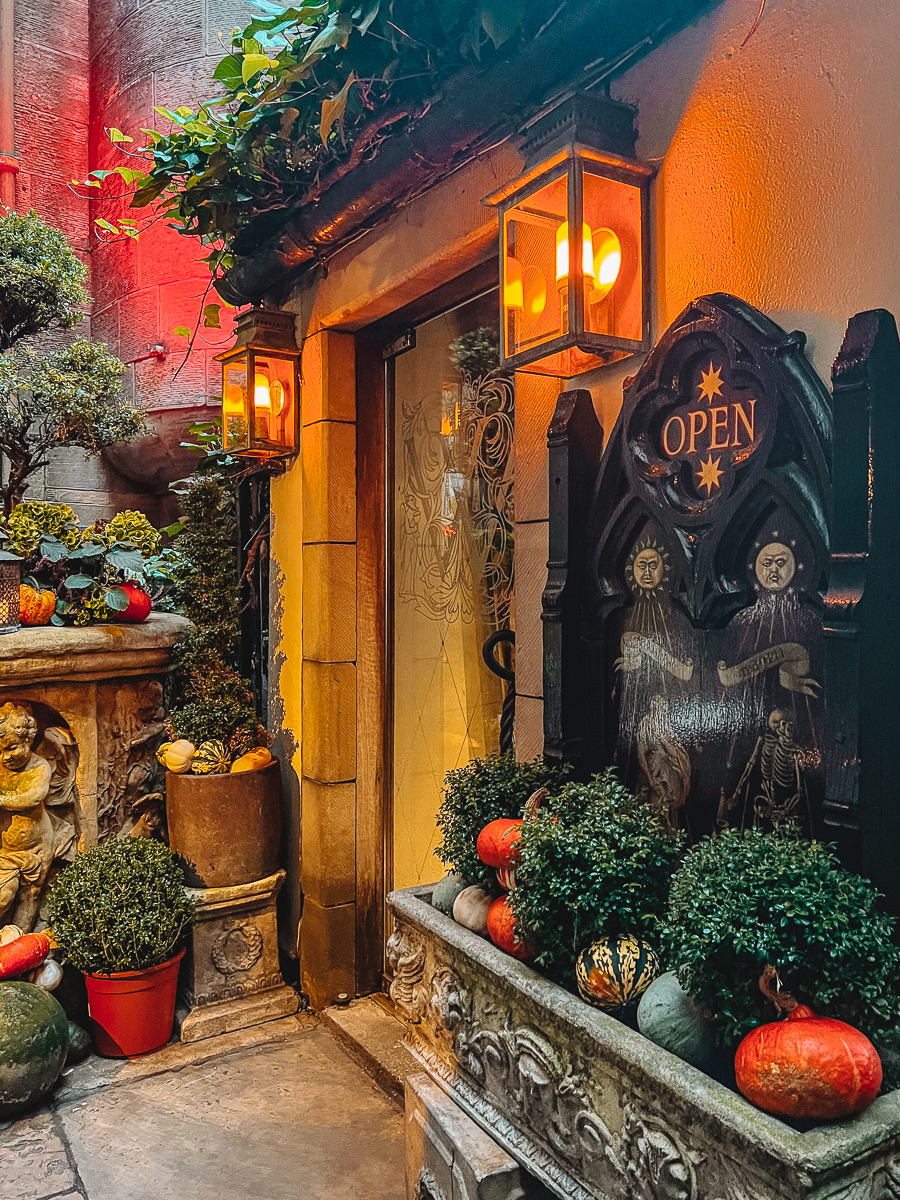 The Witchery vs. The Secret Garden Restaurant
Not many people know that the Witchery by the Castle is actually made up of two magical and mysterious restaurants.
These are The Witchery's original dining room which is set in the historic building and a 'hidden' Secret Garden restaurant that is located below the floor further back in the Boswell's Courtyard.
I've eaten in both of these rooms and they are both magnificent atmospheres with out-of-this-world decor.
You'll dine by candlelight in either so I guess what one you choose will depend on what type of vibe you're going for.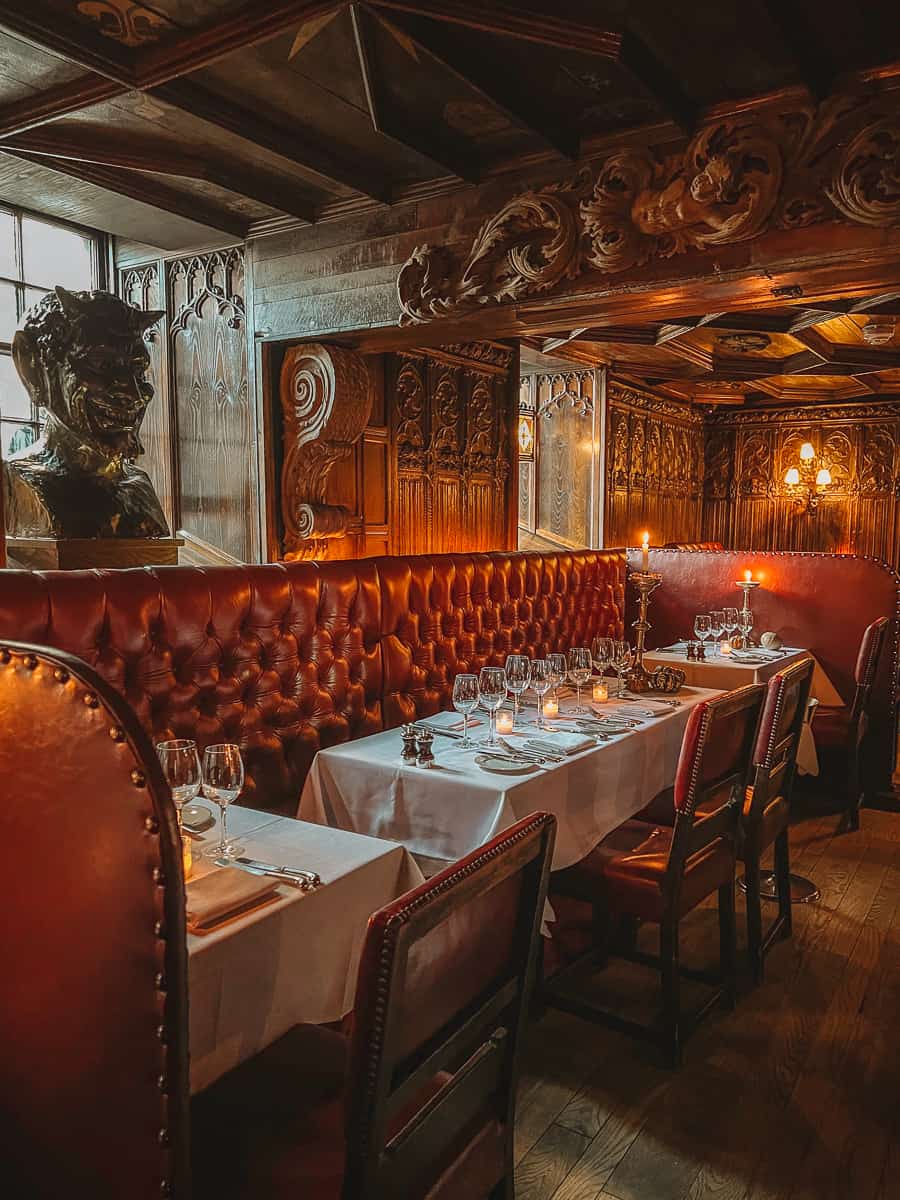 The original Witchery Edinburgh Restaurant
The original dining room is located in the sixteenth-century merchant's house on the Royal Mile opposite Camera Obscura.
Designed in a baroque style, it has ancient oak panelling, gold mirrors, a painted ceiling of the Auld Alliance, red leather seating, and is entirely lit by candlelight.
You'll also notice some really cool details like the carved wooden ceiling and a bust of Lucifer in the window alcove.
All of the tables are separated and the entire place is romantically lit. So, it has an intimate and mysterious atmosphere perfect for a solo date or a meal with friends, family, or a partner.
To me, this feels like a restaurant straight from Bram Stoker's Dracula 1992. You could easily imagine Vlad and Mina dining here as it has a dark, vampy, and gothic vibe.
The Secret Garden Restaurant
The Secret Garden Restaurant is located at the far end of Boswell's Court and you'll descend underground for this dining experience.
As you'll enter the restaurant you'll see their pulpit reception and then you'll head down the stone steps lit by lanterns to your table.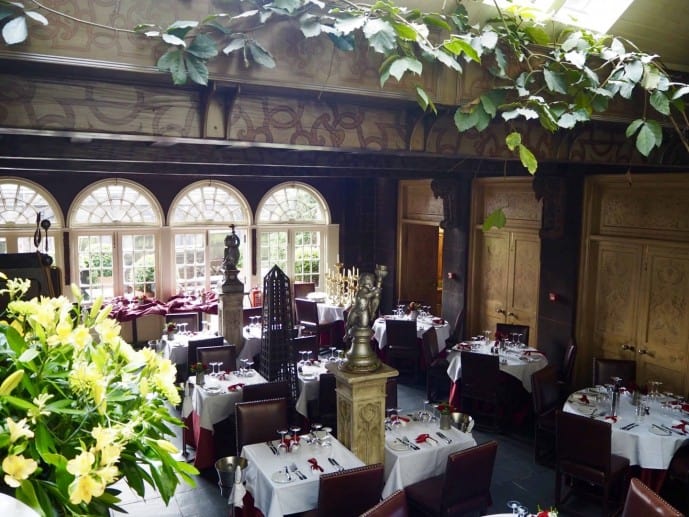 There are flower decorations, crawling vines, a hand-painted ceiling, French windows, ancient oak, and tapestries that all make this area entirely magical.
The Secret Garden definitely has more of a dark fairytale vibe so book this if you wanted to feel like you've teleported into a fantasy world.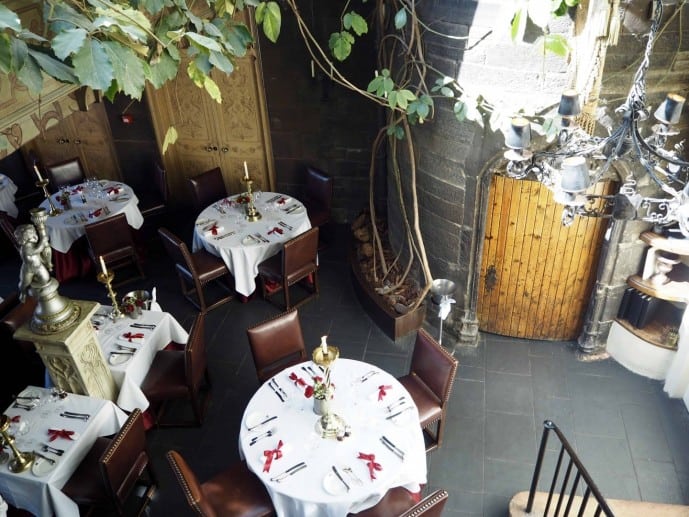 The Witchery by the Castle two-course lunch menu
One of the offers that I would recommend taking advantage of at The Witchery would be their two-course lunch menu.
This offer includes a starter and a main course for just £29.50 per person which is a great deal considering many of the a la carte dishes are around this price alone in the evening.
The two-course lunch is served from 12 pm until 4.30 every day at The Witchery & The Secret Garden Restaurant. So, you could easily book to eat here after your visit to Edinburgh Castle.
The only exception is this is no longer served during August when the Fringe Festival is on.
Both times I have eaten at The Witchery I have booked the two-course lunch offer and every time the food is delectable and the magical atmosphere is unmatched in the city.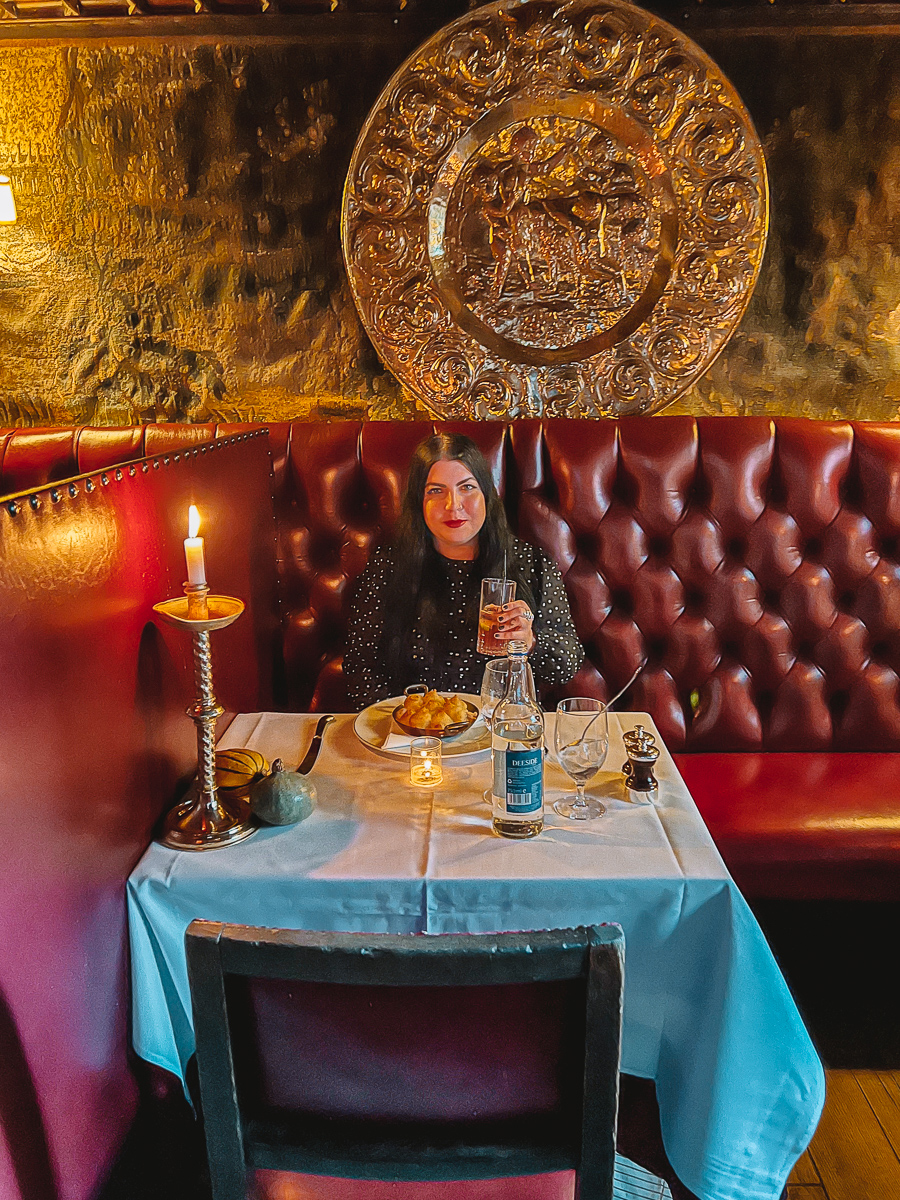 Delectable Drinks
The Witchery has a large range of soft drinks, beers, wines, and spirits to accompany your meal when dining.
As I had a long drive ahead of me to Fort William to ride the Hogwarts Express, I decided to go for one of their soft drinks.
Although there is diet coke on the menu, I was recommended to try one of their signature mocktails instead.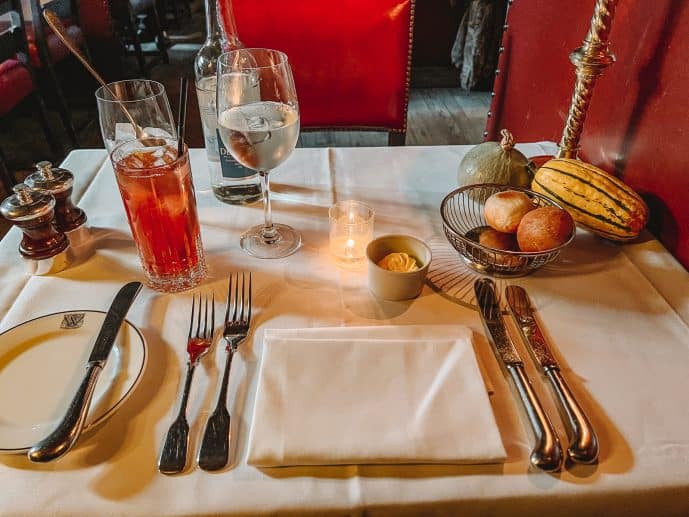 My Witchery cocktail was very colourful and fruity and it was a tasty accompaniment to my meal.
As I was visiting in the autumn, I loved the fact that my table had real pumpkins on it and was lit by candlelight!
Witchery starters
In the light lunch menu, you can choose a starting dish and the choices are;
a foraged garlic veloute with goats curd mousseline and garlic oil
a cold smoked 'eddies cure' salmon salad with creme fraiche and lemon
or the ham hock terrine with prune chutney and mustard mayo.
I went for the ham hock terrine and it was expertly presented when it reached my table!
The meat was delicious and full of flavour and the chutney and mayo were the perfect pairings.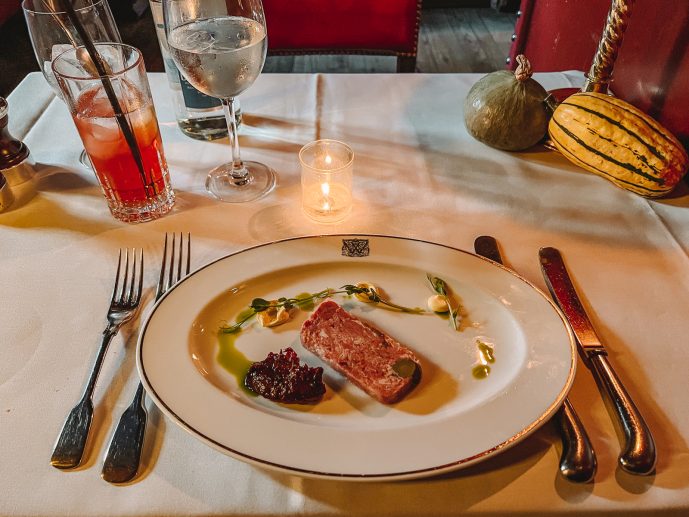 Witchery main courses
Then, you get to choose a main course as part of the two-course lunch menu. The choices are;
The famous Witchery Fish Pie
Slow-cooked leg of Pekin duck with pomme puree and caramelised onions
Or, seasonal wild mushroom risotto with truffle oil
I decided to go for the signature Witchery fish pie which was such a unique and tasty dish.
Although you imagine a pie to be crusty pastry, the witchery's invention was a fish filling with what I can only describe as peaks or 'clouds' of mashed potato on top!
The flavour of the fish wasn't too overpowering and it was very filling. I had no regrets.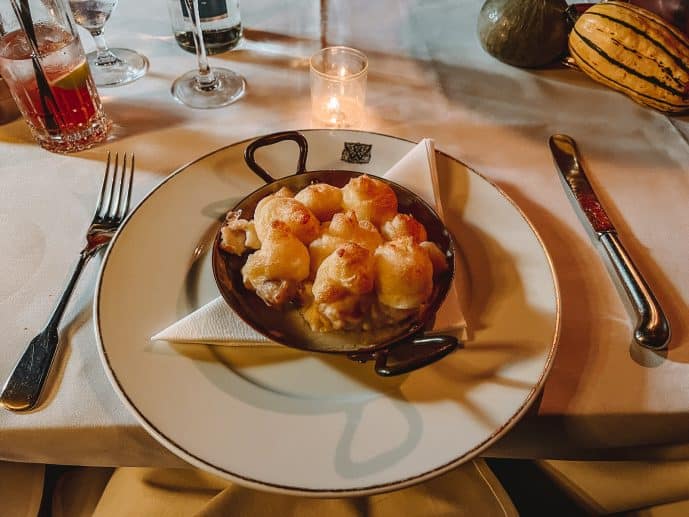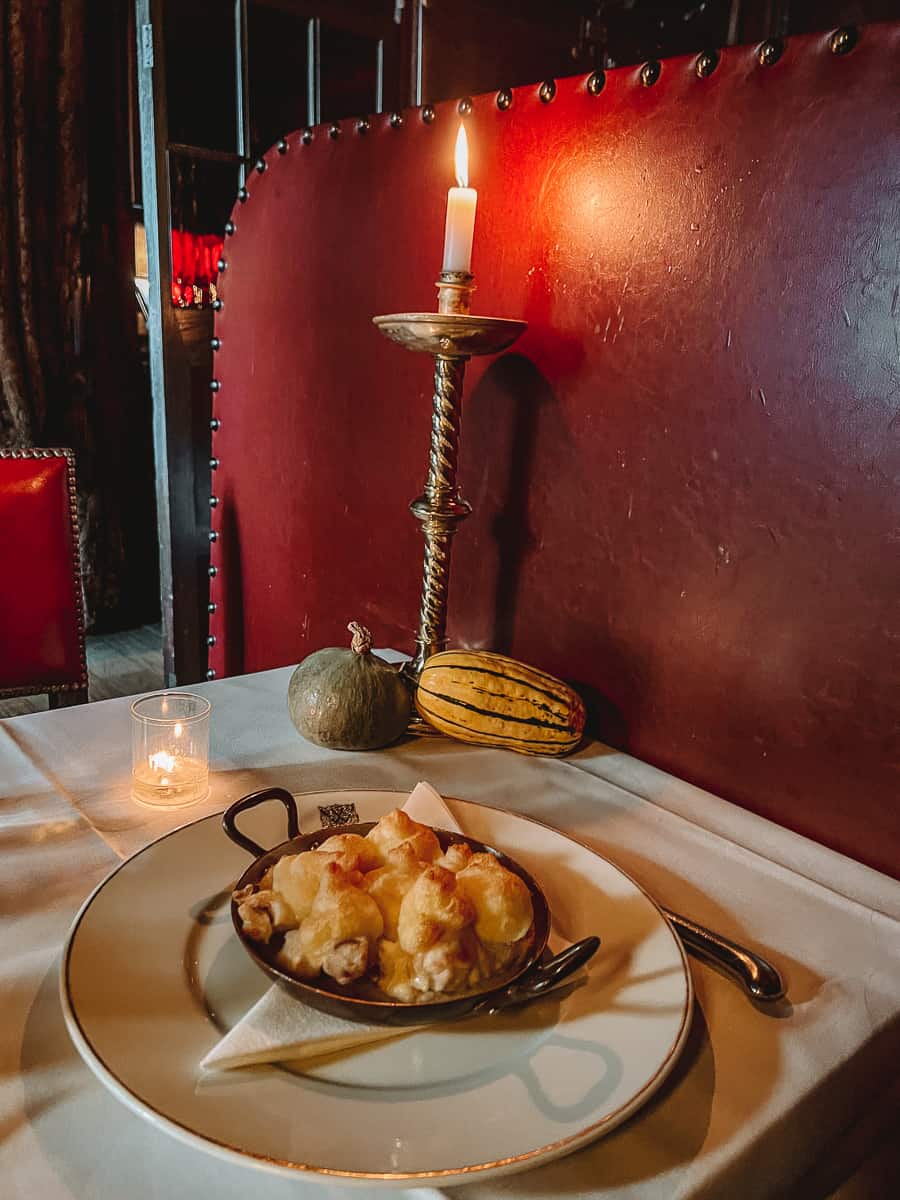 Something sweet to finish?
Although the two-course lunch menu is more than enough food, there is a dessert menu if you wanted to end with something sweet.
As I had a long drive through the Cairngorms with zero chance of dinner, I decided to go for an apple and blackberry crumble with ice cream to finish off my lunch at the Witchery.
But, they have many other desserts on offer and these vary by the season. You'll find, kulfi, chocolate torte, Pina colada sundaes, an apple tart tatin, and a cheese selection too!
How to find the Witchery by the Castle in Edinburgh
The Witchery by the Castle is easy to find at the very top of the Royal Mile/Castle Hill before the Edinburgh Castle esplanade. It's opposite the Camera Obscura & World of Illusions.
It's a great place to eat lunch before or after your visit to Edinburgh Castle as it's located near the entrance.
You will see their signature hanging Witchery sign located outside of the building and to access the restaurant you'll need to enter through the ancient Boswell's Court.
The entrance to the original Witchery Restaurant will be on your first right and the Secret Garden Restaurant entrance is at the end of the courtyard.
It's easiest to walk to The Witchery by the Castle as this area is pedestrianised, it's a steep walk from Edinburgh's Waverley Station. Or, you could take a Lothian Bus to George IV Bridge and walk from there.
An alternative would be to take a taxi up the hill (the closest they can drop you is the roundabout at the bottom of Castle Hill near Upper Bow) or if you're driving the nearest car parking is Johnstone's terrace.
The Witchery by the Castle address is 352 Castlehill Edinburgh. Click here for a Google Pin!
Is The Witchery by the Castle worth it?
100% YES, it is definitely worth eating at The Witchery Edinburgh especially if you go for their two-course light lunch offer.
The atmosphere of these restaurants is entirely magical and it feels like you've escaped to another world for a few hours.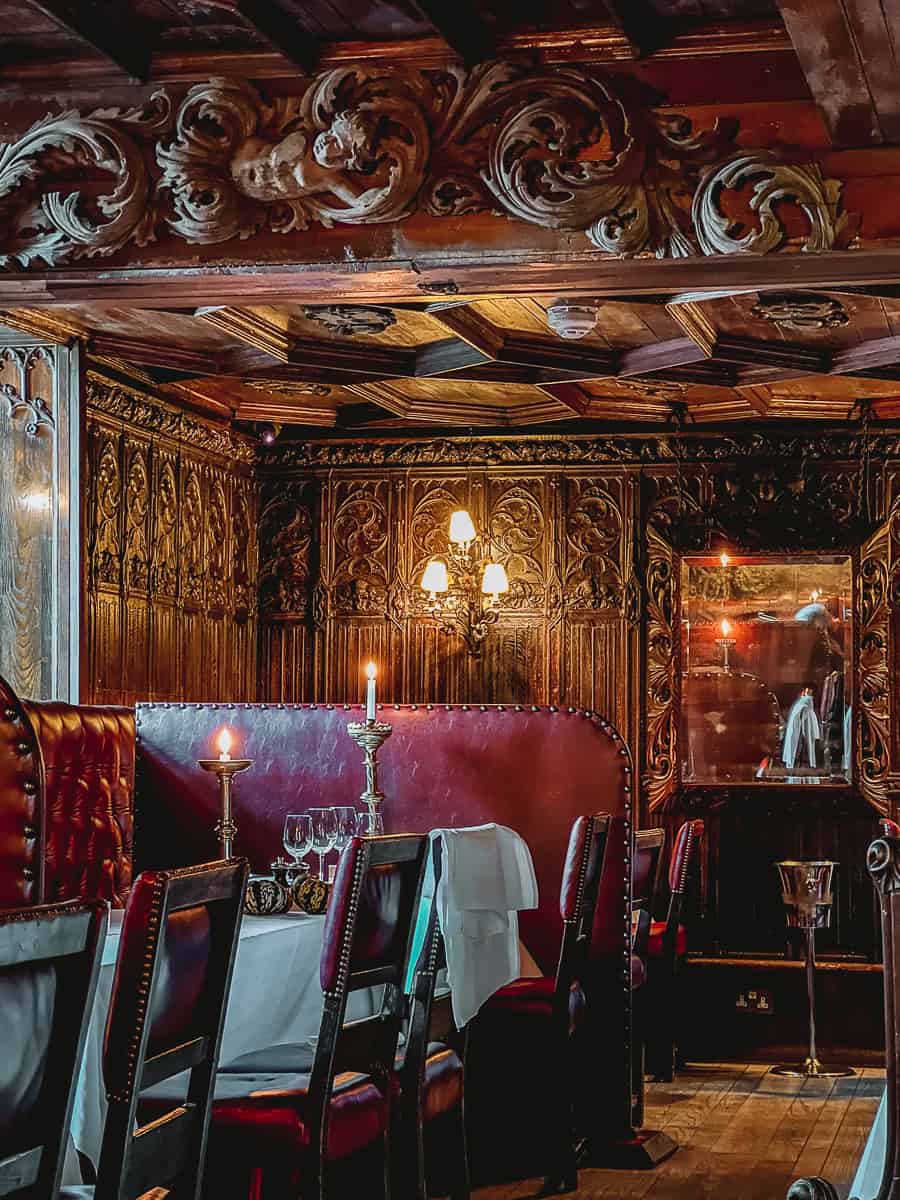 If the atmosphere isn't enough the food is award-winning and the service is also top-notch. It's great value for money.
It's one of the best luxury dining experiences you can have in all of Edinburgh and you won't regret booking it!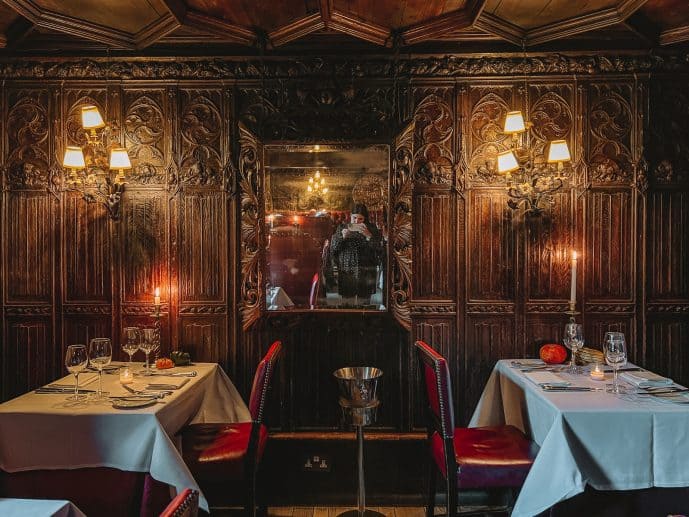 Book a night at The Witchery hotel
If you wanted to make your visit to Edinburgh really special then you could book a stay at The Witchery hotel.
Above the restaurant, they have a range of nine baroque-style suites with four poster beds, lavish furnishings, and roll-top baths.
They have been described as one of the seven wonders of the hotel world and look utterly sumptuous and divine! They could easily be quarters in Hogwarts School of Witchcraft and Wizardry.
Honestly, it is one of my biggest dreams to spend the night at The Witchery one day so I best start saving.
Click here to book your stay at The Witchery By the Castle
Spooky attractions near The Witchery by the Castle in Edinburgh
If you're looking for more spooky sites in Edinburgh you will find them around here in abundance.
Just nearby you can visit The Witches Well which is a memorial to the women, men, and children that were persecuted for witchcraft.
Edinburgh Castle is the seat of Scottish Royalty which has a fair few resident ghosts amongst the royal jewels and battlements.
Deacon Brodie's Tavern was an inspiration for Dr. Jekyll & Mr. Hyde and Mary King's Close is an underground labyrinth of streets and tunnels dating back 400 years.
The Cadies & Witchery Tours can be found on Victoria street. You can see the William Burke Museum which is the smallest museum in the world. It has one exhibit and that's of a small calling card case made with William Burke's skin!
If you wanted to learn more about Burke & Hare, you can visit the National Museum to see the Burke & Hare Dolls.
Victoria Street is often called a Harry Potter street as it resembles Diagon Alley! You can visit shops like Museum Context to do some magical shopping.
Another Harry Potter location is Greyfriars Kirkyard where you'll see some familiar names on the graves. Plus, there are lots of spooky things to see like poltergeists.
Click here to see my complete Harry Potter guide for Edinburgh!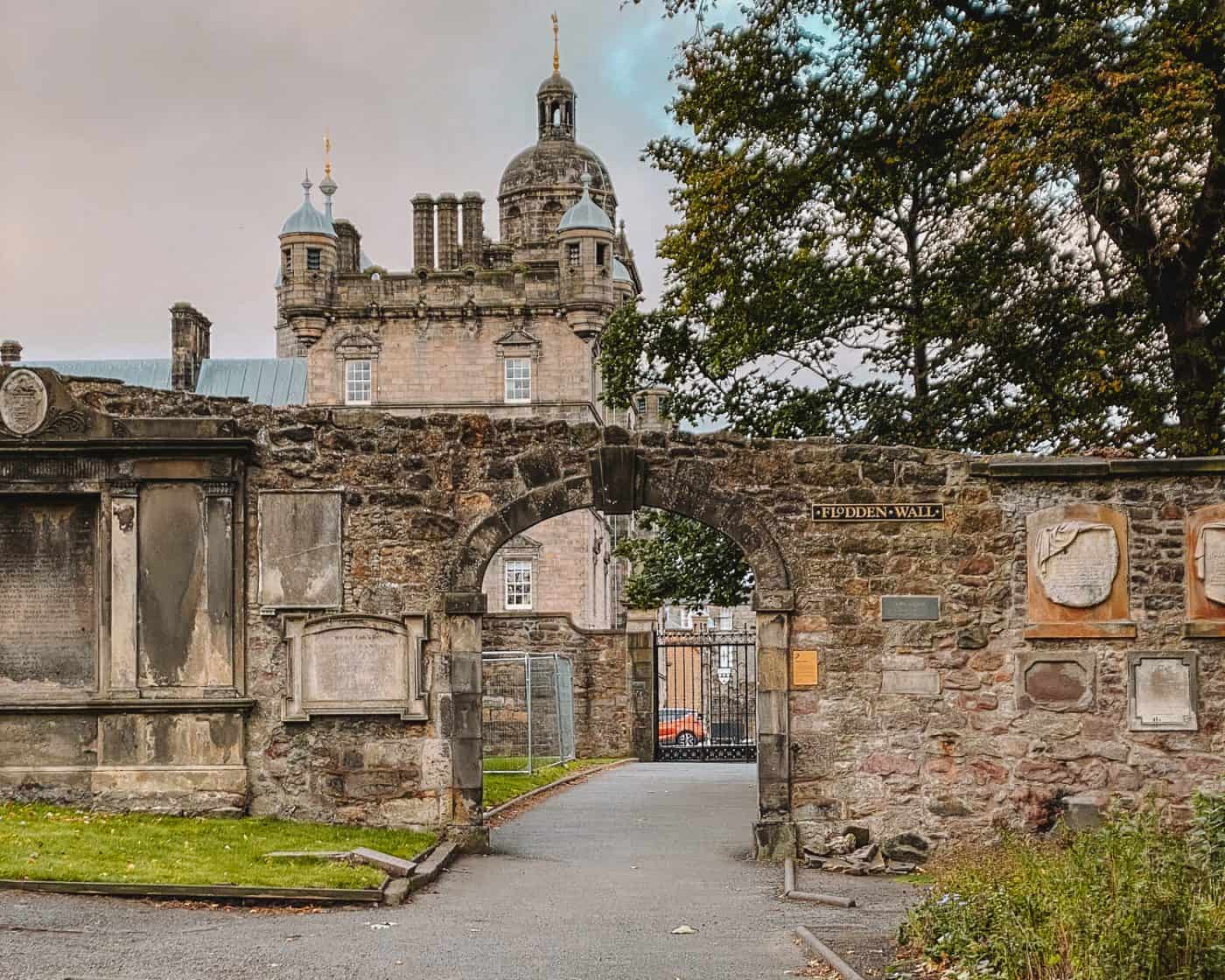 The Witchery by the Castle FAQs
Who owns Witchery by the Castle? James Thomson OBE, a renowned hotelier, and restauranteur.
Are children allowed in the Witchery Edinburgh? Children under 10 are not allowed to dine at the Witchery.
What is the nearest car park to the witchery Edinburgh? The Witchery is located on Castle Hill and wherever you park in the city it will still be a walk uphill to access the restaurant. It's best to walk, take a bus or grab a taxi. The closest metre parking would be Johnstone Terrace. The closest NCP car park is Castle Terrace.
Read more of my Edinburgh travel guides
Edinburgh is one of my favourite cities in the entire world and so I have plenty of travel guides if you wanted to take in some of the tourist sites around the city too;
The ultimate list of experiences in Edinburgh
Harry Potter locations in Edinburgh
The best viewpoint in Edinburgh
Visiting a quaint village in the capital of Scotland
My complete photography guide to Edinburgh
Secrets of Queen Mary's Bath House
A complete list of Outlander film sites in Edinburgh
Why you must visit Bakehouse Close
A complete guide to the Vennel
The hidden gem of Tweeddale Court
Why Craigmillar Castle has to be on your list
Afternoon Tea? The Colonnades & The Balmoral are the best!
Discover Liberton Kirk in Autumn
How to visit the Pink House on Loch Glass
Topping & Company Booksellers Edinburgh review
Lady Stair's Close & The Writers' Museum in Edinburgh
How to visit the Ross Fountain
Save this the Witchery by the Castle review for later!