Okay Potterheads, If you're looking for all the magical Wizarding World of Harry Potter Instagram spots in Universal Studios; put your spell book down, I've got you covered!
The detail in these parks is so amazing, that it will feel like you're walking through the pages of the books and play a part in the movies.
You can visit Hogwarts and be sorted by the Sorting Hat, Enter Gringotts Bank, ride the Hogwarts Express, cast spells with your very own wand from Ollivander's or sip Butter Beer in Hogsmeade.
Everything has been made for Potter fans in mind.
You could argue that the whole of the Wizarding World of Harry Potter is Instagrammable. But, to make it easier, I'm going to list out the best spots for you shoot here.
So, grab your broom, your wand, your house colours and some magic and let's get photographing!
The Wizarding World of Harry Potters is not a separate theme park to Universal Studios in Orlando, but a magical themed land that stretches over two parks!
Don't worry about leaving, you can walk through Platform 9 3/4 and board the Hogwart's Express.
This is an epic train ride that will take you between parks in minutes.
Hogsmeade is the Harry Potter land in Universal Studios where you can see and visit Hogwarts.
Watch the school prefects sing a welcome song with their toads, get some sweets at Honeydukes, sip Butter Beer at the Hogs Head, eat in the Three Broomsticks and get a wand at Ollivander's.
Diagon Alley is based in Islands of Adventure. You can pass Grimmauld Place, walkthrough Leicester Square Underground Station and be immersed into Diagon Alley!
See the dragon spit fire on top of Gringotts Bank, walk through the spooky Knockturn Alley, have a Florean Fortescue Ice Cream or visit the Weasley's Wizard Wheezes.
The detail in these two Wizarding World's is honestly incredible. If you're a big Potterhead, then it will be like visiting the real thing!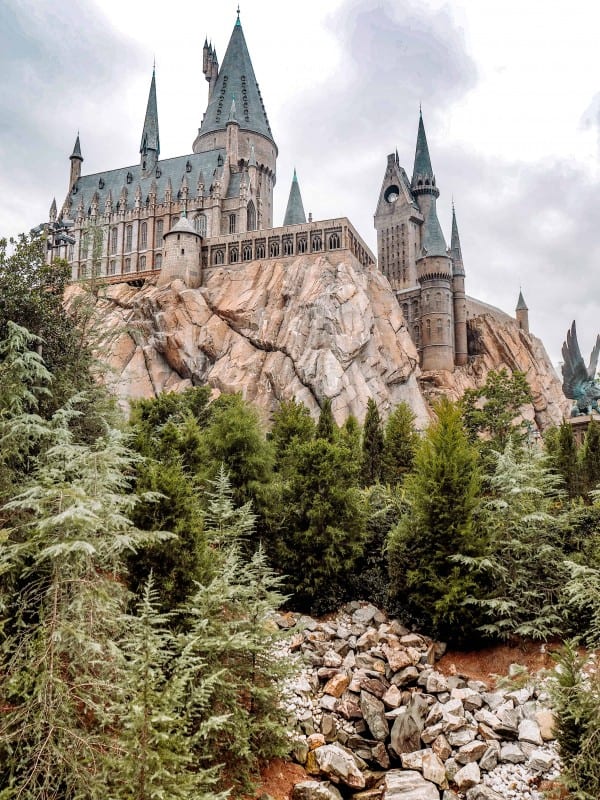 Top tips for visiting
As Diagon Alley and Hogsmeade are in two separate theme parks, you will need to purchase a park to park ticket if you wanted to go on the Hogwarts Express in between both parks.
I would highly recommend doing this as I don't believe one can be done without the other!
They're both So different. Plus, who doesn't dream of going on the Hogwarts Express train!?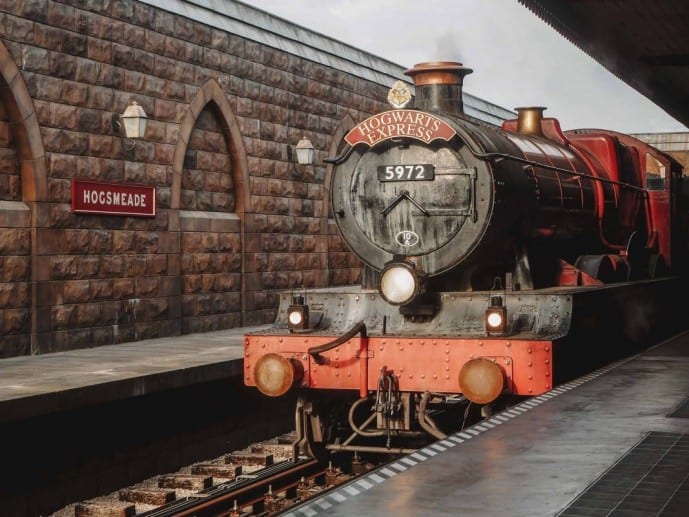 Get here EARLY! Either stay at one of the Universal hotels that grant you early access into the parks or buy an early access ticket. Or, run to the Wizarding World of Harry Potter as soon as the park opens. This is by far the most popular part of the park!
Allow a lot of time to explore and go into the shops and restaurants. Some people spend all day just here as there is so much to do.
I would recommend heading to Diagon Alley first in Island's of Adventure to ride Escape from Gringotts. The queues can rise to up to 3 hours long! Also, Hagrid's Magical Creature's Motorbike Adventure as it's new and expected to have long queues.
If you're just interested in photos, I would get here as early as you can! It gets horribly crowded later in the day. Or, develop the patience of a saint haha!
If you're not good with queuing, Universal Studio's do sell an Express Pass that allows you to skip the line, including the Hogwarts Express, all day.
Magical Wizarding World of Harry Potter Instagram Spots
1. Diagon Alley
When you walk through Leicester Square underground station through the wall to Diagon Alley, this is the moment you will truly be blown away.
Most likely by the angry, fire breaking dragon sitting on top of Gringotts Bank!
This is the most Instagrammable spot in the park as you have tonnes of colourful shops, like Spindlewarps, Quality Quidditch Supplies, Wiseacres, and Madam Malkin's Robes for All Occasions.
Plus, of course, a huge dragon at the end that breathes FIRE!
The best part? Not only can you photograph them, but you can also go inside them too and shop! It's like any Potter fans dream.
My biggest tip would be to get here as early as you can, be the first if possible!
I can't tell you how many people crowd this place pretty much all day. Or, wait til the end of the day and be the last in but by then it will be pretty dark!
2. Escape from Gringotts & Gringotts Money Exchange
Escape from Gringotts is a fast-paced rollercoaster/simulator ride.
I won't give anything away here, but as the name suggests, you're entering Gringotts bank and then need to escape.
Not only is this ride incredible, but the details of the queuing area are also EPIC! You get to actually walk through Gringotts Wizarding Bank just how it looks in the movie and see the Goblin's who work there too.
Don't forget to visit Gringotts Money Exchange in Diagon Alley where you can trade muggle money for Gringotts Bank Notes.
These can be used for purchases in Diagon Alley and Hogsmeade. If you don't spend all of it, you can always exchange back at guest services but it makes a cool souvenir!
3. Weasleys' Wizard Wheezes
How would you like to visit the kings of mischief, Fred and George Weasley, in their shop?!
You'll surely find some tricks to solemnly swear you're up to no good in here.
This could be the least inconspicuous shop in the park that's bright orange with a huge robotic head with a rabbit coming out of its hat!
Also, the window display has some fun advertising for Puking Pastilles haha.
Pygmy Puffs, Love Potions, Sneakoscopes, U-No-Poo candy, Decoy Detonators, Fever Fudge, Extendable Ears, Puking Pastilles and Skiving Snack boxes can all be found in its walls.
The most Instagrammable wall, however, can be found out of the back!
Here you have a huge purple and orange wall with lots of Weasley style graffiti. This is an easy one to get a clear photo, so go for it!
4. Sugarplum's
Right next door is the gorgeous outrageously pink Sugarplum's sweet shop. This display is so picturesque from the outside, it like a siren drawing you in!
Again, you can actually go inside Sugarplum's and buy candy and treats from the Harry Potter books.
The store is owned by Mr. Sugarplum, is featured in the backdrop of the movies and even the graphic designs of the sweets are the same as the movies too!
Bertie Bott's Every Flavour Beans, Acid Pops, Bing Bong Ginger Snaps, Exploding Bon-Bons, Sugarplum's taffy and even Chocolate Frogs are the candy's you can take home here.
They also have their very own bakery inside serving up some Cauldron Cakes, Candy Apples, Pumpkin Pasties, 'No Melt' Ice Cream and Butterbeer Fudge too.
5. Florean Fortescue's Ice-Cream Parlour
I don't know about you but when I read the Harry Potter books, I always wondered what it would be like to taste the treats in Hogsmeade and Diagon Alley. Well, now you really can!
Florean Fortescue serves up all sorts of flavour ice cream in their Diagon Alley branch.
You can try Butterbeer flavour, Granny Smith, Orange Marmalade, Toffee Apple and more!
The options are to have it served in a cone, cup or souvenir glass. Out of all the displays on Diagon Alley, Florean Fortescue's is my favourite!
It's just so fun, colourful and creative. Which also makes a good photo opportunity too – with your yummy ice cream of course!
6. The Leaky Cauldron
True to its name, the Leaky Cauldron is set up like a dingy pub in Merry Old England.
This is where Harry Potter stayed for weeks before his third year of Hogwarts.
Once inside, you'll be sitting under a cathedral ceiling and can see the guest rooms of the Leaky Cauldron above you.
The Harry Potter restaurants at Wizarding World are some of the best food choices in the park so I would highly recommend it. They serve up Breakfast, Lunch and Dinner here throughout the day.
The Leaky Cauldron serves up traditional English grub on their menu. You can order Bangers and Mash, Fish and Chips, Toad in the Hole, A Ploughman's, Turkey Legs and Cottage Pie.
There's also some incredible beers on draught here too including Dragon's Scale and Wizard's Brew.
Just a note: the queues for food here can be huge, as long as rides, and you have to order your food with your whole party before you can secure a table.
So, if you can wait, I would suggest visiting at off-peak times (11 am or 2/3 pm) if it's summer.
7. Dre Head & Knight Bus at King's Cross
Who can forget the incredible scenes in Harry Potter and the Prisoner of Azkaban, where Harry is picked up on the Knight Bus and talks to the shrunken Dre head?!
Well, you can meet him for yourself at the Knight Bus meet & greet station outside King's Cross station!
Why not pull up and have a chat with Dre Head and the bus conductor and talk about…well, anything!
It's not a robot repeating the same things, it really talks to you. So, ask away.
This usually has a small queue that moves along quite quickly. It's definitely worth the wait and is a great snap!
8. Grimmauld Place
12 Grimmauld Place was where Sirius Black grew up and is the home of the Black family that are High Born Wizard's.
It's located in the muggle neighbourhood of the Borough of Islington in London. But, don't panic, you don't need to fly a thousand miles to reach the Capital of the UK to see it.
The streets of London have come to you in Island's of Adventure!
The is an entire London street in the theme park outside Leicester Square station that you can stroll down.
It comes equipped with realistic street signs, doors and railings too. You can sit on the porches for a photo if you want as well!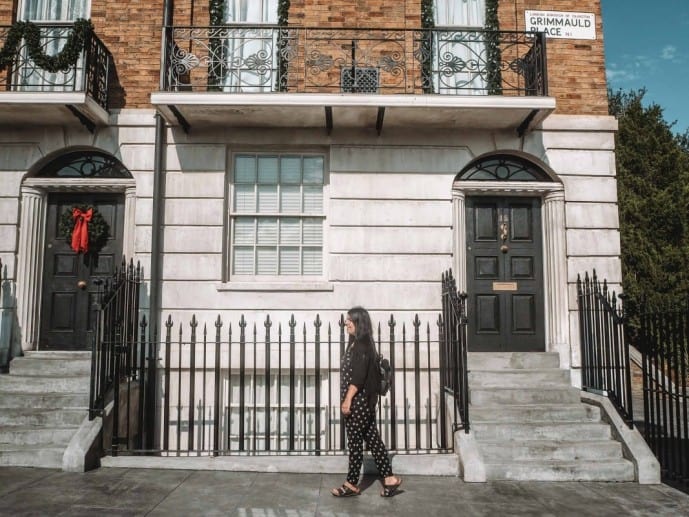 9. King's Cross Station
As a Brit, seeing the London Underground in Florida was weird!
But surprisingly, it was actually realistic, even with a shop counter selling magazines and bottles of Bulmers inside!
Although you'll probably be rushing through for your train, there are loads of photo opportunities inside including photogenic suitcases, London train time boards and other Harry Potter Easter eggs.
Fun fact: the advertising billboard's in here are the same as in the movies!
10. Platform 9 and 3/4's
How can it be the Wizarding World of Harry Potter without Platform 9 and 3/4's?!
I actually (shamefully) haven't visited the one inside the real King's Cross in London, but this was far better as I actually got to step on the platform and wait for the train to Hogwarts!
The platform has a magical effect that looks like you're actually travelling through the wall here and all sorts of fun stuff while you're walking up to get the Hogwarts Express.
Don't forget Hedwig who's sitting on the platform waiting for you!
11. Hogwarts Express & Train Carriage
Honestly, the amount of times I've dreamed of catching the Hogwarts Express is ridiculous.
So, I was over the moon when I got my chance here!
A great way to get between theme parks is to catch the Hogwarts Express from one park to the other.
It travels from Diagon Alley to Hogsmeade and even looks like a steam train as it pulls through.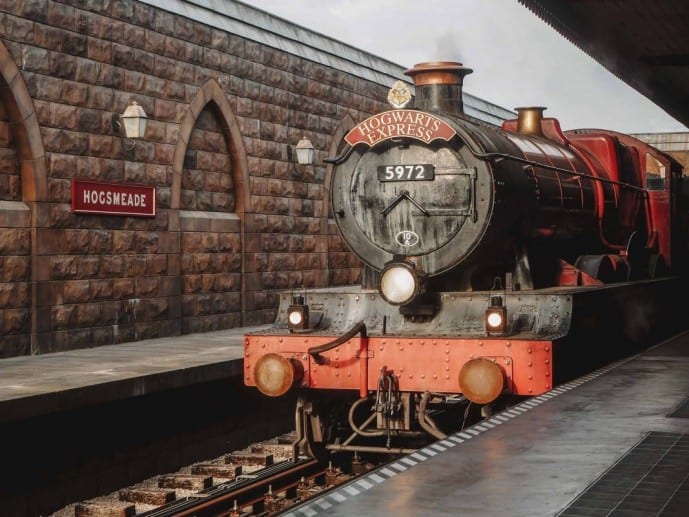 The carriages have been designed to look like those in the movie and it even has an animated window showing you on your journey from London to Hogwarts and vice versa!
Not only is there entertainment through the window, look out for the carriage doors, as you may meet some Death Eaters too!
Each journey is different and has different characters so I would recommend boarding more than once.
12. Hogsmeade
Once you've disembarked from the Hogwarts Express on your journey from Diagon Alley, you'll land in Hogsmeade Village.
The only all-wizarding village in all of Britain!
You'll notice buildings in all shapes and sizes here. Unlike Diagon Alley, a lot of the shops in Hogsmeade are just displays.
But, on the plus side, they do have spell points where you can use your wand in Ollivander's.
Take your time exploring here as there are lots of places that are photo-worthy. There's more to it than when first meets the eye!
13. Hogwarts from the Bridge
The best photo point for a picture of Hogwarts has to be on the bridge from Jurassic Park into Hogsmeade.
You can snap a great angle of the castle from all points of the bridge but as it's a through road, it's also extremely busy!
There will be a lot of people waiting for a photo so take your time. But, even if it's packed, you can get a great photo of just the castle too without the crowds.
A great time to come back to this point is at night when the castle lights up with a holographic and musical display against the night sky! It's utterly spellbinding.
14. Harry Potter and the Forbidden Journey / The entrance to Hogwarts
Hands up who was waiting for their letter from Hogwarts when they turned 12?!
Well, letter or no, you can walk through the hallowed halls of Hogwarts Castle!
Another great spot of Hogwarts is the beginning of Harry Potter and the Forbidden Journey ride.
There's a dramatic backdrop of the castle with two winged hog statues to welcome you in!
You'll either need to be really early into the park or have some patience to get a photo here but it's totally worth it.
Inside Hogwarts, there are also some incredible photo opportunities too while you queue.
Talking portrait's, Dumbledore's chambers, Snape's Dark Art's class and The Sorting Hat of course!
15. Sipping a Butter Beer in Hogsmeade
Butter Beer has to be on your list of Wizarding World of Harry Potter Instagram spots and bucket list!
You can get it served hot or cold and there's nothing better than a sweet iced Butter Beer to keep you refreshed around the parks too.
My favourite spot to snap a photo is in front of the Butter Beer Barrels in Hogsmeade.
It's relatively empty most of the time as people queue either side of it for their share.
Don't forget to put a little Butter Beer moustache on! ;)
16. Have you seen this Wizard? poster
The animated newspapers, books and posters in Harry Potter are a magical part of the series and Universal have made this possible in their parks!
You'll see animated pages everywhere here including the famous wanted signs for Wizard's who have gone to the dark side.
There isn't a gift shop that sells personalised ones (yet), but you can get your own photo with Ministry of Magic poster in Hogsmeade.
You'll find the 'Have you see this Wizard?' sign for Sirius Black outside of the Three Broomsticks.
It takes a little practice to get it right, but it's definitely a great photo when you do!
17. The Three Broomsticks
Similar to the Leaky Cauldron in Diagon Alley, The Three Broomsticks was the original Harry Potter restaurant in the park.
In the books, it's the most popular pub in Hogsmeade and the students often visit here for a Butter Beer.
You can enter The Three Broomsticks for yourself and order food at their inn!
They serve up typical English fayre including Bangers and Mash, Hippogriff legs (just kidding, it's Turkey), Fish and Chips and Toad in the hole. They also serve a big feast with Chicken and Ribs if you'd prefer.
Attached to it, is the Hog's Head which is a pub serving up some draught beers and ales. A must visit if you just wanted to drink.
The outside of The Three Broomsticks is so picturesque! But, it's quite tricky to get a clean photo.
18. Honeydukes Sweet Shop
Honeydukes was a favourite stop of the students of Hogwarts and a school trip there was no trip at all without some Wizarding treats.
Reading about mysterious Chocolate Frogs, groaning at the thought of a snot flavoured jelly bean or being scared of the consequences of eating an exploding Bon Bon was all part of the fun when I was a kid!
So, the fact that you can actually buy some of these treats in The Wizarding World of Harry Potter was mind-blowing.
Honeydukes is just like I imagined it to be in the book and the same as the movie! Bright mint green with incredible sweets of every kind! Even the packaging is the same. It's the easiest dollars I ever spent!
You can buy a lucky dip chocolate frog with a Wizarding trading card, Bertie Bott's Every Flavour Beans, Exploding Bon-Bon's, Cauldron Cakes, treacle fudge, Fizzing Whizzbees. Go wild!
19. Scrivenshafts Quill Shop
Every shop in Hogsmeade is Instagrammable, but there's something about Scrivenshafts that stands out.
Sandwiched between Gladrags and Dogweed & Deadcap, you will find it relatively empty as no one can go inside.
Scrivenshafts sell the finest Quill and Parchment in Hogsmeade and have a lovely display and window outside of their shop.
You can also cast spells here in the window with your wand too!
20. Ollivander's Wand Shop
One of the biggest moments in a young wizard's life is when a wand chooses him or her!
So, the fact you can get your very own wand from Ollivander's is the DREAM for any aspiring wizard's who visit.
There is usually a huge queue to go inside the shop for the 'wand choosing' and a special wizard is selected in each group for a wand to choose them!
You used to be able to purchase static wands like your favourite characters, including Voldemort and Bellatrix, but now Universal Studios have upped the game.
Brace yourself: you can now buy interactive wands!
What this means is, you can visit certain areas of the park, wave your wand and it will move or come alive as if by magic.
It's not cheap but when else can you cast spells in the world of Harry Potter?
If you weren't too fussed about buying one, the wand shop display itself is picturesque including the outside of Olivanders too.
More of my magical Harry Potter inspired articles!
95% of the Harry Potter filming locations are in the United Kingdom. Click below to read more of my travel guides;
A complete guide for Harry Potter in York
How to visit Malfoy Manor in real life!
The Shop That Must Not Be Named review
Harry Potter locations in Exeter
How to have broomstick lessons at Alnwick Castle
How to spend the night in Hagrid's Hut
Harry Potter locations in Edinburgh
All the Harry Potter filming locations in Scotland
A complete Forbidden Forest Experience review
How to visit Dobby's Grave in Wales
Harry Potter filming locations in Oxford
How to find the Harry Potter Tree at Blenheim Palace
How to find Tom Riddle's Tomb in Edinburgh
Harry Potter filming locations in Lacock
Visiting the Quidditch Town of Tutshill Tornados
Harry Potter filming locations at Gloucester Cathedral
Is this Bristol's answer to Diagon Alley?
How to see the Hogwarts Express in Scotland
Harry Potter filming locations in Virginia Water
How to visit the real Knockturn Alley in London
Is Cecil Court a real Diagon Alley in London?
How to visit Dumbledore's Grave in Scotland
Harry Potter filming locations at Durham Cathedral
Like it? Pin it!