North Devon is one of the UK's best-kept secrets in my opinion that many people don't think of when planning a vacation.
So, when I was invited down to Woolacombe Bay Holiday Parks to review their Beach Haven New Wave Diamond accommodation, I jumped at the chance.
Woolacombe Bay is a three-mile stretch of golden coast between Morte Point and Baggy Point.
It has also been voted as one of the UK's best beaches and has even won awards in Europe and the world. So, it makes an incredible seaside retreat for a holiday!
Here is my detailed Woolacombe Bay Holiday Parks review and what it's like staying in their Beach Haven New Wave Diamond accommodation at Twitchen House.
Third Eye Traveller was kindly invited by Woolacombe Bay Holiday Parks to stay in their accommodation in exchange for an honest review. Although I was a guest, all opinions are my own.
Introducing Woolacombe Bay Holiday Parks
Woolacombe Bay Holiday Parks are a group of three-holiday parks near Woolacombe Bay in North Devon.
They are made up of Woolacombe Bay, Twitchen House, and Easewell Farm. All three provide chalet and caravan accommodation for all types of budgets as well as campgrounds.
Their Devon Holiday Parks are all within touching distance of Woolacombe Bay and the surrounding coastline.
But, if you didn't want to explore, there are plenty of activities and entertainment you can enjoy onsite.
Twitchen House Holiday Park
One of their properties, just inches away from Mortehoe village, is Twitchen House Holiday Park.
Constructed on an ancient manor estate, it's set away a little bit from the beach near the woodlands and so you're treated to peace and quiet here.
'Twitchen' is an old Devonian word that means a crossing of two paths and it's very appropriate. You have the perfect blend of the forest and coast!
There are plenty of woodland walks and bush activities to choose from and you're only a 20-minute stroll from the beach.
Checking into the Beach Haven New Wave Diamond
We were excited to be staying in one of their Beach Haven New Wave Diamond properties that came with a BBQ and private hot tub.
As we approached the holiday park, the check-in process was very easy and hands-free. You can check in from 3 pm but there is the possibility for an earlier check-in if you let them know.
All we had to do was confirm our names and show our booking confirmation at the entrance gate and we were given a welcome pack with the keys.
Then, all we had to do was drive over to our chalet for the weekend!
A benefit of staying in the Beach Haven New Wave Diamond is that it's in a secluded location away from the main part of the holiday park. As the 'big house' area can get very busy and noisy.
We were surprised at how quiet it was, especially at night time. It meant that we got a good night's sleep.
We were up on a hill so we had sweeping views of the countryside and coast. All you could hear was the birds in the trees!
A welcome pack & cleaning kit
As soon as you enter the accommodation, you'll find a welcome pack or a local produce gift pack waiting for you on the kitchen counter.
This came with a scrummy selection of locally made treats including;
A bottle of Luscombe local fruit juice
A selection of Woolacombe locally baked shortbread
A selection of Woolacombe Clotted Cream Fudge
A bag of Burt's locally grown and baked luxury crisps
A bottle of Italian sundrenched white wine
We enjoyed treating ourselves to these on our stay and everything was really delicious.
But, you'll notice how this welcome pack doesn't come with milk, butter or eggs, or any necessities for the fridge!
So, if you need anything like milk for your morning tea or coffee, either bring it with you or you can purchase some at the local Nisa shop in the park.
The cleaning kit was very basic and came with a tiny bottle of washing-up liquid, 3 dishwasher tablets (one per evening), and a small cloth.
But, I would bring a bigger bottle of washing up liquid, a tea towel and some utensils with you as these aren't included if you plan of cooking lots of things.
On that note, there is no hand soap provided in any of the bathrooms. So, pack some of that too!
Beach Haven New Wave Diamond layout
The Beach Haven New Wave Diamond is called a caravan, but to me, it looked like a spacious chalet or bungalow!
The accommodation can sleep up to six people and there is a spacious living room area, an open plan kitchen, a double ensuite bedroom, two twin bedrooms, and a bathroom with a shower too.
There is a large wraparound balcony and you have an outdoor eating area with a BBQ and hot tub.
So, there is lots of space to lounge on your holiday but it's actually very practical and comes with everything you think you would need and more.
The Lounge area
The lounge area was very bright and spacious with colourful decor and Woolacombe artwork which was a nice touch.
It had a huge blue sofa that wrapped around the end of the chalet and faced a coffee table and the Smart TV area.
The TV was a LED flatscreen that had the option of watching the live Freeview channels.
But, there was also the option of watching Netflix, Prime Video, BBC iPlayer, and other On-Demand services (although we couldn't get it to work due to signal).
Beneath that, there was a cosy electric fireplace, a Bluetooth speaker, and a DVD player that you could use.
We were visiting Woolacombe Bay Holiday Parks in April and so we were glad there was heating as it was chilly!
There was a control panel that worked on a timer system. Once you pressed the button up to max, it would then heat the property for around 10 hours and then it would switch off. But, you could press the buttons to bump up the heat at any time.
I have to admit, it took a while to get used to and find a happy medium. One night we were freezing, the next boiling but the third night was just right.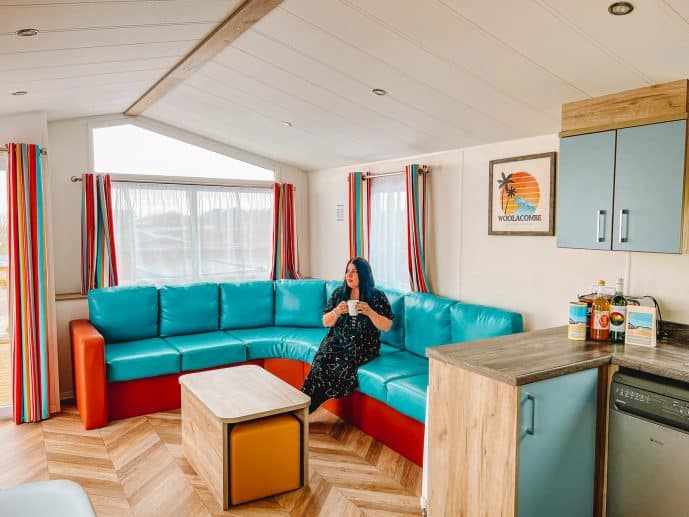 Open Plan Kitchen
The kitchen had everything you could need to make your own meals if you didn't want to eat out.
There was an oven, kettle, microwave, toaster, pots and pans, and some utensils like spoons, spatulas, and measuring jugs.
The cupboards included a full dinner service of crockery, like plates, side plates, and bowls.
You'll find lots of cutlery and there were also cups, mugs and wine glasses. Even plastic versions for the outside.
The 'SMEG-style' fridge freezer was very spacious and there was lots of room to bring a full food shop with you.
When you need to wash up the property had the option of the sink and dishwasher. But, any clothes that you need washing can be done at the big house in their laundrette.
Although it sleeps six, the kitchen table only had four seats so if there were six of you, it may be easier to sit on the picnic table outside if it's good weather!
Don't fancy cooking? You can order a takeaway to your accommodation online via their website!
Master Bedroom
The only spacious bedroom in the property would be the master bedroom which is a double bedroom with an adjoining ensuite.
This has another smaller TV included and a vanity area in the corner of the bedroom with a wardrobe to store clothes.
All of the bedrooms include bed linens and had a light and spacious decor. The curtains were great as they included places to visit in the local area.
The ensuite was quite snug and only had a toilet and sink inside. So, everyone showers in the main bathroom! Something to keep in mind if there are six people.
There were all-important plug/USB sockets on either side of the bed so you could have your phone on the bedside tables.
The one thing I did think the bedrooms could use were reading lights. The LED lighting was very bright overhead and in the evenings it's nice to have a lamp so you're not blinded.
Twin Bedroom
The first twin bedroom is the larger of the two and there were two single beds on either side of the room.
There was some overhead storage for personal items, a wardrobe, and draws for clothes plus a mirror.
Unlike the master bedroom, there was only one plug socket by the beds and this is located behind the bedside table in between. So, you had to pull the table out.
The other plug socket was by the wardrobe and the last was located high up on the ceiling by the window. So, not ideal if you need to charge your phone as the cables hang!
I slept in this room alone and the beds were cosy but it is very snug. I think if there were two adults in here it may be a little cosy.
The beds are a little bit smaller than a normal single. But, you could push them together to make a double!
Smaller Twin Bedroom
The smallest of the rooms was the tiny twin located next to the lounge area. This was a very compact bedroom that I think would be best for small children.
There were two smaller single beds on either side and a tiny gap in the middle. If you were staying in this room alone it would be best to push the two beds together to make a larger one!
Again, there was light and spacious decor, overhead cupboards, a half wardrobe, a mirror, and a plug socket by the bed.
This accommodation is meant to sleep six but I think that's based on two adults and four children.
We were three adults and found it snug. I think if you were six adults in this chalet it will be a tight squeeze!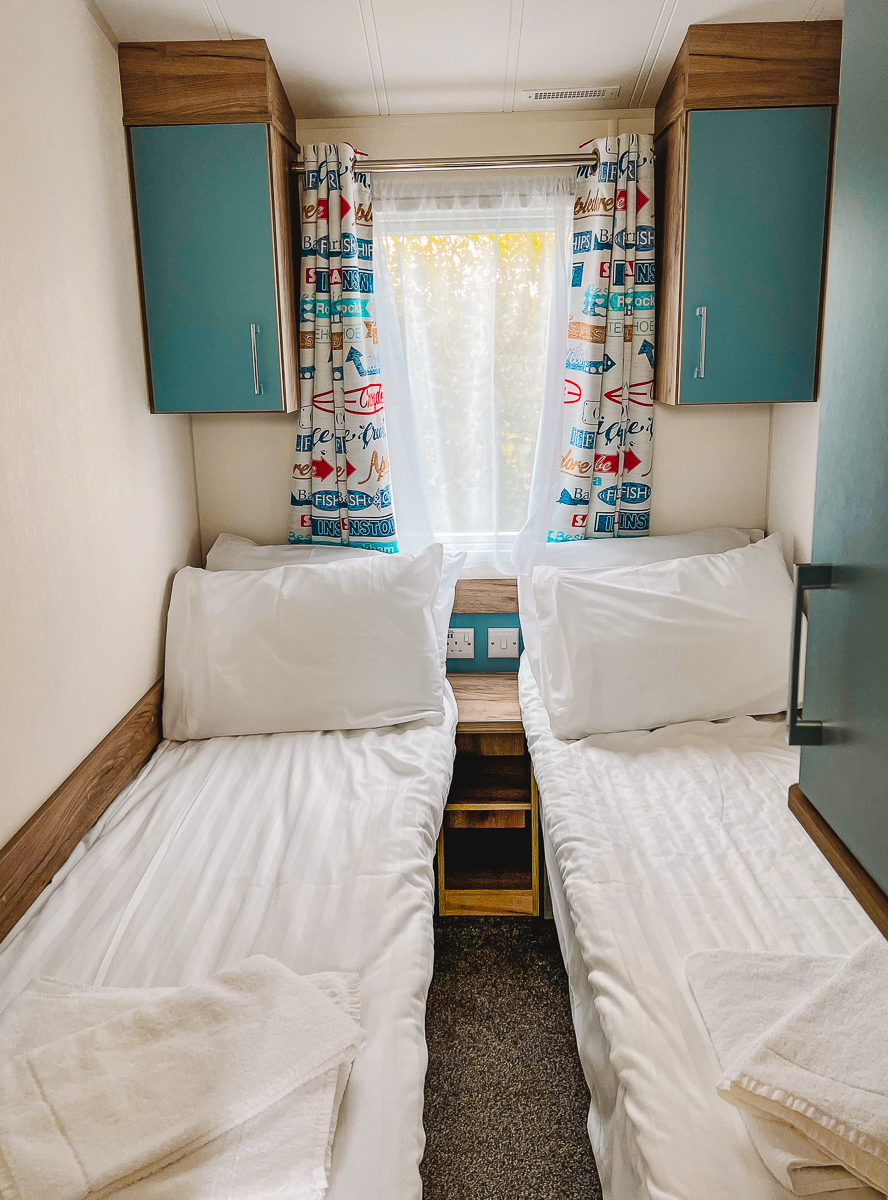 Main Bathroom
The main bathroom had a toilet and overhead cabinet, a heated towel rail, a mirror, sinks, and a shower.
The water was always very hot but you may have to fiddle with the controls to get the pressure right!
We were given one toilet roll in each of the bathrooms. So, I would recommend packing some extra rolls.
There was no hand soap provided or any toiletries like shampoo. So, you'll need to bring all this with you. If you have forgotten, there is a Nisa shop in the park.
In the Beach Haven New Wave Diamond, we were provided with six large towels and six smaller towels. But, we were reminded throughout our stay that these were microchipped!
Not every accommodation option at Woolacombe Bay Holiday Parks has towels provided. So, make sure to check before you leave.
Outdoor BBQ & Hot Tub
The property had a large wraparound balcony and there was a gas-powered BBQ if you fancied having an al fresco dinner.
Right next to the BBQ, there was a large picnic table with views of the coast which was perfect for a warm summer evening.
In chilly April, I loved their spacious and cosy hot tub that was outside. You could relax with the bubbles whilst enjoying the views of the sea!
Parking area
There was a large private parking area near every property that had space for a maximum of two cars.
So, there was no walking with all your luggage across the holiday park which was great! It made packing and unpacking a breeze.
We would go on road trips every day whilst we were here and having our own parking area was very convenient.
What isn't included with the Beach Haven New Wave Diamond
The Beach Haven New Wave Diamond properties come with a lot of things included in the price.
But, there are many things that aren't included too that I would recommend bringing if you need them. Here is a list of things to bring with you;
Toiletries – this includes hand soap!
Cot mattress – if you've hired one
Woolacombe Bay Holiday Parks Shop
If you've forgotten to pack anything or you find you run out of things, there is a Nisa local shop onsite at Twitchen House and the other holiday parks too.
They sell basic necessities for your accommodation including hand soap, washing up things, baby supplies, and basic groceries. Also, swimwear, beach equipment, and towels as you're near the coast.
It's located onsite so it's a little more expensive. But, it's very convenient and it means that you don't have to waste extra time searching for things on your well-deserved break.
Twitchen House facilities & entertainment
Beyond the accommodation, all of the Woolacombe Bay Holidays Parks have facilities that you can use.
Just remember to wear your Billy beachball wristband provided and it acts as an all-access pass to all three-holiday parks.
Twitchen House had lots of stuff going on throughout the week. A lot of these things are aimed at children and families but there were activities for grown-ups too.
I would definitely make sure that you pre-book your activities before you arrive to avoid disappointment.
Here are some of the facilities and entertainment you can enjoy whilst you're staying here.
Free activities
There were lots of free activities to enjoy across all the holiday parks that were perfect for both adults and kids.
They didn't cost a single penny and it was perfect for sunny and rainy days;
Outdoor and indoor heated swimming pool with waterslides
Daytime and evening entertainment
Outdoor play area & fitness gym
Free spa appointment (at Woolacombe Holiday Park)
Woodland walks & cycling trails
Paid activities
As well as all the free activities, there were lots of pre-bookable and paid activities to enjoy as well at Twitchen House;
A cinema showing lots of different movies
An arcade of amusements – perfect for a rainy day
Character breakfasts with Billy & Betty Beachball
Climbing Wall & Bungee Trampoline
Coffee Shop, Surfers Café & Sail Loft restaurant
Guided urban explorer and bush activities
Places to visit near Twitchen House
If you're like us and wanted to use the holiday park as a base to explore more of this gorgeous area of North Devon, there are plenty of places to visit in the car.
Woolacombe Bay is right next door but there are plenty of beautiful villages, historic quays, and sandy beaches too!
All of these places below are around an hour's drive away from Woolacombe and make great day trips.
Woolacombe Bay
Woolacombe Bay is the obvious choice for some time out of the holiday parks and it's only a 20-minute walk from Twitchen House.
This golden sands beach has been voted number 6 in Europe and is one of the top 20 beaches in the world according to TripAdvisor's Traveller Choice Awards.
It's also been voted the best beach in the UK and has an 'England for Excellence Gold Award'. Beyond that, it's a great resort for all the family!
Woolacombe Bay has three miles of golden coastline and is very popular with surfers! As well as sunbathing, you'll find shops, restaurants, and cafés here too.
Mortehoe & Morte Point
Just near Twitchen House is Mortehoe Village with the famous Mortehoe Point. It's a charming place with a church, some pubs, cafés, and a fish and chip shop.
It's owned and protected by the National Trust and it's a gateway to the wild and remote coast that was famous for wrecking and smuggling back in the day.
In terms of attractions, there is a Mortehoe Heritage Centre, that serves up a delightful cream tea, or you can head over to both Morte Point and Bull Point along the coast.
There is a lighthouse there or you can pass by Rockham Bay with a stretch of sandy beach.
Ilfracombe
Ilfracombe is another great town just a few miles away from Woolacombe. It was a popular Victorian seaside resort and you can find many public bathing pools here.
One of those is the Tunnel Beaches. You can pay to walk inside their cliff tunnels that lead you to shallow turquoise coves.
One of the most famous attractions in recent years is the Verity Statue by Damien Hurst. It's a statue of the Goddess of Truth and it's made of stainless steel.
It's around 20 metres tall and weighs a whopping 25 tonnes. You really can't miss it. Half of the statue appears 'normal' and the other half reveals her insides.
You can see her skull, skin peeled away, and the baby that's growing inside her. She's holding the sword of truth and is carrying the scales of justice.
If you fancy going on an adventure, you can take one of the Ilfracombe cruises and head over to Lundy Island. There's lots to see there and you get the chance to spot wildlife like seals and puffins.
Clovelly
Clovelly is one of the prettiest villages in all of England and it's only an hour away from Woolacombe Bay by car.
It's a historic fishing village and walking through here feels like you've stepped back in time with the cobbled floor and white-washed buildings.
As you meander through the main street, you can visit the Fishing House Museum and Charles Kingsley Museum. Kingsley was the author of Westward Ho! And grew up here as a child.
You then make your way down to Clovelly Harbour where you can see boats bobbing in the bay.
Why not visit the Red Lion pub for lunch or hike over the boulder beach to Clovelly Waterfall? According to a local legend the cave behind it is where King Arthur's Merlin was born!
Clovelly is a privately owned village, meaning that you do have to pay to visit. But, your donation ensures that the heritage can be enjoyed by everyone for years to come. You can book tickets online.
Don't forget to look out for the very cute hamlet of Fairy Cross on your drive down. There were these twee towers with fairies on the weather vane.
Also, nearby you can find the Gnome Reserve at Merry Harriers with over 2000 of them in the collection. It's free entry.
Westward Ho! & Appledore Village
Westward Ho! is the only town in the UK that has been named after a book and has an exclamation point in it.
I have to admit this wasn't my favourite place in Devon, in fact, it was downright weird. But, we still wanted to check it out due to the name and Charles Kingsley connection.
It has a golden sands coastline that goes on for miles and it's popular with surfers. There are also lots of shops and typical seaside entertainment on the promenade too.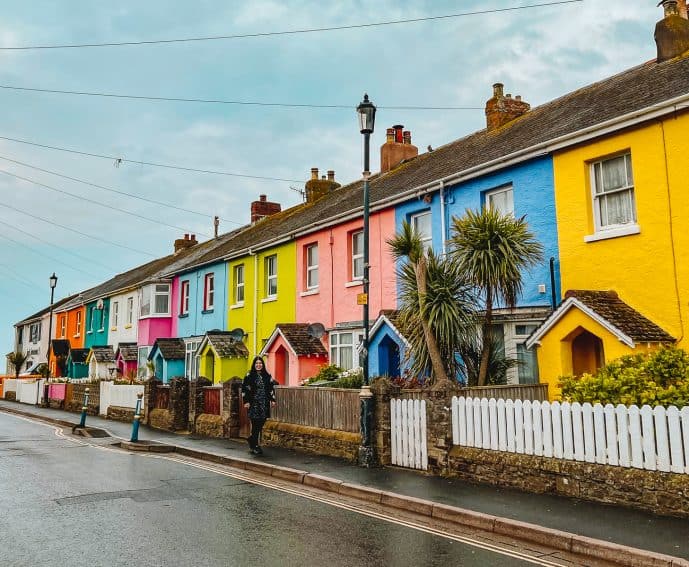 We didn't spend too long here and escaped to Appledore Village which was a lot quainter. You'll find colourful houses, ancient shopping streets, and a pretty harbour to explore.
Make sure to head over to Irsha Street to see more houses and a famous seaside pub called The Royal George.
Hartland Quay
One of the places we were very impressed with was Hartland. You could visit Hartland Point, Hartland Quay and even walk over to Speke's Mill Mouth Waterfall nearby.
Hartland Quay was where they filmed Netflix's Rebecca and you'll find the Je Reviens boat they used by the car park.
Once you head down to the quay, you'll find a hotel, museum, shop, and restaurant called the Wrecker's Retreat. Hartland used to be a major smuggling inn during the 18th century.
There's lots of outdoor seating to enjoy the views with a pint when it's warm or you can head off on the South West Coast Path to explore more of the coastline.
Exmoor National Park
Exmoor National Park is the least visited national park in the UK and I will never understand why as it's absolutely stunning!
You'll find so many amazing places to visit on the coastline here. Combe Martin is a gorgeous little cove that has a sandy beach, cafés, and shops.
Lynton & Lynmouth is one of my favourite places to visit in the UK with the cliff railway, the historic harbour, and the magical Valley of the Rocks.
Porlock Weir is another cute Harbourside village that has a pub, harbourside, pebble beach, and some beautiful galleries.
Or, why not stop at the fairytale hamlets of Allerford and Selworthy? The thatched cottages there are like something from a fairytale!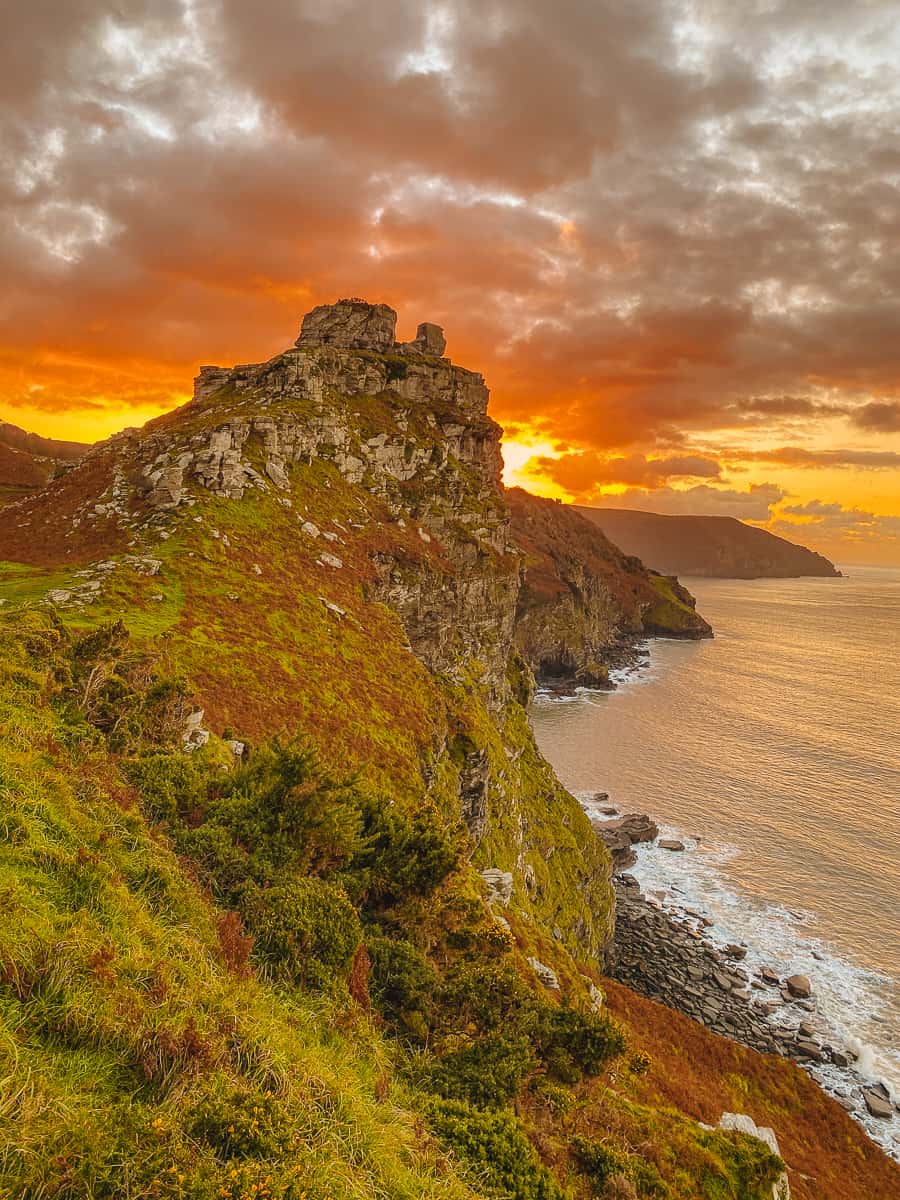 Dunster Medieval Village
Although I've passed Dunster many times on my way to Minehead in Devon, I've never stopped to explore this medieval village. Well now I have and I'm officially in love!
There are essentially two parts to Dunster. The castle area and then the medieval village and both are worth exploring.
Dunster Castle has a history since the Norman era as a Motte and Bailey and was eventually converted into a country house.
The castle and keep gardens are owned and protected by the National Trust and the rooms are stunning inside. Don't forget to walk down to the watermill to see how they make flour!
After, you can explore the medieval village with its iconic yarn market. There are lots of shops, tearooms, museums, and galleries to check out.
Checking out of Beach Haven New Wave Diamond
As they say, all good things must come to an end and you'll need to vacate your accommodation by 10 am on the day of checkout.
All we needed to do was strip the beds and place all our linens in a white bag. Then we put all of our towels in a green bag.
Rubbish was removed from the bins in the black bag and all the kitchen and crockery was cleaned up.
Then, all that we needed to do was lock up, hand over our keys at reception and we were on our way home. It was as easy as that.
Is booking the Beach Haven New Wave Diamond worth it?
I haven't stayed in a holiday park since I was very young and I really wasn't sure what to expect at Woolacombe Bay Holiday Parks.
But, we were so impressed with Beach Haven New Wave Diamond and it was the perfect choice for a few days away in North Devon.
The chalet had everything you could possibly want to live comfortably on your holiday. Plus, they had onsite facilities and amazing local beaches to explore as well.
The caravan with a hot tub and access to three-holiday park facilities was great value for money and we could have easily stayed a lot longer.
I would highly recommend checking out all of their accommodation choices as there are options for all budgets.
But, the Beach Haven New Wave Diamond was perfect for us and we loved our 3-night stay on the North Devon coast!
Read more of my Devon guides
The House That Moved in Exeter
Harry Potter locations in Exeter
Is this Exeter's Diagon Alley?
Walking down the Narrowest Street in Britain!
How to visit Wistman's Wood on Dartmoor
How to visit Lydford Gorge & White Lady Waterfall in Dartmoor
How to visit Brentor Church in Dartmoor
Agatha Christie's Greenway House guide
Burgh Island Hotel afternoon tea review
Babbacombe Cliff Railway Guide
The Agatha Christie Mile in Torquay
Save this Woolacombe Bay Holiday Parks Review for later!