Although the Lake District does inspire images of muddy wellies, swooshing waterproofs, and camping gear; it doesn't all have to be Bear Grylls for a weekend.
In fact, this area of England is full of fabulous, historic, and luxury properties like the Wordsworth Hotel and Spa in Grasmere!
Originally built in the 1850s for the Earl of Cadogan as a hunting lodge, this pretty building has now been transformed into an exclusive retreat in the lakes.
So, you can relax in your cosy bedroom, treat yourself to a delectable dinner, or relax in their spa for some wellness – whatever the weather! Here is my complete Wordsworth Hotel & Spa review with all the reasons to check in.
Heads up: my stay at the Wordsworth Hotel and Spa was sponsored on a press trip with Go Lakes. Although I was a guest all opinions and photos are my own.
Why stay in Grasmere?
Bowness-on-Windermere is always the place that pops into people's minds as a base and it's easy to see why.
It's the biggest town in the southern Lake District with lots of infrastructure and it's easy to access by train. But, it's also got that hustle and bustle about it. Which is great if you like crowds but not so good if you wanted peace and quiet.
Although controversial, I think William Wordsworth was onto a great thing when he stopped the train line accessing Grasmere in the 19th century.
It's meant that this idyllic historic village has been preserved and hasn't lost any of its charm by becoming over commercialised.
So, Grasmere is the perfect spot to completely immerse in some rest and relaxation whilst still being in easy access to the main attractions nearby.
Not to mention, it's as pretty as a postcard and you can be lucky enough to call this home for a few nights!
8 splendid reasons to check in to the Wordsworth Hotel and Spa
There are countless reasons why I would recommend this hotel as a base while exploring the Lake District.
It's a little slice of paradise for a few days and you can really get used to feeling at home here.
After a cold wet day of exploring, there's nothing better than getting back to a warm hotel room and relaxing with a hot coffee and a view!
Here are some of my favourite reasons below…
1. It's located in the quiet jewel of the Lake District
As I've already touched upon, Grasmere is what the locals call the heart of the jewel of the Lake District.
It's pretty much bang slap in the middle of the National Park which means it's a quiet haven in the countryside tucked away in the rolling hills and mountain peaks all around you!
It's perfect if you have a car to roam around in and is also easily accessible by public transport if you don't.
As well as being surrounded by a village steeped in centuries of history, you're also on the gateway to some of the most scenic walks in the area too.
Grasmere is one of those villages where you can hear a pin drop in the nighttime. It's so lovely and quiet here.
There are no late night clubs or even really pub openings either. It's a sleepy place and your holiday won't be disturbed!
2. It's was built in 1850 for the Earl of Cadogan as a hunting lodge
I absolutely love to choose hotels that have a history and the Wordsworth Hotel and Spa has a great story to tell.
Originally this amazing property was built in 1850 for the Earl of Cadogan as his private hunting lodge.
After his death, the Lake District became very popular in the Victorian era as the North Western Railway had been built in 1847.
But, the railway line didn't reach Grasmere due to William Wordsworth's request, so many people would stop here in their stagecoaches and stay the night.
Tourists also started to flood in to visit the legendary home of William Wordsworth that he spoke so fondly of.
It became a country house hotel in 1874 and ever since it has been almost an institution and icon in the valley.
Over the years the hotel has welcomed European royalty, famous politicians, and celebrities too.
3. They have a beautiful selection of luxurious rooms to check into
Forget clinical white walls and sheets, every one of the 38 bedrooms at the Wordsworth Hotel is unique.
From high-end suites, rooms with a mountain view, and four-poster beds under exposed beams. All of the boutique dwellings are designed with comfort in mind.
I stayed at one of their mountain and garden view bedrooms decorated in a beautiful grey, mauve, and lilac colour.
I had a small cubby window that overlooked the famous Grasmere Gingerbread shop, I could see the St Oswald's Church Tower and the hills and gardens too.
I had two comfy chairs which I loved sitting on while sipping coffee with the view!
My bed was huge and fluffy, so I could almost sink into it. I had a double wardrobe, TV, plus a gorgeous deco vanity mirror and chest of drawers.
There was a Lavazza coffee-making machine, with tea and a welcome gift of Grasmere Gingerbread waiting for me too!
The bathroom was clean and spacious with a huge deep bathtub and shower option. Perfect for warming up after a spent day in the cold.
4. There are lots of spaces to relax and a bar on site
The Wordsworth Hotel and Spa is a huge property with so many rooms, nooks, and crannies that you can get lost in.
They have three lounges (!), a conservatory, and a cosy bar to relax in. Plus a roaring fire in the lobby to keep warm with the evening chill.
Before dinner at the Wordsworth, they ask you to join them in the bar for a nightcap and to explore the menu before you go inside.
I completely lost track of time on my visit but eventually ventured downstairs and loved the warmth of their bar snug.
You can also have afternoon tea here, read a book from their library, plus there are also board games and dice to distract yourself too!
5. The Wordsworth Hotel Signature restaurant has a delectable menu
If you're feeling peckish in the evening, then it's worth booking a table at the Wordsworth Hotel's Signature Restaurant.
It's an award winner for fine dining and has an AA Rosette accreditation for culinary excellence! So, you know that the meals here are prepared to perfection.
I was treated to their special four-course dinner with canapés and each dish was mouth-watering.
What to expect at a Four Course Dinner in the Wordsworth Hotel Signature Restaurant
Firstly the delicious canapés were served and it was just enough to tide me over until the amuse-bouche of a spiced and creamy cauliflower purée.
I have to admit to you now that I committed a little bit of a sin and ordered a white wine before I ordered my starter and main that were both red meat dishes!
So, forgive me but I really fancied a glass of Sauvignon Blanc rather than a Merlot. I know it will pain some people but try to power through.
My starter was a Roast Cartmel Valley Pigeon Breast with Jerusalem Artichoke, Pickled Beetroot, and Dried Grapes. It almost looked too pretty to eat!
This is one of the Robert Parker Collection's signature dishes so I knew it had to be tasty and I was right. It is incredibly delicious.
Next up was my main of a Brisket of Beef which looked more like artwork than a meal. Dotted around the outside was Squash, Parmentier potatoes, Cepe mushrooms, Tarragon Emulsion, and some Red Wine Jus.
After I had taken a few photos, I, unfortunately, had to spoil it. But, all the flavours complemented each other so well!
Although I did feel like I was busting at the seams, I ordered a sweet ending with their special dessert of a Paris-Brest.
A choux pastry, with hazelnut cream, caramel brittle, and roasted almonds!
It was heavenly but I was utterly defeated and washed it down with a hearty glass of port!
6. You can wake up to a delicious Full English breakfast
Although I'm sure it would take me a few days to fully get over the amazing dinner I had at the Wordsworth, it wasn't enough to stop me from treating myself to breakfast in the morning.
I was first in the dining room at 8 am when they open and they serve breakfast until 10 am.
So, there's lots of time to have a relaxing breakfast if you didn't fancy getting up so early.
As well as continental options like fruit, juices, pastries, cereals and a smorgasbord option, they also had a menu where you could order a hot breakfast.
I decided to go for a Cumbrian full English without the black pudding (oops) and baked beans too (double oops). So, I'm not sure if it still counts as complete Cumbrian breakfast but I loved it all the same.
If you haven't already it's a great opportunity to try some of the famous Cumberland sausages that originate from the area!
There is also your much-needed caffeine fix with a huge cafetière of coffee or a pot of tea too. A great way to set you up for a day of exploring.
7. You can indulge in the Wordsworth Hotel Spa & have a treatment
One of the best parts about this hotel is the fact they have a holistic spa onsite where you can step away and treat yourself to some wellness!
All hotel guests get access to their fabulous heated swimming pool, jacuzzi, sauna, and steam rooms while you're here. So, there's no need to book a time slot.
You can relax on their sunbeds in the conservatory terrace with a book, do some laps in the pool, or chill in the hotter it's up to you.
If you were after something a little more indulgent, the hotel does offer a range of expert treatments from their spa menu.
From rejuvenating facials, to nail treatments and full-body massages, there is a whole range of packages to choose from. I had sampled a lovely relaxing facial with Anna, who was really lovely.
The treatment was exfoliation, face rolling for lymphatic drainage and finally, moisturising which is sorely needed with my dry skin!
8. It's the perfect place to explore Grasmere, Rydal and the Lake District!
As well as being a cosy retreat, the Wordsworth Hotel is located in the middle of one of the prettiest villages in the whole of the Lake District.
There is so much to do surrounding you in Grasmere that you can never be bored!
From coffee shops, retail outlets, historic houses, and is on the gateway to a number of scenic walks, you will be spoiled for choice.
Here are a few of my favourite things I did whilst I was in Grasmere!
Click here to read my ultimate Grasmere travel guide
Explore Grasmere Village on foot
Grasmere is such a quintessentially English village. You've got historic cottages, church spires, rolling hills, sheep grazing; it really looks like a portrait hanging in a gallery!
As it's such a small place, you can easily walk around it on foot to explore.
The village has many coffee shops and independent boutiques like Hardy's, The Windermere Tea Garden, and Herdy's too.
You can pop into the famous Heaton Cooper Studio to stock up on paint supplies or see their latest exhibition.
Sam Read's is a newsagents that has been running since 1877 or get lost in the labyrinth of jigsaws in Barney's News Box.
St Oswald's Church dates back to the 14th century but was named after the first person to build a church here in 642AD, King Oswald of Northumbria.
It's well worth popping inside to see the exposed beams and stained glass windows.
On the church grounds, you can visit William Wordsworth's grave or hop into the Wordsworth Memorial Daffodil Garden's too.
Grasmere Gingerbread Shop
If you are wandering around Grasmere and smell a sweet ginger smell in the air, don't panic. It's famous for it!
The Grasmere Gingerbread shop is world-famous and has been voted as a top contender in the "Best of British".
The famous Grasmere Gingerbread was invented by Sarah Nelson all the way back in 1854. It's a top-secret recipe that is handwritten and quite literally under lock and key in a bank safe somewhere in Cumbria. Only a select few know how it's made.
I had the pleasure of meeting Yasmine on my visit who is a fourth-generation owner of the business and I had a special tour of the kitchens to see how it's prepared (not made). I also got to try some for myself and now I'm addicted!
Click here to find out more amazing secrets of Grasmere Gingerbread
I really loved their passion for serving up the best possible product and how fast they got the Gingerbread from the kitchens to the shop.
This tiny shop often has a massive queue and it's extremely popular. The staff wear traditional uniforms and still wrap it in traditional vegetable parchment as it was served in 1854.
It's a staple bucket list item in the Lake District and at arm's length of the Wordsworth, so don't miss out!
Allan Bank
Although when this house was built William Wordsworth called this place an eyesore, he ended up living in it with his wife Mary and their children in 1808!
Amongst the residents were also Mary's sister Sara Hutchinson and two literary friends Thomas de Quincey and Samual Taylor Coleridge.
He only ended up living here two years due to the chimney smoke and having a fallout with the landlord.
Eventually, one of the founders of the National Trust Canon Hardwicke Rawnsley retired in Grasmere and bought Allan Bank as a retreat in 1915.
In 2011, a great fire consumed the house and almost destroyed it completely.
So, in 2012 the National Trust decided to rebuild and open up the property to the public. The first time in 200 years!
Although there isn't a grand collection here, I absolutely loved the welcome feel to the house. The walls which were fixed after burning had great murals of Wordsworth, Rawnsley, and Coleridge which added to the place.
Plus, with your ticket, you get access to the house and grounds with a FREE cup of tea or coffee and biscuits too.
You can chill out in the rooms, enjoy the amazing views or look out for red squirrels that are indigenous to the area.
Click here for more details for Allan Bank!
Dove Cottage & Town End
William Wordsworth went walking in the Lake District in 1799 and fell head over heels in love with Dove Cottage in Grasmere. He described it as "the loveliest spot that man hath ever found".
A few months later, he moves into the hamlet of Town End with his sister Dorothy. It's here he produces some of his most famous works and his sister creates her journal on the area.
I wandered lonely as a Cloud, one of the most famous poems of the English language, was written write here after his visit to see the daffodils in Ullswater.
Inside you can explore the original cottage that has been preserved and wander around the beautiful gardens taking in the views.
Nearby there is a Wordsworth Museum where you can learn more about his life, relationships, and works.
Rydal Village & Water
Rydal village was, for me, quite an unexpected surprise here in the Lake District. It's so easy to skip if you're not looking out for it!
Despite its size, don't be deceived. There is so much to around the area including scenic walks and lots of history to uncover as well.
From Rydal Bridge, you can easily walk over to the village which has a small church of St Mary's. Behind you can explore Dora's Field with lots of daffodils!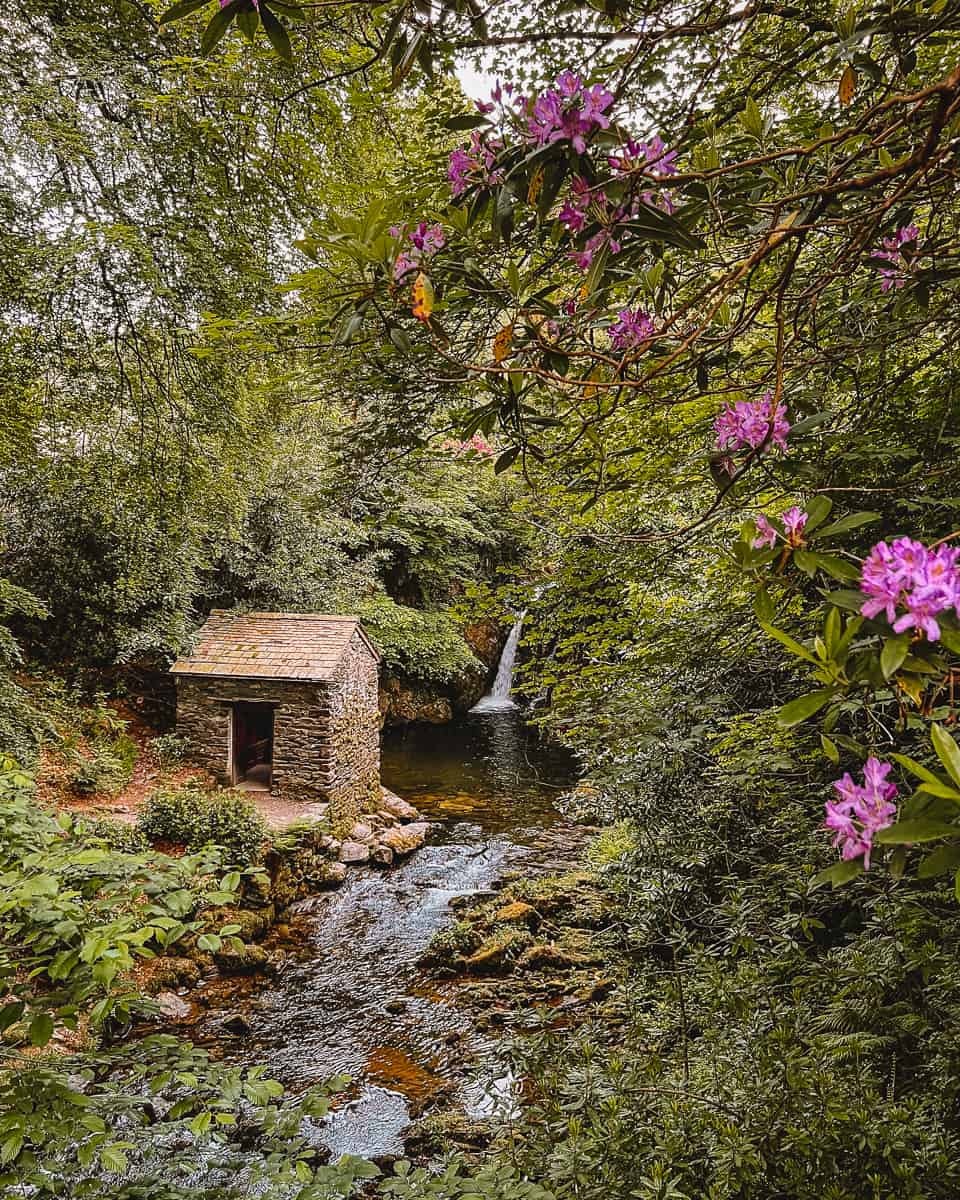 Rydal Hall is an incredible building to visit with vast gardens where you can visit Rydal Hall Waterfall on the grounds of "The Grot".
Or, follow in the footsteps of Wordsworth at Rydal Mount. This was his family home from 1813 to his death in 1850. He was 80 years old when he died.
Rydal Water is also somewhere I would recommend exploring and from the hills you can see some of the most beautiful postcard-worthy views!
My favourite walk was to Rydal Cave. This man-made cave was part of Loughrigg Quarry in the 19th century.
Click here for my complete Rydal Cave hiking guide for the cave and here for a list of amazing places to visit in Rydal
Where is the Wordsworth Hotel and Spa in the Lake District?
The Wordsworth Hotel and Spa is located right in the heart of Grasmere village and is just inches away from the world-famous Grasmere Gingerbread shop, St Oswald's Church, and the Wordsworth memorial gardens.
So, you're never too far away from the main attractions of the village on foot!
From here, a stroll to William Wordsworth's Dove Cottage is around 7 minutes, the main high street is just 2 minutes and the Allan Bank is only 5 minutes away.
Plug this address into your SatNav; Grasmere, Ambleside LA22 9SW.
How to reach the Wordsworth Hotel and Spa
Grasmere By Car: This is the easiest and most convenient way to access the Wordsworth Hotel and Spa in Grasmere.
From the M6, take the A590 Lakes junction, then the A591 towards Windermere. Continue past Windermere and Ambleside, all the way to Grasmere Village, and make a turning down into the village itself.
There are a lot of signs here limiting entry to certain vehicles but continue on past St Oswald's Church in the village and turn right when you see the Wordsworth Hotel and Spa parking sign.
Grasmere Train Station: Famously, William Wordsworth put a stop to a train ever reaching Grasmere in his time!
So, there is no train station in Grasmere I'm afraid. However, the nearest train station is Windermere and you can easily take a Lakes Bus or taxi to Grasmere from here.
Bus to Grasmere: A lot of people believe you can only access the Lake District by car but this is far from the truth.
The Lake District has plenty of buses that run frequently and can connect you with all the amazing places here! Take a look at the Stagecoach Website for more details.
Parking at the Wordsworth Hotel and Spa
The Wordsworth Hotel and Spa provide complimentary parking for all guests of their hotel and those dining with them or visiting for a spa day.
They have a large one-way car park at the back of the hotel that's provided on a first come first serve basis. Accessible spaces are available for those with disability permits.
The staff here were quite generous with parking for me and allowed me to stay until 3 pm the next day!
This was in the low season, however. So, I would always double-check with the staff as it will be based on their discretion.
Read more of my Lake District guides
Places to visit on a Windermere Lake Cruise
A complete guide for the Blea Tarn walk
How to visit Hodge Close Quarry
All The Witcher filming locations in the Lake District
A complete Cathedral Cave walking guide
How to visit Claife Viewing Station
Like it? Pin it!