The Ye Olde Trip to Jerusalem, or simply 'the trip' to locals, is an ancient inn in the heart of Nottingham.
With its incredible history that dates all the way back to 1189, this amazing place is like a living museum.
It's famous for being a popular drinking hole for crusaders like Richard the Lion Heart and a hideout for the legendary heroic outlaw, Robin Hood.
On my recent visit to Nottingham, I thought I'd pay another visit to the pub. This time to look around and actually learn something about it rather than just come in for a booze-up ;).
To say I was fascinated by how much there is to this inn would be an understatement. It's a melting pot of stories, scandals, ghosts, legends, and mysteries!
As it's consistently been voted as one of the UK's favourite pubs, you have to pay a visit to the Ye Olde Trip to Jerusalem when you're next in Nottingham. If you need more convincing, here are all the amazing reasons why.
What does the name Ye Olde Trip to Jerusalem really mean?
Although a lot of people (including me!) believe that the Ye Olde Trip to Jerusalem means that people would head out on a journey to Jerusalem from here.
The word trip or 'Trypp' in historic terms means halt, stop, or a break on the journey. Kind of like being tripped up on your way.
So, it means that the crusaders would break up their journey here on the way to the Holy land.
I guess this still applies today and if you're travelling through Nottingham you can 'trip' here for a pint or lunch.
14 incredible reasons why you must visit the Ye Olde Trip to Jerusalem
1. The Ye Olde Trip to Jerusalem is England's oldest pub
I know, I know, before you rush to the comments section…I'm well aware this is a heated dispute. But, the sign does hang above the door, so it has a valid claim to the title!
Although it is widely debated, The Ye Olde Trip to Jerusalem is thought to be England's oldest pub.
The Rock Lounge in the pub is actually one of Nottingham's old caves that date from the 12th century.
The Ye Olde Trip to Jerusalem is thought to have been established in 1189. But, there are theories that this dates back even earlier as a Malthouse brewery for Nottingham Castle in 1068.
No one really knows how the pub got its name but there are many theories. The first documents referring to Ye Olde Trip were from 1799, before this, it is thought to have been called 'The Pilgrim'.
2. It's built under Castle Rock, the sandstone cliff of Nottingham Castle
The Ye Olde Trip to Jerusalem stands under the dramatic Castle Rock where the ancient Nottingham Castle now stands.
Nottingham Castle was established by William Perverill for William the Conqueror in 1068. He decided to build the castle on a sandstone cliff now known as Castle Rock.
As part of the castle, a Malt Brewhouse was installed underneath in the cave cellars. This wasn't for getting drunk, but it was all people used to drink back then as the water was seen as unhealthy to drink.
There was no filtering drinking water years ago, so ale was a good choice as the brewing process meant it was sterilised.
There is evidence to suggest that this Malthouse was where the Ye Olde Trip to Jerusalem is today. Meaning the cellars date back to the 11th century.
There are still cellars and tunnel routes underneath the pub that lead straight into the castle!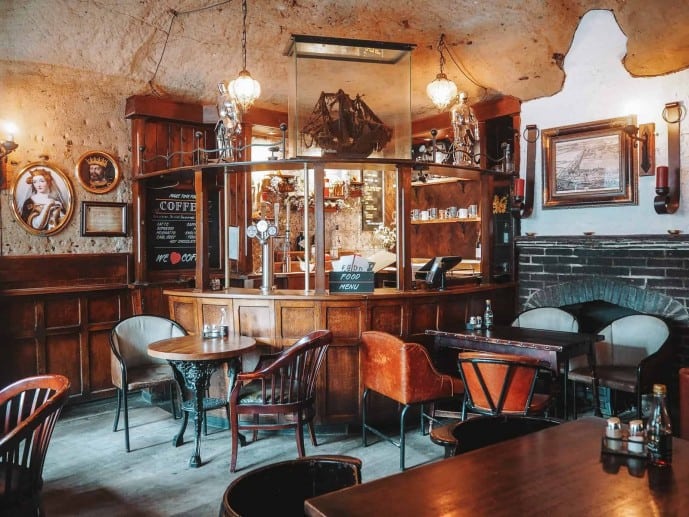 3. The cellar caves here were a cockfighting pit, drinking rooms and Gaol too!
Did you know that beneath Nottingham there is a cave system of over 800+ caves?! Years ago these acted as homes, hideouts, jail cells, and even businesses.
As well the old Malt House being part of Nottingham Castle once upon a time, the cave cellars beneath the Ye Olde Trip have had many uses over the centuries. Good, Bad, and Ugly.
Most of the caves are used as storage cellars for ale now, but at one point this used to be a famous cockfighting venue. You can see the old pit that people used to watch around.
Another fact is that the Nottingham Castle Gaol used to be located underneath here and you can still see some of these cells today.
If you have been to the National Justice Museum in Nottingham, you'll learn that prisons were nasty places back then for criminals before reforms.
The condemned cell under Ye Olde Trip, like the one they had at Nottingham Gaol, would be tiny, pitch black, and with only a few holes to let some air in. Look out for the 'Gaoler's chair' nearby which is etched out of rock.
The Ye Olde Trip to Nottingham cellar tours can be organised on request. Get in touch for details.
4. It was a popular spot for crusaders like King Richard the Lionheart
The most popular theory as to why this pub got its name is because it would be a stop for crusaders making their way over to the 'promised land'.
King Richard the Lion Heart is meant to have gathered here with his men on their way to Jerusalem in 1189AD.
If you don't know who King Richard I was, he was a ruler of England between 1189 – 1199 until his death. He was a prominent commander in the Third Crusade.
This was an attempt by England, France, and the Holy Roman Empire to conquer the Holy Land in Jerusalem while it was in the power of Saladin who was a Saracen.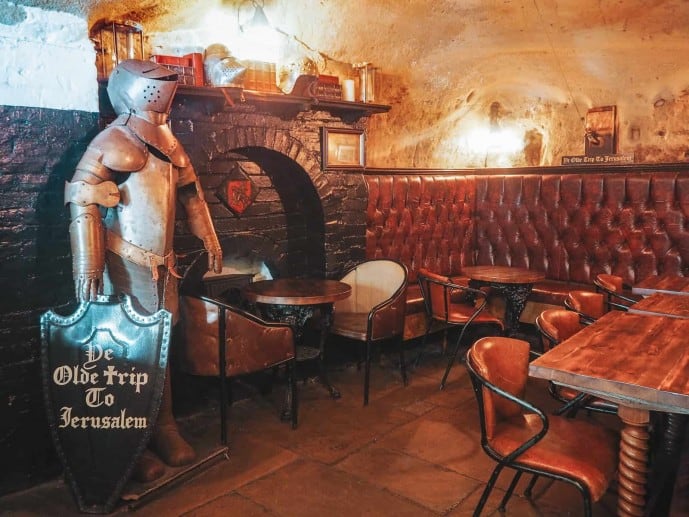 5. Find out about Mortimer's Hole – the location of a scandalous romance!
Ye Olde Trip to Nottingham has been involved in some amazing tales, but the most scandalous is the one about Mortimer's Hole.
King Edward II's wife was Queen Isabella with the unfortunate nickname the 'She-Wolf of France'.
She was unhappy in her marriage as her husband preferred the company of men and so she fled to France. It's here she met her lover Sir Roger Mortimer.
They returned back from France with an army of supporters and overthrew Edward II, forcing him to resign his throne. This meant that Isabella and Mortimer ruled 'de facto' for their son Edward III.
Edward III sent an army of his men to capture Mortimer through the secret passageway and supposedly they found his mother and Mortimer together in the act. So, Isabella was jailed and Mortimer was sent to the tower and got the chop!
Ever since this secret passageway has been known as Mortimer's Hole. It used to be accessed from the Ye Olde Trip to Jerusalem, but now you can go on a tour to see it from Nottingham Castle.
Apparently, Isabella's ghost still haunts this area and she cries for mercy for her Mortimer.
6.
It is thought to be a regular for thieves like Robin Hood

Although it has never been proved that Robin Hood visited the Ye Olde Trip to Jerusalem, there are many people who believe he used to drink here.

This is due to the fact that it was built around the time that he was alive and it was a place where people that were hiding from the law would go. Not to mention, there were many passages and access ways from here that went directly into Nottingham Castle.

So, it could have very well been an escape route for Robin on his fights with the crooked Prince John and the wicked Sheriff of Nottingham!

There are also tales that mention Robin Hood as a supporter of 'Good' King Richard, so he could have met him here while he was travelling to his crusades. Who knows…

Read more: Discover the legend of Robin Hood with these amazing attractions in Nottingham
7. Discover the legend of the Cursed Galleon
When talking to the bartender, he told me that a sailor in the area had racked up quite a few debts to the pub but couldn't afford to pay them back.
So, as a truce, he brought in a galleon ship model and left it at the pub. Ever since, its arrival, anyone who has cleaned that ship has suffered a mysterious death.
It's thought to be so real, that the landlord won't allow anyone to clean it hence why it's covered in a thick layer of dust.
It's been nicknamed the cursed galleon and It's been trapped in a glass box on top of the pub for the last one hundred years.
No one will ever open it, touch it and many won't go near it. You can find this curious relic as a feature of the Rock Lounge.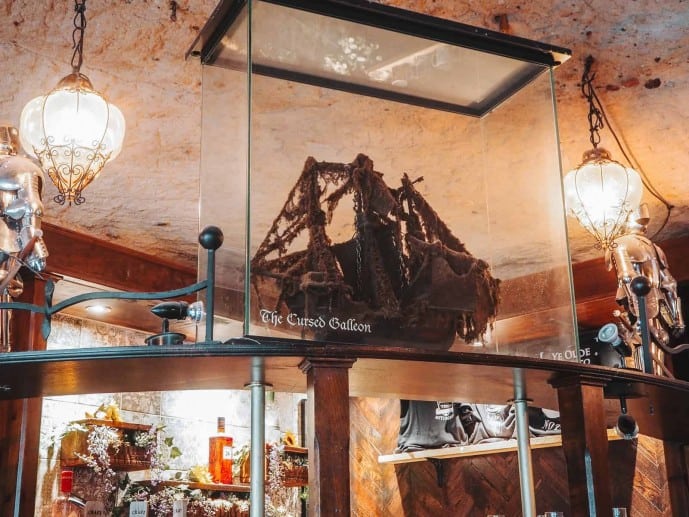 8. The Ye Olde Trip to Jerusalem is haunted with lots of spooky goings on
As an old building that's almost 1000 years old, there is a fairly good chance that it has quite a few resident ghosts hanging around.
As well as Queen Isabella in Mortimer's Hole, there are thought to be the ghosts of prisoners that were held here too.
There's even a haunted snug that has had paranormal activity and people report that they would feel a tap on the shoulder and shivers running down their spine!
Clocks that have people in a trance, keys disappearing and bottles flying off the shelves have all been reported by the staff and punters.
In terms of resident ghosts, there's an old landlord that owned the inn from 1849 to 1914 called George H. Ward who had the nickname "Yorkey".
In keeping with his character, he supposedly still makes himself known in the pub by throwing things around and moving objects to play tricks on people.
There's lots of paranormal activity in this historic building, so be on the lookout while you're here.
9. Sit on the pregnancy chair…if you dare!
The pub has many historic antiques and cellars, but the strangest has to be the antique pregnancy chair that lies within the pub.
Supposedly, if you sit on this chair it will increase your chance of getting pregnant!
But, they have now locked this away on the account of too many women sitting on it…
10. You can play an old game Bating the Bull
Okay, so one of my favourite parts of visiting The Ye Olde Trip to Jerusalem was the fact they have one of the most historically preserved versions of Bating the Bull in the UK.
Also known as ringing the bull or ring on a string, this fun historic game involves some thinking…
Not helped by the fact that people would probably be drunk playing it!
The aim of the game is to try and catch your ring on a bullhook. The ring is attached to a piece of string and so you need to try and secure it.
I think it took me a good 10 times to get it but with a little practice, you could be an expert.
A really cool thing they do here gives you a little sticker for getting your ring on the hook!
I definitely felt a little smug with my new Bating the Bull badge of honour haha.
11. They have an amazing bar and menu with delicious food
So, beyond all the ghouls, history, legends, and myths, the Ye Olde Trip to Jerusalem is an epic pub that serves up wholesome drinks and food.
At the bar, they even have their own premium own ale 'Olde Trip' which was strong, dark, and really tasty. It would be rude not to!
I also decided to try something off their menu and went for a hearty beef and ale pie with chips and peas.
I was on a little bit of a Robin Hood mission, so thought this was rather fitting haha.
It was piping hot and super tasty, I would recommend it if you're thinking of what to choose.
12. You can buy Ye Olde Trip to Jerusalem souvenirs!
The pub has become so famous over the year, the pub is now selling Ye Olde Trip souvenirs.
You can buy ale jugs, t-shirts, badges, books, magnets they have a whole area where you can pick up a unique souvenir of your visit.
Only some of it is on display, so ask the bartender for the full range of souvenirs they have on offer.
13.
There are lots of rooms and snugs to relax in

Another thing I loved about Ye Olde Trip was the fact they had so many snugs, cellars, and lounges to relax in.

So, instead of it being one big room, there were lots of nooks and crannies to cosy up in with a drink – each with its own story;
The Wards Room – this is from the Ward Family who owned the inn from 1894 to 1989. Here you'll find the bar and the 'bating the bull' game.
The Money Bar – proves the statement that Ye Olde Trip is "well known throughout the world". Here you can see currency left by foreign tourists and old banknotes.
Yorkey's Lounge – is named after George "Yorkey" Ward and is a beautiful 17th-century room. Next to this lounge is the Haunted Snug where people have felt shivers up their spine!
The Rock Lounge – is the oldest part of the pub and you can still see the old sandstone chimney in here from Castle Rock. This rises up around 60 feet and is thought to the shaft where the old Malt House would transport ale up to Nottingham Castle. Also inside is the Cursed Galleon and Pregnancy Chair on display.
The Museum room – you can access this through a passageway from the Rock Lounge.
The Cellars beneath – only accessible on a tour, here you can find the old Gaol and cockfighting pit.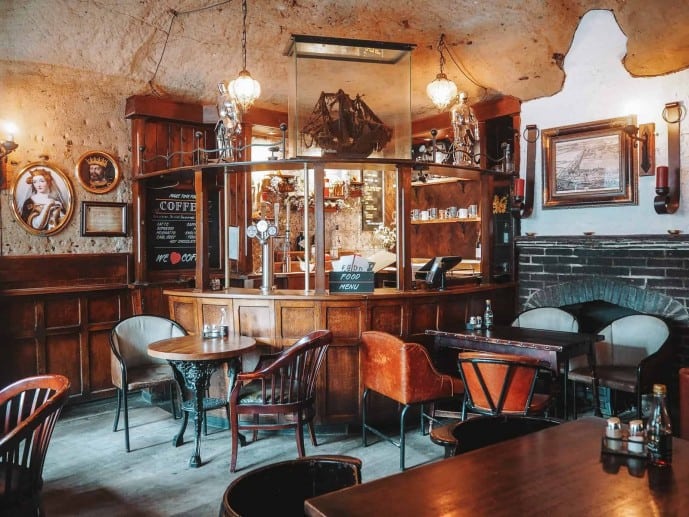 14. Chill out in their amazing courtyard and beer garden
If the weather is fine, you can relax in their beautiful courtyard and beer garden outside of the bar.
There is honestly nothing better in the UK than chilling out in a beer garden with a pint in hand or eating outside!
I hope you've enjoyed my little post about the Ye Olde Trip to Jerusalem and you've learned a little bit of history in the process.
This ancient inn is probably one of the most interesting pubs I have ever visited and I will certainly be back when passing through Nottingham. Make sure you put it on your UK bucket list.
Where is the Ye Olde Trip to Jerusalem in the UK?
The Ye Olde Trip to Jerusalem is located under Nottingham Castle in the city of Nottingham.
The East Midlands, or the heart of England, is really easy to access from the South of England, London, or the North by car, train, or coach.
If you're heading into Nottingham by car, it's accessible along the M1 motorway.
The nearest car park to the Ye Olde Trip is the Nottingham Castle Canal Street Car Park.
Nottingham has a central train station and it will only take you around 2 hours to reach London. From the train station, the Ye Olde Trip is only a 10-minute walk.
Nottingham is really well connected with public transport with trams and buses connecting you around the city.
I got an all-day ticket on the city buses. There's also Uber if you would prefer.
Ye Olde Trip to Jerusalem opening times
The Ye Olde Trip to Jerusalem is open throughout the week at the following times;
Monday – Thursday: 11am – 11pm
Friday – Saturday: 11am – 12am
Sundays: 11am – 11pm.
Last orders for food are subject to change so I would make sure you call to check before you visit!
Things to do in and around Nottingham
So, once you've popped into the Ye Olde Trip to Jerusalem what is there to do now?
Well, Nottingham is a seriously underrated historic city that has lots of attractions dotted around to make a great day trip!
As well as the huge market square in the centre of the city and the hidden canal routes to discover, there are many museums, galleries, and even cave cities too.
Explore Nottingham Castle & visit the Robin Hood statue
No visit to Nottingham would be complete without a visit and a cheesy photo in front of the Robin Hood statue that stands outside of Nottingham Castle.
Nottingham is known as the home of Robin Hood and Nottingham Castle is mentioned in many of the ballads in the legendary tales.
Accessing the Robin Hood statue is completely free and it's not just one statue that's here either.
Click here to find out more about this amazing statue and discover the legend of Robin Hood with these attractions in Nottingham
There is a huge statue of Robin Hood in the centre, but if you look around there are other statues of his Merry Men, Maid Marian, and some amazing plaques that tell a story of major events in his life too.
Nottingham Castle is also an awesome attraction that I have visited in the past. It's now just reopened after three years of closure!
I would definitely make an effort to visit as you can see the history of it being a royal household and also being used as a stronghold during the Civil War. There is now an immersive Robin hood Exhibition inside.
Plus, you can take a guided tour of the caves beneath and see the Gaol!
Click here to book your tickets to the castle!
Take a City of Caves Tour & visit the National Justice Museum
Nottingham has a huge cave system underground and there are thought to be over 800 caves beneath the city. After some extensive excavations over the years, many of these caves are now popular attractions.
The City Of Caves is a fantastic chance to see what life was really like here. Many people lived in these caves and made them a home years ago.
Some of the caves were tanneries, breweries, storehouses, and even shops. It was also used as an air-raid shelter during World War II!
The City of Caves gives you the chance to explore some of the 500 caves they have uncovered under the National Justice System. Just make sure to book in advance as tours sell out quickly!
The National Justice System is also a really awesome muse… It takes you through the history of criminal justice, prisons, and eventually prison reforms.
Highlights of their collection include Oscar Wilde's cell door, the bath from the brides in the bath murders, and some of the force-feeding equipment used on the Suffragettes.
Click here to find out how to book tickets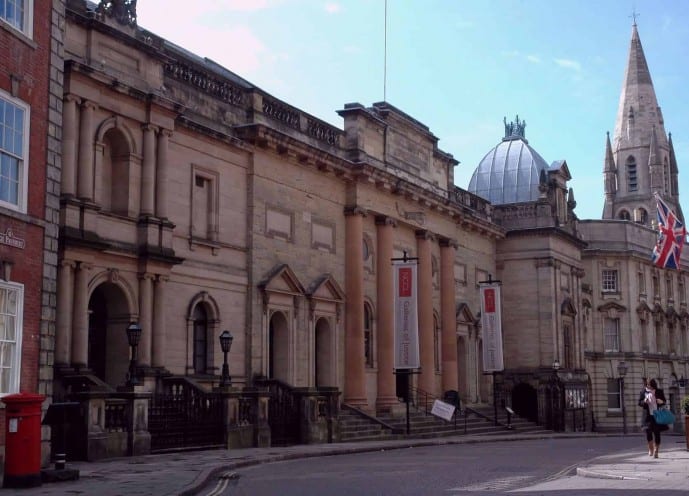 Take the Robin Hood Trail
If you are on the Robin Hood Trail in Nottinghamshire, Nottingham is a great place to start. But, there isn't much else about him here to see apart from the castle and statue.
The Robin Hood Trail is a road trip that you can take to hit up some of the top spots that relate to the legendary outlaw.
From Nottingham, you can continue up the country towards Sherwood Forest. This is and the area surrounding it has lots of places you can visit.
Firstly, I would head to Sherwood Forest. Here you can visit the Visitor Centre and visit The Major Oak. It's the oldest and largest oak tree in Britain and is meant to have been Robin Hood's hideout.
After, make sure to walk into Edwinstowe nearby to see where Robin Hood and Maid Marian were wed at St Mary's Church.
You can also visit the ruined King John's palace, Robin Hood's Pot where he kept his treasure, Thieves Wood, and even gravestones of his merry men. I even went to see Little John's Grave which is just an hour from here.
If you wanted to read more about this trail and all the spots on the Robin Hood Trail, see here.
Where to stay in Nottingham
Unfortunately, the Ye Olde Trip doesn't have rooms to stay for the night.
But, Nottingham is a huge city with plenty of accommodation that is based just a few minutes from the pub;
The Dukes Penthouse is one of the closest you can get with a balcony that has gorgeous views of Nottingham Castle.
The St James Hotel is also close by that looks super cosy and boutique with a fabulous location in the centre just minutes away.
If you're looking for a hostel, The Igloo Hybrid is meant to be a great choice for budget backpackers with a friendly vibe.
Like it? Pin it!