Okay ACOTAR fans, did you know that there is a place that you can visit that looks like Velaris of Prythian's Night Court?
Many fans of the fantasy romance book series 'A Court of Thornes and Roses' by Sarah J. Maas believe that Zermatt in Switzerland was a real life inspiration for the City of Starlight.
Zermatt is a magical village in the Swiss Alps that has a lot of similar features to Velaris.
It's surrounded by snowy mountains and has a snaking 'Sidra-esque' river running through it. There are chalet houses on either side and a huge mountain peak overlooking the valley similar to Ramiel.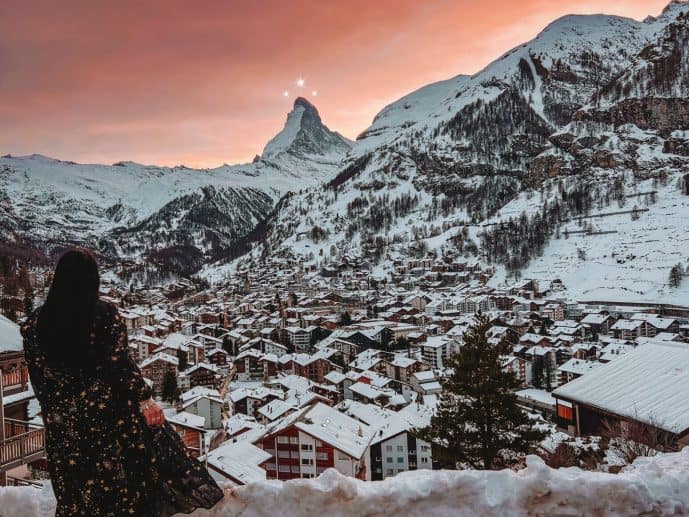 ACOTAR is one of the most transformative book series I've ever read. It got me out of an embarrassingly long reading slump and dragged me out of a pretty dark place when my travel business went down in flames during the 'years-that-shall-not-be-named'.
Prythian is now one of my favourite fantasy worlds that brought the magic back.
So, for my birthday this year, I decided to book a trip there to experience a piece of it for myself.
Here is how to visit a real life Velaris from ACOTAR or the City of Starlight in Zermatt Switzerland!
"To those who look up at the stars and wish…to the stars who listen and the dreams that are answered" – A Court of Mist and Fury
Important: If you have not read A Court of Mist and Fury from A Court of Thorns and Roses book series yet, there may be some big spoilers below!
What is Velaris ACOTAR?
Die-hard fans of ACOTAR will not require an introduction to Velaris but if you need a quick reminder, I've got you.
Velaris ACOTAR is a city in the Night Court also known as the City of Starlight and the Court of Dreams in the fantasy world of Prythian from the A Court of Thorns and Roses book series.
We aren't introduced to Velaris until book two, A Court of Mist and Fury, as it is safely hidden by Rhys who is the High Lord of the Night Court.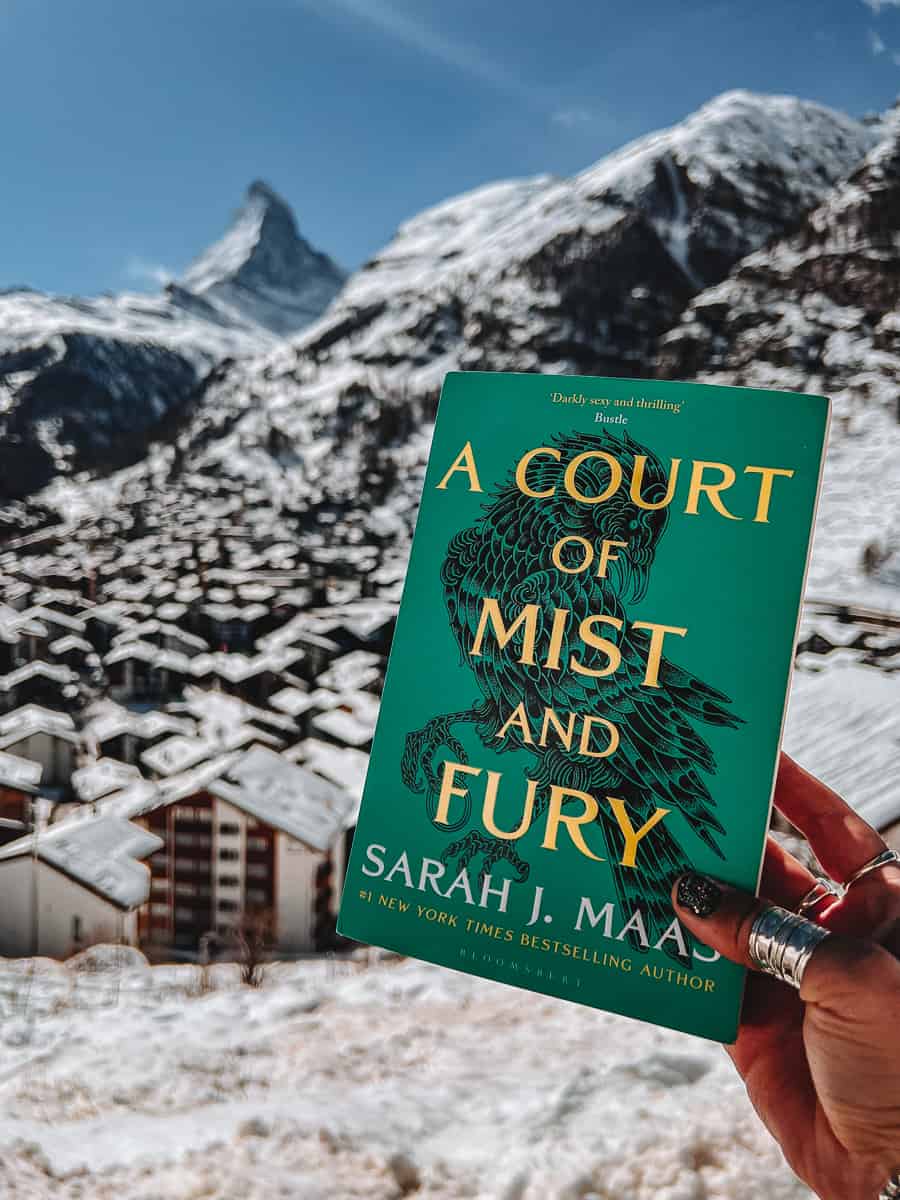 He sacrificed himself to keep Velaris and its citizens a secret by hiding it during Amarantha's reign of terror Under the Mountain.
To save Feyre's life during book one, Rhys made a bargain with her. Feyre was to spend time with him at the Night Court every month in exchange for healing her.
So, as Rhys collects on his bargain we are introduced to the City of Starlight, the Inner Circle, The Rainbow and Rita's. Plus, other parts of the Night Court like the Illyrian Camps and the Hewn City aka Court of Nightmares!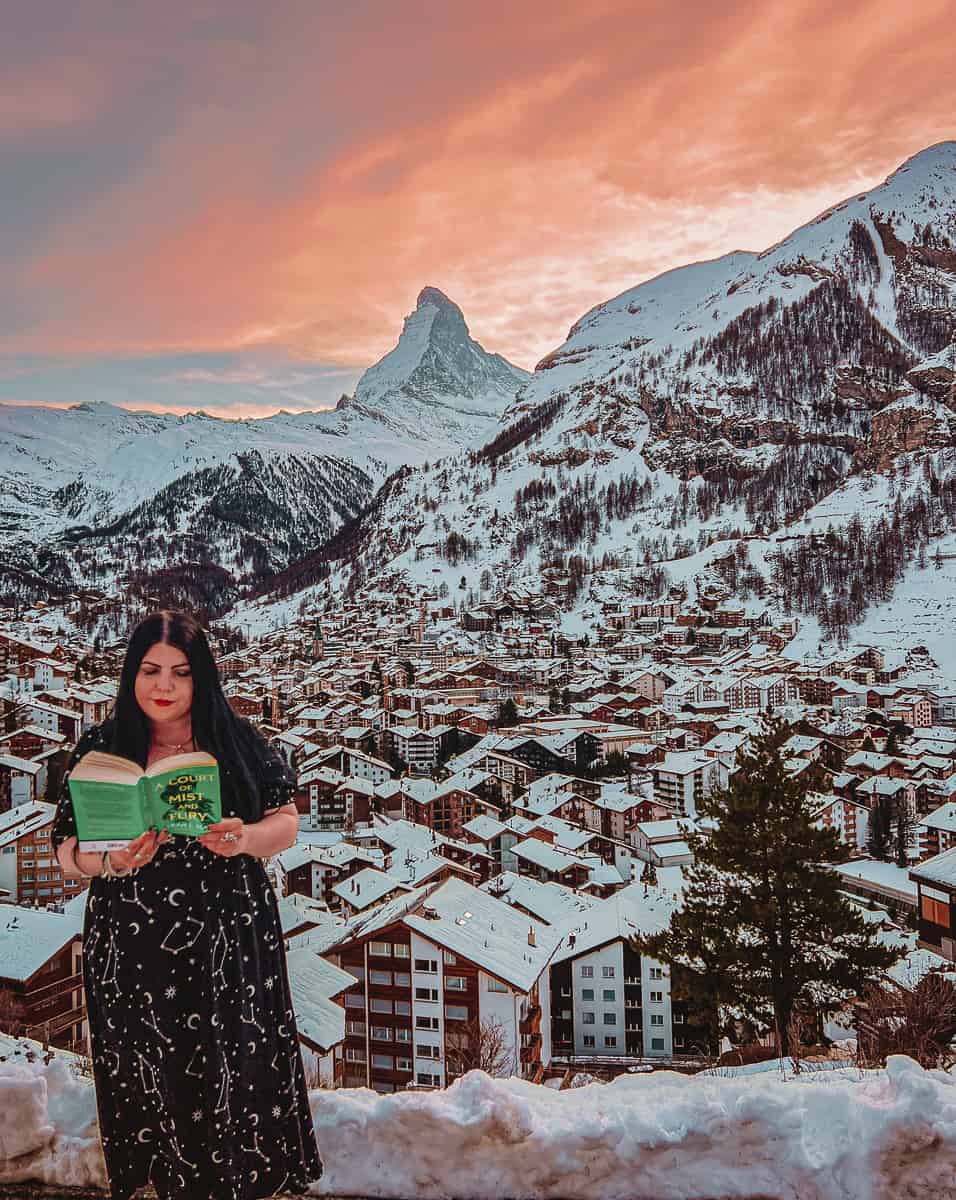 What is Velaris based on?
Many people debate what Velaris is based on in the ACOTAR book series and a popular fan theory is the mountain village of Zermatt in the Swiss Alps.
There are many similarities between Zermatt and Velaris, namely the Matterhorn Mountain peak that bears a striking resemblance to the sacred Ramiel mountain which features on the Night Court's insignia.
In the books, Velaris is described as being surrounded by snowy peaks. The houses are built on steep rolling hills and flanked by an ancient sapphire river known as the Sidra.
Beside this river, there are many shops and cafés that have 'delicate tables and chairs scattered outside their cheery fronts'. Also, 'the restaurant' and Rita's, a popular nightclub.
There are four market squares known as palaces and an artist's quarter called The Rainbow.
Zermatt fits this description of Velaris almost perfectly. It's surrounded by snowy mountain peaks, the houses are built on steep hills, and it has a river snaking through it with many cafés and shops beside it.
The only thing it doesn't have is the ocean. But, you could easily imagine that you were visiting a real life City of Starlight here!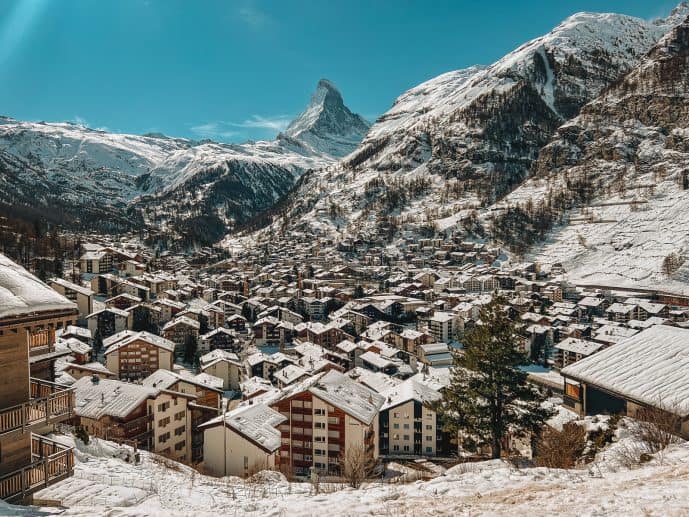 Is Zermatt Velaris in real life?
So, if you have ever wanted to visit The City of Starlight in Prythian, now is your chance to do so in Switzerland.
Here are all of the things to do in Zermatt that will make you feel like you're in a real life Velaris.
Things to do in Zermatt that feel like you're in Velaris
1. Visit Velaris Mountain (Ramiel) aka The Matterhorn
Velaris Mountain is called Ramiel and it's a sacred mountain to the Illyrians with three stars on top.
It appears on the Night Court's Insignia, is tattooed on Rhys' knees and it's where the Blood Rite takes place.
In Zermatt, you could easily compare the jagged Matterhorn mountain to Ramiel which stands out over the other mountain peaks.
There are many ways that you can travel closer to the Matterhorn and they would be the Gornergrat, Sunnegga Funicular, and Matterhorn Glacier Paradise.
Although they are all amazing activities, the most special I feel is the Gornergrat. It's a cog train that takes you over 10,000 feet above sea level to the Gorgergrat Bahn.
Up here, you get unobstructed views of the Matterhorn. There is a café, shopping area, restaurant, and ski slopes.
In summer, you can easily walk up or down the hiking trails but in winter it's best to get the train the whole way up. It's not cheap at 88 CHF but the experience and views are magical!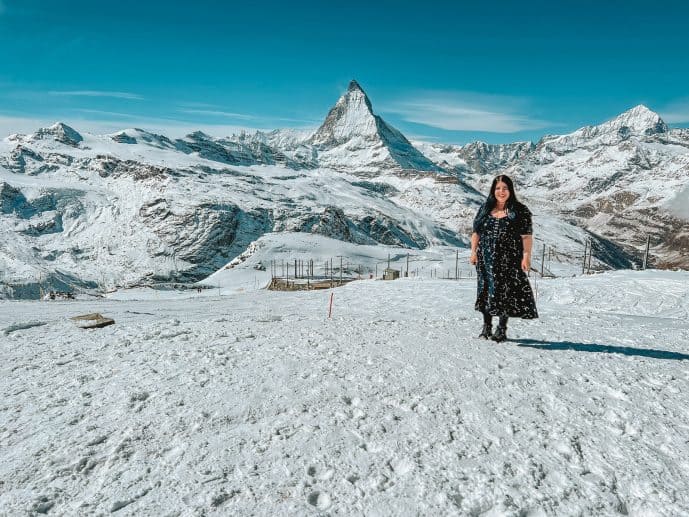 2. Stroll along the Sidra River aka Matter Vispa
Just like in Velaris, there is a river that snakes through Zermatt called the Matter Vispa which is similar to the Sidra.
Although it doesn't lead to the sea with tall ships sailing through it, it does have multiple bridges that cross over it.
There are also cafés with delicate tables and chairs scattered outside and some shops too although no places selling lacy little things.
In the books, the Sidra is described as ancient and 'sparkling like deepest sapphire'. I guess, the Matter Vispa is more like an aquamarine but it's still worth taking a stroll along here to see the sights.
The water in this river travels straight from the mouth of the Gorner Glacier and you can follow the trail the whole way through the City of Starlight.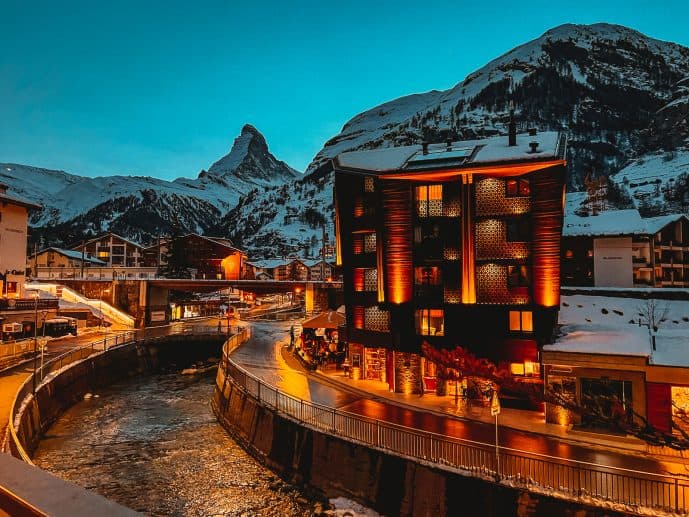 3. See art galleries in The Rainbow aka Zermatt Old Town
One of my favourite areas of Zermatt is the Old Town that is known as the "Hinterdorf".
It has many old houses, stores, and stables that were built from the 16th to 18th centuries and narrow alleyways that feel like you've travelled back in time.
There are also some art galleries found here and that's why it reminded me of The Rainbow of Velaris which is the artist's quarter and where Feyre sets up her studio.
It's not a large area but it's cobbled and very quaint. On my visit, we had a day of snow which was so magical and this area looked breathtaking. It's also perfect for photography.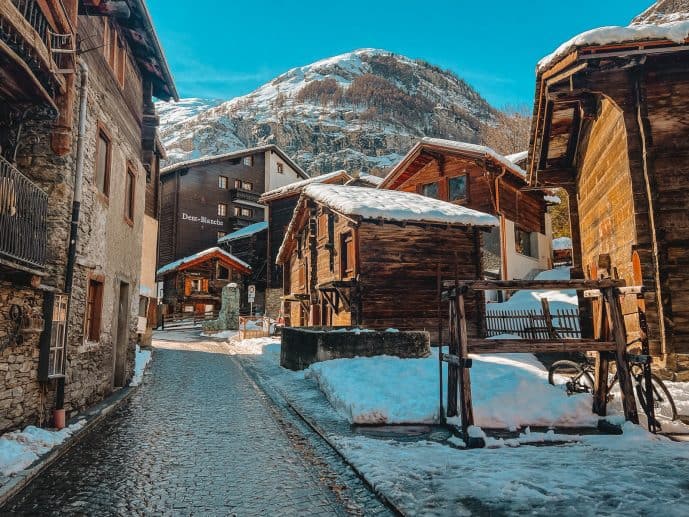 4. Party like you're at Rita's in Harry's Bar
If there is a place I would love to see the Inner Circle partying at it would be Rita's. Mor's regular hangout and the place she took four centuries to convince Azriel to visit.
It's described as a club where Fae and Illyrians of the Night Court can go drinking, dancing, and gambling if the mood takes them.
Although many places in Zermatt could be compared to a nightclub like Rita's, I thought Harry's Bar was a great spot as it's so popular. It's packed out almost every day and night in ski season.
It's the place where everyone goes for an apres-ski party so you can sing, dance and make some magical memories in Velaris!
But, if you're looking for more of a traditional dance club there is the Loft Club, Club Mamacita, or the Broken Bar Disco on Bahnhofstrasse.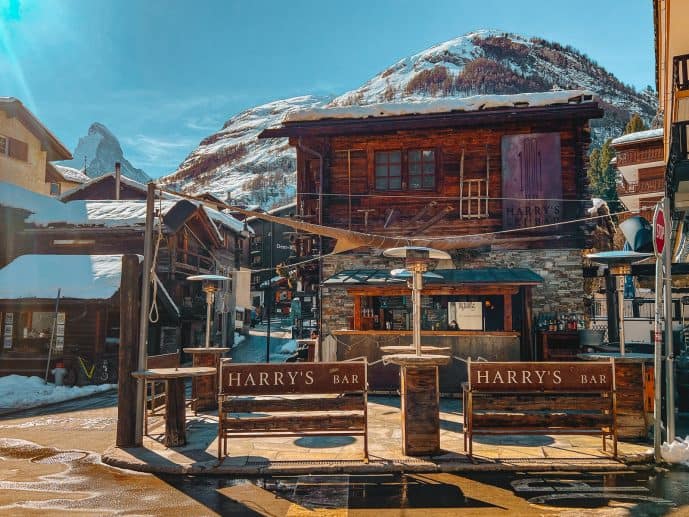 5. Visit a Matterhorn viewpoint worthy of the House of Wind
Nessian is my favourite book couple and ACOSF is my favourite book in the ACOTAR series. I would literally sell my soul to live in the House of Wind and join the Valkyrie training circle or book club.
So, I was desperately searching for a place in Zermatt that had elevated views worthy of The House of Wind.
Although you can see the Matterhorn from all over town, the best views can be found in an area known as Le Petit Village at the top of Mürini Hill.
Click here for directions on how to find the best Zermatt Matterhorn Viewpoint
From this Matterhorn Viewpoint, you get a bird's eye view of all the gingerbread houses, with the mountain range and the Matterhorn mountain too!
Although getting here doesn't require 10,000 steps like the House of Wind does, it will still be a step challenge in itself to reach the viewpoint from the main streets of Zermatt.
Getting to the top of Mürini Hill will leave you breathless and your legs will hate you but it's so worth it for the panoramic views you get of Velaris.
As Sarah J. Maas said, "for every Nesta out there – climb the mountain."
I visited this viewpoint every day and evening to enjoy the views whilst I was here. Make sure to bring your camera and a copy of your book to take some magical snaps at the top!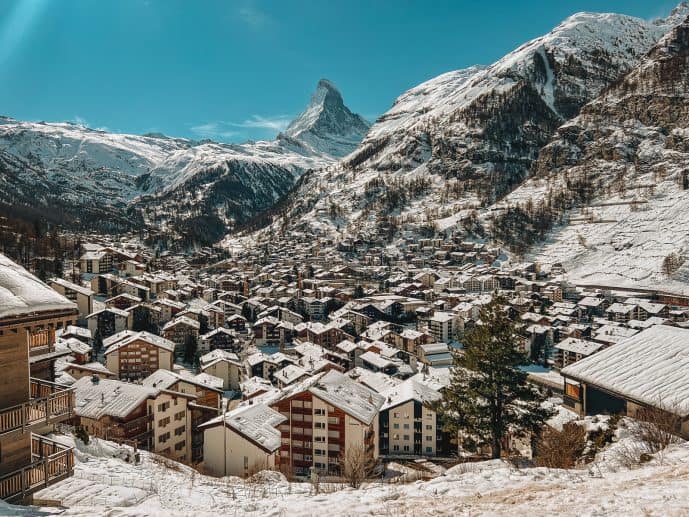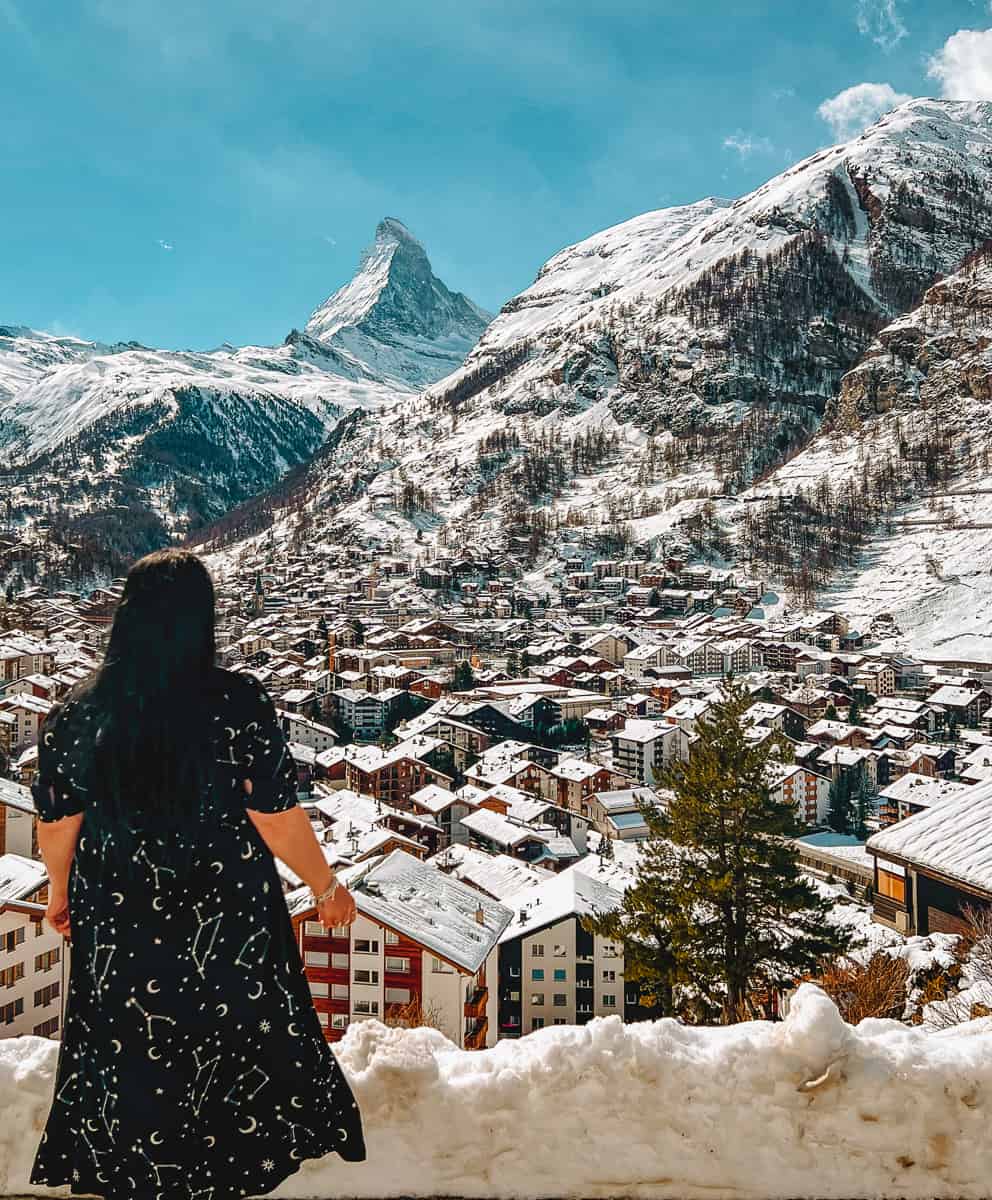 6. See Velaris at sunset & at night for Starfall
Although the views during the day are incredible, the best time to visit the Matterhorn viewpoint would be at sunset when the colours in the sky start to change over the mountains.
You'll see it turn from blues to oranges, reds, pinks, and the most gorgeous shade of purple if it's a clear night.
Once the sun has set, don't leave just yet, I would wait for nighttime to descend aka Starfall.
This is when you will see all the chalets in the village turn on their lights which makes the valley sparkle below. You may even see some stars overhead.
In the wintertime, it looked utterly magical with all the snow on the rooftops and the iconic views of Ramiel aka Velaris Mountain in the backdrop!
This is the magical moment that made me feel like I was in Velaris. I actually got quite emotional and had to pinch myself that I was actually here.
I've had this trip planned for so many years after reading ACOTAR and my heart was so full after I finally was able to visit a part of Prythian and the Night Court!
Related post – Magical things to do in Zermatt
So, is Zermatt Velaris from ACOTAR?
Personally, I think so. But, there are many debates about this and lots of readers disagree as there isn't much culture here such as theatres and galleries like in Velaris.
Many people say that Lucerne is a better fit as its Switzerland's cultural capital. There is a mountain range there, theatres, art galleries, museums, cafés, shops, and a river that widens out into a lake for bigger boats!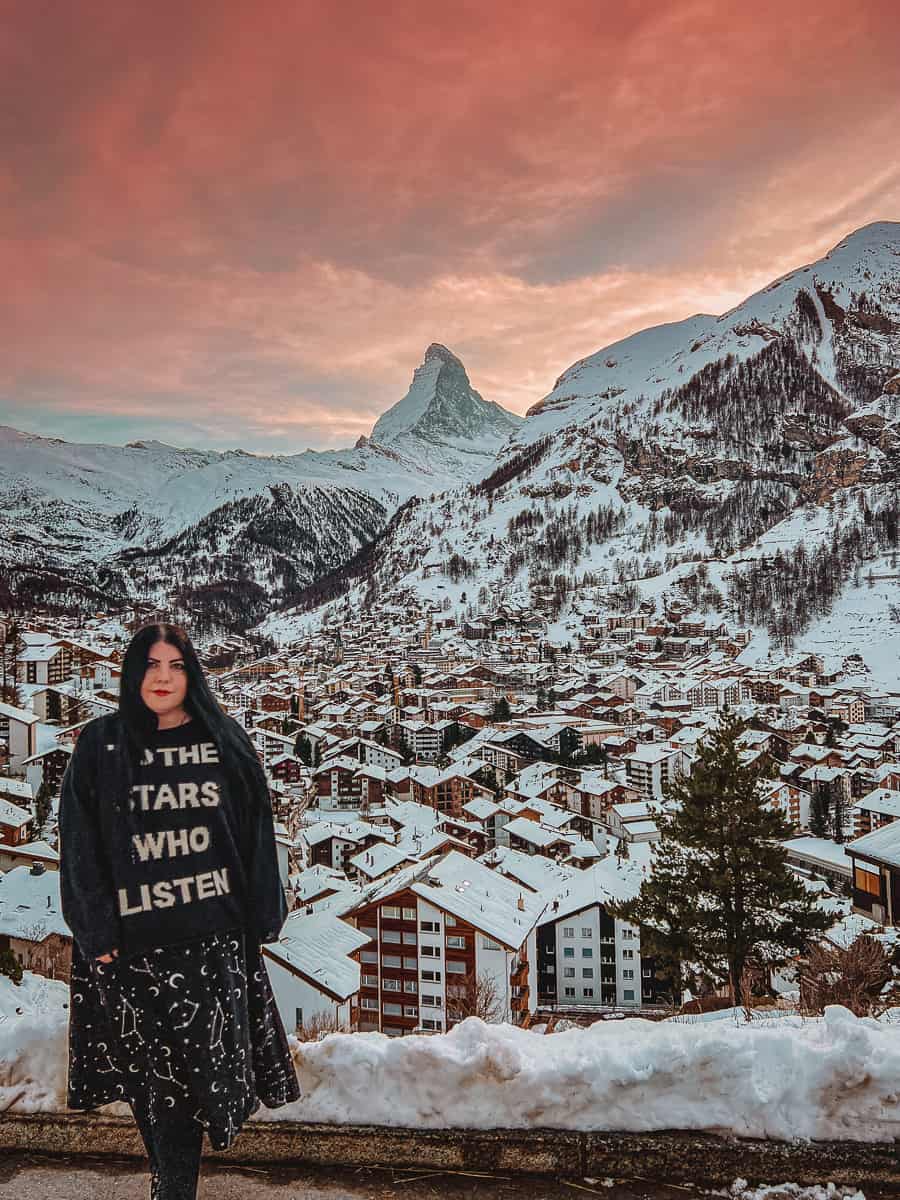 Regardless, I would still say that Zermatt looks more like the real life Velaris from ACOTAR. Many others also agree as there are so many similarities between them!
It's also how I imagined this in my head whilst reading the books. It's a magical place and somewhere I would recommend putting it on your bucket list.
The mountain range with the Matterhorn, the river, and chalet houses in the valley plus the cafés, art galleries, and shops make this the best contender for a real life City of Starlight.
How to visit Zermatt aka Velaris acotar in real life
Zermatt is a quaint alpine village in the Canton of Valais in Switzerland. Valais is a very similar name to Velaris, don't you think?
There are many ways that you can arrive in Zermatt and the closest airport cities are Zurich and Geneva.
A popular way to arrive in Zermatt would be to ride on the Glacier Express that travels from St. Moritz (and vice versa).
It's a magical train journey that takes you through the Swiss Alps. It covers 290 kilometres (180 miles) and you pass over 291 bridges, including the famous Landwasser Viaduct, and travel under 91 tunnels on your way there.
If you ride the Glacier Express in winter, the mountainous route is blanketed in snow and it will feel like you're in Narnia or riding the Hogwarts Express.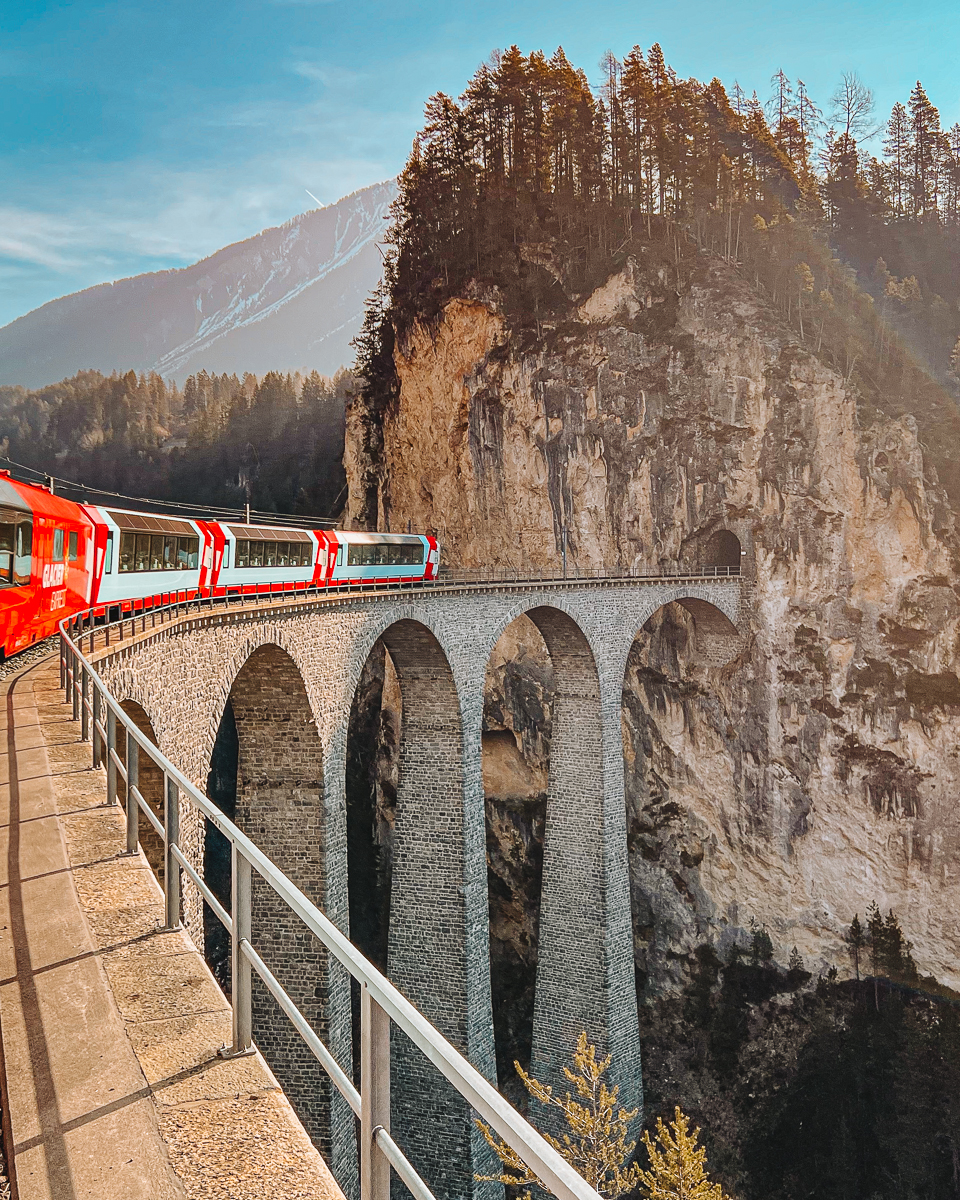 The only thing to consider is that it travels quite slowly (on average 24mph) and the journey takes 8 hours. That's why it's called the slowest express train on earth!
I rode on the Glacier Express excellence class which was super luxurious and included six food courses with wine pairings.
It's not the cheapest experience by any means but it would mean you arrive in the City of Starlight like High Fae royalty.
Related post: travelling to Zermatt on the Glacier Express Excellence Class
Getting around the City of Starlight
One of the things I LOVED about Zermatt was the fact that it's a car-free village, so the only way to get around is to walk, take a train, or ride in these cute electric vehicles.
So, if you were driving to Zermatt you have to park up at Tasch and then take the train the rest of the way to the village.
It's also really important to consider this when booking accommodation as many hotels can only be accessed via steep hills and stairways.
As it's a mountain region, and you will be roughly 1600 metres above sea level, the altitude here means getting around can be a challenge.
Many hotels in Zermatt offer free pickups to/from the train station and I would prioritise booking a hotel with a transfer!
It makes things a lot easier without being able to winnow and, tragically, the Bat Boys won't be available for pickups. Sigh.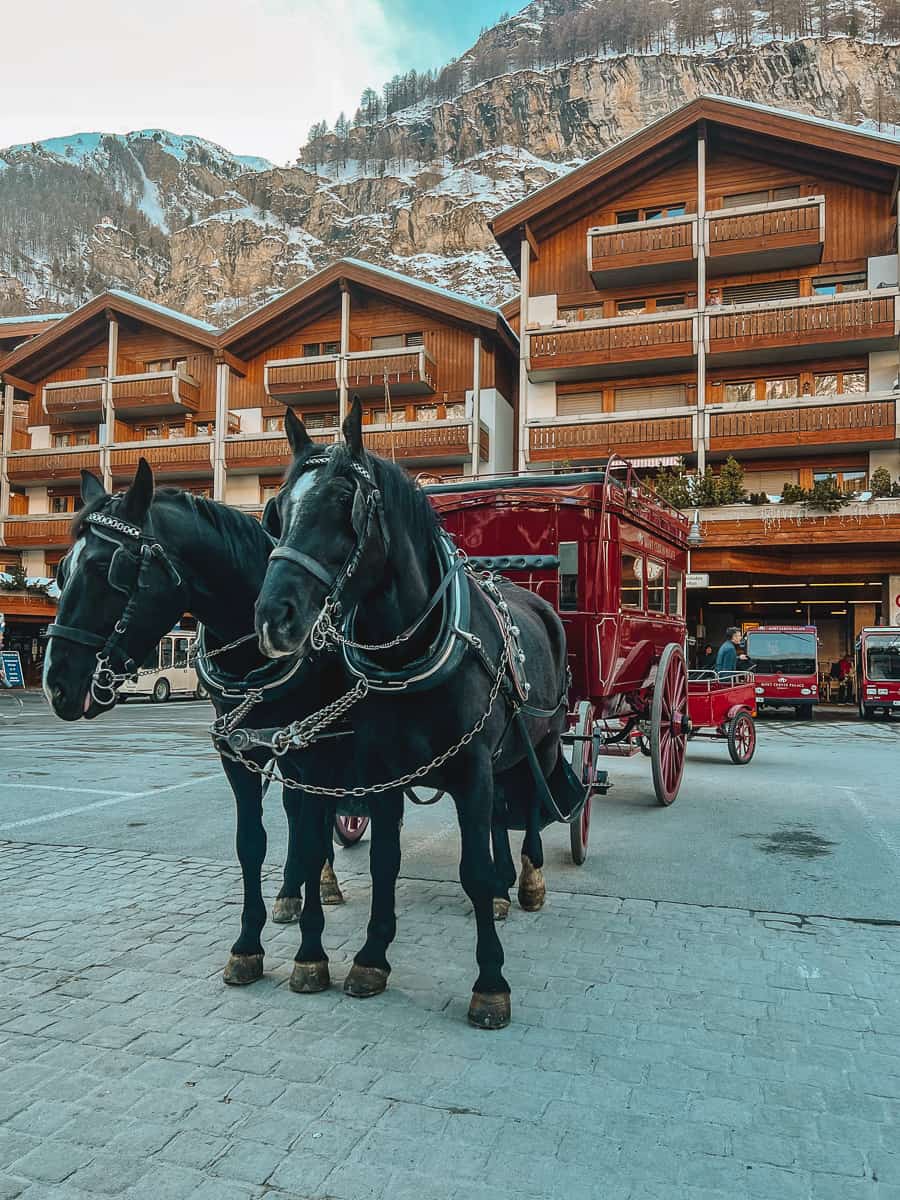 Where to stay in Velaris aka Zermatt
If you're thinking of booking a trip to Zermatt in winter which is the peak ski season, I would make sure you book a hotel as far in advance as you possibly can.
Zermatt is a small village and, although there are many hotels, accommodation can easily sell out!
I booked a stay at the Chalet Hotel Schonegg in Zermatt and the location was perfect as it was high on a hill. You also get free transfers to and from the station.
The elevated location provided picture-perfect views over Zermatt and many of the rooms had a Matterhorn view from the balcony too. A perfect cosy place to read ACOMAF with the views.
They had an infinity terrace bar where you could enjoy lunch, dinner, or some drinks overlooking Velaris!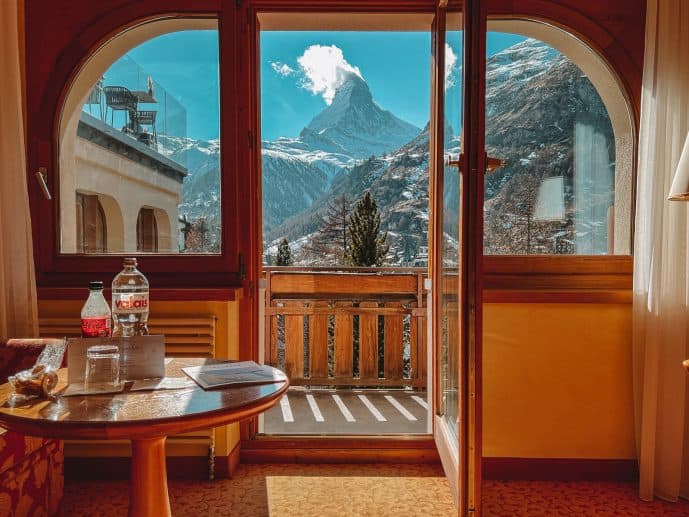 Although it was located on a hill, there was an elevator that took you down to their 'cave entrance'. It was SO cool and constantly changed colour.
When it turned orange/red, this cave tunnel really reminded me of Feyre going Under the Mountain to Amarantha's court!
This shortcut entrance meant that you could access the river, main street, Sunnegga, and the Gornergrat station in just a few minute's walk. It was very convenient.
Click here to book your stay at Chalet Hotel Schonegg Zermatt
Read more of my Switzerland guides
B2 Wine Hotel Library in Zurich
Secret Giacometti murals in Zurich
Heading up to Jungfraujoch – Top of Europe
How to see the Matterhorn in Zermatt
Männlichen to Kleine Scheidegg walking guide
The famous Kapellbrücke Bridge
A Sherlock Holmes guide for Meiringen
The best afternoon tea in Interlaken
A 007 guide for Schilthorn Piz Gloria!
Save how to visit a real life Velaris ACOTAR for later!