All that is gold does not glitter, Not all those who wander are lost; The old that is strong does not wither, Deep roots are not reached by the frost.
Welcome to Hobbiton, these are my top tips for visiting the Hobbiton movie set in New Zealand!
Since I was a child, the Hobbit has been my favourite book. My mind used to run wild with imagination – the trolls, dragons, and dwarves all made my childhood just that bit more interesting.
I've read all three Lord of The Rings books countless times from cover to cover and fell in love with the languages, folklore, characters, and endless stories.
J.R. Tolkien, in my opinion, is an absolute genius. So, when I found out that we would be stopping at Matamata on the Kiwi Bus, I was over the moon!
As we caught the tour lot bus down to Hobbiton and I got my first glimpse of the Green Dragon Inn, the tour bus guide had to laugh at my excitement. It was a little bit sad just how excited I was.
Hobbiton can be found in Matamata on the North Island in New Zealand. It's an essential stop-off for any fan of Lord of The Rings.
Even if you're not a fan, you'd still have some serious bragging rights visiting the Hobbit homes on the other side of the world!
Here are some top tips for visiting the Hobbiton movie set and what you can expect to see and do. You'll be happy to know it does include 'second breakfast'!
How to reach the Hobbiton movie set in New Zealand
Hobbiton movie set is located in Matamata, New Zealand. This is around a 2-hour drive from Auckland.
I went on my tour of New Zealand with the Kiwi experience as an add-on.
But, you can also take day tours from Auckland or Hamilton to Hobbiton too.
There is an Intercity bus that takes you straight from Auckland to Hobbiton if you did want to visit on your own.
If you're on a road trip, there's also lots of parking for when you visit.
Read more – top things to do in Wanaka in winter
What are the Hobbiton ticket prices?
This experience is admittedly not cheap, but it is worth splurging on.
If you're buying an individual ticket in advance or on the day it will cost $84NZ for a basic movie set tour of Hobbiton.
If you wanted to add the feast lunch onto that it will cost an extra $36NZ. This is a buffet-style meal.
If you wanted to do attend one of the Hobbiton banquet tours that they hold on it will cost you $200NZ.
To check all ticket prices and to book, see the official website.
My top tips for visiting Hobbiton movie set
1. Book tickets for the Hobbiton movie set in advance
Hobbiton strongly advises booking movie set tickets in advance for tours. Especially in the peak tourist season which is from October to March.
When I went in it was in off-peak and they still had some tour slots available but you don't want to take that risk!
You can book in advance via the official Hobbiton website, here.
2. You'll be going on a tour to visit Hobbit Homes with other people
Unfortunately, you can't show up and explore on your own.
All visitors (unless you have a special invitation) will have to be guided around on a walking tour.
When you book online, you will be asked to book a specific time slot.
The walking tours also have around 10-30 people on each tour. Your friendly and Tolkien-obsessed guide will show you around the set.
They will test your knowledge and ask you all sorts of LOTR questions. You'll be so surprised to know that somewhere in your group there will be Lord of the Rings experts around you!
Don't worry, you don't have to know anything about it to enjoy it.
3. Visits to Hobbiton movie set have strict controlled times – take your photos quick!
As each visitor only gets a 30-minute tour of the set itself, you'll find they do move quickly and there will be other groups behind you.
Can you take photos on the Hobbiton tour?
Yes, of course! But, you'll need to be quick about it.
The tour guide will whisk you through the village so make sure if you do want a picture you stay behind and grab it.
You don't pay $90 to go into Hobbiton and not have a few photos right? You can always ask questions to the guide a little later.
The Hobbit holes will be dotted around in all different shapes, colours, and sizes.
It's amazing how even a little person like me can look huge in front of a small round door. The power of perspective!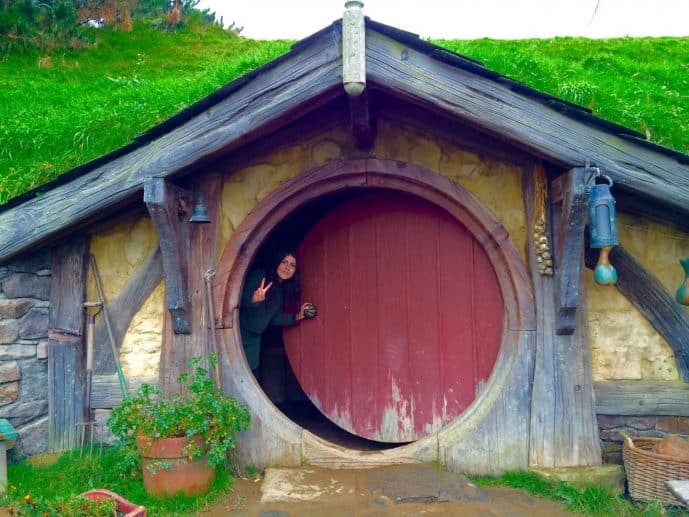 4. You will get to see Bilbo Baggins' house
Of course, you can see the house of the Hobbit who started it all and felt like going on an adventure!
How little did he know what he would get himself into?
Unfortunately, you can't go in for supper and Bilbo would probably be quite happy about that. But, you can marvel from the outside.
After all, it does say "no admittance, exception party business!"
5. Make sure you drink a cider and have second breakfast at the Green Dragon
After your tour around the various movie sets and Bilbo Baggin's house, you'll be on your own.
Now you must take the quest for a flagon of ale at the Green Dragon. Follow the signs, and make your way over!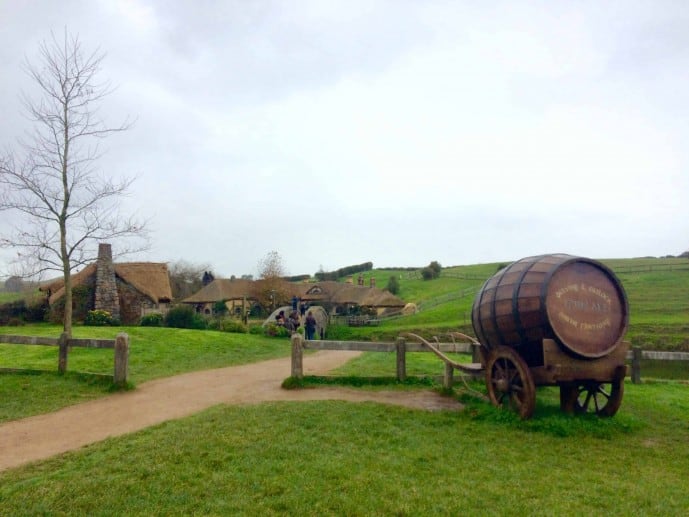 Luckily, this part of the tour isn't time controlled so you can spend as much time in the Green Dragon as you like.
You will finish your tour at the Green Dragon Inn and if you visit in winter it will have a lovely roaring fire to greet you!
You can try a selection of Hobbit Ales and ciders which are complimentary at the price of your ticket.
I highly recommend their scrummy steak and ale pie, if you want some second breakfast! This does come at an extra cost but it's so worth it.
Then, indulge and warm your toes by the fire.
Don't forget to get a cheesy picture of you acting like you serve Hobbits every night behind the bar! How many tourist points do I get?!
6. Buy some souvenirs from the Hobbiton gift shop!
Inevitably, no tourist experience is complete without some souvenirs to take home.
The LOTR souvenirs here range in price depending on how serious a fan you are.
It can go from pens, badges, and bookmarks to Gandalf's hat and a marble chess set!
Whether it's a cloak, jewellery, or Elven brooch you're after, it's all here for you to spend your kiwi dollars on.
I decided to go for a Green Dragon Inn mug. This amazingly survived in its bubble wrap in my backpack for a whole month!
7. Don't miss a visit to Hobbiton movie set if you're in New Zealand
Even if you're not a fan of Lord of the Rings or the Hobbit, just visiting the Hobbiton movie set is an awesome experience.
It is pretty expensive but it's a small price to pay in my opinion.
To stand where Elijah wood, Orlando Bloom, and Vigo Mortensen all stood, is incredible.
Make sure you don't miss this Hobbiton on your travels in New Zealand and immerse yourself in Middle Earth!