Are you ready for the ultimate Malta Bucket List?!
Malta is one of the most spectacular places I think I've visited to date and I can't wait to show you the top things to do here.
It's the country where the azure waters are crystal clear, the buildings all look like they've been dipped in honey and at every corner, there's something beautiful to surprise you.
Whether that be the breathtaking views, the Hollywood movie locations, the epic historical monuments, the mouth-watering food, or the classy shopping and nightlife. Malta really has something for everyone.
So, let's start tackling this epic bucket list! What will you want to do first?
How to reach Malta
Malta is a smooth three-hour flight away from the UK. You'll come away from cold and rainy Britain into sunny skies, blue water, and a Mediterranean paradise.
I flew with Jet2 on my flight to Malta from Manchester. Jet2 run regular flights to Malta from Belfast, Birmingham, East Midlands, Glasgow, Leeds and Newcastle.
There are also now regular flights to Malta with Jet2 from London Stansted – click on the link to check out the latest deals!
If you were looking for more package holiday booking (flights + hotels) then you can always have a browse of Jet2holidays deals to Malta here.
What I love about them is that you can put down a deposit as little as £60 to secure your space and save up!
The ultimate Malta bucket list – 22 incredible things to do in Malta!
1. Explore Valletta; Malta's capital city
As we landed into Valletta, I could tell from the plane I was going to love it. The sandstone buildings piled up on the edge of the Mediterranean sea, it was all so effortlessly picturesque.
I was amazed to hear that this city was all built by hand and only took 15 years to complete in 1566!
A walled city built for war with bastions, fortresses, and a cathedral. It was named after Jean Parisot de la Valette who was grand master of the order of the knights of St. John. An important order in these parts which I will go into a bit more later.
It is a world heritage city and one of the most concentrated historical areas in the world! So, you don't have to pay to see the history speak to you through the walls. There's countless of hidden gems all around you to explore in its streets and buildings.
For the commercial heart of the island, it may be surprising to hear that it's busy by day but you can't hear a peep at night. By 11 pm most bars, restaurants, and cafés are closed!
Make sure you take some time just to explore the city streets, you won't regret it.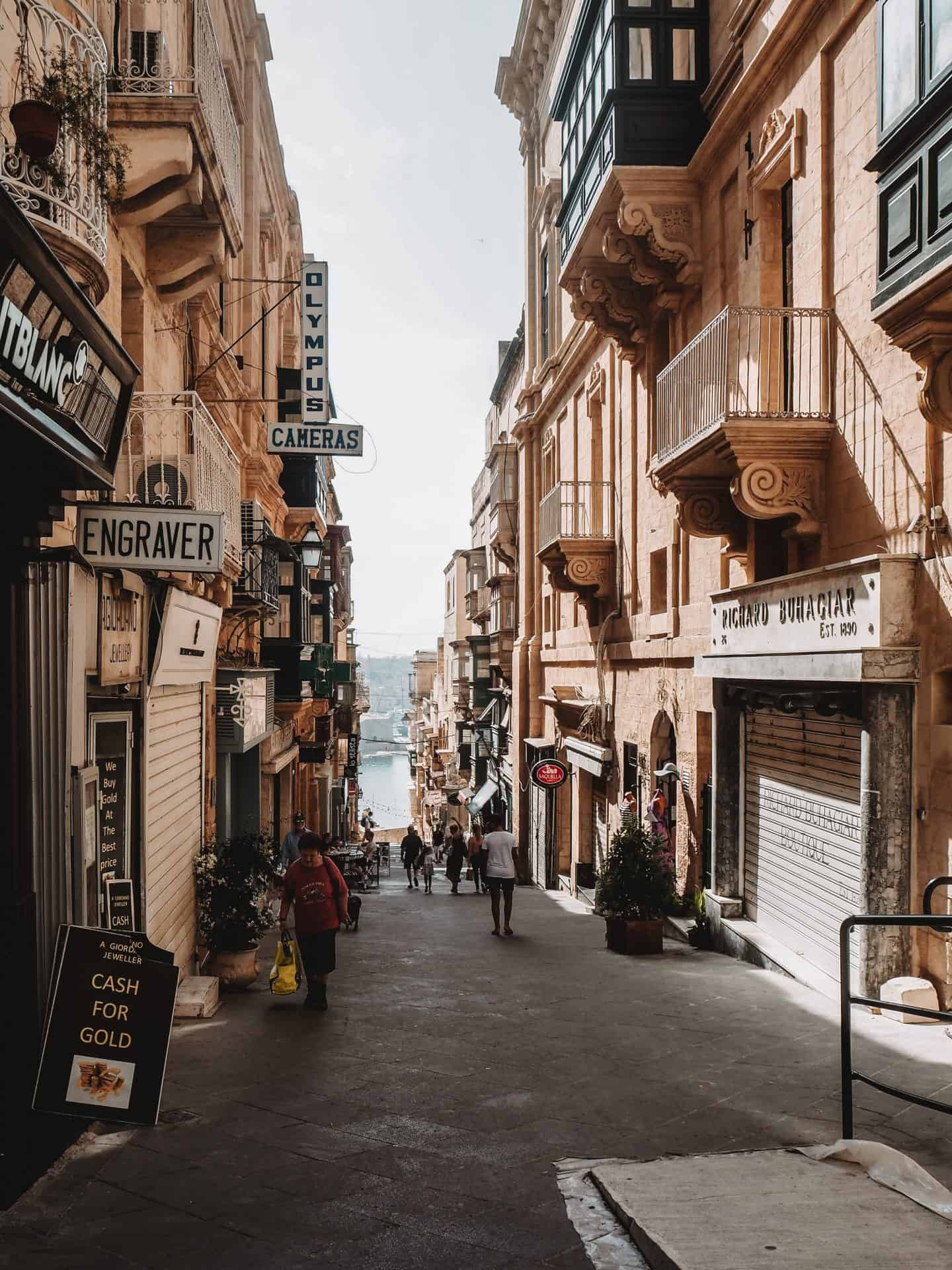 2. Spy on the city at the Upper Barrakka Gardens
One of my favourite things to do in Malta was the panoramic views offered from the Upper Barrakka Gardens.
Built in the 16th century, these public gardens are FREE to enter. From here you can spy on the whole city including the spectacular grand harbour with the yachts and boats from the rich and famous.
Did you know that Malta is a popular filming location for Hollywood? Movies like Troy, the Da Vinci Code, Murder on the Orient Express, and Gladiator were all filmed here. The gardens are the perfect view to take them all in!
If you're feeling the heat (in September in was scorching) there's a little café selling iced coffee – you're welcome!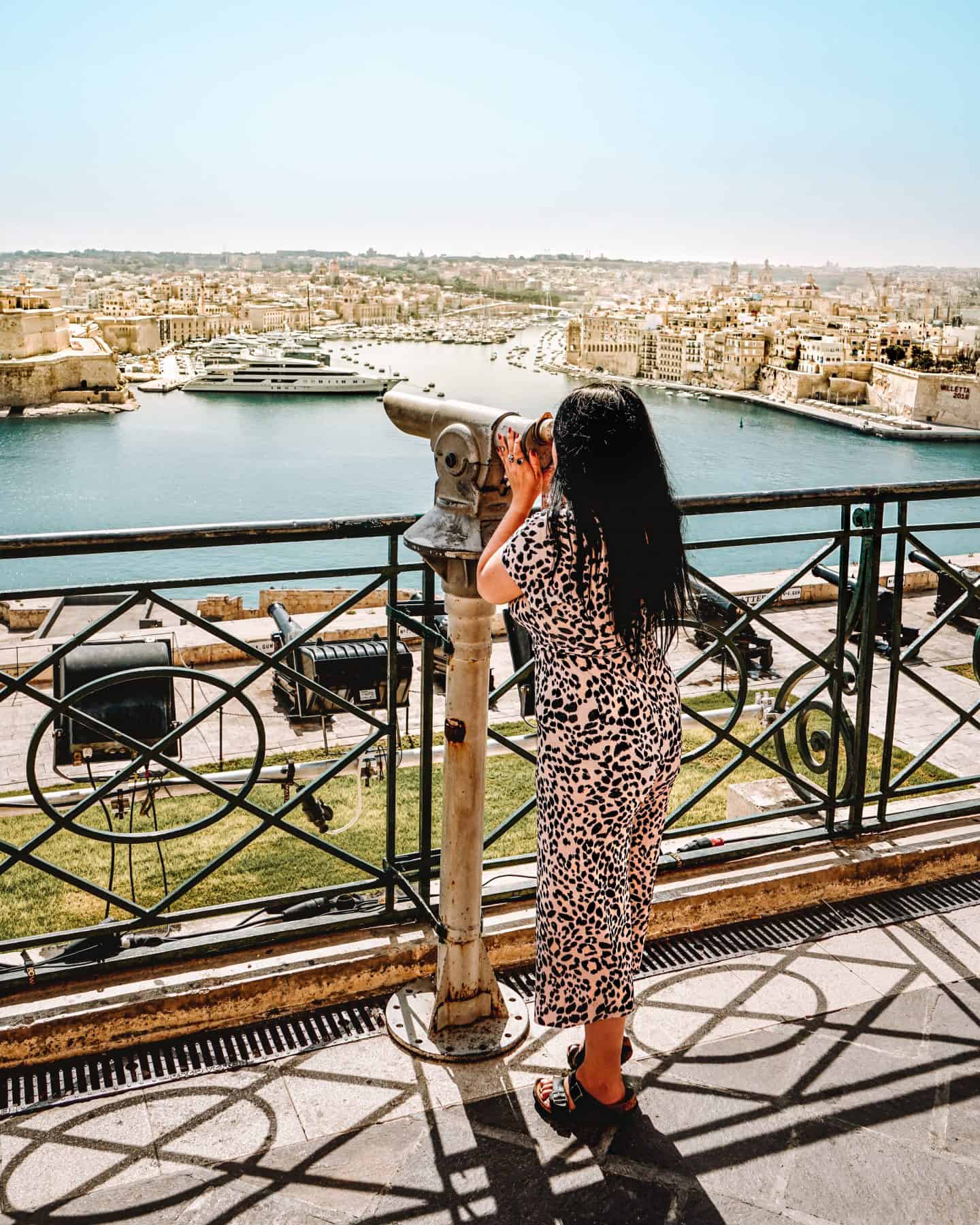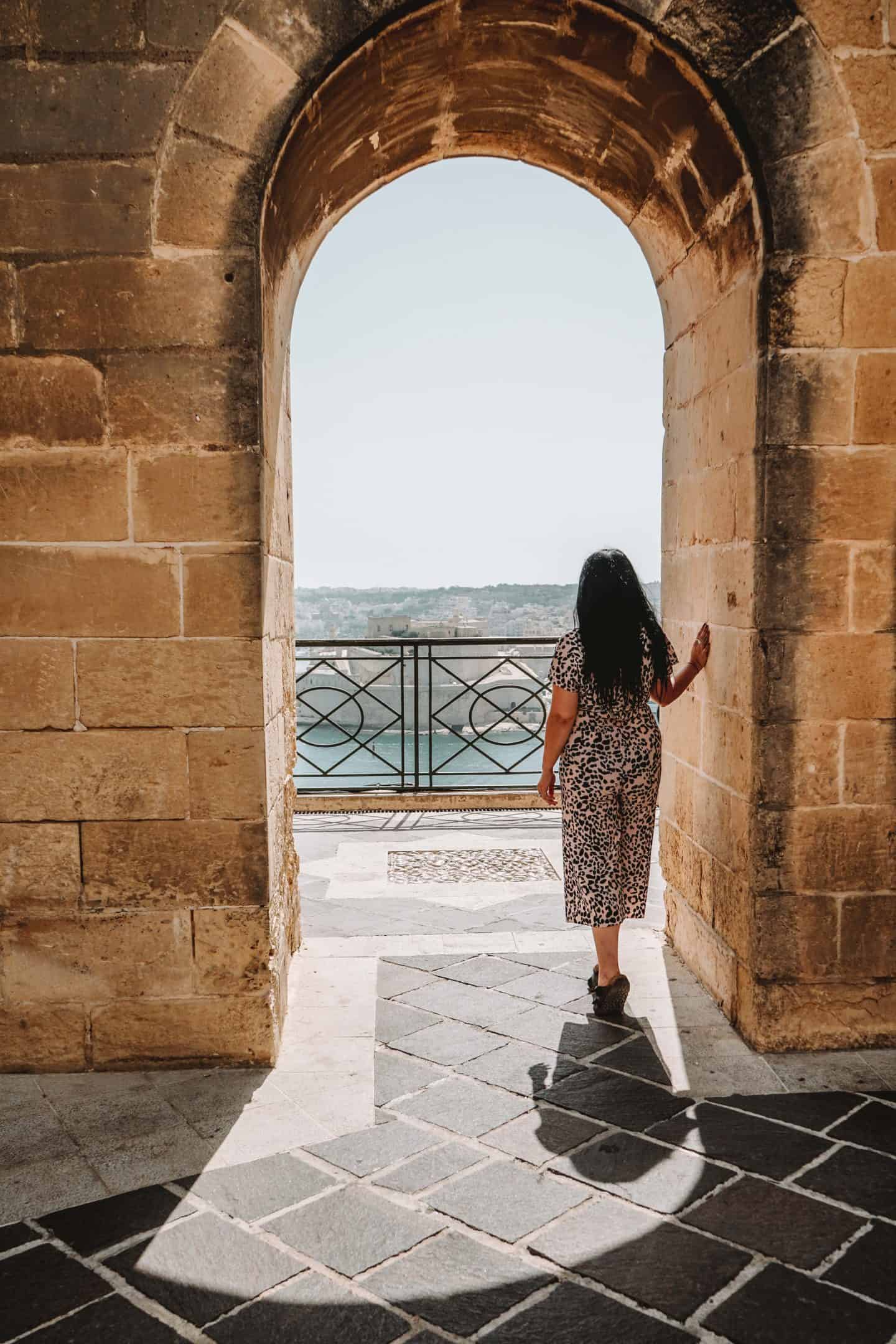 3. Be bedazzled by St John's Co Cathedral
One of the finest examples of Baroque architecture lies in the heart of Valletta, St. John's Co Cathedral will mesmerise you with it's beauty. It definitely had the 'Wow' factor on me!
If looking up at the sparkling ceiling wasn't enough, looking down is also a nice surprise. The floor is an artwork in itself with hundreds of decorated marble tombstones.
It's literally dripping with gold and hangs some of the finest works by the famous painter and blaggard Caravaggio.
Supposedly Caravaggio landed in Malta with a ransom on his head for killing a man in Rome.
He was able to join the knights order despite his crime, was arrested again (for brawling) but managed to escape prison!
I loved Caravaggio's work before my visit, but I didn't realise he was such a rebel. The beheading of St. John is his only signed work and tourists flock in their thousands to take a peek every year.
Prices for entry are €10.00 per adult. Ladies must cover shoulders when inside the cathedral. If you don't have something to cover your shoulders with, you'll be given a rather drab 'Hand Maid's Tale' looking grey cape.
For more Cathedral visitor information, see here.
4. …Or any Maltese cathedral on that matter!
In fact, I'd say entering any one of Malta's fabulous cathedrals and churches deserve a spot on the list in itself.
I fell in love with the architecture of the buildings, with the red domes and fabulous Latin details.
As we were here during Malta's Festa season (see below), all the cathedrals were in full flow with locals praying and paying respects, priests performing mass, and idols out on display. Make sure you don't miss out on a visit.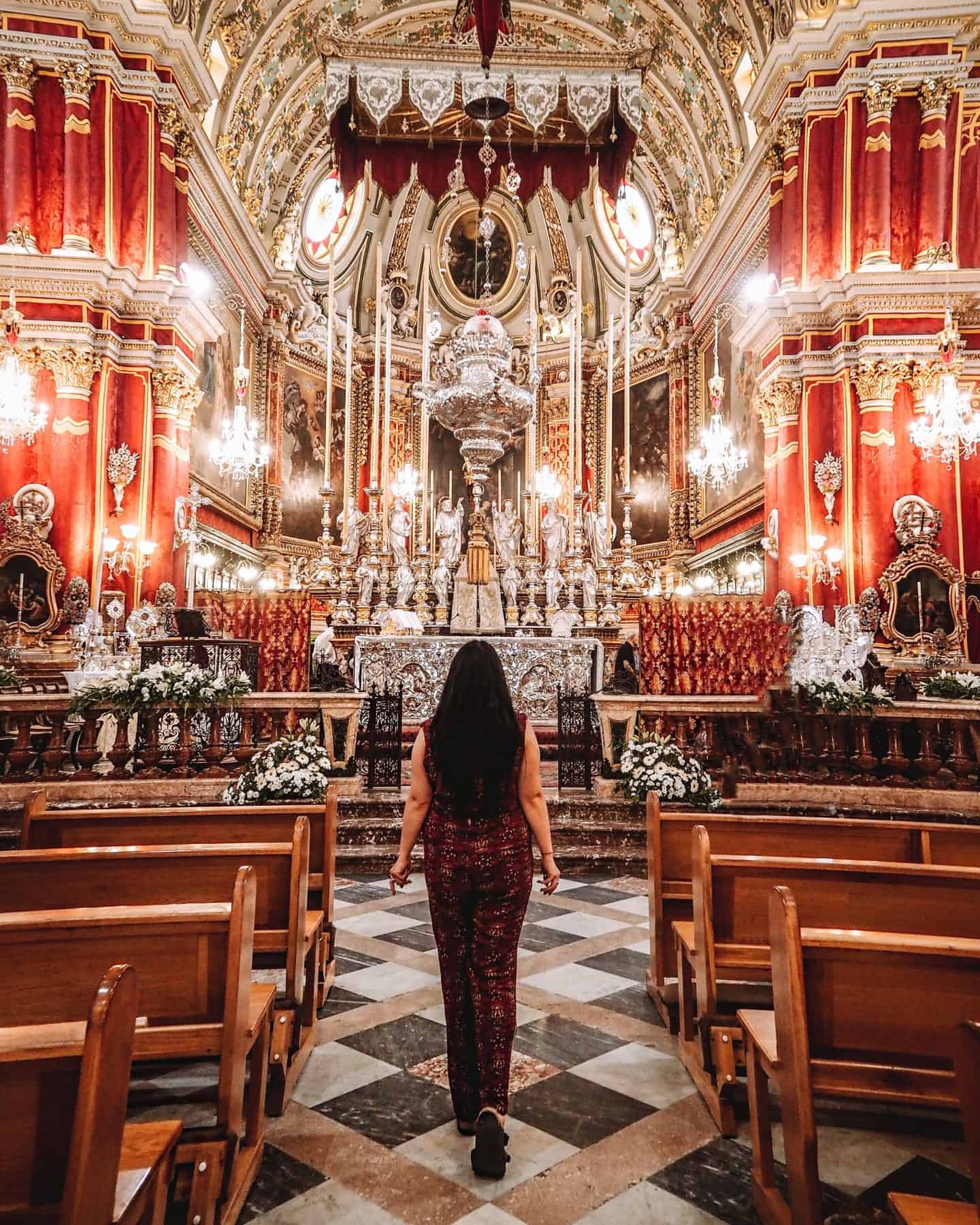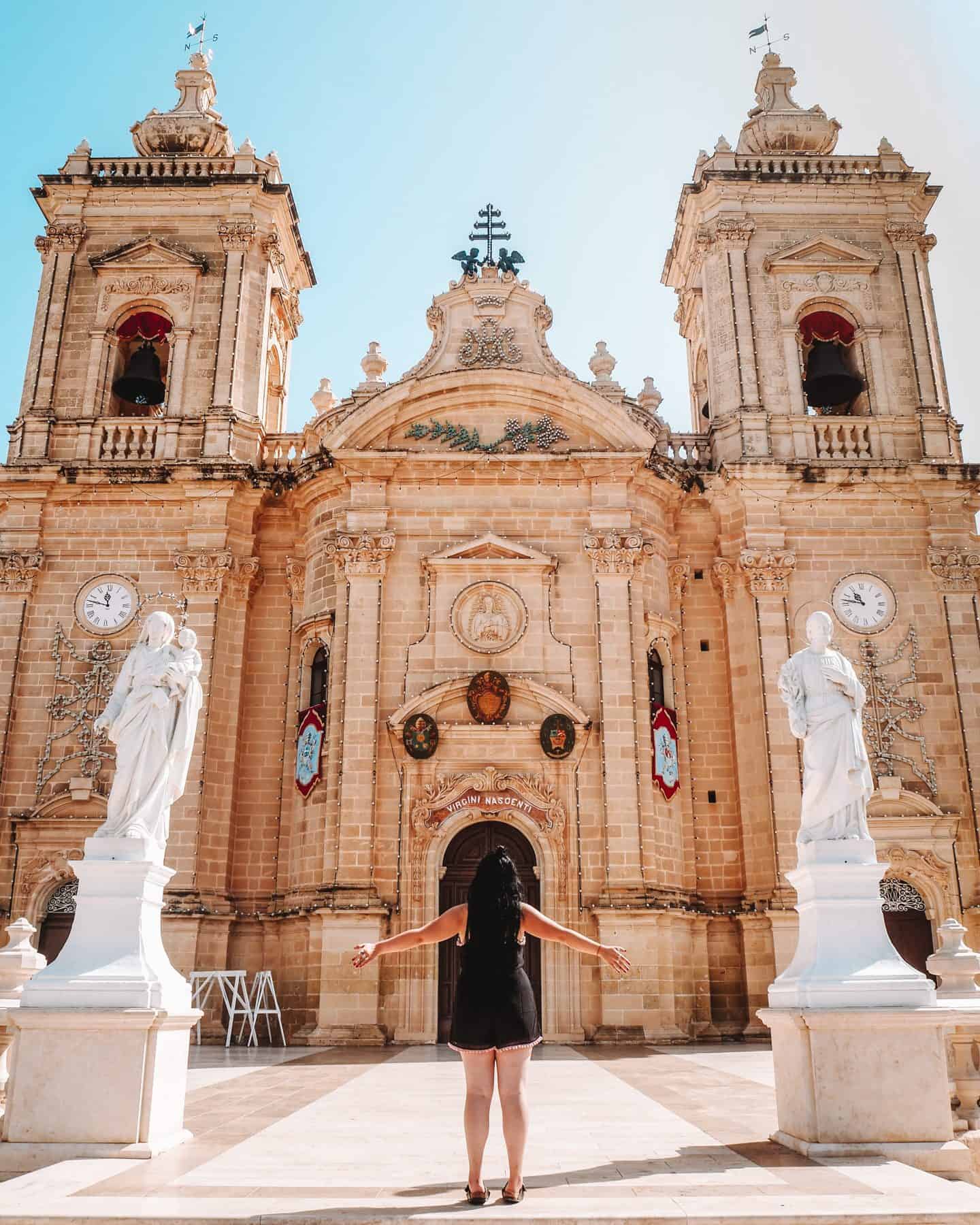 5. Be amongst Maltese royalty at Casa Rocca Piccola Palazzo
How does visiting the home of Maltese royalty sound?
The Casa Rocca Piccola is a living museum dating back to the 16th century.
But, beyond a museum it's a privately owned home of the De Piro family. Nicholas De Piro is a Baron of Budach and the 9th Marquis de Piro of a long line of de Piros!.
Although you won't receive an audience, you can wander about their beautifully decorated home. Each room had its own character with books, antiques and portraits.
It was a beautiful concoction of curiosities! Make sure you pay a visit. You must visit certain parts of the palace with a guide.
6. Take a Rolling Geeks tour around the city
Before I came to Malta, I had never heard of or knew what a Rolling Geek was but now I'm hooked!
What I loved about this unique concept was that you could take one of their buggies for a spin and explore the three medieval fortified cities of Birgu, Senglea and Cospicua at your own pace.
The Rolling Geek buggy comes with its own GPS, so all you have to do is follow the directions on the screen.
When you're driving around and reach your destination the buggy will provide you with an audio commentary of what you're seeing.
It can translate into 8 languages (English, French, German, Italian, Spanish, Netherlands, Russian and Mandarin). It even takes selfies of you while you drive, genius!
It's definitely a way to see the cities in style and, as it's so small, it can fit into the small alleyways and roads that regular cars can't. So, you won't miss a thing.
For more information on these tours see here. The tour takes 2.5hrs.
7. Visit the Mdina: and see scenes from Game of Thrones
Mdina is a fortified city in Malta which has been frozen in time!
As you walk around admiring all the cathedrals and ancient buildings you'll pinch yourself in wonder on how it's managed to remain true to itself since the 16th century.
It's lamp lit and often called the silent city due to the fact it was the former capital of the country, but then abandoned by the knights of Malta after the great siege in 1530.
Today, it still remains a silent city as it is pretty much free of traffic.
However, you may recognise it by other means; that it's a famous filming location of Game of Thrones!
As soon as you enter you'll see gift shops and signs all showing off their claim to fame. Beautiful doorways, courtyards, and viewpoints were all transformed into brothels and battlegrounds!
Make sure you take your time to explore. As it's a living and working city it's actually FREE to visit.
8. Take a coffee with a view at the Fontanella tea gardens
Once you are done with exploring Mdina in the searing heat, make sure you take a pew in the famous Fontanella tea gardens. It has one of the most spectacular views of the whole city and beyond and a cracking iced coffee to boot!
It gets ridiculously busy though so you may be waiting for a table. But, I'd say it's worth it.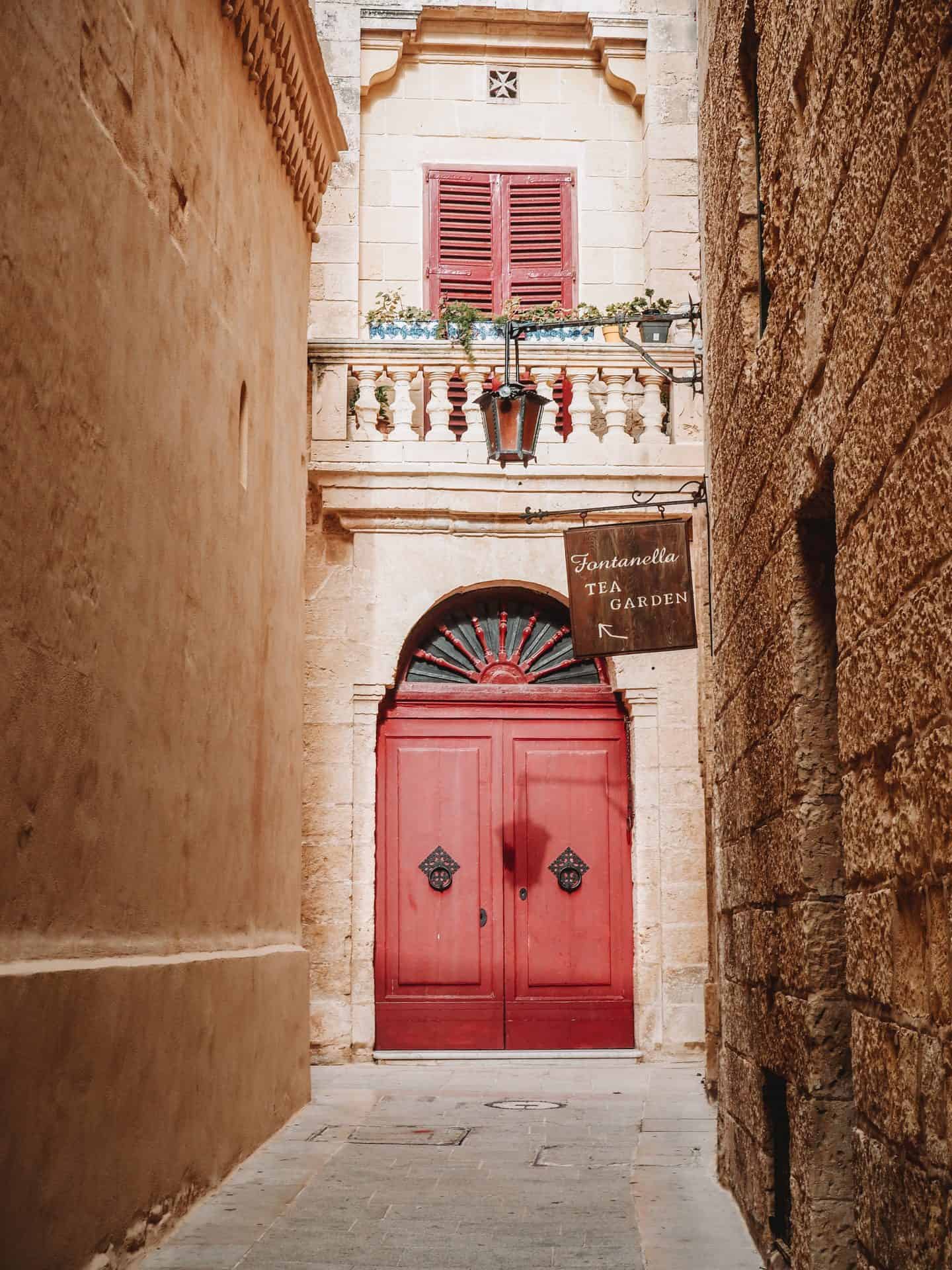 9. Hop on a boat to see Valletta harbour at sunset
An ultimate highlight of my trip to Malta was a private boat ride around Valletta harbour at sunset.
It's the playground for the boats and superyachts of the rich and famous and there are some real beauties docked up.
We set sail with our captain Johnathan and took to the (rather wavy) seas, passing all the iconic spots along the way. Our captain was honestly the cutest host preparing our sandwiches, snacks and even cracking open a cold bottle of wine!
As we sailed into the harbour, the sky turned a fantastic shade of orange and purple. The perfect way to end a day.
10. Celebrate the Maltese Festa season
If you're lucky enough to be around in Malta for Festa season; you have a real treat in store for you.
The Festa season is a series of long weekends that are dedicated to honour the Christian saints. Locals celebrate by way of worshipping in the churches, decorating the buildings, preparing and sharing yummy food and sweets, partying in the streets and my favourite part; setting off tonnes of fireworks.
Apparently, the villages have low key competitions between each other on who can let off the most so expect the night sky to dazzle with them! It's truly a magical experience.
We visited the village of Naxxar to witness celebrations but you can check the official website for dates and times of the season.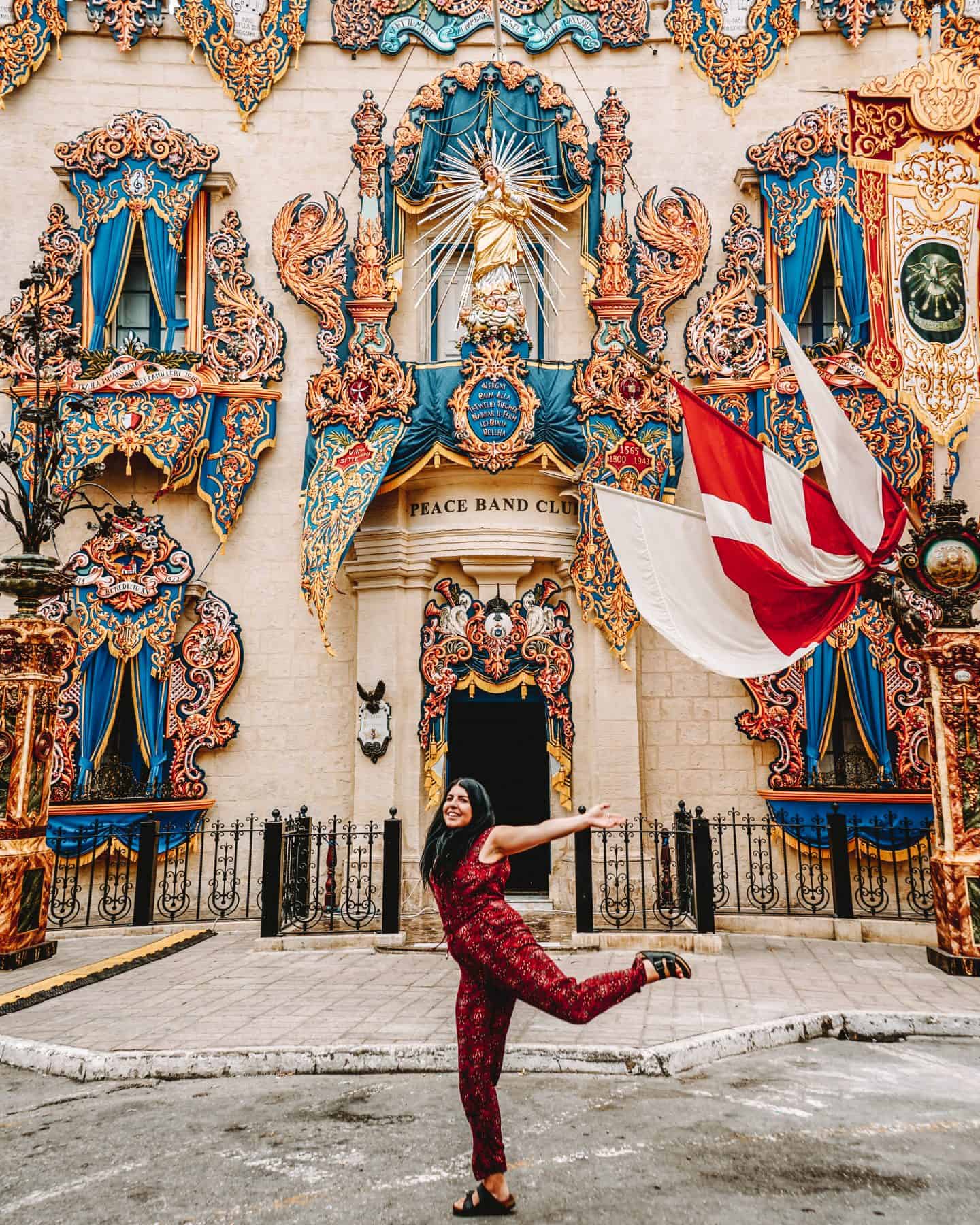 11. Eat from farm to table at Diar Il-Bniet
Whenever I visit a country one of my favourite parts is sampling the local food and Maltese cuisine wasn't something I was all to familiar with.
I was so excited when we were going for a farm to table experience at Diar Il-Bniet. The concept goes back to a simpler time. Where the food is locally sourced and grown on the farm and then cropped, prepared and served up on your table. They even have a kitchen on the floor of their restaurant which gives a homely atmosphere.
Feel part of the family with traditional dishes such as Lampuki pie, snails, fish of the day or a mighty pork chop platter like I had.
You can see their Facebook page here.
12. Take the ferry to the small island of Gozo
When I asked for recommendations for Malta before my trip, time and time again Gozo came up.
It's a smaller sister island of Malta and is somewhere that cannot be missed on your visit. Here is your gateway to Comino (for the blue lagoon) and you can explore history and beauty at every corner.
It is possible to just have a day trip to Gozo and Comino or you can stay on the island itself and spend a few days there If you prefer.
We caught the public ferry from Cirkewwa over to Gozo via the Gozo channel lines. The journey took around 30 minutes.
For a full list of timetables, live updates and fares see the official website here. Don't forget your camera to snap the views.
13. Enjoy a local wine and cheese tasting
You can't visit Malta without sampling some of the local wine and cheese. On our tour, we visited the Ta' Mena Estate to learn about how the local cheese 'Gbejniet' was made.
We saw the whole process all the way from meeting the sheep (where the milk comes from) to production in the kitchen to sampling the final product. The cheese is made from sheep's milk, salt and rennet and shaped in a cheese hurdle.
It was accompanied in our tasting with some local bread and tomato paste called Kunserva that's made from juicy sundried tomatoes. The longer the wait the stronger the potency and we got to sample some that was almost five years old!
For afters, we washed it down with a cold glass of local white wine and got to explore some of the gorgeous vineyards in the sunshine! It was a real treat learning about Maltese traditions and where the food is sourced from – If you're a foodie, or just like sampling local food, I would highly recommend it.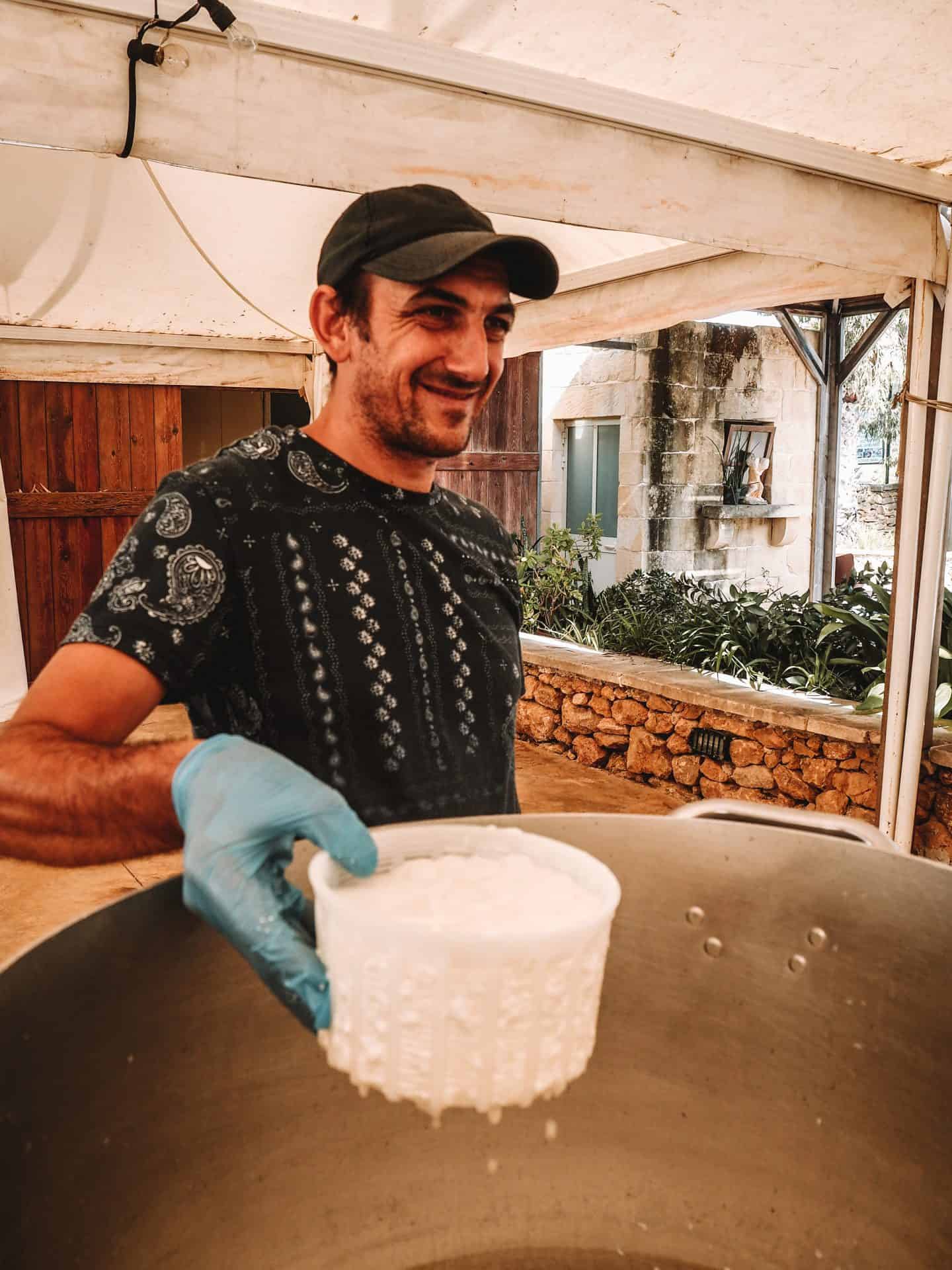 14. Take in the views from Gozo Citadella
The Citadella in Gozo is in an area called Victoria that has been inhabited since the Bronze Age!
The medieval citadel is now perched high on the hill and boasts many historical buildings including the Cathedral of Assumption.
This small city has been through the wars of the ages including the Neolithic, Medieval and even more recently French and British rule. But, amazingly despite all this it has remained intact with little reconstruction needed.
The panoramic views from the city are truly fantastic and you can get a vista of Victoria and beyond. See here for more details.
15. Visit the Ggantija Temples, the oldest free standing monuments in the world!
You may be surprised to know that Gozo has a long and extensive history dating all the way back to 3600 BC !
The Ggantija temples, built even before the likes of Stonehenge, are standing stone monuments that were used for worship and ceremonial gatherings. They are now a UNESCO world heritage site for the likes of you and me.
Here, you can learn about Malta in the Neolithic period and all the excavation work that has taken place. It's really quite impressive.
They have showcased a lot of the excavation in their informative museum with videos, dress ups and interactive displays. Okay, that part's for kids but it makes it more entertaining !
16. Cave hop on the small island of Comino
I could literally spend all day cave hopping on the small island of Comino. Having a population of just 3 people, this tiny island is spectacularly beautiful.
I hate to disappoint you but this is also no secret. You, and hundreds of tourists, will be crawling all over the island land, boat and sea to catch a glimpse. As we were exploring around on our boat ride we saw the filming locations of the Count of Monte Cristo and the Popeye movie.
The waters were crystal clear and the caves provided a lovely respite from the blistering heat. Make sure you jump ship to explore and snorkel.
17. Swim in the crystal waters of the Blue Lagoon
Possibly Malta's most sought-after and famous location is the beautiful azure waters of the Blue Lagoon.
You can hop on a boat tour with a group or privately over to Comino and follow the masses of tourists to find it.
It's natures beauty at its finest but the 21st century always has a way of making money.
You'll find food and drink stalls, umbrellas and even ice cream boats floating around trying to drain every last Euro cent.
But, I have to admit, I didn't mind. There's room enough for everyone!
Although you can sunbathe on the sidelines, I would make sure that you jump in and enjoy swimming in its crystal clear blue waters. It's a must.
18. Feel like a princess in Palazzo Parisio in Naxxar
An unexpected but welcome surprise in the small village of Naxxar was the sumptuous Palazzo Parisio. We came upon this by chance after we glimpsed in at their gardens inside. We (almost) snuck in here for a few photos but the manager then invited us in!
I felt like a Maltese princess wandering around the spectacular rooms filled with gold, crystal chandeliers and the beautifully decorated ceilings. I couldn't believe this used to be someone's house!
Make sure you stop for a coffee or some lunch in their restaurant or take a stroll in their magical neo-classical gardens. I could have explored them forever!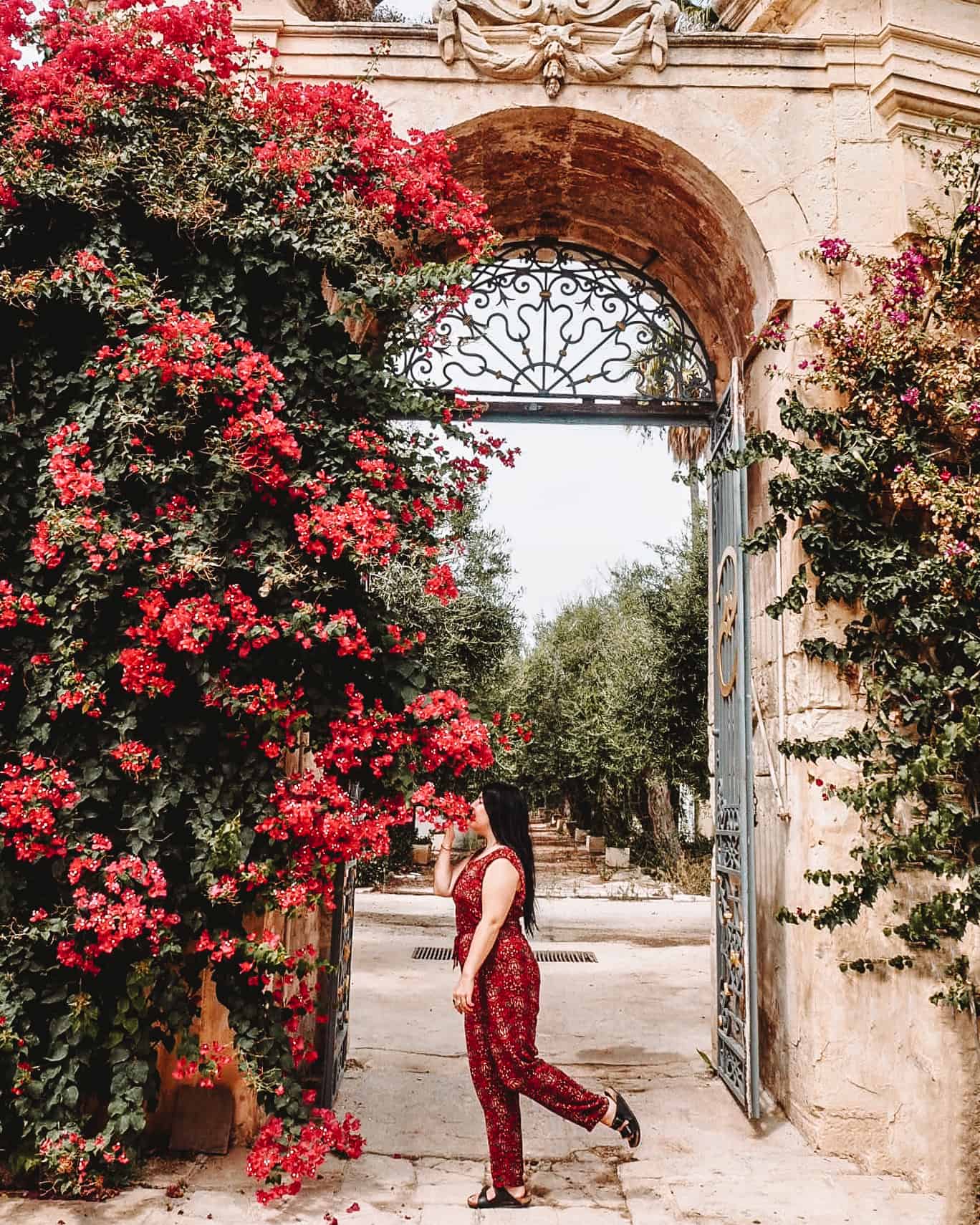 19. Let your jaw drop at the view from the Dingli Cliffs
The cliffs which lie in the village of Dingli provide spectacular views onto the Mediterranean sea. At 250-metres above sea level it's Malta's highest point on the island and a popular sunset spot for tourists and locals alike.
The cliffs are free to visit and you will see some beautiful churches and monuments dotted along the area. There's not much around the cliff point save a coffee van or two. So, you can simply enjoy the serene views and the breeze.
20. Take an awesome Segway tour
I've never managed to get around to doing a Segway tour. Ever since watching Paul Blart Mall Cop, I've wanted to try.
It's a weird sensation as the machine does all the work. So, all you have to do is just move your body and the machine will move with you.
As I drive a car, It was really hard not to think about it too much and attempt to move the handles.
After an hour of a bit of a balancing act, I got used to it and really started to enjoy it! Exploring all the vineyards and forests of Dingli and riding past the Dingli Cliffs was a real treat.
I don't think I'm expert enough to take a city tour on one but I would definitely ride one again! It's such a fun thing to do. For more information and bookings contact Segway Malta.
21. Dine in style at Noni Restaurant
I have to admit, I ate in some swanky restaurants in Malta. But, Noni restaurant in Valletta really topped off the bunch for me.
As you descend into their wine cellar style setting, you 'll smell the scent of the yummy food cooking from the kitchen on arrival.
From the beautiful atmosphere, the top class service, the high quality menu and the delicious wines – it all made for a spectacular first evening.
I would highly recommend trying their specials like the local fish like Sea Bream. It's all made fresh to order and packed full of flavour!
Other top picks in Malta for me would be the Rubino's Confectionary in Valletta, The Village Kitchen in Naxxarand the Chop House in Sliema. They were equally as classy and their menus mixed a taste of the traditional and the 21st century.
The most exquisite Lobster at The Village Kitchen.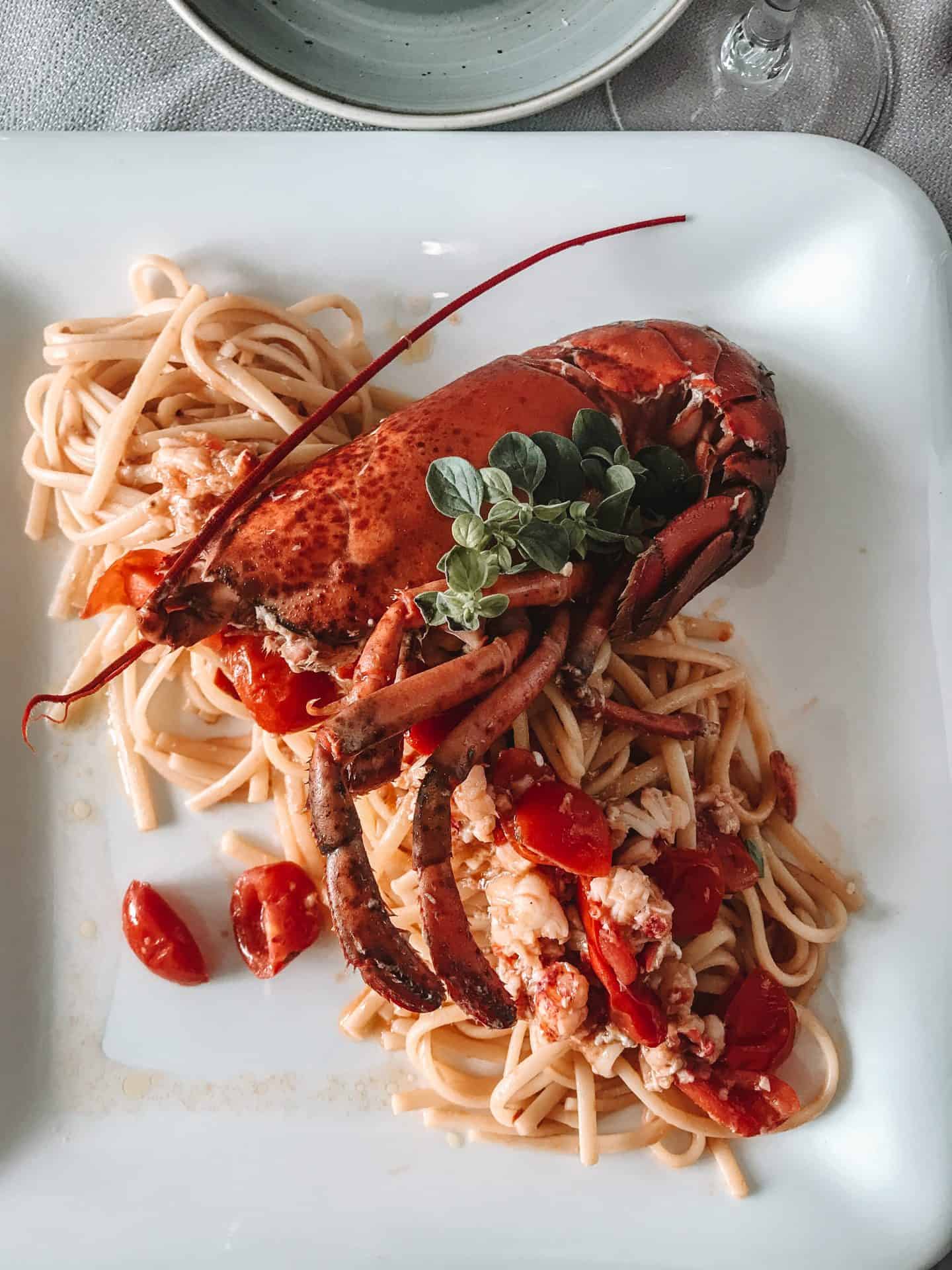 22. Visit the Popeye Village from the movie
In my personal opinion, I've saved the best until last. I relived my childhood by visiting here! You may or may not know that the 1980s movie Popeye was filmed in Malta.
They built a whole movie set to represent the fictional village of Sweethaven on the edge of the sea. After the filming was over, they decided to leave the set behind and convert it into an open-air museum. Nowadays you can take a boat ride and swim nearby, meet Popeye and his friends in the shows and rides, and even get married here!
We didn't go inside the village itself but the view is extremely photogenic from the viewpoint above! It's definitely worth a stop and can be found in Anchor Bay near Millieha.
For more information about visiting the Popeye village, see here.
Looking for a place to stay in Malta? Try the St. John's Boutique Hotel
If you're looking for a beautiful boutique hotel in the heart of Valletta, The Saint John Malta offered by Jet2holidays is it!
As you walk in, you'll be welcomed by marvellous air conditioning and sparkling chandeliers. Don't forget to look up – there are the cutest blue shutters which really add a bit of Maltese tradition to the place.
As this hotel is a recent addition to the AX group, the rooms are spectacularly clean and the facilities are brand new.
I love staying at boutique hotels as they just have so much character. From the tartan bedcovers, the vintage telephone, the leather seats, the old school lamp mixed in with modern amenities and a marble bathroom, you'll feel right at home here and never want to leave!
You can enjoy breakfast, lunch, dinner, or a nightcap in their cheeky monkey restaurant & bar downstairs.
The great thing is that this hotel is in walking distance to all the major attractions of Valletta so grab a map from their front desk and go explore.
The Palace Hotel Malta
The Palace Malta is another 'adult luxe' hotel offered by Jet2holidays that is part of the AX group. It's a huge building located in Sliema with a view of the Mediterranean sea. It's a designer hotel and from the outside looking in, it is luxurious.
Although the pictures all showrooms with a sea view, I would recommend requesting a room with a view of upgrading as many of the rooms have a view of a joining building and a wall for company.
On the positive side, their infinity pool that looks out onto the ocean was a highlight! I would recommend getting up early for sunrise to have it to yourself. Make sure you order an Aperol Spritz or a cocktail from their rooftop bar.
The breakfast here was also incredible with so many continental options to choose I lost count. They even had prosecco for breakfast! You can't complain about that.
Save this Malta bucket list for later!
So, the ultimate Malta bucket list has come to an end!
For such a small island country, it really packs a lot in. I didn't realise the rich history that Malta had to offer nor its spectacular natural beauty.
It definitely won't be the last time I'll visit and I would highly recommend it being your next adventure.
What did you want to do the most on the list?! Let me know in the comments.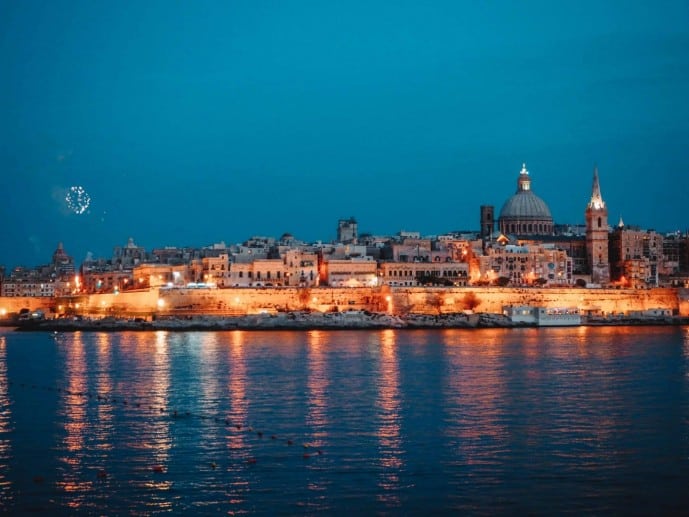 With thanks to Jet2holidays and Visit Malta for hosting me on my trip! Although I was a guest, all views, photos, and opinions are entirely my own.
Like it? Pin it!