As I was celebrating my birthday in Dubai, I thought if I'm going to do anything I may as well do it BIG.
So, I decided to take the lift up to the top of the world's tallest building; the mighty Burj Khalifa!
There is something quite fulfilling about experiencing and ticking off some of the Guinness world records and this was no exception.
The highest observation deck can be reached via the 142nd floor. You will then experience a birds-eye view of Dubai which reaches heights of 555 metres!
At the time, it felt totally normal as I'm not at all afraid of heights.
But, looking back at my photos this place is totally crazy and it's unbelievable that you can actually do this!
Here's a quick guide to making your way up to At The Top Burj Khalifa.
How to get to Burj Khalifa and At the Top Burj Khalifa
The entrance to the Burj Khalifa can be found on the bottom floor of the Dubai Mall.
Although this also holds a record of being the world's largest shopping mall, there will be signs everywhere that will point you in the right direction!
The ticket booths are located on the bottom floor of the mall, this is where you will head through to their security.
You can get some exclusive online discounts too but the lady assured me it's cheaper to book in person via the booth.
You can book your tickets here on the day, or in advance. If you'd rather book before you arrive, check out their website for tickets.
Buying tickets for At The Top Burj Khalifa
I contemplated for a long time about what ticket I wanted. At the Top Burj Khalifa is not the most kind to your wallet and there are quite a lot of choices depending on how high you want to go and at what time.
A normal ticket at 'non-prime' hours for At the Top Burj Khalifa will cost you around 125 Dirhams (£27) and a ticket at prime hours around sunset will cost 200 AED (£43).
These tickets will take you to the 124th + 125th floors.
At The Top Sky Burj Khalifa which will take you all the way up to the 142nd floor is a little more pricey.
For a 'non-prime' time (after 7 pm) ticket it will cost you 300 Dirhams (£75). For prime hours (anytime before this) it's a whopping 500 AED (£108).
Normal tickets for Burj Khalifa vs At the Top Sky Burj Khalifa?
I did think long and hard about which ticket to buy. I kept thinking, is it really worth paying that much more for 20 floors?
Like, how much more are you going to be able to see from this height? But, I have to admit that the Sky ticket was worth it.
Plus, it was my birthday so I decided it was a birthday treat. Plus, you only live once, right?!
With the At the top Sky Burj Khalifa ticket, not only do you get to skip the long lines but you also get complimentary food and drinks.
You get fewer crowds and in all, it's a much more enjoyable experience.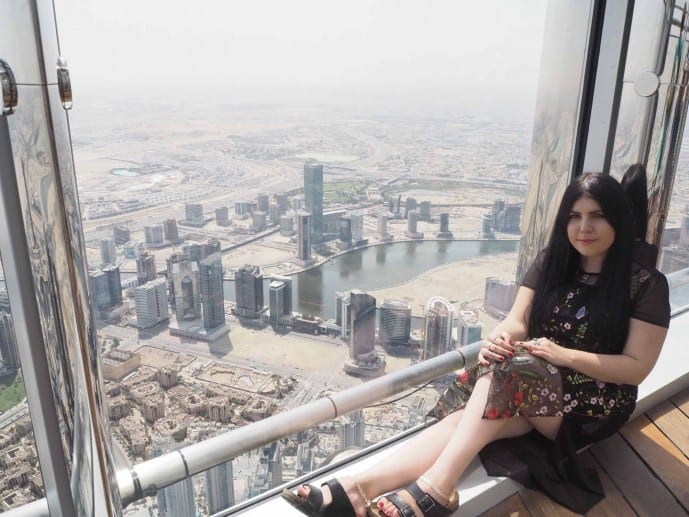 What to expect on your At the Top BurJ Khalifa experience treatment
Having just shelled out £108 for an At the top sky Burj Khalifa ticket. I was hoping that
a) it was going to be good views and
b) it was going to be worth my money.
If you go on a cloudy day in Dubai, you may not be able to see any of the views below and that was something I did not want to happen for the price tag!
Luckily, the weather gods were shining on my birthday after a rather dreary March morning and the clouds made way for beautiful blue skies.
I was off to a good start!
I headed to the Dubai Mall around 11 am to make my way up to the top. When I arrived at the Burj Khalifa, I was escorted into a lovely little room with leather seats to relax.
I was offered some Arabic coffee, dates, and pastries which were very much needed as I was tired from travelling.
We waited here for around 30 minutes and then we were ushered through security. There were no queues, save for the people who were in the room with me. Our guide then showed us to the first lift to make our way up.
Taking the lift in the Burj Khalifa
Although the lift takes around 60 seconds, the whole journey to the top takes around 60 minutes!
Make sure you leave enough time to experience this as thousands of tourists visit each day and you will be waiting due to crowd control.
The queues for the lifts seemed to take an age and I thought I would never get there.
I would say to completely avoid this to go really early in the morning. That way you can beat the crowds. You will take two lifts to the 142nd floor.
When you arrive, you'll be offered more refreshments, comfy seats, and less crowded views of Dubai.
The views from At the Top Sky Burj Khalifa
So, what can you see from the 142nd floor of the Burj Khalifa? Okay, so I admit it At The Top Sky Burj Khalifa views are totally worth it!
You can see for miles, from the skyscrapers, the developing city below, miles of Arabian desert and crystal blue sea!
It's honestly the best way to see Dubai and with the At The Top Sky Burj Khalifa ticket, it's far less crowded than the 124th & 125th floors!
That means you can enjoy the views and get plenty of photos stress-free.
The best part is theirs outside Burkj Khalifa sky deck. It is pretty hot and dry out here, but it's so worth it! If you come here after sunset, you can get the best birds-eye view of the fountain shown below.
The staff will take some professional photos for you but the price of these in their photo album is more than your entrance ticket!!
My favourite photos were actually my GoPro selfies. Or you can ask a nice person to take one for you.
This is not for the feint-hearted or for those who are afraid of heights!! Just don't look down…
How long does it take to leave the Burj Khalifa?
I made my way down to the 125th floor of the Burj Khalifa but didn't stop for long – it was far too crowded!
There were people everywhere, far different from the almost empty floor above!
Again, this takes a while to get to the bottom as the queues for the lifts for the Burj Khalifa are long.
Make sure you allow enough time if you have any other bookings later in the day or flights after this point.
Don't miss the At The Top Sky Burj Khalifa experience
Although this attraction comes with a hefty price tag, you cannot visit Dubai without heading up the Burj Khalifa.
The whole experience from start to finish was one of a kind and, looking back, it was one of the best birthday treats!
If your budget can't stretch for a visit to the top, there are plenty of great views of this amazing work of art in modern architecture from the bottom.
The best view, in my opinion, is the one you get from the Dubai fountain show. If you visit this at night, the whole building twinkles against the night sky.
Looking for more travel inspiration for Dubai or UAE?
If you're travelling around Dubai or UAE, make sure you check out some more of my travel guides below;
Taking a Desert Safari in Dubai
My top tips for the Grand Mosque in Abu Dhabi