As I was travelling alone in Dubai for my birthday, I decided that instead of going to a swanky restaurant for the evening, I would go on a group tour to the desert.
That way, I could actually talk to people and not celebrate solo! Woohoo!
After doing a lot of research on desert safaris in Dubai, I came to the conclusion that Platinum Heritage desert safaris were the best choice.
I had read really good reviews and multiple blog posts about the tour.
The selling points for me were smaller groups sizes, a chance to ride in a vintage Land Rover and the tour was safe for a female who was by herself.
It's not the cheapest tour but, a lot of travellers raved about the value for money. So, I went ahead and booked my ticket.
The desert is something which I love to explore. It's such a magical and mysterious landscape. And, the Arabian desert had an allure to it.
It looked like something straight out of Alladin!! So, here's a guide of what to expect on a Platinum Heritage Desert Safari Dubai.
What to wear for your Platinum Heritage Desert Safari in Dubai
Like any desert, it can be roasting in the daytime and freezing at night so make sure you come prepared for both!
So, it's important to know what to wear for your Platinum Heritage Desert Safari.
They recommend wearing long loose clothing which covers you up. Covered shoes and bring a jacket to keep warm.
I ignored most of this and was fine in sandals and my birthday dress with leggings underneath. I brought a warm shawl to wrap myself in once it started to get colder.
Make sure you bring everything you need for the day with you.
There are no toilets until you arrive at the Bedouin camp in the evening so make sure you use the facilities before you take off.
The team will provide you with a headscarf to wear to protect your head from the heat.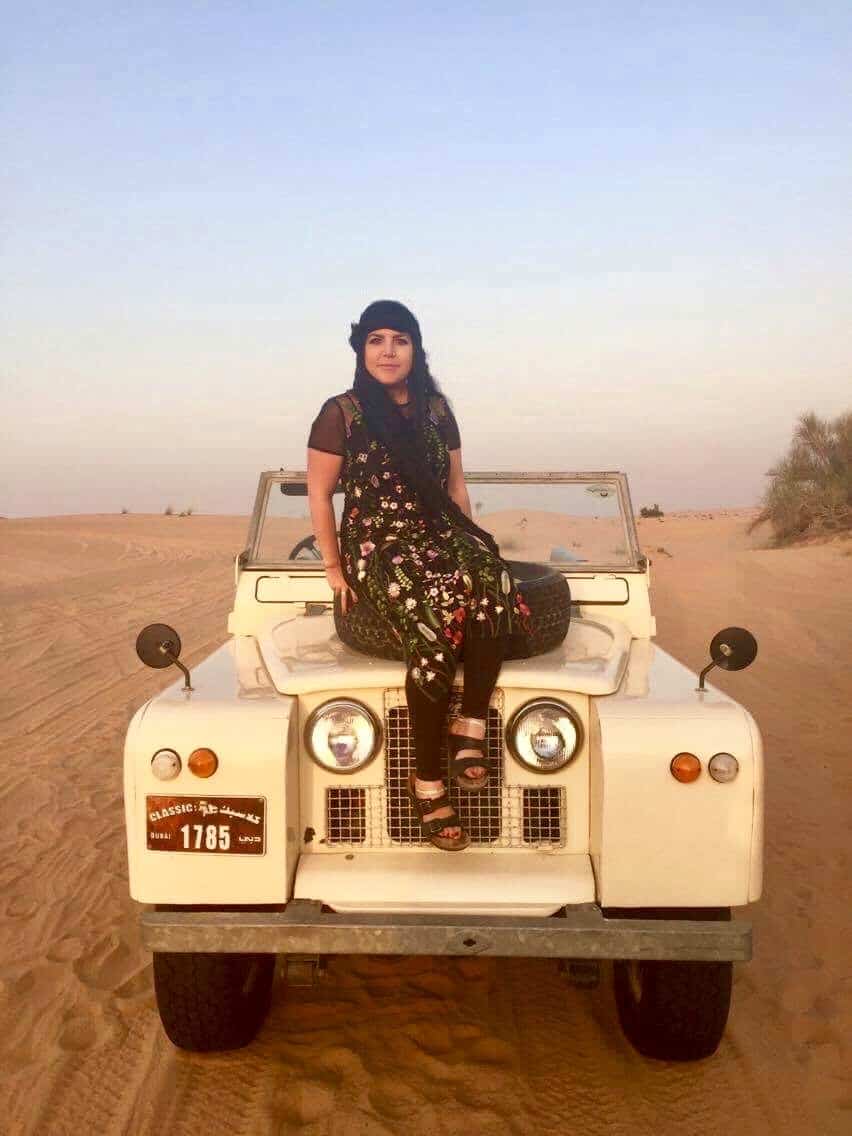 What to expect on a Platinum Heritage Desert Safari
If you're doing the afternoon safari, you will be picked up at your hotel around 3 pm.
The Platinum Heritage team will email you on the day with an exact time of pickup from your hotel. So make sure you connect to some wifi to check!
I also got a phone call in my hotel room once they arrived so they will make sure you don't miss your transfer.
We were picked up in an air-conditioned minivan with our enthusiastic host. They will tell you all sorts of facts about Dubai and let you know what to expect in the evening ahead.
Visiting a Camel Race Track in Dubai
On the way to the Desert, we stopped off at something I had never heard of, a camel race track!
Camel racing is a popular sport in UAE and brings in big money. Platinum heritage actually do a morning safari here where you can watch it in action. It must be so cool!
Arriving at the gateway of the Dubai Desert
When we arrived at the gateway to the desert all the tour groups arrived at the same time.
Here, we were greeted by the vintage Land Rover fleet and the camels who were ready for the group heading to the camp with their furry friends.
The team will tie your headscarf in the traditional Arab style.
This protects your head and face in the desert against the dry heat and sandy winds.
I loved meeting the camels here, pity bae didn't want to give me a kiss back! I'm sure he loved me really…
Platinum Heritage Vintage Cars
True to their word, we were split into small groups to explore the desert.
There were 8 of us in the Land Rover so it wasn't at all cramped.
Your car will zip around the dunes, while your guide tells you about the wildlife and plants which grow here.
If you're lucky, you can spot the endangered Arabian Oryx. I saw one but it was just a little dot in the distance.
It still amazes me that plants and wildlife can live in these extreme temperatures.
At sunset, you will be given the chance to explore the sand dunes which seem to go on for miles.
This is a fantastic picture opportunity so make sure you bring your camera!
Although driving in the desert does have its challenges, the Platinum Heritage Desert Safari team don't participate in any 'dune bashing'.
So, you have no need to worry about being thrown around. As I get car sick, this suited me down to the ground.
Falcon show
The falcon is UAE's national animal and, as I learned here, the fastest bird on this earth.
At the falconry show, you can get up close and personal with these birds and see them in action.
The trainers put on a good show and you can feel the falcon flying at the speed of light over your head!
After, the presentation you can put on the leather glove and hold one on your arm. They will be blindfolded but can bite, so proceed with caution.
Platinum Heritage Safari Bedouin Camp
It was after sunset when we arrived at the private royal Bedouin camp fit for a king.
We were shown around by our host and were introduced to all the Arabian entertainment which was on offer for the evening.
Before you eat, you can experience henna tattoos, watch Arabic bread being made, ride on a camel and smoke sheesha under the stars.
Finally, we were called to eat. The food was the thing I was most looking forward to. There was a whole buffet which was served in Emirate style.
You could drink camel (milk), eat camel and ride the camels here. The dinner was an all you can eat type of affair, which is music to my ears.
We sampled emirate cuisine but there was also some more western food for those who may not be brave enough. There was bread, salad, couscous, meats, rice and some of the best dessert!
My favourite was the Emirate doughnut which was in a sugary syrup, it was delicious.
It was safe to say that I was stuffed after I had finished eating. So, I turned to relax on the magic carpets with a sheesha pipe under the stars.
After dinner, there were some traditional cultural performances which included dancing with guns! I couldn't take my eyes off it.
It was captivating. If you're a stargazer like me, there is a treat in store for you as the evening comes to a close.
The team will announce that they are going to turn out all the lights in the camp for 2 minutes so that everyone can see the night sky in all its glory.
When the lights go out, the sky comes alive with millions of bright stars.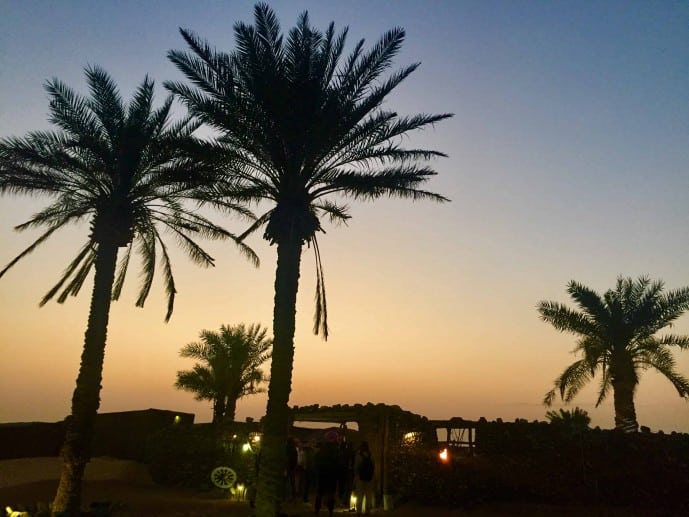 A birthday to remember
I'm so happy that I chose Platinum Heritage Desert Safari's for my birthday. Even though I was travelling solo, the team were amazing and made sure I was looked after.
I also had some really nice people in my group which made for some good conversation which was a comfort after travelling around on my own half the day.
The best thing about it was that the platinum heritage team surprised me with a birthday cake and sang me happy birthday in Arabic!
It was a really special moment and I will never forget it.
Save this Platinum Heritage Desert Safari review for later
If you're still researching and deciding on a desert safari for your trip to Dubai, I would honestly look no further than Platinum Heritage.
It is a little pricey but as the saying goes, you get what you pay for.
The value for money of this tour is crazy and you are guaranteed to have a great time with memories that will last for a lifetime!
Looking for more travel inspiration for Dubai and UAE?
Check out some of my detailed articles below;
My top tips for buying Burj Khalifa tickets
How to see the Grand Mosque in Abu Dhabi