The Grand Mosque in Abu Dhabi is without a doubt THE most beautiful mosque I have ever set foot in.
Its proper name is the Sheik Zayed Mosque, the Islamic style of the architecture here is jaw-dropping.
I couldn't get over the beauty of the white marble, the gleaming gold filigree, and colourful precious stones carved into flowers. It was like something out of a dream.
If you're heading to the capital of UAE, you cannot leave without visiting this place. It just has to be done.
Here are some essential travel tips for the Grand Mosque in Abu Dhabi to make sure you make the most of your visit and come prepared!
My top travel tips for the Grand Mosque in Abu Dhabi
1. Figure out how to travel to the Grand Mosque in Abu Dhabi
How to reach the Grand Mosque in Abu Dhabi
If you're based in Abu Dhabi, it's not too difficult to find the Sheik Zayed Mosque as it's on Sheik Zayed Road!
If you're not short on cash, you can easily grab a taxi from anywhere in the city and they will know where you want to go.
If you're on a budget, there are also many buses that are heading that way.
How to visit the Grand Mosque in Abu Dhabi from Dubai
If you're heading to Abu Dhabi from Dubai, the good news is it's only around a 2-hour journey away.
This makes it a perfect day trip option if you fancied a change of scenery from the Burj Khalifa. There are countless taxi services which you can hire but the cost is quite extensive.
My biggest tip would be to catch the public bus from Dubai to Abu Dhabi.
It will cost you 25 Dirhams return (£5) which is a fraction of the cost. To do this, head via metro to the Al Ghubaiba metro station.
Once here, you need to walk over to the Al Ghubaiba bus station and then catch the E100 bus.
What to expect on the Dubai to Abu Dhabi bus
It will be clearly labelled with Abu Dhabi on the front. I was a little skeptical about what the buses would be like in UAE, especially travelling as a solo female!
But, I was pleasantly surprised. The buses were more like coaches with luxurious leather seats and powerful air conditioning.
Typically on UAE buses, women and children are required to sit at the front if on their own and men at the back.
The only exception comes when a woman has a husband with her and he can accompany her. I sat alone in a women's row at the front when the bus driver asked me to move.
Confused, I asked why as I sat in the woman's section and he said 'because a man will sit next to you'.
I actually took a lot of comfort from this and was happy that he was looking out for me. So, I joined another woman at the front.
It was an enjoyable ride and wasn't as bad as I was first expecting. Public transport in the UAE works on a top-up card system.
Dubai has the Nol card and Abu Dhabi has Hafilat smart card. You will need to purchase these in advance of travel, you cannot pay in cash or purchase a card on the bus.
You can top up your Dubai Nol card for the return journey to Abu Dhabi, but you'll need to purchase a separate Hafilat card in Abu Dhabi for your bus to the Grand Mosque.
Once you arrive at the Abu Dhabi central bus station head outside. Directly ahead, you will see a bus stop which will have a picture of the mosque outside and bus number 54. You'll pull up around a 10-minute walk away from the mosque entrance.
The Grand Mosque in Abu Dhabi opening hours
Visiting times are Saturday – Thursday 9 am – 10 pm.
On Friday mornings the mosque is closed for prayer and re-opens at 4.30 pm – 10 pm.
During the month of Ramadan, the mosque is open from 9 am – 1 pm on Saturday – Thursday and closed Friday.
2. Dress code for the Grand Mosque in Abu Dhabi
As this is an Islamic mosque, women are required to cover up pretty much head to toe.
You will be required to cover your head, arms, wrists, ankles, and legs.
So, if you wanted to wear your own clothes, make sure it complies with the mosque rules.
If the attire you're wearing doesn't fit these standards you will be given a full abaya (dress) by the mosque.
As there were no black abayas, I was given a rather grim shade of brown. I guess it's just the luck of the draw!
I struggled to keep my little hood up in the mosque and kept getting told off for it so, in the end, I put on my own scarf to cover my head.
You will need to take your shoes off as you wander around inside. Free shoe storage is provided on entry, just remember where you left them!
3. Tips for photography at the Grand Mosque in Abu Dhabi
As you can see from my post, photography at the Grand Mosque in Abu Dhabi is totally fine!
I had a mini tripod and DSLR, selfie stick with my Gopro, and didn't get asked to put them away.
There are no strict rules about where you can take photos in this mosque, but there are some around where you can stand!
There will be security guards who sit around the edges of the middle of the mosque to monitor the area.
If you step onto this part, you'll soon be approached and asked to step back.
If you ask pretty please, they may let you take a photo or two but it will only be for a minute. Then, you'll need to keep in line with everyone else!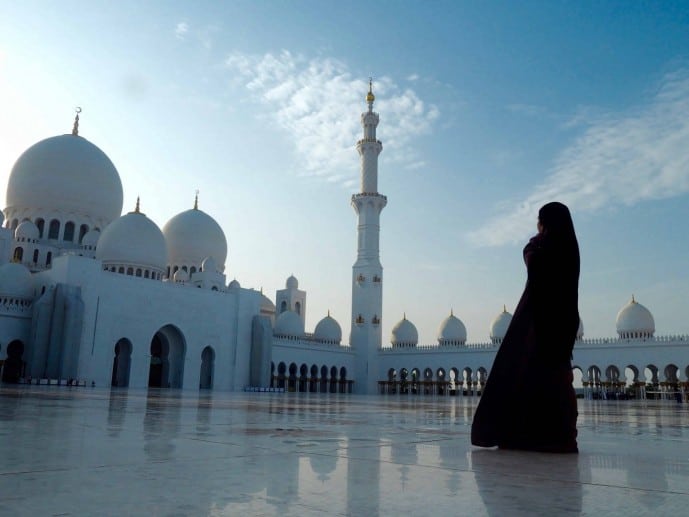 4. There are Free Tours of the Grand Mosque Abu Dhabi
The Grand Mosque is free to visit and they even put on some free educational tours for visitors.
This is a great way to find out more about the history of the building, Islamic faith, and culture. These tours run daily at the following times;
Sunday – Thursday: 10am, 11am and 5pm
Friday: 5pm – 7pm
Saturday: 10am, 11am, 2pm, 5pm and 7pm
You don't need to pre-book, just gather by the meeting point around 5 minutes before the allotted time.
A member of the mosque will greet your group and begin the tour.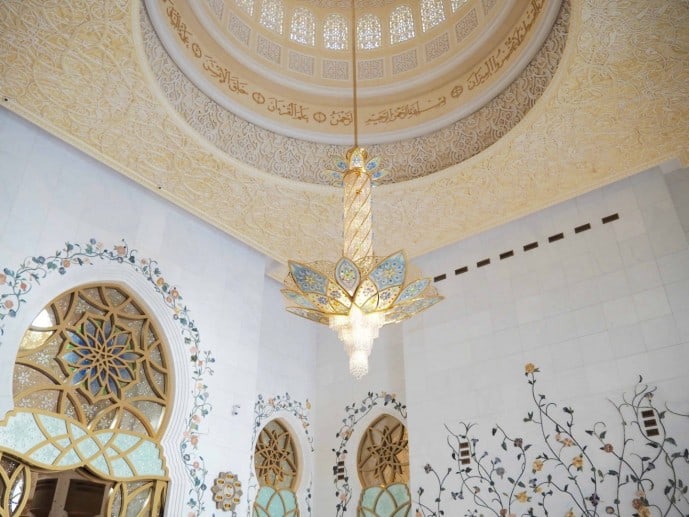 5. The best time to visit the Grand Mosque in Abu Dhabi
I think you could visit this mosque at any given time of day and it would still be a stunner.
But, the best time to visit would be early in the morning.
This is when the heat is at its lowest and the sunlight shines on the main part of the mosque making a brilliant picture opportunity.
I arrived around 3 pm, so the main part of the mosque was in shadow by this point.
I didn't regret this though as the sunset around the mosque made the most beautiful colours in the sky and made a vibrant reflection on the marble floor.
When the sun had completely set, the mosque started to light up. It looked amazing against the purple skies.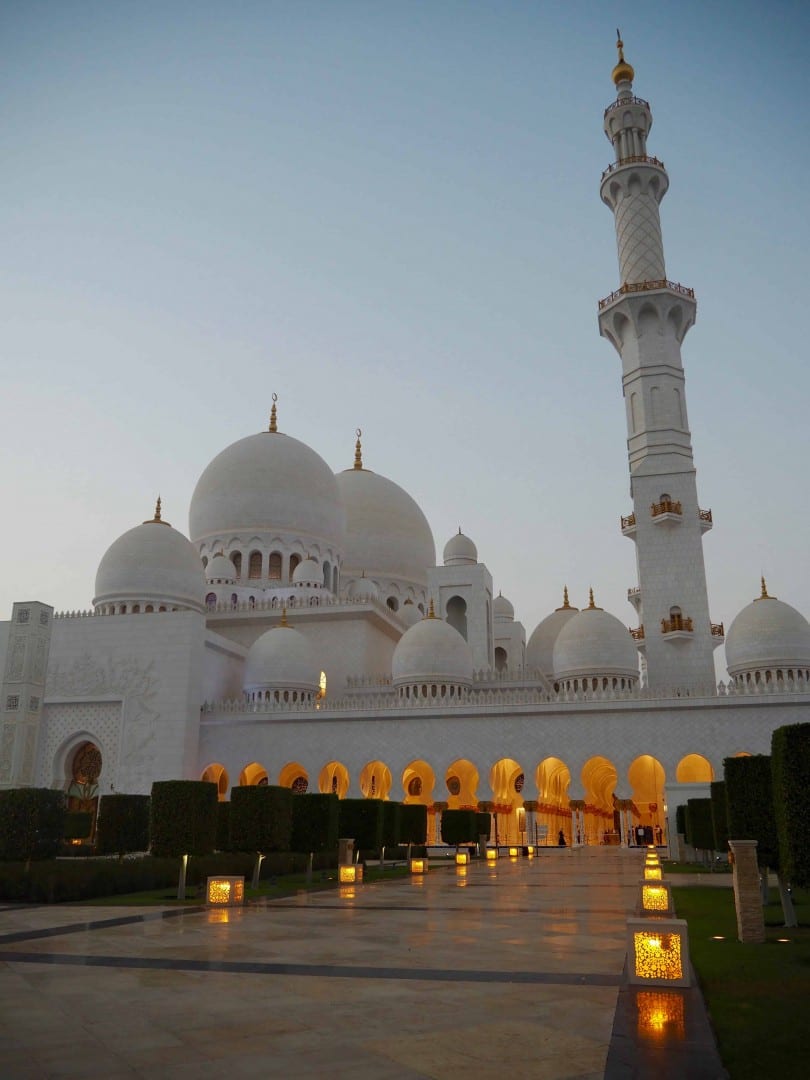 6. Learn about the proper etiquette at the Grand Mosque in Abu Dhabi
As this is a religious site, it's important to follow some of the etiquette or mosque manners that are expected when visiting.
We've already been through the dress code and this includes covering up and dressing modestly at all times.
This doesn't exclude men with shorts above the knee and non-sleeved shirts are prohibited.
Whilst inside the mosque it's respectful to keep quiet, keeping all talking to a minimum.
Mobile phones should be on silent and not answered whilst inside.
You shouldn't eat, drink or smoke inside the mosque and this includes chewing gum.
There is strictly no romantic behaviour allowed in the mosque if you're visiting as a couple, holding hands can also be frowned upon.
7. Remember to come with an open heart and mind!
For me, visiting the Grand Mosque in Abu Dhabi was a dream come true.
It was peaceful, captivating, and flawless. It was everything I expected it to be and more.
This is a must-do if you find yourself in the capital of UAE and if you haven't yet, you should put this on your bucket list!
Looking for more travel inspiration for the UAE?
I loved travelling around the UAE. Make sure you check out some more of my useful travel guides for your visit below;
How to take a desert safari in Dubai
What Burj Khalifa tickets should you buy?