Did you know that the world's most beautiful café is in Hungary? It's called New York Café Budapest and it is truly a luxurious affair.
Entering this ornate café feels like a step back in time to the age of the Belle Époque.
You can sip on a coffee, indulge in brunch, and relax on sumptuous furnishings whilst being serenaded by an orchestra. Honestly, it's divine.
It's one of the most popular things to do in the city and is usually so full there are queues down the street for tables.
Dining here also isn't the cheapest but it's a bucket list experience you must try at least once.
Here is a complete New York Café Budapest Review and what it is like to dine in the world's most beautiful café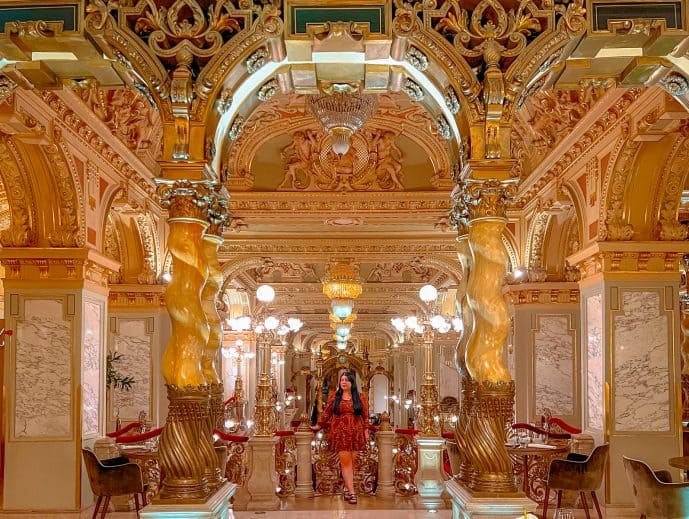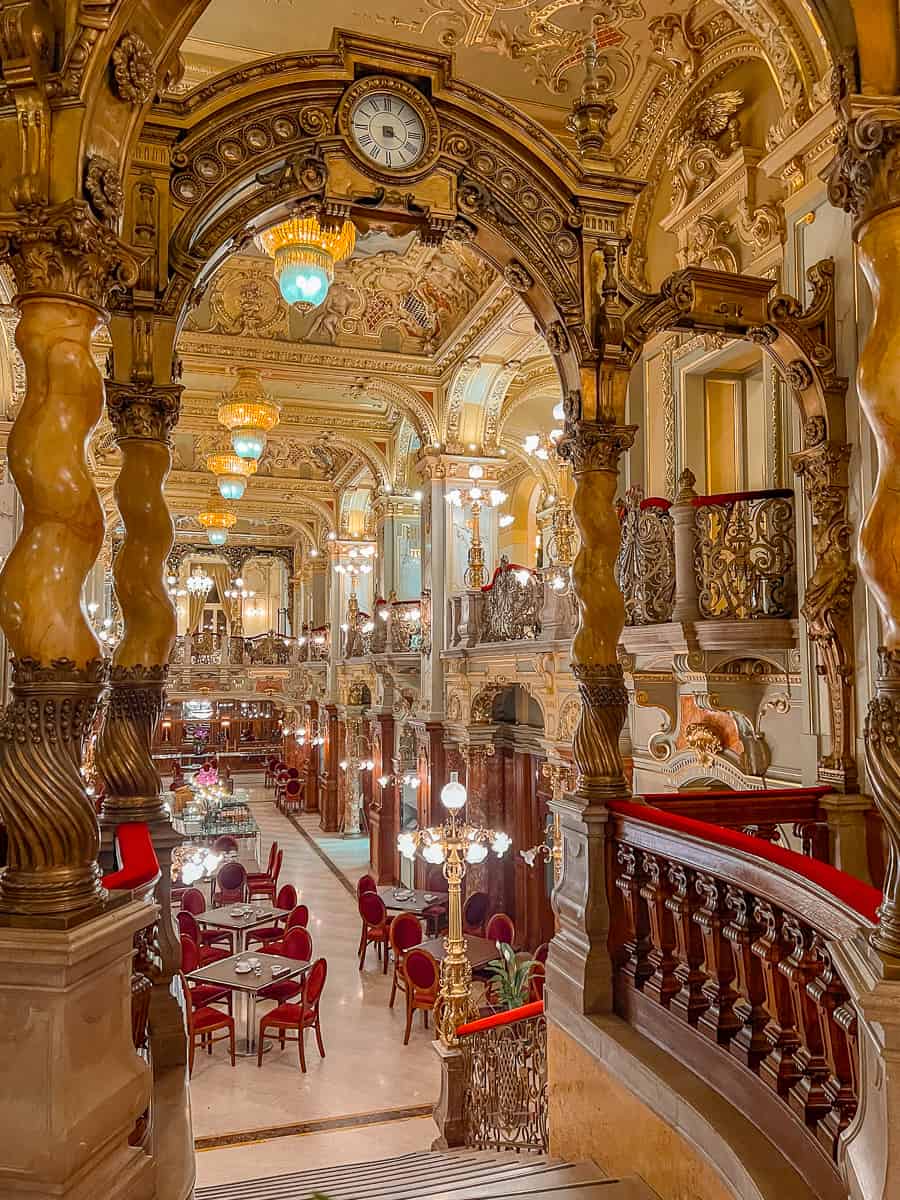 Why is it called the New York Café in Budapest?
So, you're probably wondering why a café in Budapest is named after the American city of New York. Well, it's not a coincidence.
125 years ago, this building was created as the Hungarian headquarters of the New York Life Insurance Company.
As coffee culture was fast becoming fashionable in cities like Vienna, they set out to build an opulent café in the city.
Coffee houses weren't just places for patrons to sip coffee. They were also meeting places where business was conducted.
New York Café history
At the turn of the 20th century, this café became the most loved coffee house in Budapest and attracted many rich and famous people.
Influential newspaper companies had rooms on the second floor and affluent businessmen conducted meetings here.
Writing became a common theme and many notable poets, writers, and artists would all meet up here to discuss their latest ideas.
As Sándor Márai said, "There is no literature without a café". He was a Hungarian writer from the early 20th century who would often visit.
Unfortunately, the café fell into disrepair after WWII and briefly reopened as 'Hungaria' for a spell. Then, it was a sporting shop in the 1950s.
It wouldn't be until after the fall of the communist regime that the New York Café was renovated by Boscolo in 2006. They brought back the cafe and Anantara New York Palace to its former glory.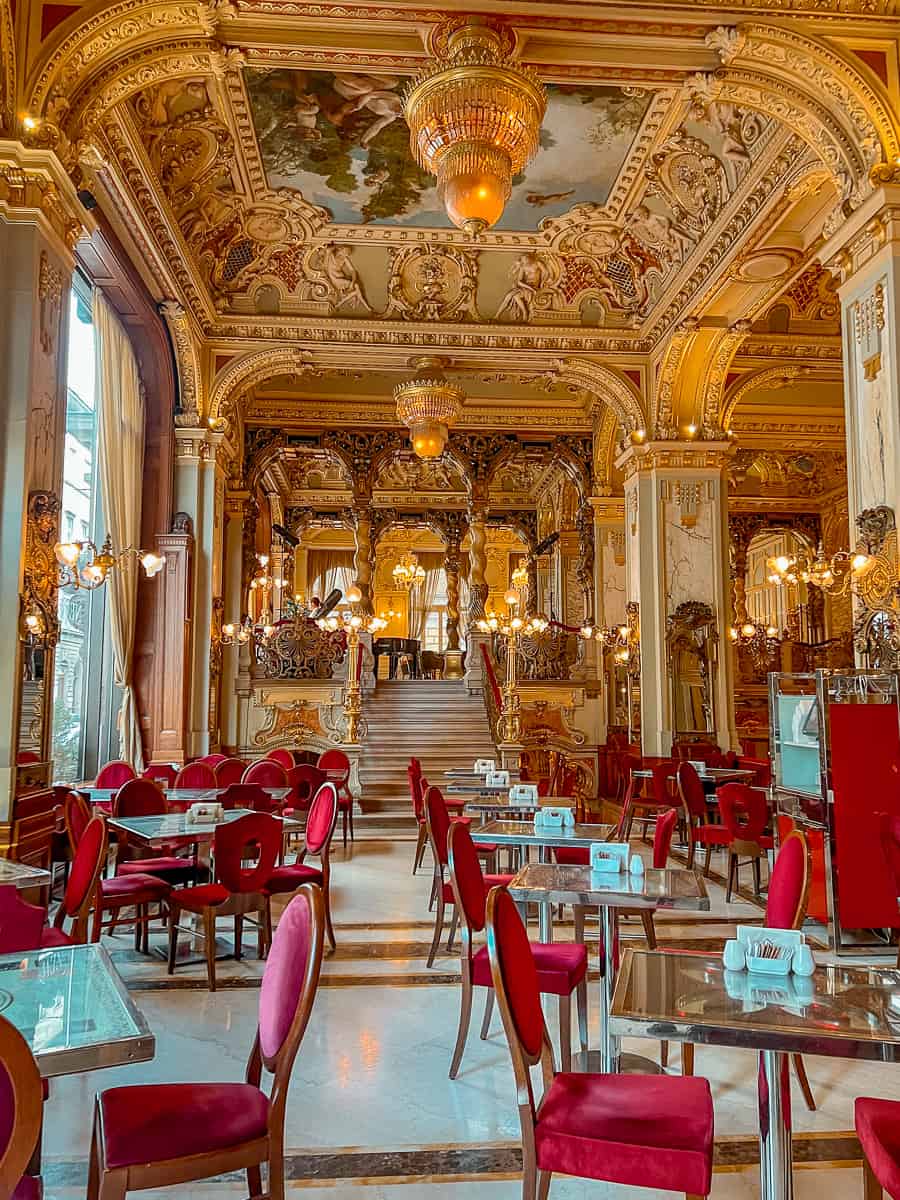 Is this the world's most beautiful café?
Today, New York Café Budapest has been voted as the world's most beautiful café.
Although this can seem like a reach, it's easy to see why it gained that title as soon as you set foot in the door.
Entering this café is like a portal that transports you back in time to an age of the Neo-renaissance and La Belle Époque.
You'll find sumptuous red furnishings, marble columns, glittering chandeliers, painted frescos, and gold gilt wonder in every corner.
Indulging in coffee and conversation is conducted over business meetings nowadays. This café is often filled to the brim with patrons eating delicious food and scrummy desserts.
This luxury dining hall is open every day of the week to have breakfast, brunch, lunch, afternoon tea, coffee and cake, or dinner!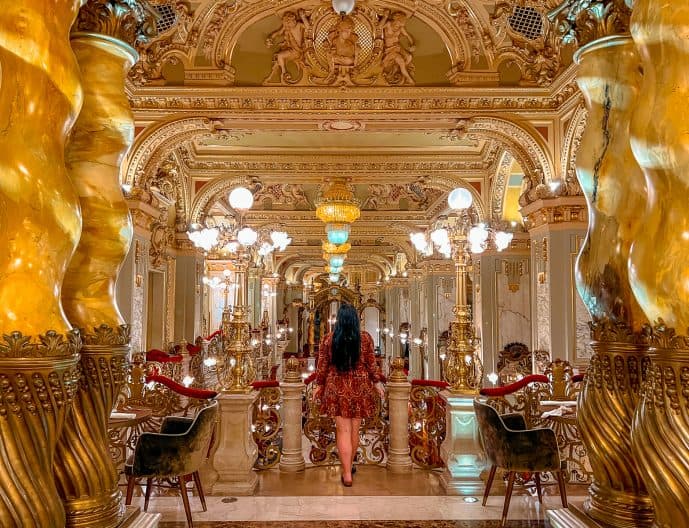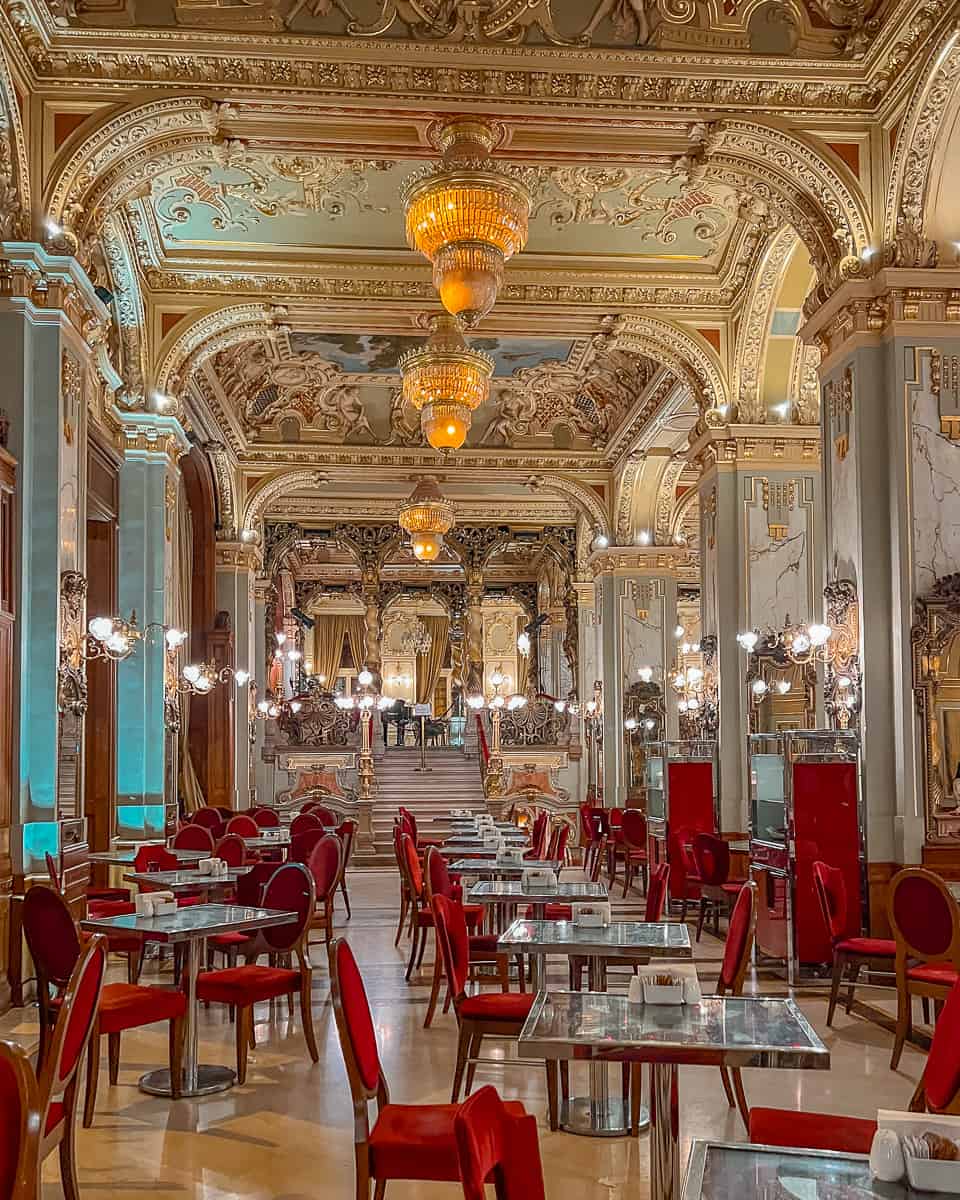 What is on the New York Café menu?
As this famous coffee house in Budapest is open from morning until midnight they have a huge menu with lots to offer.
Breakfast is often served from 8 am – 11 am each day and here you can find a Hungarian feast worthy of an Emperor or Empress.
Their signature is an Italian set breakfast but they also have eggs benedict, sausages, sweet pancakes, omelettes, and French toast.
For lunch and dinner, they have their New York burger, pasta, salads, soups, schnitzel, and even rib-eye steak.
It's a diverse menu and there will be something for everyone including vegans and vegetarians.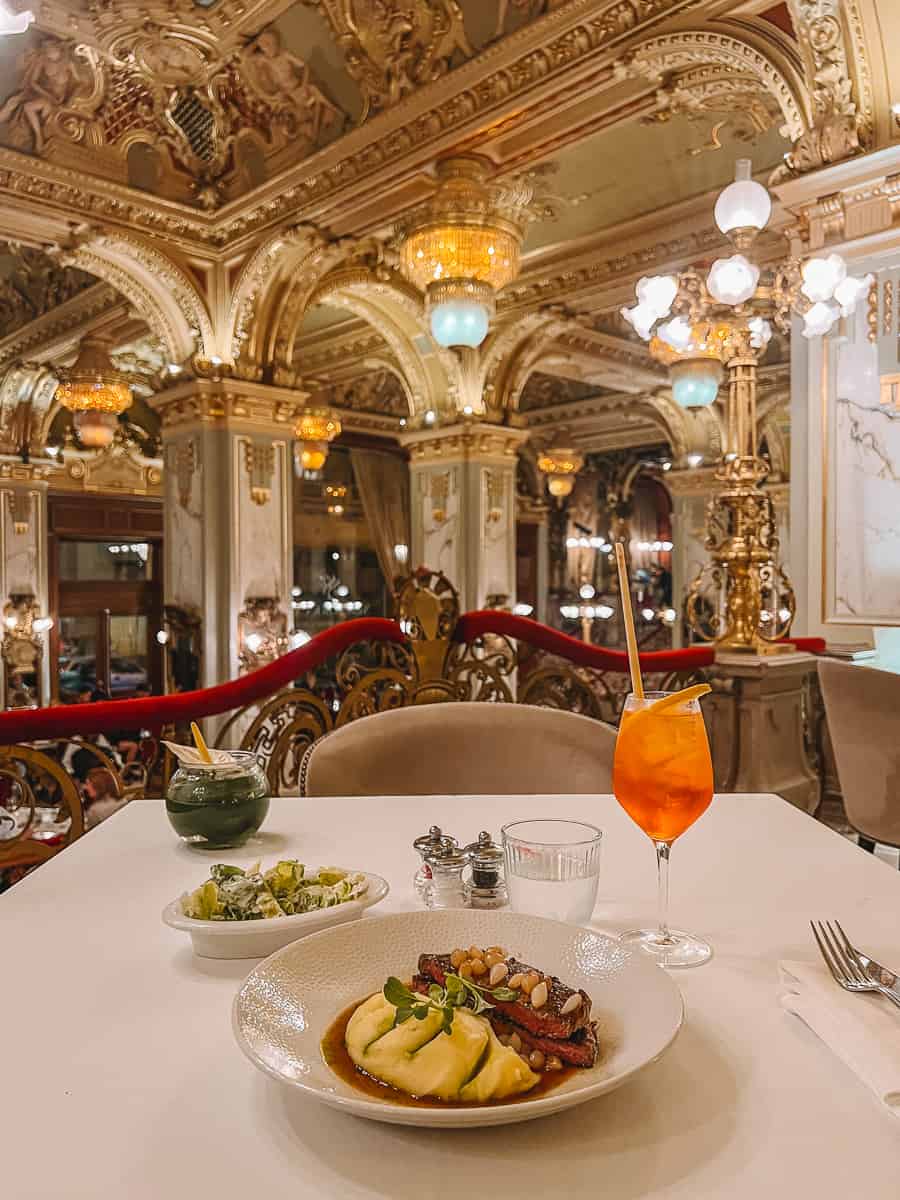 How much is a coffee at New York Café?
Just like Vienna, Budapest is famed for its café culture but it doesn't always come cheap. You're really paying for the decor and ambiance while you dine.
A coffee will set you back around 8 – 12 euros here. However, the pricier ones are special 24-carat gold coffees.
There are also lots of sweet treats to accompany your drink like apple pies, cheesecakes, and tiramisu. Plus, a huge range of ice cream sundaes.
Or, you can indulge in their New York chocolate cake with Valrhona chocolate, and the chestnut mousse with sour cherry. They are all scrumptious.
As a treat, you could go all out with their afternoon tea options as well. You'll get served a cake tier laden with sandwiches, choux buns, and sweet treats.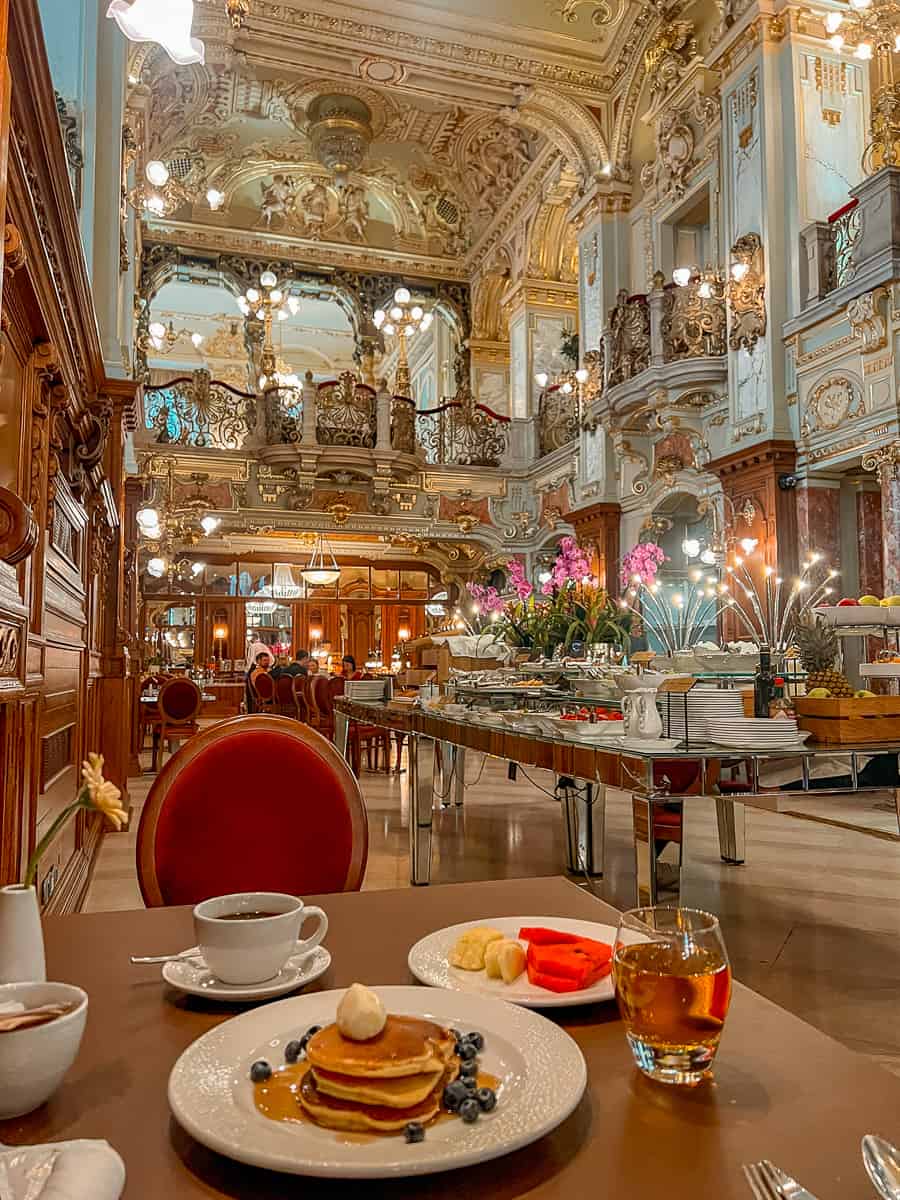 What's it like inside New York Café?
In a word? Majestic.
Honestly, this café has some of the finest interiors I have ever seen. It's floor-to-ceiling splendour.
There are grand golden archways, twisting marble columns, sparking chandelles, gold gilt balconies, and colourful ceiling frescoes reminiscent of the Renaissance.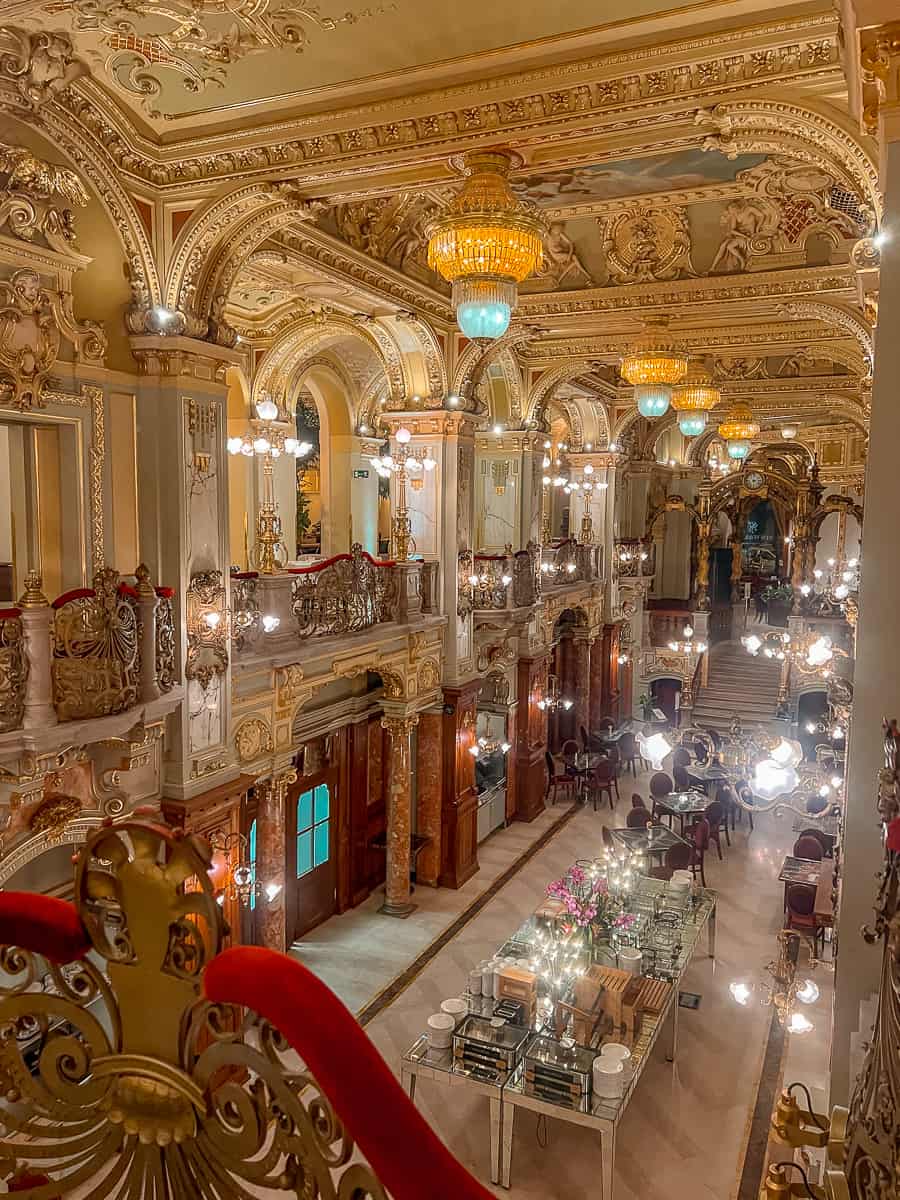 You could honestly spend hours admiring all the details here and still discover something new.
It's mesmerising and you'll feel like you're dining in a fine palace worthy of Versailles over a Budapest coffee house.
Enjoy some live music
Did you know that New York Café has live music that will serenade you every day while you dine?
From 11 am you can enjoy some Gypsy music with their very own orchestra. They play some classic songs and lots of people join in to clap or sway.
When the Gypsy band is not playing, there are talented pianists who play beautiful melodies and they often take requests.
It really adds to the lavish atmosphere and, along with the interiors, you will feel like royalty.
Note: always remember to tip the musicians. You don't have to pay much but a little goes a long way for the performers.
Is New York Café Budapest worth visiting?
Most definitely, in fact, I would say that visiting this café has to be one of your top priorities when visiting Budapest.
It's the best coffee house in the city that serves up a delicious menu and the jaw-dropping decor will truly take your breath away.
With all this splendour, it's easy to think that this cafe will be hoity-toity but I can assure you that the atmosphere here is anything but. It's very relaxed and allows you to enjoy it.
The staff are lovely, the food is scrumptious, the coffee is flowing and the live music gives it a friendly vibe.
Don't skip visiting the world's most beautiful café in Budapest. It truly is a once-in-a-lifetime experience.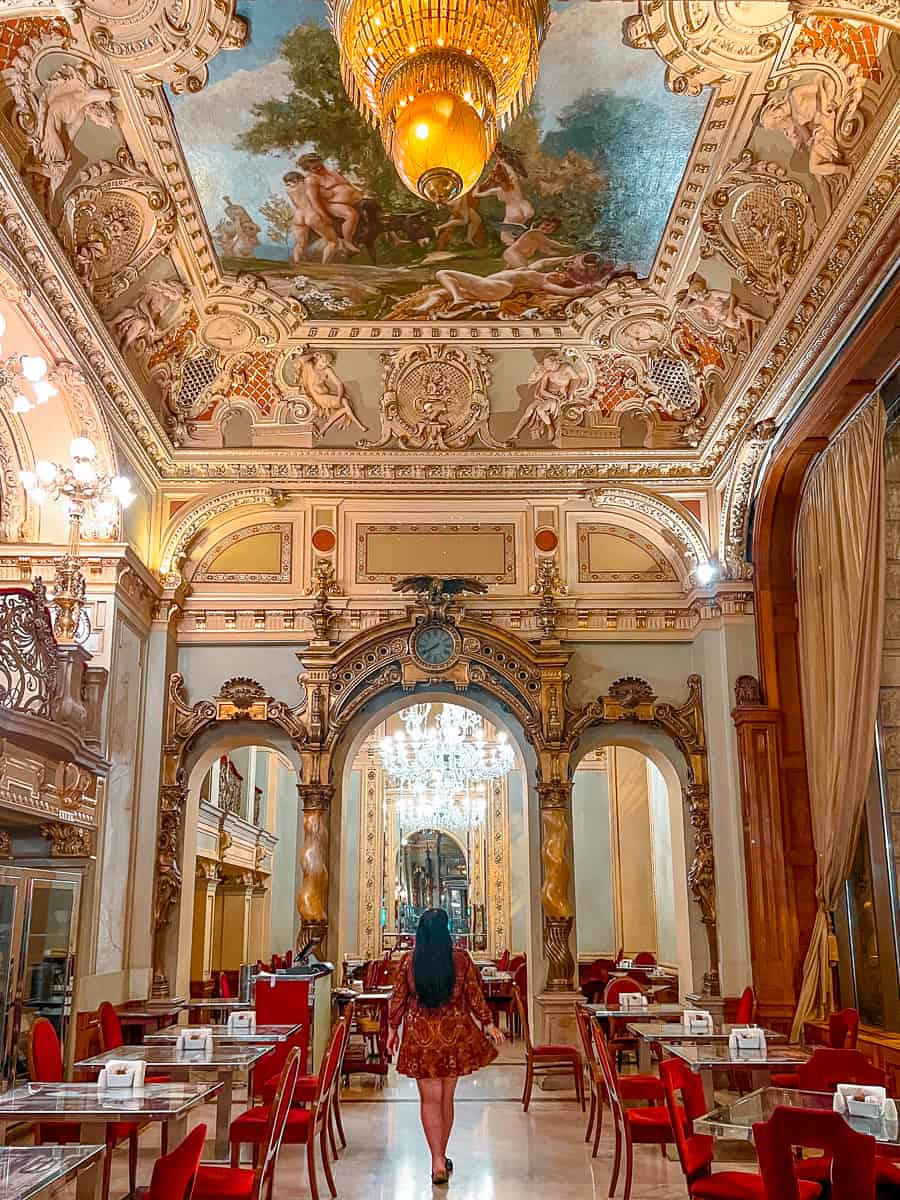 Where is New York Café in Budapest?
New York Café is located inside the Anantara New York Palace Hotel and is on the Pest side of the Danube River.
You'll find it close to the Jewish Quarter and popular attractions like Szimpla Kurt and Dohány Street Synagogue.
It's easiest to use a mix of the metro and walking around the city and the closest metro stop is Blaha Lujza tér on M2 (red line).
Alternatively, you can take trams 4 and 6 or the bus service 923 to Erzsébet körút which is just nearby.
Uber and Bolt taxi app services also work in the city as well. Out of the two, I found Bolt a little more reliable.
The exact address is 9-11 Erzsébet körút, Budapest. Click here for a Google Pin!
Is New York Café expensive?
I'm not going to lie and say that this experience is cheap by any means. It's definitely a pricey establishment in Budapest.
But, you're really paying for the spectacular atmosphere and dining in the world's most beautiful café.
You can look to spend an average of 10 – 25 euros on coffee with cake per person and an average of 30 – 50 euros on drinks and a main meal per person depending on what you order.
These prices are without tipping but they add a 15% service charge to accommodate for that.
It is a big price tag but, in my opinion, it is well worth splurging on. The entire place is fabulous with its sumptuous decor, serene atmosphere, attentive service, and delectable cuisine.
When should I visit New York Café in Budapest?
New York Café opening times are from 8 a.m. until midnight every day of the week. So, there is plenty of time to visit whilst you're in Budapest.
I would say a great time to visit would be for brunch before 11 am as you will then get to experience some of the live Gypsy music on offer.
In the evenings, you will get a mix of a Gypsy orchestra and/or a pianist who will play sweet melodies throughout.
If you wanted to get some photos of this place a little emptier, I would visit straight away for opening time as it gets ridiculously busy (and even a little chaotic) throughout the day.
Do you need to reserve a table for the New York Café?
Yes, and I cannot stress this enough. Make sure to book your table for the New York Café online a few days in advance of your visit. You can do so here. Or, you can give them a phone call.
As one of the most popular attractions in Budapest, the café is fully booked every single day of the week.
Saying that, at the time of writing, they have made a change that you can't book a table between 8 am – 6 pm now. You can only reserve for dinners after 6 p.m.
If you don't have a table booking, you will be asked to wait and tables are on a first come first served basis.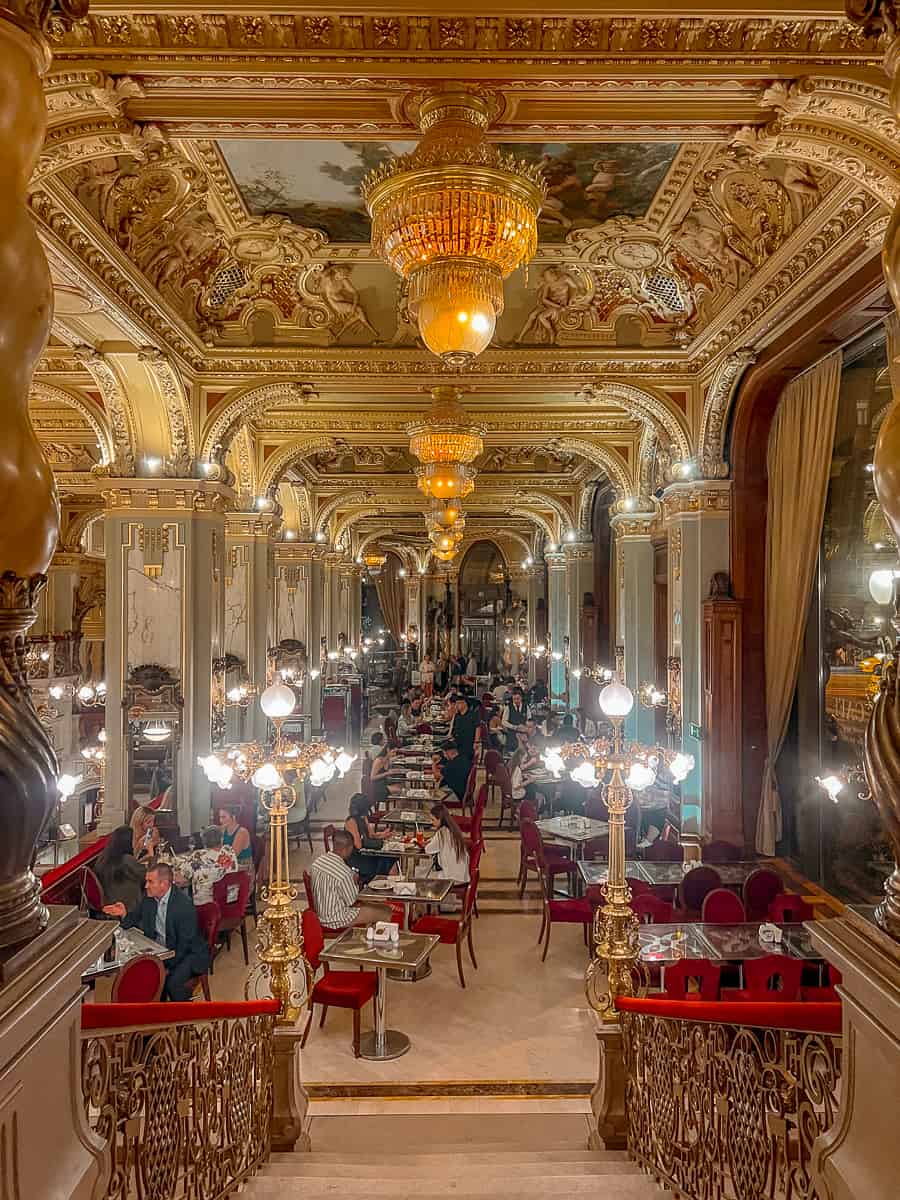 Queues are always really long most days and were down the street even in October. However, it is worth the wait.
On my visit, they did have a 'fast lane' option where you could pay 5 euros per person to be seated a little quicker. As I have little to no patience, I would most likely do this haha.
But, as I stayed at the Anantara New York Palace, I didn't need to book to visit the breakfast area or the upper floors and I could still order from the café menu.
However, it's good to note that hotel guests do need to book to sit in the main café like everyone else.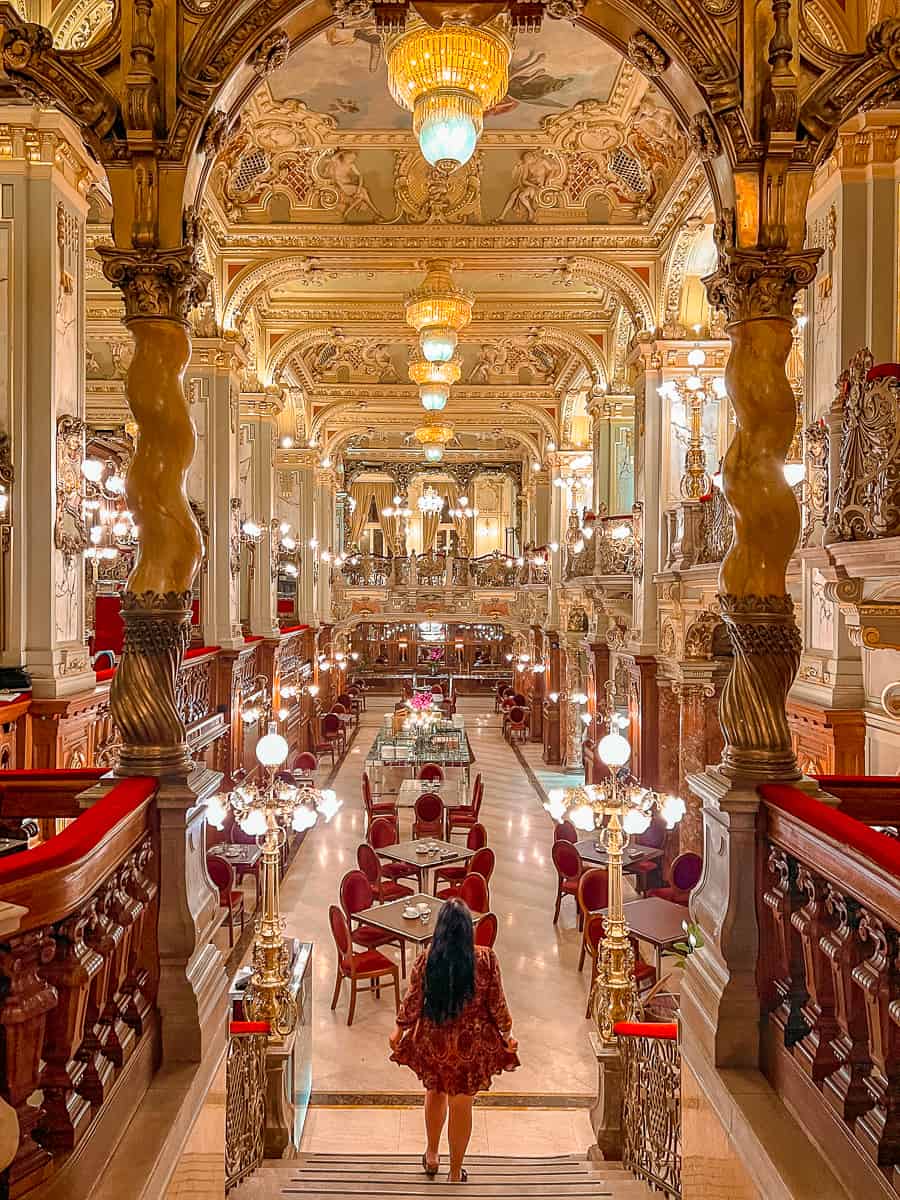 Is there a dress code for New York Cafe Budapest?
No, there isn't a strict dress code but I would say that you should dress smart casual to visit the New York Café.
These ornate interiors are super glamorous and just call for something a little special to wear, especially in the evenings.
You don't have to go all out with a ballgown and tux (although you could) but a pretty dress, 'jeans and a nice top' and smart shoes will do fine.
Plus, you'll want to dress up a little nicer for some photos in the world's most beautiful café whilst you're here.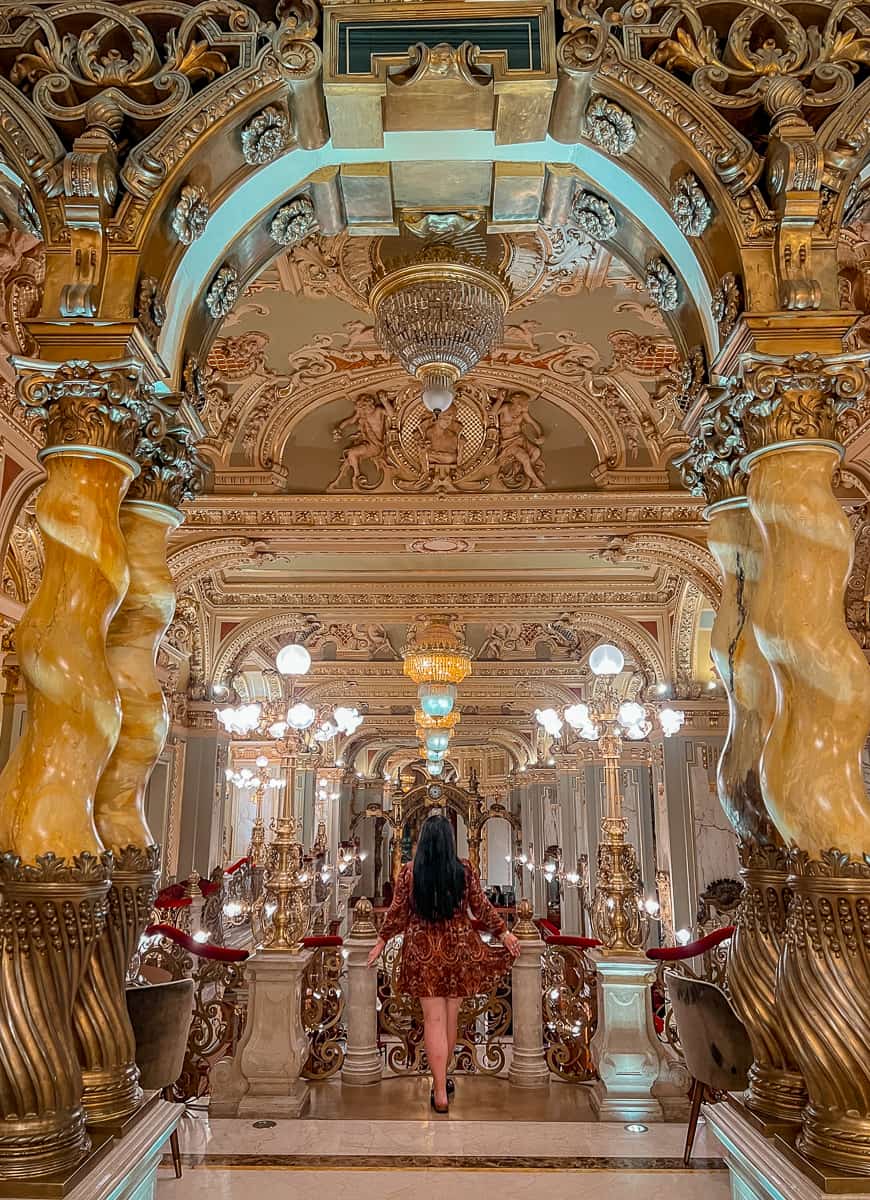 My top photography tips
New York Café is one of the most Instagrammable places in Budapest and a top photography location. Lots of people love to visit here for pretty photos and videos for their social media feeds.
But, it's good to note that is also the most famous café in the city and is packed with patrons every day.
There are a few places where you can get photos with wonderful interiors and without many people in them.
My top tip would be to visit the bathrooms on the upstairs floor. Here is where you can find the famous 'Instagrammable balcony' for photos.
Saying this, as it's part of the Anantara Hotel restaurant they often put a table on the balcony in the evening.
They also may move you on or block off this area if it's getting too busy and disturbing the hotel guests who are trying to have breakfast.
So, your best bet for this location would be to visit in the late morning/afternoon.
If you want to capture this restaurant with fewer people, I would try to book for opening time or stay here for closing time.
Also, I would highly recommend staying at the Anantara New York Palace as you don't need to reserve a table to access the café.
You can visit as early/late as you want and you get to eat a wonderful buffet breakfast in this magnificent location every morning.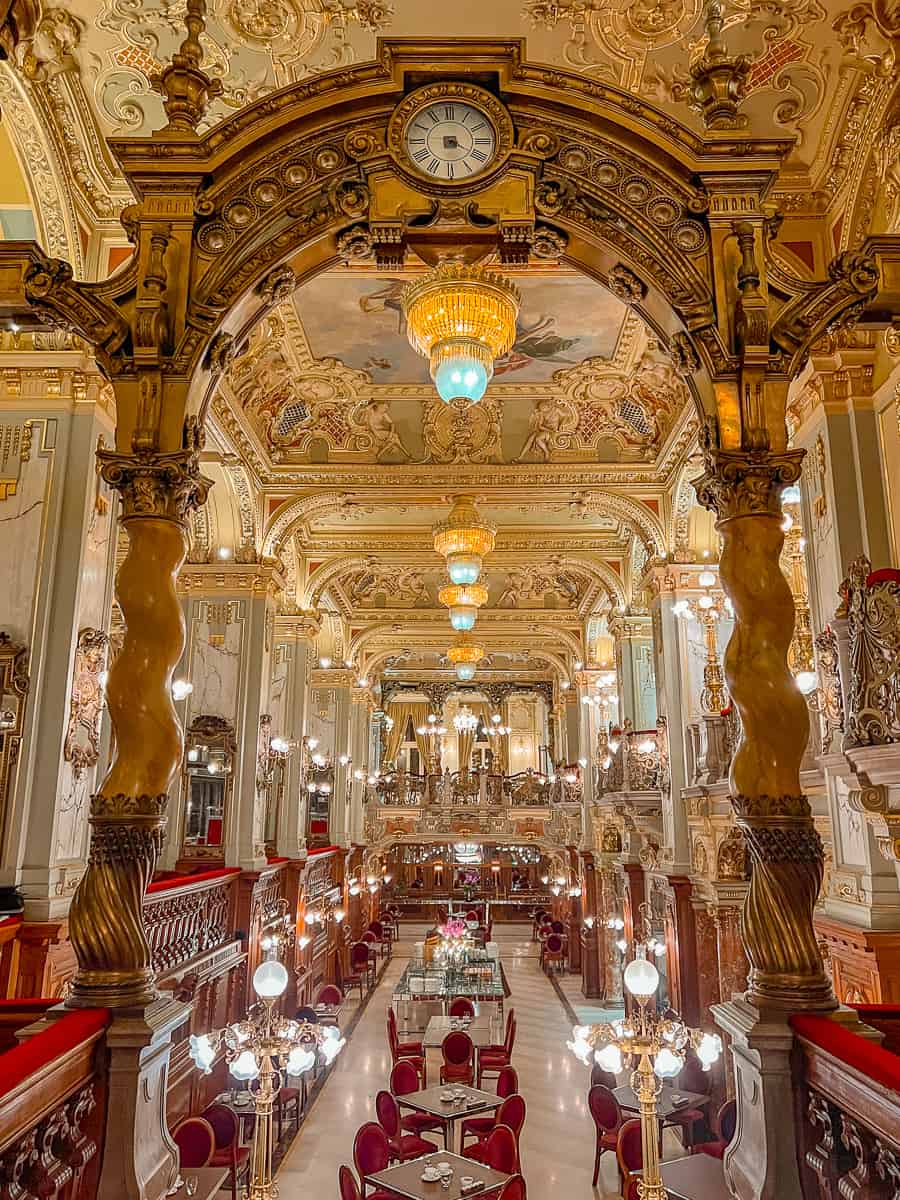 Just a little PSA to be a nice human
I wasn't going to mention this but I feel I must. We all want photos/videos of this beautiful café because it's amazing (duh).
However, I am a blogger and I do this for a living. In all my years of being a content creator, I've never seen such petty behaviour just to get photos in this café.
If you can see people trying to get a photo, don't be malicious by standing in their way, taking a million selfies behind them, or trying to ruin someone's moment. It's simply childish.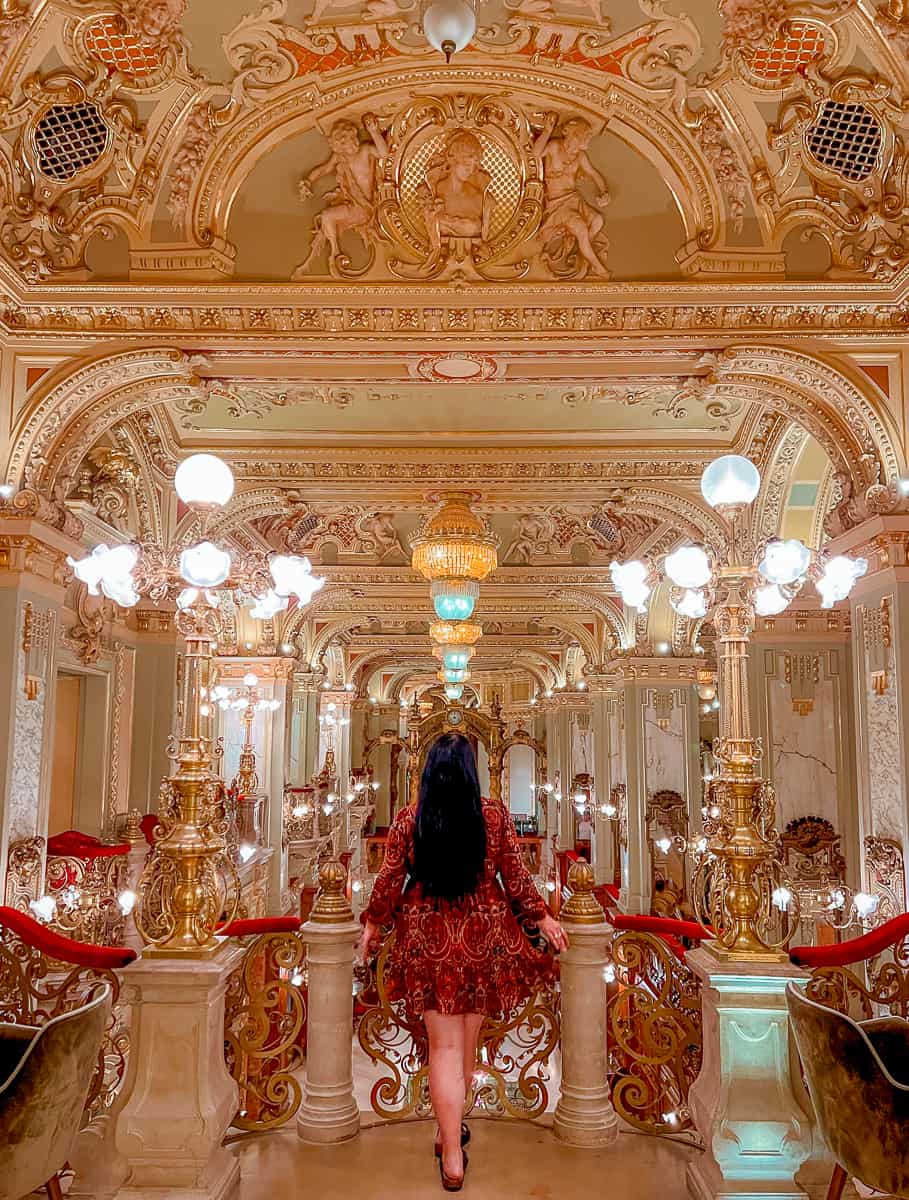 I saw so many people act like selfish clowns here with no regard for others and it made my blood boil.
Making people uncomfortable, stepping in front of people, hogging spaces for ages and not being courteous at all despite people politely waiting their turn.
It's just a photo and you don't have to step on others in order to get your content. I ended up visiting outside of opening hours just to avoid the circus.
It's not hard to be a nice human. Thanks, I'll get off my soap box now.
Why not stay in the Anantara New York Palace in Budapest?
On my recent stay in Budapest, I chose to stay in the Anantara New York Palace and I'm so glad I made this choice. It's a 5-star property and a Leading Hotel of the World.
As the New York Café is part of the hotel, you get to visit any time of day and dine here for breakfast each morning without a reservation.
Also, the Instagrammable balcony is part of the hotel's dining area so you can visit at any time of day. It was perfect for capturing this stunning café without the crowds.
They even let you order food from the New York Café menu at the tables in the hotel.
Of course, if you want to eat in the main café area you do have to book. But, I found the hotel's section of this café was enough to experience the atmosphere.
Beyond having access to New York Café, the hotel itself is spectacular and the staff were so lovely. They couldn't do enough for you.
The palace has a range of comfy rooms and suites. As well as a swimming pool, a spa area, a lounge bar, and two restaurants surrounding the café interiors. I would highly recommend it.
Click here to book your stay at the Anantara New York Palace
Looking for more amazing cafés in Budapest?
There are so many amazing restaurants and café in Budapest and some are located just nearby in the Jewish Quarter.
Mazel Tov is a gorgeous light airy space that has its own botanical garden with fairy lights. You can find a fusion of Middle Eastern specialties and sip on one of their signature cocktails.
If you love your urban jungles, then I would also consider visiting TwentySix. Although pricey, it serves up some tasty dishes amongst its green foliage, trees, and fronds.
Paris Court was somewhere I loved to go for coffee as the interiors transport you back in time to a bygone era.
And, if you're looking for something a little more niche, then check out The Magic. It's a cafe inspired by Harry Potter and the Wizarding World. It even has moving portraits.
Here you can order smoking cauldrons filled with cocktail potions, or indulge in some magical treats.
Things to do in Budapest
Budapest is one of my favourite cities in Europe and there is so much to see and do here!
One of the most magical places to visit is the Fisherman's Bastion which looks like a castle in a fantasy world. Best visited at sunrise.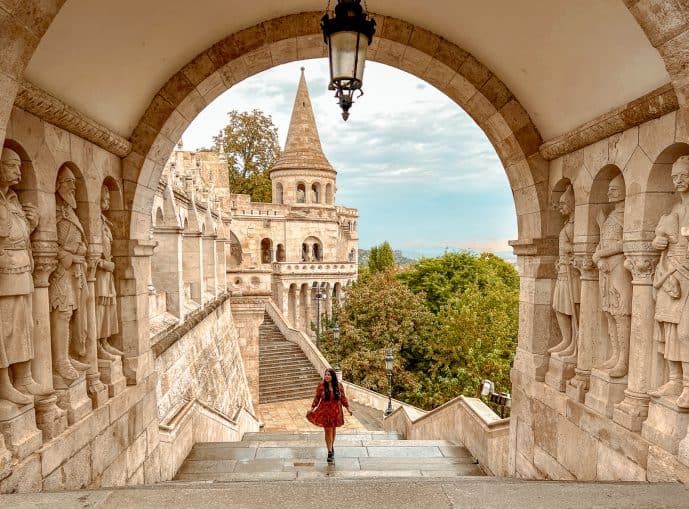 Just nearby, you can visit Buda Castle which has some stunning views over the city and Budapest Parliament Building.
You can visit one of the famous ruin bars like Simple Kurt, learn about the history of the Rock Church, or visit Gelert Hill for sunset.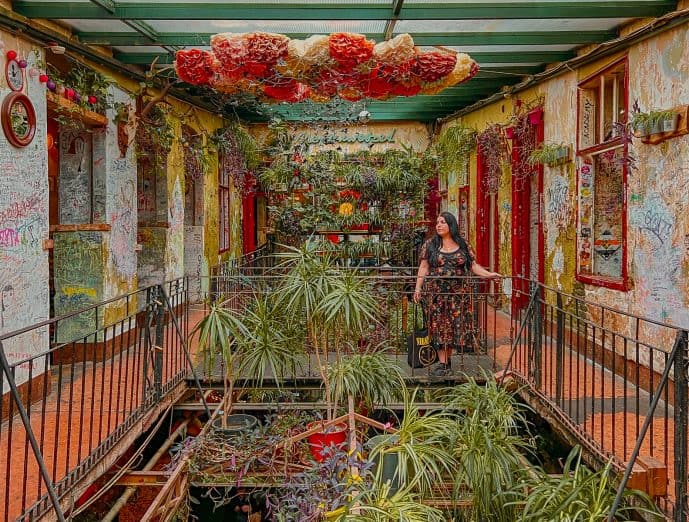 Or, why not discover some hidden gems like the Metropolitan Ervin Szabo Library? It's a public library in a former palace. I also loved the Vajdahunyad Castle which is a copy of one in Romania.
No visit would be complete without a visit to the thermal baths here. The most popular are Széchenyi or Gelert Baths, my personal favourite.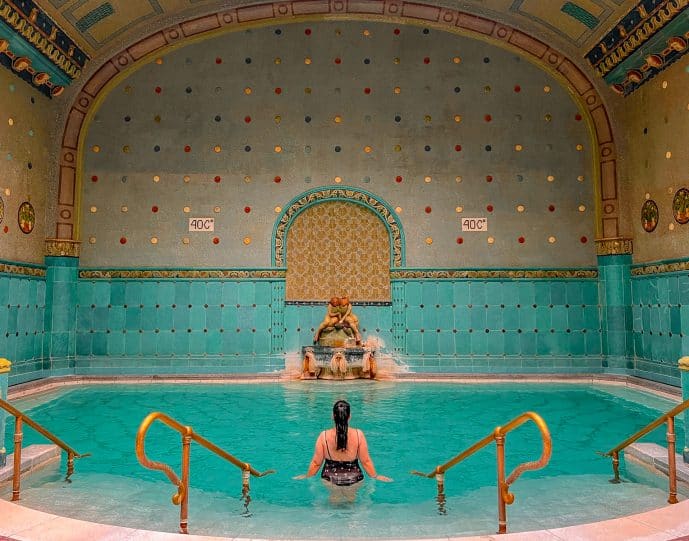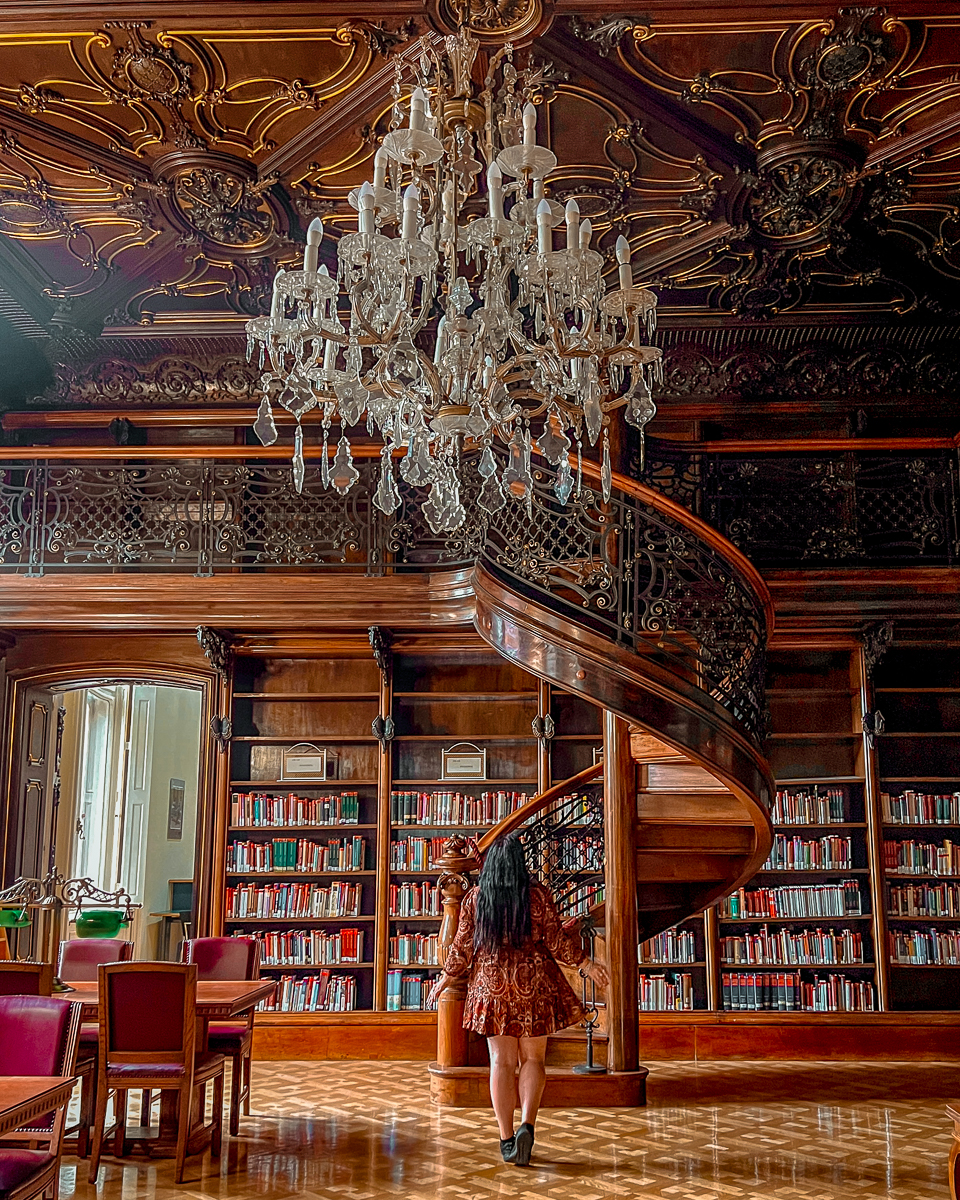 New York Café Budapest FAQs
Is New York Café in Buda or Pest? New York Café is on the Pest side in the Jewish Quarter.
Why is the New York Café famous in Budapest? It's a well-loved coffee house in the city that has been serving the bourgeoisie, writers, and celebrities for over 125 years and is now voted as the world's most beautiful café.
Read more of my Budapest travel guides
Why you must visit Metropolitan Ervin Szabó Library
The Ultimate Budapest Bucket List
Save this New York Café Budapest Review for later!