I can't remember the last time I even considered Spain as my next holiday destination. I'm always wanting to go somewhere further afield. But, all that changed when I flew to Mojácar with Jet2holidays this year!
After an amazing week away I left with Tinto De Verano becoming my new favourite drink, the Spanish rhythms on repeat in my head and a serious case of wanderlust to explore the coast of Almeria! I was addicted to every piece of it.
It's not your typical Spanish destination to visit compared to the likes of Barcelona or Benidorm, but I think that this is Spain's best-kept secret.
A hidden gem that I can't wait to rave about. So, without further ado, here are the 16 reasons why Mojácar should be your next holiday destination!
1. A short two-hour flight will take you to paradise
I couldn't believe that such a quick flight could transport me to such an exotic location! As I looked out of the plane window, I felt the rush of excitement at seeing a new place I had never been before.
The rocky mountains and the sparkle on the Mediterranian sea looked like an incredible adventure awaited us.
The nearest airport to Mojácar is Almeria, from there it's a quick hours transfer down the road. But the drive is so pretty you can hardly notice!
2. It has 17 kilometres of unbroken beautiful coastline
You can relax on the beach, hike along the coast with some breathtaking views, fish along the shore or take a drive and go sightseeing.
The Playa really is your oyster.
3. Mojácar Pueblo is the cutest town you will ever lay eyes on
The main draw for tourists visiting Mojácar is the Pueblo or the old city. Sitting high on its perch up atop a hillside, the sea of whitewashed buildings is inviting to say the least.
First of all, I couldn't believe the views from the top. Rocky peaks were dotted around in the distance and you could get fantastic views of Mojácar Playa and the glittering ocean.
The small alleyways with cute plant pots and colourful shutters lining the way were as pretty as a postcard.
Every corner seemed to be more adorable than the last. I could easily see myself taking a residence there, such a beautiful place to call home.
4. The Moorish architecture will make you swoon
The term Moorish originates from when the Andalusians (Moors) from Northern Africa took their place in Spain centuries ago. But, you can still see their legacy in architecture today.
The whitewashed domes, detailed horseshoe archways and ancient Islamic mosques really make the place come alive with a hint of the exotic.
You can visit the old Moorish water well in the Pueblo, which locals still use to fill up their bottles today!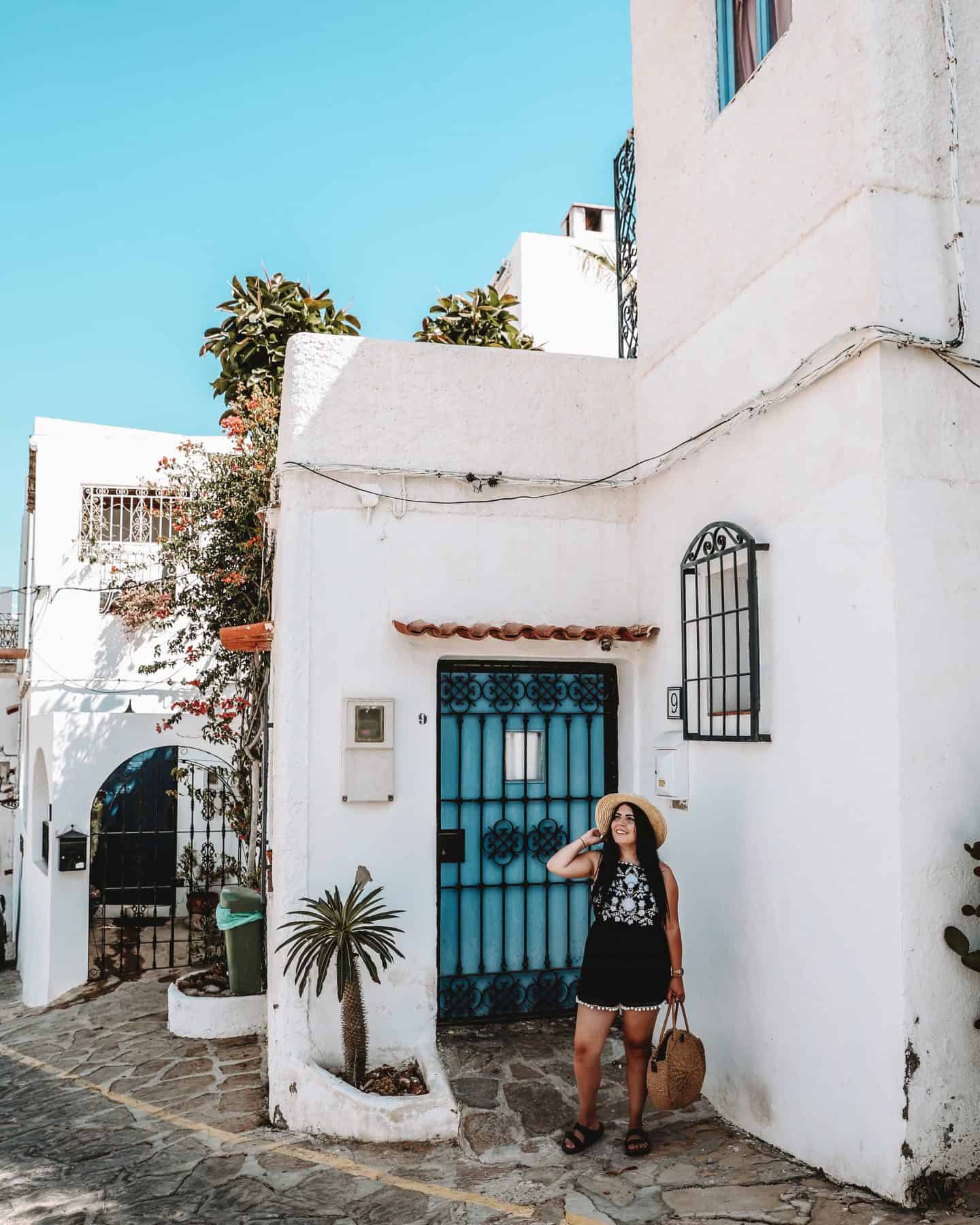 5. You can try your hand at golfing in Mojácar on the most spectacular course
Golf has never struck me as an interesting hobby, in fact, the only time that I've played golf is on a mini-golf course or driving range. But, if there was anything to change that opinion it would be the beautiful 18 hole golf course that Mojácar had to offer.
We took our buggies around the hilly acres and the views were to die for! Alvaro Sanchez, our friendly instructor, tried to leave time for us to perfect our swing but we were too interested in taking photos (well, we are bloggers after all).
In the end, we had just enough time to try the driving range – my favourite. If you haven't heard of it, it's essentially an open area where you can whack a ball and see how far you can get it to go!
Although you may be tempted to go in at full pelt, there is an art to it. You have to plant your feet, touch the club on the grass before you hit the ball, balance and swing with just your arms, not your whole body.
Near the end, I almost cracked it and got it to 75 metres which is good for me!
It turned out to be an entertaining morning at the Golf Club and it convinced me that golf is anything but boring. If you were interested in dusting off your flat iron, you can have a look at the Marina Golf Mojácars' official website.
6. The hiking trails will blow your mind
If you fancy something a little more active than chilling out at the beach then you can stretch your legs with one of the magnificent hikes in Mojácar.
The Playa here is one of the most diverse I've come across and so it was no surprise you could hike along the coastal path too.
The views were absolutely breathtaking. I loved breathing in all that fresh sea air and the water was turquoise and clear; it made me want to jump right in with the heat!
Saying this, it's best to hike either early morning or later in the afternoon. Bring a hat and lots of suncreams; the temperature here take no prisoners!
Although it looks quite hilly and mountainous, the below picture is actually quite a gentle hike along the coast towards Torre Pirulico, an ancient lookout point dating back to the 13th century.
7. The fish is served fresh from the Mediterranean sea
As our visit was in the peak season of July with temperatures in the mid-'30s, the seasonal dishes mainly consisted of fresh fish and salads. We were so close to the ocean and that meant the fish was caught locally. I couldn't wait to sample some!
Sardines, Sea Bream, Tuna, Bass, Shrimp prepared in all different varieties were on many menus in Mojácar. You have to try.
We went to a really beautiful cabana type restaurant on the beach called Chiringuito El Paraiso. It was my favourite meal by far. The speciality here was open flame barbecued sardines on a sword!
8. Mojácar's lively and colourful festivals are not to be missed
Mojácar sees many a festival celebrated in the town including their annual signature event 'Moros y Cristianos' which means Moors vs. Christians. Preluding to their Andalusian past the whole town dress as characters of old and play out the ancient battles between the two.
A younger event to hit Mojacar in recent years is 'Noche De La Velas' which means Night of the Candles.
It's a magical evening that ties in with the Celebration of Saint Lorenzo allowing locals to contemplate the 'rain of stars' above. The whole town turn off the electricity and light up the streets with thousands of candles
It was like a fairytale walking through the town and seeing all the flames, parades and celebrations.
If you would like to read more about Noche De La Velas then you can see my top tips in this article here
9. The mountain views are breathtaking
From the drive out of Almeria Airport, along Mojácar Playa or as you clamber up to the old town of Mojácar Pueblo you will fall in love with the breathtaking views of the hills and deserted landscape.
Best paired with sunset, the colours in the sky as the sun makes its way behind the hills will stun you.
10. You can scuba dive in Cabo De Gata National Park
Did you know that you can scuba dive in Mojácar? The town is on the gateway to Cabo De Gata Natural Park which is a protected area so the waters are clear to enjoy observing the marine life there.
Buceo Mojácar regularly runs diving trips here where you can swim with the fish under the sea (cue the Little Mermaid).
When I heard we were going to be undertaking an introduction to Scuba Diving, I was awash with a mix of fear and excitement. Scuba Diving has always appealed to me as I love the sea and seeing all the fish!
But, it's actually the breathing underwater part that I struggle with. Equalising my ears due to the water pressure, the feeling of claustrophobia with the weight of the tank on my back and learning to regulate my breathing can be really stressful underwater.
That with not being able to communicate well, I end up getting myself in a panic.
The Instructors at Buceo Mojácar (including Pepe who was my lifesaver) were incredibly kind and had the patience of saints!
They were determined to show me it was safe underwater and with these guys I felt nothing but protected. They were so qualified, laid back and I really feel if they hadn't helped me, I wouldn't have taken part.
So, if you ever had any doubts about it or need instructors that make you feel safe for your first Scuba Dive, these are your guys!
11. Kayaking in Mojácar is on another level
Kayaking is such an incredible way to gain a new perspective of a place and I couldn't wait to get in the water and start. That feeling lasted about 10 minutes until my arms started to ache and I realised just how unfit I was haha!
But, regardless of how tired I got, the jaw-dropping views of the coast were all worth it!
We were kayaking past little coves and could see the coral below as the water was so clear. We sailed over to the impressive Torre Pirulico at sunset. The sun at that time of day made a sparkle on the sea and I had to stop and take it all in.
I'm pretty sure my arms are still feeling it though. Looks like I need to get in shape for the next one!
We took our tour with DGSE Turismo Activo, you can check out their Facebook page here.
12. It's full of hidden gems like Torre Pirulico
If you didn't fancy seeing this beautiful viewpoint from the water, why not take a drive or hike up to it?
Torre Pirulico is a 13th Century lookout point that is still in almost perfect condition today and stands proud along the shore.
When you get to the top of the tower, you will be greeted with the birds-eye views of Mojácar and beyond!
13. Quad biking will quickly become your new favourite hobby
I've never been Quad Biking before so I was really excited to go on and off-roading with a four-wheeler! I've always struggled with balancing scooters as it has only two wheels but this made it so much easier.
At first, I was a little slow and couldn't turn corners at all, but then after a little practice, I took to the coast with the wind in my hair!
We went around the Torre Pirulico track and down towards the beach, it was so exhilarating. At one point, I did bump into a cactus (lol) but it was really easy to reverse back out and carry on up the track.
It's definitely something I would try again and as soon as I stopped I wanted to hop straight back on! I would highly recommend Indalo Quads if you wanted to take a tour. You'll be in safe hands.
14. You can dine on the cutest rooftops by candle light
I always think it adds a magical touch to eat on a rooftop at night. Especially when there are stunning views, candles on the table and good food in a beautiful setting.
We were kindly invited to Arlequino Restaurant in Mojácar which had the cutest decor down to the finest detail.
We were invited on one of Mojácars busiest nights of the year for the Noche De La Velas which was a little manic, to say the least.
Despite the mouth-watering menu, the service left much to be desired. It's a shame as I think that any other night of the year it would have been a relaxed evening.
I still think it had the most stunning views and watching the sun go down from here was a treat.
15. Sunny spells are there year round
If you're looking for a place to escape the rainy climate of the UK then Mojácar has to be up there as a safe bet. We were visiting in peak season where the temperatures soar to the high 30s.
But, even if you're travelling in the shoulder season of September it will be 23 and in winter (Dec-Jan) it's 17 degrees.
16. It's one of Spains best kept secrets
Whenever I think of Spain, I had these preconceived opinions of mass tourism, British pubs abroad and badly organised package holidays. But, my little visit to Mojácar has proved me wrong entirely!
This cute little town has shown me that holidays in Spain can be the perfect getaway, be active and relaxing at the same time and come with a hint of the luxurious.
I loved being introduced to the culture, sampling the delicious food, meeting the friendly locals and being whisked away by the picturesque views.
I had never heard of Mojácar or Costa de Almeria in Spain before this year, but I am officially hooked. It's definitely a gem on the Spanish coastline and somewhere I wouldn't hesitate to visit again.
This is 16 reasons to visit Mojácar but there are so many more! Make sure you put Mojácar in Spain on your bucket list, you won't regret it!
Looking for a place to stay in Mojacar?
I would highly recommend the luxurious Alegria Palacio Mojácar where I stayed with Jet2holidays. It's a little out of the main town but the distance is worth it for the peace and quiet you will get in return.
To read my full review of this beautiful property, click here.
Like it? Pin it!
With thanks to Jet2holidays and the Mojacar tourism board for sponsoring my stay. Although I was a guest; all thoughts, photos and opinions are my own.