There are plenty of luxury hotels in Glasgow city centre, but not many are luxurious and are good value for money. Motel One Glasgow changes all that!
Sleek, classy and beautiful in design this hotel will stick to your budget but make you feel like you're checking into a luxury 5* hotel.
Situated right outside Glasgow Central Railway Station, you're in the perfect position to explore the city and move out from it either by train or car too.
It's the perfect base for a few days exploring this cultural, bohemian city. Here's my honest review of Motel One Glasgow.
Where is Glasgow in Scotland
Glasgow is located in West Central Scotland on the banks of the River Clyde and historically is most famous for its shipbuilding trade. Today, Glasgow is a thriving multicultural city with an independent and artistic spirit.
Although historic Edinburgh is the capital, Glasgow is Scotland's largest city!
It's only an hour's drive from Edinburgh and is the perfect location to start or end your travels in Scotland, especially if you're heading up and around the Highlands and passing through Stirling and Skye.
How to travel to Glasgow
Being in the lowlands of Scotland, Glasgow is an extremely accessible city. There are plenty of ways to reach Glasgow;
Glasgow by Car: If you're heading from England in the South, you can drive up the M6 and then switch to the M74 until you reach Glasgow. It will take you around 7 hours to drive from London (without stopping so add in breaks!), or four hours from York.
Glasgow by Train: If you'd rather travel by train, London to Glasgow is by far the quickest route and will only take you four and a half hours by rail. See the National Rail site for tickets and prices.
Glasgow by Plane: Glasgow has an International Airport, that runs services from London, Manchester, New York, Canada and most European cities. I always use skyscanner.net to book flights.
Where is Motel One Glasgow?
You can't miss the Motel One in Glasgow, it's a huge building that sits right outside Glasgow Central Station so it's really easy to locate.
It's located on Oswald Street, so if you need directions plugin 78-82, Oswald St, Glasgow G1 4PL into your Satnav or GPS.
Motel One Glasgow Parking
Like most Central hotels in Glasgow, there is no free parking available or even the option of paid parking.
So, it can be tricky to know where to park. Parking charges can easily rack up in the city, especially at the NCP (National Car Parks). Even the Sunday free parking charge has recently been scrapped.
Luckily, Motel One provides some discounts on the NCP on Oswald Street which is just a one minute walk away from the hotel. This brings down the price from £25 for 24 hours to just £9 for 24 hours. But, it's good to note that if you leave the car park in between that 24 hour period it will reset and you'll pay more.
You will need to get your car park ticket validated by Motel One reception, so remember or the discount price won't apply.
Reasons to stay at Motel One Glasgow
1. It's centrally located in Glasgow city centre
This was an important factor for me. I love to be centrally located in cities, it just makes everything that much more convenient.
Motel One is just outside Glasgow Central Station, so you only have to travel five minutes lugging your suitcase.
In terms of sightseeing, Motel One Glasgow is a ten-minute walk from George Square and the City Chambers, a 30-minute walk from the Kelvingrove Art Museum and twenty minutes from Glasgow Cathedral. So, you don't need to travel huge distances to explore. Or, use any public transport if you don't wish to.
Personally, I loved walking around Glasgow as every street had new things to explore. Street art, historical buildings, independent boutiques, swanky restaurants and an awesome coffee scene. You're never short of an adventure.
2. However…it's extremely quiet and soundproofed
I'm a terribly light sleeper and so I was anxious about the central location at first.
Surely, being right in the middle of Glasgow, by the railway station and all the bars would keep me up all night, right?! I was checking in on a weekend in Glasgow too and it has a reputation for wild nights out.
But, when I checked into my room I couldn't hear a peep!
As the hotel is so new, it has state of the art soundproofed windows. So, despite the fact there were people out partying, I was by one of the busiest train stations in all of Scotland and the main road with buses passing by; I couldn't hear a thing.
It was marvellous. So, I slept like a baby, quite literally!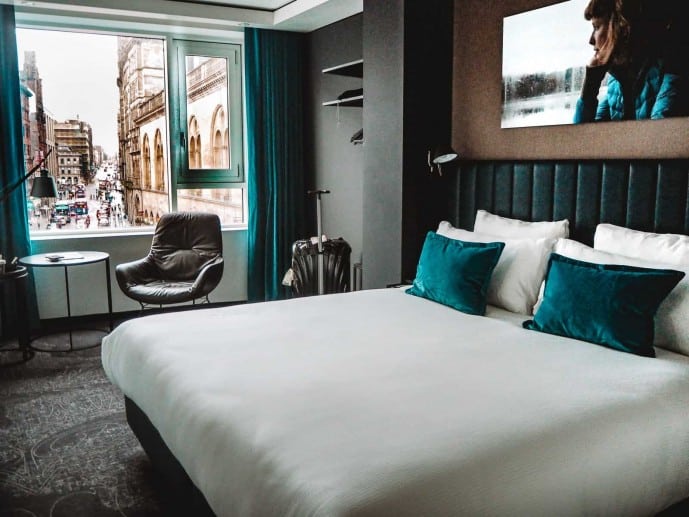 3. Motel One Glasgow rooms are gorgeous in design and more importantly, eco friendly
I loved the design of the Motel One Hotel, from the restaurant, the bar, lobby and the rooms themselves. It was so effortlessly classy and stylish with a European flair!
The colour scheme of vibrant teal, green and gold really compliments each room and the minimalist design makes the room compact but spacious.
You may be surprised that there isn't a wardrobe but a clothes rack, but that makes more room for the giant comfy bed that you can sink into!
The bathroom was also gleaming with a powerful shower. It had excellent water pressure, especially for girls like me with long hair and I loved the fact they didn't have single-use plastic toiletries either.
Since I travel so often, I'm always looking for ways or hotels that are more eco-friendly and Motel One really was. Paper cups were used instead of mugs, with fair trade coffee and big tubs of toiletries were used instead. The only thing missing was a moisturiser from the bathroom, but you can't have it all I suppose.
I loved staying in bed, watching the world go by outside!
4. There is a really great "Urban Bio Breakfast" to start your day right
When you're ready to go downstairs in the morning, those that have it included will be treated to a huge organic buffet breakfast.
It's more continental than Scottish, with no fried breakfast on offer, but it's extremely tasty and plentiful. It's self-service so you can go up as many times as you like.
You can treat yourself to toast, ham, cheese, cereals, pastries, fruit, vegetables and of course they serve is the nation's favourite; porridge!
There's also lot's of fruit juices and hot drinks to start your day with that much-needed caffeine boost.
The breakfast area does get busy at peak times, especially on a weekend. I would recommend getting there early to get a good seat.
5. You can relax in the One Lounge and Bar onsite
Another feature I loved about Motel One Glasgow was their One Lounge. This is an area where you can eat, relax, socialise and work if you wanted to. Which is great for those staying on business.
The lounge is super comfy, open 24 hours a day and you can order snacks from the lounge menu too. Including toasted sandwiches, crisps, nuts and sweet treats too. Or, if you need a caffeine boost there's a hot drinks menu.
The bar onsite is not 24 hours, but when it is open they serve up a tasty menu of concoctions and local favourite boozes. It's perfect if you didn't want to stray too far away from the hotel for a drink!
6. It's a luxury hotel but at an affordable price
I'll say it again (as I can haha), this place honestly felt like a 5* hotel. The style, the quality and cleanliness of the bedrooms, the friendly service, the location and the food were all top-notch. So, it's an unbelievably good price for the money.
Plus, as this hotel has been open for less than a year, it has that fresh feel factor which is a bonus. Everything was spotlessly clean and new.
Despite being in a central location, the modern soundproofed windows made for a relaxing few days and I didn't have any trouble sleeping with the noise from outside. Which, is surprising for me.
I wouldn't hesitate to book here again, it's the perfect hotel for a few days exploring the wonderful city of Glasgow!
Click here to book your stay at Motel One Glasgow!
Save time and book a tour of Glasgow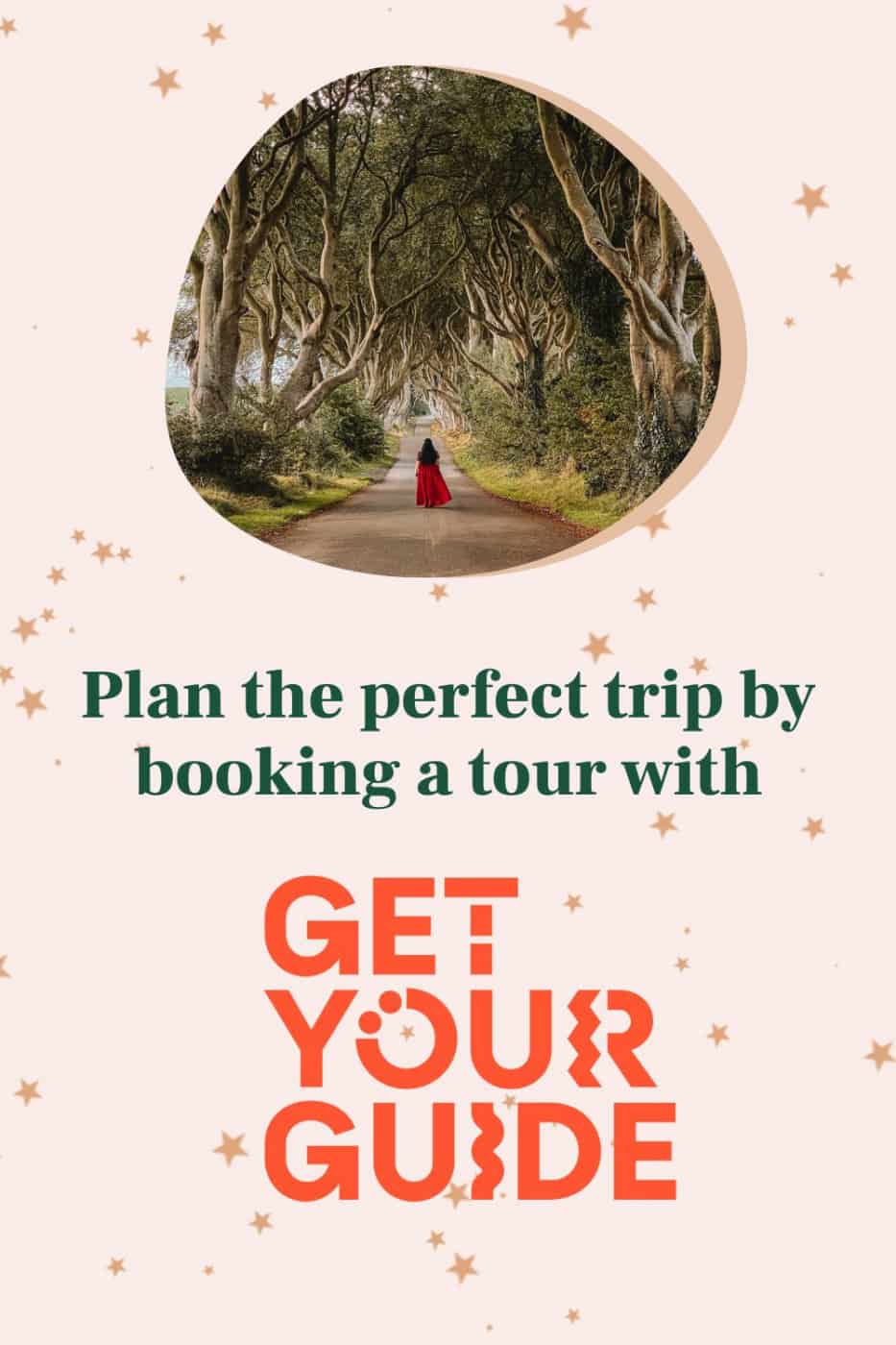 Book tours & tickets for Glasgow!
Save this Motel One Glasgow review for later!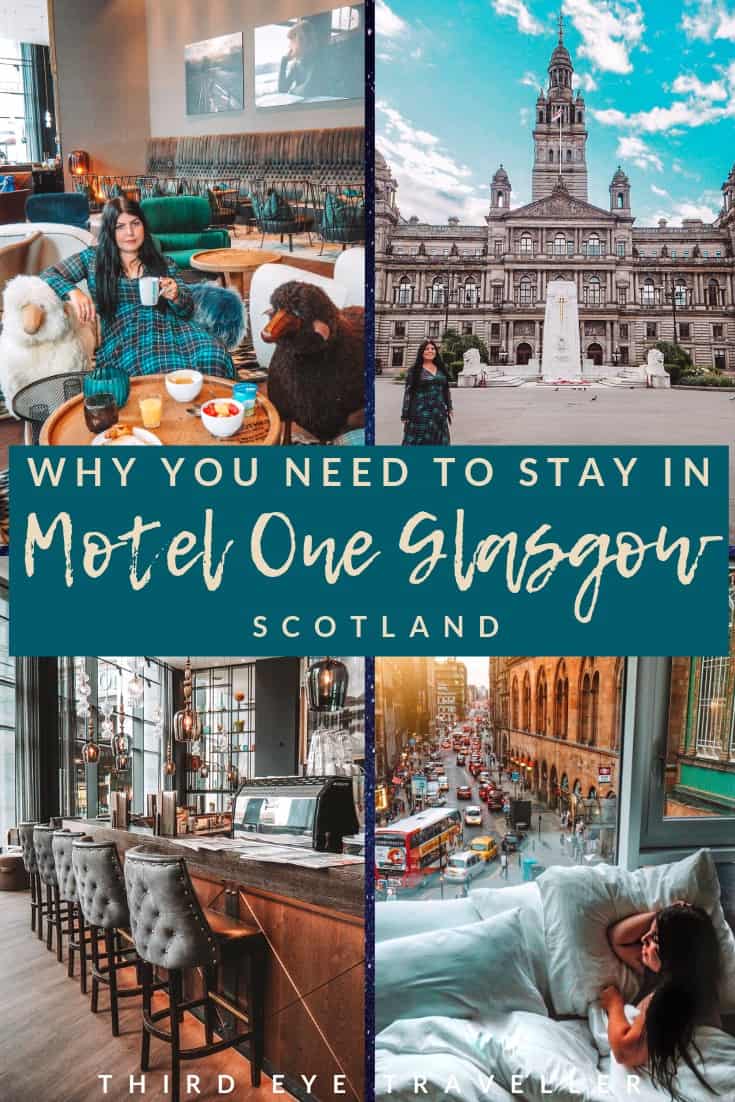 With thanks to Motel One for hosting my stay in Glasgow. Your wonderful hotel was perfect for a few days in the city and your staff were excellent. Although I was a guest, all photos and opinions are my own.