The viewpoints in Tallinn are some of the highlights of visiting the capital of Estonia. Patkuli Viewing Platform was the first that I visited and was the moment I said 'Wow'.
This viewpoint took my breath away and reminded me of a fairytale, like something out of a Disney movie!
Castle towers, church spires, a view of the ocean, and more. Here's the ultimate guide on how to get the perfect shot of Old Town Tallinn from the Patkuli viewing platform.
Patkuli vs Kohtuotsa viewing platform
A lot of tourists when visiting this city seem to ask the question about which viewpoint is best. Patkuli vs Kohtuotsa seems to be the favourites amongst those visiting Tallinn.
But, I believe they're both beautiful in their own ways and provide different perspectives of the city.
Kohtuotsa Viewing Platform has 'The Times We Had' wall and so it's a popular spot for a selfie whereas Patkuli will give you that perfect landscape view of Tallinn.
Either way, both viewpoints are a few minutes' walk from each other and so it's not an effort to see both. You won't waste any energy and, if you're stuck for time it's easy to find.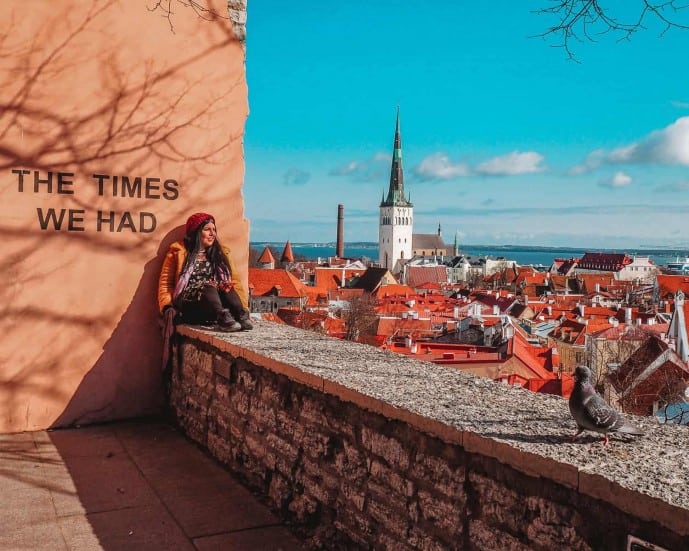 Where is Patkuli viewing platform in Tallinn
Patkuli viewing platform is located on Toompea Hill in Old Town Tallinn. It's actually based on top of a Limestone cliff face!
This area is one of the most historic parts of the city and so you'll have lots to explore including historical buildings and castle walls along the way.
How to reach Patkuli viewing platform
I arrived in Tallinn by ferry and walked into the Old Town from the cruise port. From here, I found the town very accessible on foot and had no trouble reaching the viewpoint from the town square in less than 15 minutes.
If you're heading here from outside of the Old Town, it may be worth investing in a Tallinn Card that not only gets you to access the city's top attractions but also FREE transport too.
Click here to check out more attractions with the Tallinn Card!
There are a few ways that you can reach Patkuli viewing platform from the Old Town;
Climb the Toompea stairway: The are 157 steps leading up from Snelli Park up to the viewpoint. This is the quickest way from below but can be tiring.
Take the scenic route: If you're coming from the Old Town you can make your way up to Toompea Hill through the Danish Kings Garden and up towards the Alexander Nevsky Cathedral. From here the Patkuli viewing platform is a few minutes away.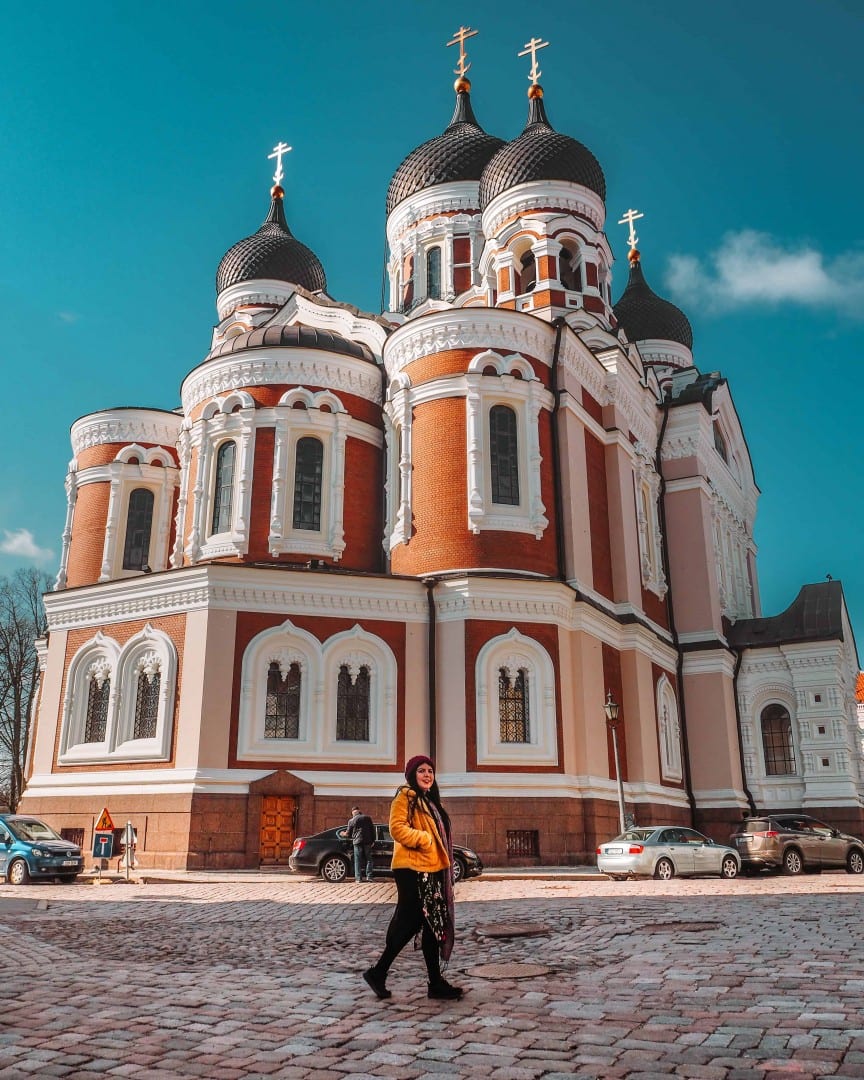 Patkuli viewpoint opening hours and prices
Patkuli viewpoint is open 24 hours a day and I would recommend arriving at a time when cruise ships, with their masses of tour groups, aren't there.
It is also completely FREE to visit this viewing platform in Tallinn.
What can you see from Patkuli?
The climb up to this viewpoint is well worth the effort as you'll be greeted with a picture-perfect view of the Old Town of Tallinn and the gulf of Finland beyond.
This beautiful vantage point gives you an unobstructed view of the fairytale side of Tallinn. You'll find city walls, towers with peak rooftops, a view of St Olaf's church, and the harbour area below.
You can get a closer look by using the telescope that is provided (extra charge applies) but I think the view is best from afar.
For pictures, this is where you'll get the money shot. It's like a postcard and makes for the best panoramic view of the city in my opinion.
Top tips for the Patkuli viewing platform
In peak summer months, this platform is full of tourists. Selfie sticks, iPads, cameras, it will be packed. But, when I was here in the spring it was empty. If you'd rather not find it a crowded visit at a non-peak time (before 10 am, after 5 pm)
There are lot's of seagulls around here, don't bait them, they can be vicious
The stairway leading down is quite strenuous so if you would rather make a gradual climb up, go up the hill from the Danish King's Garden instead and look at some of the architecture on the way.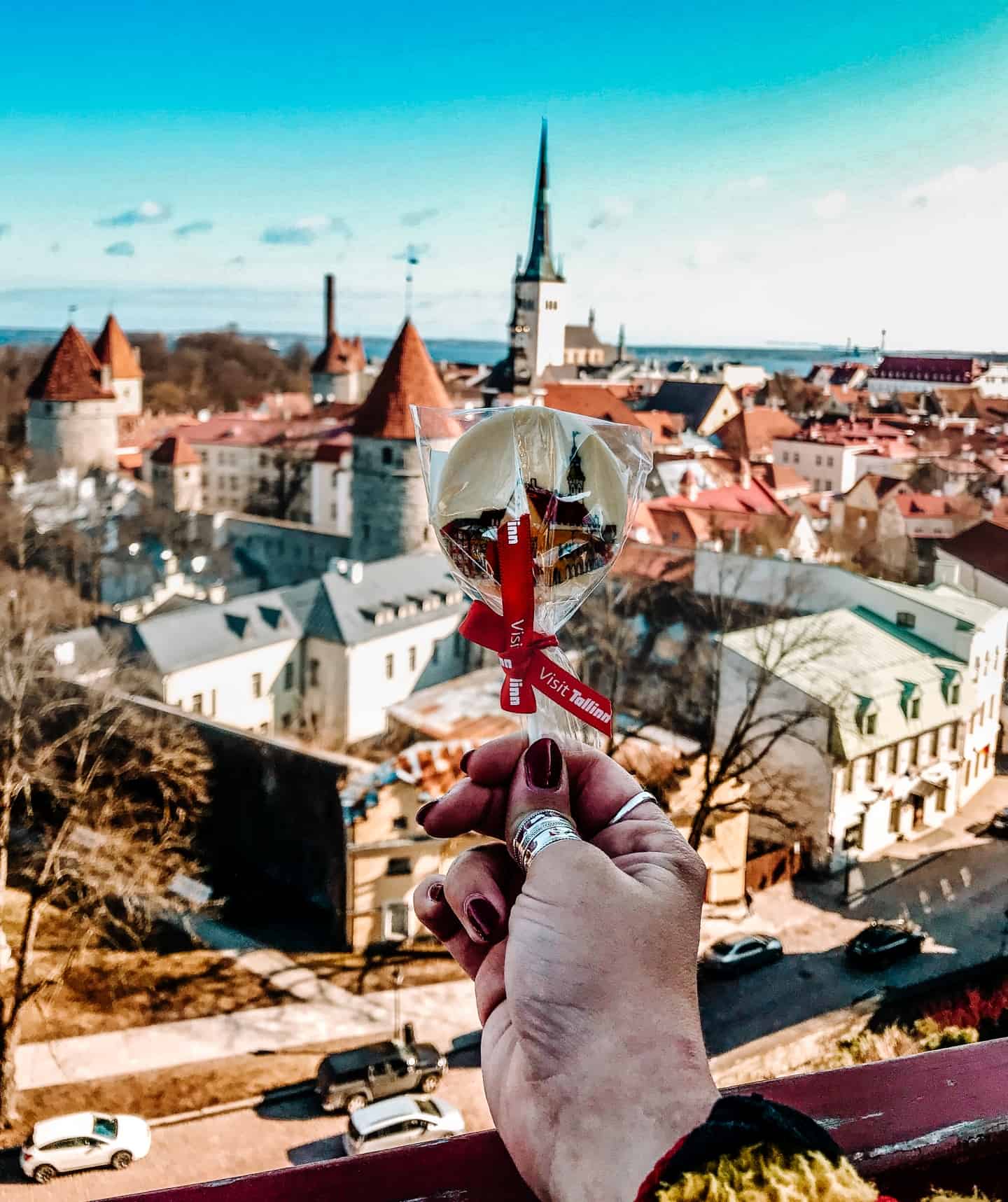 Want to find more viewpoints in Tallinn?
Tallinn is packed to the rafters with incredible viewpoints. In fact, there is a whole list of them and I'd recommend making your way around a few in the city!
Of course, there is the Insta Famous 'The Times We Had' wall that is close by or the Khotuotsa viewpoint.
But, you can also get some amazing views from the city walls and the Kiek in de Kok tower which was once the largest in the Baltics!
St. Olaf's Church has a viewpoint on top of its steeple that is 124 metres high and is SO worth the climb.
Or, head down to the Danish King's Garden to see a spectacular panorama with the 'Breathe Baby' sign. The choice is yours.
Read more: The best views of Tallinn guide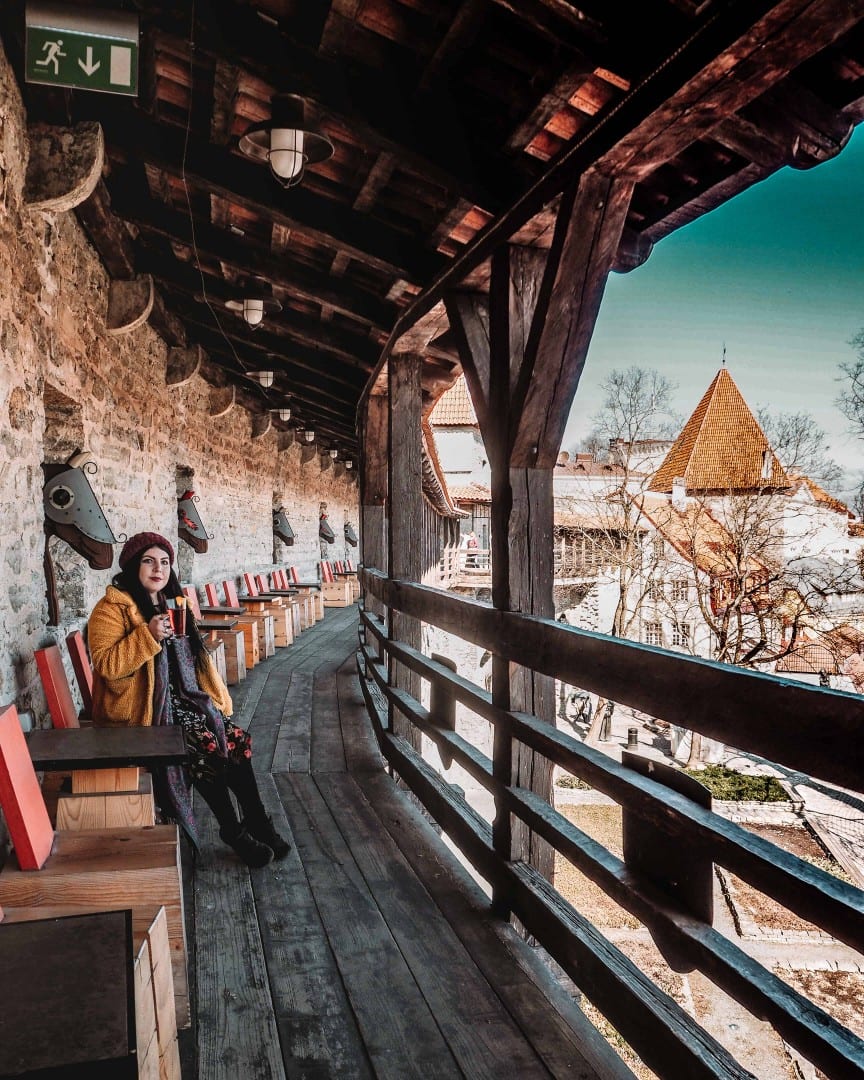 Looking for more Tallinn Inspiration?
There are so many things you can do with only one day in Tallinn. I only spent 24 hours in this amazing city from Helsinki and it was more than enough time to make me fall head over heels in love with it!
The centre of the Old Town you can find the colourful Town Square with its historic Town Hall.
Have some mead in the medieval restaurants like Olde Hansa, go on a FREE walking tour with Tales of Reval or visit the many incredible cathedrals and historic buildings on the way.
Here's my complete guide on how to spend the perfect day in Old Town Tallinn or my Tallin photography locations guide here.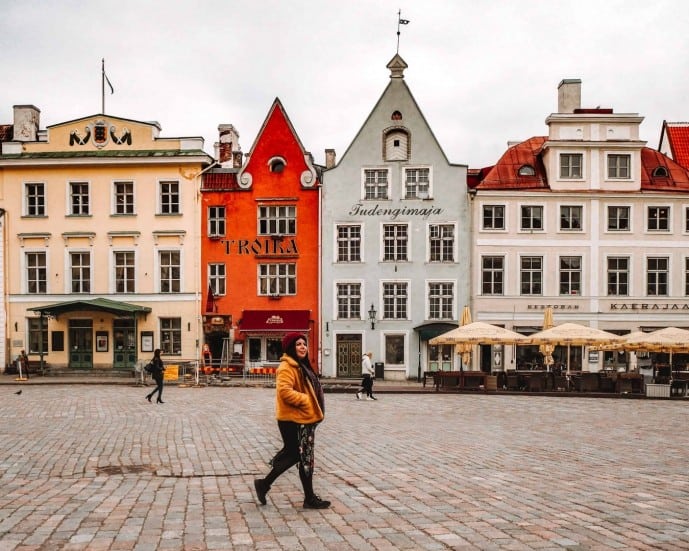 With thanks to My Helsinki for sponsoring my trip and Visit Tallinn for gifting me a 24 hour Tallinn card. Although I was a guest, all photos and opinions are my own.
Save this Patkuli Viewing Platform Guide for later!