I think if there was a pub of my dreams, it's Olde Hansa Tallinn.
Sounds a little bit pathetic, but as a HUGE history buff, I am in love with and crave places that transport you back in time.
Olde Hansa has everything I wanted in a medieval tavern. Dim atmosphere? Check. Only lit by candlelight? Check. Serves up mead? Check. Medieval costumes, music, and vibe?! Check, check, check!
It was the tavern I never knew existed until I made my way to Tallinn in Estonia.
Visiting a Medieval restaurant in Tallinn is a bucket list tick-off in this city. Yes, it's touristy blah, blah. But, that doesn't mean it isn't fun. It's one of the most authentic medieval dining experiences in the world!
So, in this complete guide, I'll show you why Olde Hansa Tallinn is the best one to visit. Here are all the reasons why you will LOVE it!
What is Olde Hansa in Tallinn?
Okay, so I should probably explain what Olde Hansa is before I go into my obsession with it in the next few paragraphs.
Olde Hansa, which is Old German for the "Old Tribe", is set in a rich merchant's house (not really, but play along). He invites travellers to take a rest and dine in this Hanseatic Tavern. Here, you can dine on old Hansa dishes and sip traditional drinks.
Once upon a time, Tallinn was called Reval and it was a major trading post of The Hanseatic League between the 13th – 16th centuries. This is due to the fact it was an accessible trading route on the Baltic Sea.
Olde Hansa is meant to transport you back in time to those days of old!
How to get around Tallinn
Olde Hansa Tallinn is located in Tallinn Old Town which is easily accessible on foot. I arrived on the ferry from Helsinki for the day and found everything within walking distance.
If you're not staying in the Old Town, however, it may be worth purchasing a Tallinn Card to make your way around the city.
Not only does this get you into the city's top attractions but also it includes FREE public transport. See here for Tallinn Card options and details.
How to get to Olde Hansa Tallinn
Olde Hansa Tallinn is located off the Town Hall Square on Vana Turg street. It's an easily recognisable bright white building with Olde Hansa proudly hanging above the door so you can't miss it.
You'll also probably notice the staff standing outside with their Medieval cart offering samples to tourists too. A great way to bring in the crowds.
5 Reasons to visit Olde Hansa Tallinn
1. It's a Medieval Hanseatic Tavern
First and foremost, this should be enough reason to enter. The whole place, from head to toe, is decorated medieval with paintings, wooden chandeliers, candles EVERYWHERE, and huge wooden tables for guests.
The staff plays the parts very well, dressed up in all sorts of medieval garb and you can even find the old merchant who will welcome you to his humble abode.
There are many rooms around Olde Hansa so make sure you take the time to look around.
2. You can sip on traditional mead
I think Olde Hansa is to blame for my obsession with Mead.
We have Mead in the UK, but it's more of a wine. So, I was so surprised to get a whole pint of it!
But, I learned that the Vikings and Eastern Europeans used to drink more ale and so here, they serve it by the ceramic mug.
In Olde Hansa, they serve up a light mead with cinnamon and a stronger dark mead with honey. I went for the darker version and it was so tasty. I would highly recommend it.
It isn't cheap by any standards as it's a tourist bar, but it's locally brewed and tastes incredible. So, leave room for a few.
3. It serves up authentic medieval recipe platters
I absolutely loved the attention to detail in this tavern, even the recipes that they serve up here are authentic recipes from the 15th century. But, thankfully, food hygiene has come a long way in the last 500 years!
Although they do have vegetarian options, it's definitely famous for their game and meat platters including elk, wild boar, and even bear. So, you have been warned.
On the menu, you'll find a Neptune platter of fish, game sausages, Fowl dishes, and some traditional desserts.
Or, why not treat yourself to the Master of the Feast which includes 17 dishes served to you by the head cook?
4. It's atmospheric, lit by candlelight and has live performances in the week
Out with the new, in with the old! Olde Hansa doesn't have any electrical lighting in the tavern, so everything is lit by candlelight to give you an authentic medieval experience.
They had tapestries, paintings, old wooden booths to sit on. It was a history geek dream for sure. It almost felt to me like sitting at the great hall in Hogwarts!
What's even cooler is that on certain nights of the week, they have live performances of medieval music. So, you can listen to some traditional Hansa music while you feast and get in your cups.
5. Olde Hansa has its own Shoppe where you can buy souvenirs to take home
If you're going to miss Olde Hansa Tallinn when you're gone (I knew I did), then you must visit their Shoppe to buy some souvenirs.
In here, they have all the drinks you sampled inside on sale and even sell some mead glasses for you to take home.
They sell clothes, kitchenware, Tallinn souvenirs, and all sorts of things. Ask them if you can sample some of their Gold Grüber spirit.
The rich merchant gave me a glass to try in the shop and it was like 20 flavours in one go, a must-try.
Don't miss a visit to Olde Hansa Tallinn
So, that's all the reasons why you will love Olde Hansa, now all that's left is for you to try it for yourself!
I promise you, whether you love it or hate it, you won't forget this unique experience in a hurry.
If you were looking for more must-visit places in the city, I have a few articles you may like to read;
The best places to visit in Tallinn
Most gorgeous viewpoints in Tallinn
How to find The Times We Had Wall
St Olaf's Church viewing platform guide
Patkuli Viewing Platform guide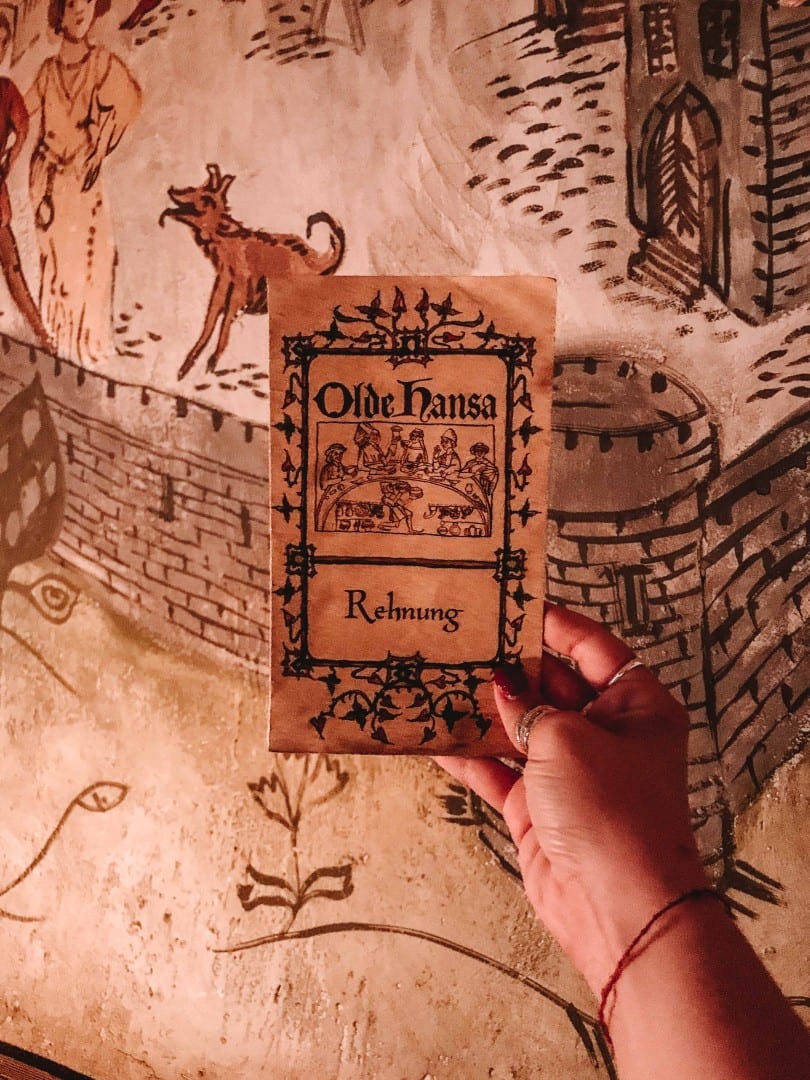 Heads up, I was not sponsored by Olde Hansa Tallinn to write this article, I just loved my experience and wanted to share. With thanks to My Helsinki for sponsoring my trip and Visit Estonia for my Tallinn Card.
Save Olde Hansa Tallinn for later!