If you're looking for information about the Tullibardine Chapel Outlander location, you've come to the right place.
This medieval chapel was built in the 15th century and is one of the finest examples of medieval chapels in Scotland.
During season 2 of Outlander, Tullibardine Chapel featured as a hideout in the war-torn country during the Jacobite risings.
Here's a complete Tullibardine Chapel Outlander guide fans.
What is the Tullibardine Chapel Outlander location?
If you've heard of Tullibardine Chapel being mentioned as an Outlander location but don't remember where you saw it in the series, let me refresh your memory.
In season 2, episode 11 'Vengeance is Mine', Claire, Jamie, Dougall, Fergus, and Rupert are running away after their encampment is ambushed by red coats. They leave on their horses but Rupert is shot in the eye!
They need to stop operating on Rupert or he will die and so this is the church that they stake out to save his life.
Tullibardine Chapel History
The name Tullibardine originates from Tullach Bhardainn, which means the 'hill of warning' in Gaelic.
Tullibardine is a Barony of lands in Scotland owned by Clan Murray who from the 18th Century used the titles Marquess and Duke of Atholl.
The Tullibardine Chapel was built by Sir David Murray of Tullibardine in 1446.
It sat near Tullibardine Castle and acted as a private church for the Murray family as well as house clerics. It was extended in the 1500s by John Murray's son, Sir Andrew Murray.
Unfortunately, Tullibardine Castle no longer exists. But, thankfully, the chapel survived the Reformation period. It's one of the few medieval churches in Scotland that was unscathed.
Bonnie Prince Charlie's general was Lord George Murray and he buried his daughter here in 1740. But, like the Bonnie Prince, he was forced into exile in 1746 after leading the Jacobite army.
The Murray family was buried here until 1900. The chapel is derelict but it still stands today and you can find the Murray coat of arms too from when it was first built.
Who owns Tullibardine Chapel?
The Chapel is now owned by Historic Environment Scotland and is no longer a working church.
There isn't anyone manning the church, so you can wander around at your leisure and in peace!
Is there any relation to Tullibardine Distillery?
The most famous name today related to Tullibardine is the Distillery that makes Tullibardine Whisky.
It has little or no relation to the chapel itself but I guess it's named after the village and lands of Tullibardine. So, it's kind of related?
A whisky tour is a must in Scotland. So, if you're up for it. You can visit the Distillery in the area if you're keen to know how they distill their brand!
See here for more details on visiting the Tullibardine Whisky Distillery
Where is Tullibardine Chapel and how to get there in Scotland?
Tullibardine Chapel is in the village of Tullibardine, next to Auchterarder in Kinross and Perth.
The nearest big city is Stirling and it's not a long drive from there at 25 minutes. Or, visit the village of Gleneagles, famous for the Gleneagles hotel, and it's a 7-minute drive from there.
It is in the middle of the countryside on the A823 road, so I would highly recommend driving to the chapel.
The nearest bus stop or train station is in the village of Gleneagles. But, there isn't really any bus access or stop around Tullibardine Chapel at all. It will take you an hour to walk from the village, so maybe cycle or opt for a taxi.
Tullibardine Chapel opening times and prices
Tullibardine Chapel is completely free to visit. It's quite a small place so you won't need much time to wander around the area.
Tullibardine Chapel is only open in the summer season from April to September but during that time it's open daily from 9.30 am to 5.30 pm.
From October to March the inside is closed but the grounds will still be open.
It says on the website that the last entry is 5 pm but I arrived at 6 pm and found the church still open so if you're running late, I'd still give it a go!
Tullibardine Chapel Parking
There wasn't really a marked car park when I arrived, it was more like a small penned-off area from the single-track country road.
So, I wasn't entirely sure whether I parked in the right spot!
As it's so quiet and out the way, you probably won't see many cars going down the road. But, just in case, make sure you are parked off the country lane so you're not obstructing traffic.
The road wasn't perfect and had a lot of growth when entering the chapel in summer. But, if my little Ford Ka can get through it. So, can your car!
Tullibardine Chapel Outlander locations
In series 2, episode 11 'Vengeance is Mine'. Claire, Dougal, Jamie, Murtagh, Fergus, and Rupert are on their way back to Inverness.
They stumble upon some redcoats and Rupert is shot in the eye. They find somewhere to stop and operate on Rupert and this is the church that they stumble upon and meet Ross inside.
1. The wall outside of Tullibardine Chapel
When the group first stop, they go to see if the church is empty. Jamie scouts out whether it's safe to enter and if there are any red coats about. I believe that this scene was shot by the wall that is surrounding the chapel.
However, I couldn't see a burn while I was there. I did visit in Summer so it could mean that the river had dried up, it was overgrown or it's a different location entirely.
As it was wired off and there were cattle grazing in the field, I couldn't investigate but I'm fairly sure this is the same spot.
2. The inside of Tullibardine Chapel
On the chase from the red coats, Rupert is shot in the eye and so Claire needs to operate on him in the church otherwise he will die.
The church looks completely different in the series as they've added chairs and, to me, even the windows looked a little different.
There's also an altar and other bits inside. You won't find any of this when you visit this chapel though!
The church is completely empty, but you can still make out that it's the location.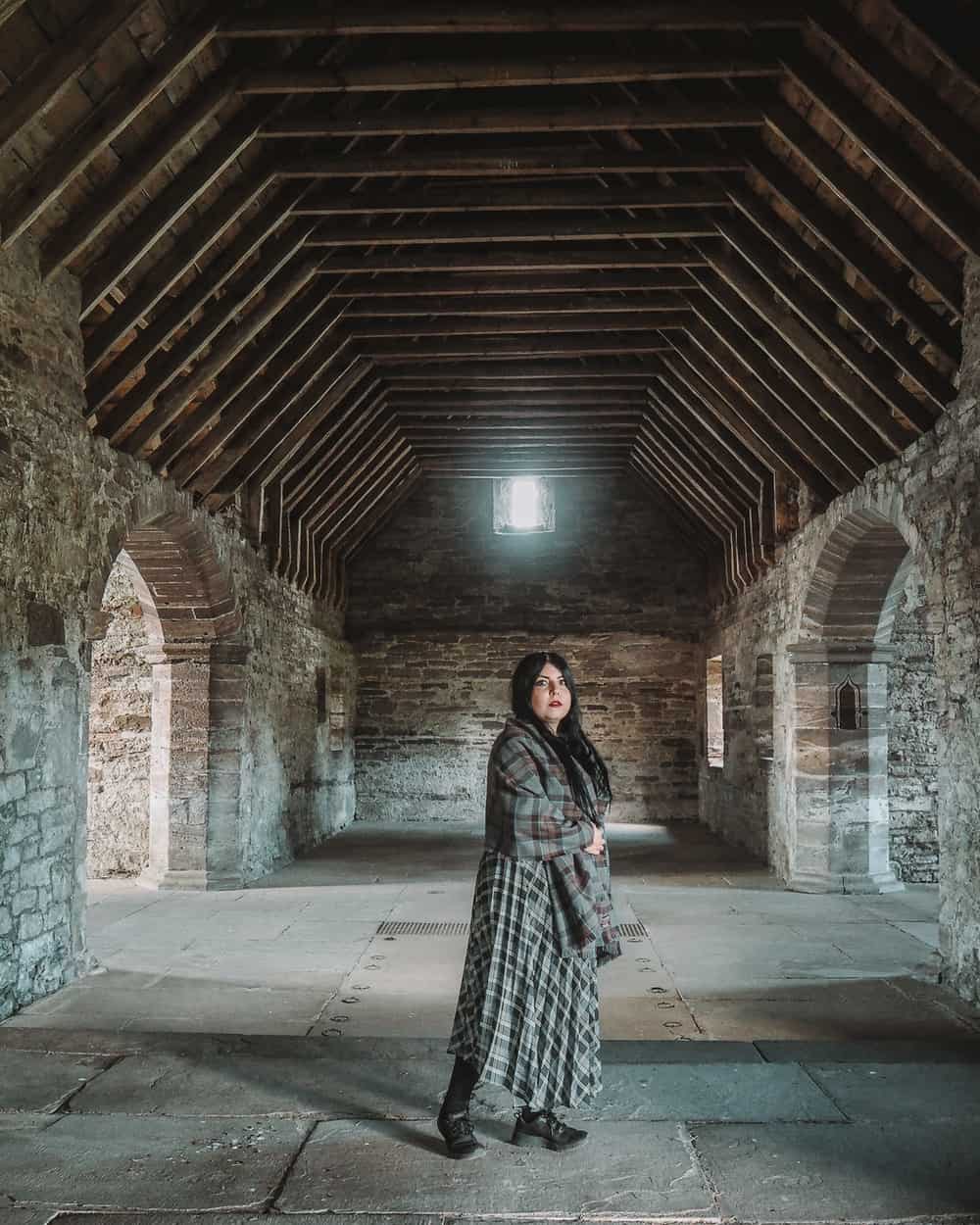 3. The graveyard in Tullibardine Chapel
After Claire operates on Rupert, the red coats eventually find their position and threaten them to leave the church and surrender.
Jamie offers to give himself up but Claire eventually pretends that she was held hostage by them.
As she's an English woman, they could use her as a bargain to leave without being hurt.
This scene happens in the graveyard outside of the church. Although, it happens at night in the episode. It looks completely transformed during the day!
Looking for more Outlander locations nearby?
If you're looking to access some more Outlander locations nearby, there are plenty to choose from in the area. Or, you can read my ULTIMATE list of every Outlander film site in Scotland here.
Read my Outlander in Edinburgh & Outlander in Glasgow guides
Drummond Castle gardens doubled up as the Royal Gardens of Versailles in Outlander and it's only a 15-minute drive away from Tullibardine Chapel.
Perthshire is home to Kinloch Rannoch, which is where the Craigh Na Dun standing stones were built. Or, Tibbermore Parish Kirk was where the witch trial in series 1 was carried out.
Or, you can head to the seat of Clan MacKenzie, Castle Leoch in the village of Doune. Deanston Distillery also featured in Outlander as Jared's wine warehouse in season 2.
Or, click here to learn How to find the Outlander Witness Trees from Fraser's Ridge!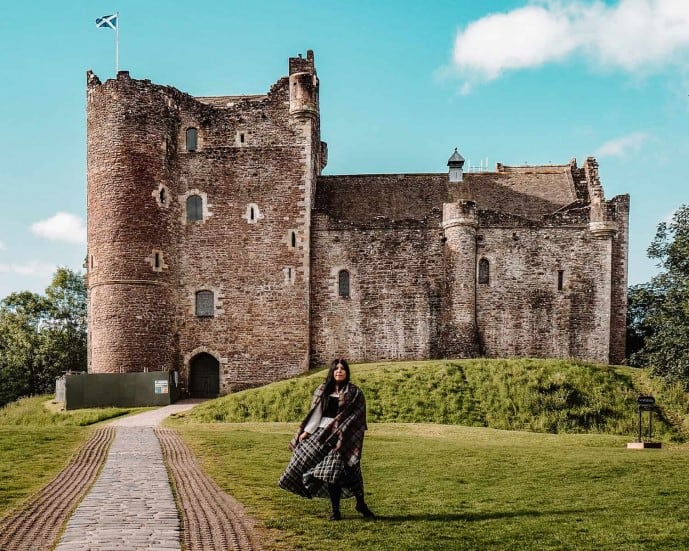 Outlander locations in and around Edinburgh?
If you're looking for even more Outlander locations in and around Edinburgh there are plenty of film locations to choose from. Or, you can read my full list of locations around Glasgow here.
You can visit Hopetoun House and visit 17 Outlander locations in the house and grounds or drive to the village of Abercorn Church which featured in Season 4.
Outlander fans will be very familiar with Midhope Castle that plays the Broch Tuarach, or Lallybroch.
Linlithgow Palace featured as the dreaded Wentworth Prison, Bo'ness is where Claire and Frank said their goodbyes and Blackness Castle was where Jamie was flayed by Black Jack Randall.
Culross played the village of Cranesmuir, the palace was the herb gardens and the West Kirk in the area played the Black Kirk.
Roslin Glen Country Park has some gunpowder mills that featured in season 1 and Glencorse Old Kirk was where Jamie and Claire were wed.
Falkland featured as 1945 Inverness and you can visit the same hotel as Claire and Frank in the square.
East Lothian is home to Gosford House which doubled up as Helwater Estate or Preston Mill featured as Lallybroch's Mill.
Outlander locations in Edinburgh city centre
In the city centre, you can visit Craigmillar Castle that featured as Ardsmuir Prison, or Summerhall has a lecture hall where Claire meets Joe Abernathy.
The Royal Mile in Edinburgh is full of Outlander locations including Bakehouse Close that featured as the Outlander print shop.
Tweeddale Court doubled up as a market street where Claire and Fergus were reunited and you can visit the Worlds' End Tavern for a bite to eat.
Or, The Colonnades is a great place to go for afternoon tea and will transport you to the Governor's mansion in Jamaica.
See more: My Outlander walking tour of the Royal Mile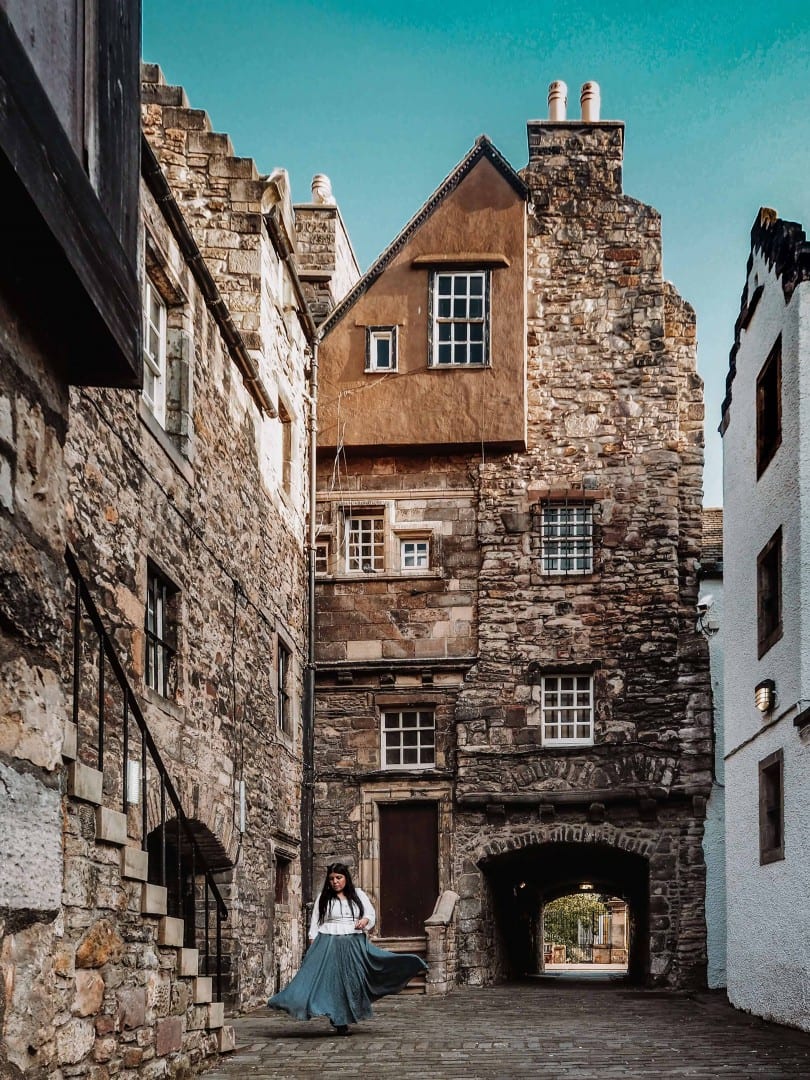 Save this Tullibardine Chapel Outlander guide for later!