If you're looking for where they filmed the witch trial in Outlander, then you need to visit Tibbermore Church in Perthshire.
Although most of the Cranesmuir Village scenes were shot in Culross, the scenes in 'The Devil's Mark' episode were actually shot 60 miles away in this historic church!
A visit to the Tibbermore Church Outlander location will take you a little further afield from the heart of Scotland. But, Perth is your gateway to the Highlands and has many other Outlander film locations in the area to check out. So, it's well worth a visit.
Here's a complete guide to the Tibbermore Church Outlander location or Cranesmuir Church.
The history of Tibbermore Church
Tibbermore Church, or Tibbermore Parish Kirk, is a historic church in the parish of Tibbermore in Perthshire.
A large part of the church dates all the way back to 1632 which is dated on one of the statues inside, but there was a structure dedicated to St Mary before this date.
Throughout history, the church has undergone significant improvements by architects such as James Stobie who, in 1789, removed much of the aisles inside the church structure.
In 1810, further extensions were made so that more seating could be placed inside for the parish as it grew in size.
Further memorials were added in 1920 after the First World War and, eventually, in 1986 it ceased to be a parish church.
Today, the Scottish Redundant Churches Trust looks after the Tibbermore Church and significant repairs are being made after being neglected.
What was Tibbermore Church in Outlander?
In season one, episode 11 of Outlander 'The Devil's Mark', Claire and Geillis are thrown into the thief's hole awaiting trial for witchcraft. They pass the pyre set up in Cranesmuir square or Mercat Cross in Culross.
They are taken to Cranesmuir Church to stand on trial for witchcraft in front of many of the villagers. Ned Gowan comes to the rescue as council and familiar faces, such as Laoghaire and Father Bain provide testimonials that Claire is a witch.
Finally, Jamie comes to rescue Claire from the witch trial. Geillis, however, is sentenced and carried out of the courtroom.
These scenes all happen in Tibbermore Church. The good news for Outlander fans is that it hasn't changed at all from the TV series! It's exactly the same.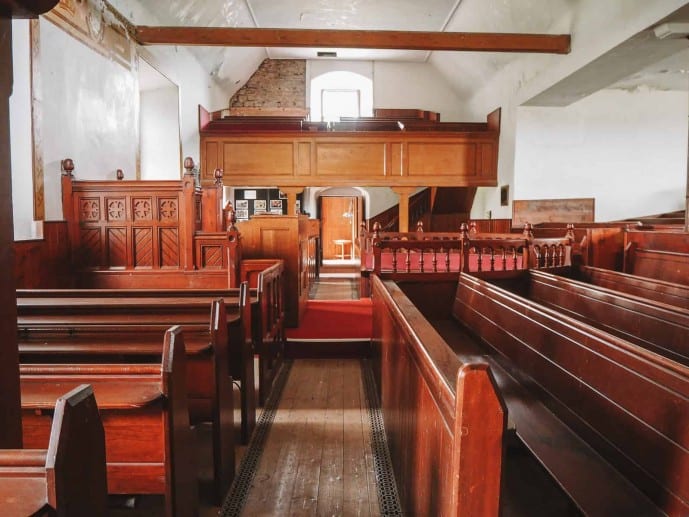 How to get to Tibbermore Church?
Tibbermore is a small village just outside of Perth and Tibbermore Church is quite hard to reach without a car.
It's off a country road in the middle of nowhere, on an unnamed road and even with a SatNav, I struggled to miss the turning!
The right Tibbermore Church postcode to use is PH1 1QJ if Google starts to play up.
The nearest city is Perth and it's only a 15-minute drive from there. If you're heading here from Edinburgh it will take around an hour via the M90 and A9.
It's a pretty rough journey by public transport from the main cities of Edinburgh and Glasgow but from Perth, you can get the 155 bus service heading to Crieff.
Alight at the Coach House and then it's a 4-minute walk to the church. Plan other routes by using Travel Line Scotland.
Parking at Tibbermore Church
There is limited parking just outside of Tibbermore Church and when I say limited, I mean 2 spots outside of the gate.
I almost missed this turning and ended up turning around twice, so make sure that you keep an eye.
It's also worth mentioning that you will need to make sure your car is parked well up against the wall. Don't block any incoming traffic on the main road.
Tibbermore Church opening times
Tibbermore Church is not manned by anyone and to visit you will need to contact a key bearer. They're really friendly and it is easy to organise! Just make sure you do so in advance.
They usually open the church from around 10 am – 4 pm and it's not recommended to visit at night time.
There is no electricity inside the church so, even on a cloudy day, it may be quite dark. In the winter this gives you a small window, so aim to get there around midday.
To organise your visit, you can email contact@srct.org.uk for more details.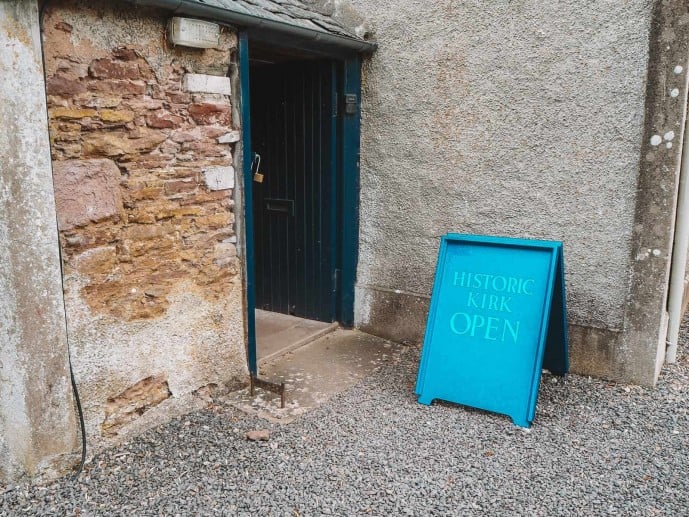 Tibbermore Church Outlander location – The witch trial from The Devil's Mark
When I first arrived, the church looked quite small. But, upon entering, it was deceiving as it's actually massive!
The inside has whitewashed walls and gorgeous oak pews with a gleaming red carpet. The carving work on the staircases and the pews was stunning along with the stained glass windows that lit up with colour when the sun shone inside.
The church, or courtroom, in Outlander wasn't changed much for the series at all save a wooden backing to the prosecution box where Claire and Geillis Stand.
You can walk up to the part of the church where the bishops or judges were sitting too.
While I was here, a tour group on an Outlander tour arrived and had some fun recreating some of the scenes from the series.
As it's so remote, you won't find many people coming in and out. So, you're free at your leisure to browse. The church even has a board with lots of Outlander behind-the-scenes information.
There are also torches in case it's dark and leaflets to learn more about the history.
Make sure that you mention @HistChurchScot on your Twitter account with your Outlander photos too for a shout-out! Donations are also appreciated to help towards the ongoing repairs of the church.
The council room at Cranesmuir Church location
I looked everywhere for the room where Ned Gowan councils Claire and Geillis in Tibbermore Church but had no luck.
I only found out at the end of my trip that this location is actually at Preston Mill and Phantassie Doocot in East Lothian!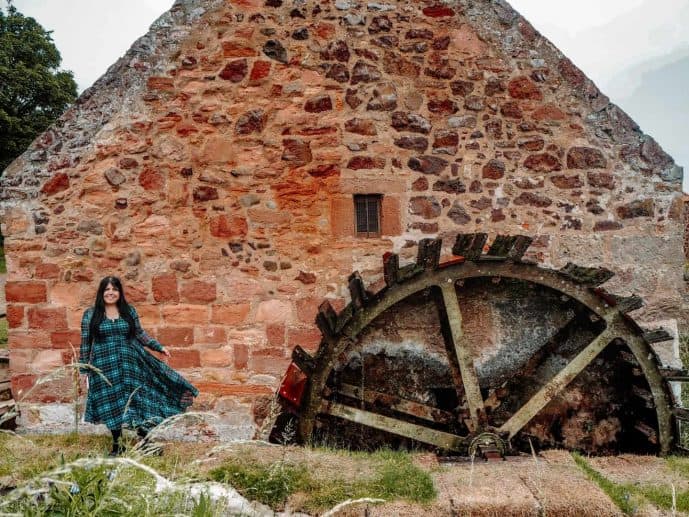 This is the spot where they filmed the Lallybroch Mill scenes in the series.
But, their museum also provided the room where Ned Gowan asks Claire and Geillis to decide who will be accused of witchcraft.
It's the only way to set one of the free and Ned Gowan thinks it should be Geillis who is sentenced.
Read more in my guide about the Preston Mill Outlander location here.
Where was Cranesmuir filmed in Outlander?
Cranesmuir village with Geillis Duncan's House, the Pillory, and Mrs. Baxter's home is shot is Culross in Fife.
There are plenty of Outlander locations in the area to see plus some amazing history, so it's worth organising a whole day to explore.
This is also where they shot the herb gardens of Castle Leoch and the Black Kirk, where Claire asks Jamie to investigate how the boys in the village were getting sick.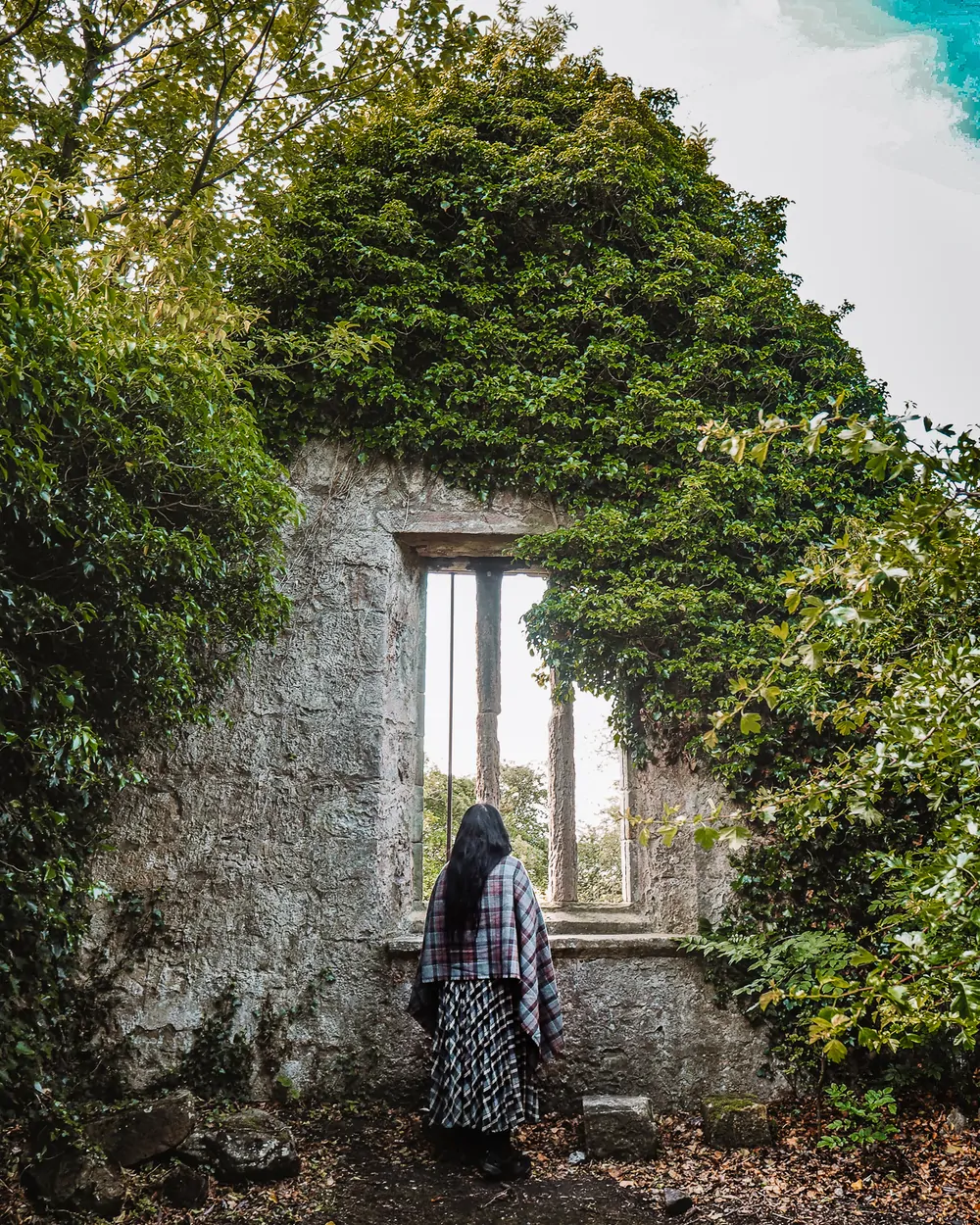 Where to eat near Tibbermore Church
If you're looking for a place to eat in Tibbermore, there is the perfect place nearby. Gloagburn Farm Shop is a great stop for some breakfast, lunch, or a caffeine boost.
For somewhere quite remote, I was really surprised to see the place packed the rafters. But, soon after I arrived, I could see why it was so popular. It has a really cosy feel and served up some amazing grub.
I was pleased to learn they had award-winning sausages, so naturally, I grabbed a bap with ketchup! It was mouthwatering and I would highly recommend a stop, even for that.
They also had healthier options like Avocado smash too, but for my long journey to the Highlands, a hot breakfast and coffee were in order.
The Farm Shop also has some lovely organic produce to purchase and a gift store selling loads of pretty souvenirs and homewares. I could have spent an age in there!
Outlander locations near Tibbermore Church?
If you're planning to make the most of your time and visit a few Outlander locations in the area, there are lots to choose from.
I also have complete guides for locations dotted around the main cities of Edinburgh and Glasgow too!
You can visit Drummond Castle Gardens gardens that played Versailles in Outlander, or head to Doune Castle to visit the seat of clan MacKenzie, Castle Leoch. Deanston Distillery nearby is also where you can find Jamie's cousin Jared's wine warehouse in Le Havre.
Falkland village played the iconic scenes of 1945 Inverness and you can stay at the same hotel as Claire and Frank. Balgonie Castle was the castle before the Wentworth Prison rescue and Dysart Harbour played the historic port of Le Havre.
Aberdour Castle was the Abbey in Scotland where Jamie recovers after Wentworth Prison or visit the Christabel boat that they left for Paris on at the Scottish Fisheries Museum.
Or, go further afield to visit Kinloch Rannoch Moor to see Craigh Na Dun!
Or, have a gander at my complete list of Outlander filming locations in Scotland!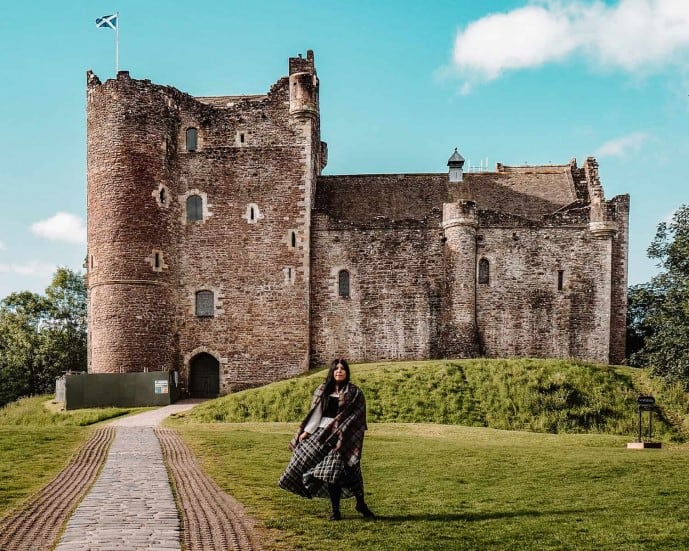 More Outlander locations in Scotland to visit
If you're looking for more Outlander locations to visit in Scotland, I have lots of helpful guides to help you find them!
Hopetoun Estate in Queensferry has many Outlander locations including the ancestral home of Broch Tuarach, Lallybroch at Midhope Castle.
Or, Hopetoun house and grounds have many including the Duke of Sandringham's red drawing-room. Abercorn Church is nearby that featured in season 4.
Linlithgow Palace featured as Wentworth Prison and you can find Fort William, where Jamie was flayed, in Blackness Castle. Bo'ness is also the location where Claire and Frank say goodbye.
Read more – All the Outlander filming locations at Hopetoun House!
Gosford House, in East Lothian, played Helwater Estate and Preston Mill and Phantassie Doocot featured as Lallybroch's mill.
Roslin Glen country park was where Jamie says 'you're ripping my guts out Claire' and Glencorse Old Kirk is where Jamie and Claire get married.
Summerhall in Edinburgh has a lecture hall where Claire met Joe Abernathy in Boston and Craigmillar Castle doubled up as Ardsmuir Prison in series 3
The Royal Mile has many Outlander locations to check out like Bakehouse Close that has the Outlander print shop and Tweeddale Court which is where Claire and Fergus were reunited.
Why not follow in their footsteps to the World's End Tavern where they went to find Mr. Willoughby? Or, find the Governor's Mansion in Jamaica at the Colonnades.
Or, click here to learn How to find the Outlander Witness Trees from Fraser's Ridge!
See my self-guided Outlander walking tour of the Royal Mile here (with map)
Tibbermore Church Outlander guide!