If you're looking for where the Black Kirk is filmed in Outlander, then you only need visit Culross West Kirk in Fife.
This ruined church featured in season one of the Outlander TV series and is a stop you can't miss while in the area.
Culross in itself is a hive for all things Outlander and has many film locations that you will recognise while you're here too. So, it's well worth a visit.
Here's the ultimate Culross West Kirk visitor guide or your guide to the Outlander Black Kirk filming location!
What is the Black Kirk in Outlander and where is the Outlander Black Kirk filmed?
In series one, episode 3 'The Way Out', word has spread in Castle Leoch that a boy, Lindsay McNeill, has died from visiting the Black Kirk.
Later that day, another boy, Tammas Baxter, also falls ill. The MacKenzie's believe that the boys have been possessed from demons from the Benedictine monastery called the Black Kirk.
Claire asks Jamie to investigate this church with her to try and see what may have caused the illness of the two boys.
They discover that it is not demons from St Nick's Kirkyard but Lilly of the Valley, left by Prussian (German) monks that settled there.
Culross West Kirk, a mile west of Culross village, featured as the Outlander Black Kirk filming location.
Culross West Kirk History
Culross West Kirk is known by many names as the Wester Kirk, the Old Kirk, and the Parish Kirk.
It was built in the 1500s pre-reformation and was the Parish church for the people of Culross until 1633.
But, parliamentary records state that this church was already in a ruined condition before it would have been abandoned. There are many coats of arms inscribed on the church.
After that, the Kirk was replaced by Culross Abbey that was built in 1643 which can be accessed on Kirk street in Culross Village. However, people were buried in this kirkyard until the 19th century.
Today, the Church is roofless and remains a ruin with lots of overgrow. It's important to remain vigilant in the area as there is lots of debris around.
Where is the West Kirk in Culross?
Culross West Kirk is located around a mile out of Culross village to the west. It's in quite a remote area in amongst a field. There isn't much around it save farmland.
I saw one person walking their dog the whole time I was here!
How to get to the Culross West Kirk
Firstly it's easier to end up in the main hub of Culross to access the West Kirk.
You can ready Culross from Edinburgh and Glasgow easily by car. Or, catch the bus from Stirling. Use the Scotland Journey Planner to plan your journey.
Having done little research into the location, I decided to drive to the kirk. But, on reflection that was a silly idea!
The road was overgrown in the middle and where it gets boggy in the winter season the road was uneven when dry. I also got some sticks and foliage stuck in my car!
It's a small Ford Ka, hence the bad idea, but with a 4X4 or a bigger car, you'll be fine.
There is a small crossroad type area in a field where you can park though.
Most people, take the mile walk out of Culross to reach the West Kirk. If you park in West Car Park there is a designated access route you can take to reach the Black Kirk.
What to expect on the drive/walk to Culross West Kirk
I visited in summer so, by then, the fields and pathways were bone dry and baking in the sun.
But, I had read that if it has been raining or you visit in winter/spring the pathways can get seriously boggy and you can get covered in mud.
My advice would be that if you're planning on driving, check the roads out a little first before you proceed.
You don't want to get stuck in the mud on that one-track road! If you're walking, I would bring wellies too.
Even in summer, there was a boggy area, like a moat, around the kirkyard that I had to hop over to reach the Kirk. It stank and there were lots of flies around but easily managed and totally worth it.
Opening times of Culross West Kirk
As the West Kirk is a ruin, there are no specific opening times for the church. So, it's open 24 hours depending on when you would like to visit!
However, I don't think I would recommend visiting after sunset as the ground is quite uneven with lots of debris around. Also, there is no lighting at all so it will be in complete darkness.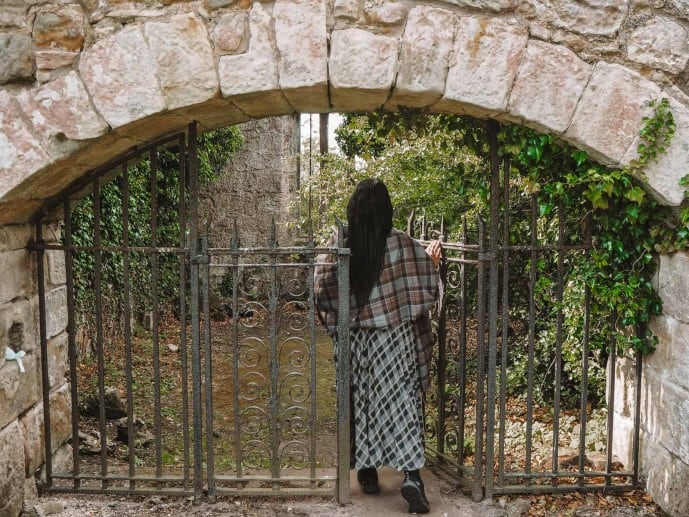 Culross Black Kirk Outlander Locations
So, where exactly in the West Kirk was Outlander filmed? Well, first of all, we see the establishing shot of the church itself in the graveyard.
Then a shot of Claire and Jamie walking around the building.
Then we see Claire enter the church through the gate to look in and through the window that you will see there from the series – cue the photo opportunity!
It's even overgrown like it was in the episode, although I doubt there is any Lilly of the Valley.
There is also the ruined wall outside the church that Claire and Jamie climb upon too.
So, you can have fun trying to recreate some of the scenes around the Back Kirk if you like. Again, doing my Mummy bit now but, be careful as you go!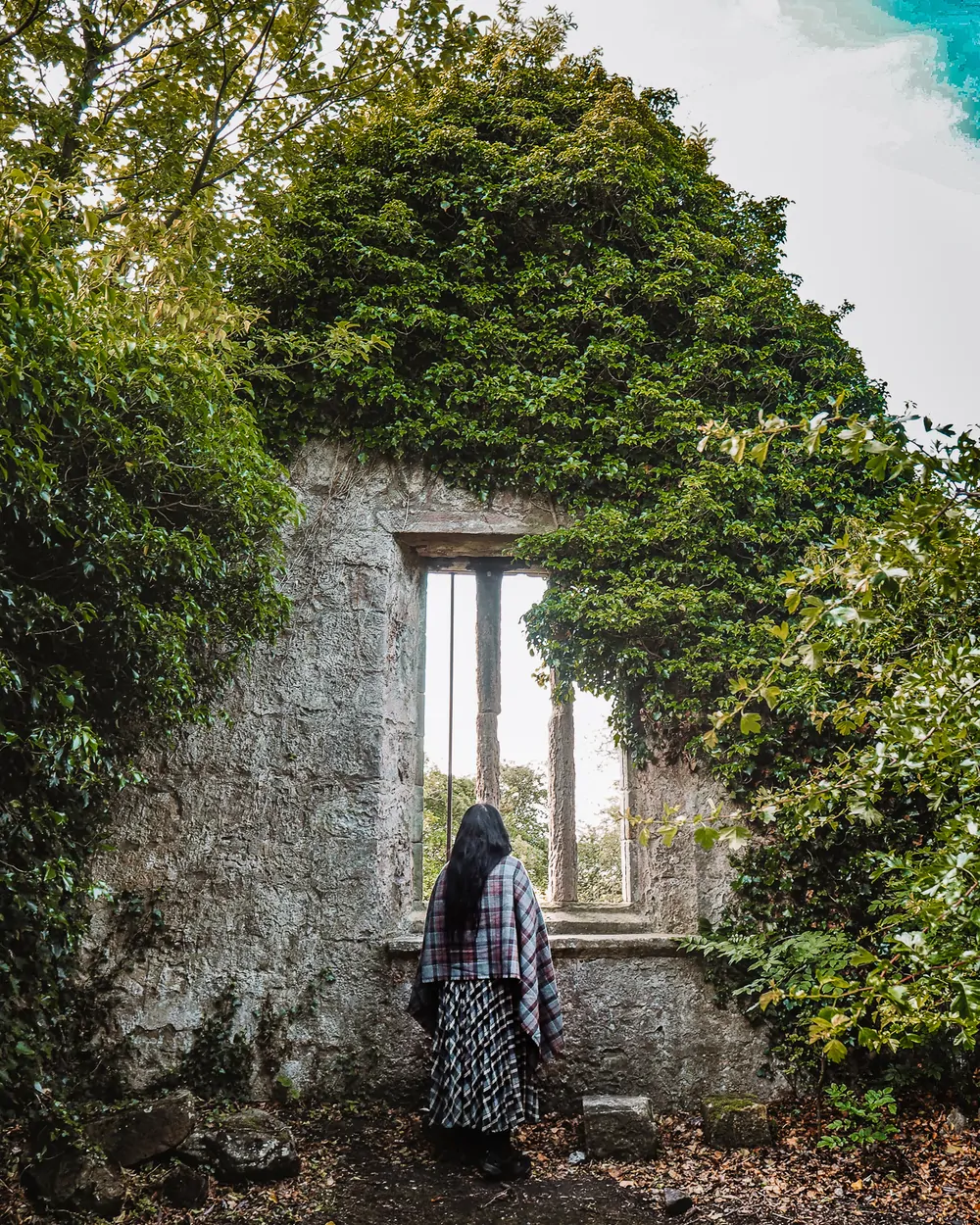 Looking for more Outlander locations in Culross?
After you're done exploring the Black Kirk, there are plenty of Outlander locations in Culross Village to explore.
Culross was featured as Cranesmuir in series 1, Culross Palace and the streets outside featured in season 2 and in series 4 it appeared again as Laoghaire's (lee-rees) residence.
There are lots to see and do for Outlander fans, so I've created a whole blog post of where to find all the filming locations in Culross for you to read!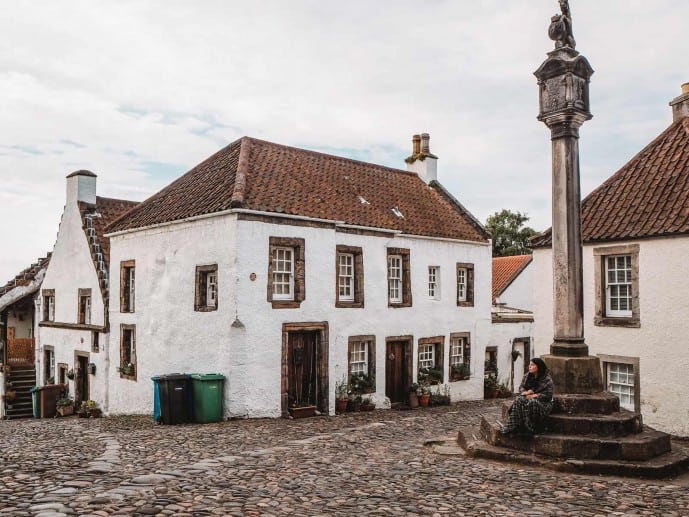 Outlander tours that include Culross
If you're not planning on driving in Scotland, there are plenty of Outlander day tours that include Culross on the itinerary.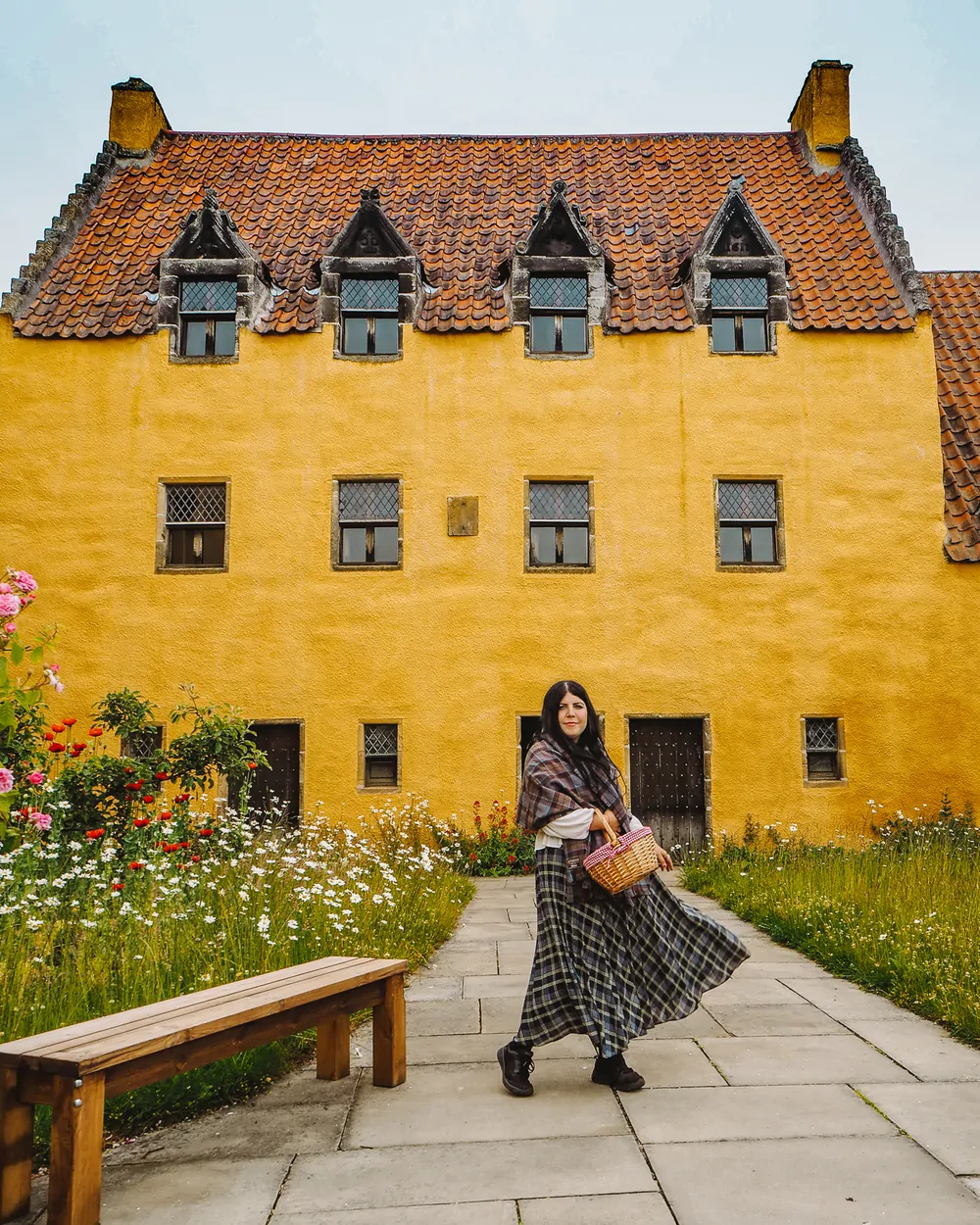 Outlander locations around Culross
There are plenty of places to visit near Culross to add to your trip here.
You can pop into Calendar House to see the Georgian Kitchens that are featured in the Duke of Sandringham's House.
Castle Leoch, the seat of Clan MacKenzie can be found at Doune Castle or why not take a whisky tour in Deanston Distillery to see Jared's wine warehouse in Le Havre?
Bo'ness was the railway station where Claire and Frank said goodbye. Or, pay a visit to Drummond Castle Gardens that doubled up as the grounds of Versailles.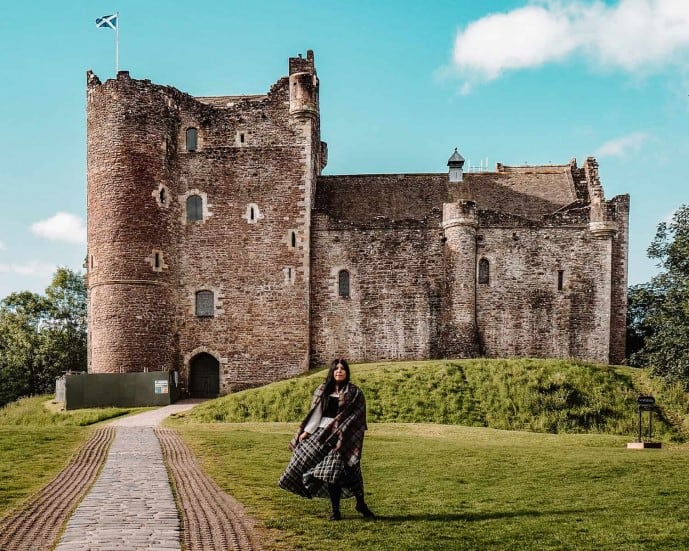 Linlithgow Palace to see where Jamie was held at Wentworth Prison. Or, visit Blackness Castle, the dreaded Fort William where Jamie was flayed.
Hopetoun Estate has many Outlander locations around the area. You can visit the ancestral home of Broch Tuarach or Lallybroch at Midhope Castle. Or, Abercorn Church sits nearby that featured in season 4.
Hopetoun House also has lots of Outlander locations inside and out on the grounds including The Duke of Sandringham's Red Room.
Aberdour Castle is the abbey where Jamie recovers after Wentworth Prison. Or, Dysart Harbour is the historic port of Le Havre.
Outlander locations in Edinburgh
In the city centre, you can visit Craigmillar Castle that featured as Ardsmuir Prison, or Summerhall has lecture theatre where Claire met Joe Abernathy.
On the Royal Mile, there are plenty of Outlander locations to visit including Bakehouse Close that featured as the Outlander print shop.
Tweeddale Court is where Claire and Fergus were reunited or follow in their footsteps to the Worlds End Tavern, where Mr Willoughby got into a brawl.
Afternoon tea at the Colonnades will transport you straight into the Governor's Mansion in Jamaica.
Read more: A self-guided Outlander walking tour of the Royal Mile.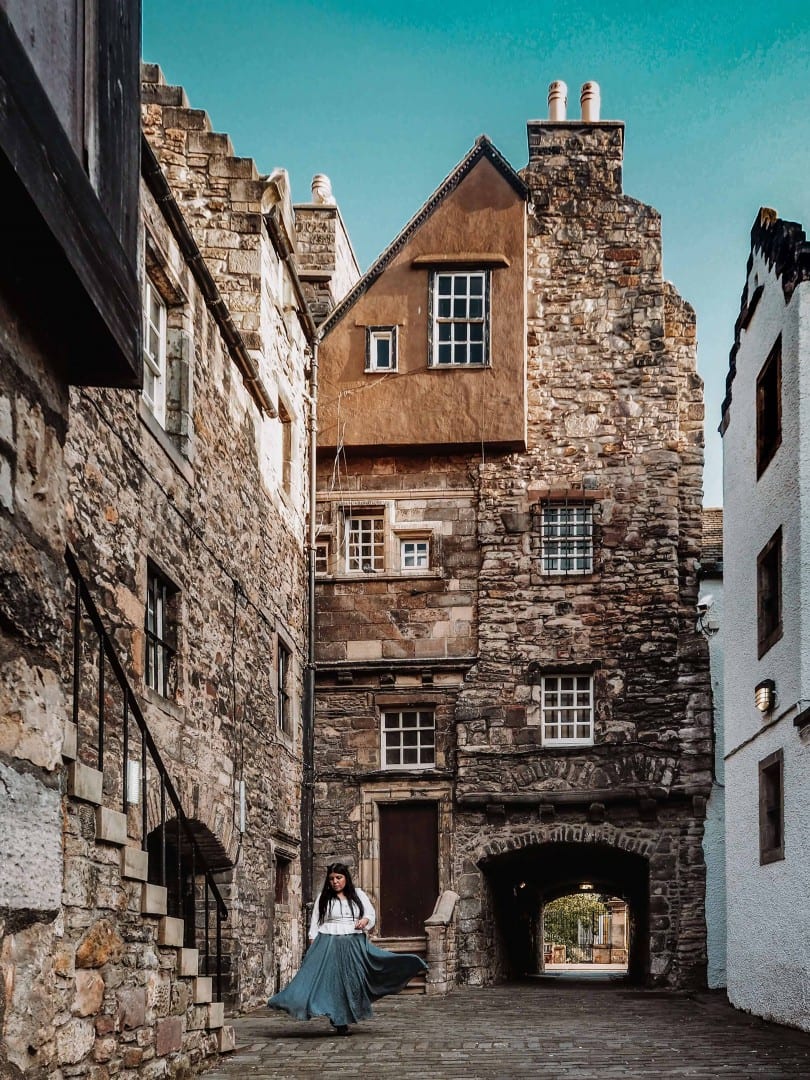 Glencorse Old Kirk is where Jamie and Claire were wed. and Roslin Glen Country Park has some recognisable gunpowder mills where Jamie says 'you're ripping my guts out Claire'.
East Lothian is home to Preston Mill played Lallybroch Mill and Gosford House doubled up as Helwater Estate.
Or, visit Falkland village to find 1945 Inverness and stay in the same room as Claire and Frank!
Click here to read a complete list of Outlander filming sites in Edinburgh and then Outlander filming locations in Glasgow. Also, I have pretty much been to every Outlander location to date so you can read my EPIC list of Outlander filming locations you can visit in the UK here.
Save this Culross West Kirk Outlander guide for later!