Want to see where Jamie and Claire tied the knot in Outlander? Look no further than a visit to Glencorse Old Kirk!
The production team spent over 5 weeks on location at Glencorse Old Kirk to create the scenes in the most iconic episode of the first series: 'The Wedding'.
Even though there are now four seasons of Outlander and a fifth on the way, it's still a top favourite episode amongst Outlander fans.
A visit to Glencorse Old Kirk is a must-visit in Scotland if you love Outlander. I mean, what could be more magical than standing on the spot where Jamie and Claire were wed? You can even book your very own Outlander wedding in this fairytale chapel too!
You will have to book an appointment in advance to visit, but the church is always happy to welcome visitors. As long as there isn't a wedding going on of course.
All will be revealed in this ultimate Glencorse Old Kirk Outlander wedding location guide!
Where is Glencorse Old Kirk in Scotland?
Glencorse Old Kirk is located around 8 miles south of central Edinburgh and the drive should only take around 30 minutes depending on traffic.
Saying that Edinburgh traffic is always a nightmare, especially heading out towards the city bypass.
So, leave enough time to reach the church for your appointment. A huge mistake I made and ended up being late, oops!
The church is located on the grounds of Glencorse House in Milton Bridge within Penicuik
How to reach Glencorse Old Kirk
How to reach Glencorse by car: The easiest way to reach Glencorse Old Kirk is by car. As you will need to drive along the A701 road until you hit the entrance of the Glencorse estate and drive quite a long way through until you find it. There will be parking for you in Glencorse Old Kirk when you arrive.
How to reach Glencorse by taxi: You can book a taxi from central Edinburgh to reach Glencorse Old Kirk. City cabs are quite popular and you can book online with their app. As you're travelling quite far out of the city, it may be worth contacting them in advance to arrange travel to Glencorse House.
How to reach Glencorse by bus: I wouldn't recommend heading here by public transport, unless you like walking along country roads! You can take the X37 / X62 bus service from from North Bridge in Edinburgh heading to Penicuik and stop at the Glencorse Golf Club. From there, it's a 15 minute walk. The whole journey will take around an hour. But, as I say I wouldn't recommend it and even then as your very last option.
How to book an Outlander Tour of Glencorse Old Kirk
Although Outlander tours aren't specifically mentioned on the Glencorse House website, they are more than happy to arrange private tours of the Old Kirk on request. Just take note that if there is a wedding or event going on, you may have to be flexible with your time and date.
I was kindly hosted on my tour by Sarah who has lived on the property with her family since childhood.
She was really friendly, knowledgeable, at hand to point out all the Outlander locations and provide some behind-the-scenes gossip about when they filmed on site.
You can contact Sarah at info@glencorsehouse.com to organise an Outlander tour of Glencorse Old Kirk for your party. When I visited tours were £10 per person.
Does Glencorse Old Kirk look the same as in the Outlander series?
Having recently watched the episode back after I visited. You know, so I could say "I've stood there!". It is significantly different than the one you'll visit on your tour.
If you remember in the book and the TV series, the church was poor, needed new windows, and, in the words of Dougal, "as cold as a witches tit!".
So, the production team had to work for a few weeks to alter the Kirk and make it look run down.
They made broken windows, put in a lot of dusty debris, and got rid of all the quaint beautiful details you see in the church today. Which I'm sure brides of the 21st century will be very happy about!
However, the outside of the church is very much the same and you'll instantly recognise the doorway where Claire and Jamie stood together before they walk down the aisle.
The inside of Glencorse Old Kirk looks very different from the Outlander series as there are chairs, gorgeous flowers, a piano, and a red carpet to walk down. All these details really add to the charm of a ceremony venue.
But, in the TV series, you would have initially seen it completely empty when Dougal and Willie are bargaining with the priest for the wedding to take place. Then later, during the wedding scenes, there were lots of new windows, archways, and candles burning.
Despite the differences, it is undisputedly the setting where Jamie and Claire tied the knot, and being there is simply magic if you're a fan.
Look out for the double hearts entwined in the window up above. This detail was kept in the series and was installed as a gift by the Lord of the house to his Lady on their wedding day. Swoon!
Outlander film locations to look out for in Glencorse Old Kirk
Although the church had significant work carried out to make it look a little poorer and run down like in the novel, you will still instantly recognise the outside as soon as you approach.
I'm sure on the day you have your tour you will receive all the details from your host, but here are the locations below so you don't miss any;
1. Outside of the Kirk
The outside of the church looks pretty much the same as in the series, it's here that Jamie meets a very hungover Claire and the wedding party before the ceremony.
This is also the moment that the iconic silver dress is revealed. I mean, is anyone over that dress yet?!
You'll recognise the gorgeous steps leading up to the doors of the church and the kirkyard behind Claire. There were some extra gravestones added into the graveyard to make it appear older.
Apparently, during filming, they installed a crane to manually add the sunlight when Jamie says "it was as if I stepped outside on a cloudy day and suddenly the sun came out". It took hours to install, just for one part of the scene!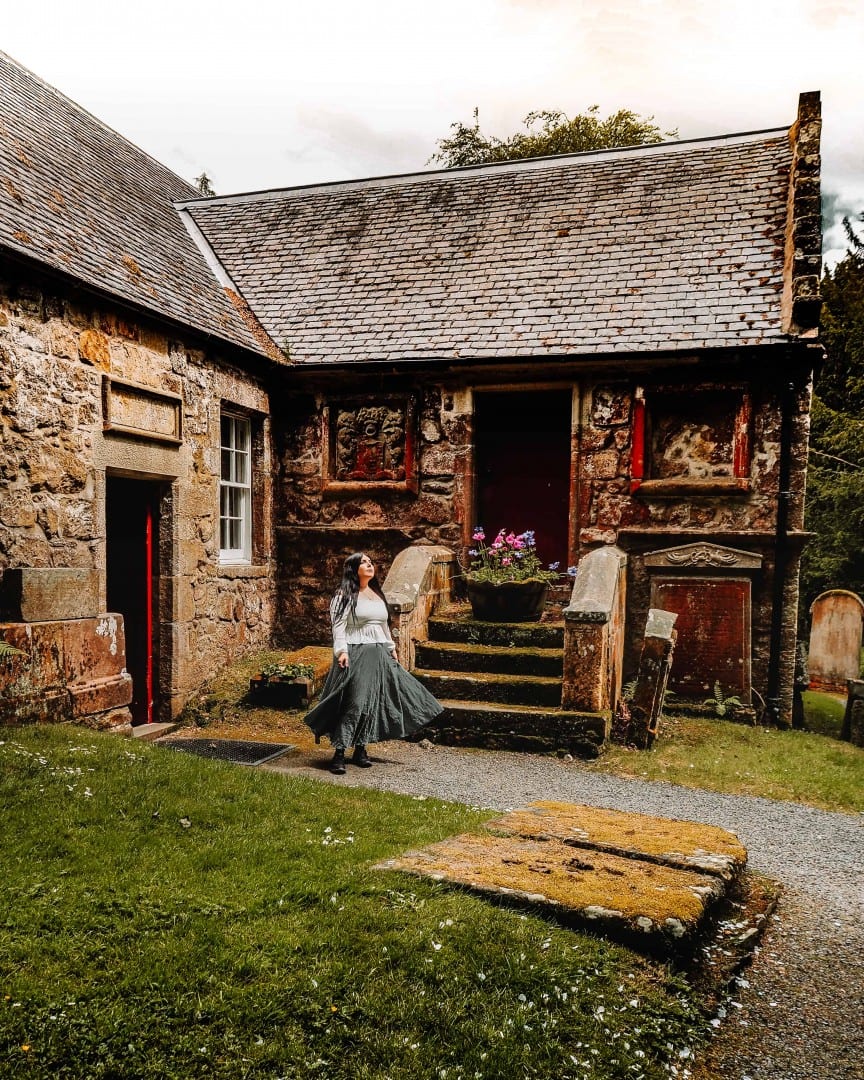 2. The entrance to Glencorse Old Kirk
The part where Claire pauses in the doorway of the church with Jamie standing behind her in Outlander is the photo fans love to recreate here! If you get the lighting right, you can get pretty much the exact same shot.
You can pose on your own, bring your cut out of Jamie with you, or stand with your other half. It's so fun trying to recreate that scene!
3. The spot where Jamie and Claire were wed
The moment you've all been waiting for, you can stand in the exact spot where Jamie and Claire tied the knot in the series! Of course, it looks a little different than when Sam and Caitriona were stood here but it's definitely the mark.
I heard on my visit that some fans like to recreate the wedding scene here, have a photo, or marry their cut-out of Jamie they brought along. Hey, I'm not here to judge, whatever floats your boat!
4. The argument between Dougal, Willie and the Priest
If you head towards the middle of the church, you'll see a broken wall that was left inside for the Outlander production. I presume as it added to the run-down nature of the church.
This is the spot where Willie and Dougal were fighting with the priest for the wedding ceremony to take place. You can also recognise it from the cute window where two hearts are entwined above!
This is decorated with flowers and a table for the register where the wedding couple will sign. It's the most adorable part of the church.
The history of Glencorse Old Kirk
Beyond an Outlander location, this cute little church has a fascinating history.
Glencorse parish was established in 1616 but, after the church burned down during the 17th century, Glencorse Old Kirk was erected to replace it.
The kirk was built in 1665 with the north and south aisles being added in 1699. It was built on the lands of the Bothwell family who lived at Glencorse House.
Glencorse Old Kirk remained the Glencorse parish place of worship until 1885 when the church became too small to hold the number of soldiers from Glencorse barracks.
After that, a new larger church was built in its place in New Milton which is called Glencorse Parish Church. Hence where the Old Kirk gets its name.
Book your fairytale Outlander wedding at Glencorse Old Kirk
The great thing about Glencorse Old Kirk being the Outlander wedding location is that they hire the church for weddings along with Glencorse House too.
So, you can organise your very own wedding and follow in the footsteps of Jamie and Claire.
On my tour, Sarah kindly showed me some Outlander-themed weddings photos and they looked so beautiful. One blushing bride even recreated Claire's dress and the groom bought Fraser colours for the occasion.
They perform all weddings here; religious, humanist, and civil rights. So, if you were curious about booking your wedding at Glencorse House, you can find all the details for the venue hire and the inquiries form.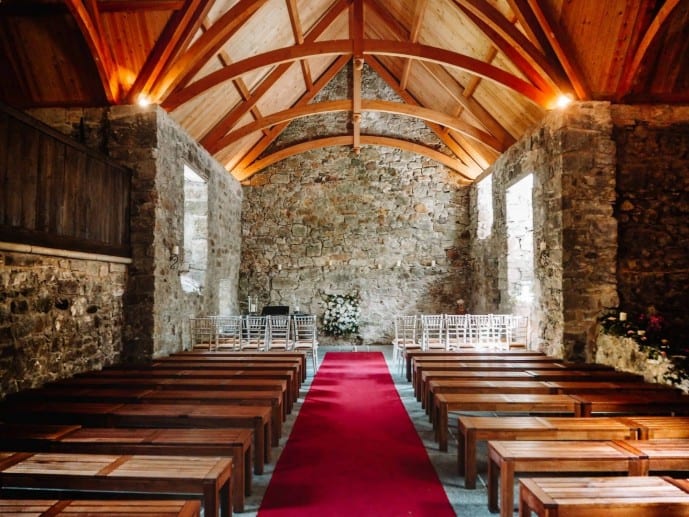 Looking for more Outlander locations in Edinburgh?
I have lots of information and tips about many of the Outlander locations in Edinburgh that you might like to read!
Here is my complete list of locations in and around Edinburgh or read my ULTIMATE List of Outlander locations you can visit in real life!
On the Royal Mile, you can visit Bakehouse Close that featured as Alexander Malcolm's Print Shop and you can visit Tweeddale Court nearby where Claire is reunited with Fergus.
A Colonnades afternoon tea is a must for Outlander fans as this is also the interiors of the Governor's Mansion in Jamaica. Or, you can follow in the footsteps of Jamie and Claire to the World's End Tavern where they save Mr. Willoughby.
Read more: Outlander Walking Tour of the Royal Mile (with Map!)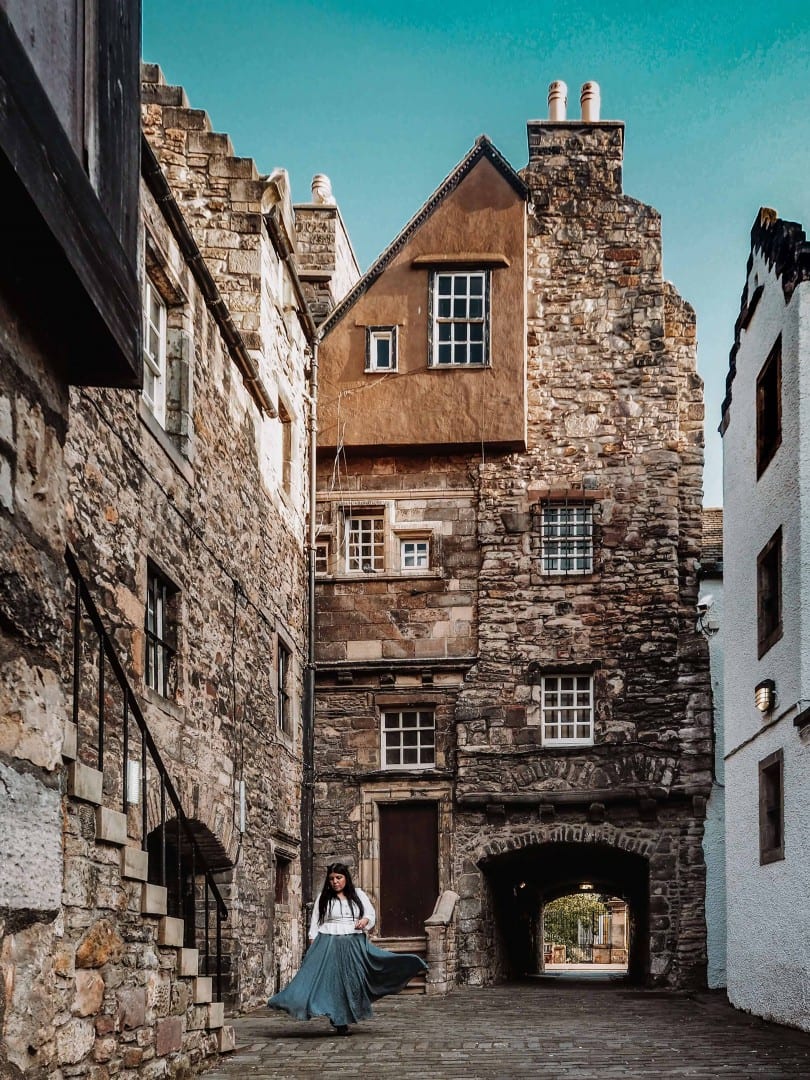 Summerhall nearby has a lecture room that featured in the series as a lecture room in Boston and Craigmillar Castle doubled up as Ardsmuir Prison.
Roslin Glen has some Gunpowder Mills that featured in a heartfelt argument from series 1 too.
Gosford House played Helwater Estate and Preston Mill featured as Lallybroch Mill.
Midhope Castle will give you the chance to visit Lallybroch, otherwise known as Broch Tuarach, Abercorn Church is also nearby or head to all the Outlander spots on the Hopetoun Estate, including the Duke of Sandringham's red room.
Blackness Castle featured as Fort William and you can find Wentworth Prison at Linlithgow Palace.
Doune Castle is the famous Clan MacKenzie Castle Leoch, Drummond Castle Gardens played the gardens of Versailles in Paris, see where Claire and Frank said their goodbyes at Bo'ness Station or visit Deanston Distillery to see Jared's wine store in La Havre.
Falkland is featured as 1945 Inverness and you can spend the night just like Claire and Frank or head to the previous Royal Borough of Culross to see Cranesmuir, the Black Kirk, and the gardens of Castle Leoch.
Heading to Glasgow? Make sure you read my full list of Outlander locations in Glasgow here. Or, if you're really keen, check out my EPIC Outlander list of over 90 Outlander film sites you can visit in Scotland and worldwide!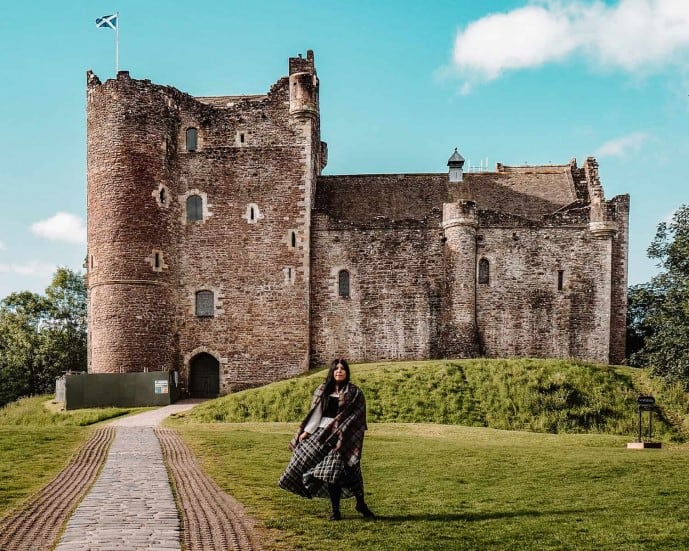 With thanks to Glencorse Old Kirk for sponsoring my visit. Although I was a guest, all photos and opinions are my own.
Save this Glencorse Old Kirk Outlander wedding location guide for later!