If you want to visit the seat of Clan MacKenzie, Castle Leoch, then fans only need to visit Doune Castle in Scotland.
There are many incredible Doune Castle Outlander locations from season one of the series and to see them in real life is quite honestly surreal!
No, there won't be any red-haired highlanders around, or the Mackenzie clan walking around in tartan but you can find and explore the castle that featured heavily in the series.
If you're on an Outlander trail of Scotland, then a visit to Doune Castle has to be right up there on your bucket list.
Here are all the Doune Castle Outlander locations you can visit from Castle Leoch!
What was Doune Castle in Outlander?
Doune Castle was used as the location of Castle Leoch in Outlander. We first see the castle at the end of episode one and then throughout the series as the seat of Clan MacKenzie.
This is where the Laird, Colum, rules over the MacKenzie clan including his brother the war chieftain Dougal MacKenzie. Also, Laoghaire, Rupert, Angus, Willie, and the loveable Mrs. Fitz!
Jamie and Murtagh are not MacKenzie's but Fraser's staying in the castle under the protection of Clan MacKenzie while Jamie has a price on his head. Claire, who travels through the stones from 1945, is taken to Castle Leoch and is hosted as a guest of the Clan MacKenzie.
It's based on the real seat of Clan MacKenzie in Scotland, Castle Leod, which the author of Outlander Diana Gabaldon, used as inspiration for her book!
A brief history of Doune Castle
Beyond an Outlander location, Doune Castle has a fascinating history behind it. Doune translates in Gaelic to 'fort', so the area has a long history of fortifications and battlegrounds.
The area surrounding Doune has historic roots which date all the way back to the Roman era, so there are lots of things to learn about this gorgeous ruined castle while you're here.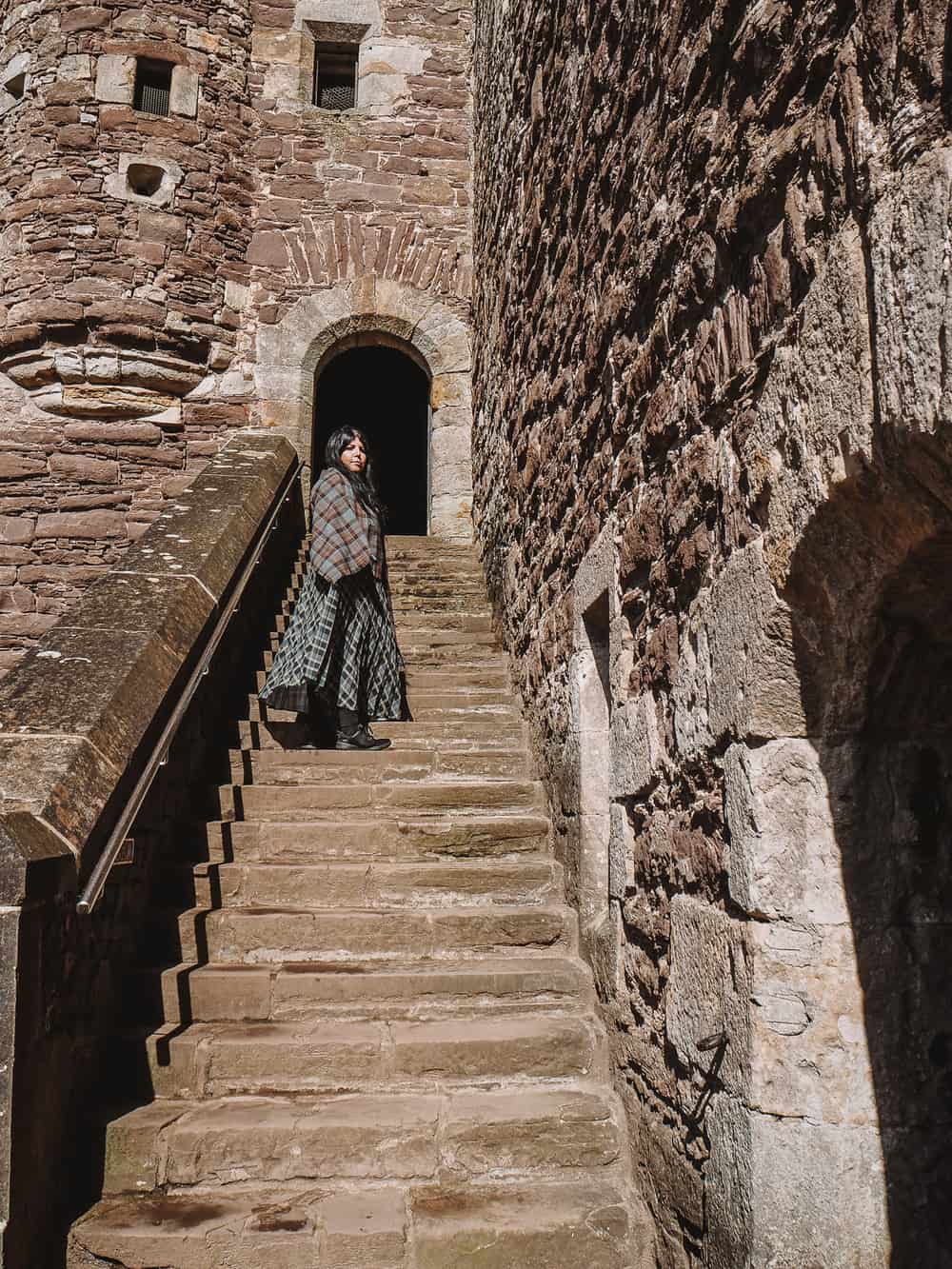 When and Why was Doune Castle built?
The Doune castle we see today was built by Robert Stewart, Duke of Albany, who is nicknamed the 'uncrowned king of Scotland'. He was the son of King Robert II and son of Robert III and was gifted lands around Doune Castle. Building started in the 14th century, around 1361.
Through the years, Robert Stewart was made regent of Scotland. Robert II, his father, was elderly and his brother Robert III was infirm, so he took up the role.
Later, Robert III's successor, James I, was captured by the English and held for ransom. So, Robert Stewart took up the role again. It became a favourite royal residence during this time of Albany.
After James I was returned to Scotland, he executed Robert Stewart and his sons for treason and the castle became a royal residence.
In 1603, when James VI of Scotland left for London to ascend to James I of England, Doune Castle was no longer used as a royal retreat.
It remained a garrison and prison, but by the 19th century fell into ruin. George Stuart, 14th Earl of Moray, made reparations of the castle in the 1800s and today it's owned by Historic Scotland.
Can you go inside Doune Castle?
YES! Doune Castle is open daily throughout the year for tours and many people visit every day. Keep reading for more details on how to visit.
Where is Doune Castle in Scotland?
Doune Castle is located in the quaint village of Doune in Scotland. The closest big city to Doune village is Stirling, but it's also really accessible on a day trip from Edinburgh or Glasgow.
How to reach Doune Castle from Edinburgh, Glasgow and Stirling
The easiest way to reach Doune Castle in Perthshire is by car but there is also a bus available if you prefer not to drive. It's a small place and signposted, so you won't get lost!
Doune Castle from Stirling: From Stirling, it's only 15 minutes via the M9 and then the B824 road to Doune. I personally stayed the night in Stirling to get to the castle for opening and found this a lot easier.
Doune Castle from Edinburgh: From Edinburgh, you can take the A904 road to the M9 and alight at the junction signposted for Doune Castle. It will take around 45 minutes.
Doune Castle from Glasgow: Head towards Stirling via the M80 or M9 and then follow the signs towards Doune Village.It will take around 45 minutes.
Outlander Tours that include Doune Castle
If you're planning on visiting a few Outlander locations around Edinburgh and you're not planning on driving in Scotland, it's more economically friendly to go on an organised Outlander tour. Click on the links to find out more and book!
Parking at Doune Castle
There is limited parking available at Doune Castle free of charge. But, the car park is really small.
For such a small castle, it's had a massive rise in tourism over the years with shows such as Game of Thrones and Outlander being filmed here. Fans descend in their droves to visit and even coaches are limited throughout the day!
In peak season, you may find it difficult to find a spot in the car park but there are some overflow car parks available. My advice would be to get here for opening time to avoid being disappointed.
Doune Castle Opening times
Doune Castle is open daily throughout the year, but depending on the seasons it has different opening times;
Peak season: 1st April – 30th September 9.30am to 5.30pm
Off-season: 1st October – 31st March 10am to 4pm
I'll also let you into a little secret too. The Doune Castle gates are open 24 hours a day, so if you fancied getting here early for photographs (like I did) or don't want a tour inside you can visit to snap your photo around closed castle times too.
Doune Castle ticket prices
Tickets to see Castle Leoch can be booked in advance and that is strongly advised. Hundreds of people visit Doune Castle daily and so this will avoid queueing.
Adults: £9
Concessions £7.29
Children (5-15): £5.40
Doune Castle is a Historic Scotland property. They also run Blackness Castle that featured as Fort William, Linlithgow Palace that doubled up as Wentworth Prison, and Ardsmuir Prison at Craigmillar Castle.
If you're planning on visiting a few Outlander locations while in Scotland it may be worth getting an Explorer Pass with Historic Scotland to save a few pennies.
How long do I need to visit Doune Castle?
This depends, if your visit is solely to do with seeing Castle Leoch from Outlander, you don't need that long.
In fact, they have a whole Outlander 'quick' audio guide tour, voiced by Sam Heughan who plays Jamie Fraser, that you can take to see the main Outlander scenes featured (more info below).
But, if you wanted to stick around longer, you can take the whole audio tour which should take around 60 minutes at a minimum.
Like all castles in Scotland, there's plenty to see with hidden rooms, staircases, nooks and crannies so leave enough time to explore.
Outlander Audio Tours of Doune Castle in Jamie's voice
Outlander fans will be happy to know that they can find Jamie Fraser at Castle Leoch, well his voice anyway.
Doune Castle now has a special Outlander Audio Tour that you can take which is voiced by Sam Heughan who plays Jamie Fraser in the series.
This is a seriously quick overview however and only has around 3 spots that are narrated about the different scenes featured in Outlander.
Look out for the Outlander signs around the castle. There is also some extra commentary around Sam learning Gaelic for the role too! Swoon.
The regular commentary is voiced by Actor and Director Terry Jones from Monty Python. It's extremely informative so I'd recommend tuning in for the whole thing if you have time.
Doune Castle Outlander locations – exploring Castle Leoch
Are you ready to explore Castle Leoch?! Doune Castle featured heavily in the first series and so there are plenty of places you'll recognise around the area, inside and outside the castle.
1. Exterior entrance of Castle Leoch
The first thing you will see as soon as you drive into Doune Castle is that iconic scene from Castle Leoch!
If you remember at the end of episode one, the MacKenzie clan make their way on horseback to the castle. Jamie and Claire riding together and this is pretty much where their adventures began!
Of course, you won't see any mud or clan huts outside the castle, but the castle is exactly the same as in the Outlander series.
My top tip for photos here is to arrive before opening time or around sunset for photos. I got here around 8 am and had the place to myself!
2. The grounds where they play Shinty
Directly outside of the castle, is the area in 'The Gathering' where the clansman plays Shinty. Shinty is a traditional Highlander game that is still played in Scotland today!
Although it's similar to hockey it has a lot of differences like the fact the stick is called a 'caman' and you can play with both sides of the stick.
If you remember in the series, it's pretty rough. The men are playing way more than a game and it gets a little uncomfortably competitive between Jamie and Dougal. That's putting it lightly haha.
Anyway, you can see the spot where that all happens in front of the Castle at Doune.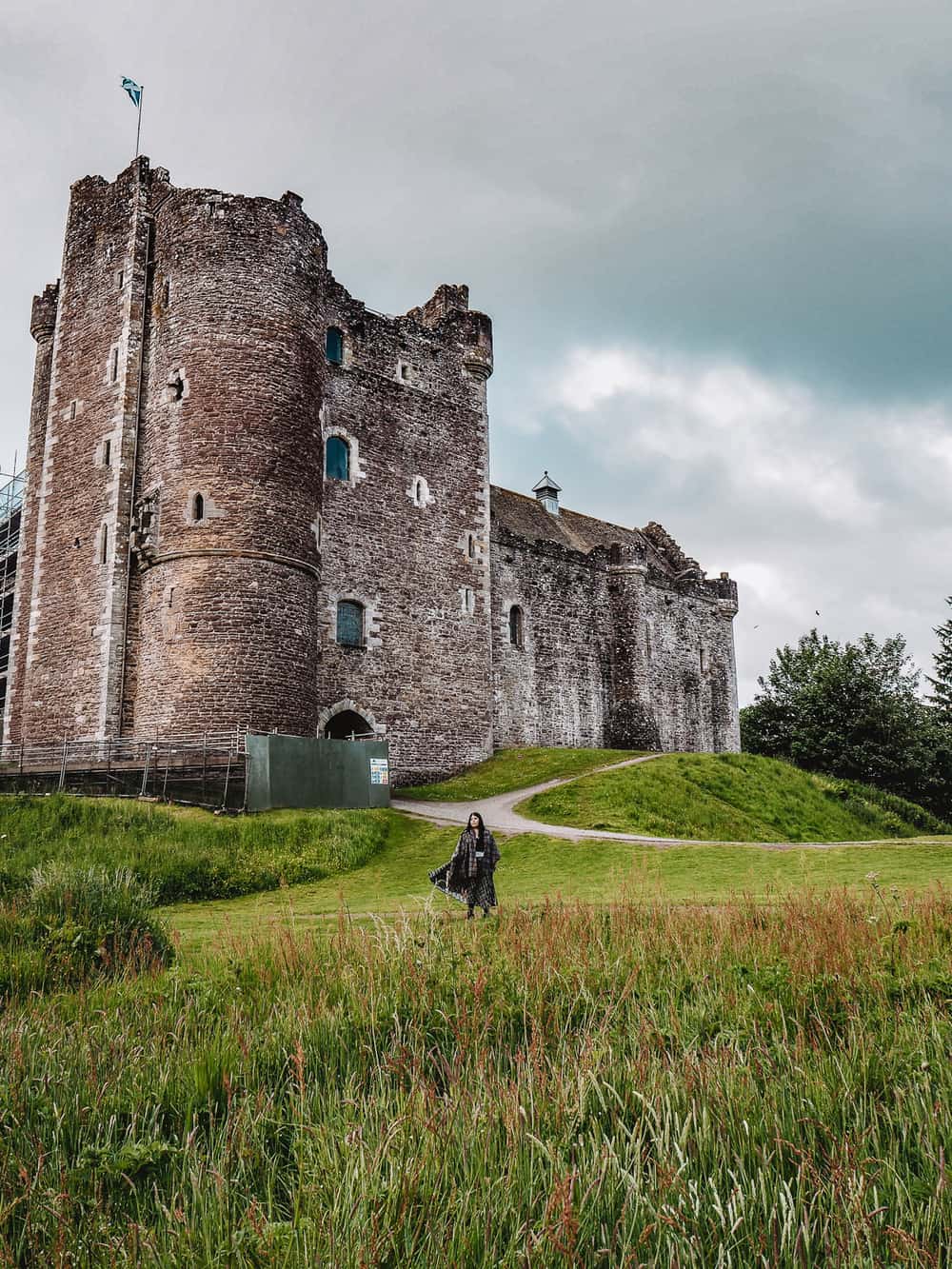 3. Castle Leoch main Courtyard
When you walk into the main courtyard at Castle Leoch, you'll instantly recognise the scene. Look out for the fountain that stands almost in the middle of the castle. That fountain is in the series too.
In Outlander, the whole courtyard was filled with mud, stables, stalls, and more inside. But, when you visit it will be mainly grass.
They are also currently going through renovations at the castle too so most of the place is covered in construction too.
Lots of scenes from the series happen in this courtyard. Where Claire first meets Mrs. Fitz, where Dougal fights Hamish, where Claire and Jamie say good-bye, and more.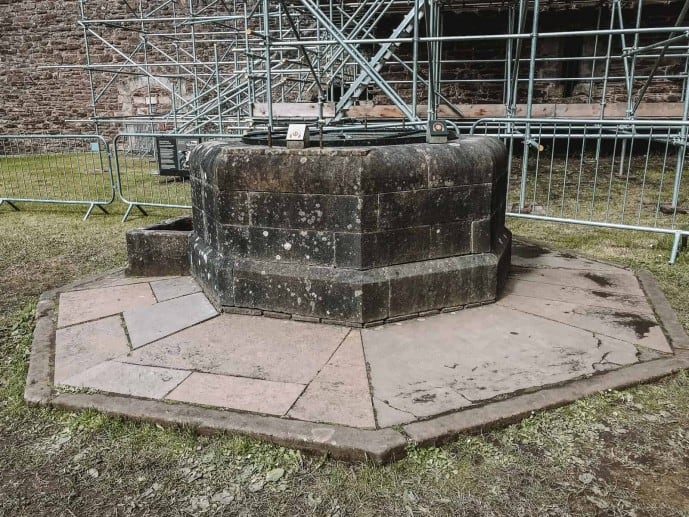 4. The stairs up leading into Castle Leoch
Another scene you will definitely recognise is the stairway leading up to the castle. This is where Claire sits in the series.
Did you know you can dress up in traditional clothes at Doune Castle?! In the gift shop, they have loads of traditional Scottish dresses and outfits for all ages.
Why not try one on for a photo opportunity in the spot in the castle. It's weather permitting but if there is rain they have a cute Outlander backdrop in store too!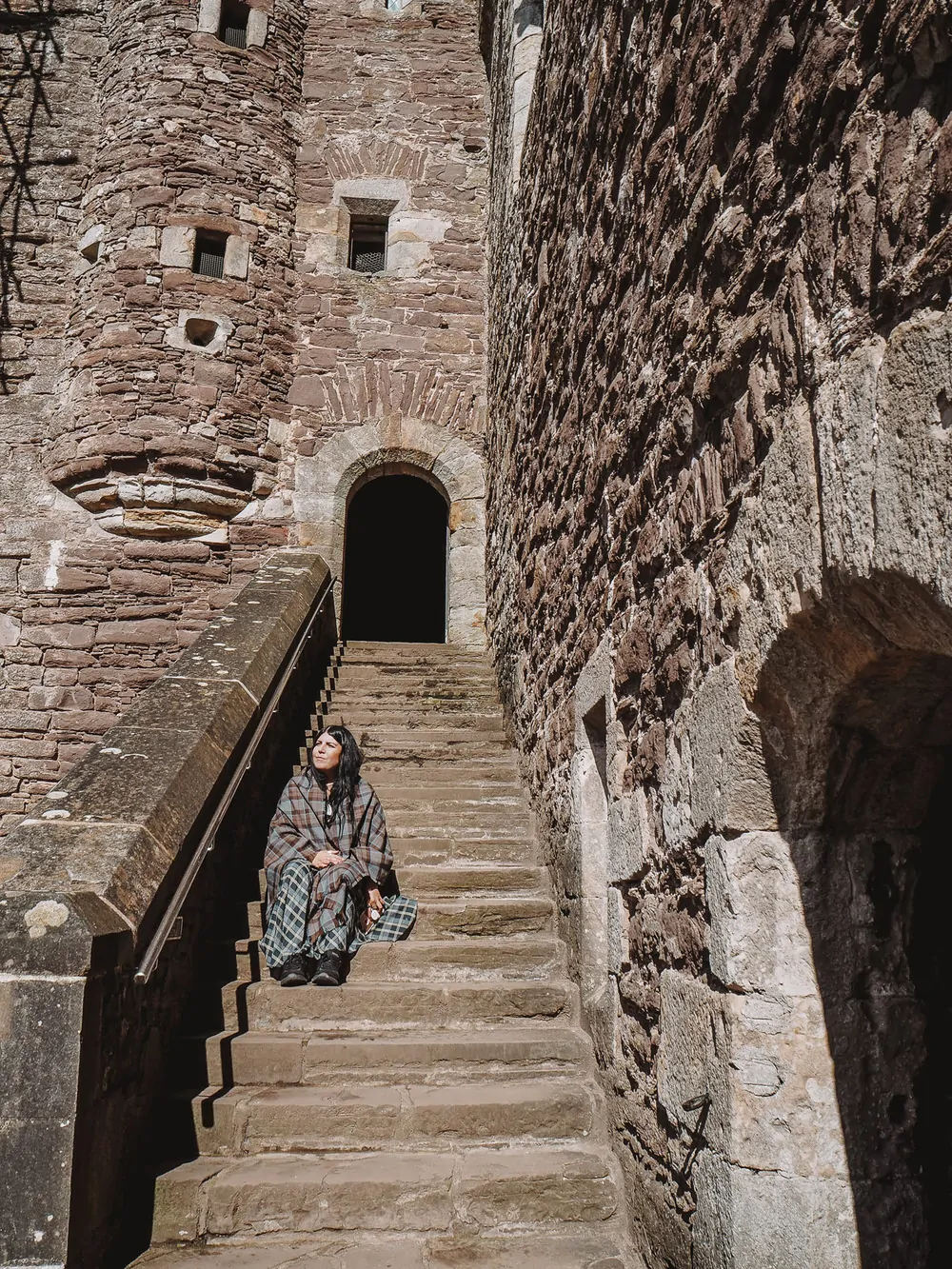 5. Castle Leoch kitchens
Although they didn't use the Doune Castle kitchens in the series, the Outlander team did recreate an exact copy of the room in their studios. In fact, it looked so realistic, the staff had a hard time believing it wasn't the actual thing.
You can find out so much about it in the audio guide, including how they recreated the spit and blood spilled all over the place!
Although we can't visit the real kitchens used in Outlander, the ones in Done Castle are as close as you'll get. So, listen to Jamie's story all about it and imagine Mrs. Fitz ordering her girls about.
6. Castle Leoch Walls
In the second episode of Outlander, Claire reflects on her time travel and the fact that although the time period is two centuries apart from her own, people aren't all that different after all. She spots Hamish playing with Dougal in the courtyard and admires the views.
This scene takes place on the top floor of Doune Castle on the fortification walls outside.
Unfortunately, when I visited this whole area was closed off for reconstruction. But, you can still take a peek through the doors.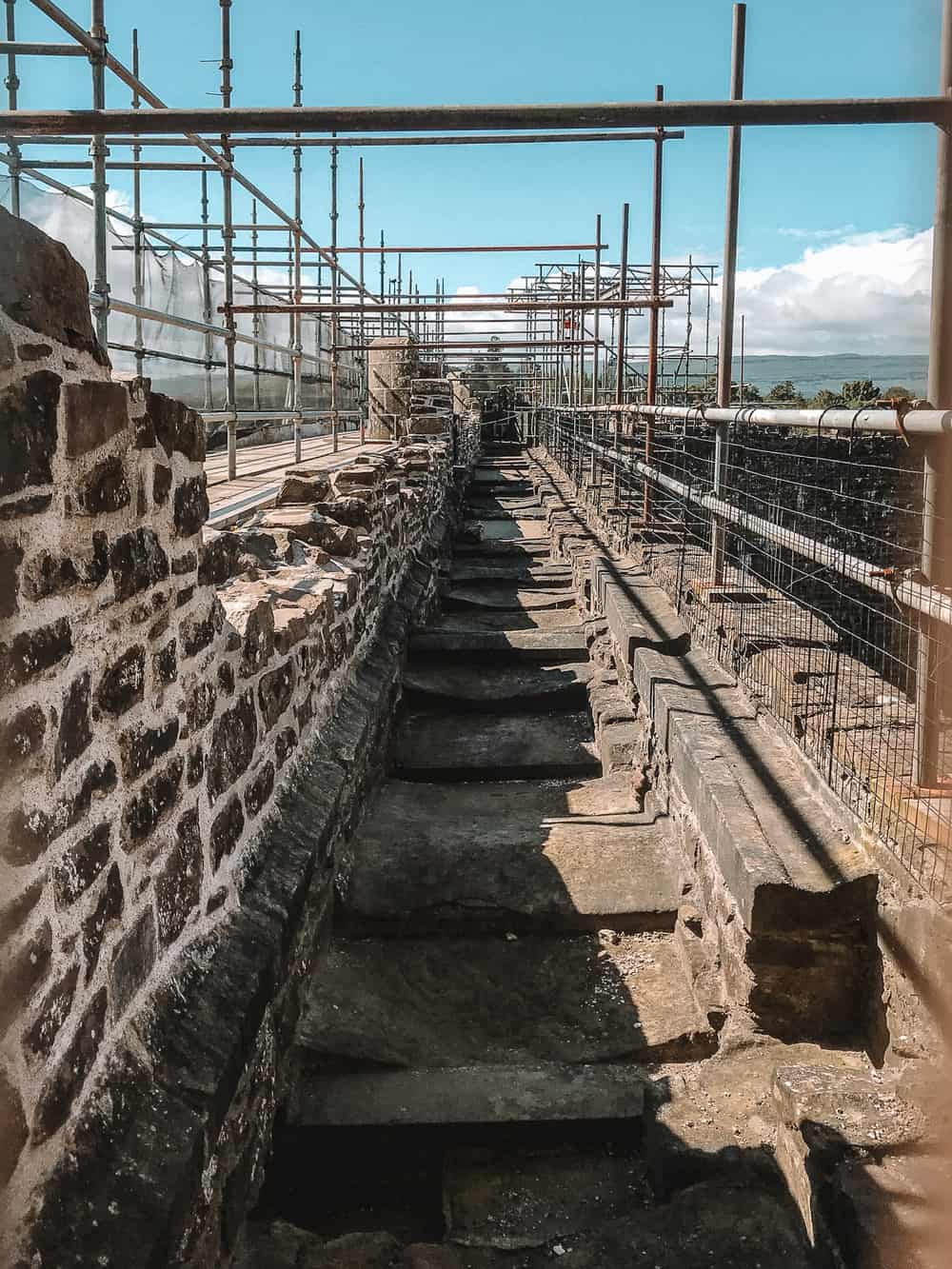 7. A view of Castle Leoch from the River Teith
There are plenty of exterior views of Castle Leoch in Outlander, but as soon as you visit you'll realise that a lot of them were photoshopped! Including the gardens where Geillis and Claire look for herbs (more on that below).
However, a view used in the series that isn't photoshopped is the one over the River Tieth.
If you're planning on visiting the nearby Deanston Distillery for a whiskey tour (which I'd highly recommend), the pathway alongside the burn gives you an excellent shot!
Where were the interiors of Castle Leoch filmed?
Unfortunately, a lot of the interiors of Castle Leoch were all filmed inside a studio. So, you can't visit the Grand Hall, Claire's medical room, Colum MacKenzie's, or Jamie and Claire's rooms I'm afraid.
But, I would still say the tour is worth taking a look around. There's so much history and grandeur to explore. I mean, you can't say you've entered a historic ruined castle every day right?!
Where were the grounds of Castle Leoch filmed?
Aside from the immediate grounds of Doune Castle, there were a few places in Scotland where they filmed the grounds of Castle Leoch.
Luckily, they're easily accessible from here if you wanted to check them out for yourself!
Pollock Country Park
Pollock Country Park near Glasgow is a great free day out for the family. It was also featured in series 1 & 2 and 4 of Outlander.
In series 1 much of the park was used to create the grounds of Castle Leoch.
In season 2, the park was used to create scenes from the French countryside including the spot where Jamie and Black Jack Randall have their sword fight.
Recently, it was used in season 4 as the location of the Carolina Scottish festival that Brianna and Roger attend. You can even stay in the same lodges they did at River Edge Lodges here.
I personally fell in love with this park for one reason, seeing the gorgeous Highland Cows that were here. I even saw some babies and it was oh-so-adorable!
Click here for my Outlander guide on Pollok Country Park!
Culross Palace Gardens
The Royal Borough of Culross in Scotland is featured as the village of Cranesmuir in Outlander. The main scenes are around the Mercat Cross in the square. Here you can see the location of the Pillory and Geillis Duncan's house.
Culross Palace also featured as the interiors of Geillis Duncan's house and their wonderful garden featured as the herb garden in Castle Leoch. This is where Geillis and Claire first met and continued to do so in the series.
I could have spent hours in these grade-listed gardens as they are like a labyrinth full of flowers, herbs, and plant life! They also have a fantastic view of Culross and the ocean beyond.
The Outlander team used some impressive CGI to make it look like Castle Leoch was in the background.
Read more on the Outlander locations at Culross Gardens in my guide here.
Doune Castle as a film location
It's not just Outlander that has been filmed at Doune Castle, there are quite a few movies and TV series that have seen the castle feature as a starring role.
Monty Python And The Holy Grail
The original influence for tourism was Monty Python and the Holy Grail. Doune Castle was used heavily in the film and the castle features in nearly every castle scene.
The Pythons are huge icons in British comedy and the Holy Grail has a solid chapter in the history books.
The story follows King Arthur and his men, accompanied by their coconut shells, on a quest to find the Holy Grail. It is hilarious! You have to give it a watch.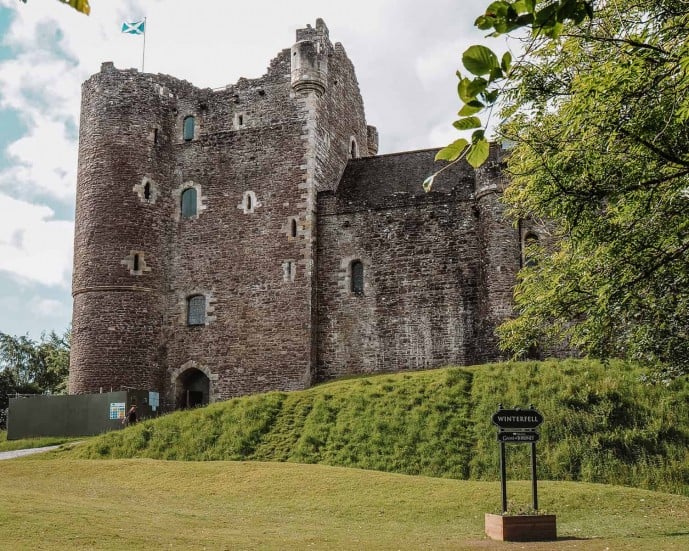 Game of Thrones – Winterfell Castle
If you're a fan of Game of Thrones, you have to visit the home of the Stark family and John Snow! Doune Castle was used as Winterfell Castle in the eight-part series.
Okay, it's a little bit of a stretch with really only the castle courtyard being recognisable. But, in memory of the series, they have a Winterfell sign outside this year, and it's attracted hundreds of Game of Thrones fans.
It will always be Castle Leoch to me… ;)
Where to eat near Doune Castle
If you're feeling peckish or in need of a cuppa, there isn't a tea room at Doune Castle. But, there are some in the nearby village.
There is a Buttercup Café, Another Tilly Tearoom, or Cafe Circa in the town serving light bites or afternoon tea.
Or, if you wanted to stop for dinner there is L'Angolino with an Italian menu and Woodside Hotel serves up some pub grub.
Where to stay near Doune Castle
There are a couple of hotels dotted around Doune Castle if you'd like to stay in the area;
Or you can stay the night in Stirling. It's only a 15-minute drive to Doune Castle from there and, as a big city, it's full of restaurants and amenities too.
I stayed in Willow Court which is on the grounds of Stirling University and is a great budget option with breakfast. As a bonus, it's also has a few Outlander locations!
But, there are lots of higher-end hotels in the area;
Looking for more Outlander locations in Edinburgh?
If you're looking for more Outlander locations around the Doune Castle area there are a few nearby. Just up the road is Deanston Distillery which welcomes visitors to take a tour of where they distill their finest Whisky.
I would highly recommend going on a tour as this is also an Outlander location. The barrel storehouse in Deanston Distillery doubled up as Jared's Wine Cellar in La Havre.
You can also visit Bo'ness Railway Station to see where Claire and Frank said goodbye, Drummond Castle Gardens also doubled up as the Royal Gardens of Versailles.
Click here for all of the Edinburgh Outlander locations you can visit!
You can head to Linlithgow Palace that featured as Wentworth Prison, or Blackness Castle is Fort William where Jamie was flogged by Jack Black Randall.
The Hopetoun Estate in Queensferry has many Outlander locations in the area, including the ancestral home of Broch Tuarach, Lallybroch at Midhope Castle.
Hopetoun House has over 17 Outlander locations to see from the series, including the Duke of Sandringham, or visit Abercorn Church nearby which featured in Season 4.
Or, click here to learn How to find the Outlander Witness Trees from Fraser's Ridge!
Culross, that featured as Cranesmuir has Geillis Duncan's house and Castle Leoch Gardens in Culross Palace, or visit their West Kirk to see the Black Kirk from Outlander. Falkland also has scenes from 1945 Inverness and you can stay the night where Claire and Frank did too.
Glencorse Old Kirk was the church where Jamie and Claire were wed and Roslin Glen Country Park has some gunpowder mills that featured in season 1.
Gosford House featured as Helwater Estate where Jamie was a groomsman or visit Preston Mill to see the Mill Wheel from Outlander.
Outlander locations in Edinburgh City Centre
Click here to read my complete list of Outlander film sites around the city, plus I have a bonus list of ones for Glasgow too!
Craigmillar Castle just outside of the city played Ardsmuir Prison in Season 3 and if you head to Summerhall you can find a lecture room where Claire met Joe Abernathy in Boston.
The Royal Mile is well worth exploring for Outlander fans. You can find Bakehouse Close that featured as the Outlander Print Shop, Tweeddale Court where Claire and Fergus were reunited or follow in their footsteps to the World's End Tavern for a bit to eat.
Or, Treat yourself to afternoon tea at the Colonnades to find yourself in the Governor's mansion in Jamaica.
Read more: a self-guided Outlander tour of the Royal Mile. Or, click here to read my ULTIMATE list of Outlander filming sites in Scotland and around the world. It includes over 90!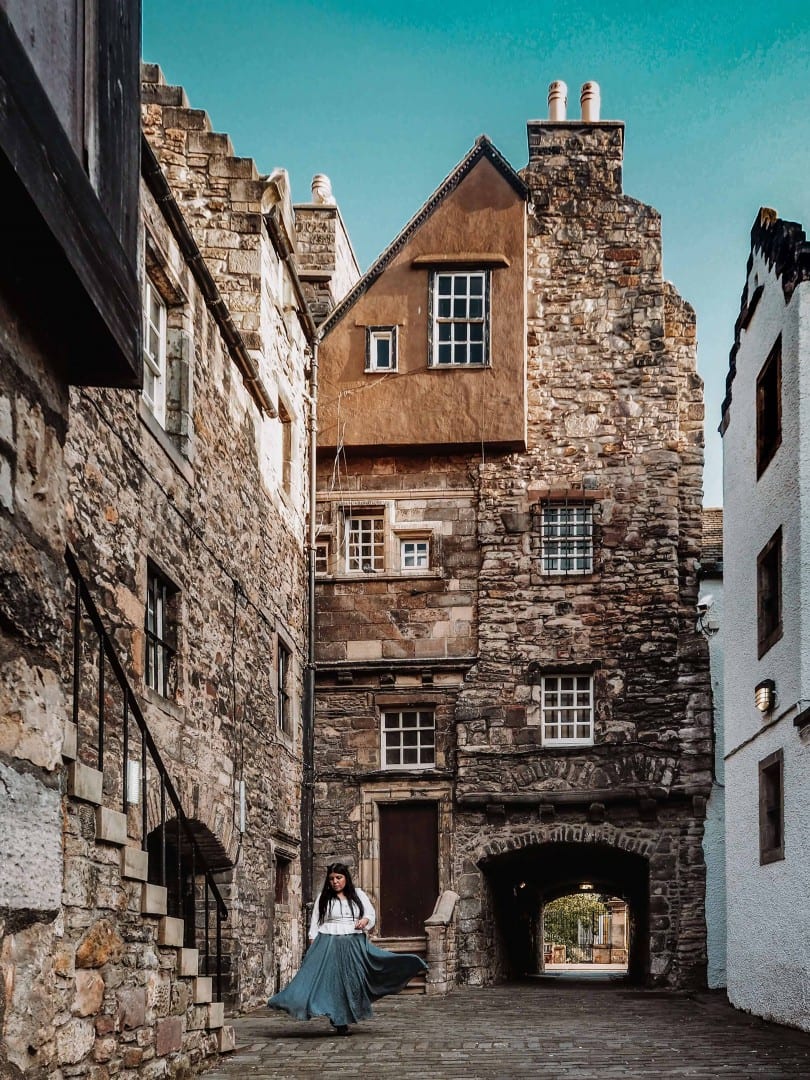 Save this Castle Leoch Outlander guide for later!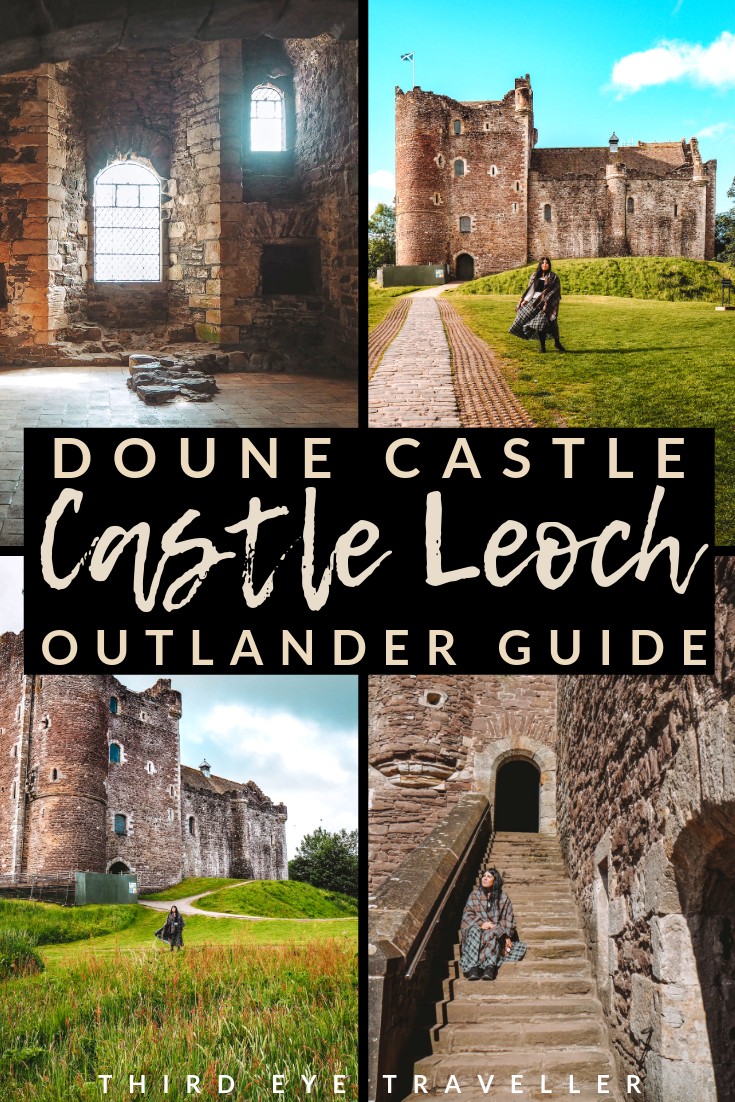 With thanks to the Historic Scotland team for sponsoring my visit, I loved exploring Castle Leoch with you. As always all photos and opinions are my own.