Did you know that there is a castle related to the Arthurian legends in the Yorkshire Dales? It's called Pendragon Castle!
Although it's a ruin today, many believe that this was the legendary stronghold of King Uther Pendragon built in the 5th-century.
But, how much of that is true? Could this really be Uther Pendragon's Castle in Yorkshire? As a lover of anything to do with Merlin and the Arthurian legends, I just had to visit and find out!
Here is a complete guide on how to visit Pendragon Castle in the Yorkshire Dales with the legends and history.
What is Pendragon Castle?
Pendragon Castle is a striking ruin in the Mallerstang valley of the Yorkshire Dales National Park in Cumbria, England.
It stands on a plain above the River Eden and from here you can see Wild Boar Fell and Mallerstang Edge.
The reason why Pendragon Castle is famous and gets its unusual name is due to the fact that there is a legend that this was the stronghold of King Uther Pendragon built in the 5th-century!
Legends of Pendragon Castle – was this King Uther Pendragon's Castle?
If you're familiar with the Arthurian tales then you will know that King Uther is the legendary father of King Arthur of Camelot!
Uther first appears in early Welsh poems but is mostly known for being part of Geoffrey of Monmouth's Historia Regum Britanniae or the History of the Kings of Britain.
The reason why people believe this is Uther Pendragon's Castle is that local folklore suggests that Uther built his castle by a moat.
A local Cumberland saying references the River Eden that runs directly below this castle. You can see the river bend clearly from the ruins;
"Let Uther Pendragon do what he can,

Eden will run where Eden ran."
There are many debates as to the lineage of King Arthur and Uther and there are sites related to them all around the country.
There are also lots of sites in Wales that are connected to the legend of Merlin the Wizard. Dinas Emrys is the most famous that is connected to the stories of Merlin being an advisor of King Vortigern.
The most popular theory is that the noble house of Pendragon was from Cornwall. This is supported by the fact that the dramatic Tintagel Castle on the coast is thought to be the legendary location of Camelot!
However, many believe that Uther Pendragon and King Arthur are in fact from Yorkshire and Arthur was born in Barwick-in-Elmet near Leeds!
So, this could easily support the legend that King Uther's stronghold sat here in Cumbria all those centuries ago.
Pendragon Castle history – How old is Pendragon Castle?
Despite the Arthurian legends that surround this castle, there is no historical evidence that supports the castle being built before the Norman period.
The Pendragon Castle ruins date back to the 12th-century which is hundreds of years after Uther Pendragon and King Arthur were meant to have reigned over these lands.
It was built by Ranulph de Meschines under King William II and was made as a Norman keep to defend the territory from the Scots. But, it did have numerous alterations made to it by its subsequent owners.
One of the most famous owners was Sir Hugh de Morville who was one of the knights responsible for murdering Sir Thomas Becket in 1170.
Also, Lady Idonea de Veteripont owned this castle and she founded St Mary's Church in the nearby hamlet of Outhgill in 1311.
Eventually, the castle passed onto Lady Anne Clifford who completely rebuilt the keep in 1660. She added on many additions like a bakehouse, stables, brewhouse, and coach-house. It became her favourite castle and she lived here until she died at the ripe old age of 86!
Unfortunately, her successor the Earl of Thanet didn't feel the same way about this castle. After Lady Anne died, he felt he had no use of it and so removed anything of value.
The castle eventually fell into ruin and collapsed. Centuries later, it took a new role as a romantic ruin that was favoured by sketchers and painters. What's left of this once great property is now protected and Grade I listed.
Today, Pendragon Castle is privately owned and sits on farmland. However, public access is granted so you can visit yourself.
Exploring the Pendragon Castle ruins
So, at first, I thought you couldn't go inside the castle at all. But, the sign only says that you shouldn't enter the castle walls themselves.
There are lots of tunnel entranceways through the castle's structure that are unstable so you need to avoid those due to safety reasons!
If you walk around the side of the castle to the right, you'll find a wide entrance with wooden steps that allows you safe entry into the middle of the ruin.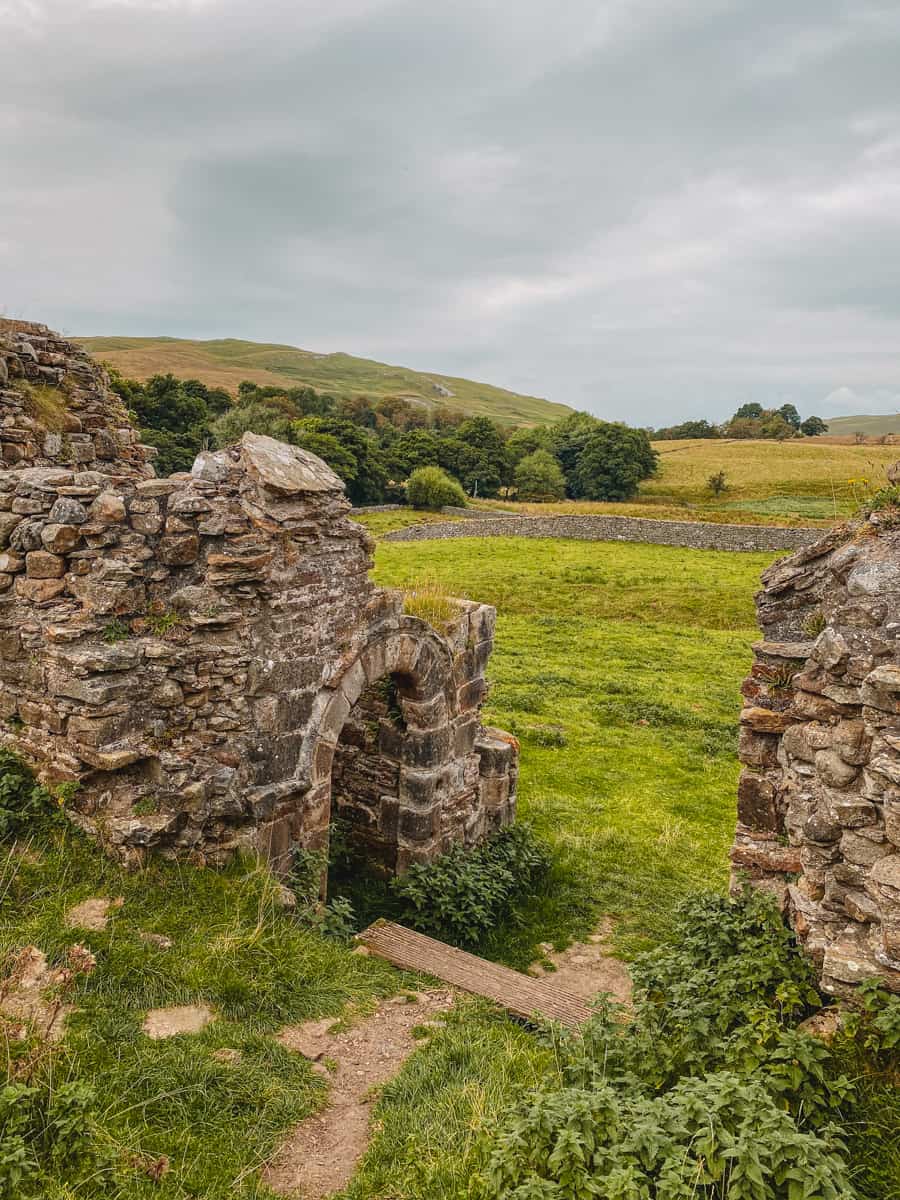 From the castle, you can see some spectacular views over the Eden River and you're surrounded by the rolling hills of the countryside. The castle provides an excellent vantage point of Wild Boar Fell and Mallerstang Edge.
There's not a great deal to see here but it is a spectacular ruin and I was in love with it! There's something about castle ruins that are so dreamy.
Although there is no historic evidence that this was Uther's castle, you could easily place the characters of these legends in this romantic location!
In my opinion, this is well worth visiting. Especially so if you're a lover of the Arthurian legends in any way.
Where is Pendragon Castle?
Pendragon Castle is hidden away in a remote area of Mallerstang Dale which is located in the Kirky Stephen district.
It's a popular tourist attraction in the Yorkshire Dales National Park and is one of the many castles that you can find in this area. Lammerside castle is another ruin that you can visit nearby.
The nearest settlements are the small village Southwaite and Outhgill hamlet that borders the county of Cumbria.
How to visit Pendragon Castle in the Yorkshire Dales National Park
The easiest way to visit Pendragon Castle would be to drive as it's in a remote countryside area of Kirkby Stephen.
But, be warned that the castle ruins are around a 10-15 minute drive on narrow winding roads from the market town. So, take care as it's a single-track lane with passing places.
You can access the ruins via the B6259 road that takes you through the Upper Eden Valley. You'll find the castle at the fork for Tommy Road.
I don't believe there are any public transport routes that cover this castle. So, if you were visiting the Yorkshire Dales car-free, I would try to incorporate this castle into one of the many walks in this area!
Pendragon Castle address is Kirkby Stephen, CA17 4JT. Click here for a Google Pin to help plan your journey!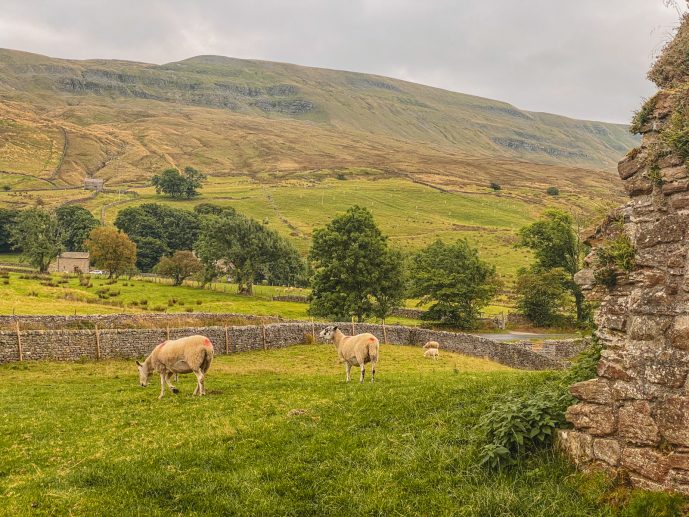 Pendragon Castle parking
There is limited parking for Pendragon Castle directly opposite the ruins on the country road that is free.
It's a very small parking area and it can be popular with walkers in the area. So, if there is no space opposite the castle, I would recommend heading down the road a little bit to find an off-road space.
Always remember to park with consideration as, although it's a remote area, many cars still drive through here as it's near Kirkby Stephen.
Pendragon Castle opening times and prices
Pendragon Castle is a ruin that is open to the public 24 hours a day, 7 days a week! There is no one manning the gates.
Just make sure you close the gate behind you to make sure the sheep don't escape or other animals get in. Also, keep dogs on a lead at all times.
Pendragon Castle is also completely FREE to visit so it's an awesome budget activity in the Yorkshire Dales National Park!
Read more of my posts on the Yorkshire Dales National Park
How to do the Malham Cove Harry Potter walk
A complete guide for the Gordale Scar walk
How to visit the Fountains Abbey Witcher filming location
A complete guide for The Druid's Temple in Yorkshire
How to visit Ribblehead Viaduct in Yorkshire Dales
Definitive Chapel of Our Lady of the Crag guide
Read my King Arthur related posts
How to visit King Arthur's Cave in Wales
Visiting the ancient site of Glastonbury Tor
Finding the Lost Lands of Lyonesse in Cornwall
How to visit King Athur's Castle of Tintagel in Cornwall
A complete guide for Merlin's Cave in Cornwall
Visiting Lud's Church in the Peak District
Merlin filming locations in Puzzlewood and Speech House Lake
Visiting Dinas Emrys or Merlin's Fort in Wales
How to find the Castell Coch and Caerphilly Castle Merlin filming locations
Three Bears Cave Merlin filming location
How to visit Dunraven Bay from Merlin!
Save this Pendragon Castle post for later!