Malham village in the Yorkshire Dales has some of the most spectacular scenery in all of the Yorkshire Dales National Park.
But, one of the most scenic walks is the National Trust Gordale Scar Walk via Janet's Foss waterfall.
This is a short and easy walk that will take you through magical faerie woodlands, past scenic waterfalls and into the dramatic Gordale Scar gorge.
Fans of Netflix's The Witcher will also recognise Gordale Scar from season 2. It's featured when Ciri and Geralt fight the Myriapod monster.
Here is a complete guide with directions for the Gordale Scar walk and how you can visit the Gordale Scar Witcher filming location!
What is Gordale Scar?
Gordale Scar is a dramatic limestone ravine gorge that's tucked away in the Yorkshire Dales National Park.
The limestone cliffs are over 330 feet high and, depending on rainfall, there are two heavy waterfalls that flow through the gorge and into the Gordale Beck river below.
After it leaves Gordale Scar, the Gordale Beck flows through Janet's Foss and down to the River Aire beyond.
Gordale Scar has amazed artists and writers for centuries. Indeed, William Wordsworth wrote a sonnet called 'Gordale'. He writes; "let thy feet repair to Gordale chasm, terrific as the lair where the young lions couch"
Also, J. M. W. Turner featured the gorge in one of his paintings. Today, it's owned and protected by the National Trust.
How was Gordale Scar formed?
The interesting thing about Gordale Scar is that how it was formed remains disputed and is a bit of a mystery.
The most popular theory is that this gorge was covered with ice three times during the Ice Ages that happened over 10,000 years ago.
The glacial meltwater flowed and then created a cavern. Each Ice Age then forced the gorge to carve deeper.
Some of the limestone then collapsed to create the waterfall that we see today. You'll find some smooth limestone rocks near the waterfall which are called Tufa deposits.
Gordale Scar Witcher filming location!
Fans of Netflix's The Witcher series will probably recognise Gordale Scar from The Witcher series 2.
In episode 3, "What is Lost", we see Geralt fight the Leshy and when he's done a centipede-like creature appears which is later identified as a Myriapod!
Geralt tells Ciri to run and she flees inside Gordale Scar finding a rock to hide behind so the Myriapod won't find her.
After some time, she gets up thinking she's safe but the Myriapod appears at the top of Gordale Scar waterfall and then jumps down to catch her.
The Myriapod then pins Ciri against the cliffs but doesn't attack her. Before we see what the Myriapod will do, Geralt does what he does best and jumps down to behead the monster and saves Ciri.
You can visit all these Gordale Scar Witcher filming locations on your visit and I would highly recommend this if you're a Witcher fan!
Click here to watch the scenes of Geralt & Ciri vs. the Myriapod!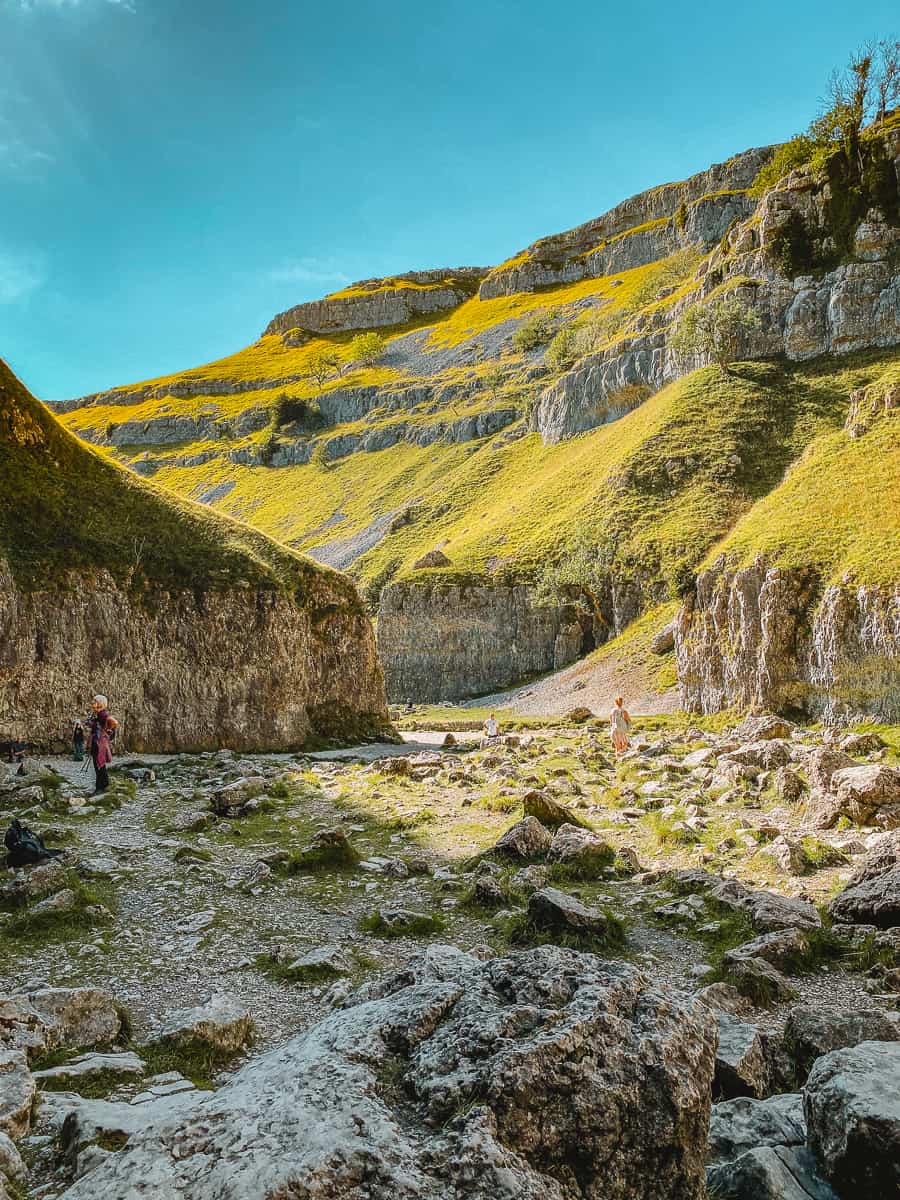 How to visit Gordale Scar in the Yorkshire Dales
If you wanted to visit Gordale Scar and the Witcher series 2 filming location then you only need to head to Malham village in the Yorkshire Dales National Park.
You can access Gordale Scar on a scenic and short National Trust trail from Malham visitor centre car park.
Driving to Malham – If you're driving, this is around a 90 minute drive from York, Leeds and Manchester or an hour from Bradford. I would personally recommend driving carefully on Malham Road as it's extremely narrow and winding with passing places.
The Malham Cove visitor centre parking postcode is BD23 4DA. Click here for a Google Pin.
Gordale Scar parking
There is car parking available at Malham Cove visitor centre where you can park your car for the Gordale Scar walk. Malham parking prices are £2.70 for up to two hours or £4.80 for the day.
If you're staying in the Yorkshire Dales for a couple of days, it may be worth picking up one of their parking passes. You can get a 7-day parking pass for £15 that is valid in any of the Yorkshire Dales National Park car parks.
Alternatively, you can park up on the side of the road just outside of the visitor centre (not in the village) and pay £2 for the day in the donation pot.
How long is the Gordale Scar walk?
The Gordale Scar walk from the Malham visitor centre car park should take you around 45 minutes to an hour one way.
But, I would factor in more time as you will definitely want to make a stop at Janet's Foss waterfall on the way as it's spectacular!
You'll also want to leave time to explore Gordale Scar with the dramatic cavern gorge and waterfall there. So, I would plan around 2-3 hours to complete this walk.
You could also spend a lot longer here if you wanted to. There are lots of places to relax in both the woodlands and along with Gordale Beck if it's a sunny day. I spent most of the day here as I had lunch, read a book and enjoyed the scenery on this walk!
Gordale Scar walk directions from Malham visitor centre
These walking directions will be starting from the Malham Cove visitor centre car park.
It's a relatively easy walk but these directions will give you some idea of what to expect on your journey to Gordale Scar.
Note: I would highly recommend that you use the toilet facilities here before you set out on your walk as there are no toilets in Gordale Scar, Janet's Foss or Malham Cove.
1. From the Malham visitor centre cross the road and old packhorse bridge
So, once you've parked up and had a chance to use the toilet. You'll need to head out of the Malham Visitor Centre car park and around the corner towards the main road.
You'll eventually see a sign for Gordale Scar and Janet's Foss. It's pointing towards an old stone clapper bridge.
Cross over this bridge and then make a right to head on the well-marked trail that will lead you through the countryside.
2. Follow the path all the way down to Janet's Foss woodland
You'll need to follow this path all the way down and around until you reach a gateway allowing you access to Janet's Foss woodland.
The pathway all along this route is relatively flat and you'll walk by the Gordale Beck river making it incredibly scenic.
You may spot some of the local cows and sheep as you go. It's important to stick to the pathway to ensure that the farmland here is protected for grazing.
At the end of the path, you'll come across an access gate with a National Trust sign for Janet's Foss.
3. Walk through the woodland to Janet's Foss waterfall
Head through the gate into the woodlands and follow the path all the way through until you arrive at Janet's Foss waterfall!
This ancient woodland is known for being a place where faeries live and according to local folklore the Queen of the Faeries, Janet, lives in the small cave behind the waterfall.
This cascade is breathtaking and is a welcome respite if it's a sunny day. Many people take their shoes off for a paddle or go swimming in the crystal clear plunge pool below.
When you're ready to move on and have taken some photos, walk beyond the waterfall through the woods.
Click here to read my complete guide on Janet's Foss Waterfall
4. Leave the woodland and follow the road around to the Gordale Scar access gate
You'll eventually reach another gate that leads you out of the woodlands and onto Gordale Lane which is a road.
Head towards the Gordale Refreshments food van and, beyond that, you'll find an access gate for Gordale Scar on your left.
You'll see a sign giving you some more information about Gordale Scar including its history and how it was formed.
It should take you around 10-15 minutes to reach Gordale Scar from Janet's Foss waterfall.
5. Head straight through to Gordale Scar!
Now all that's left is to follow the well-marked and flat pathway through to Gordale Scar. You can choose to take the beaten pathway or head beside the Gordale Beck river on the grass.
As soon as you turn the corner and head into Gordale Scar cavern, the dramatic cliffs will take your breath away. It's hard not to feel incredibly small against the sheer height of these limestone cliffs all around you!
Things to do at Gordale Scar
Once you've made it to Gordale Scar there is lot's to see and do here. You've probably already seen it but there are lots of places to sit and relax around the Gordale Beck river that snakes through the gorge.
You can then explore the Gordale Scar cavern and, depending on the weather and time of year, you'll see two magnificent waterfalls at the very end!
Many people choose to climb up this waterfall and head up to Malham Cove through the gorge. But, this is not for the faint-hearted.
You may also see lots of people rock climbing around here and it's a popular place to do so.
Finally, you can see where Ciri runs and hides from the Myriapod in The Witcher series 2! She ends up pinned against a wall when Geralt comes crashing down to behead the monster.
Head back to the car park
Once you've finished looking around Gordale Scar, you can head back the way you came and straight back to the car park.
Or, you can head over to Malham Cove via the public pathway. Simply head out of the access gate and towards the food van. Then, head right through the gate and up to Malham Cove. There will be a sign pointing towards the hillside.
Once you've explored Malham Cove, you can then head down the stairs at the other side of the limestone pavement and back to the car park in a circular. It's entirely up to you.
My top tips for the Gordale Scar walk
Wear a good pair of shoes – This walk is relatively easy but can get boggy in parts if it's been raining. You will need a good pair of ankle supporting walking shoes!
Come prepared for the weather – Gordale Scar is completely exposed to the elements so make sure to take a jacket or a waterproof layer! On my visit, it was boiling and I regretted not taking a hat.
Take care if you're heading up the waterfall – Shouldn't have to be said but make sure to take care if you are planning on scrambling up the waterfall. It looks pretty scary!
Toilets – None to speak of here on this walk. So, make sure you use the free toilets at Malham Cove visitor centre and car park before you head out on this walk!
Where to eat near Gordale Scar?
If you were looking for a place to eat near Gordale Scar there is a seasonal food van called 'Gordale Refreshments' placed on the roadside after you head out of Janet's Foss.
Alternatively, there are lots of places to grab a bite to eat in Malham Village like the Old Barn Café which serves up an amazing cooked breakfast.
There is also a lunch menu, ice cream bar or you can treat yourself to a coffee and cake after your walk in the afternoon!
They also make up packed lunches to take with you on your walk. So, I would recommend heading here first before you set out if you haven't brought food with you.
If you do happen to bring your own lunch for this walk, make sure to take rubbish home with you as there are no bins anywhere until you get back to Malham village!
Why not head to Malham Cove next?
After your visit, you can head towards Janet's Foss waterfall and you'll see an access gate on Gordale Lane.
This pathway up the hillside will lead you straight up to Malham Cove! It's a unique limestone pavement placed high up on the clifftops and provides incredible views over Malhamdale and beyond!
It's also a Harry Potter filming location that featured in the Deathly Hallows Part 1 when Golden Trio are looking for Horcruxes.
Even if you're not a Harry Potter fan, It's well worth visiting in this viewpoint as it's what Malham is famous for!
Click here to read my Harry Potter travel guide for Malham Cove!
Read more of my Witcher filming locations guide
Plumpton Rocks – Where Geralt fights the Chernobog
A Witcher guide to Fountains Abbey
Exploring Blea Tarn in the Lake District
How to visit Low Force Waterfall
How to find Hodge Close Quarry
All the Witcher Filming Locations in the Lake District
Read more of my Yorkshire Dales guides
How to visit Uther Pendragon's Castle
How to visit the Fountains Abbey Witcher filming location
A complete guide for The Druid's Temple in Yorkshire
How to visit Ribblehead Viaduct in Yorkshire Dales
Definitive Chapel of Our Lady of the Crag guide
Save this Gordale Scar walk for later!