Have you ever wondered where the Downton Abbey Village is from the world famous ITV period drama series?
You may be surprised to know that it's not actually in Yorkshire but a village called Bampton in Oxfordshire.
The whole place looks like it's been trapped in time and so the production team made barely any changes to the village or its historical buildings while filming.
So, Downton Abbey fans will be ecstatic to know that they can visit this amazing filming location in real life and easily step into the aristocratic world of the Crawley family.
Here are the best Bampton Downton Abbey Village filming locations that you can see while you're here.
Where is the Downton Abbey Village?
The Downton Abbey village that is meant to be in Yorkshire between Ripon and Thirsk is actually a small hamlet in Oxfordshire called Bampton!
This is located on the fringes of The Cotswolds and it's featured in every Downton Abbey TV series and movie production to date.
It's the place where Isobel Crawley lives and the location of Downton church which has featured in significant Crawley family weddings, christenings, funerals and even jilting at the altar!
Not to mention, Bampton has been the location of the Downton Post Office, The Grantham Arms, Downton Cottage Hospital, the location of the Downton Abbey funfair and more.
Downton Abbey fans will be in their element in Bampton as it feels like you have been transported into the regal universe of the Crawley's!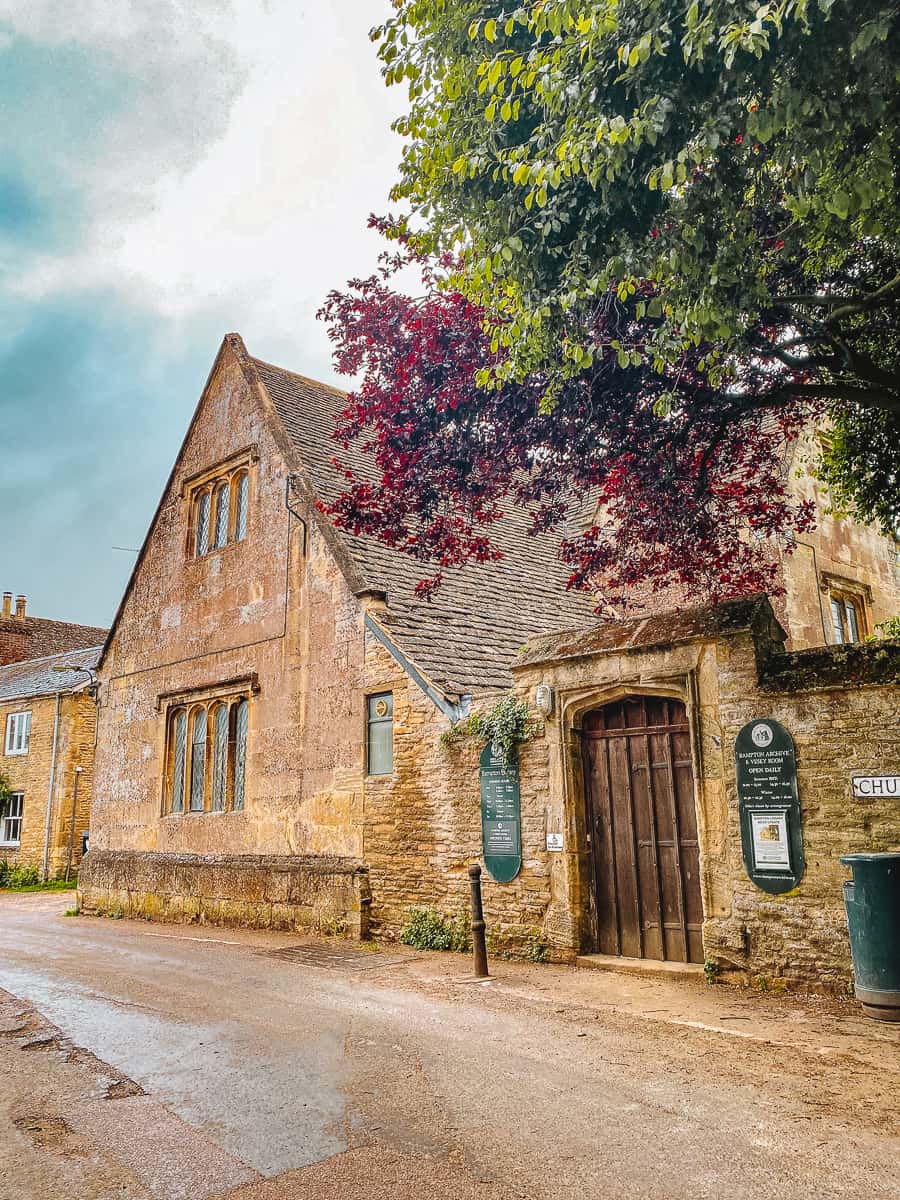 A brief history of Bampton
Bampton is an ancient market town which is now a village in Oxfordshire on the fringes of the Cotswolds near to the River Thames.
It's also known as Bampton-in-the-Bush, as the Olde English term for Bampton is Beam-tun meaning a settlement by the tree.
During the Norman Conquest, it was a large town with a manor. In 1086, it was recorded that there was a thriving market here.
The town prospered during the Middle Ages with the wool trade but after the 19th-century it became a sleepy village in The Cotswolds.
Bampton is famed for its Morris Dancing where they celebrate the Bampton Day of Dance festival on May Bank Holiday.
Nowadays, it's actually more famous for being the 'Downton Abbey Village' as it featured heavily in the TV series and movies! Fans flock here in their droves to follow in the footsteps of the Crawley family.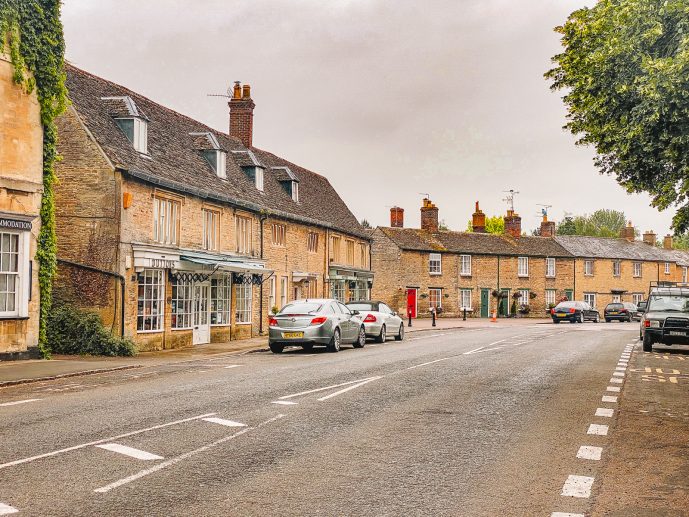 Bampton Downton Abbey Village filming locations
So, where are all the Bampton Downton Abbey filming locations in the village?
Well, they are all located around Bampton Church (St Mary's Church) so I would recommend that you start your tour there.
If you head to the St Mary's sign by the gate to the churchyard, you'll find a Downton Abbey filming locations map/trail on the village signboard that you can follow called 'The Downton Abbey mile'.
Head into the church to buy a copy or you can take a photo of the map. Either way, any donations are much appreciated to help towards the upkeep of Bampton's precious historical buildings.
To help you out on a self-guided tour, here are the best Bampton Downton Abbey village filming locations you can visit!
Note: some of these locations are private residences. You can admire them from afar but don't pry into windows, take pictures too close or disturb those living here. Most interior scenes were filmed inside a studio/elsewhere and not inside these houses!
1. Bampton Church, Downton Abbey Church where Mary and Matthew Get Married
So, the most recognisable Bampton Downton Abbey filming location is Bampton Church or St Mary the Virgin Church in the village.
In Downton Abbey, this church is called St Michael and All Angels and it has featured in a number of notable events throughout the series.
Mary and Matthew were married in this church, Lady Edith was jilted at the altar here, Lady Sybil and Branson's baby "Sybbie" was christened here and Miss Lavinia was buried here too.
You'll find many of the Downton Abbey scenes were filmed outside the churchyard and inside the church itself.
The church is open to visitors and you're more than welcome to pop inside and look around. The church love to see Downton fans and they have a small display of photographs from the filming inside.
They also have a free Bampton Downton Abbey filming location leaflet with a map too. But, taking one is a great way to give a small donation in exchange to carry on your tour.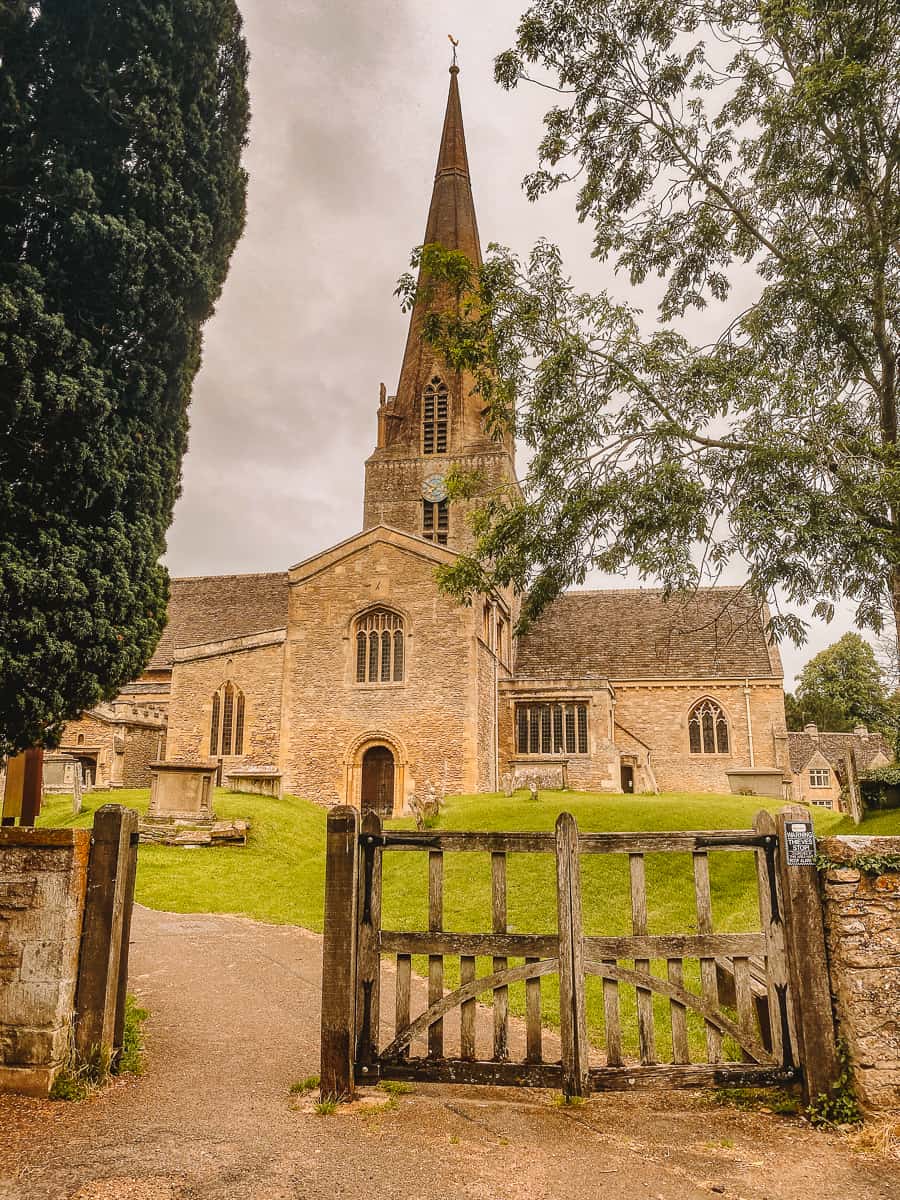 2. Church Close, The Grantham Arms
The next location that fans will recognise is the row of houses directly opposite Bampton Church on a street called Church Close.
One of the houses on this street featured as The Grantham Arms in Downton Village. Of course, the pub gets its name from the Yorkshire village's benefactor Lord Grantham.
In the series, Tom Branson spends a long time lodging here after ending his assignment as Downton's chauffeur. This is due to his scandalous engagement with Lady Sybil. Lord Grantham visits him at the pub and offers him money to leave which he refuses.
Later, the new maid Edna Braithwaite sets her eyes on Branson and 'accidentally' meets him here.
Carson also puts Alfred up here on his return from London claiming there is flu at the house. This is to stop a fight that's brewing between Ivy and Daisy. They both fancy Alfred but it ends up failing as Alfred visits Downton anyway!
Of course, when you visit there will just be a beautiful home here. But, for the production, they transformed the outside of the house with some outdoor tables and a Grantham Arms pub sign with a coat of arms to set the scene.
One of the houses on this street also featured as Lamont's Poultry Shop. Roast chicken is a specialty dish from the Downton Abbey kitchens of Mrs. Patmore!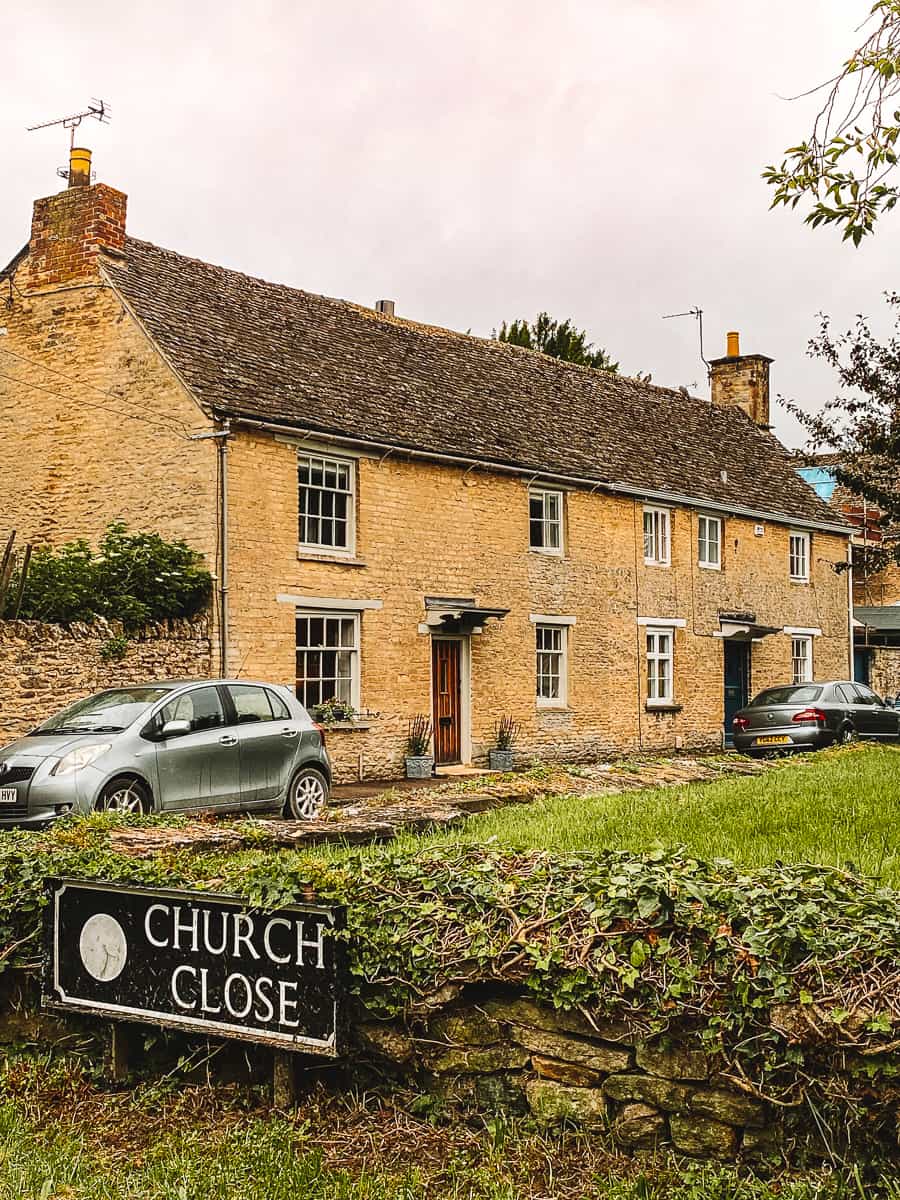 3. Church Green, Downton Village Square
If you head to the bottom of Church Close towards the Bampton Library, you'll eventually reach Church Green. HRH Prince Charles once stood in this exact spot!
This is one of the most recognisable Bampton Downton Abbey filming locations where much of the village scenes are filmed.
It's where conversations happen between Mrs. Crawley and the Dowager Duchess, also Edith and Matthew have a conversation here when she is showing him around.
In series 1, the Downton village fair takes place here which sees Matthew and Mary get more acquainted and Mrs. Hughes receives a proposal from her former beau.
Many of the servants come through here to buy food supplies for the house kitchens and notable characters walk through the village to post letters.
Later, they set up a Downton war memorial here which was made especially for the show. It was revealed in one of the Christmas specials.
If you watch the episodes back, there really is a lot of Downton action that is filmed on this tiny green which looks much bigger in the show!
4. Churchgate House, Isobel Crawley's House
Just beyond Church Green next to Bampton Church is Churchgate House which used to be the Old Rectory.
This amazing residence was used for the exterior scenes of Isobel Crawley's home in Downton Abbey!
Many scenes were filmed here mainly with Mrs. Crawley talking to characters like the Dowager Duchess, Mathew Crawley, Lord, and Lady Grantham. Also, Carson and Mr. Molesley have interactions here as Molesley is Matthew's butler for a short while.
You can only see this incredible house from the outside but it is still instantly recognisable and an amazing Downton Abbey fan moment!
If you were wondering, the interior scenes of Isobel Crawley's house were filmed at Hall Place in Buckinghamshire. So, don't be too disappointed if you're not invited in for tea.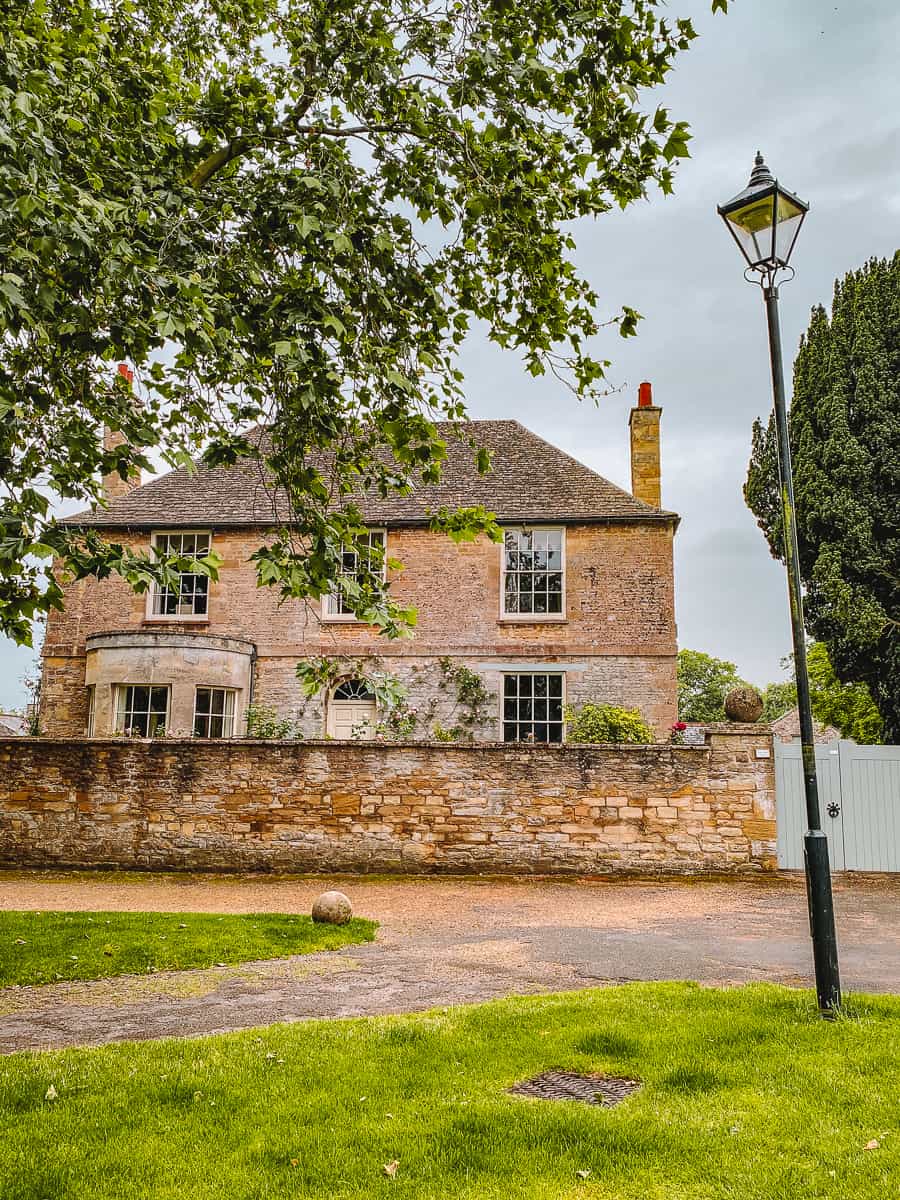 5. Bampton Library, Downton Abbey Hospital
If you head towards Church View, just beyond Churchgate House, you'll come across the Bampton Library.
This was the filming location of the Downton Abbey Hospital or Downton Cottage Hospital as it's known! It appears in all six of the TV series to date.
This is the place where Doctor Clarkson tends to patients and those soldiers who fought in the war and where Isobel Crawley volunteers too.
This is also the location where Lady Cybil is taken when Clarkson suspects she has pre-eclampsia.
It used to be the old Bampton Grammar School of St Mary's Church and was built in 1653. Today, it's known as the Bampton Community Archive Library and Museum.
You can visit the inside of the building for free and they have a small Downton Abbey photo exhibition that you can check out.
There are also some Downton Abbey postcards and souvenirs for sale to remember your visit!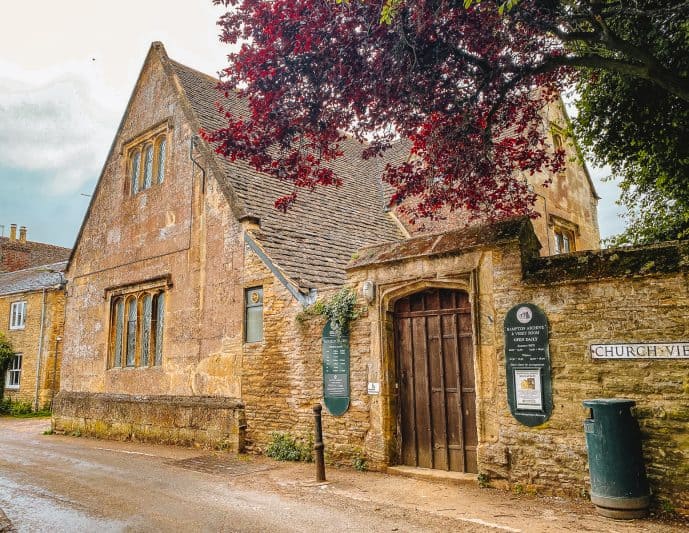 6. Church View, Downton Abbey Post Office
One of the smallest Bampton Downton Abbey filming locations is the Downton Abbey Post Office.
This location can be found at the first house on Church View, although it was only really a window that was filmed there! All the interior scenes of the Downton Abbey Post Office were filmed elsewhere.
The window was transformed with a sign above it saying 'POST OFFICE & TELEGRAMS' and a noticeboard was placed outside.
Although it's a tiny filming location, this post office actually featured in over 25 episodes of Downton Abbey! In the series, this is in the centre of Downton village and it's run by Mrs Wigan.
One of the most recognisable scenes here is where Rose MacClare pays to advertise a new job of a lady's maid. Edna Braithwaite then sees it and asks the postmistress for more information.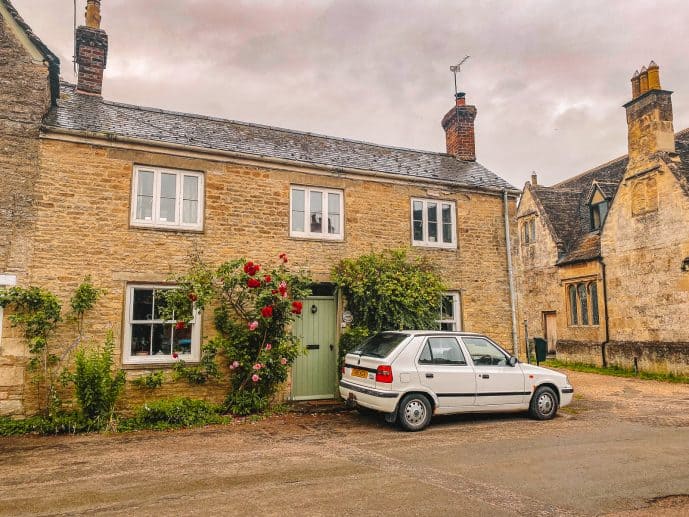 7. Church View, The Dog & Duck Public House
The final Bampton Downton Abbey filming location can be found a little further down Church View.
One of the homes here was used for the exterior scenes of the Dog and Duck pub in the village!
It only featured in series 1 but fans will recognise it as the place where Carson meets Charles Grigg when he arrives at Downton in 1912.
Again, the production team completely transformed this building into a pub with a Dog and Duck sign and outdoor tables. On your visit, you'll only see a residential home but it's still worth seeing if you're a Downton fan.
Again the interior scenes were filmed elsewhere, so you won't find an inkling of an inn on the premises.
Does Bampton feature in the Downton Abbey movie?
YES it did feature in the movie and you see Isobel Crawley's residence and the churchyard. They were also filming the second Downton Abbey movie in Bampton quite recently too!
Apparently, a resident told me that they were filming in the graveyard! They have to place specially made Crawley family gravestones each time that they want to film scenes there.
So, who knows what sort of events are in store for the Crawley's in this chapter. Hopefully it won't all be doom and gloom as I love all the characters so much.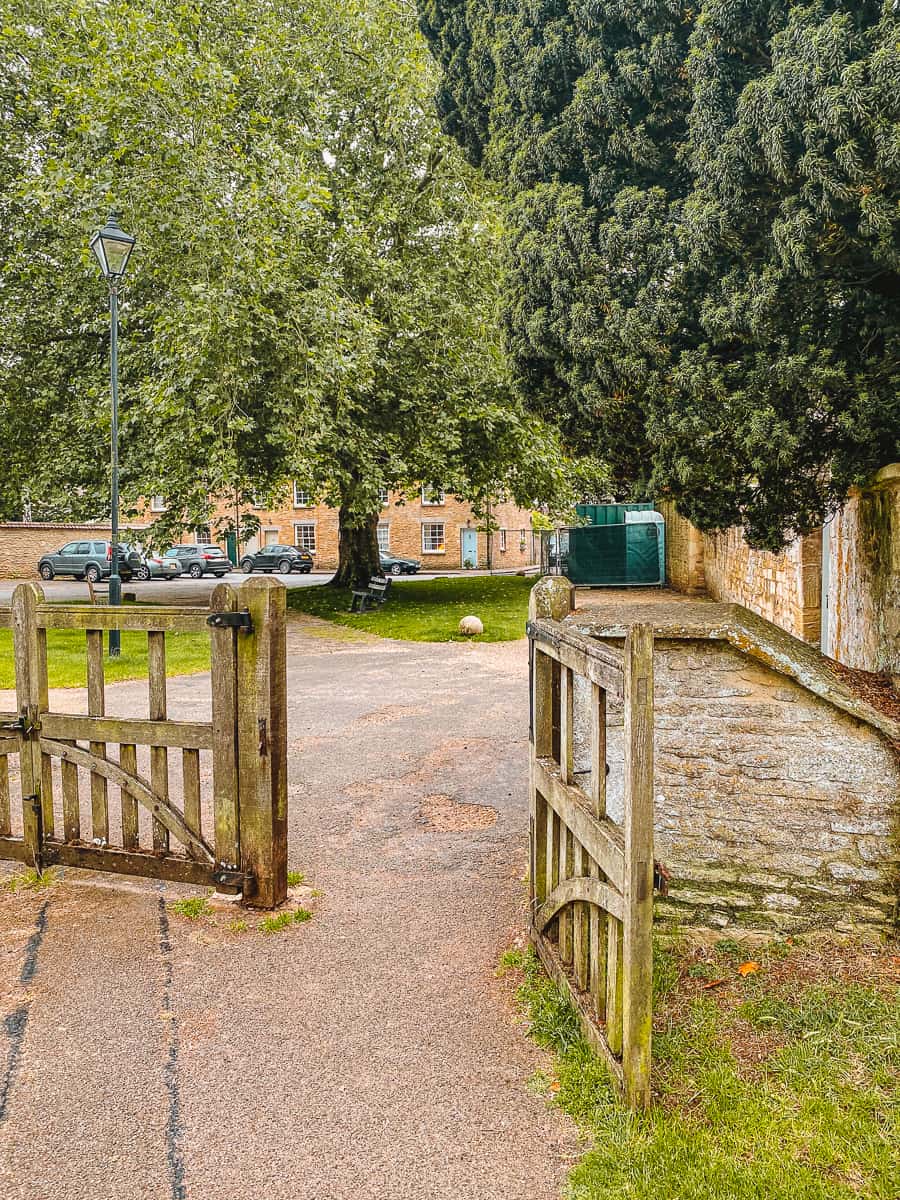 Why not head out on a Downton Abbey tour?
Of course, you can easily go on a self-guided tour of these Bampton Downton Abbey filming locations yourself.
It's a small village and the church have a map that you can purchase for a small donation. All proceeds go towards the upkeep of these historical buildings and ensuring they stay around for Downton fans in years to come. Just slot some money in the honesty box!
But, if you're on vacation and/or you're not driving around The Cotswolds, it may be easier to take a Downton Abbey village tour!
There are plenty of Downton Abbey tours that include the UNESCO World Heritage Site of Blenheim Palace, Highclere Castle, Bampton Downton Abbey village, and some of the most notable filming locations in Oxfordshire too.
Where else did they film Downton Abbey?
Around this area of Oxfordshire and the Cotswolds, they filmed in a few more locations that you can visit too.
After this, you could visit the village of Shilton which features a small brook over a ford. This is where Mr. Bates went to work after he left Downton Abbey in series 2.
Cogges Manor Farm near Witney was used as Downton Abbey's Yew Tree Farm where Lady Edith's illegitimate daughter was brought up.
Or, you could head over to The Swan Inn at Swinbrook which is where Lady Sybil and Branson stayed as they ran away to plan their elopement.
The major filming location of Downton Abbey is Highclere Castle in Hampshire which plays the ancestral home of Lord Grantham and the Crawley's. This is only an hour's drive from Bampton.
You have to book a tour to visit the inside and it's only open generally in summer with select tours in winter. But, you can take a walk on their wider estate which has a range of free permissive pathways.
I've done the Highclere Castle walk myself. The estate is lovely but it's kind of disappointing as you can't see much of the house at all. Just a few glimpses. However, it is still worth seeing if you're a Downton fan!
It's far better to book an organized tour to the castle which allows you on the immediate grounds and inside the staterooms.
Click here to learn how to access the walks around Highclere Castle for FREE!
Other recognisable places used for filming were attractions like Alnwick Castle which featured in two Christmas specials as Brancaster Castle.
Lacock village in the Cotswolds also featured heavily in the Downton Abbey movie which is one of the most beautiful villages in England. Click here to read a complete guide of things to do in Lacock.
It's featured in many productions like the BBC TV series 'Pride and Prejudice' and three of the Harry Potter movies as Hogwarts! I have a Harry Potter guide to Lacock here.
What else has been filmed in Bampton?
When I was in the village, I got talking to one of the residents about the filming here and I asked what it was like to have all those film crews around the village.
Although it is exciting at first, I can imagine it gets quite tiresome after the sixth series as all the streets have to shut off for the production!
But, they also told me that The Suspicions of Mr Whicher was filmed here too. The first episode, 'The Murder at Road Hill House' was filmed right here in the village in 2011.
They had to ask all the neighbours to remove their cars and covered all the roads and pathways with mud and leaves to make it appear like it was the 19th-century!
I absolutely loved all the episodes of the Mr Whicher series and I recently watched it again after my visit. You can quite clearly see the Bampton Library in the background when Mr. Whicher leaves in his carriage!
Also, Church View and Church Green were used to create the surrounding scenes of Wiltshire where the trials of Constance Kent took place. However, the courthouse scenes were filmed elsewhere.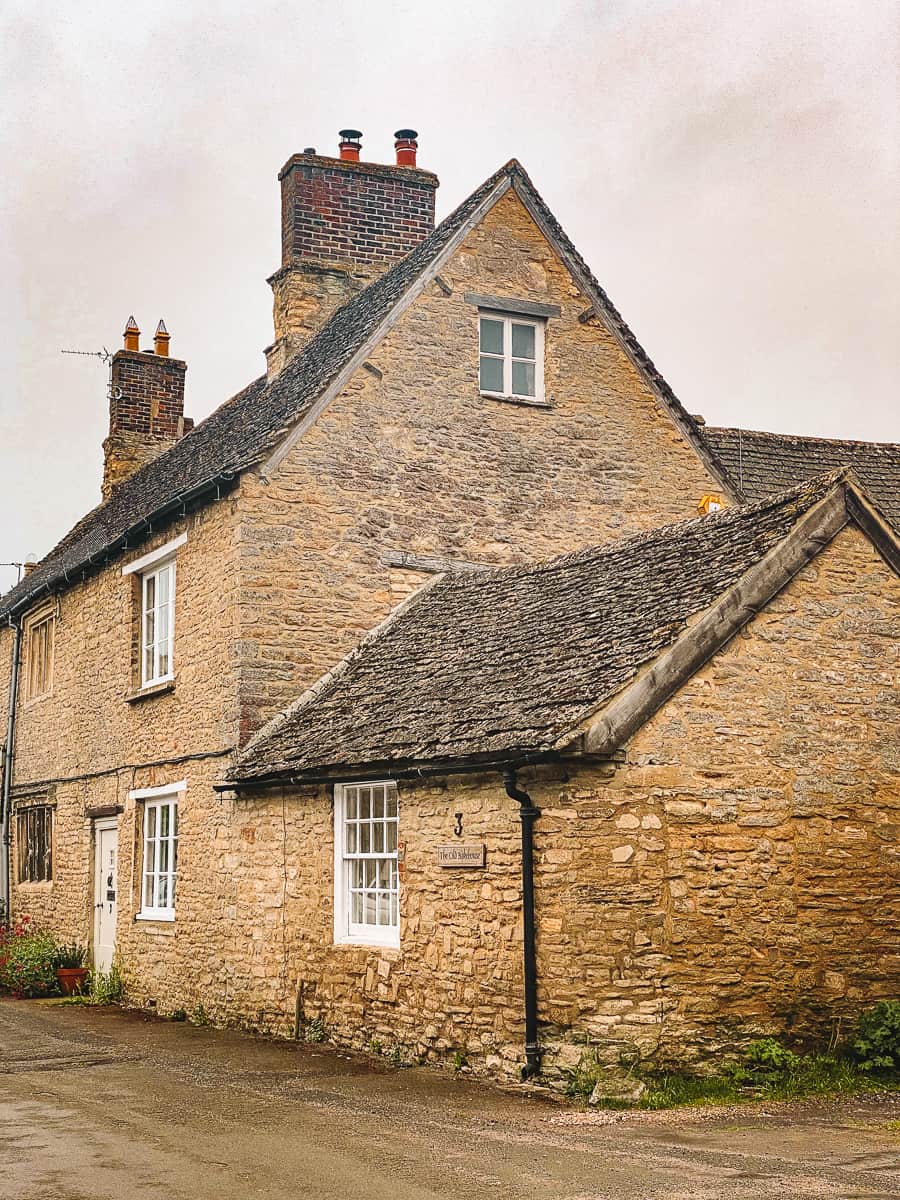 Looking for more things to do in Bampton?
There is plenty more things to do in Bampton aside from chasing down Downton Abbey filming locations to make a visit more worthwhile.
You could pop over to their Ox Arts Gallery which is located on the main High Street. It's an art gallery, museum, and art centre all in one! It's located just above the old Bampton Town Hall which is now a Village Hall!
You could pop inside the many Bampton shops and cafés in the centre of town and I've put some recommendations below on where to eat.
Just outside of Bampton is the Chimney Meadows Nature Reserve which provides lots of walks in amongst the wildlife.
Or, from here, you're in easy driving distance to attractions like Blenheim Palace, Downton Abbey's Highclere Castle, Oxford, Witney, Burford and more!
How to visit Bampton in the Cotswolds
Bampton is located in the heart of Oxfordshire, which is just a few miles away from the gateway town of Burford.
It's just a few minute's drive from the majestic Blenheim Palace which is a world heritage site and The Cotswolds which is an Area of Outstanding Natural Beauty.
It is preferable to have a car to access Bampton village as it's in the remote countryside. It's only a 30-minute drive from the city of Oxford and a two-hour drive from London.
If you wanted to visit the Downton Abbey village after a trip to Highclere Castle, you can be here within an hour's drive.
But, if you're heading here without a car, you could get a bus from Oxford or Witney to Bampton in under an hour. There is a bus stop that is located just outside Church View where all of these filming locations can be found!
Bampton Parking
There is no dedicated visitor car park in Bampton but there is free Bampton parking around the village hall and in the centre of town.
Plus, you can easily find plenty of free off-road parking around the High Street and Bampton Church.
Some of these spaces may be timed so always check the restrictions when you park up. Also, park with consideration if you're parking in Church Close.
Where to eat in Bampton
If you were feeling peckish during your tour, there are quite a few places where you can grab a bite to eat in the village.
Nearby the church area, you can find the quaint Bampton Coffee House in Market Square. They serve up great coffee but they are also known for their hearty breakfasts and tasty pizzas!
The Cake Element Bakery is a great place to go if you wanted more of a Downton-style afternoon tea. As their name suggests there is plenty of fresh tea, homemade cakes, and scones to be had!
Or, if you would like to visit one of the Bampton Pubs they have the The Horseshoe, the Morris Clown and the Red Lion.
Alternatively, you could visit the Swan Inn in Swinbrook. This pub is featured in the Downton Series and it's only a short drive from the village.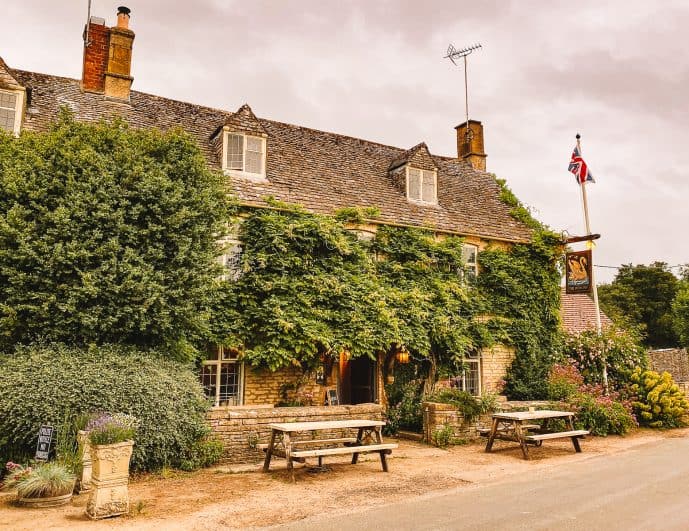 Read more of my travel guides on Oxfordshire and the Cotswolds
The top things to do in Burford Cotswolds
The best things to do in Stow on the Wold
Why you must visit Minster Lovell Hall Ruins
How to visit Broadway Tower in the Cotswolds
The best places to visit in Snowshill
Top things to do in the Vale of the White Horse
Harry Potter filming locations in Gloucester Cathedral
What to do at Gloucester Docks
The top places to visit in Tetbury and the Chipping Steps
Why you must visit Bibury and Arlington Row
Top things to do in Lower Slaughter and Upper Slaughter
Save these Bampton Downton Abbey village filming locations for later!