Are you looking for all the Alnwick Castle Harry Potter filming locations? I have the whole list right here!
This historic castle featured in not one but two of the Harry Potter movies, so you can follow in the footsteps of your favourite witches and wizards.
Sure, the Harry Potter movies came out over 20 years ago but it still brings in fans ALL the time.
I have read the Potter series since I was a child and when they made the movies, I was the same age as the actors (now you know how old I am!). I grew up with these stories and even now I'm still obsessed. Where my fellow Slytherins at?!
As well as scouting out film locations, there are plenty of Harry Potter experiences to feel the magic. You can attend a broomstick flying lesson and even purchase your house uniform.
This a complete guide to all of the spellbinding Alnwick Castle Harry Potter film locations & experiences.
Heads up muggles: my visit to Alnwick Castle & Gardens was sponsored in partnership with Visit Northumberland. Although I was a guest, all photos, spells, and opinions are my own.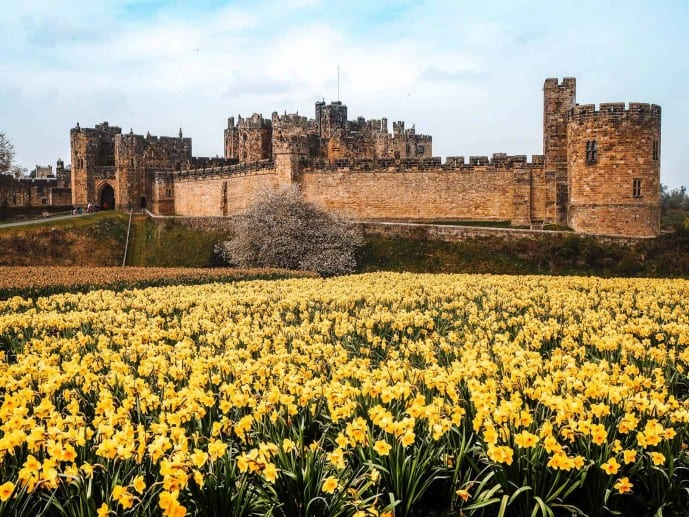 What is Alnwick Castle?
Hogwarts…duh?! No, I'm just kidding.
Alnwick Castle (Pronounced A-nick) is a Grade I listed castle and country home in the town of Alnwick in Northumberland.
It has a long history dating all the way back to the 11th century and was first built during the Norman conquests. It has since been heavily renovated over time.
For over 700 years it has been owned by the Percy family or the 'Lions of the North'. Their noble family members have been mentioned in plays by Shakespeare, fought in the Battle of Bosworth, rebelled against Queen Elizabeth I, played a part in the Civil War and World Wars too!
Today, Alnwick Castle and gardens are privately owned by the 12th Duke and Duchess of Northumberland. However, the Percy family only live in a part of the castle.
They've opened up the rest of Alnwick castle, the staterooms and their renaissance gardens to tourists. It sees well over 800,000 people visit every year!
Alnwick Castle has risen to fame on being the location of Hogwarts in the Harry Potter movies and also TV series like Downton Abbey.
Which of the Harry Potter movies was filmed at Alnwick Castle?
There were two Harry Potter movies filmed at Alnwick Castle.
The first was Harry Potter and the Philosopher's Stone in 2001 or for you Americans out there that would be Harry Potter and the Sorcerer's Stone.
The second movie was also filmed here that was Harry Potter and the Chamber of Secrets in 2002.
Alnwick Castle was used for the interior and exterior of Hogwarts castle in both movies.
This is where Harry and his friends would fly their broomsticks, learn quidditch and also where they would secretly escape to Hagrid's Hut in the wilderness!
Alnwick Castle Harry Potter filming locations
So, let's dive straight into the Harry Potter filming locations you can find around Alnwick Castle.
On my visit, a kind lady behind the counter gave me a visitor map and crossed off the locations for me. She even got film stills out of the locations too! So, don't hesitate to ask if you feel you'll get stuck.
But, it's easy to explore the grounds self-guided and if you're a real Potterhead, you'll instantly recognise the locations any way!
Here are all the Alnwick Castle Harry Potter filming locations.
1. The Outer Bailey – Broomstick and Quidditch lessons
As you go through the courtyard, you should head on into the Outer Bailey. If you've watched the movies you'll instantly recognise this Alnwick Castle Harry Potter film location.
This is where Harry and his friends first learnt how to fly their broomsticks, or 'Broomology' with Madam Hooch.
If you're unfamiliar, in the first year of training at Hogwarts you learn flying with a school broom. The second-year is when you can get your own!
This is the spot where you can learn to fly a broomstick yourself! More on that later… This location also doubled up for Harry Potter's Quidditch class with Oliver Wood.
You'll notice the statue on the tower nearby where they bat the Quaffle ball through.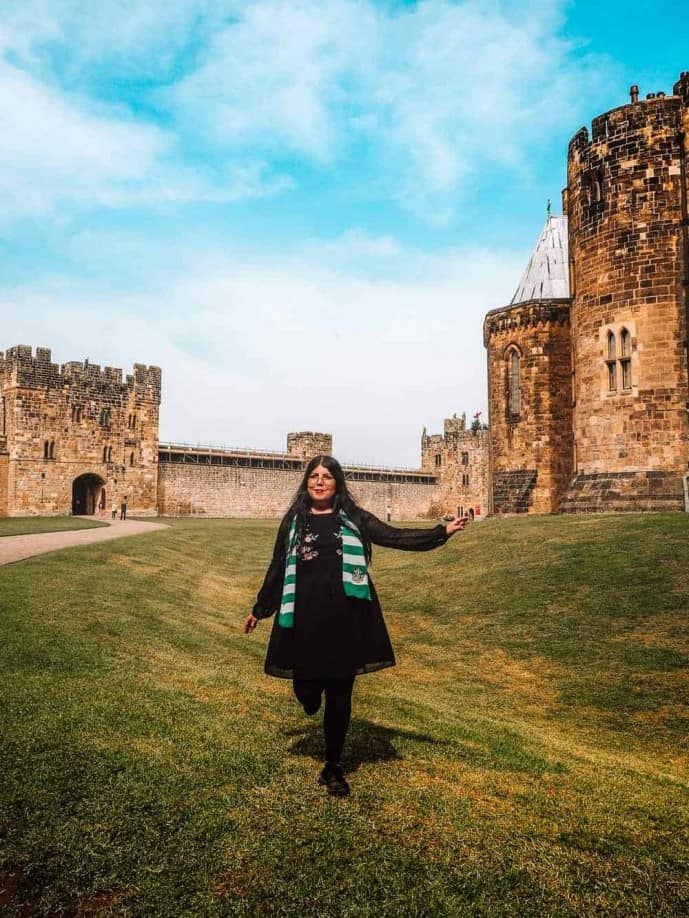 2. The Bailey Tower – where Neville Longbottom loses control of his broom
Look out for the huge tower in the Outer Bailey, you may recognise it from a hilarious scene in the first movie.
In the flying lesson with Madam Hooch, Neville Longbottom loses control of his broom!
He flies over the castle, under the archway and right up through the bailey tower. Eventually, his cloak gets caught on one of the statues nearby.
He got away with a broken wrist. Poor Neville, he never seems to get a break.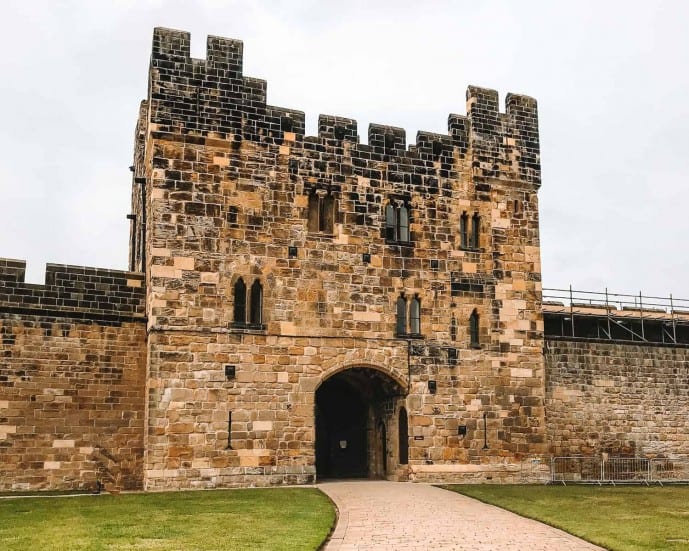 3. Inner Bailey & Rampart Wall – Ron and Harry fly into the Whomping Willow
If you head on over to the Inner Bailey which is right next to the entrance to the staterooms, you'll notice the rampart walls that surround it.
This area of Alnwick Castle featured in Harry Potter and the Chamber of secrets. It's when Ron and Harry fly in the Ford Anglia over Hogwarts and end up crashing into the Whomping Willow!
You'll notice that the Whomping Willow isn't there, It was, unfortunately, some amazing CGI.
But, you can follow the scene through to the Inner Courtyard archway. This is where the car spits out their luggage and decides to leave them and drive off!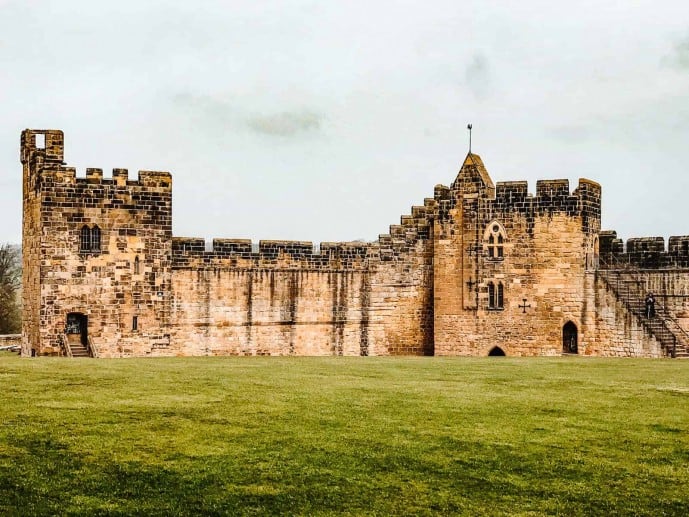 4. Courtyard Archway – where Hagrid drags the Christmas Tree
Christmas is always a special time at Hogwarts, the whole castle is decorated and Christmas spirits (literally) are singing carols.
The film production team made it snow heavily on the castle grounds with fake snow! Apparently, It was a nightmare to clean up afterward and the staff kept finding it inside the castle for months.
If you head through to the inner courtyard archway, this is the spot where Hagrid drags the Hogwarts Christmas Tree through to the Great Hall.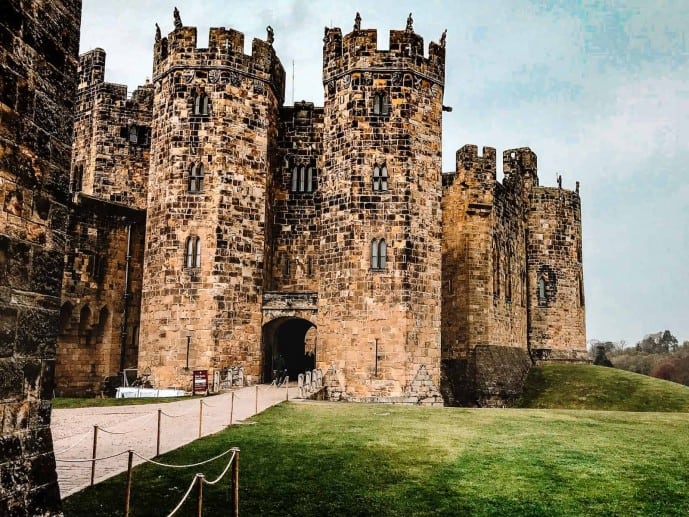 5. The Main Courtyard – In between classes
I think one of the most memorable scenes of the first movie is when Ron makes fun of Hermione after their charms class and says "it's Levi-O-Sa, not Levi-o-SA"! Who didn't keep saying that as a kid?!
Anyway, Hermione overhears Ron and she starts to cry. Aw!
I don't want to give too much away but, they do have their happy ending haha.
You can film this Alnwick Castle Harry Potter film location in the Inner courtyard just before you go inside the state rooms.
You'll notice the row of archways and the tunnel that Hermione walks through in a huff.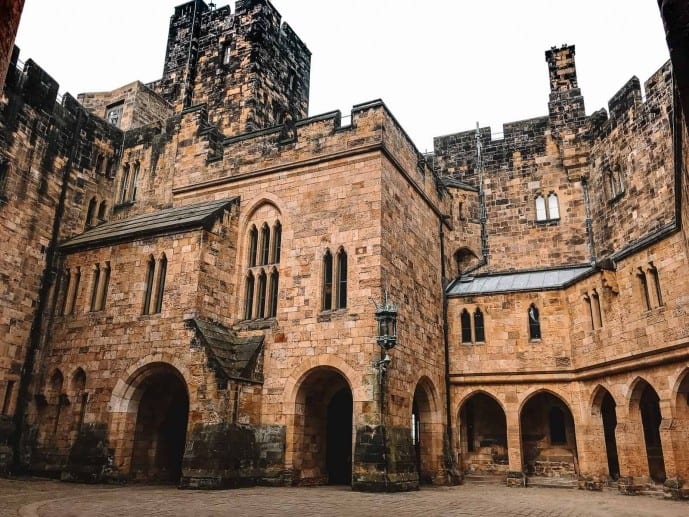 6. The Lion Arch – the path to Hagrid's Hut
As you approach the castle from The Alnwick Garden, you'll see the Lion Arch.
You'll instantly recognise it as the location where Harry, Ron, and Hermione walk down to see Hagrid in his hut within the Forbidden Forest.
There were some pretty awesome special effects made to make Robbie Coltrane who plays Hagrid to be that much taller than Harry and his friends!
Alnwick Castle Harry Potter experiences
As well as swooning over the film locations, there are also some awesome Harry Potter experiences that you can get involved in while you're here.
Make sure you wear your house colours as this is a photo opportunity you don't want to miss!
7.
Go on an Alnwick Castle Harry Potter Tour

Although there isn't a dedicated Harry Potter tour as such, you can go on an Alnwick Castle Film Tour of the grounds while you're here.

This is a FREE guided tour that is included in your ticket entry. It will last 30-45 minutes and your guide will show you all of the film locations of Harry Potter and other movies.

It's really entertaining and comes with amazing commentary. So, don't miss out!

You don't need to book this beforehand, just turn up at the meeting point around the time of the tour. There will be boards with specific times that day.

This is weather permitting and tours do get extremely crowded. I think I saw at least 60 people in one during my visit.
8. Experience Harry Potter Alnwick Castle Broomstick Training
One of my favourite experiences while visiting all the Alnwick Castle Harry Potter filming locations was the Broomstick lessons! It definitely felt surreal as the class takes place in the Outer Bailey just like in the movies.
Although Madam Hooch won't be around, the wizarding professors that run the sessions are hilarious and really get into it!
They will teach you the basics of mastering your broomstick. You'll practice your mounting skills, dismounting the broom and learning how to manoeuvre the grounds!
You'll be shouting at your broom in no time and whizzing around the courtyard.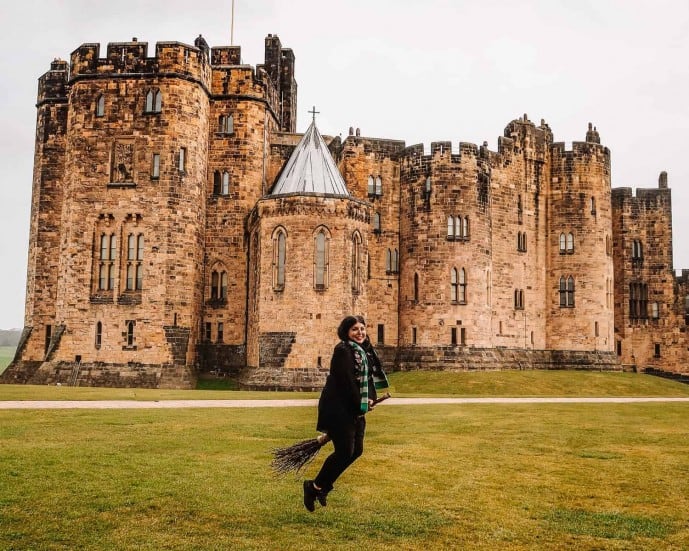 How much is the Alnwick Castle broomstick training?
Amazingly, the Alnwick Castle broomstick lessons are completely FREE and wizards and witches of all ages can take part.
So, If you are a Harry Potter fan and you're a little bit older, don't be shy! Plenty of big kids were taking part in the lesson and getting their flying sphotos too ;).
In order to take part, you do need to collect tickets for the session from one of the wizards or witches by the jousting area or Dragon's Quest.
These run on a first come first serve basis, so grab your tickets as soon as you arrive at the castle. It's extremely popular. It will have your time slot on it and this ticket will be collected from you in the lesson.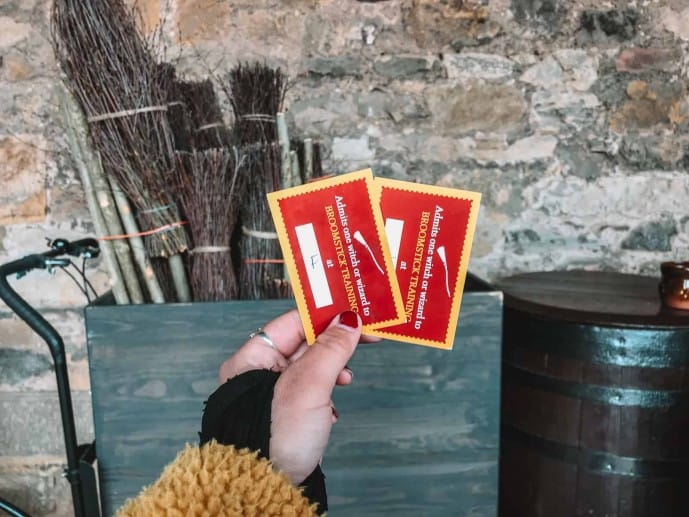 Tips for getting the perfect levitation or 'flying' broomstick photo!
Okay, I have a confession to make, I wasn't really flying on my photos (I know, shock). But, it was made with a little magic from my camera.
If you did want to get a photo where it looks like you're levitating or flying on your broomstick, I'll let you in on the secret on perfecting 'the flying broomstick photo'.
You don't need a fancy camera, or photoshop, you can easily do this on your phone!
Whatever device you have you need to make sure that you set it to a fast shutter. So, if you have a camera this would be a High-Speed Shutter mode or a sports mode on your camera.
If you have a phone, you just need to keep your finger on the photo shutter button in order to take a lot of photos in a very short amount of time.
The person with the broomstick will need to jump as high as they can in the air, lifting and bending their legs in line with the broomstick.
At the same time, the photographer will need to take the high speed shutter photos.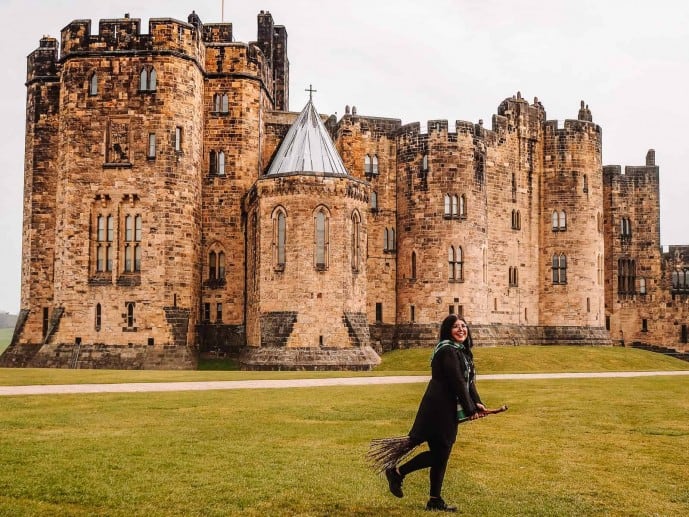 When I took mine with my tripod, I had a high-speed shutter on continuous mode and just let it run.
I kept jumping two or three times when the camera was filming. Keep going until you have lots of photos to choose from.
Then, look back through your camera reel and on some of the photos you'll be flying on your broomstick!!
Not all the photos will be great, so just delete the rest. It's really fun, so make sure to wear your house colours!
If you forgot them, you can take a look in the Harry Potter shop here.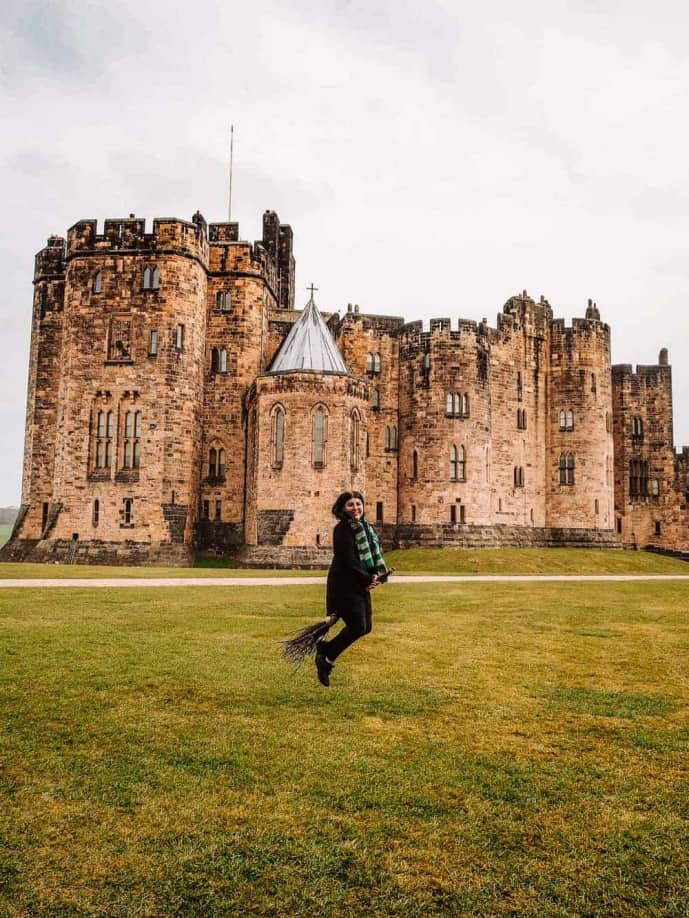 9. Fall in love with the Alnwick Castle Harry Potter shop
With this castle being quite a hot spot for Potter fans, I was expecting some souvenirs to be around. But, what I found was an endless treasure trove of Harry Potter gifts!
There were robes, hoodies, hats, scarves, wands, mugs, magnets, dragons, notebooks – just SO much stuff to look at. They even had some take away bottles of Butter Beer and Chocolate Frogs!
I mean come on, how cool is that? You could spend a long time here admiring all the merchandise, so make sure you save up enough pennies.
10. Have dinner at The Treehouse Restaurant aka Weasley's Burrow!
There is nothing better than ending a magical day with dinner at the Treehouse Restaurant. This place is like something out of a storybook!
You'd definitely be forgiven for mistaking this restaurant as the Weasley's Burrow in Harry Potter!
Located high in the treetops of Alnwick Forest, you'll walk over canopies to reach it. Once inside, you can eat your meal while you're surrounded by tree branches and fairy lights.
The dishes that have been specially prepared with organic produce from the gardens and local farmers. Plus, you can drink their specially brewed Alnwick beer made with homegrown hops on the grounds!
A big tip I would have is to book WELL in advance. This place books up quick for lunch and dinner, so make sure you enquire a few weeks before you plan to dine.
Click here to read my full Weasley's Burrow restaurant review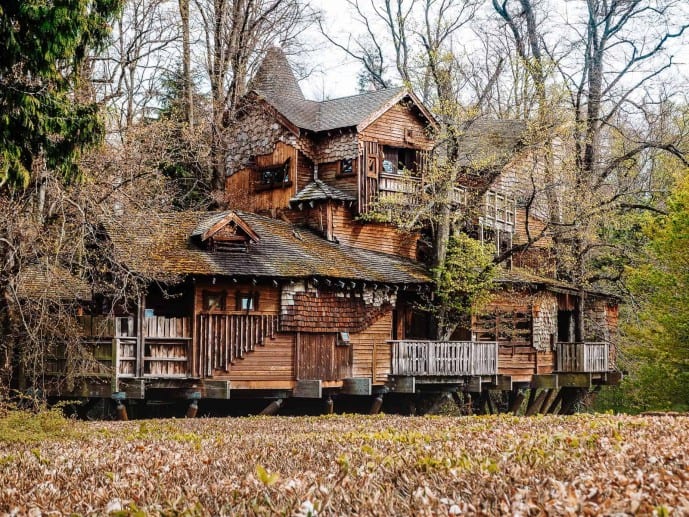 What has been filmed at Alnwick Castle aside from Harry Potter?
Of course there are plenty more places for movie buffs beyond the Alnwick Castle Harry Potter filming locations.
Alnwick Castle has been the location for a number of films and TV shows. The most recent is the ITV period drama, Downton Abbey. It portrayed Brancaster Castle in two Christmas specials.
I LOVE the comedy Blackadder and this was the location where they shot the exteriors of the castle in the first series.
Fans of Tom Hardy will love that The Virgin Queen was filmed here, it was one of his very early roles as Robert Dudley.
Other Hollywood movies that have used Alnwick Castle are A Knight In Camelot, Robin Hood: Prince of Thieves, Elizabeth as well as Transformers: The Last Knight.
You can find out where they have filmed everything and some behind the scenes gossip during the FREE 'Alnwick On Location' Film Tour that takes place throughout the day.
Other things to do at Alnwick Castle
As well as the magical Harry Potter experiences, don't leave without checking out all that Alnwick Castle has to offer you.
In the Inner Bailey, they often have archery lessons if you wanted to try your hand at it like Robin Hood. Or, you can watch 'Jousting in the North' during the summer!
Nearby is Dragon Quest that is also included in your ticket where you can help Henry Hotspur and the Dragon Catcher. You'll battle mystical forces and a terrifying dragon.
Dress up in medieval clothes, play medieval games and perfect your ancient crafting skills in the Artisans Courtyard.
Or, treat yourself to some lunch in the Courtyard Café.
A new thing that they have started doing is firing a replica Napoleonic cannon on select days of the year. This was something that would happen daily in the Georgian Era at the castle.
The Alnwick Castle staterooms are completely magnificent and they have some of the most gorgeous paintings and artefacts inside. The Percy family history dates back 700 years and so there are lots to see. Unfortunately, no photography is allowed.
Oh and keep your eyes peeled for the Alnwick Vampire! Legend has it that a servant who worked for the lord of the castle caught his wife having an affair. He jumped off the castle and broke his neck. They buried him but he was spotted walking around the town!
They have some spooky events to honour their haunted halls around Halloween.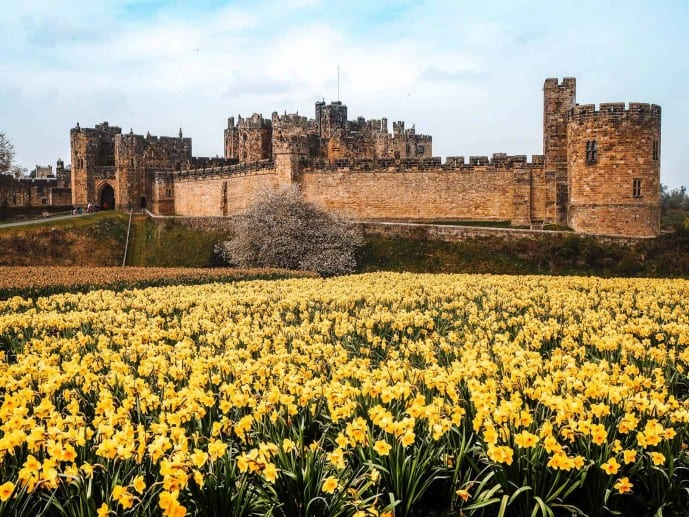 Alnwick Castle location & how to get there
Alnwick Castle is located in Alnwick in Northumberland and can be accessed less than a mile off the A1 motorway.
Once you take the slipway, it's really well signposted the whole way throughout the town and you'll arrive on Denwick Lane on the B1340 road. Plug in NE66 1YU into your SatNav.
Parking will cost £3 for an all-day spot that is payable in CASH ONLY.
If you plan on arriving on public transport, you get an added benefit of 20% off your castle ticket when you show proof. So, remember to present your bus or train tickets when at the ticket desk.
Alnwick Castle by train: the nearest railway station is Alnmouth. From here you can take a bus or taxi to the castle.
Alnwick Castle by bus: There are plenty of bus services that connect with Alnwick bus station, some front the city of Newcastle.
Fancy a tour instead? If you're on holiday and wanted to cover a few spots. There are a couple of tours that run out of Edinburgh to Alnwick Castle and even Holy Island. Click here for details.
Alnwick Castle opening times & ticket prices
Alnwick Castle and grounds open from 10 am – 5.30 pm with the last entry at 3.45 pm.
However, some of the activities like the staterooms have last entry of 4 pm. The Friary shuts at 3 pm. So, make sure to check opening times while you're here so you don't miss out!
Tickets for Alnwick Castle cost £18.50 and adult and £9.75 a child. Concessions are £15. It's an attraction in its own right and if you wanted to visit the Alnwick Garden it will be a separate ticket.
It's definitely more economical sense to buy a joint ticket for castle with the Alnwick Gardens. Combo tickets are £30.20 Adult and £13.25 a child. Concessions are £26.
Is Alnwick Castle dog friendly? Unfortunately, only guide dogs are permitted on the Alnwick castle and grounds. But, there are many dog-friendly walks around the area!
Things to do after Alnwick Castle
The Alnwick Garden
Once you've explored Alnwick Castle you must pay a visit to The Alnwick Garden. It was the brainchild of The Duchess of Northumberland and her team of trusty gardeners transformed this area into a renaissance display!
There are 12 acres of magnificent gardens and you can instantly spot their Grand Cascade with 120 water jets! I was lucky enough to visit the gardens during their blossom season.
The gardens have the largest collection of Tai Haku Cherry Orchards and when in bloom it's just heavenly!
It was almost snowing blossom and I loved how they had around 30 swings to relax and enjoy them. Click here to read more.
It may be a little macabre, but a visit to their Poison Gardens is a must to learn about killer plants. From foxgloves, deadly nightshade, and even daffodils. It may surprise you what could make you ill!
You're strictly prohibited from touching, smelling or tasting any plants while inside. Some people have been known to faint from toxic fumes in the garden!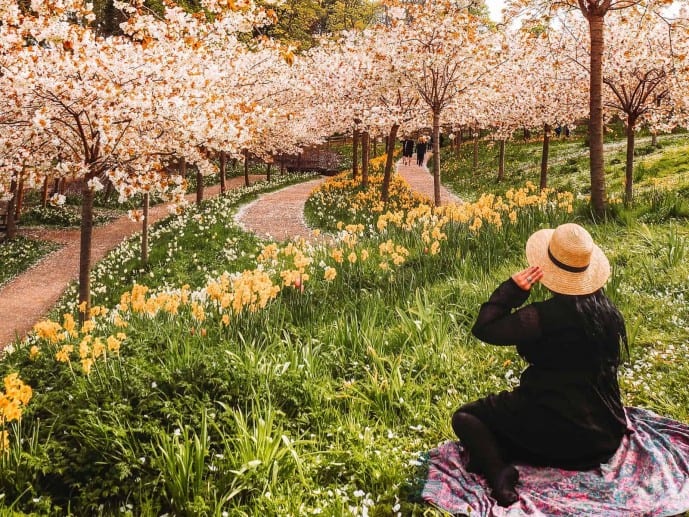 Can you stay at Alnwick Castle?
Although it would be amazing to stay at Hogwarts, it's not possible at this time!
But, there are some amazing properties that are located in the quaint medieval town of Alnwick that you may prefer on your visit;
The Hogs Head Inn – An award winner in the North East England Tourism Awards, this place was named after the Harry Potter tavern! I love the Inn Collection Group and their properties are always cosy, with a hearty breakfast and friendly service. This Inn has 53 en-suite rooms for rent with a pub and restaurant onsite. Click here for rates.
The Cookie Jar – This boutique accommodation is an award-winning cosy retreat located right in the heart of Alnwick. The bedrooms are all unique and the amazing interiors are just to die for! There's a terrace and Bistro onsite. Click here to book.
The Bondgate Boutique – Another boutique property in a Grade II listed building dating back to the 1700s. But, you'll find cosy modern furnishings in their beautiful rooms. Click to enquire.
Do you love Harry Potter? Read more of my inspired articles!
Where you can find Harry Potter in the city of York
How to visit Malfoy Manor in real life!
Harry Potter filming locations in Oxford
How to spend the night in Hagrid's Hut
Harry Potter locations in Edinburgh
All the Harry Potter filming locations in Scotland
How to find the Harry Potter Tree at Blenheim Palace
A complete Forbidden Forest Experience review
How to visit the real Godric's Hollow in Lavenham
Harry Potter locations in Lacock Village
Harry Potter locations in Exeter
Harry Potter filming locations at Gloucester Cathedral
Visiting the Quidditch Town of Tutshill Tornados
The Shop That Must Not Be Named review
Magical experiences in the Potion's Cauldron in York
Harry Potter filming locations in Virginia Water
A muggles guide to the Wizarding World of Harry Potter
How to see the Hogwarts Express in the UK!
How to find Tom Riddle's Tomb in Edinburgh
How to visit Dobby's Grave in Wales
How to visit the real Knockturn Alley in London
Is Cecil Court a real Diagon Alley in London?
How to visit Dumbledore's Grave in Scotland
Harry Potter filming locations at Durham Cathedral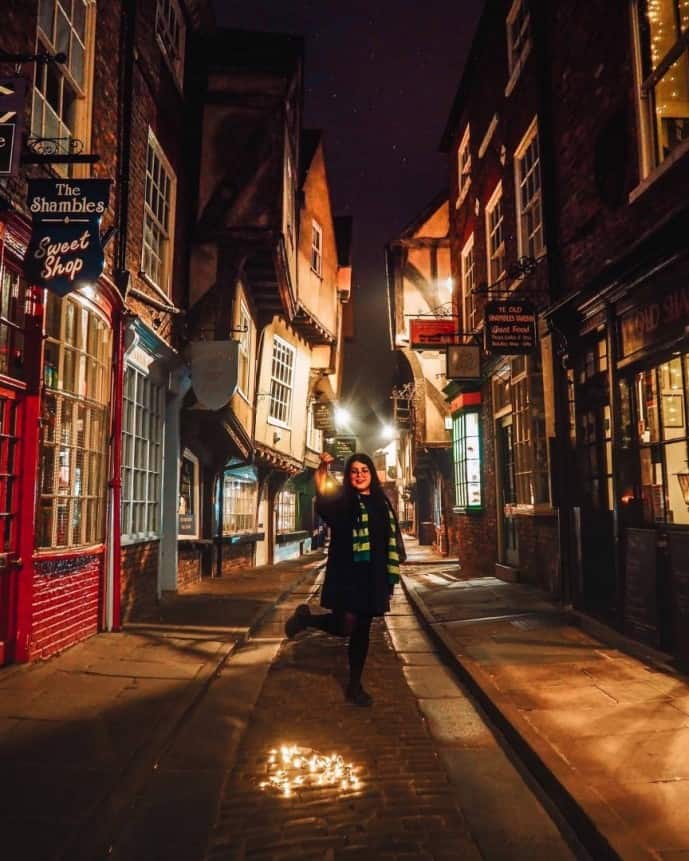 Be inspired by Northumberland!
Top things to do on Holy Island
Why you must try Lindisfarne Mead!
How to see puffins on the Farne Islands
Why you need to visit the Dunstanburgh Castle ruin
A Last Kingdom Fans guide to Bebbanburg or Bamburgh in Northumberland!
How to do the Steel Rigg to Sycamore Gap walk on Hadrian's Wall
Visit the magical Barter Books in Alnwick
Why you must visit Bamburgh Castle at Christmas
Save these Alnwick Castle Harry Potter filming locations for later!