Listen up Muggles, did you know that you can now visit the only official Harry Potter Butterbeer Bar in London?!
So, if you have ever wanted to sip on the oh-so-popular Wizarding beverage from the Three Broomsticks and Hog's Head Inn at Hogsmeade – now is your chance to do so.
It officially opened as part of the Harry Potter Photographic Exhibition or Warner Brothers Harry Potter On Location event in Covent Garden this summer.
So, if you wanted to visit you will need to fly your broomstick over to the capital and get in there while you can.
Here's a complete review and a sneak peek inside the brand new Harry Potter Butterbeer Bar in London!
Note: The Harry Potter Photographic Exhibition and Butterbeer Bar have now been permanently closed.
What is the brand new Harry Potter Butterbeer Bar in London?
It's London's only Bottled Butterbeer Bar and it's a brand new attraction that Potterheads will love!
This magically themed pub is a fun take on the Wizards drink of choice with plenty of treats and tankards of Butterbeer to be had.
You could honestly mistake this place for the Weasleys' Wizard Wheezes as there are so many quirky and colourful things to look out for here.
You can sit in Butterbeer Barrels, gorge on Chocolate Frogs and Bertie Botts Beans, and see your favourite actors from the movies with Butterbeer moustaches.
Honestly, this bar is a must-visit for any Harry Potter fan. So, make sure you don't miss out.
When will the Bottled Butterbeer Bar in London open?
The only Bottled Butterbeer Bar in London officially opened its doors with the Harry Potter Photographic Exhibition in July in Covent Garden.
They even had James Andrew Eric Phelps and Oliver Martyn John Phelps (the twins that played Fred & Gorge Weasley) to attend and drink some Butterbeer for the inaugural celebrations!
It was extremely popular in summer with tickets selling out, so I would make sure that you make a trip to London for it while you still can this year.
The Butterbeer Bar London opening times are 10 am – 6 pm daily (Last entry at 5 pm)! It's only closed on Christmas Day and Boxing Day.
How to visit the only Butterbeer Bar in London
Unfortunately, unlike the one that recently opened in New York, you cannot access the Butterbeer Bar in London on its own.
You can only gain access to the Butterbeer Bar as part of a valid entry ticket to Harry Potter On Location in Covent Garden.
As it stands adult tickets are currently £20, and children's tickets are £14. Both allow access to the incredible exhibition and bar.
Your visit to the exhibition will take around an hour but you can spend as much time in the Butterbeer Bar as you like.
Considering London is quite expensive for drinking in bars anyway, I would say this is a bargain really as you are getting two magical things for the price of one!
Important Muggle announcement: The Botted Butter Beer Bar has now been extended! – so get in while you can!
How much is the Butterbeer Bar in London?
Although access to the Butterbeer Bar is free with a ticket to the exhibition, buying Butterbeer here is most definitely an additional cost of your ticket.
The Butterbeer Bar in London charges £6.95 for a Butterbeer but this does include a FREE plastic Butterbeer Tankard which you can take home with you as a souvenir!
I actually ended up taking both the bottle and the tankard home as they both had the beautiful new Butterbeer sticker design by the House of MinaLima.
In fact, you can visit MinaLima's FREE Harry Potter museum afterward in Soho and purchase more of their gorgeous goods that are featured in the movies!
I tried to buy an extra bottle of Butterbeer after but I was told I'd have to buy one with the tankard again and you couldn't actually just purchase another bottle on its own. So, be mindful of that.
If you're worried about carrying a sticky Butterbeer tankard with you around London, don't be. The Butterbeer Bar in London comes equipped with its very own Tankard Washing Station so you can rinse it off. It dries super quick and it will be squeaky clean before you leave.
Take a look inside the Harry Potter Butterbeer Bar in London & UK!
So, what is it like visiting the only Harry Potter Butterbeer Bar in London?! Well, it's just as magical as you would expect for an official Warner Brothers Studios attraction.
It's brightly painted in seretonin-iducing colours and has the most spectacular decor to greet you. The bar colours have been designed to match the new Bottled Butterbeer logo that has been tastefully designed by the House of MinaLima.
There is so much space and lots of tables to choose from and there are photos everywhere of your favourite actors from the movies, drinking Butterbeer of course!
My personal favourite tables were the Butterbeer barrel booths which were so cosy. But, they also had one that looked like a copper brewing tank with some bubbling Butterbeer tubes in the middle which was pretty epic.
A bonus is that they play some of the Harry Potter music while you're inside which really adds to the vibe. It transports you straight into Wizarding World! You could almost believe that you were in Hogsmeade for a while.
What does Butterbeer taste like in the UK?
So, Butterbeer is always a hard taste to describe being honest. It's incredibly sweet and it tastes like a Butterscotch Cream Soda with a whipped topping!
If you've ever tasted the amazing Frozen Butterbeer at Universal Studios, you may be surprised that the Butterbeer in the UK looks and tastes nothing like that.
Also, I found that the bottled Butterbeer served at the photographic exhibition tastes different than the Butterbeer that you can buy at the Harry Potter Studios Tour too!
As it's served in a bottle here, you don't get the whipped topping like in Harry Potter Studios. But, it is still extremely tasty and fizzy. It's also served nice and cold which helps with tolerating some of the sweetness!
Is there alcohol in Butterbeer?
In the Harry Potter books and movies, Butterbeer does contain a teeny bit of alcohol that sends characters like Hermione Granger a little tipsy.
However, I'm afraid to report that the Bottled Butterbeer served up in the Warner Brothers Studios attractions does not contain alcohol whatsoever.
The good news is that it's family-friendly, the bad is that it may be a little disappointing for the more grown-up Harry Potter fans who were expecting some cocktails in this bar.
But, don't despair, the Bottled Butterbeer Bar does serve up alcoholic drinks on the menu. So, you can choose your favourite wine, beer, or spirit if you would prefer one!
Do they just serve up bottled Butterbeer in the bar?
No, they actually serve up a whole range of drinks and food in the Butterbeer Bar which is great if you don't have a sweet tooth. They have lots of other soft drinks, coffee, tea and bottled water on offer.
The bar also has a range of savoury food options like breakfast muffins and hot panini's if you wanted something extra with your Butterbeer. Plus, they have cold sandwiches and salads.
For children, they have some super cute packed lunches presented in a Knight Bus box which I thought was adorable.
If you wanted some suitably magical snacks, they have a range of sweet treats too! Gold coin cakes, Witches hat tortes, and Tuck Shop Brownies are all available to purchase!
I had one of their Chocolate Frog cupcakes and it came with a mountain of purple icing and a load of gold glitter on top which was so pretty.
The prices of the food, drinks, and cakes here are a little on the pricey side but what you would typically expect from a Warner Brothers attraction.
Is a visit to the Harry Potter Butterbeer Bar in London worth it?
If you're a Harry Potter fan, I would 100% say YES it is worth the money to visit the Butterbeer Bar in London!
The fact that you can sit in a colourful Wizarding World-themed bar with Butterbeer Barrels as tables and the movie soundtrack playing is simply a dream for Potterheads.
It is a little expensive but compared to some of the Harry Potter-themed cocktail bars and experiences in London, the price is a bargain. Especially as you get to visit the exhibition too.
This bar was the perfect place to end a visit to Harry Potter On Location and it certainly made my visit to London a memorable one!
What can you do at the Harry Potter Photographic Exhibition?
If you were debating whether to visit the Harry Potter Photographic Exhibition, this is your sign that you should book tickets!
Sure, it doesn't have as much to offer as the Harry Potter Studios Tour but it is special in many other ways. I picked an amazing time to go just after the schools went back and there was hardly anyone there. It was so lovely and quiet so I could just enjoy everything and take walk down memory lane. It felt like a private tour haha!
You can see unseen behind-the-scenes photos, as well as mini-documentaries, props, and costumes that haven't been on display to the public before.
There are also SO many photo opportunities here like a giant Hogwarts Acceptance Letter, The Ministry of Magic tunnel, and the famous red telephone box. Plus, you can snap one of the blue Ford Anglia's that featured in the movies.
You can experience Green Screen technology and buy a video of you flying your broomstick over London.
But, my favourite part was getting a Ministry of Magic photo ID card. This is an exclusive feature of the Harry Potter Photographic Exhibition that you cannot get anywhere else. So, I would say grab the opportunity with both hands.
Click here to read my complete review of the Harry Potter Photographic Exhibition with even more reasons to visit!
Are you looking for more Harry Potter locations in London?
London is full of amazing Harry Potter filming locations, inspirations, and experiences to enjoy if you're a Potterhead.
After your visit to Butterbeer Bar in London, you can head over to both Cecil Court and Goodwin's Court on Charing Cross Road which is thought to have inspired Diagon Alley!
You can watch the Cursed Child in Palace Theatre or hop inside the House of MinaLima who are the designers of most of the magical Harry Potter props from the movies!
Leadenhall Market, Millennium Bridge, and Borough Market are all featured in the movies as well as the St Pancras International Hotel. You can even find the Order of the Pheonix HQ!
You can head into St Paul's Cathedral to see their Geometric Staircase that was the Divination Stairwell at Hogwarts.
Just nearby you have the iconic King's Cross Station. Although there is no platform 9 3/4's in real life, there is a Harry Potter Shop with a trolley nearby for a photo opportunity.
Or, you can enjoy some Harry Potter-themed experiences like afternoon tea at Cutter & Squidge in their Potion Room. Or, head to The Cauldron for a magical cocktails experience.
No Harry Potter fan can leave London without visiting The Making of Harry Potter on a Warner Brother's Studio Tour.
It's filled with lots of real sets, props, and costumes that are featured in the movies. It's based in Watford but you can take an official Warner Studios Bus transfer from central London.
If you can I would recommend a visit around one of their special events like the Dark Arts at Halloween or Hogwarts in the Snow.
Click here to read my complete guide on London Harry Potter locations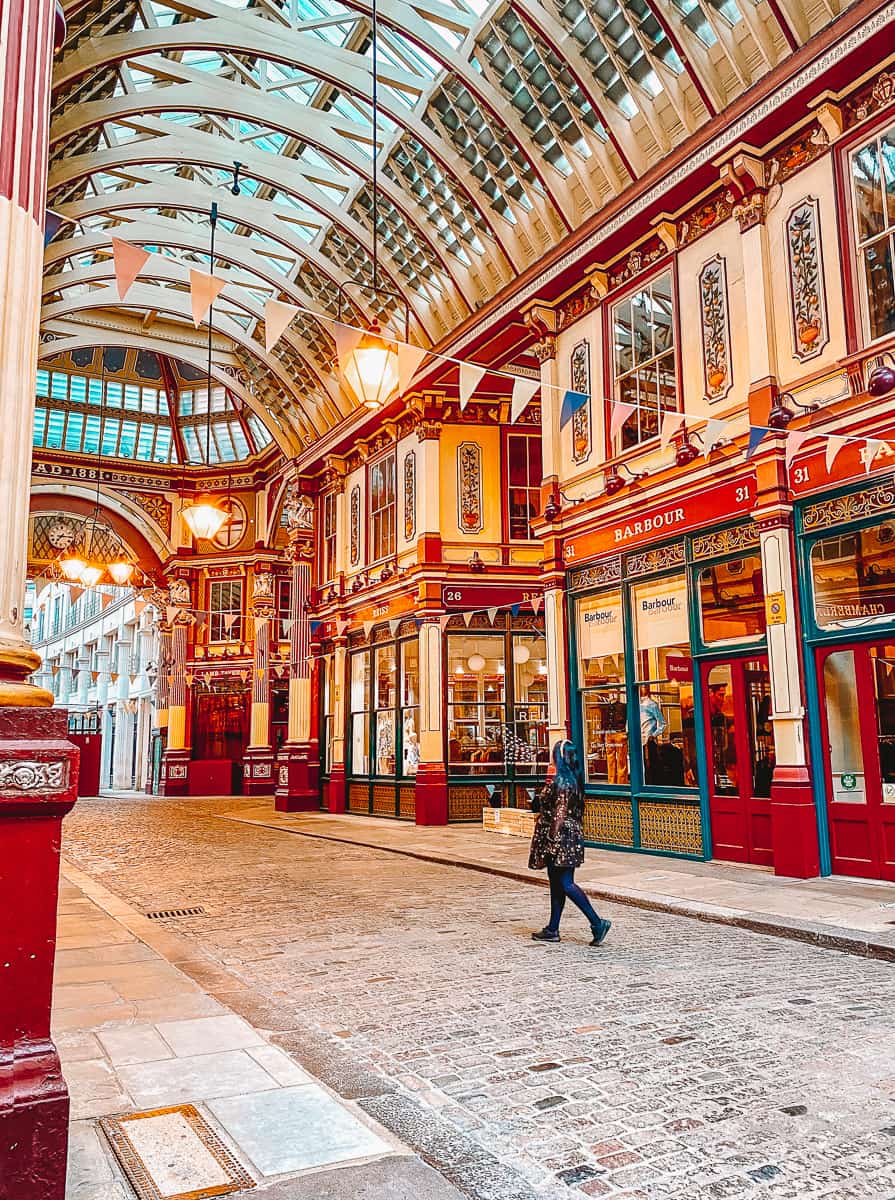 Read more of my Harry Potter guides
Harry Potter locations in Lacock
Harry Potter filming locations in Alnwick Castle
Where to find Harry Potter in York
How to find the Harry Potter Tree at Blenheim Palace
The Shop That Must Not Be Named Review
How to find Dobby's Grave in Wales
Harry Potter filming locations in Gloucester Cathedral
How to see the Hogwarts Express in Scotland
A complete Forbidden Forest Experience Review
Visiting Malfoy Manor in Real life!
Where to find Tom Riddle's grave in Edinburgh
How to spend the night in Hagrid's Hut
Visiting the Quidditch Town of Tutshill Tornados
Harry Potter locations in Exeter along with Gandy Street and the Room of Requirement
Virginia Water – the Other Hogwarts Lake
Instagram locations at the Wizarding World of Harry Potter
How to visit Dumbledore's Grave in Scotland
How to find the Malham Cove Harry Potter Deathly Hallows filming location
Harry Potter filming locations at Durham Cathedral
Save this Harry Potter Butterbeer Bar in London guide for later!