Okay, listen up Muggles and Witches and Wizard of all houses. If you have ever watched the Harry Potter movies and wondered 'where is Dumbledore buried?' Then this is the article for you!
Dumbledore's Grave island is located in the Highlands of Scotland within the atmospheric Loch Eilt. It's called Eilean Na Moine and this is the place that featured as Dumbledore's burial island in the Harry Potter movies.
The great news for Potterheads is that this is a real filming location and you can actually visit this island for yourself. It's fairly easy to do on a short drive from Fort William.
It may not look exactly like it does in the movies when you get here as the island was digitally imposed on Loch Arkaig due to it being a slightly larger lake.
However, this little island is still worth seeing if you're a Harry Potter fan and you wanted to pay your respects to the once-great wizard, Albus Dumbledore.
Here is a detailed guide on how to visit Dumbledore's Grave island or Eilean Na Moine in Scotland!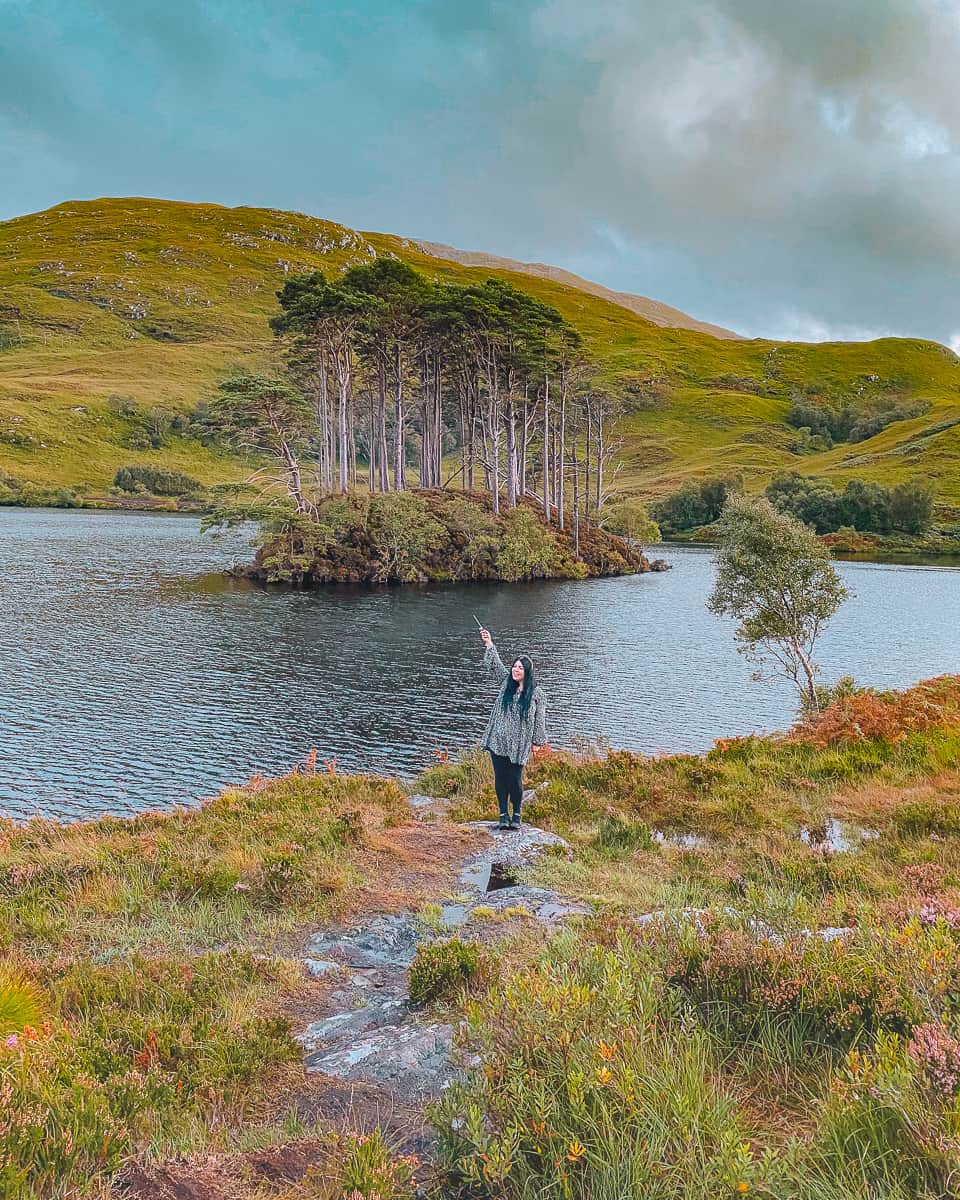 Who is Albus Dumbledore in Harry Potter?
So, Harry Potter fans will need no introduction to Albus Dumbledore. But, if you are visiting Scotland with your Hogwarts-obsessed friends, then I'll give you a bit of background information.
Albus Dumbledore features heavily as a central character in the Wizarding World franchise in both the Harry Potter book/movie series and the recent Fantastic Beasts films that explore a lot more of his back story.
We are first introduced to Dumbledore in the very first scenes of Harry Potter and the Philosophers' Stone (2001). This is when he drops Harry Potter, or 'The Boy Who Lived', at the dreaded Dursleys who make Harry live in a cupboard under the stairs.
Later, we find out that he is the Headmaster at Hogwarts School of Witchcraft and Wizardry and almost becomes Harry's unofficial 'protector' and mentor.
But, throughout the series, we discover his past with characters like Gellert Grindelwald, his sister Ariana, his encounters with Tom Riddle (Voldemort), the fact that he founded the Order of the Pheonix, and also being the keeper of the Elder Wand.
Although J. K. Rowling and others view Dumbledore as the "epitome of goodness", he is actually quite a controversial character amongst fans. Many Potterheads are divided as to whether Dumbledore really was a good guy in the end.
In the beginning, he is seen as a wise and kind protector but as the story unfolds many of his decisions regarding Harry Potter and Snape bring his supposed 'moral compass' into question.
How does Dumbledore die in the Half Blood Prince?
Okay, so without going through too much of the backstory, the final chapters of the Harry Potter films centre on finding and destroying Voldemort's Horcruxes.
These Horcruxes are part of Lord Voldemort's soul that he has trapped and hidden in ordinary items so that he can potentially live on forever.
In the Half-Blood Prince, Dumbledore has destroyed Marvolo Gaunt's Ring which we later find out is a Horcrux. Unfortunately, Voldemort placed a curse on it and so Dumbledore's hand is withered. The curse means that he is slowly dying and his days are numbered.
Dumbledore is also the keeper of the Elder Wand which is one of the most powerful wands in the world and so Voldemort wants ownership of that. The only way that a wizard can truly gain all the power of another wizard's wand is if the owner of that wand dies.
So, Voldemort plans for Draco Malfoy to kill Dumbledore as part of his master plan. But, Dumbledore finds out and has already planned for Severus Snape to kill him instead.
This is so that Snape can not only protect Draco's soul but also gain trust while infiltrating the Dark Lord's army and eventually defeat him.
In the Battle of the Astronomy Tower, it's revealed that Draco allowed Death Eaters into Hogwarts through the vanishing cabinet and that he must be the one to kill Dumbledore.
He's obviously emotionally torn by this. But, at the last minute, Snape reveals his wand and uses the Killing Curse which blasts Dumbledore off the astronomy tower as they had both planned.
Dumbledore then falls off the astronomy tower to his untimely death. This results in all the students of Hogwarts gathering around to mourn him and raising their wands in respect.
Of course, that is a very simplistic explanation – there is a lot more to it than that and many layers to the complex story. Plus, the books are really different than the movies.
But, for the sake of timing, I'm going to leave it at that! If you want to know the whole epic story, you must read the books or watch the movies as it will reveal everything to you.
Where is Dumbledore Buried and where was Dumbledore's Grave island filmed?
After Dumbledore sadly dies in the movie, he is buried on a small island adorned with trees on Hogwarts Great Lake.
His grave is also known as the White Tomb and it is the only grave located at Hogwarts. The Elder Wand was buried with him (before Voldemort stole it).
If you have ever wondered about the location of the island where Dumbledore is buried, then you'll be happy to know that this filming location is a real place that you can visit in Scotland!
It's very easy to visit if you're using Fort William as a base in Scotland. It is also conveniently located near Glenfinnan Viaduct which is another popular Harry Potter filming location.
The location of Dumbledore's Grave island is Eilean Na Moine which sits in a corner of Loch Eilt in the Scottish Highlands.
What Harry Potter movies were filmed at Loch Eilt?
Loch Eilt featured in four of the Harry Potter movies. These are;
Harry Potter and the Chamber of Secrets (2002)
Harry Potter and the Prisoner of Azkaban (2004)
Harry Potter and the Goblet of Fire (2005)
Harry Potter and the Deathly Hallows Part 1 (2010)
Harry Potter and the Deathly Hallows Part 2 (2011)
What is the Loch Eilt Harry Potter Connection?
Beyond Loch Eilt being the Dumbledore's Grave location, this dramatic freshwater loch surrounded by mountains actually featured in many of the other Harry Potter movies as well.
Firstly, it appeared in Harry Potter and the Chamber of Secrets. This is only briefly where they superimposed Hogwarts in the background.
Then, you'll see it in the Prisoner of Azkaban after Buckbeak has been sentenced. This is where Hagrid is on a beach and is throwing stones in the rock while Harry, Ron, and Hermione console him.
Next, we can see Loch Eilt in Harry Potter and the Goblet of Fire in various other scenes featuring Hogwarts Castle.
Finally, it features heavily in Harry Potter and the Deathly Hallows Parts 1 and 2 where we see the somber scenes of Dumbledore's burial island and Grave.
The scenes filmed here are where Lord Voldemort opens Dumbledores' Grave to steal the Elder Wand.
Did you know? Virginia Water in Great Windsor Park is known as the 'Other Hogwarts Lake' due to there being too many annoying midges to film the actors here? Click here to read my complete guide for Harry Potter filming locations at Virginia Water.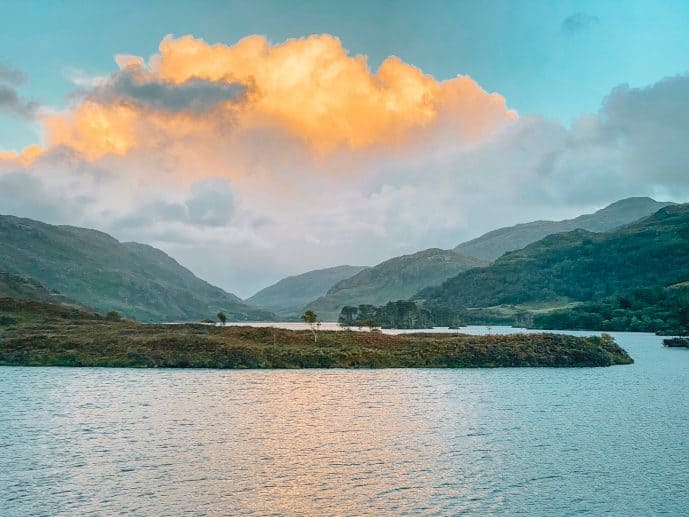 Where is Loch Eilt located in Scotland?
So, if you wanted to visit Loch Eilt and Eilean Na Moine in Scotland, I would recommend navigating over to Fort William first.
This is a great base if you were planning on visiting some of the Harry Potter filming locations as it has many hotels and lots of infrastructure like cafés and transport that connects you with the lowlands.
Then, you'll need to drive on the A830 road or 'The Road to the Isles' all the way over the Loch Eilt. The drive from Fort William is around 23 miles and it will take you approximately 40 minutes.
Unlike most roads in the Highlands, the 'Road to the Isles' that runs from Fort William to Mallaig is extremely well paved due to its popularity.
The road gets its nickname from the ferries that run from Mallaig to the Scottish Islands to the likes of the Isle of Rum, Isle of Eigg, and the Isle of Skye.
You'll pass Glenfinnan Visitor Centre on the way and the drive to Loch Eilt is another 8 miles from Glenfinnan (15 minutes). So, you could plan a visit to Loch Eilt as part of a visit to Glenfinnan Viaduct to watch The Hogwarts Express.
By far, the best way to visit Dumbledore's Grave is to drive due to the remote location and there is limited public transport available to take you here.
Need to plan your trip? Click here to read my complete guide on how to watch the Hogwarts Express from Glenfinnan Viaduct!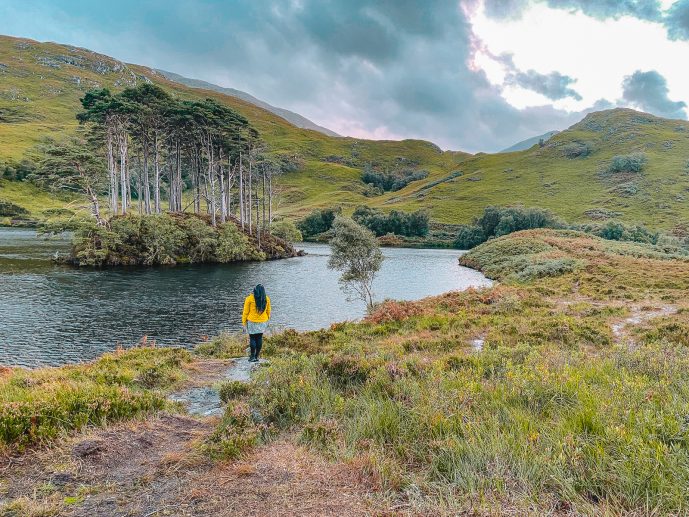 Is there a bus to Loch Eilt / Eilean Na Moine?
Unfortunately, Loch Eilt is not the easiest place to visit if you don't have access to a car in the Highlands.
The closest train or bus station to Loch Eilt is in Lochailort and it's is around a 30-minute walk to Loch Eilt from there. However, there is no 'official' walking path or track so it may not be the best option as you'll be walking on the road for most of it.
It is good to note that if you are planning on catching The Jacobite train while you're here you can see Loch Eilt and Eilean Na Moine on the train ride. So, this will save you a bit of a journey.
Don't worry about missing it as The Jacobite makes an official announcement for passengers before you pass Dumbledore's final resting place.
You don't get to see it for long, but it is just enough time to snap a quick photo from the windows.
If the Jacobite is a little on the pricey side for you or tickets are sold out, you can get a normal Scots Rail ticket for a journey from Fort William to Mallaig by train.
This train takes the exact same route as The Jacobite and you'll see Eilean Na Moine from the windows too. It even goes over the famous Glenfinnan Viaduct like in the movies!
Alternatively, you could head out on a Harry Potter filming locations tour. There are many to choose from and some have guaranteed seats on The Jacobite as part of your ticket.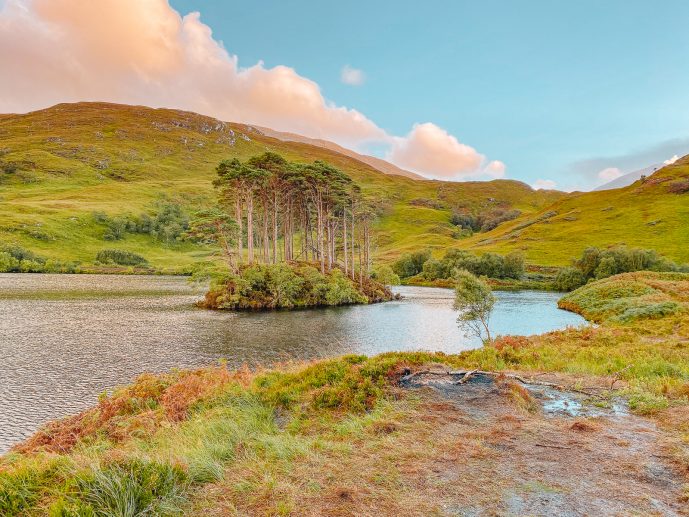 How do you get to Eilean Na Moine or the Island where Dumbledore is buried in Scotland?
If you are planning on driving to Loch Eilt, here are some easy instructions on how to find and visit Dumbledore's Grave in Scotland!
1. Firstly, you'll need to drive to Loch Eilt on the A830 from Fort William
From Fort William, you'll need to head on the A830 road to Mallaig, also known as the 'Road to the Isles'. This is a very easy road to navigate as it's only one main road the whole way!
Many parts are National speed limit but there are places where the road turns into a single track where you may need to give way to head under some viaducts tunnels. My advice would be to take it easy along here and drive with caution.
If you haven't filled up on petrol, I would do so in Fort William as there aren't many petrol stations along this road at all. There is one in Mallaig and another in Morar but these are miles away from Loch Eilt. I would definitely have some filled up beforehand just in case.
2. You'll need to drive over to the west side of Loch Eilt and park near Eilean Na Moine
From Fort William, you'll be driving around 23.5 miles or 40 minutes to reach Eilean Na Moine in Loch Eilt. Eilean Na Moine island is on the furthest end of Loch Eilt and so you'll need to park up when you get here.
The Eilean Na Moine postcode is PH38 4LZ. But, when you get here there will be no 'official' place to park.
Parking for Eilean Na Moine is a very small and narrow place by the roadside. It's not a proper lay-by and is mostly gravel with potholes. I've included a picture below of what I mean.
Small cars should be completely fine here (just remember to tuck your wing mirror in) but I would say that larger vehicles and camper vans will struggle.
There is a small place to park on a steep hill by a gate. But, as you're on a sharp blind bend, I wouldn't feel very comfortable parking and reversing out of that spot myself!
3. Then, make your way over to Dumbledore's burial island….through the bog!
So, once you've managed to park up in the tiny parking place that is by Eilean Na Moine, all you have to do is follow the very loosely marked trail over to Dumbledore's burial island.
Sounds easy, right? Wrong! All I will say is make sure you have a good pair of waterproof boots, shoes, or wellies for this walk.
I'm not sure if it's better in the summer months on a dry spell but the 'path' to head over to the island is like a bog or swamp.
It's grassy moorland which is filled will water and mud. So, tread carefully as you're heading over to the loch. I got my shoes stuck in this mud so many times!
I was not prepared and so I pretty much wrecked my trainers heading over to the spot. But, I was totally determined to see this place so I powered on through.
I Instantly regretted it at the time, as I had cold and muddy feet and it was so windy here! Bleurgh.
But, later, once I had cleared up my shoes and got in the warm I thought it was totally worth it to see Dumbledore's grave!
What to expect when visiting Dumbledore's Grave island
Although the parking and journey to the island where Dumbledore is buried is not a plain sailing one, you'll instantly feel better once you arrive at Eilean Na Moine.
It's pretty magical to visit Dumbledore's grave and see it for yourself on the loch in amongst all the beautiful mountains.
Of course, the actual 'White Tomb' is not going to be on the island itself. But, that doesn't matter as the place is very evocative as it is knowing the context of the location in the Harry Potter movies.
Luckily, it isn't as muddy on the higher banks of the lake once you get over the boggy patches below. You can also head right down to the loch and feel how cold the water really is on the edges!
I brought my light-up Elder Wand with me for the occasion and, yes, I did hold it up out of respect (duh). I even saw a train go by while I was here but it was too late to be the Hogwarts Express.
All in all, it's somewhere I would highly recommend visiting if you're a Harry Potter fan and you're on holiday in Scotland!
Can you step onto Eilean Na Moine island?
As the island is in the middle of a cold loch, this does prove a bit of a challenge to hop onto it while you're here. There's no bridge or access to it at all.
I wouldn't recommend swimming over to it either as it will be freezing and I can guarantee you that Dumbledore's actual gravestone will not be there!
I was quite content to just see it from the bank as it's quite surreal to see the location from the Harry Potter films with your own eyes.
If you did want to get closer to Dumbledore's burial island there are plenty of kayaking tours that run on Loch Eilt. This way, you can get really close to Eilean Na Moine.
These tours will take you for a paddle around the loch and you can visit Dumbledore's Grave and the beach where Hagrid skims stones in the Prisoner of Azkaban too.
Click here for more details and to book your Harry Potter tour of Loch Eilt!
What else is there to do at Eilean Na Moine and Loch Eilt?
Once you've paid your respects to Albus Dumbledore, there's not a lot to do here afterward if you're on foot.
Unless that is, you want to trudge through more boggy mud to explore the lake which I would only recommend if you have brought wellies with you!
I guess you could take a picnic but I will warn you now that it isn't the best location for it and you may find that midges come to join you for lunch if the weather is warm from May – September.
On that note, I would recommend using a product like 'Smidge' before you visit for them to stop biting your legs! They really are a nuisance.
Personally, after your visit, I would hop back in the car and then head onto more Harry Potter filming locations which are based around here in the Highlands (scroll down for more).
My top tips for visiting the Loch Eilt Harry Potter location
There are no toilets here. The closest would be Glenfinnan Visitor Centre around 10 miles away. So, make sure to pop to the loo there before you visit!
I'm not kidding when the path around this lake is a bog. Make sure to have really good shoes or wellies to visit!
Parking here isn't ideal. I parked here fine in a small Ford KA. But, you may struggle if you have a big overlander or camper van!
There are no cafés or food outlets here. I would recomned the Glenfinnan Visitor Centre that has a small café and take away facilties.
As far as I'm aware, this area is dog friendly for walking.
Are you a Potterhead? Here are some more Harry Potter filming locations in Scotland!
Did you know that there are plenty of other Harry Potter filming locations in Scotland that you can visit? Most are located around Fort William, so you're in the perfect place.
After you've visited Eilean Na Moine, I would carry on up the road to visit Loch Morar. This is one of the locations for Hogwarts Lake. You could also stop at the award-winning Silver Sands beach that featured in Highlander.
Next, you can then head back down to catch a view of The Jacobite steam train heading over the Glenfinnan Viaduct which stood in for the Hogwarts Express.
Click here to read my complete guide on how to visit the Glenfinnan Viaduct to see the Harry Potter train bridge!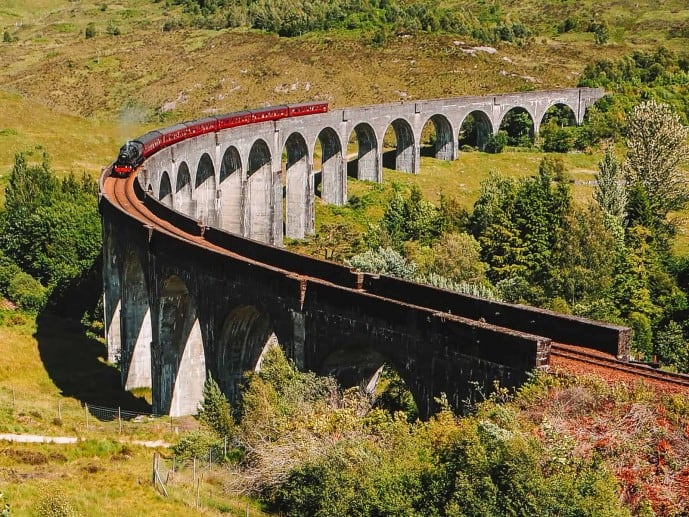 Afterward, make sure you head down to the Glenfinnan Monument and Loch Shiel which stood in for Hogwarts Lake scenery.
If you're up for a hike you can head on up to Steall Waterfall near Glen Nevis that features in the Goblet of Fire. Or, you can head to the remote Loch Arkaig to see where they digitally imposed this island (this one is only for dedicated fans as the drive is a challenge).
If you're planning an NC500 trip, then you could stop by Black Rock Gorge near Inverness that also featured in the Triwizard Tournament.
Near Fort William, you can visit Glencoe which is the 'Outdoor Capital of the UK'. It's also home to three Harry Potter filming locations.
These are Rannoch Moor viewpoint, Loch Etive, and Clachaig Gully which featured as the filming location of Hagrid's Hut!
Who could forget Edinburgh? It's the birthplace of Harry Potter! Click here to read my complete list of Harry Potter locations in Edinburgh!
Click here for my complete list of Harry Potter filming locations in Scotland
Read more of my Harry Potter travel guides
Harry Potter locations in Lacock
Harry Potter filming locations in Oxford
Harry Potter filming locations in Alnwick Castle
How to spend the night in Hagrid's Hut
Where to find Harry Potter in York
How to find the Harry Potter Tree at Blenheim Palace
The Shop That Must Not Be Named Review
How to visit the real Godric's Hollow in Lavenham
How to find Dobby's Grave in Wales
Harry Potter filming locations in Gloucester Cathedral
How to see the Hogwarts Express in Scotland
A complete Forbidden Forest Experience Review
Visiting Malfoy Manor in Real life!
Where to find Tom Riddle's grave in Edinburgh
Visiting the Quidditch Town of Tutshill Tornados
Harry Potter locations in Exeter along with Gandy Street and the Room of Requirement
Virginia Water – the Other Hogwarts Lake
Instagram locations at the Wizarding World of Harry Potter
Is this court a real-life Knockturn Alley in London?
Is Cecil Court a real Diagon Alley in London?
How to find the Malham Cove Harry Potter Deathly Hallows filming location
Harry Potter filming locations at Durham Cathedral
Save this Dumbledore's Grave Island post for later!