Did you know that there are many Merlin Puzzlewood filming locations that you can visit in the Forest of Dean?
Sure, the last episodes of Merlin were aired over a decade ago now but that doesn't mean this legendary show isn't popular today!
For five years the production team filmed scenes for the Kingdom of Albion in this magical woodland. So, if you're a Merlin fan you simply must make a visit.
You can follow in the footsteps of your favourite Merlin actors like Colin Morgan and Bradley James. Or, you can wander around feeling like you've been transported straight to Camelot, you can even pay a visit to Morgana's Hut.
Here is a complete guide for this mystical wood with all the Merlin Puzzlewood filming locations you can find here!
I paid with my own pennies but I want to thank Helen and the wonderful team at Puzzlewood for letting me take these self-portrait photos for my blog, I had the most magical time!
The history of Puzzlewood in the Forest of Dean
Aside from featuring in films and TV shows, Puzzlewood has an incredibly long history that spans back centuries!
The unique rock formations here are known as Scowles and are thought to have been the result of erosion from millions of years ago. But, the first human activity in this ancient 14-acre woodland was by the Romans who used it for the mining of iron ore.
For centuries, the mysterious rock formations, knarled trees, caves, and labyrinth of walking paths have amused visitors. Hence where Puzzlewood gets its awesome name!
In the 19th-century, a local landowner laid down pathways for visitors and opened up Puzzlewood as a tourist attraction. It has remained relatively unchanged to this day.
It is thought that this ancient woodland actually inspired J. R. R. Tolkien's Middle Earth in both The Hobbit and Lord of the Rings. It's easy to see why as it truly looks unworldly!
Today, Puzzlewood has gained even more notoriety as an attraction for being a filming location in many Hollywood movies and prime-time TV shows.
Was Merlin filmed at Puzzlewood?
YES! In fact, Puzzlewood featured as a central filming location in all five series as a part of the magical Kingdom of Albion in Merlin.
It took many forms as a Druid Camp, a hunting ground, gateway to the Perilous Lands, Morgana's home, and the legendary location of Excalibur.
Plus, most of the battle scenes and action of Camelot took place in this magical woodland that is tucked away in the Forest of Dean.
That's why it has to be on your travel bucket list if you're a Merlin fan this year!
The Merlin Puzzlewood connection – What episodes of Merlin were filmed at Puzzlewood?
Puzzlewood is featured throughout all five series of Merlin and there are more scenes filmed here than you can count.
Merlin was one of the very first TV series to use Puzzlewood as a filming location and it's caught the eyes of many other production teams ever since.
You may recognise it from big Hollywood blockbusters like Star Wars VII: The Force Awakens (2015) and the Secret Garden (2020). It even featured in the Netflix series Cursed (2020) which is loosely based on the Arthurian legends!
Indeed, there were 65 episodes of Merlin filmed in total from 2008 – 2012, and Puzzlewood features in a huge chunk of those.
There were even behind-the-scenes interviews filmed here where you can watch some of the filmings in action! Click here to watch the interview.
Merlin Puzzlewood filming locations you will recognise!
It would be an extremely long list to reference every single time that Puzzlewood featured in Merlin as this magical forest of Albion seems to feature all the time. In series 4, it featured in nearly every single episode!
But, there are some notable scenes that you will remember from the series that you will easily be able to recognise.
Here are the mystical Merlin Puzzlewood filming locations that you should keep an eye out for on your visit!
FYI: some of these pictures below aren't the exact locations as it's quite difficult to find the specific rocks and places in the wood.
1. Where Arthur kills the unicorn in the Labyrinth of Gedref
Series 1, Episode 11
The first time we are properly introduced to Puzzlewood in Merlin is in the Labyrinth of Gedref.
This is the episode where Arthur and Merlin are out hunting. Arthur ends up killing a unicorn much to Merlin's protests as he can sense it's a creature of magic.
Proud of his trophy, Arthur presents the horn to King Uther at Camelot but then shortly after the crops of Albion turn to sand! So, Arthur and Merlin ride off to the Labyrinth of Gedref to try and put things right.
This Merlin Puzzlewood filming location that featured in the Unicorn scenes can be found in the 'central bowl' of the wood.
2. The bridge that Merlin, Gwaine and Arthur pass in the Eye of the Phoenix
Series 3, Episode 8
Puzzlewood featured heavily in the Eye of the Phoenix episode of series 3. This is where Arthur undertakes a solitary quest for the Golden Trident of the Fisher King to prove himself worthy of the throne of Camelot. But, he's given a cursed bracelet by his stepsister Morgana to thwart him.
As part of Arthur's journey to The Perilous Lands, he meets Grettir, 'keeper of the bridge' (played by Warwick Davis). Grettir calls him 'Courage' and tells him he needs both 'Magic' and 'Strength' in order to complete his quest. Bemused, Arthur crosses the bridge into the Perilous lands and is slowly losing strength due to the magic bracelet.
A while later, Merlin and Gwaine follow Arthur in order to save him. Grettir announces that 'Magic' and 'Courage' have finally arrived referring to the duo. The two then cross over the same bridge to come to Arthur's rescue.
This Merlin Puzzlewood filming location is actually the High Bridge at Puzzlewood and you can cross it while on your adventures here!
Also, you'll find the scenes where Merlin and Gwaine hide and check out the bridge by the large gulley near the exit.
3. Looking for the cup of life in The Coming of Arthur Part 1 & 2
Series 3, Episodes 12 & 13
Series 3 is where we see Morgana's true colours and her double life as a supportive ward and an evil sorceress comes to an end.
In the double episode finale of series 3, The Coming of Arthur, we see Arthur and Merlin on a dangerous mission to retrieve the Cup of Life.
Puzzlewood features briefly in part one where Arthur, Merlin, and Gwaine enter the Druid's Cave (Clearwell Caves). Also, it stood in for 'The Darkling Woods' where the Knights of the Round Table hideout.
At the very end of part 2, we see Merlin use magic to place the sword of Excalibur in the stone and this is also Puzzlewood.
4. Morgana's Hovel from series 4
Series 4, various episodes
Although Merlin was filmed in this wood for over five years, very little evidence of the production has been left behind. I mean, it has been over a decade now! (Can you believe it?)
But, there is one thing that Puzzlewood kept of Merlin and that is the door to Morgana's Hovel / Hut that featured in series 4.
This is where Morgana hides out when she is banished from Camelot. We regularly see her undercover henchmen, Lord Agravaine, visit her here.
He is Arthur's Uncle but reports back to Morgana on Arthur's movements as they plan to destroy him.
I honestly squealed when I saw the door to Morgana's hut. Although I swear it looked much larger on the screen than in real life.
Of course, there's nothing behind the door. But, it does look as if Morgana could appear from the hovel at any moment!
It's placed in the exact same spot from series 4, so make sure you don't miss it if you're a Merlin fan. It's the most spectacular photo opportunity.
5. When the knights are possessed in A Herald of the New Age
Series 4, Episode 10
At the beginning of A Herald of the New Age, the Knights of the Round Table stumble upon a Druid's Camp which Merlin warns is cursed.
Elyan runs out of water and decides to drink from the well there. But, he ends up being haunted and possessed by a ghostly spirit. It's a child that Uther had drowned as part of the 'purging of Magic' and he is seeking revenge.
The Druid's camp where this all happens is, of course, filmed in Puzzlewood.
6. When Arthur pulls Excalibur from the stone in The Sword in the Stone part 2
Series 4, Episode 13
One of the more touching Merlin Puzzlewood filming locations is during The Sword in the Stone part 2.
This is where Arthur is scared that he is not worthy to become the King of Camelot after his father Uther. He has lost his will to fight as Morgana is taking over his kingdom.
Merlin consults the Great Dragon for a solution and the dragon suggests that Arthur needs a sign that he is capable to restore his faith.
So, Merlin asks Arthur to pull the sword of Excalibur from the stone as only a true King of Camelot could pull the sword free.
Arthur then does this (with Merlin's help) in front of all the Knights and his people of Camelot who bow down to their king!
This heart-warming scene that seals Arthur's fate and leads him onto victory was filmed in Puzzlewood.
7. Morgana and Mordred plot together in The Diamond of the Day, Part 1
Series 5, Episode 12
In the show-stopping final episodes of Merlin, we see Puzzlewood for the final time in Albion.
In episode 12, Morgana and Modred are plotting with Aithusa who is tricking the enamoured Gwaine into revealing Arthur's Plans.
Later, we see both Merlin and Gwaine entering the Crystal Cave to try and regain Merlin's powers after he loses his magic!
8. Merlin reveals his big secret to Arthur in The Diamond of the Day, Part 2
Series 5, Episode 13
In the very last emotional episode of Merlin *sniff*, Arthur is mortally wounded and Merlin is trying to save him.
They travel for some time but Arthur becomes exhausted and so Merlin lays him down to rest in the woodland.
It's here that Merlin finally reveals his big secret that he has magic and that he has been helping Arthur all along.
These emotional scenes were all filmed at Puzzlewood. It was so sad watching it as you knew that the series was going to end.
If you wanted to know where Merlin says goodbye to Arthur and sends him off on the boat to Avalon, you'll find this location at Speech House Lake which is nearby in Coleford. The lake is featured as Avalon throughout the entire series. Click here for my complete guide on how to find Speech House Lake here!
Other 'Non-Merlin' things to do in Puzzlewood
Of course, many people visit Puzzlewood to see the places where their favourite movie or TV series was filmed. Obviously, I'm team Merlin.
But, there is so much more to this mystical place than just scouting out filming locations if you weren't a fan.
Puzzlewood is a magical forest that inspired authors like J. R. R. Tolkien to write Middle Earth, so a visit here will make you feel like you've been transported to another world!
As you walk around the wood, you may hear lots of birdsong. Many people visit here to bird-watch and there are plenty of colourful chiffchaffs, goldfinches, and woodpeckers to look out for.
There are lots to do for all the family and kids can take part in various educational trails. There are lots of signs dotted about to learn about the nature you can see around you.
Outside of the wood, there's a small farmyard to visit which is home to the cutest Shetland Ponies and Highland Cattle as well as goats, donkeys, and ducks! There's also a play area to keep little ones entertained.
Where to eat in Puzzlewood
If you were feeling peckish after your visit, Puzzlewood does have a Puzzlewood Café where you can order, teas, coffees, snacks, and light bites.
You can order sandwiches and baguettes, cakes, crisps, and ice creams. They can also prepare some children's lunchboxes too.
They have outdoor seating onsite nearby the café, it's a lovely place to relax on a sunny day if you have the weather. If not, there is some undercover seating in the farmyard.
If you would prefer, you are allowed to bring a picnic to Puzzlewood. But, you're not allowed to eat in the wood itself. There are some picnic benches to use outside on the grounds.
What else has been filmed at Puzzlewood?
Ever since Merlin used Puzzlewood as a filming location, many other production teams have fallen in love with this location that looks akin to Middle Earth.
Huge Hollywood Blockbusters have been filmed here as well as some prime-time TV shows. Here are all the things that have been filmed at Puzzlewood.
How many have you seen on this list?!
Da Vinci's Demons (2013 – 2015)
Jack the Giant Slayer (2013)
Star Wars: The Force Awakens (2015)
The Huntsman: Winter's War (2016)
My top tips for visiting Puzzlewood
There are over 200 steps and uneven ground at Puzzlewood so make sure that you are able to traverse this before you visit
At the moment, there is a one way system in place for your safety. Make sure you've seen everything you want to see before you move onto the next place.
Wear a good pair of shoes here! Some parts of the forest can be quite slippy or muddy if it's been raining (which is a lot in the UK)
Photography is allowed and you can take photos with your mobile and camera. Drones and tripods are strictly forbidden.
Unfortunately, dogs are not allowed inside Puzzlewood
Is Puzzlewood worth visiting?
Again 100% YES I would say that Puzzlewood is worth visiting and makes a fantastic trip as part of a visit to the Forest of Dean.
For Merlin, Star Wars, and Doctor Who fans it will be incredible as you get to relive some of your favourite scenes from the silver screen.
But, even if you're not a fan it will be worth paying a visit. As somewhere that inspired J. R. R. Tolkien's Middle Earth, Puzzlewood is truly like a portal into another world.
You'll fall in love with all the magical scenery here on the trail and there is something to admire around every corner! There are lots of interesting rocks, ancient trees and caves to hide inside.
How to visit Puzzlewood in the Forest of Dean
Puzzlewood is located in the incredible Forest of Dean which is a serene place of beauty in the county of Gloucestershire in the South West of England.
More specifically, Puzzlewood can be found in Coleford and you can easily locate it once you're in the Forest of Dean.
The easiest way to access Puzzlewood would be to drive due to the area being quite remote. But, there is public transport available too.
If you're heading in from London, you can easily take the M4 Motorway over the Severn Bridge into Wales. Then, take a route through the town of Chepstow to head to Coleford.
If you're heading in from the North, Gloucester, and the Cotswolds you can easily navigate onto the A48 from the M5 Motorway and head to Coleford.
Once you're near Coleford, there will be brown tourist signs directing you to Puzzlewood. Puzzlewood postcode is GL16 8QB and there is a large free car park available when you arrive.
Puzzlewood train: If you're heading to Puzzlewood by public transport, the closest train station is Lydney which is around 5.5 miles away. You can then head to Puzzlewood by taxi but it's recommended to book your taxi well in advance. Click here to check the National Rail website.
Puzzlewood bus: Alternatively, you can take a bus to Coleford from Gloucester or Chepstow. It will be a 30-minute walk to Puzzlewood from there. Click here to plan your journey to the Forest of Dean with Stagecoach buses.
Puzzlewood opening times & ticket prices
Puzzlewood is open all year round, you'll typically find that it will open every day from April – October.
But, it will only open on weekends (Saturday – Monday) in the winter months. It may also close at late notice if there is a severe weather warning that day.
At this time, you will need to pre-book your tickets for a specific time slot and it's important that you make it on time to guarantee entry.
Puzzlewood tickets prices are currently £7 per adult and £6 per child (3-16), Under 3's go free. Family tickets are also available.
Click here to check the current opening times for Puzzlewood and to book your tickets!
Are you looking for more Merlin filming locations in the Forest of Dean and Wye Valley?
Did you know that there are many locations around the Forest of Dean and Wye Valley that were used for filming locations?
After your visit to Puzzlewood, I would recommend heading over to Clearwell Caves which is just nearby! This is another filming location that was used for The Crystal Cave and the Druid's Cave in Arthur's Bane.
A little further on in Coleford, you can visit Speech House Lake featured as the Gates of Avalon Lake. This is where Merlin meets the Sidhe, says goodbye to Freya, and in the very end, his closest friend Arthur *sniff*!
Cannop Ponds is another famous beauty spot and walking trail around a lake that was the filming location for The Darkest Hour.
In the Wye Valley in Wales, you can visit Raglan Castle featured as the place where Merlin has a battle with Nimueh.
Also, you can head over to the historic Goodrich Castle on the English side where the sorceress Morgause hides out. Even, the aMazing Hedge Puzzle near Monmouth featured in the Labyrinth of Gedref.
Plus, you can visit King Arthur's Cave in Biblins that featured in The Sword in the Stone part 2. But, this is hard to locate. Click here to read my complete guide on how to find this cave!
Where is Camelot Castle filmed in Merlin?
If you have ever wondered where they filmed Camelot Castle in Merlin, it was actually the incredible Chateau de Pierrefonds which is based in France!
Luckily, it is a tourist attraction and you can visit it quite easily from Paris. Although not the most convenient trip for Merlin fans based in the UK, it is quite easy if you have the budget and are up for a little bit of an adventure.
Simply take the Eurostar from London St Pancras International to Gare du Nord station. Then, switch to a train heading to Compiegne.
From Compiegne, you can take a bus or taxi to Pierrefonds and you'll soon arrive at Camelot Castle!
I visited recently and it was a dream come true to finally see it. I've now created a simple guide to help you plan your trip.
Click here to read my complete guide on how to visit Camelot Castle in Merlin!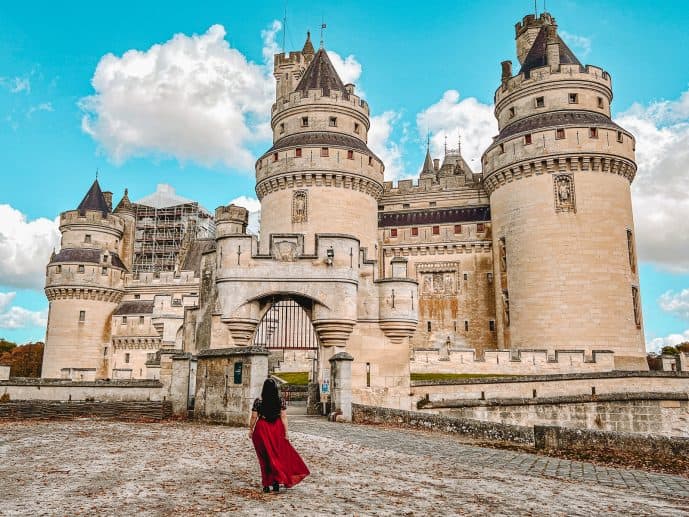 Where to stay near Puzzlewood
If you were looking to extend your stay in the Forest of Dean, there are plenty of places that you can choose!
The most convenient option is to book one of Puzzlewood's self-catering cottages which are near to the wood.
As well as having exclusive and unlimited access to the wood while you're here, you also get a spacious apartment with Free Wifi, TV, kitchen, and facilities!
They are the perfect base for exploring the Forest of Dean and it puts you right in the heart of the action.
Click here to book your stay in one of the Puzzlewood cottages
Read more of my Forest of Dean and Wye Valley travel guides
How to find the stained glass window on the Forest of Dean Sculpture Trail
Harry Potter filming locations in Gloucester Cathedral
Instagrammable places in Gloucester
Things to do in Gloucester Docks & Quays
Why you must visit Symonds Yat Rock
Visiting the honorary Quidditch Town of the Tutshill Tornados
The best places to visit in Monmouth
Exploring the Monnow Bridge and Gate in Monmouth
How to find King Arthur's Cave in Wales
Save these Merlin Puzzlewood Filming Locations for later!