Listen up Muggles,witches and wizards of all houses! If you wanted to find a magical Harry Potter Shop in Edinburgh then you have to check out Museum Context (Diagon House).
This world-famous store has three floors of magical merchandise and is located on Victoria Street that is thought to have been the inspiration for Diagon Alley!
It's a treasure trove of fun that has lots of wands and souvenirs to buy plus there are some amazing photo opportunities to be had for Potterheads as well.
Here's a complete guide for Museum Context with all the magical reasons to visit this Harry Potter Shop Edinburgh.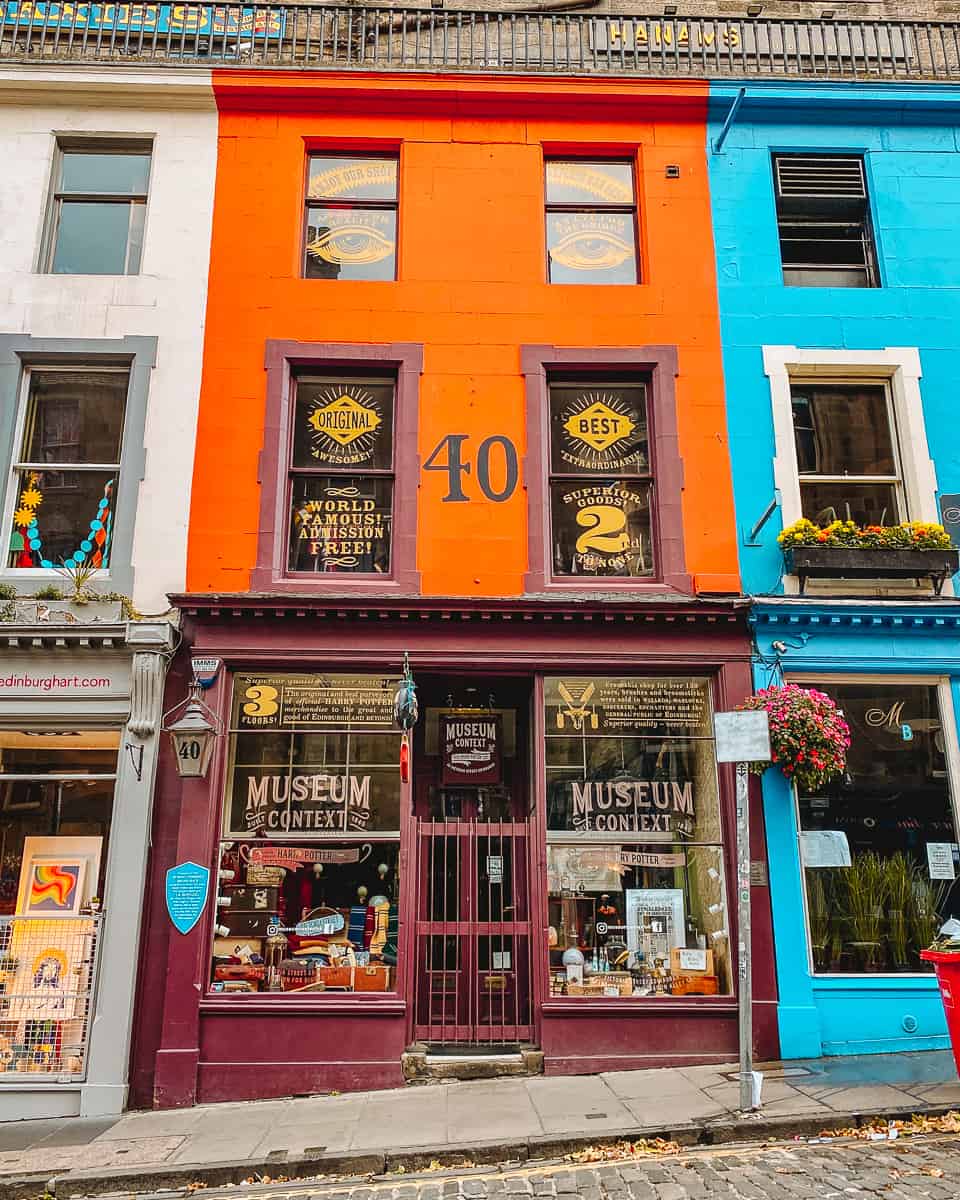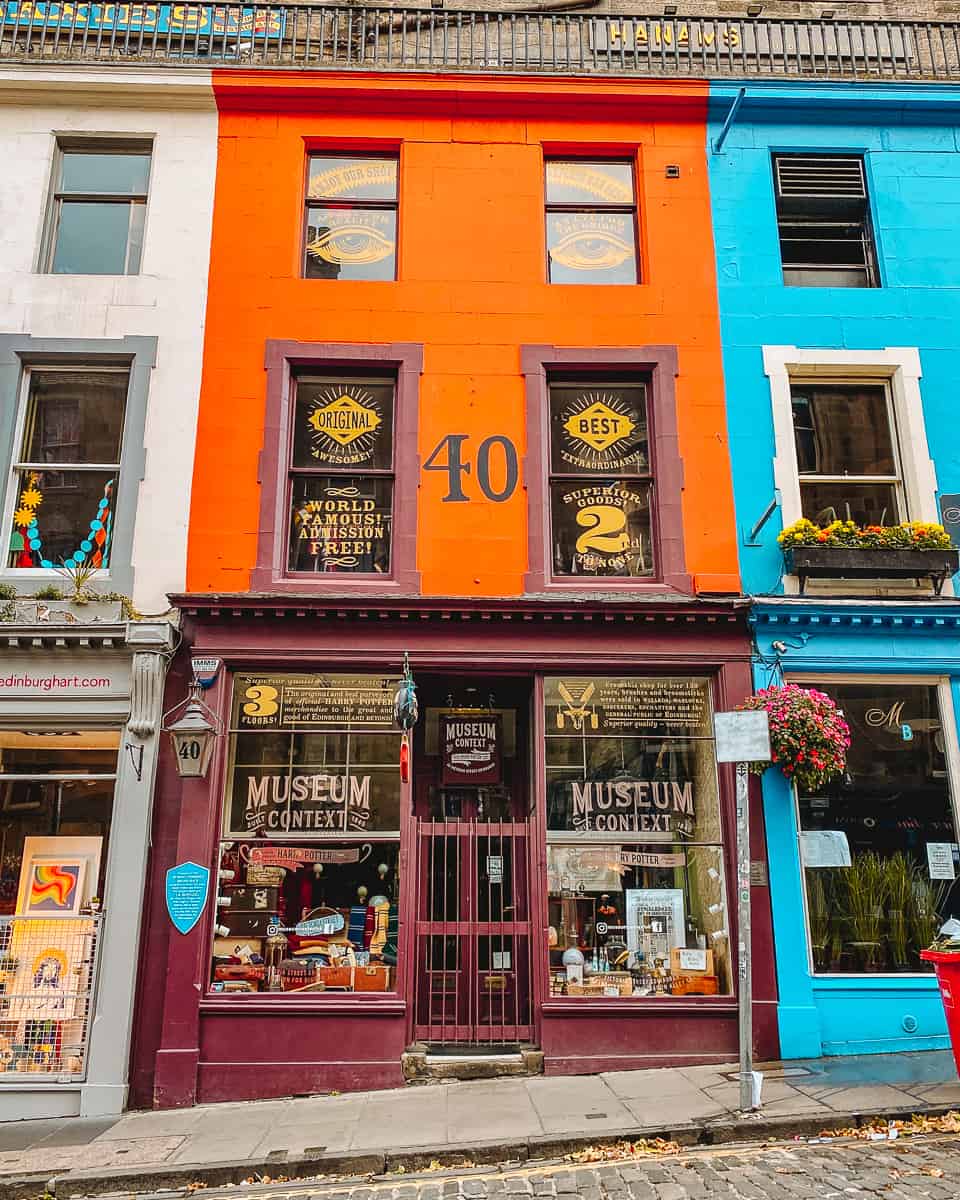 Is there a Harry Potter Shop in Edinburgh?
YES, in fact, you'll find many Harry Potter-themed shops in Edinburgh that you can browse for merchandise. There is even a Harry Potter shop at Edinburgh airport called The Boy Wizard!
Although Harry Potter wasn't filmed in this city, Edinburgh has long been associated with the Wizarding World.
It's now known as the 'birthplace of Harry Potter' so it attracts fans in droves who want to experience some of the magic.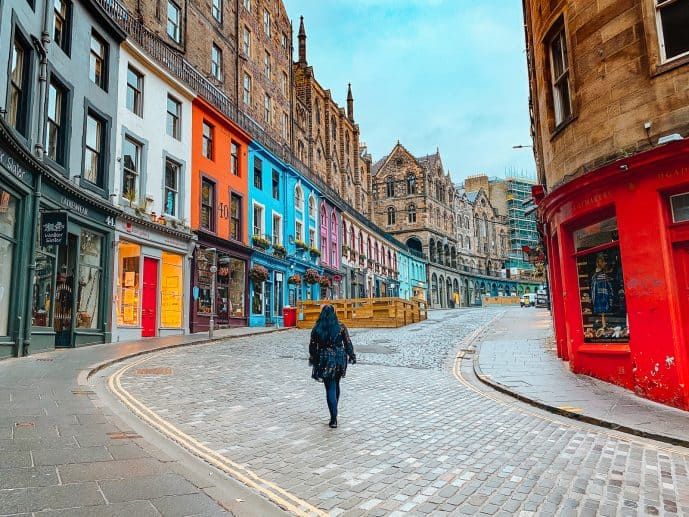 What is Museum Context Edinburgh or Diagon House?
Although there are plenty of Harry Potter shops to visit in Edinburgh, the most famous is Museum Context also known as Diagon House.
This is a world-famous store that has three floors packed to the brim with magical merchandise and out-of-the-ordinary gift ideas. It's like an Aladdin's Cave of wonders.
Set within a historic street that has eerie similarities with Diagon Alley, it's a magnet for Potterheads who want to travel to the Wizarding World in Edinburgh.
You'll find lots of merchandise, Harry Potter references, and photo opportunities in the store waiting for you. Here are even more reasons to visit Museum Context Edinburgh!
All the magical reasons to visit this magical Harry Potter Shop Edinburgh!
1. It's in the city where Harry Potter was 'born'
Obviously, the top reason to visit Museum Context would be because it's located in Edinburgh which is where Harry Potter was born.
If you didn't know, J. K. Rowling wrote the very first chapters of Harry Potter in some of the cafés found in the city. So, it's the place that started it all.
She also wrote the majority of the seventh instalment, Harry Potter and the Deathly Hallows, at The Balmoral in Edinburgh too. So, I guess you could say that Edinburgh has played a huge role in these stories from start to finish.
If you're on a Harry Potter trip to Scotland, visiting Museum Context is an absolute must and should be on your bucket list.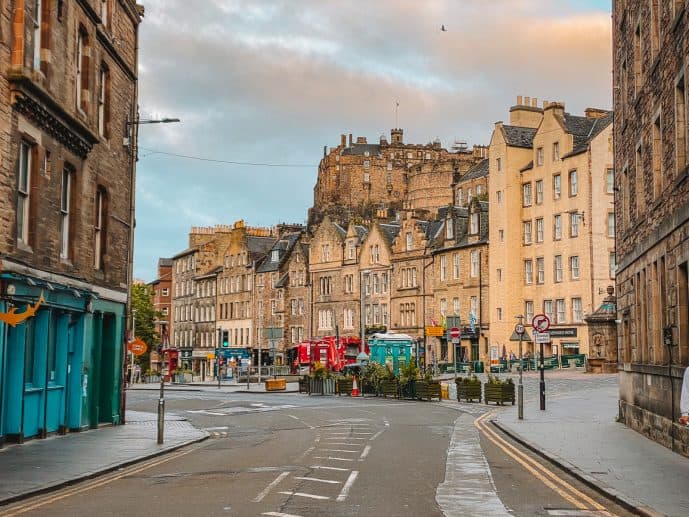 2. It's located down a REAL Diagon Alley
Okay, okay, I lie. It is just a fan theory that Victoria Street in Edinburgh is a real-life Diagon Alley.
There are many streets across the country that have a claim to being 'The Harry Potter Street'. The Shambles in York is a huge one and my personal favourite contender.
Cecil Court and Goodwin's Court (also, who can forget Leadenhall Market) are also thought to be inspirations in London. Even, Gandy Street in Exeter has a claim although this one has recently been dispelled by J. K. Rowling).
But, it's so easy to see why Victoria Street is thought to be the inspiration for Diagon Alley in Edinburgh.
In the books and movies, Diagon Alley lies behind the Leaky Cauldron which can be found on Charing Cross Road in London. However, the similarities between that magical street and Victoria Street are uncanny.
Diagon Alley is described as cobbled and winding and Victoria Street is just like that. Also, this historic street is filled with colourful shopfronts in a rainbow of colours that are home to a variety of Independently owned boutiques!
What do you think? Does this street look like a real Diagon Alley to you?
3. Museum Context is thought to be the inspiration for Ollivander's Wand Shop
Another reason why Potterheads must make a visit to Museum Context is that it is thought to be the inspiration for Ollivander's Wand Shop in Diagon Alley.
This historic shop dates back to 1873 and it was originally Robert Cresser's Brush Shop. It occupied No. 40 Victoria Street Edinburgh for over 130 years!
If Harry Potter fans believe that Victoria Street is the inspiration for Diagon Alley it's an easy jump to assume that this brush shop, filled with dusty boxes and broomsticks, inspired Ollivander's Wand Shop. Look out for their unofficial blue plaque outside that tells you the story.
Again, this is just a fan theory. But, as soon as you walk into Museum Context you really feel like you've stepped into the famous wand shop.
Talking of wands, this Harry Potter shop in Edinburgh has every single character's wand you can think of to buy. So, if you were missing some for your collection – you should check them out!
4. This Harry Potter Shop in Edinburgh is filled with amazing souvenirs to buy!
Aside from wands, there is so much on offer here at Museum Context for Harry Potter fans.
You'll find cuddly toys of magical creatures, Harry Potter books in all the limited edition Hogwarts House copies, postcards, magnets, games, clothes, and more!
It is quite honestly a treasure trove of Harry Potter gifts and they even have official merchandise from the House of MinaLima who designed many of the props you see in the Harry Potter and Fantastic Beasts movies.
You could spend hours browsing their merchandise here so make sure to spare some time out of your day. You may find you disappear down this vanishing cabinet for some time!
Do they just sell Harry Potter merchandise? No, Museum Context has a whole range of magical and unusual gift ideas that aren't Harry Potter-inspired. They have spellbooks, postcards, crystals, and lots of household gifts too.
5. There is a magical free photo opportunity in store
Okay, so once you've made through the first two floors of Museum Context, you'll be rewarded with an epic photo opportunity on the third floor.
You may have noticed a sneaky Basilisk that is crawling through the shop ceiling and you'll find that rears its ugly head on the top floor. Its face is located by a gold mirror that reads;
"The Chamber of Secrets has been opened…enemies of the heir beware".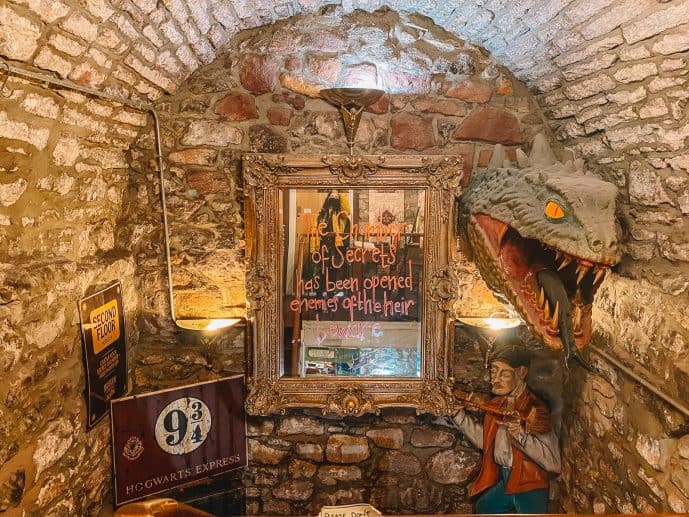 If you look behind you, there is the cutest setup where you can sit at your very own Hogwarts desk to get some selfies! You'll be surrounded by a world atlas, broomstick, suitcases, Hedwig, the Marauder's map, and a spell book that you can pose with.
Potterheads will not want to miss this amazing photo opportunity and the best bit is that it's completely free!
Although, saying that, I would always suggest supporting this incredible independent business by buying a souvenir or two before you leave.
How to get to Museum Context Edinburgh
Due to the popularity of this amazing Harry Potter shop in Edinburgh, Museum Context actually have TWO magical stores you can visit. Admission is in both stores!
The latest addition to their magical shop chain is on Cockburn Street which is just off the Royal Mile.
The original Museum Context shop, which is the one I have featured in this post, can be found on Victoria Street.
The original Museum Context's address is 40 Victoria Street Edinburgh. Click here to plan directions with a Google Map pin!
Museum Context opening times are 11 am – 6 pm on weekdays and 10 am – 6 pm on weekends. These may change on Bank Holidays and over Christmas so always check the website for the latest opening times.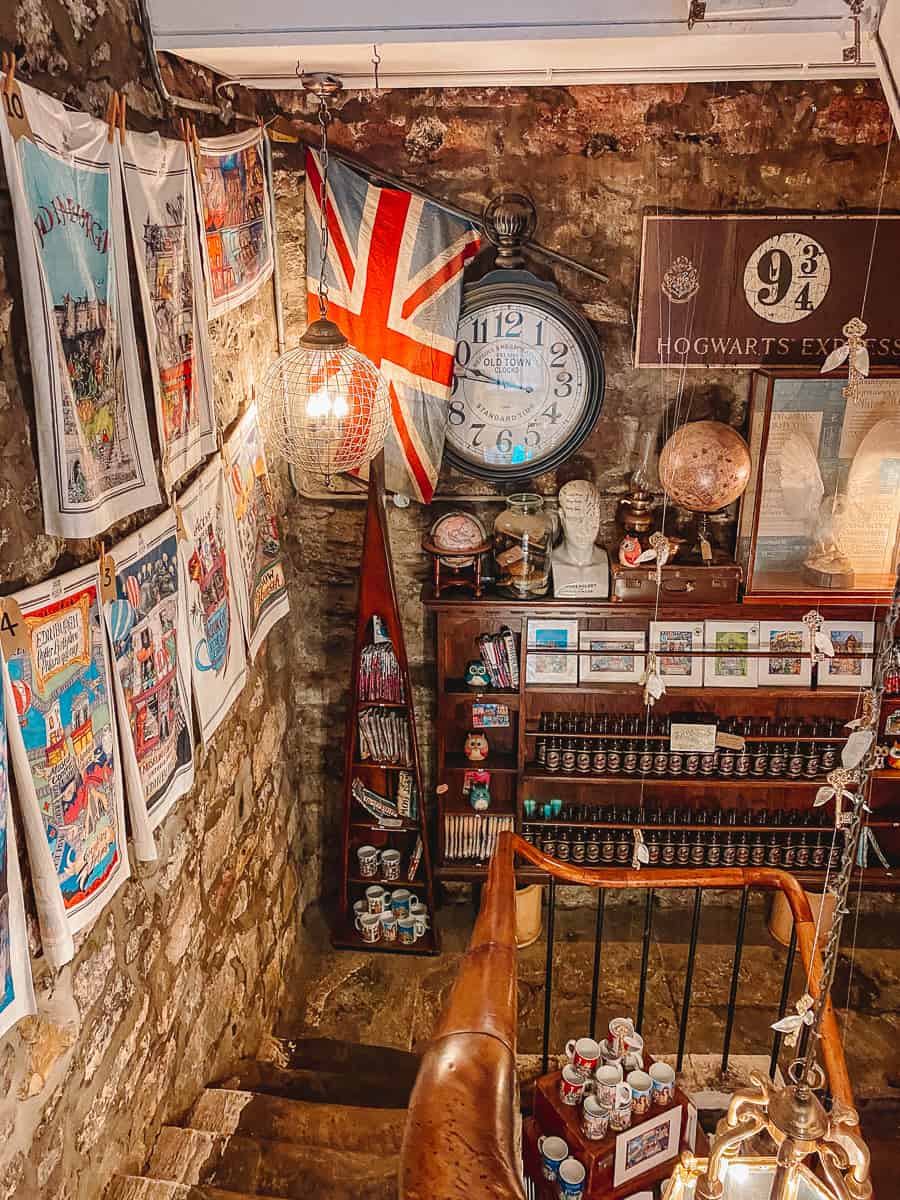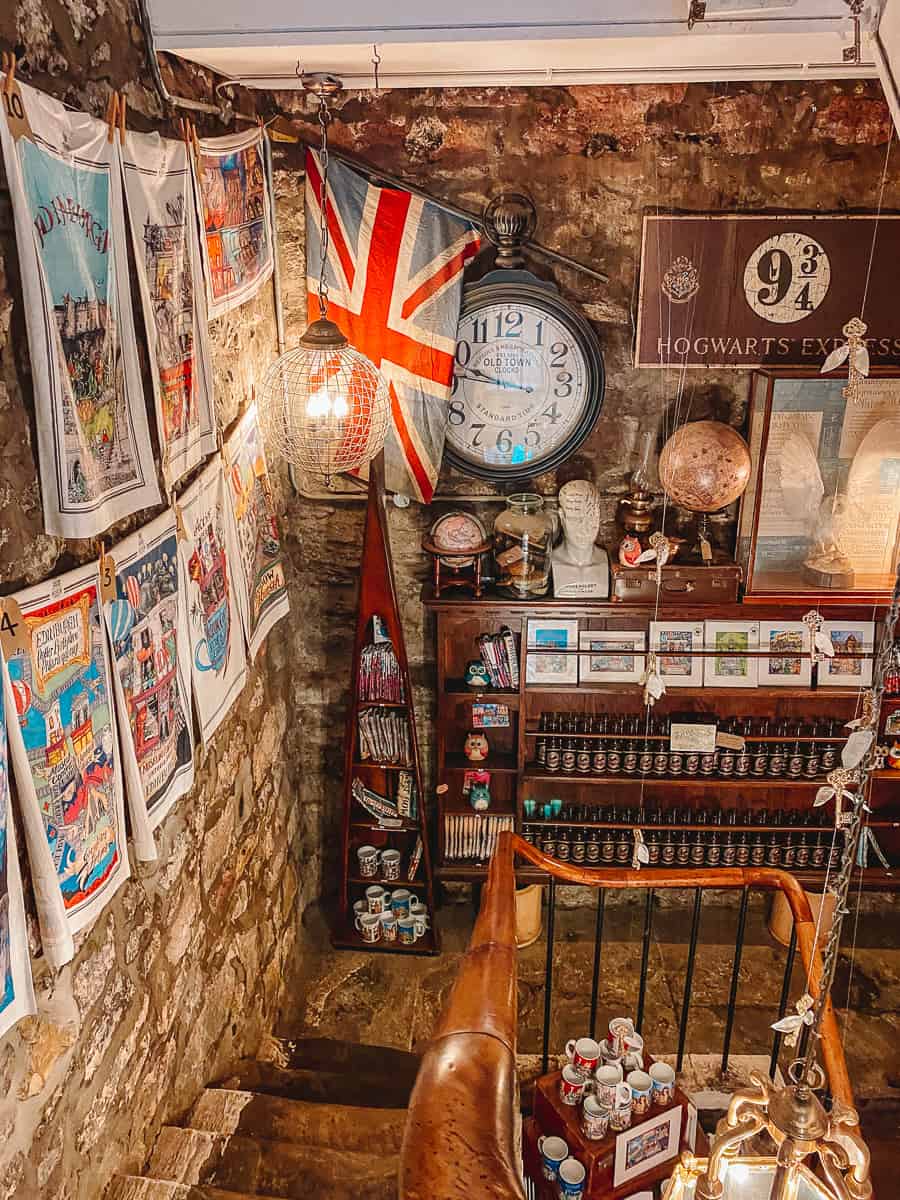 Explore more of Diagon Alley in Edinburgh (Victoria Street & Candlemaker Row)
After your visit to the Museum Context Harry Potter shop, I would recommend exploring more of the colourful shops on Victoria Street.
Its cobbled floors, old buildings, and rainbow of storefronts will make you feel like you've been transported to Diagon Alley!
There are other Harry Potter shops to be found here like The Enchanted Galaxy. You'll also find many more independent boutiques selling clothes, art, books, beauty products, candles, and jewellery.
Don't forget to take a wander up Candlemaker Row which is thought to be part of Edinburgh's Diagon Alley as well. There's a street art mural that even says so (although now it's been changed to 'Deviation Alley').
Once you're on Candlemaker Row, you're just inches away from the Harry Potter Graveyard and the Elephant House Café by George IV Bridge!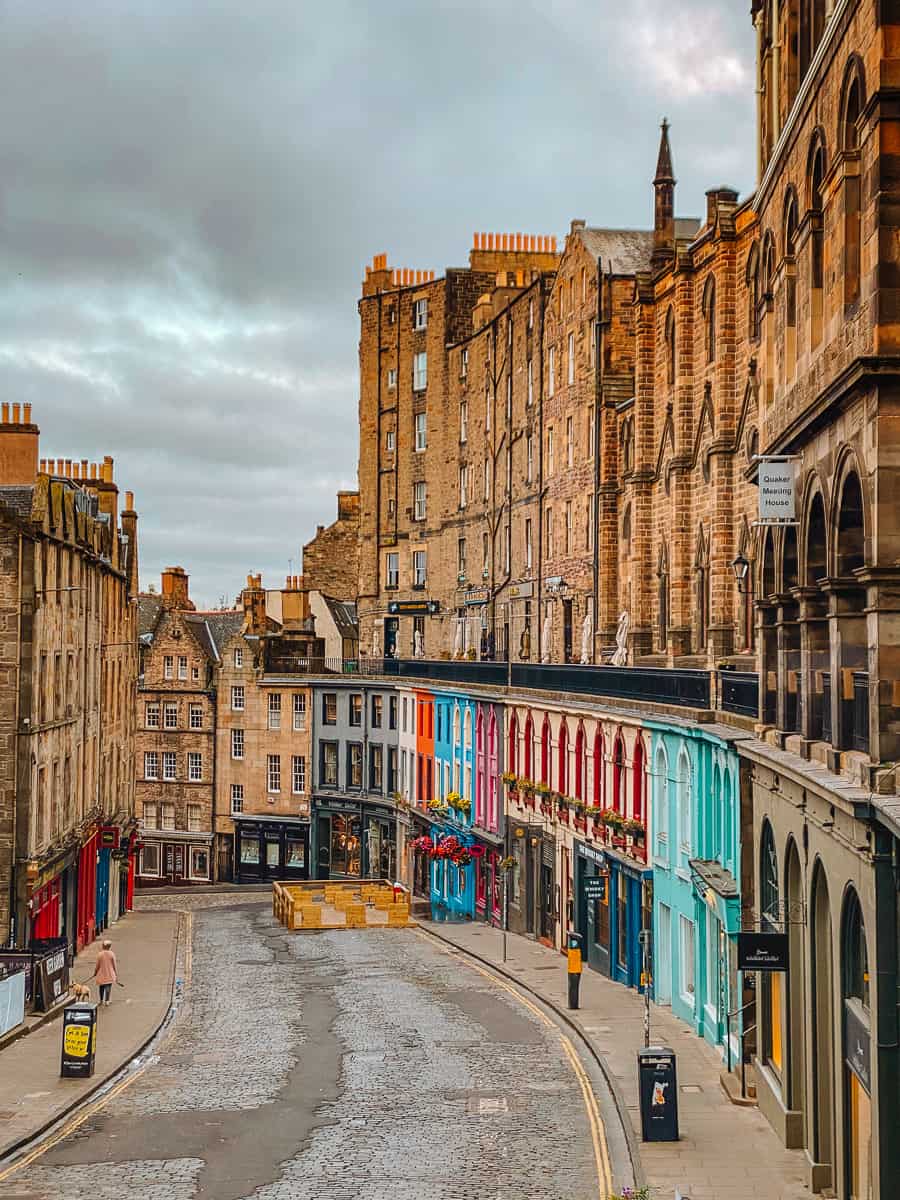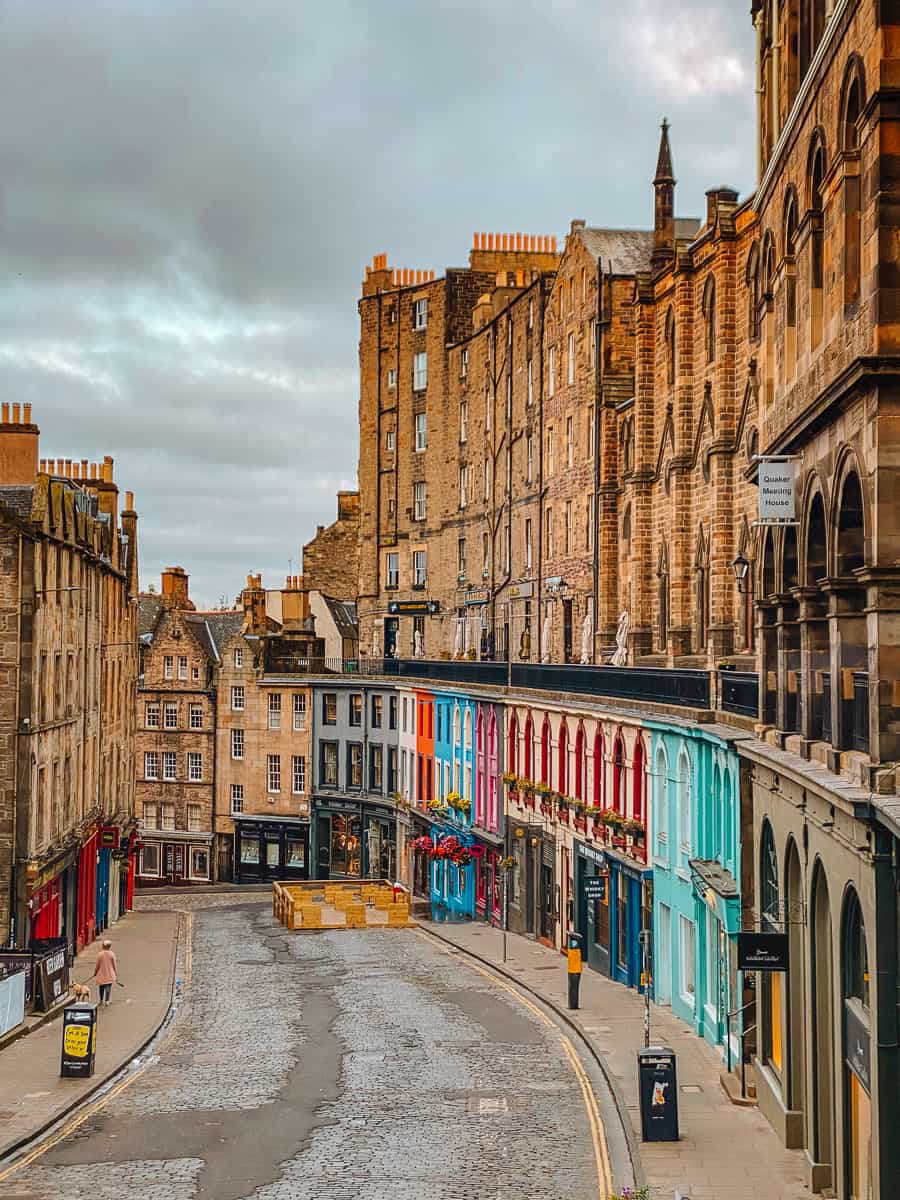 Are you looking for more Harry Potter attractions in Edinburgh?
Although there are no filming locations in Edinburgh, this amazing city is known as the birthplace of Harry Potter. It's the place that started it all and all these Dark Academia streets will make you feel like you're strolling through Hogwarts!
I would recommend visiting one of the many cafés that J. K. Rowling wrote in while you're here. The most famous is the Elephant House (temporarily closed) and Black Medicine Coffee (previously Spoon).
Nearby the Elephant House you'll find Greyfriars Kirkyard, unofficially known to fans as the 'Harry Potter Graveyard. Here, you can find Tom Riddle's Grave and many other tombstones that have similar names to characters in the books.
Just beside the Kirkyard, you can catch a glimpse of George Heriot's School which is thought to be a real-life Hogwarts.
In the Museum of Edinburgh, you can find the Lewis Chessman that inspired the pieces in Wizards Chess, lose yourself in Armchair Books or see J. K. Rowling's Golden Handprints at the City Chambers.
Not to mention that there are plenty of Harry Potter experiences to be had like having a Butterbeer in The Dog House, cocktails at The Cauldron, The Department of Magic Escape Rooms, and many, many more!
Why not book a Harry Potter tour of Edinburgh?
I wouldn't say it's necessary but if you wanted to experience more of a guided Harry Potter tour of Edinburgh, I would recommend a walking tour.
There are plenty of these that run in the city and they are perfect for Potterheads who want some background to the sites they are seeing and how they connect to the stories.
This magical two-hour walking tour will take you to all the places where Harry Potter was 'born' and you'll end your tour at Tom Riddle's Grave. Plus, you can test your knowledge with their quiz and earn Hogwarts House points along the way!
Click here to book your magical Harry Potter walking tour in Edinburgh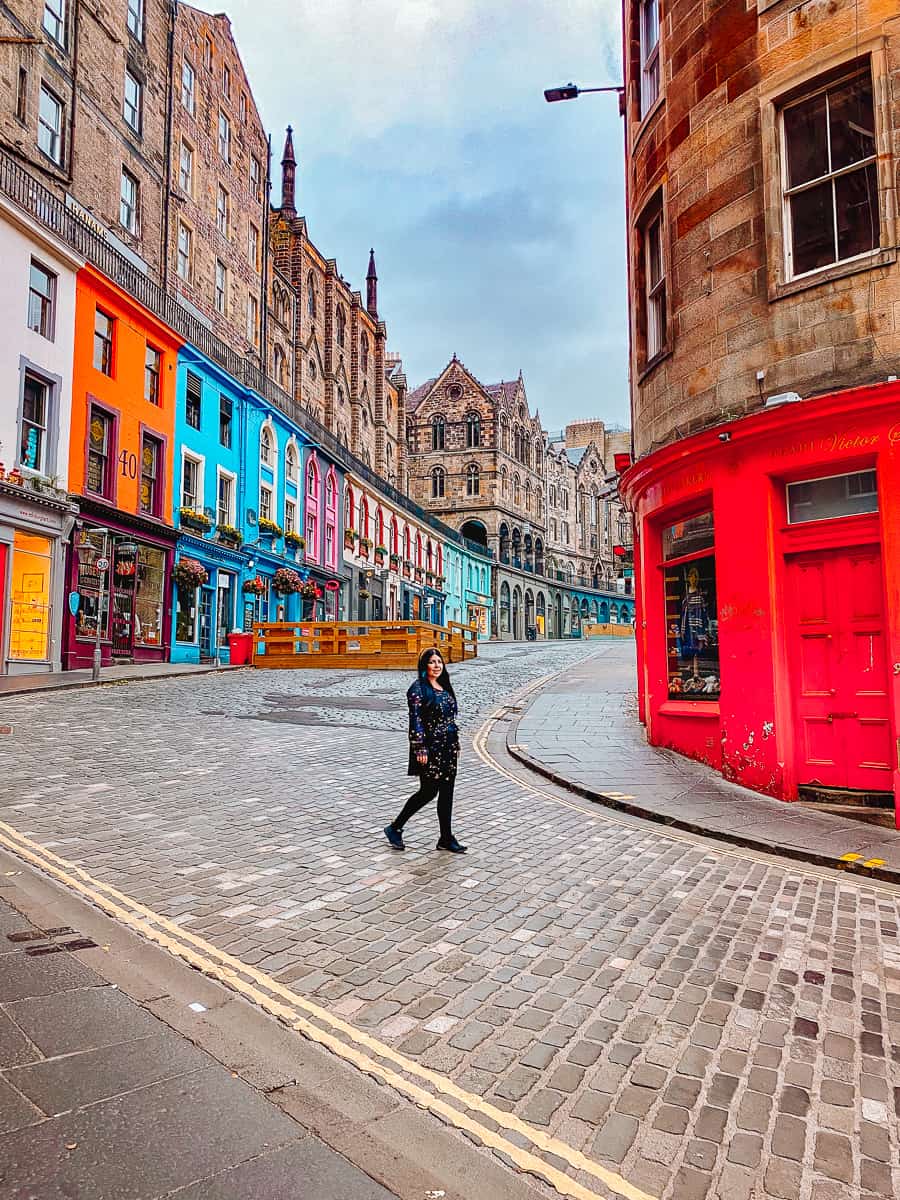 Where to stay in Edinburgh
Harry Potter fans should look no further than checking into The Balmoral Hotel while in Edinburgh.
It's actually a Harry Potter location in its own right as it's a place where J. K. Rowling wrote Harry Potter and the Deathly Hallows in Room 552.
The Balmoral Hotel has made that room an official 'J. K. Rowling suite' with its very own purple door and owl door knocker. The desk she used remains and you will find a signed marble bust and framed book cover on display inside.
Of course you don't have to stay in the suite, but there normal rooms are pure luxury! It's not a cheap place to stay by any means but it really is one of the best hotels in the city centrally located on Princes Street.
If you didn't have the money to splurge on a room but you did want to experience the hotel, I'd recommend booking an afternoon tea in their stunning Palm Court.
It is one of the best places to have afternoon tea in Edinburgh. You can read my complete review of this experience here.
Click here to book a magical stay at The Balmoral for your Harry Potter trip to Scotland!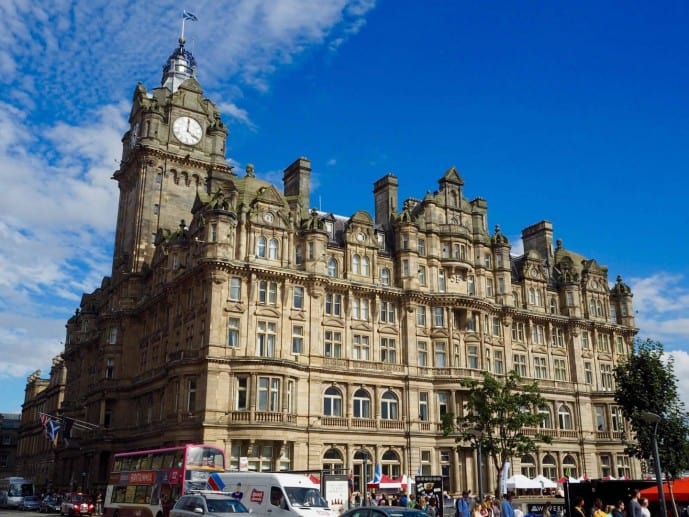 Read more of my Edinburgh travel guides
The ultimate Edinburgh Bucket List
The BEST photography locations in Edinburgh
All the Outlander locations in Edinburgh
Places to visit on Calton Hill
Why you must visit the Vennel, the best view of Edinburgh Castle
How to find Bakehouse Close from Outlander
Why you must visit the World's End
A complete guide for Circus Lane
Exploring the fairytale Dean Village
The mystery of the Burke and Hare Coffin Dolls
Are you a Potterhead? Read more of my Harry Potter guides
How to find Dumbledore's Grave in the Scottish Highlands
How to see the Hogwarts Express in Scotland
How to Find Hagrid's Hut in Glencoe
Harry Potter locations in Lacock
Harry Potter filming locations in Alnwick Castle
Where to find Harry Potter in York
How to find the Harry Potter Tree at Blenheim Palace
The Shop That Must Not Be Named Review
How to find Dobby's Grave in Wales
Harry Potter filming locations in Gloucester Cathedral
Visiting Malfoy Manor in Real life!
A complete Forbidden Forest Experience Review
Harry Potter locations in Exeter along with Gandy Street and the Room of Requirement
Virginia Water – the Other Hogwarts Lake
Instagram locations at the Wizarding World of Harry Potter
Is this a real-life Diagon Alley and Knockturn Alley in London?
How to find the Malham Cove Harry Potter Deathly Hallows filming location
Save this Museum Context Harry Potter Shop Edinburgh post for later!