Did you know that you can see Highclere Castle for free in Hampshire which is the real Downton Abbey filming location?
Although you do have to pay for tickets to visit the inside, there are plenty of free Highclere Castle walks that you can take around the estate that are public rights of way!
This means that Downton fans can easily see the stately home where they filmed Downton Abbey for free. It's perfect for when the castle is closed off to the public in the off-season.
Beyond seeing the house, the land around the estate is gorgeous with lots of flora and wildlife and provides spectacular views of the Hampshire countryside.
Plus, there are lots of viewpoints, grottos, lakes, temples, chapels, and folly's to enjoy around this 5,000-acre estate too!
So, if you wanted to follow in the footsteps of the Crawley's and save some pennies in the process, here's how to visit Highclere Castle for FREE via the Highclere Castle public footpaths and walking routes!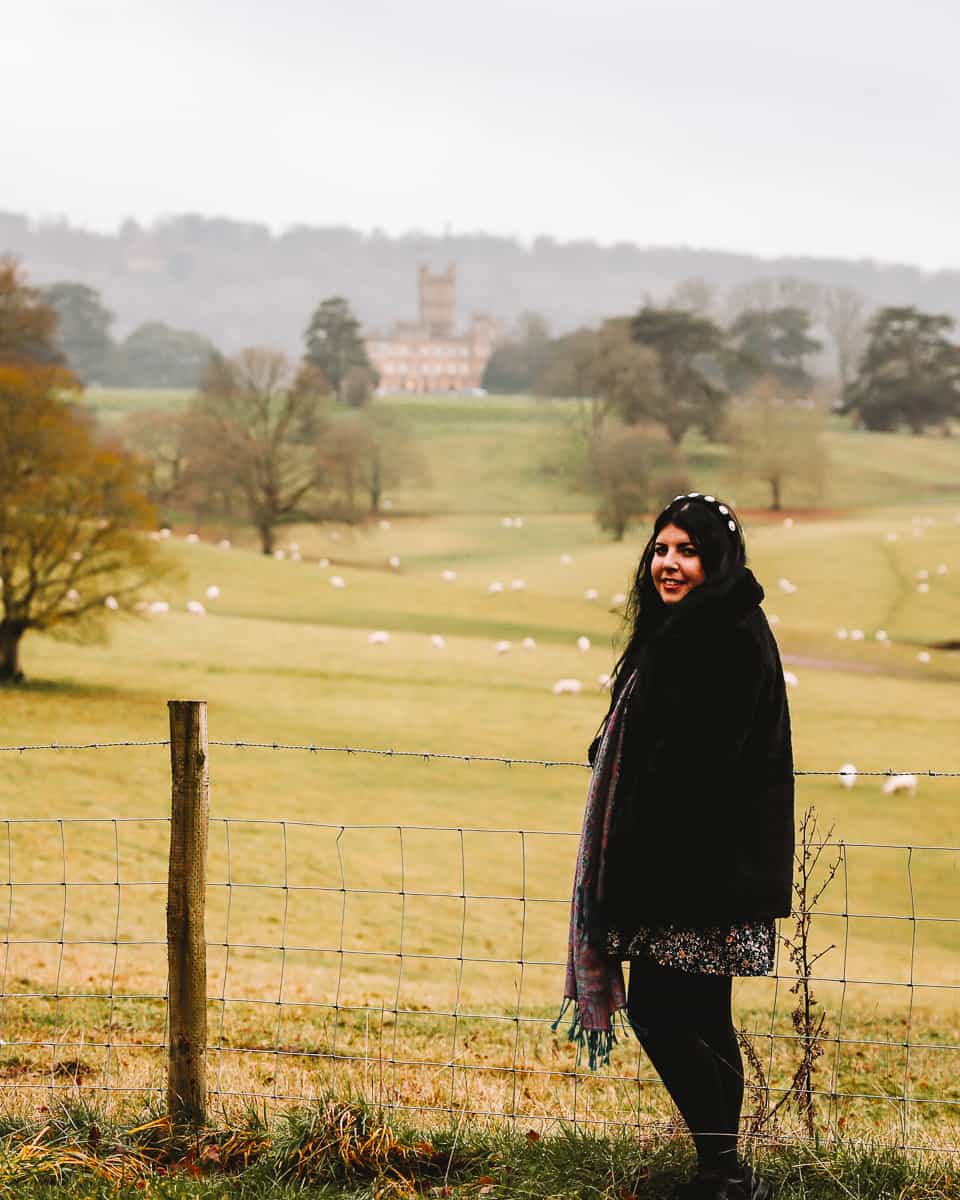 Highclere Castle history
The castle was first recorded during the Anglo Saxon era in 749. Highclere was in King Offa's kingdom of Mercia and bordering on the expanding Kingdom of Wessex.
At this time, Offa granted the land to the Bishop of Winchester, William of Wykeman, who built a palace and planned gardens here.
In the 17th-century, the palace was rebuilt as Highclere Place House and purchased by Sir Robert Sawyer. He was a direct ancestor of the current 8th Earl of Carnarvon.
In, 1771 Capability Brown had made plans for the alteration of the grounds and symmetrical Georgian house.
By 1842, the house was transformed by Sir Charles Barry into Highclere Castle. Sir Charles Barry also designed the Houses of Parliament in Westminster and you can easily see some similarities in the architecture of the two buildings.
Something I found interesting was that in 1922, the 5th Earl of Carnarvon discovered the tomb of Tutankhamun at the Valley of the Kings with Howard Carter in Luxor, Egypt. Tragically, the Earl died some weeks later which gave rise to the mysteries and news stories of the Curse of King Tut.
During the First World War, Highclere Castle was converted into a hospital for wounded soldiers and during the Second World War it became a safe place for evacuated children from London.
Today, Highclere Castle is still the ancestral home and seat of the 8th Earl and Countess of Carnarvon. But, it does open for tours each year which are very popular due to it featuring in Downton Abbey!
Highclere Castle Downton Abbey filming location
Nowadays, Highclere Castle has risen to fame for being the real Downton Abbey filming location!
In the world-famous ITV period drama series, this house plays the ancestral home of Lord Grantham and the Crawley family which is set in Yorkshire.
The inside and outside of the grand residence were used for filming in all six TV series and the subsequent Downton Abbey movies to date.
It's an 'upstairs downstairs' style show. So, you'll find the regal family staterooms and the old staff quarters that you see in Downton Abbey are inside.
Highclere Castle regularly opens for tours throughout the year and so you can easily step inside Downton Abbey's world in Hampshire.
In fact, there are between 250 to 300 rooms in Highclere Castle that you can explore. Plus, you can check out their Egyptian Exhibition which celebrates the 5th Earl of Carnarvon who discovered Tutankhamun's tomb.
How to see Highclere Castle for FREE!
So, of course, you have to pay for a ticket to visit Highclere Castle which is only open for visitors at certain times of the year.
In summer it's open more generally but in Christmas time and winter, you'll pay a pretty penny for a visit. As a Downton Abbey filming location, it's extremely popular and can see over 1,500 visitors each day!
But, if you wanted to see Highclere Castle for free this is easy enough to do as the Highclere estate has a number of free public footpaths that you can walk on.
This walk is perfect for Downton Abbey fans who are visiting the UK in the off-season or when the castle is closed off to the public.
You simply need to park up in the area and walk into Highclere Park along the public footpaths and you'll get to see the house and filming location for FREE!
Are the Highclere walks dog-friendly? Yes, you can take your dogs on the Highclere Castle public footpaths and grounds but keep your dog on a lead at all times. There are sheep grazing and plant life.
Where to park for the Highclere Castle walk
It's good to note that there is no official parking provided by the estate for the public footpaths. There is a car park for Highclere Castle visitors in summer but you cannot park here unless you have a castle ticket.
Ergo, you'll need to ensure you find a safe and legal place to park your car to go on this walk.
As you drive towards the estate, you'll quickly notice that the roads surrounding Highclere Castle are filled with no parking signs and yellow traffic cones.
The easiest place to park for this walk is at the bottom of Beacon Hill. There is a large free car park there.
You can firstly climb up to the top of Beacon Hill which gives you a great view of Highclere Castle from the viewpoint at the top!
Then, you can head down and easily walk along the A34 Whitway Road until you reach the Highclere Castle estate entrance for the walk. You'll see a Highclere Castle sign on this road at the turning.
We tried to park at Beacon Hill in January but the car park was completely flooded after a storm so we decided to head on and look for more suitable parking.
Alternatively, you can park up in Highclere Village and then access the Highclere Castle public footpaths from there.
Why not have lunch at the Carnarvon Arms?
If you were feeling peckish on your visit, why not visit the Carnarvon Arms for some lunch?
The pub is just a short walking distance away from the Highclere Castle Estate entrance on the Whitway road so it makes a great stop before or after your visit.
It's a charming pub that has a cosy interior and their menu has lots of breakfast, brunch, and dinner options!
We stopped in here for some lunch and enjoyed one of their tasty open sandwiches and a pint of local cider before our walk.
We then asked the owners if we could leave our car here whilst we went to see Highclere Castle and they kindly said yes!
I would always ask before doing so just in case they are busy but it's a great alternative and safe place to leave your car. Better than parking somewhere illegally on the roadside.
Entering the Highclere Castle estate grounds
So, once you've walked down the road to the Highclere Castle estate entrance, you'll walk over a bridge and through a large gateway to access the park.
There will be lots of no-entry signs if the castle is closed for tourism but these are solely for vehicles.
Pedestrians are allowed to walk here on the Highclere Castle public footpaths and permissive pathways all year.
You must stick to these pathways at all times. The rights of way are very well signposted though so don't worry about getting lost.
Of course, this permission is kindly granted by Earl and Countess of Carnarvon as they do still live at the castle!
It can be stopped at any time without notice (for security, events, or special visits) but 99% of the time you're safe to walk around the Highclere estate all year.
Follow the Highclere Castle walking paths and rights of way
So, once you're on the estate, you must follow the paved pathways to stay on the Highclere Castle public footpaths.
It's easy to follow and there are signs guiding you through. We also met some friendly security guards who will be happy to direct you so you're on the right path.
It really is a lovely walk as you get to see lots of the wildlife here. There were many sheep grazing and it was a magnificent estate to explore.
I visited in January, but I think that spring and summer would be a gorgeous time to visit Highclere Castle. There's lots of flora and fauna to see and it would have been much better weather!
Of course, as well as the wildlife, there are lots of opportunities to see the real Downton Abbey filming location on the walk.
If you wanted to explore beyond the Highclere Castle public footpath there are even more walks that you can take on the estate as well.
Click here for a map of all the Highclere Park walking routes
How much of Highclere Castle aka Downton Abbey can you see on the walk?
I'm going to be honest with you, it's not a show-stopping view! Most of the time, you see only parts of the house on this walk.
Near to the estate entrance, you can see the top of the castle over the hillsides of the park. Then, you can see the side of the house through the trees.
If you wanted a better view of Downton Abbey, you can head around the public rights of way towards Highclere Village near the Cemetery Chapel.
Although the castle is far away, you can see a fair bit more of the house from this viewpoint. Plus, the scene of the rolling hills and the sheep grazing around it is so pretty.
There are great views to be had from Beacon Hill all year. Also, the Wayfarer's Walk with the Gateway to Heaven folly has an amazing panoramic view of Highclere Castle that's open in summer.
I've seen quite a few reviews where people could get closer to the house via the car parks when it's open for tourists. But, I can't say whether that's technically 'allowed'.
If you really wanted to see more of the Downton Abbey filming location up close, I would always suggest booking an organised tour when it's open to the public. That way you get access to the immediate grounds and you can look inside!
What else can you see on the free Highclere Park Public Walk?
There are many acres of land to explore on the Highclere Estate and most of it has public rights of way.
There is a map at the estate entrance which I would recommend taking photos of which highlights the points of interest on the walking routes.
We took the Highclere Park Public Walk which was along the Whitway path. This will take you around Highclere Castle and over to Highclere Village.
This route also took us by the quaint Highclere Castle Cemetery Chapel. Although it is no longer open to the public it has been very well preserved.
According to the Countess of Carnarvon, on the first Sunday of every September, the Vicar holds a short service here.
Even more free Highclere Castle walks
If you wanted to explore more of the park, there are eight free Highclere Castle walking routes that you can follow to find more attractions! Most of the public rights of way are connected via the castle which allows for easy access.
Note that some of these walks are only open during the summer season. Regardless, dogs must also be kept on a lead at all times on any of these walks;
Beacon Hill Public Walk – this has a dedicated car park and is a walk to a viewpoint that's 261 metres high. From here, you can see Highclere Castle. We tried to go but it was flooded.
Old Burghclere Public Footpath – This takes you just outside of the Highclere Estate grounds to the village of Burghclere. It's a quaint ancient parish with many notable historic buildings.
Milford Lake Summer Walk – A huge walk around the lakeside which will also allow you to see the Temple of Diana, London Lodge and Duns Mere lake.
Temple Summer Walk (no dogs allowed) – This will take you around Highclere Castle and over to the Temple of Diana.
Grotto Lodge Summer Walk – This is in the south of the estate and accessed via the Wayfarer's walk. The Highclere Grotto lodge was designed by Thomas Allom 175 years ago and it's now unique accommodation you can stay in too.
Heaven's Gate Summer Walk – The Highclere Castle Heaven's Gate is a grade II listed red brick archway that you can walk to via the Wayfarer's walk. The folly was built by Robert Herbert in 1737 and renovated in 1997. This walk gets you amazing birds eye views of Highclere Castle in the distance.
Where to stay near Highclere Castle?
If you were looking for a place to stay the night, I would recommend the award-winning Carnarvon Arms!
It's nestled in the Hampshire countryside just inches away from Highclere Castle and they have 18 gorgeous boutique rooms on offer!
It makes a great place to stay on a weekend break or as a base to explore more of the area.
Those travelling with furry family members will be relieved that know that they also have some dog-friendly stays available too.
Click here to book a room for the night
Visit the Downton village of Bampton next!
If you are a fan of Downton Abbey, you may love to know that the village featured in the series is only an hour's drive away from Highclere Castle!
It's not in Yorkshire but in Bampton which is a tiny village in Oxfordshire on the fringes of The Cotswolds.
Here you can visit the outside of Isobel Crawley's house, the church where Mary and Matthew were married, the location of The Grantham Arms, Downton Cottage Hospital, and more.
Bampton honestly feels like a village that's been trapped in time so you must visit if you're in the area. You'll be instantly transported to the regal world of the Crawley's!
Read my complete guide on all the Downton Abbey filming locations in Bampton!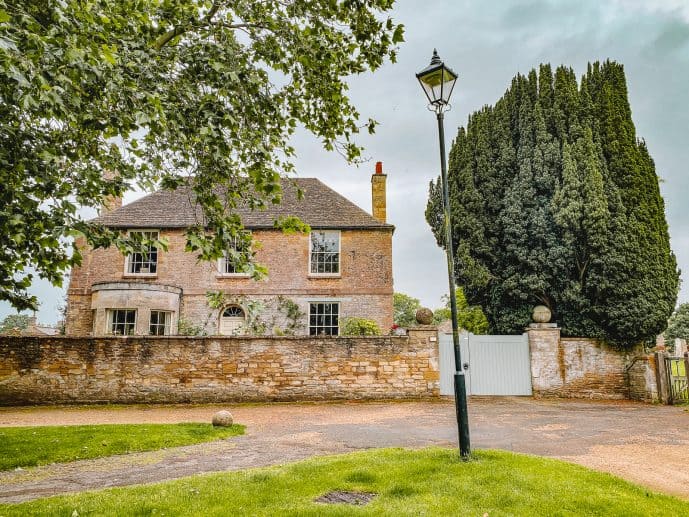 Why not book a Downton Abbey Tour?
If you're visiting the UK on holiday or don't drive, you may prefer to book a Downton Abbey tour which covers Highclere Castle, Bampton village and some more Downton Abbey filming locations.
There are plenty of trips that leave from London and take you to all these places in one day!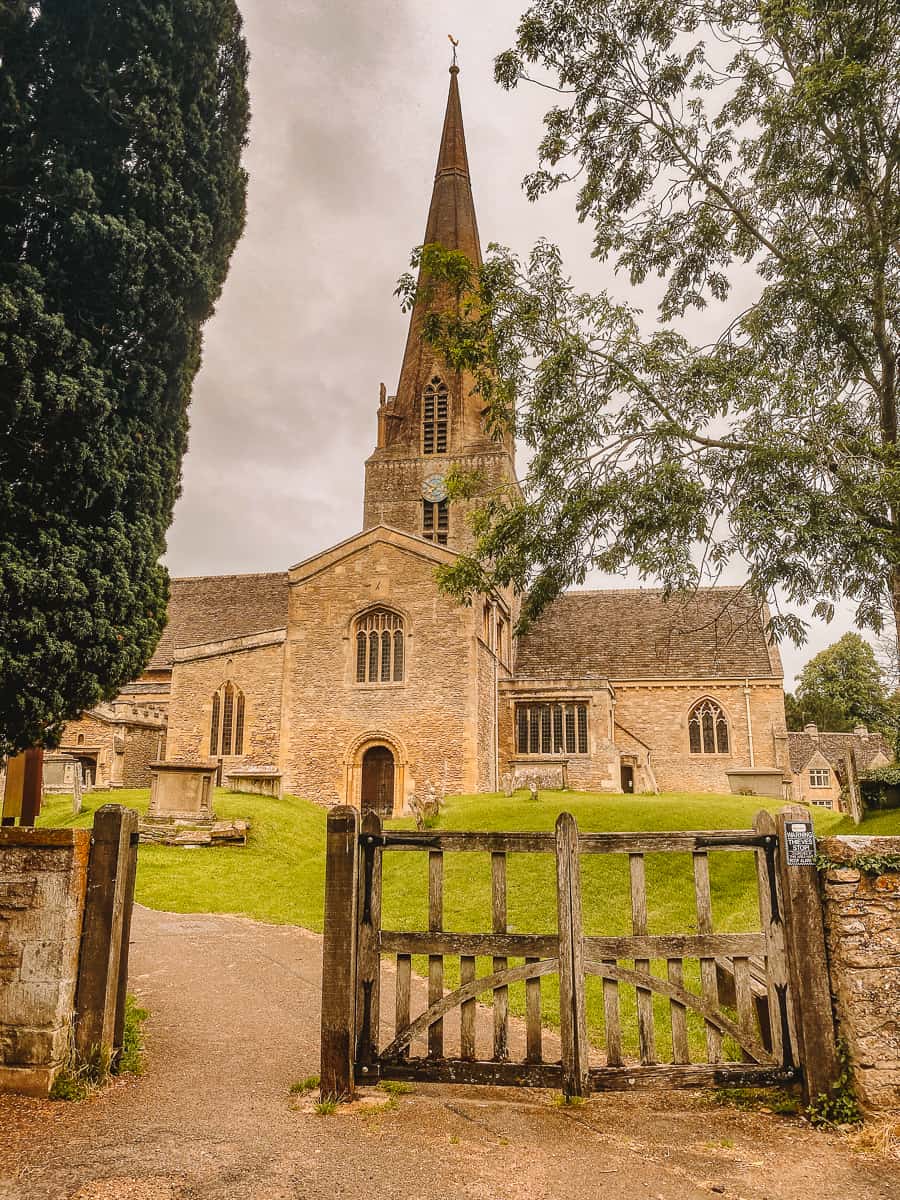 Read more of my England travel guides
How to visit Stonehenge for FREE
How to visit Blenheim Palace estate for FREE
FREE & unique things to do in London Bridge district
A complete guide for Bibury and the amazing Arlington Row
All the Harry Potter filming locations in Lacock, York and Gloucester Cathedral
The best places to visit in Snowshill
How to visit the Broadway Tower in the Cotswolds
A complete guide for visiting the Avebury Stone Circle
Things to do in the Vale of the White Horse
Save how to visit Highclere Castle for free!