Avebury is one of my favourite places in the entire universe. Whenever I have visited the stone circle, I feel a vibe in the air which is like nothing else.
Countless times me and my soul sisters come here to have a midnight picnic under the stars, watch the sunset or drink in the Red Lion, there's just something so magical about it.
If you're not from the UK you will have most likely heard of Stonehenge, a true wonder of the natural world. But have you heard of Avebury?
Unlike Stonehenge, you can get up close and personal with the stones and access isn't restricted.
It is home to the largest stone circle in Europe and is part of the Neolithic henge monument family. It dates back to 3rd Millennium BC!
Crazy that it is still standing here for us to enjoy today, eh?
Keep reading to find out more about this unfathomably beautiful place! Here is my ultimate Avebury stone circle travel guide and all the things you can do here.
How to travel to Avebury stone circle in UK?
Luckily for me, Avebury is located around 20 minutes from Swindon which is short drive from where I live, but you can bet your bottom dollar you are not going to be visiting from there!
From London: By public transport, grab the train from Paddington to Swindon (yay!) and then get the number 49 Stagecoach bus from the central bus station to Avebury. (around 2 hours)
From Bath: Take the train to Swindon (double yay!) and then get the number 49 Stagecoach Bus to Avebury. (around 1 hour 30 mins).
If you're choosing to take public transport, make sure you check the times of the last buses from Avebury (the timetable is located outside the Red Lion pub or on their website).
Most days it's around 7.3opm. Last Train to London leaves at 10.30pm.
The history of Avebury Stone Circle in Wiltshire
If you can believe it, the circle is older than Stonehenge and there 's a lot of speculation as to how these stones appeared here all those years ago.
Archaeologists still aren't in agreement as to the year it was built but it is thought to be around 2600 BC!
In reality, the stones were quarried in the Marlborough downs and transported here by wooden wheeled transport and I'm sure the construction required a fair amount of human effort!
Unfortunately, throughout the years a lot of the stones which were originally placed here were removed due to Christian beliefs and wanting to tear down a Pagan monument.
They were also broken down for building materials and when you're walking around you will see markers in the place of where they once stood.
Nowadays the site is protected (thankfully) so this won't ever happen again. Although Stonehenge was built to worship the sun and moon Avebury has a more human touch.
It celebrates birth, life and death with a strong sexual theme running through especially with the Adam and Eve stones that are placed together. Or, that is what is suspected – we can never be sure!
Maidens many years ago would sit under the 'Devil's chair' and make a wish on May Day eve in the hope of finding a suitor.
Other legends have said that spirits walk amongst the stones at night. Whatever you choose to believe, there is a little magic here and thousands of tourists flock every year to be amongst their energies.
Some hug the stones as they have healing powers and who doesn't need a bit of that? What's the harm, hug away!
Is Avebury haunted?
My favourite part! If you enter the Red Lion, you will see in the dining hall a well which you can now use as a table to rest your pint.
You can look down all the way to the bottom and I have to admit it does look like something from The Ring and I half expected Sumara to crawl up to me!
The well has been here for centuries and legend has it that a girl named Florie haunts the pub.
In the English Civil War, Florie found herself another man whilst her husband was away on duty.
The husband returning home was just a little displeased to find another man in his bed and in his rage flung poor Florie down the well!
Reports have been that she is looking for a man with a beard and she haunts the ladies toilets and dining area, sometimes throwing salt and pepper around. Spooky.
There are other reports that in the night a haunted horse-drawn carriage walks past the pub.
It is either seen or heard but never both! If you're brave enough to spend the night here, watch out for ghouls in the dead of night. Mwahahaha (okay, so I got a little carried away).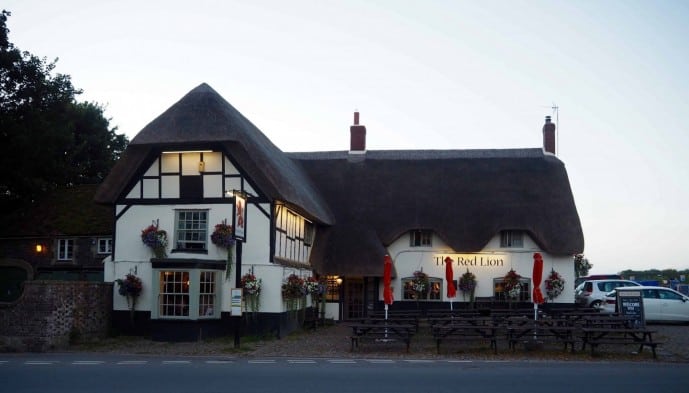 Magical things to do at Avebury Stone Circle
Although Avebury is a relatively small complex, it is one of the cutest villages in Wiltshire.
There are plenty of things to do in Avebury as you wander around the stones so make sure you take your time and explore.
What I love most about it is that it's a step back in time. No Starbucks, No modern distractions, No phone signal (world off) – It's amazing.
Celebrate the Summer Solstice Festival
The Summer Solstice is celebrated on the day before the longest day every year on the 20th of June.
Celebrated as far back as the Ancient Greeks to welcome in extended hours of sunlight, it is usually a time of festivities and frivolity.
In Druidry, the festival is called Alban Hefin and means 'the light of the shore'.
According to the Druid faith, the Solar God is crowned by the Goddess as the King of Summer.
Modern druids still gather to celebrate every year and should be respected to honour their faith.
Nowadays, the festival is attended by many tourists from all over the world. The most famous place to celebrate this is Stonehenge, but it can get overcrowded. Avebury is a smaller venue that puts on a great show!
Each year there are fire dancers, bands, drums, and much more to party through the night until the sunrise.
There is also Winter Solstice on the 21st December and Autumn/Spring Equinox festivals which take place so if you're around, pop by!
Click here to read my complete guide for celebrating the Summer Solstice at Avebury!
Top tips before you visit Avebury
How much does it cost to visit Avebury? Absolutely Free!
What are the opening times for Avebury stone circle? There aren't any, it's open dawn till dusk – perfect for watching the stars!
Is there parking at Avebury? Yes, you can park in the public National Trust car park just down the road. Price is £4 (free for National Trust members).
Where to eat in Avebury? Yes, you can eat in the Red Lion pub for fine dining, The Shop for sandwiches, the Henge Shop has a country Ice cream stall and there is a Circles Café located near the manor house on the North West side.
Can I bring a Dog to Avebury? You will need to keep them on a lead as there are sheep in and around the circle (there's also a loooootttt of poop so bring practical shoes!)
Where is the best place to stay in Avebury? You can stay in the Red Lion but watch out – it's meant to be haunted! There's also The Lodge which is just down the road and looks divine.
How long do I need to visit Avebury? As long as you wish! 2/3 hours should give you enough time to explore.
When's the best time to visit Avebury in UK? In summer as the nights are longer and warmer. If you're here in June on the 21st you can stay for the Summer Solstice. The greatest views of the circle are the classics of Sunrise and Sunset.
Heading to more places around Wiltshire?
So, that's my complete Avebury stone circle travel guide. I'm from Wiltshire, so I often go out exploring my own backyard. Make sure you read some more of my informative articles before you visit;
How to visit Stonehenge without paying a single penny
How to visit Imber, the abandoned ghost village in Wiltshire
The best places to visit in Wiltshire
The best way to spend a day at Longleat forest!
A travel guide to the quaint castle combe village
Visiting an ancient house of the dead!