West Kennet Long Barrow is by far one of my favourite places to visit in the whole of the Avebury World Heritage Site.
I totally understand that it sounds kind of strange to be in awe of an ancient house of the dead. But, here we are.
I guess the reason why is that it has a certain magic to it.
Seeing the huge standing stones welcoming you in and being able to climb inside to explore its mysterious chambers. Not to mention, the amazing views you get from the top of this barrow hill!
It's an incredible spot but don't just take my word for it. Early humans, Roman soldiers, Anglo-Saxons, and famous antiquarians have all been fascinated with this area.
Nowadays, it's one of the largest and most impressive Neolithic burial chambers in England that was built around 5,600 years ago!
The fact that it is still standing today is a small miracle. So, the question remains, what secrets does this ancient tomb hold?
Here's a complete guide with the history, legends, and ghosts. Plus, all the details on how you can visit West Kennet Long Barrow yourself!
What is West Kennet Long Barrow?
This earth barrow is one of the largest and most impressive Neolithic gravesites that has been discovered in Britain.
It was built around 3650BC as a tomb to bury members of an ancient farming settlement and it has been estimated that it was used over the course of 1,000 years.
It's a huge mound that is around 10 feet high, 82 feet wide, and over 328 feet long.
It's only second to East Kennet Long Barrow in length which is on private land just a few miles away.
Inside, there are five chambers that fall off a long passageway measuring 42 feet!
The history of West Kennet Long Barrow
This burial site dates back way before the likes of Avebury Stone Circle and even Stonehenge! It was built over 5,600 years ago by Neolithic settlers as a tomb for their ancestors.
The huge standing stones at the front of the chamber were thought to be a warning so that people knew the sacred importance of the site.
Although the site was used for burials over the course of 1,000 years, excavations have only revealed 45 skeletal remains inside. So, there is a theory these settlers were of high importance.
Some were cremated and others were found disarticulated. This means that the tribe could have opened the tomb periodically to take bones out for rituals.
It is also for this reason that archaeologists believe the site was used for ancient ceremonies as well as burying the dead.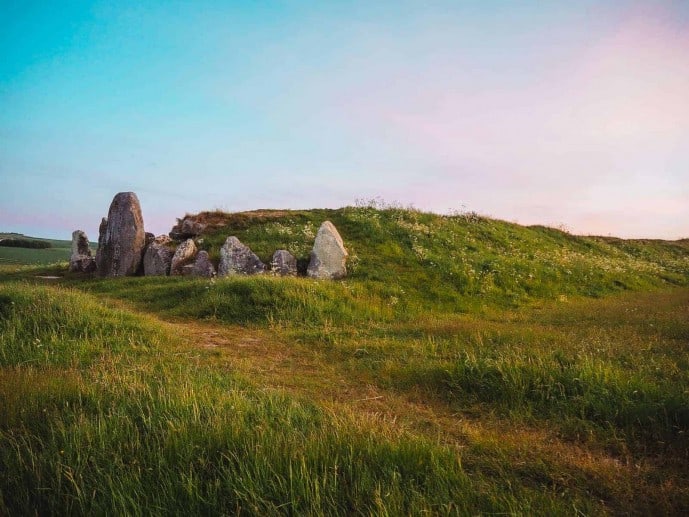 There were many pieces of pottery, beads, daggers, and tools found here as well.
This could have been due to a belief similar to the ancient Egyptians, who thought that burying items with their dead would mean they could use them in the afterlife. Or, it simply means they were wealthy.
Although today the mound is covered in grass, in early times it would have been a chalk barrow lined with Sarsen stones.
The impressive stone facade at the front of the tomb would have been capped with chalk rubble.
Studies have predicted that this mound would have taken around 15,000 man-hours to complete! The dragging of huge, heavy standing stones across the countryside means that this site was of significant importance.
It was sealed off with rubble and earth around 2000BC and never used again. Until the burial site was disturbed, unearthed and excavated in the 19th century.
Encounters, antiquarians & excavations
Although the chamber was sealed around 4,000 years ago, it didn't stop people from finding the site over time. There have been many Roman coins found outside at the base of the barrow.
During the 17th century, Dr. R. Toope of Marlborough decided to dig out some of the bones in order to prepare medicines for his community!
He said it was a 'noble medicine that relieved my distressed neighbours' (I mean, really?).
Famous antiquarians who were fascinated with Avebury such as John Aubrey, sketched the site in his Monumenta Britannica but gave it no name.
Later, William Stukeley did the same and called it 'South Long Barrow'. Succeeding that, it was reported on in detail by Richard Hoare.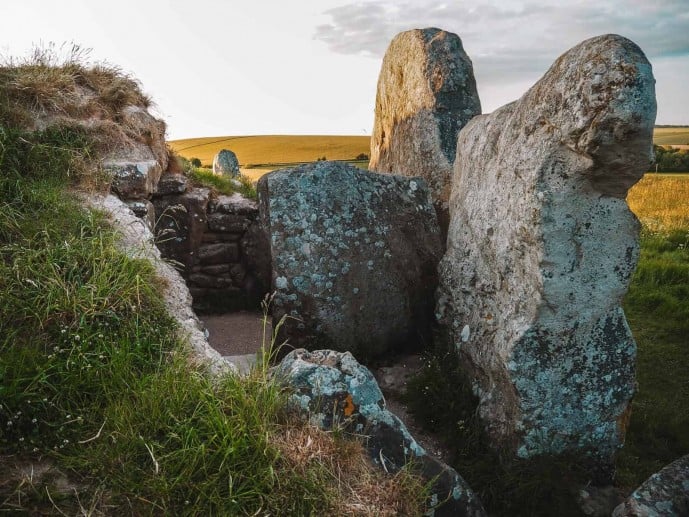 However, the tomb has only had two major excavations in its time. One took place in 1859 and another in 1955.
The first was carried out by John Thurnam who only managed to find the western chambers and the central passage.
It was Stuart Piggot and Richard Atkinson who discovered the other chambers in 1955.
During the excavations, as well as recovering the burial goods, many of the remains were studied.
They found that humans of all ages were buried here, males and females from the very young to the very old.
They were even able to determine that a lot of them suffered from arthritis, spina bifida, mangled bones, and toothache!
It was during the later investigation that the barrow was reconstructed as it would have originally been built.
Also, the chambers were cleared of remains and debris so that members of the public could walk through them.
West Kennet Long Barrow plan
This is how the tomb looks if you were to 'x-ray' the barrow. You can see the huge corridor with five smaller chambers falling off it.
This is where the human remains were found… (photo taken from the sign at the site).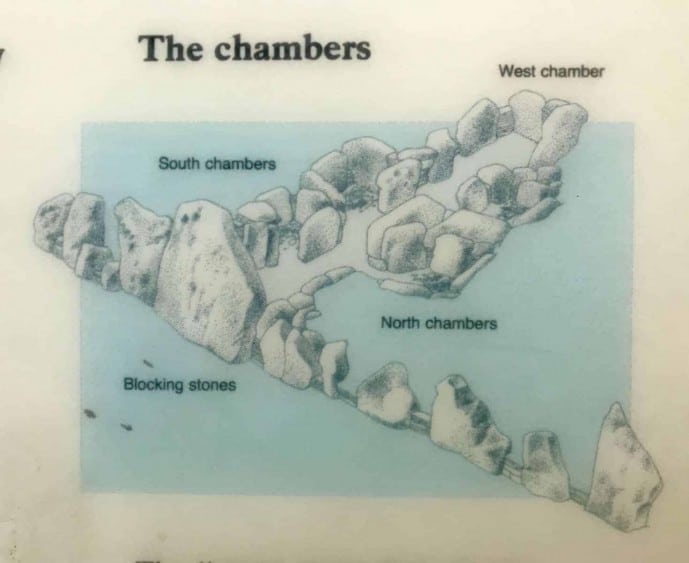 Is it haunted?!
Many people say that West Kennet Long Barrow is haunted and that they feel a strange presence when they enter the tomb.
There have even been reports that someone has been 'grabbed' with both hands and a force has attempted to drag them into the chamber.
Regardless of whether you believe it or not, it is really easy to get spooked here – especially if you have an overactive imagination like me!
It's extremely dark, creepy and even the flaps of bird wings are enough to make you jump!
There are many swallows that sleep here in the cave and will get startled. A lot of people hear voices, but this may not necessarily be in the barrow. As the site is so open, you can hear sounds from miles away.
I was able to hear a couple on top of Silbury Hill (not legal, as it's dangerous by the way).
But, the most popular legend is about the West Kennet Long Barrow ghost, He is a man dressed in white robes with his hound.
Apparently, if you visit the tomb on a Midsummer's Day sunrise, you can find the white-robed man standing on top of the barrow.
A huge hound sits at his feet with red ears. They stand silently, waiting and watching until the sun rises. Then, once it's risen, they turn in unison to go back inside the tomb. Many farmers swear to it!
Can you go inside West Kennet Long Barrow?
YES! The reason why this place is so special and sees so many visitors is due to the fact you have free access to the chamber.
So, you can walk all over it, around it, and even walk inside the tombs. Which is extremely atmospheric by the way!
It's really dark, so I would definitely bring a torch with you or use your phone light so you're able to see the rooms inside.
Look out for the holes which have been placed on the roof – you can see right through to the top of the mound.
I have to admit it is quite creepy to walk inside the tombs. I definitely wouldn't recommend going alone as I did or, worse, heading out here at night time. Also, those that are claustrophobic may struggle.
What to expect while you're here
From the A4 roadside, the walk will take you around 10-15 minutes to reach it. You'll pass through two kissing gates that need to remain closed due to cow's grazing in the fields.
The walk up to West Kennet Long Barrow is deceivingly steep, it will definitely be a workout!
Also, I would bring a good pair of walking shoes. The path is fine in spring or summer, but if it's winter or has been raining for a few days, the hill can be boggy.
Once you reach the top of the hill, you'll get amazing views all over Avebury and you can see Silbury Hill in the distance – Wiltshire's very own pyramid!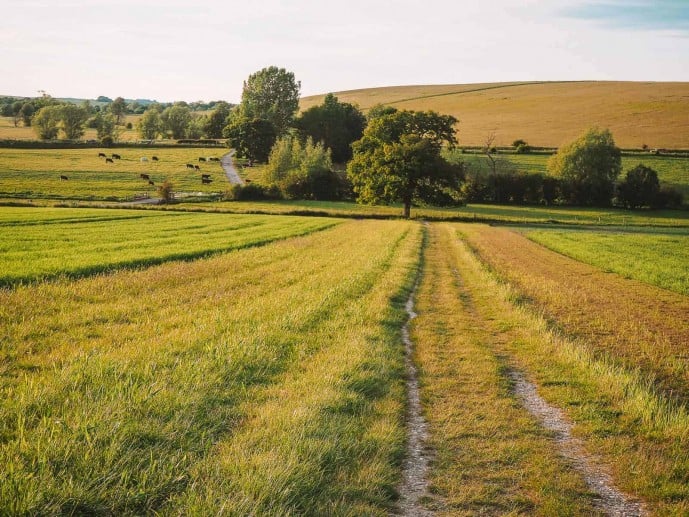 Entry is FREE and you can visit anytime. The barrow is open 24 hours a day, 7 days a week via a permissive pathway.
During the day is best, or you can head up here for sunset.
As well as a tourist site, it's seen as a spiritual place where Pagan beliefs are practiced.
Rituals often happen inside the tomb and offerings like flowers and candles are left.
If you see any there, be sure to leave them be. English Heritage doesn't approve of offerings but it's a matter of respecting different beliefs.
What NOT to do when you visit
No open fires – It is not permitted to light fires on top of the mound or inside the chamber. It's a protected site.
Take rubbish with you – Ever since I was a kid, I have been visiting this place and there is always so much rubbish left inside. Please take your food packets, condoms, dog poo bags with you to the nearest bin!
Don't light candles near the stones – Many people light candles here as an offering but remember not to light them too close to the stones. This does cause damage. Always light candles in the centre of the chamber.
Do not graffiti the stones – No one needs to read about your relationship or that you 'were here'. Don't damage stones that are over 5,000 years old!
Be respectful – There are many people that visit the barrow for tourism and for healing. Be respectful and don't 'hog' the chambers. Also, be mindful of others if you're playing drums or practicing meditation. Don't destroy sacred offerings.
Drones – are not permitted unless you have permission from English Heritage
Where is West Kennet Long Barrow?
The long barrow is located in the Avebury World Heritage Site in the county of Wiltshire. This area is a hotbed for ancient landmarks and stone circles that were also built thousands of years ago!
You can access the site in West Kennet just off the A4. Use the postcode of SN8 1QH on your SatNav if you're driving.
If you're heading here by public transport you can take a bus to Avebury. From Avebury Henge, it's around a mile to walk and is located just nearby the huge mound of Silbury Hill.
From the A4, the walk is around half a mile through farmland on a permissive pathway to reach the top of the site. It will take you around 10 – 15 minutes on foot.
West Kennet Long Barrow Parking: There is a small amount of FREE parking in a lay-by just off the A4. It's well signposted. If this is full, there is another lay-by just further on. Or, you can park up at Silbury Hill and walk over.
Visit more ancient sites nearby in Avebury
After your visit, you will be totally surrounded by historic sites in this area.
Avebury World Heritage Site is an extremely special place that has dolmen chambers, stone circles, burial barrows, and even ancient pyramids!
Just nearby you can find Swallowhead Well at the base of the hill down the road from West Kennet Long Barrow. This has been a place of healing for thousands of years.
Or, you could visit Silbury Hill which is a man-made mound built 4,000 years ago!
The Sanctuary is just a little drive on from the barrow and you'll find markers where the old stone circle used to be. It is thought that this place is connected with Avebury Henge in some way.
This is also the spot where you'll find Overton Hill and it's the start of the Ridgeway Trail – Europe's Oldest Road. Travellers have used this road for over 5 millennia!
From here, you can access sites like Barbury Castle and Uffington White Horse.
West Kennet Avenue is located just a half-mile away from here which is an old entranceway to Avebury Henge – truly the highlight of this protected site. You can take a walk around the two huge standing stone circles and uncover their mysteries.
Unlike Stonehenge, this is completely free to visit and you can get up close and touch them! Some say there are vibrational energies that are emitted from them due to ancient Ley Lines. So, why not try it for yourself?!
Read more of my Wiltshire travel guides
How to find the Devil's Den on Fyfield Down
How to see the wild Snakes-head Fritillary in Cricklade
Why you must visit King Alfred's Tower in Stourhead
How to visit Stonehenge for FREE
How to visit Imber, the abandoned ghost village in Wiltshire
Discover the secret bluebell wood in Swindon
These places in Wiltshire will blow your mind!
Harry Potter locations in Lacock
Like it? Pin it!