A couple of weeks ago, I was invited by Aqua Sana Longleat to try out their brand new spa.
Now, I have to admit that before I turned 30, I never really indulged in spas. I always found them a little pricey, I felt a bit awkward and it wasn't my cup of tea as I struggle to switch off.
Now, I'm borderline obsessed with them and I always try to find time to spa on a break!
Self care is a big priority for me in 2023. So, when I was invited to be one of the first people to try out Aqua Sana's new forest spa experience; I jumped at the chance.
Aqua Sana Longleat has opened up a brand new forest spa for 2023!
After a long hiatus and costly refurbishment, Aqua Sana has finally opened its doors on their brand-new forest spa.
With 24 experiences, an outdoor heated pool, pampering treatments, hot tubs, and the fact you're tucked away in the lush Longleat forest. This is the perfect place for a time out and gives you the chance to unwind.
Here are all the reasons to visit Aqua Sana Longleat in 2023.
Heads up: I was invited by Aqua Sana on a gifted press trip to the spa. Normally, you're not allowed to take photos inside. As usual, although I was a guest, all opinions are my own. Some photos below have been kindly gifted by Aqua Sana.
What to expect when you enter Aqua Sana
I haven't visited the spa before the update. But, all I can say, is that as soon as I walked in I was wowed by it.
The staff greeted me with a smile and opened the doors to their new Vitalé Café Bar. I was handed a sparkling glass of champagne with some yummy treats to begin a full day of pampering!
Of course, what's included with your ticket will entirely depend on the package you've chosen which I'll go through below.
But, in every session you'll be given a fluffy robe, towel, a waterproof wristband for your locker and flip flops!
I much prefer flip flops in a spa. Saves them getting soggy.
Aqua Sana changing rooms have toilets, showers and vanity mirrors with hair dryers and you can request a new towel or robe if you've got yours too wet.
Then, once you're ready, you can begin your spa day! There are 22 rooms to enjoy here so make sure you schedule time to experience all of them.
Once you're inside, there will be water fountains with fruits to taste, apples to munch on and even face creams to remove make up. So, don't worry about staying hydrated.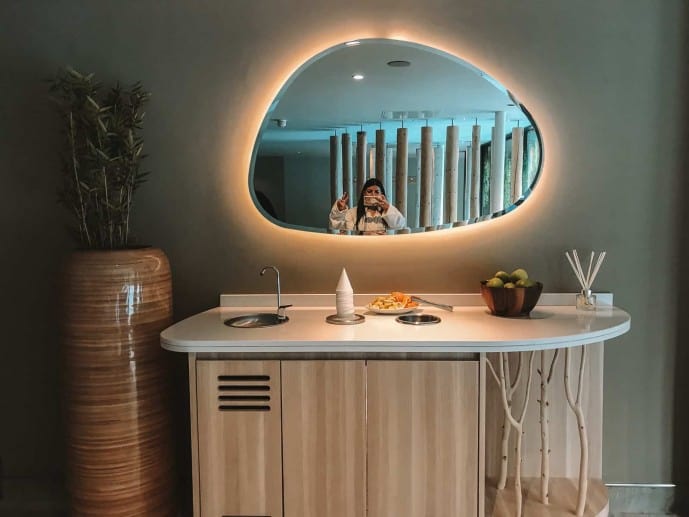 9 reasons why you need to visit Aqua Sana's brand new forest spa in Longleat
Now, I know many people don't need much convincing to visit a spa!
But, if you find you're on the fence for any reason because of the cost, the location, what's inside etc.
I'll go through all the amazing reasons that you need to schedule a visit to Aqua Sana Longleat below;
1. You're in the middle of Longleat forest, in Wiltshire, with no distractions
I think this has to be one of the main draws of this spa. Living in Wiltshire, I don't often appreciate the fact that our little part of England has so much nature!
Aqua Sana Longleat Forest is in the middle of the countryside, so you will hear nothing but silence and bird sound.
I've been to many spas now in the city where you can hear traffic or people outside. These are all distracting and can remind you of what you came to escape from.
Forget your 9-5, driving in rush hour traffic, the kids, the stresses of modern day life; you're completely immersed into nature now.
It's a little portal into a world of relaxation. It's good for the soul and reminds us of nature's organic way of healing.
2. Aqua Sana Longleat have over 24 experiences which are inspired by nature
For me, the most exciting thing was the fact that there were so many rooms to experience different things.
As I mentioned before, I'm really not someone who can sit in one place for a long time. So, having options and variety was invigorating.
From moonlit showers, hobbit huts (my own word for it), volcanic steam rooms, hot tubs and ice caves like something from Game of Thrones!
Foot baths
As a starting point, Aqua Sana recommend that you start your experience with their Sole Therapy.
They have a selection of warming foot baths, so you can start by putting your feet up to relax. It's a nice introduction to the other rooms.
I will say that I found these baths quite hot for my feet, so try to select a lower temperature to begin with and work your way up!
Steam rooms & Nature Showers
From volcanic steam rooms, Scandinavian saunas, Nordic northern lights, Japanese forest glades and tropical moonlit showers. There is something to enjoy for all tastes.
I loved the fact that these rooms all had something unique about them. Whether that be the lighting, sounds, smells (they had oils in the steam) or the feeling you had.
My favourite had to be the northern lights steam room. It wasn't too misty and had great lighting and even relaxing music playing.
Ice & Forest Caves
I loved the way that Aqua Sana used inspiration from the local area to create some of the rooms. Their new Forest Cavern, is a brand new experience where you can relax in a natural cave.
The heated seats allow you to look up into natural day light and be surrounded by moss, flowers, tiny waterfalls and steam. It was one of my favourite rooms and I loved chilling out in here. I nicknamed it the Hobbit Cave.
Remember when I said that the Ice Cave here reminded me of Game of Thrones?
Well, funny story, the Ice Cave that is inside Aqua Sana was actually designed by the same team who created the sets for 'beyond the wall' in GoT! There is no John Snow though, sob.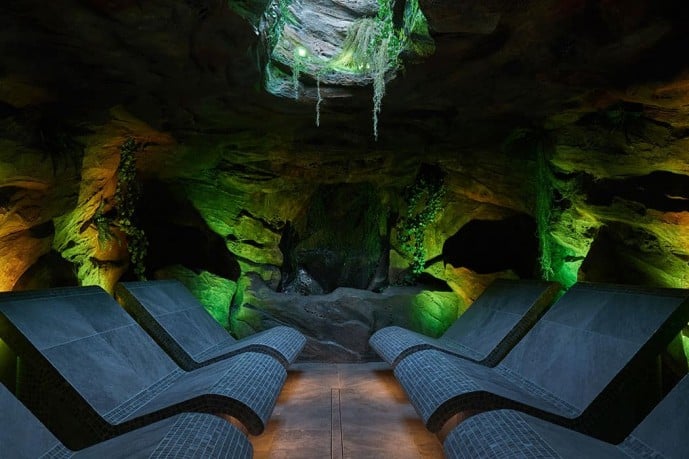 Meditation rooms & Nesting
Meditation is another thing I'm guilty of not doing enough of, so I loved the concept of incorporating mindfulness into a spa.
They have a room where you can lie down and watch a time lapse from dawn 'til dusk. Or, some pods where you can relax on comfy cushions and nest for a while.
The rooms were nice and dark, so you could switch off and some were even surrounded by stars!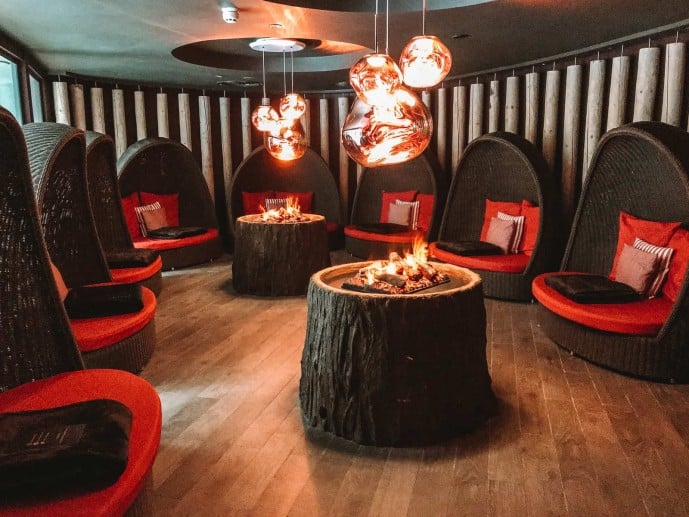 Sleep Pods
Now, I will warn you about this room. You may lie down, close your eyes and wake up a few hours later from a deep slumber!
So, if you're eager to enjoy your spa time to the max, then I would use this one sparingly.
After my amazing body treatment, I wanted to relax somewhere warm and cosy. The sleep pod was the perfect spot!
It was dark, surrounded by candles, with relaxing music and the best part? It had HEATED water mattresses with fluffy covers.
I've always wanted a water mattress (90s kid over here!), so I was in my element.
3. It has a huge outdoor heated swimming pool surrounded by flowers!
When I first went on my tour of the spa, the outdoor heated pool was the first thing that made me go 'wow'.
Sitting in the heart of the forest spa, you can soak in the warm waters, surrounded by nature and even listen to bird song while you do it!
I loved the touches of adding foliage and flowers around the outside of the pool, it made the whole experience that more comforting.
It's heated at around 33-35 degrees so it's a cosy temperature even in winter and there are intermittent jacuzzi bubbles too.
4. There are cosy hot tubs
Need I say more?
Hot tubs are a must at spas for me and Aqua Sana had two that were perfectly set at around 40 degrees! So, even in the chilly January elements, it was lovely and cosy inside.
In the summer, they even have beds to enjoy a bathe in the sunshine and a little nest to chill out.
It must be an incredible experience to come along for their twilight package in the evening time. Imagine chilling out in their forest hot tubs under the stars?! Pure magic.
5. …And hideaway snugs to chill out in if you want to reflect
Sometimes, you do need a break from all the steam and water, so it's really nice that there are some snugs to relax in here.
Many rooms are bright, filled with daylight and have huge panoramic windows where you can see the forest outside.
But, I personally fell hard for their Scandinavian snug. With velvet cushions, faux fur blankets, a pretend cracking fire and atmospheric music, it gave me all The Witcher vibes!
I loved just taking a moment to hide away in this cosy hut, it's a great spot to recharge.
6. They have the most amazing full body treatments for a pamper
As part of my day out with Aqua Sana, I was invited to try out their brand new Nature's Ultimate Remedy body treatment.
This is an experience unlike any other I had seen offered in spas. This two hour treatment has been designed to give a full range of textures and sensations; leaving you feeling relaxed and refreshed.
My treatment included body brushing to release toxins, an exfoliating scrub, heated mud mask and a full hot stone body massage.
There was also an illuminating facial treatment which included rose quartz toning for lymphatic drainage. Then, a face mask application too. As I have sensitive skin, I requested for a less active mask and it worked wonders. No break outs!
Nature's Ultimate Remedy treatment costs £195 per person and is worth every penny. You will feel completely revived.
You can also buy any of their recommended products from the spa shop when you leave.
7. Their Vitalé Café Bar serves up a delectable organic menu
During the day, we also got to indulge in some of the gourmet dishes that were expertly prepared by the chefs at the Vitalé Café Bar.
I had to resist gorging on all the chocolate covered strawberries the first instance I picked up my plate as they just looked so good.
Our beautifully organised buffet had a great selection of dishes to choose from. Smoked venison and poached apple skewers, salmon bruschetta, sweet potato salads, pumpkin sage pasta, croquettes of crab and healthy nettle shots were all there.
It was wholesome food which is just what you need on a wellness day. But, I won't lie, I did pig out on a few of those chocolate dipped strawbs!
8. You can enjoy a Twilight spa experience under the stars
Once the sun goes down, the spa transforms into a mystical twilight experience. All the hot tubs and swimming pools are lit up and if you're lucky you can even soak under the stars!
It's the perfect setting to unwind after a stressful day at work and you can even treat yourself to a delectable dinner or afternoon tea with champers too.
The packages start from £59 per person for a Twilight taster and go all the way up to a Twilight escape at £109 per person.
9. They have affordable spa packages for any occasion
Aqua Sana Longleat forest have a wide range of spa experiences and packages that you can book whatever your preference.
From tasters, to a full day spa session with meals and treatments, there really is something for every budget.
So, whether you want to go alone for some me time, bring a friend for a spa day, celebrate your hen do, or relax with a loved one. There is a wide range of choice. Prices start at £59 per person.
Click here to see all of Aqua Sana's spa packages
How to reach Aqua Sana in Longleat Forest
Aqua Sana Longleat Forest is located in the countryside near Westbury and it is easiest to drive. It's around a 2 hour drive from London on the M3 and A303 country roads and it's only 30 minutes from Bath along the A36.
If you're not staying at Center Parcs, don't head into the main resort area. Aqua Sana has a separate entrance around a mile down the road from there.
The closest train station to Longleat is Warminster which is 3 miles away from the spa. From here, take a local taxi to Aqua Sana. See the National Rail site for times and prices.
Where to stay near Aqua Sana in Longleat
Aqua Sana Longleat Forest is a proud partner of Center Parcs. So many visitors that come to the spa are staying in lodges on a break there.
So, if you did want to extend your spa day to a weekend for a special occasion or just to treat yourself. There is that option too.
As part of your package with Center Parcs, you do get access to certain facilities in the spa. But, treatments and meals are upgrades you can purchase separately.
Click here to see offers on Spa Breaks at Center Parcs Longleat
Looking for more travel inspiration for Wiltshire and the Cotswolds?
As a Wiltshire lass, I know my way around the area pretty well. I'll often be found exploring quaint villages in the Cotswolds and rambling in the countryside.
So, along the way, I've written some helpful guides for those wanting to travel in my little slice of paradise;
How to visit the Cotswold Lavender fields
How to visit Imber, the abandoned ghost village in Wiltshire
The best places to visit in Wiltshire
Castle Combe: The prettiest village in England
How to see Stonehenge without a ticket
Visit Avebury – the magical stone circle
Discover this secret bluebell wood in Swindon!
Why you must visit King Alfred's Tower in Stourhead
Harry Potter locations in Lacock
Like it? Pin it!