If you're looking for truly unique accommodation in Cornwall, then you should look no further than St Aubyn Estates Cottages.
They own a series of restored properties in West Cornwall and all of them are located in untouched locations on the wild and rugged coastline.
I was recently invited to stay in their brand new property, Pendower Cottage which sits on a headland above Porthgwarra cove.
It sleeps 2 and so it provided the perfect solo retreat for a peaceful long weekend away by the sea.
Here is my detailed St Aubyn Estates Cottages review of my stay in their gorgeous Pendower Cottage in Porthgwarra, Cornwall!
Amazing self-catered accommodation in 'Wild West' Cornwall
The St Aubyn Estate stretches some 5,000 acres on the Cornish coastline and is owned by Lord and Lady St Levan who live on St Michael's Mount.
They have renovated lots of historic properties on the estate and provide them as self-catered accommodation along the 'wild west' Cornish coastline.
It's a designated Area of Outstanding Natural Beauty and a Site of Special Scientific Interest and so there are many attractions to see near their boutique properties.
There are secret beaches, the South West Coast Path, hidden moors, historic tin mines, smuggler's coves, and picturesque harbours to explore.
On my recent trip to Cornwall, I had the pleasure of staying in St Aubyn Estates Cottages' brand new property of Pendower Cottage.
It sleeps two people and so it's perfect for couples or those that want to plan a peaceful solo retreat beside the sea.
Pendower Cottage in Porthgwarra
Pendower Cottage is a one-bedroom property with a spacious bathroom, open-plan living room, kitchen, and private garden area.
It has unobstructed views over the coastline and sits on a headland that overlooks Porthgwarra Cove and the beach.
Here's what you can expect to find inside Pendower Cottage Porthgwarra.
What's inside Pendower Cottage?
Open-plan living room
The living room at Pendower Cottage was a spacious open-plan style that let in lots of light. I loved the exposed wooden beams overhead.
You could relax on their comfy green sofa and spacious cotton-candy pink armchair with a good book from their small library.
The large double patio doors could be opened to provide some fresh air into the house or you could enjoy the sea-side views from the window if it's cold.
In the evening, it was so cosy to put on their crackling wood fire burner and watch Netflix on the smart TV. The cottage has its own account!
I watched The Swan Princess, The Witcher, and Poldark whilst I was here. It was the perfect ending to a busy adventure day.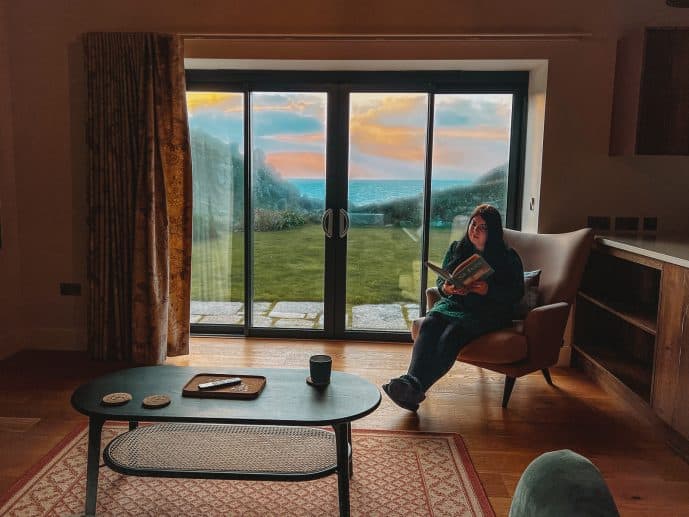 A modern kitchen
The kitchen at Pendower Cottage is truly state of the art and I loved the colour scheme of pink and green.
St Aubyn Estates Cottages provide Denby crockery like mugs, side plates, dinner places, and bowls. Plus, there is all manner of silverware and utensils in the drawers.
There are pots and pans, colanders and cutting knives so you can prepare your own meals.
The best part is their NEFF smart oven and stove which was very high-tech. It had touch-sensitive hobs and you could even pair it up with your phone via their app!
I'm used to gas hobs and a gas oven at home so it was all very new to me and quite exciting. There was a small dining room table and chairs near the kitchen if you wanted to dine inside.
There is also a dishwasher or there are supplies to clean up your dishes in the kitchen sink.
You will also find a washing machine in the storage cupboard along with a hoover and broom if you wanted to clear away any sand.
Spacious double bedroom
The bedroom again overlooks the sea and has its own set of patio doors so you can step outside onto the private garden.
It's had a large comfy king-size bed, bedside tables with lamps, and lots of plug points for charging your phone and equipment.
I loved their wardrobe and doors and the gorgeous Moroccan handles on them. There were hangers to hang up your clothes and store clothes in the drawers.
It was such a treat to wake up with views of the sea each day. It was very much a pinch-me moment.
Double bathroom
The bathroom in Pendower Cottage was stunning and I couldn't believe the sheer size of it for little ol' me. It had a gorgeous decor of marble, slate, and a few nautical pieces.
It was a double bathroom that had underfloor heating, heated towel rails, and a double sink.
The best part was their double rainfall showers! As I was walking along the coast in February, it was very chilly and the wind gets in your bones.
So, coming back to a hot shower each day at the cottage was heavenly.
Private sea view garden area
At the back of Pendower Cottage, you have a large private garden that overlooks the sea! It provides a spectacular, unobstructed view of the coast.
In the garden, you have an outdoor table and chairs. So, you could have breakfast, coffee, lunch or dinner sat here. It must be so wonderful in the summer when the weather is fine.
There is also a lower bench provided that overlooks the cove. It was lovely and peaceful sitting here and watching the sunrise and sunset.
There were always boats passing by and birds flying overhead. Or, you could simply watch the waves crashing on the cliffs.
I had some lovely robin friends join me here on the bench each day. They were very curious about what I was doing (or more likely eating) and it was so sweet.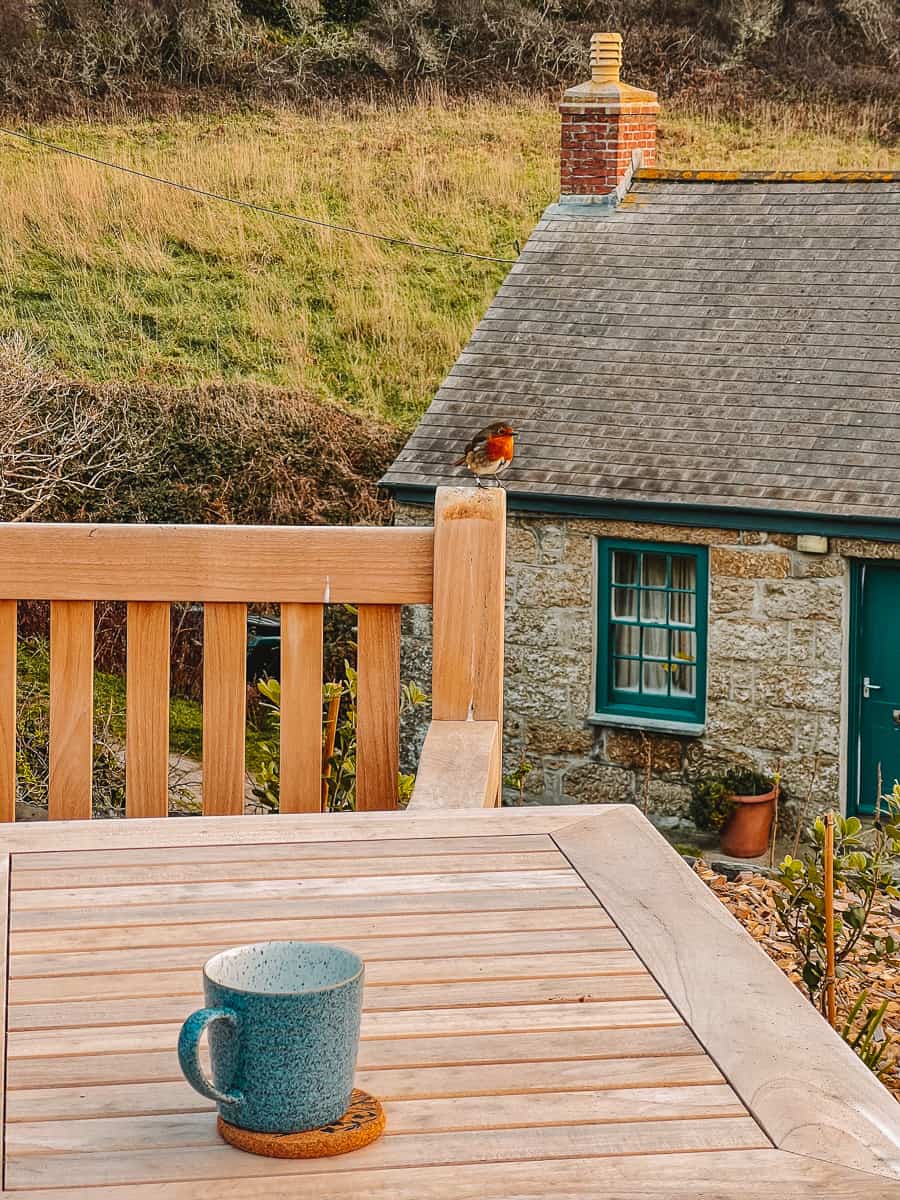 Dedicated parking space
I always like to know that I have a parking space when I stay at any accommodation when I travel.
There is nothing worse than booking somewhere and realising that the parking area is a long way away. Especially when you have lots of luggage and food shopping to manoeuvre!
Thankfully, Pendower Cottage has a dedicated parking space that is right beside the front door. So, it's really convenient to unpack and stow away your luggage during your stay.
Practicalities of checking in and checking out
Check-in is usually from 5 pm on your check-in day and is self-service. But, if the cottage is ready before this time they will text/call you to let you know it's ready for you.
They have a Key Safe beside the front door and you'll be provided with a code to access the key and let yourself into the property.
Then, you will need to vacate your cottage by 10 am on checkout day and they will have instructions for you in your welcome book about what to do before you leave!
It's all really simple and easy and means you can concentrate on your relaxing break.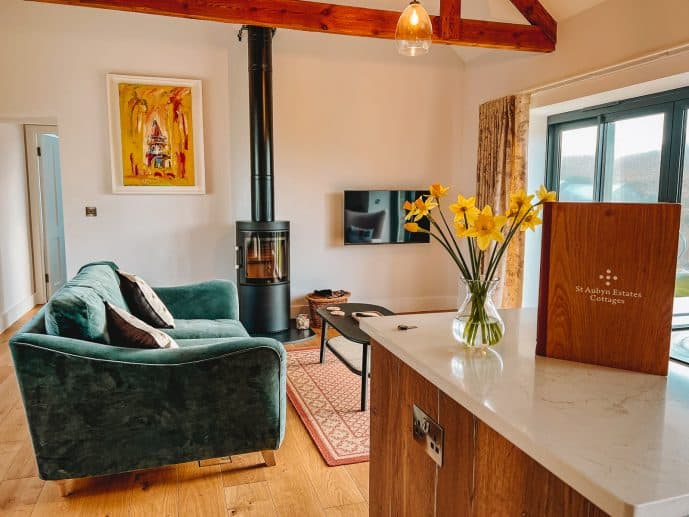 Things to consider when staying in Porthgwarra
Phone signal – The phone signal in Porthgwarra can be pretty limited. But, there is very strong WiFi at the cottage!
Dog friendly – You can bring a furry friend with you for an extra £35 per week. 1 small dog is permitted.
Remote roads – It's definitely easier if you have a car to access Porthgwarra. You'll be driving down tiny country lanes with passing places! But, it's so worth it for this slice of paradise.
Things to do around Porthgwarra
So, what is there to do around Pendower Cottage in Porthgwarra? Well, there's actually quite a lot.
It can be tempting to spend all your time in this gorgeous property but if you were getting itchy feet, here are all the amazing things that you can do nearby.
Explore Porthgwarra beach
It's not every day that you get access to a hidden cove that's right on your doorstep!
Pendower Cottage has an epic location that overlooks the bay and it's a great opportunity to get up early and have the place to yourself.
Although the cobblestone slipway looks intimidating, there is a tunnel around the corner from the cottage that provides easier access to the beach.
If you head down the tunnel, you can step onto the sand and watch the waves crash into the cove.
On a sunny day, Porthgwarra has some of the clearest waters that you will ever see and it's perfect for swimming.
Click here to read my complete travel guide for Porthgwarra Beach
Visit Porthgwarra Cove Café
If you didn't fancy cooking or washing up on your stay away, you'll be delighted to know that the Porthgwarra café is located opposite Pendower Cottage!
They open from 10 am and serve breakfast, coffee, teas, and light lunches throughout the day. They even have some homemade cakes and Moomaid ice cream on offer.
The café has some outdoor seating beside the café but you could easily sneak back into your retreat at Pendower to enjoy your meal with a view of the coast in the garden.
Hike the South West Coast Path
Porthgwarra Cove is situated right on the South West Coast Path and so it's really easy to put on your hiking boots and go exploring.
You don't need to plan a big hike either. Just walking for 10 minutes on the coastline provides some fabulous views.
Near Porthgwarra, you have the fabulous Gwennap Head or Porthchapel Beach. Or, you could hike further towards Nanjizal Beach, Land's End, and Sennen Cove.
Heading the other way you can visit attractions like Minack Theatre, Porthcurno, Pedn Vounder Beach, and Penberth Cove.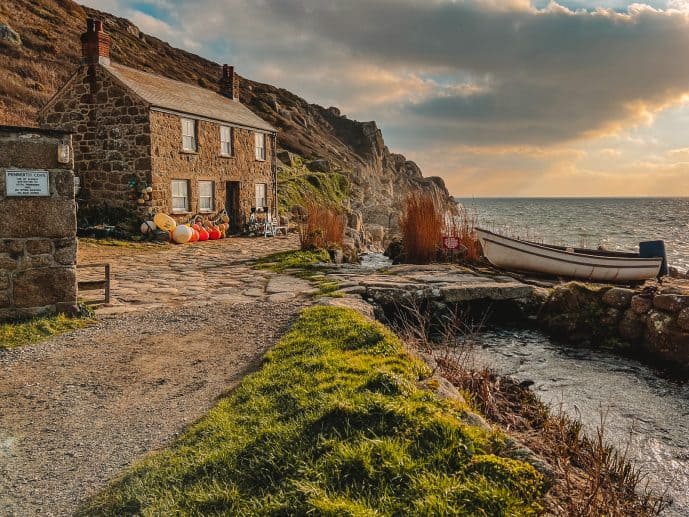 Visit Nanjizal Beach
One of Cornwall's best-kept secret beaches is just a 45-minute walk away from Porthgwarra on the coast path heading towards Land's End.
Nanjizal Beach is a white sandy beach that is home to the Song of the Sea Cave. A crystal clear water lagoon that is perfect for wild swimming. It looks like a mermaid's pool.
As you can only walk here and access is limited, you'll usually find only a handful of people on the beach even in summer. It's the perfect way to escape the crowds.
Just be mindful of the steep steps and wobbly boulders. Also, be prepared that there are no facilities!
Click here to read my complete guide for Nanjizal Beach
Hike to Land's End
If you're heading the other way from Nanjizal Beach towards Land's End and Sennen Cove there are equally stunning places to visit this side of the coast as well.
Land's End is England's most westerly point and there is an incredible tourist attraction here to visit.
Most people visit to get a photo with the Land's End sign but there are cafés, shops, and attractions to enjoy.
If you love your legends, this is supposedly home to the Lost Lands of Lyonesse, a Kingdom in the Arthurian Tales! You can learn more in their Arthur's Quest attraction.
Click here for a huge list of things to do at Land's End!
Explore Sennen Cove
If you fancy extending your walk, you could then hike over to Sennen Cove after Land's End.
It's home to a gorgeous stretch of white sandy coastline and you can even learn to surf as there are schools nearby.
Sennen has art galleries, cafés, pubs, and shops. Plus, they have their own legends such as mermaids and The Whooper of Sennen Cove.
I would also recommend visiting the First and Last Inn at Sennen as you can see some old smuggling tunnels.
Click here for a list of things to do at Sennen Cove!
Porthcurno beach & Minack Theatre
Once you've left Porthgwarra, you can head over to Porthcurno beach which is another gorgeous cove on the Cornish Coast and home to a telegram museum.
But, for me, the highlight of this area is the stunning Minack Theatre that has been carved into the cliffs by the sea.
It was founded by Rowena Cade, who made the Minack her life's work. She bought the land for just over £100 and dug the theatre herself with just basic tools.
As a previous Performing Arts student, it was always a dream to perform here. It must be such a unique location!
You can book to watch shows throughout the year but it's also possible to visit the theatre for sightseeing in the daytime.
It's well worth doing and you can get spectacular views over Porthcurno and the rugged coastline.
Click here to read my complete guide on visiting the Minack Theatre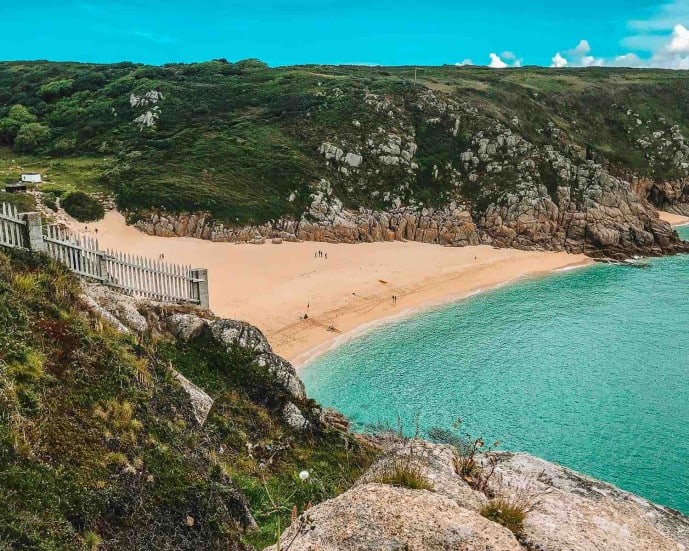 Day trips from Porthgwarra
Here on the west side of Cornwall, you can make some fabulous day trips in the car to beautiful locations in the area.
One of my favourite places was Botallack which was one of the most important tin mines on the Cornish coastline with centuries of history. It's protected by the National Trust and featured in Poldark.
Also, you have the gorgeous town of Marazion which is home to the magical tidal island of St Michael's Mount. You can cross the causeway at low tide to explore their castle and gardens.
Mousehole is one of my favourite Cornish harbours and gets its name from the small entryway for ships. It's as cute as a button and is famous for Stargazy Pie.
But, you can also travel further afield on the east side and visit highlights like Kynance Cove and Lizard Point. The most southerly part of Great Britain!
How to get to Porthgwarra in Cornwall
Porthgwarra is a little hard to find if you're arriving by car, so make sure you take the right route!
It is a hidden gem on the west coast of Cornwall and if you weren't specifically looking for it – you could easily miss it.
It's quite close to Land's End and you'll need to take quite a small track road for a few miles from Polgigga. Another quaint hamlet in the parish of St Levan.
The roads getting here were extremely stressful as they are quite narrow, winding, and steep with only passing places for a few miles.
But, when you finally arrive here, the stressful journey will be all worth it for these incredible views!
From Sennen and the Land's End Landmark on the west coast, you'll need to find the village of Polgigga in Penzance.
From Polgigga, you'll then take a B3315 southward towards Porthgwarra Cove. It will be a single-track road for around 2 miles.
It will be quite difficult to access without a car as no buses arrive in Porthgwarra. But, you could walk from Polgigga via the A1 coaster bus.
Porthgwarra address is TR19 6JR. Click here for a Google Pin!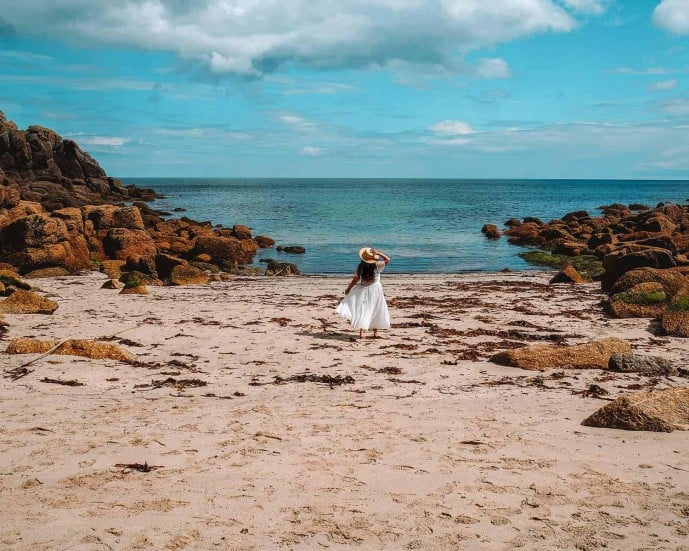 Are St Aubyn Estates Cottages worth booking?
100% YES! You really can't beat the jaw-dropping locations of St Aubyn Estates Cottages on the west Cornwall coastline.
I actually wished I could have stayed a bit longer as the unobstructed views over the sea were so perfect.
Pendower Cottage was the perfect place for a couple's vacation or somewhere you could stay solo for some rest and relaxation.
It had everything you could possibly need for a few nights away and you won't forget this location in a hurry.
Click here to book your stay at Pendower Cottage in Porthgwarra!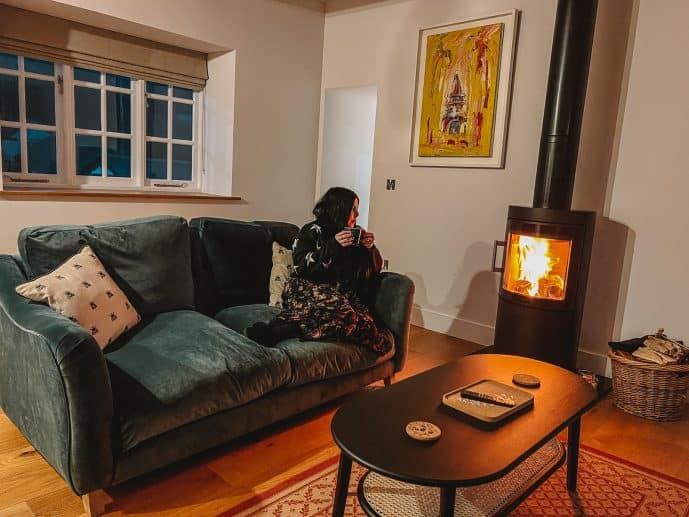 Other St Aubyn Estates Cottages you can book
If you're a bigger family or fancy staying in another property, you'll be happy to know that St Aubyn Estates Cottages have 7 boutique cottages in their collection.
They range in size from Pendower which sleeps just 2, to farmhouses which sleep up to 8 people. It's a great way to plan a trip with friends or family!
All of the holiday cottages are renovated historic properties near the coast. So, it's well worth having a look to see which cottage takes your fancy.
Click here to explore St Aubyn Estates cottages and book your unique stay in Cornwall
Read more of my Cornwall guides
Things to do in Mousehole Cornwall
How to visit St Michael's Mount in Cornwall
Things to do in Charlestown Cornwall
The Museum of Witchcraft in Boscastle
How to visit the Lost Gardens of Heligan
Things to do at the Jamaica Inn
How to visit Golitha Falls in Cornwall
A complete guide for the Cheesewring Hike
How to visit Tregothnan Estate in Cornwall
Secrets of the Admiral Benbow Inn
Where is Driftmark filmed in House of the Dragon
How to visit Holywell Bay from House of the Dragon
Save this Pendower Cottage Porthgwarra review for later!
With thanks to St Aubyn Estates Cottages for gifting me this stay at Pendower Cottage Porthgwarra. Although I was a guest, all opinions are my own.