Along the west coast of Cornwall, there are a number of secret coves and beaches to discover. One of those is the magical Porthgwarra Beach.
A hidden cove on the rugged coastline, this tiny village on the shore boasts one of the most beautiful beaches in the county.
Imagine crystal clear waters, hidden caves, and a white sandy beach to discover. It's almost too good to be true.
Plus, as it's a hidden gem, it doesn't see half the crowds of the other popular beaches.
Fans of Poldark will need no introduction to Porthgwarra as it was used in the rather swoon-worthy scene of Ross skinny dipping in the sea!
Here's a complete guide for visiting with things to do in Porthgwarra Beach and how to find it.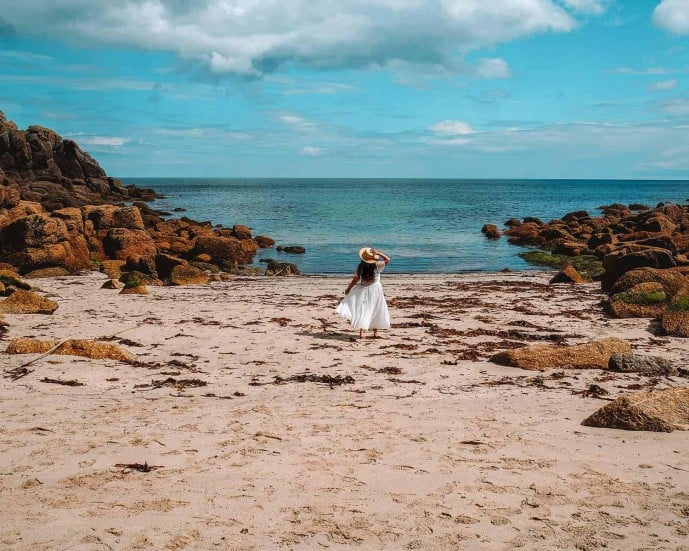 The history of Porthgwarra Beach
Although a small fishing base of Porthgwarra was recorded in the Elizabethan period, it didn't become a village in the civil parish of St Levan until sometime in the 19th century.
Around this time, some families moved into the cove and built houses in order to live and work here. These buildings are now Grade II listed and are called Rowe's Cottages.
The slipway, which is now a big part of the cove, was built sometime in 1880 to provide access from the hamlet to the sea.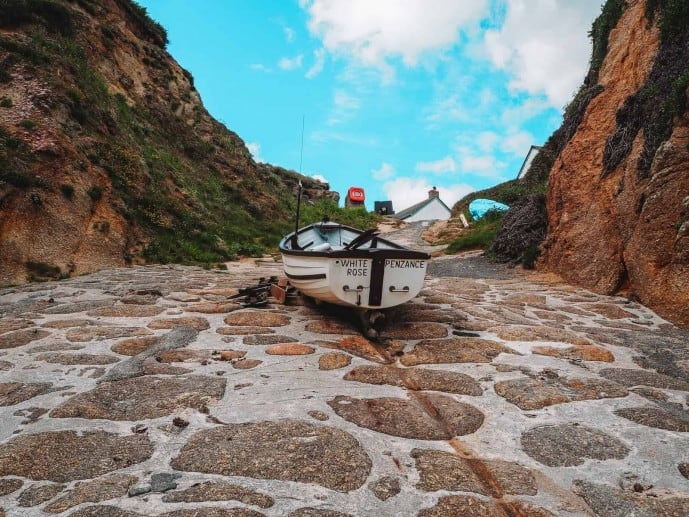 Around this time, some tunnels were carved out of the cliffs to provide easier access to the beach. 'Ullies' were also created which are shellfish storage wells on the shore.
If you've seen the Pilchard catching scene filmed here in Poldark, you'll be quite familiar with fishermen storing their catch in wicker baskets or 'maunes'.
They would then keep the fish fresh in the Ullies until they were ready to sell. The last working fishermen retired around the cove in the 1960s.
Today, the slipway and beach at Porthgwarra village are privately owned but they are open to the public to enjoy them!
Porthgwarra Poldark film location
Fans of the five-part Poldark TV series will know Porthgwarra very well! It appeared quite a few times in the first season.
Most famously, Porthgwarra was used for the scene where Ross Poldark was skinny dipping in the sea. All the while Demelza, who was at that point his kitchen maid, looks on over the cliff tops!
This famous scene with the handsome Aidan Turner was enough to make most blush.
The beach was used again for the Pilchard Catch scenes and also when Poldark saves a friend from the authorities.
I'll go through specific Porthgwarra Poldark filming locations and where to find them later on in this post – so make sure you look out for them while you're there!
Where is Porthgwarra in Cornwall?
Porthgwarra is a hidden gem on the west coast of Cornwall and if you weren't specifically looking for it – you could easily miss it.
It's quite close to Land's End, near Sennen, and you'll need to take quite a small track road for a few miles from Polgigga. Another quaint hamlet in the parish of St Levan.
The roads getting here were extremely stressful as they are quite narrow, winding, and steep with only passing places for a few miles.
But, when you finally arrive here, the stressful journey will be all worth it for these incredible views!
Practical tips for visiting & Porthgwarra tide times
Driving to Porthgwarra can be a little bit of a nightmare on a tiny single track road – so take your time and use passing places
There is a seasonal dog ban at Porthgwarra. Dogs are welcome on this beach except between May and September during the hours of 8am – 7pm.
The village is incredibly tiny with a cove beach, one cafe, one convenience shop and a telephone box. There are also some public toilets!
Swimming is permitted and safe in the cove as long as you don't go too far out of the reef.
The beach is best accessed a lower tide but the sand is still quite limited even then! Click here for Porthgwarra tide times to visit at the right time of day.
It's A LOT safer to access Porthgwarra beach through the carved tunnel that can be found on a path beyond the slipway. There is a rope to hold onto inside and you'll need it. The slipway is incredibly steep and slippy from the top!
Things to do in Porthgwarra
Although this scenic fishing village is quite small, there are plenty of things to do in Porthgwarra. In the village, the cove, beach, or the coastal paths out of it.
You could spend half a day here, or park up for the whole day and enjoy the many walks towards Porthcurno Beach and the secret Nanjizal Beach!
1. Admire Porthgwarra Cove from the clifftop
As soon as you arrive, one of the best things to do is to look down at the cove from the top of the slipway.
It's incredibly scenic with a boat perched in the middle and the sparkling turquoise waters will take your breath away.
For those that don't want to venture down to the beach, there are some benches to enjoy the spectacular coastal views from the top of the village.
This is also a fantastic photo spot for those wanting to capture the area. But, I wouldn't try to access the beach directly from the slipway.
Use the tunnel that's hidden away around the corner from Porthgwarra Cove Café.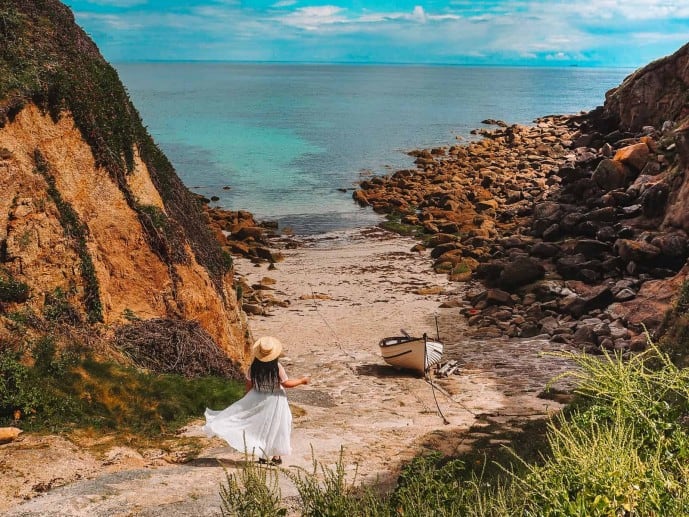 2. Walk through the secret cave tunnel to Porthgwarra Beach
Walking inside this secret tunnel to the cove and beach is one of the best things about Porthgwarra.
It almost feels like you're tracing back time and sneaking along a smuggling tunnel from the cove! But, it's actually a little more functional than that.
The tunnel was originally carved out so that the villagers could easily access the beach from the hamlet and it is still in use for that today.
There are even ropes at either side so you can hold on as you walk down.
The tunnel is quite steep plus there are some boulders to walk over which can be slippy. This is when you'll need to hold onto the ropeway. But, it's easily done and the beach at the end is incredible.
Here you'll find the sandy cove, the amazing granite cliffs, and the clear shallow waters. It's perfect for chilling out or a dip.
3. Swim in the crystal clear sea
If you're feeling brave, the shallow clear waters here are perfect for swimming! But, I will warn you the water is incredibly cold.
Even while we were here on a clear sunny day, we paddled just a little bit into the sea and then bailed as our feet were numb. But, I did see people who were made of stronger stuff heading out quite far into the reef.
Make sure to look out for seals that can be found in the surf! They often venture here when the waters are a bit warmer.
The snorkelling around here is also supposed to be incredible as the water is so clear.
You can see all sorts of fish and seals that roam here along the shores. Also, it's the perfect spot for rock pooling.
4. Have a break in the Porthgwarra Cove Café
In the high season, the Porthgwarra Cove café opens its doors for business and here you can treat yourself to a tea break. Those on the long walking trails of the South West Coast Path will appreciate this stop.
You can purchase hot and cold drinks, traditional Cornish pasties, sandwiches or indulge in a traditional cream tea. The choice is yours.
They have a beautiful garden will seating outside to enjoy the weather.
Aidan Turner, who plays Ross in Poldark, was a big fan of the Porthgwarra Cove and has mentioned it several times in interviews. It stayed open late into the night for filming and the café provided food and drinks to the actors and production team!
The Porthgwarra Cove Café is open from mid-February, 9am – 3pm. Click here for more information.
5. Take a walk from Porthgwarra to Nanjizal Beach!
Nanjizal Beach, or Song of the Sea Cave beach, is one of the most secret beaches in all of Cornwall. It's a place that locals like to keep a top secret!
It almost doesn't look like you're in the UK. It looks like a Wadi in the desert kingdoms of Jordan or Oman. The cove is a clandestine swimming spot that you can only get to on foot and there's isn't much information on it.
As it was getting late in the day, we tried for a good hour to try and find this beach in a car.
Despite there being roads routes shown on Google Maps, all the roads around it were actually private.
You have to park up on a country road near Polgigga on the B3315 and walk down to it.
You can also hike from Porthgwarra to Nanjizal beach along the South West Coast Path and it will take 45 minutes.
The hike does look well worth it and next time I visit, I'll leave enough time to find it.
Porthgwarra Poldark film locations
If you were visiting Porthgwarra due to being an avid Poldark fan, there are lots of places to relive some of your favourite moments in the story.
Most of the filming scenes were from series one. Here are all of the Porthgwarra Poldark filming locations;
Demelza watching Ross bathing scene
Probably the most famous scene of the whole series is the one where Ross goes for a bath down in the sea…and skinny-dips!
Meanwhile, his kitchen maid Demelza catches sight of Ross and she watches him over the cliff tops! At this point, the two were not together, but it starts off their epic romance.
This filming scene can be found in Porthgwarra Cove and you can see the cliff top where Demelza watches Ross just above it like in the show.
The Pilchard Catch at the slipway
When winter hits Nampara and Ross's tenants, there are no Pilchard shoals to be seen. It looks like a bleak winter for almost everyone as there would be no food.
But, finally, the Huer cries out that the Pilchards have reached the shore and so everyone runs down to the cove to collect the fish. Including Ross and Demelza!
This scene was filmed on the slipway and some traditional 18th-century sailing boats were brought into the cove specifically for the shoot.
The daring Mark Daniel Escape
Later in the series, Mark Daniel finds out that his wife Karen has an affair with Dwight Enys. During an argument, he accidentally kills her.
Ross and his friends then smuggle Mark out on a ship from the country to avoid him going to Bodmin jail.
They meet some soldiers who try to catch them along the way but Mark manages to escape!
Porthgwarra and the cave here doubled up as Nampara bay.
How long do I need at Porthgwarra beach?
Porthgwarra is a tiny place so you only need around 30 minutes to an hour here to explore the village, enjoy the cove and make your way onto the beach.
Maybe longer if you wanted to visit the café.
There are people who choose to spend an afternoon or a whole day on the beach, swimming or rock pooling.
Plus, they do have all-day parking options if you wanted to explore the coast from here on the many coastal walking paths!
How to get to Porthgwarra Beach in Cornwall
Porthgwarra is a little hard to find if you're arriving by car, so make sure you take the right route!
From Sennen and the Land's End Landmark on the west coast, you'll need to find the village of Polgigga in Penzance.
From Polgigga, you'll then take a B3315 southward towards Porthgwarra Cove. It will be a single-track road for around 2 miles.
Porthgwarra bus: There is no bus stop in Porthgwarra but you could take a bus to Porthcurno Beach Car Park and then walk along the South West Coast Path to Porthgwarra. This will take 30 minutes and will be nice and scenic will lots of things to see on the way. The A1 Atlantic Coaster runs just three times a day from Penzance. Click here for more details.
Alternatively, you can take a bus to Polgigga on the A1 coaster. Then, you'll need to walk two miles from the bus stop to the cove and it will take 30 minutes.
Porthgwarra parking charges
There is a large car park in Porthgwarra at the back of the Porthgwarra Cove Café.
From November to March the car park is completely free to park in.
From April to October, you will pay parking prices starting from £2 an hour. All-day parking fees are around £6.50. Bring change!
Porthgwarra Accommodation
If you would love to call this paradise home for the night and enjoy the views from your own holiday home.
St Aubyn Estates Cottages own most of the properties in the area and rent them out. They have six cottages that sleep 2-8 people. Click here for details, rates and enquiries.
Some are right on the cove, others on the headland, and some are a little further out into the moor. But all are super cosy, peaceful, and private.
I recently stayed in their brand new property in Porthgwarra. Click here to read my complete Pendower Cottage review!
Things to do near Porthgwarra Beach
The west coast of Cornwall is one the most picturesque parts of the county and you are really at the end of Earth!
It's the perfect area for a road trip, or for a long walk along the coast paths.
There are so many shoreline villages and pretty coves to get lost in. Here are the very best things to do near Porthgwarra Beach!
Minack theatre & Porthcurno Beach
Minack Theatre is one of my favourite parts of England. As a previous performing arts student, I always dreamed of being able to perform in this amazing amphitheatre over the sea.
As well as putting numerous performances to watch in the evening here it is also a great place to visit in the day.
Although this theatre looks like an ancient Roman amphitheatre it's actually only 100 years old and was founded by the wonder woman Rowena Cade.
After World War I, her father died and her families fortune's dwindled. So, Rowena bought Minack headland for £100 and built a house for her and her mother.
Her local Shakespearean society would perform a play each year and one year they wanted to perform the tempest by the sea. Rowena offered her headland for the show.
She eventually built this whole theatre by hand, using only basic tools, and it was her life's work.
Today this theatre is famous all over the world. Nearby is the stunning Porthcurno Beach which is not only one of Cornwall's best beauty spots but also a Poldark location!
Click here to read my complete guide
Gwennap Head
Fans of Poldark will love the walk over to Gwennap Head on the coastline. This area was used many times throughout all five series.
The characters are often seen strolling along here on foot or out riding their horses.
Fans will recognise it instantly as the place where Ross has his long brooding moments or where there are some lingering looks between lovers.
In the more recent series, this was the spot where Drake meets his sweetheart Morwenna on a chance encounter.
The headland can be found on a walk from Porthgwarra to Land's End at Sennen. It will take you 15 minutes to walk here from Porthgwarra.
Land's End & Sennen Cove
No visit to the south of Cornwall would be complete without a stop off at Land's End to see the most westerly point of England. This landmark has been attracting tourists for nearly 400 years! Nowadays, it's a whole complex that you can visit.
The Land's End Landmark attraction is FREE although many of the things inside it do come with a charge and you will pay out the nose for parking.
You can make a phone call at the end of England, send a postcard stamped at Land's End, have the most southerly Cornish pasty, take a photo with the Land's End sign and go on the wealth of pretty walks around the area.
There really is something for everyone here and it can be as cheap or as expensive as you like.
You can also stroll along to Sennen Cove which is a gorgeous beach and popular surf spot. Or, check out the First and Last Inn here with an old smuggler's tunnel!
Click here for all the amazing things you can do at Land's End!
Read more of my Cornwall guides
How to visit Tregothnan Estate in Cornwall
Things to do in Mousehole Cornwall
How to visit St Michael's Mount in Cornwall
Things to do in Charlestown Cornwall
The Museum of Witchcraft in Boscastle
How to visit the Lost Gardens of Heligan
Things to do at the Jamaica Inn
How to visit Golitha Falls in Cornwall
A complete guide for the Cheesewring Hike
Secrets of the Admiral Benbow Inn
Where is Driftmark filmed in House of the Dragon
How to visit Holywell Bay from House of the Dragon
Magical things to do in Kynance Cove
Save this Porthgwarra Beach Guide for later!