Did you know that there is a giant SEE MONSTER that has taken over the seafront of Weston-super-Mare?
It's a retired oil rig that has sailed over from the far reaches of the North Sea and has been reborn as a huge public art installation in the old Tropicana building!
But, you'll have to be quick to catch it as it's a temporary structure and it may be gone for good soon.
Climbing onboard an oil rig is not something I thought I'd ever have the opportunity to do in my lifetime.
So, I was really excited to explore the SEE MONSTER and what it had to offer while it was still here on the seafront.
Here are all the amazing reasons why you visit SEE MONSTER in Weston-super-Mare!
What is SEE MONSTER & why is it in Weston-super-Mare?
SEE MONSTER is a retired oil rig that used to live in the far reaches of the North Sea and has now been reborn at Tropicana into one of the UK's largest public art installations.
It's open to all, is completely free to visit and allows you to climb aboard the rig up to heights of 35 metres with incredible views over Weston-super-Mare.
You can explore multiple layers of the beast including a roaring 10-metre waterfall, an underbelly cellar deck with a cloud portal, a garden lab and a panoramic Helideck!
The purpose of SEE MONSTER is to entertain but also inspire conversations about recycling, reuse and renewable approaches.
It's a celebration of the great British weather and eccentricity whilst provoking discussions about the structures we inherit. How can we transform them whilst giving back?
SEE MONSTER is the latest project funded by the UNBOXED team who has sponsored some of the biggest and most ambitious art projects we've seen in the UK to date and was built by NEWSUBSTANCE creative studio.
Reason to visit SEE MONSTER in Weston-super-Mare
1. It's a retired North Sea oil rig turned huge public art installation!
Billions of oil and gas barrels are produced by oil rigs to meet the world's energy demands.
We use these energy sources every day and often complain about prices but we don't really think about how it's sourced.
Life on an oil rig is not something most of us in Britain will ever be exposed to. Platforms are in the middle of the sea and exposed to stormy elements.
It's rigorous and dangerous work and boarding one often comes with a lot of risks. So, getting to visit an oil rig safely and so close to the shore really is a unique opportunity.
The SEE MONSTER once could be found many miles away from here in the North Sea until it retired.
It has travelled many miles across the water to be transformed into an art project. So, you'll see get to see this old oil rig in a completely different light!
2. Hear the roar of the 10-metre waterfall
The first thing you'll probably hear before you arrive is the monster's roar with its 10-metre waterfall that crashes into the small pool below!
It's ginormous at 10 metres high by 10 metres wide and is breathtaking to behold. If you don't mind getting a bit wet you can get really close to it from the front.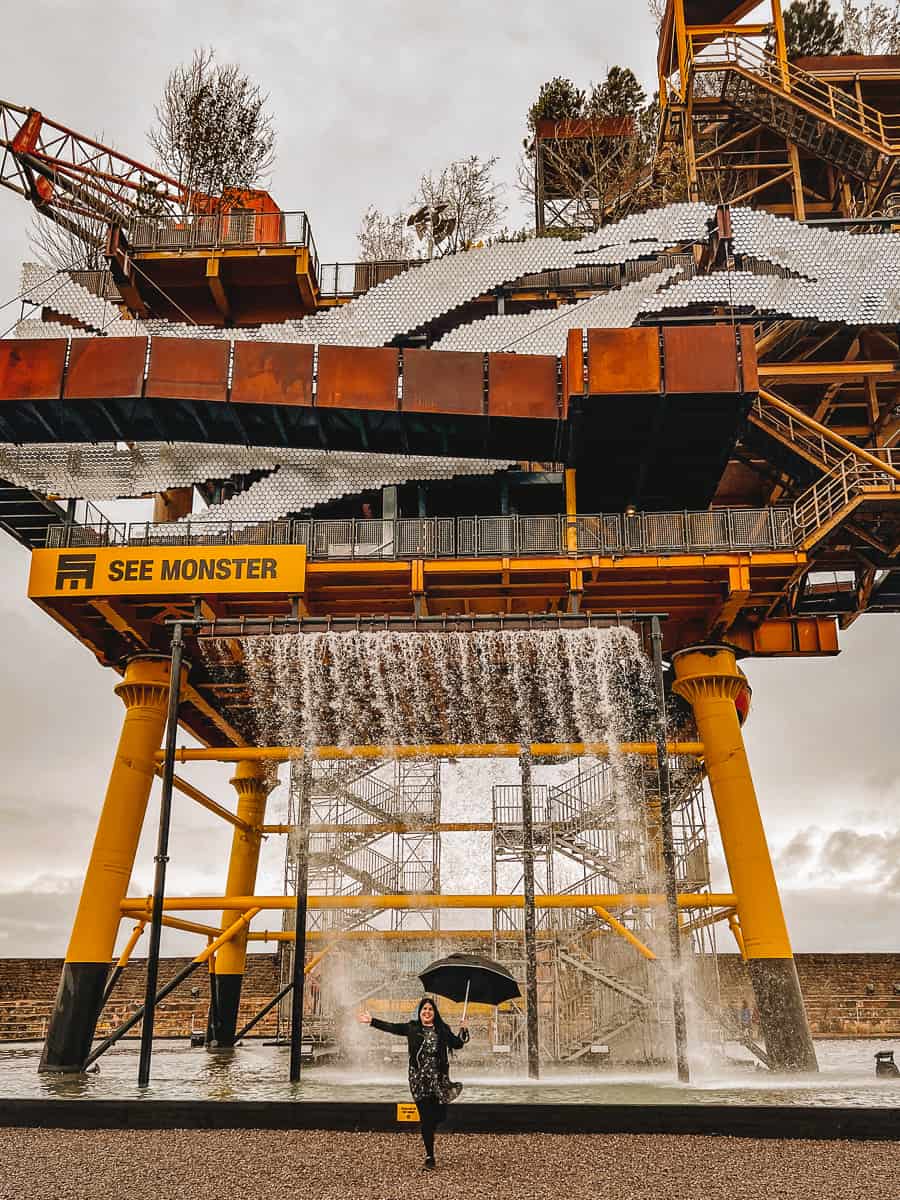 You'll also get views of the waterfall as you climb up the SEE MONSTER and it makes an incredible photo opportunity.
Like most things with the SEE MONSTER, the water is recycled and powers other parts of the monster!
3. Explore the underbelly Cloud Portal in the Cellar Deck
As you ascend up the stairs (or lift), you'll arrive at their Cellar Deck next. It's called the underbelly of the SEE MONSTER.
As you walk around the floor, you'll notice some holes beneath you that allow you to look below. Don't look if you're afraid of heights!
On the ceiling, you'll find a Cloud Portal that is a huge 10-metre sculpture that comes to life every few minutes.
It lets off steam and if you stand below it you'll feel like you're in the eye of the storm as the wind makes the steam dance all around you.
Did you know? The power that is generated from the Solar Trees and WindNest is used to power the Garden Lab and Cellar Deck!
4. Discover the Garden Lab with Solar Trees and wind sculptures
After the Cloud Portal, you can make your way up the ramp past their Kinetic Scales. I mean, it couldn't be a sea monster without scales!
These are 6,000 Hexagon shapes that move with the wind and give the illusion of light with the sun. They undulate and make the monster look like it's breathing.
Then, you'll arrive at the Garden Lab. This was my favourite part as it felt like a sky garden with all the trees and plants.
Here you'll find Solar Trees like trumpets and wind sculptures that twist and turn with the elements.
Their WindNest acts as a quirky Weather Vane but also powers two wind turbines which generate enough power systems on the other decks.
There were lots of places to sit here in amongst the greenery or climb onto their viewing platforms to enjoy the views!
5. Climb up 35-metres to the Helideck for panoramic views over Weston
When you reach the very top of SEE MONSTER, you'll be on their Helideck which stands tall at a whopping 35 metres.
This was how you'd land on the Oil Rig when it was in the North Sea if you were arriving by air.
Now, there is an amphitheatre set up on the deck with trees and viewing platforms that give you 360-degree views over Weston!
From here, you can get fabulous views of Brean Down, Steepholm Island, The Grand Pier, Knightstone Island, Flat Holm and Birnbeck Island.
Also, if it's a clear day, you can easily see over towards Cardiff in Wales and seaside towns like Penarth!
There are some free telescopes you can use on the Helideck to get a closer look at the views over the town. Plus, listen out for a commentary on the Shipping Forecast as you take a wander.
To get back down to the Garden Lab, you can either walk down the stairs or take their slide down.
I was really disappointed as it was closed on my visit due to rain but it gives me a reason to go back!
6. Visit SEE MONSTER at night for a more dramatic experience
I absolutely loved visiting SEE MONSTER during the days for the panoramic views over the coast.
However, visiting the monster at night time when it's lit up is so much more dramatic and completely transforms the experience.
It looked like a giant spaceship or something from Pandora in Avatar!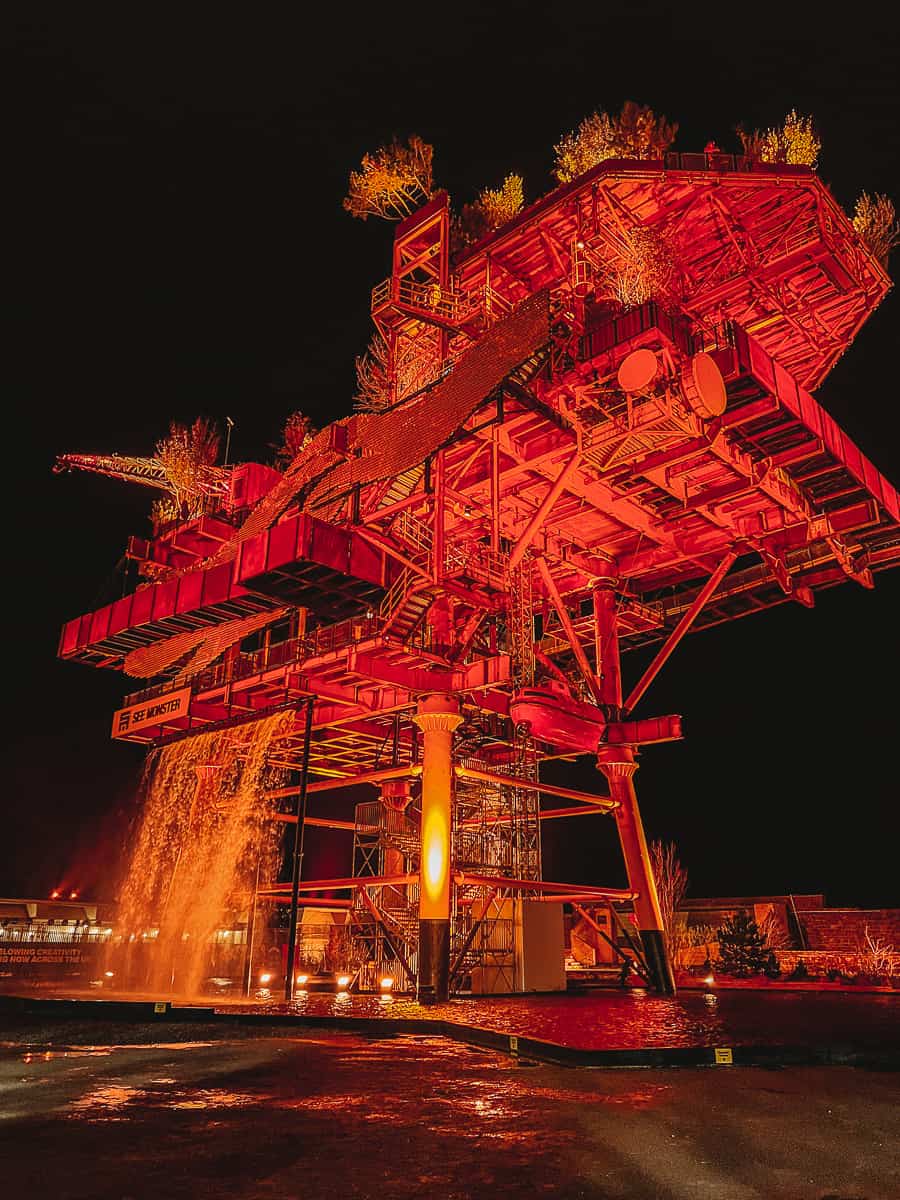 The waterfall is lit up and the Garden Lab and Cloud Portal look incredible against the night sky.
Although it's dark, you can still get great views of Weston lit up at night especially the Grand Pier and Revo Kitchen.
As it was Bonfire night we got to see so many fireworks lighting up the night sky!
7. It's completely free to visit
I was very surprised to see that SEE MONSTER is completely FREE to visit on the Weston seafront. You don't even need to prebook or download any sort of e-ticket.
You can just show up any time during opening hours and enjoy the exhibition with all it has to offer.
We're all trying to think of ideas on how to save pennies these days and SEE MONSTER makes a fabulous budget activity.
SEE MONSTER opening times are 9 am – 9 pm every day of the week with the last entry of 8 pm! There is a maximum number of people allowed on board so on busy days you may have to queue.
8. It won't be here for much longer
Like Banksy's Dismaland, SEE MONSTER is a temporary art installation in Weston that is going to be dismantled after it's finished.
The monster is currently open to the public from the 24th of September – the 20th of November 2022. So, I would plan to see it as soon as you can!
It's a shame but as the monster's purpose was to inspire conversations about recyclable and renewable approaches – nothing will go to waste after it has closed.
98% – 100% of what has been built for SEE MONSTER will be recycled, reused and donated after it's gone.
But, the monster may still find a new home in the UK. The plan is to dismantle the oil rig unless someone is willing to adopt it (and absorb the cost) so I guess we'll have to wait and see if there are any takers!
Click here to find out more on SEE MONSTER with the latest updates
How to Visit SEE MONSTER in Weston-super-Mare
The SEE MONSTER is located in the old Tropicana building in Weston-super-Mare which is located on the Weston Seafront and can be accessed on Marine Parade.
This is just a short walk from the Grand Pier so it's a great attraction to pair up with a visit to Somerset.
Weston-super-Mare is a fabulous seaside resort that can easily be accessed by car on the M5 heading south towards Devon and Cornwall. It's also not far from Bristol and Bath.
But, if you're not driving, you can take a train or bus to Weston-super-Mare. Regular direct train services run from Bristol Temple Meads on a daily basis.
If you're heading here from London, you'll need to take a train from London Paddington and then change services in Bristol Temple Meads.
SEE MONSTER address is Tropicana, Marine Parade, Weston-super-Mare, BS23 1BG. Click here for a Google Pin!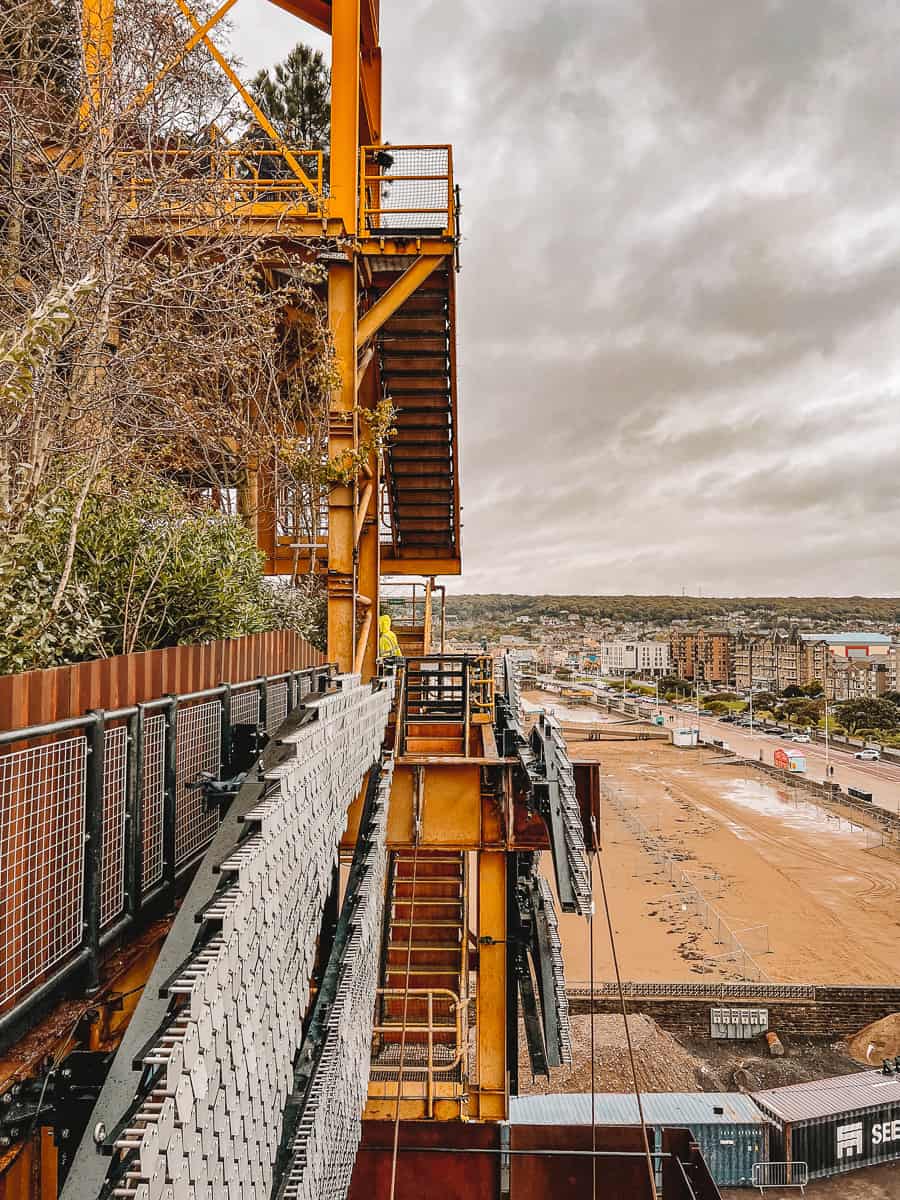 SEE MONSTER parking
If you're driving down to Weston, there are plenty of seafront parking spaces on Marine Parade by the monster. You can park opposite the Tropicana building!
This is charged at £4 for up to 6 hours and £10 for the entire day from 10 am – 6 pm. You can pay by cash or the MiPermit app.
After 6 pm – 10 am, the parking charge goes down to £1.50 if you wanted to see the monster at night time.
During the off-season it will be quite easy to find spaces on Marine Parade but, if not, there is plenty of parking found around the town and beach area.
The Bay Café SEE MONSTER viewing platform
When you arrive at the SEE MONSTER, don't forget to check out the viewing platform from The Bay Café for a better perspective.
You'll pass through an introduction to the installation and you can watch interviews about how the monster arrived in Weston and the concept.
You'll also see many of the talented individuals who were involved in creating the project. There was also a beautiful artwork of a Kraken.
Then, you can head onto the viewing platform to see the oil rig from below. It's a great place to take some photos and appreciate how breathtaking and big it is!
The Bay Café Weston is a great place to grab coffee, lunch and light snacks throughout the day. There is also a Visit Weston information desk and artwork for sale. It's open Tuesday – Sunday 10 am – 4 pm.
Top tips for your visit to SEE MONSTER
Wear sensible shoes – as it's a retired oil rig and it's exposed to the elements so it may be slippy. Also, you'll be climbing up and down lots of stairs and ramps. Wear a sensible pair of shoes.
Bring a coat – The wind (and potentially rain) on SEE MONSTER can be vicious, especially on the Helideck. Wrap up warm for your visit.
Use the lift if you need it – SEE MONSTER is very accessible with ramps and lifts to help you up and down the monster. Also, if you feel sick or get vertigo, ask to use the lift to get down.
Leave furry friends at home – only guide dogs are allowed on SEE MONSTER.
It may close in a storm – SEE MONSTER is usually open in the rain (I mean, it used to live in the North Sea) but if there is lightning within 10 metres of the rig or there is a storm it may close to the public without notice. Also, the slide closes when it's wet.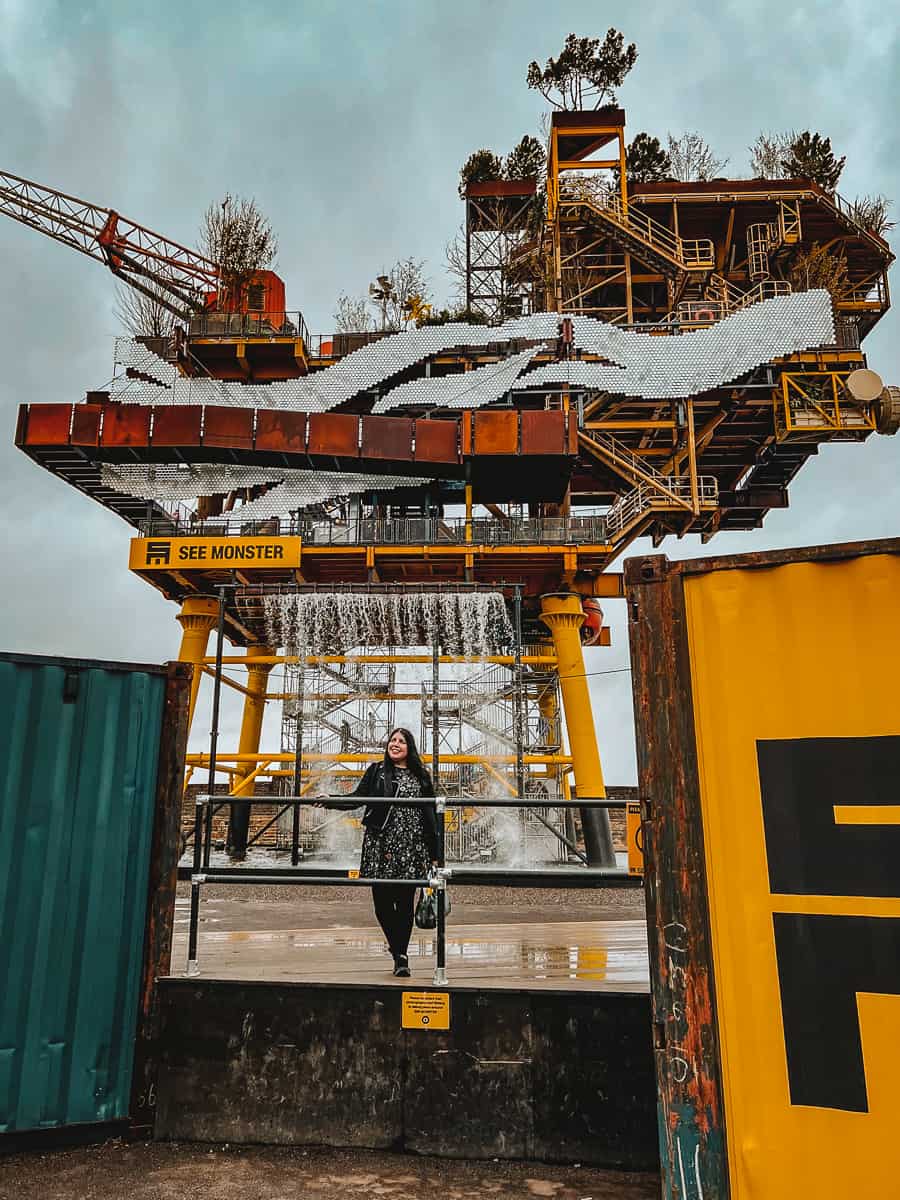 Where to eat near SEE MONSTER
If you were looking for a lovely place to eat near the SEE Monster for breakfast, lunch or dinner then look no further than Revo Kitchen!
It's a delightful restaurant on the Weston seafront located near the Tropicana building that has amazing panoramic views of the coast and Grand Pier.
They have a delicious menu of mains like locally sourced steaks, fish & chips, burgers, salads and pizzas. There also have vegan and vegetarian options too.
I had their spicy seafood linguine which was so tasty and washed it down with some of their fruity mocktails.
We finished off our meal with their signature stack pancakes with Lotus Biscoff, strawberries and whipped cream. I was so stuffed after.
On our visit, were even serenaded by the talented Marvin Muoneke who was featured on The Voice!
It was a lovely, cosy venue that was lit up beautifully and I would highly recommend it. They even have a miniature golf course to play after if you're interested.
Revo Kitchen is very popular in Weston and they take walk-ins throughout the day. However, if you plan to eat here in the evening I would recommend booking a table. They only take bookings after 5 pm!
More places to visit in Weston-super-Mare!
Once you've finished your journey on SEE MONSTER, don't forget to visit Weston-super-Mare's other major attractions.
On a sunny day, Weston's panoramic views of Brean Down, Steep Holm and Wales over the channel are unmatched on the South West coast.
You can visit the beach, take some coastal walks, visit the Grand Pier, pop into their free museum or look for street art.
Here are all the amazing things you can do in Weston-super-Mare;
The Grand Pier
The Grand Pier is Weston's highlight attraction of the town and was originally built in 1904 during the Victorian era.
Unfortunately, a huge fire set the pier ablaze in 2008. But, two years later, the Grand Pier reopened to the public and it's bigger and better than ever!
It costs £1 to walk along the promenade over the sea where you can find a world of arcades, mazes, haunted houses, coffee shops, Captain Jack's bar, fish & chips and even Tiffany's tearoom.
Even if you don't want to spend your extra pennies on distractions, the views along the pier are incredible. There are also lots of places to relax on the decking – especially when the sun is shining.
They regularly hold events throughout the year like live music, theatrical performances, fireworks and Christmas markets.
Click here to check the latest on the Grand Pier
Weston Museum & Clara's Cottage
Weston has a fabulous local museum that is completely free to visit and is the perfect place to go on a rainy day.
They have some informative permanent exhibitions like a history of the Grand Pier with some of the items recovered from the fire.
We loved seeing the Punch and Judy puppets and trying out some of the old arcade games like the haunted room!
You can also find a hidden gem of Clara's Cottage, a well-furnished house from the 1900s.
Explore the Victorian kitchen and the parlour lounge. Or, head upstairs to see the bedrooms and an extensive Victorian doll and toy collection.
There are also some amazing temporary exhibits throughout the year so there is always a reason to go back.
At the moment it's Horrible Histories but they are planning to have the National Geographic exhibition from the Natural History Museum in London soon. It will be the only opportunity to see it in the UK for FREE!
Click here to check the Weston Museum's website for opening times and events
Knightstone Island, Marine Lake & The Causeway
Back in my uni days, I used to live opposite Marine Lake and the Causeway in Weston and so it's one of my favourite places to go.
As you may or may not know, Weston-super-Mare is often referred to as Weston-super-Mud as the tide goes out for long periods of time and it can take an age (and dangerous) to find seawater.
But, if you fancied a swim at any time of the day, Marine Lake is the place to go! It's a man-made marina that has recently been renovated and it's perfect for swimming.
When the sun is shining, this area is a bit of a sun trap and you'll struggle to find a free bench on the concrete!
If you're not up for swimming, a great thing you can do is cross over The Causeway. You can take a walk over the lake beside the sea with panoramic views.
Just be careful when the tide is coming in as this causeway gets completely submerged by the sea at high tide.
You can pop into the RNLI centre nearby and visit the café on Knightstone Island whilst taking a spin around it.
It's mainly fancy apartments but there are panoramic views and you'll often find fishermen looking for a catch!
Weston-super-Mare Street Art & Weston Wallz
Weston-super-Mare has had its fair share of big names visit the town in the world of street artists with Banksy's Dismaland and painters from Bristol's UpFest.
So, you can find lots of Weston-super-Mare street art and 'Weston Wallz' on their trails which brighten up the town.
Something that was completely new to me was seeing a 3D mural which is an optical illusion where you need red and blue 3D glasses to enjoy it.
The artwork was painted by Insane 51 whose trademark is Double Exposure 3D. His newest venture is photorealistic portraits with skeletons!
To the human eye, you'll simply see the artwork but your 3D glasses will allow you to see what's beyond that!
Through the red lens, you see a human girl and through the blue, you'll see a skeletal figure! It was so so cool.
There were also other art pieces in the town I loved like the sea lions mural by Curtis Hylton on Oxford Corner. It was absolutely huge and the baby seals were adorable.
You can find all the Weston Wallz and permanent street art pieces on the UpFest website
Birnbeck Pier
Did you know that Weston-super-Mare's Grand Pier wasn't the first pier in Weston? The seaside resort used to have two seafront piers back in its heyday!
Birnbeck Pier was Weston's first pier and was a Victorian superstar. It had a grand opening in 1867 and there was a public holiday declared with a fancy dinner in the Town Hall.
Victorian day-trippers would take a steamer boat over the Bristol Channel to visit Weston-super-Mare and land on the pier nearby.
The cost to walk on the promenade was 2d and would take visitors over to Birnbeck Island where there were swings, arcades, a tea room and all manner of thrills.
Unfortunately, after World War II the interest declined in favour of the Grand Pier and by the 1960s/70s many of the steamboat operators stopped running.
Birnbeck was eventually abandoned and fell into ruin and is closed to the public for safety reasons. But, there are plans to revive it!
Although closed, you can take a leisurely walk over to Anchor Head to see the Birnbeck ruin and find some lovely artworks, murals and coastal views along the way.
Click here to read my complete guide for Birnbeck Pier!
The Black Cat Micropub
If you're looking for a great pub to visit after SEE MONSTER, then I would recommend popping into the Black Cat Micropub off the High Street.
It's one of Weston's best-kept secrets and has the most amazing decor. Unsurprisingly, there are black cats everywhere. On the walls, out the front, on the windows, on garlands – it's incredible and totally my vibe.
The Black Cat Micropub serves up a huge range of local ales, beers and IPAs as well as wines and gins too.
It has a lovely atmosphere, and great music and the beers are very tasty! I would highly recommend them.
The Black Cat Micropub is open from Wednesday – Sunday from 1 pm – 11 pm
Where to stay in Weston-super-Mare
If you're looking for a cosy Aparthotel with seaside views in Weston-super-Mare then Timbertops Suites is the place to go.
Set in a renovated Victorian building, Timbertops Suites are cosy, self-contained apartments set up for travellers and business professionals visiting the town.
Each Aparthotel room has a bedroom, bathroom and its own kitchen which is stocked with a welcome pack! It also has free parking and WiFi.
I stayed in their chic Gold Suite which had panoramic views over the sea and felt like a home away from home. It was so cosy and had everything you needed.
It's only a short walk away from the seafront and Weston's major attractions but it is located in a quiet cul-de-sac so you get a peaceful night's sleep.
Click here to look for available dates and rates for Timbertops Suites!
SEE MONSTER FAQs
Why is there an oil rig in Weston-super-Mare? It's a public art installation and design experiment which discusses renewable approaches!
Where did the SEE MONSTER come from? From the far reaches of the North Sea!
Is SEE MONSTER free? Yes, it's completely free to enter and no booking is required
How much did the SEE MONSTER cost? Almost £5 million
Where is the SEE MONSTER? In the old Tropicana building on Marine Parade, Weston-super-Mare!
Is SEE MONSTER permanent? No, it's a temporary attraction and could be the only time you get to see it in the UK. All the more reason to visit while it's here.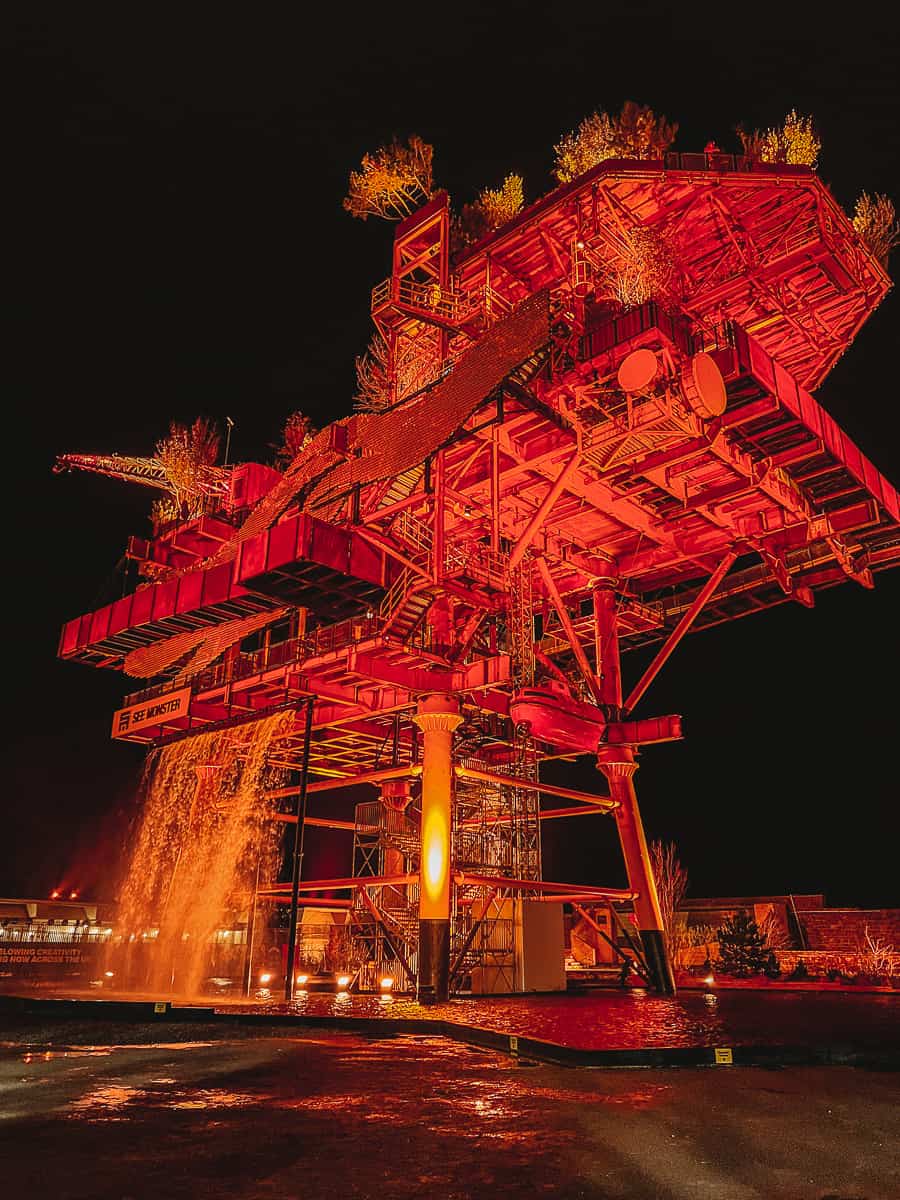 Read more of my Somerset articles
How to hike up Glastonbury Tor
Clifftop Cheddar Gorge walk guide
The best things to do in Wells
A complete guide for Vicar's Close in Wells
Why you must visit Burrow Mump
The hidden gem of Rickford Chapel
How to find the Clevedon Sugar Lookout
The abandoned pier of Weston-super-mare
The most Instagrammable places in Bristol
How to find the colourful houses of Bristol
Visit the Roman Baths at Night
House of Frankenstein in Bath review
Save how to visit SEE MONSTER for later!
Third Eye Traveller was kindly sponsored by Visit Weston, although I was a guest all opinions are my own!