York has consistently been voted one of the best cities to visit in the UK.
With centuries of history, vibrant culture, a plethora of tourist attractions, and Yorkshire's welcoming hospitality, is it any wonder?
I would highly recommend that you spend a few days in York, as there is simply too much to do in just one day!
The Principal Hotel in York is the ideal location to base yourself for a few days in the city. Situated next to the central railway station, you're only a few minutes' walk from York's main attractions.
I was consistently clocking in well over 30,000 steps a day in this city, so it's always convenient at the end of a long day's sightseeing to have a hotel that's close by. Not only that but a gorgeous hotel to boot!
From the outside, the Principal Hotel York looks like a palace of Scarborough brick and on the inside, it has a sumptuous and chic design. So, you'll feel like royalty but also right at home with their warm reception.
Here are 7 reasons to check into the Principal Hotel York!
How to reach York and where is the Principal Hotel in York?
York is the ideal stop if you touring the UK and can easily be accessed from London by train in just two hours! This is probably the most convenient option as driving takes a lot longer. You can check the times and prices on the National Rail website.
Another bonus of catching the train to York is you'll only be a minute's walk from the Principal Hotel York. It's close by, as the hotel was built purposefully at the same time as the railway station in 1878 to cater to tourists visiting the city.
If you're driving from London or the South West, this will take you around three and a half to four hours and you can come off at the York junction along with the M1. Head to central York and the railway station, you can pull into their car park there.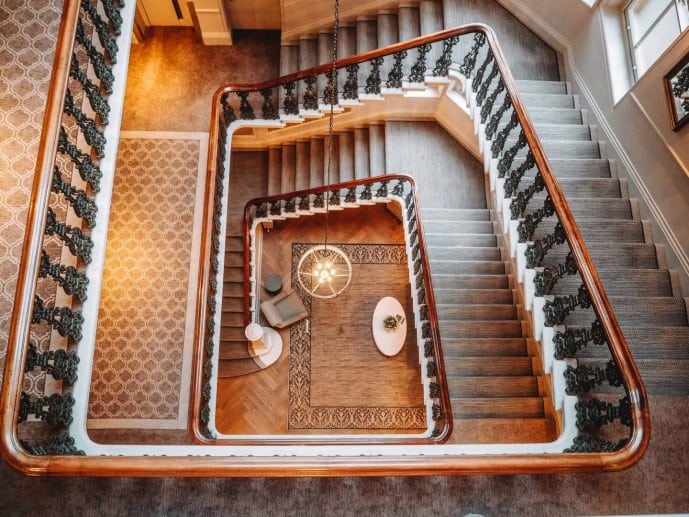 Parking at the Principal Hotel in York
Limited parking is available right outside the Principal Hotel in York in their own car park for £15 per night. This is secure parking and there is 24 hours security on the grounds.
The good thing is that you can keep your car there during the day for as long as you like and that gives you a few more hours to explore without having to find extra parking!
1. The Principal Hotel York is a historic building built in 1878
It may surprise you to know that the Principal York hotel is a Grade II listed building which means it's of significant historical interest.
It opened its doors to the public in 1878, around one year after the new York central railway station was built in 1877 making the old station redundant.
Originally the Principal Hotel York was called the Royal Station Hotel York built by William Peachey, who also designed the North Eastern Railways.
The building was a flagship property made of Scarborough yellow brick and, at that the time, it had 100 bedrooms and cost 14 shillings per night.
After that it switched hands to the London and North Eastern Railway in 1923 and in 1948 was part of the British Transport Hotels chain.
In 1982 the railways were privatised under Margaret Thatcher and were sold to various private owners until the Principal Hotel Company bought the site.
In 2016 the Principal Hotel York went under huge renovations opening 164 rooms, suites and new luxurious public areas but kept some of the original details from when it first opened.
Today, it's a stunning historic property in the centre of York with modern interior design, so it is a struggle to leave this paradise and explore the city!
2. Some of the rooms have epic views of York Minster
As soon as I walked into my room, I quite literally squealed when I saw the view.
I didn't want to hold my breath but was delighted to find my luxurious suite with two rooms had the most jaw-dropping view of York Minster!
There was also a spacious garden below with colourful trees and flowers fit for a palace, so it felt like a little oasis in the heart of the city.
Waking up in the morning and having a coffee from bed with that view was something really special.
3. The Principal Hotel York is an architectural masterpiece
If there's something that York does really well, it's their architecture, and the Principal Hotel York was a gem!
Although the Principal Hotel has made huge renovations to modernise the property, I love the fact that there are some original details left like their picture-perfect Victorian staircase.
All of the public areas were gorgeous and the bedrooms and suites were huge with tall ceilings, showing its heritage. They really don't build hotels the same way nowadays so the Principal Hotel York is a rare jewel.
4. You can check into a beautiful room fit for a queen
The Principal Hotel York has 164 bedroom and suites so it's a huge property. The Junior suite that I checked into felt fit for royalty!
When I first walked in I had a lounge area with a chesterfield sofa and two roomy armchairs.
The coffee table had a basket of Yorkshire-themed treats waiting for me and a welcome card which was a sweet touch.
There were wardrobes to store clothes and a cupboard with a kettle and coffee-making facilities, a must for me in any room. Plus, I loved the cute snack box with a KitKat and Kettle Chip's.
In my second room, there was a huge king-sized bed that had the most stunning feature cushions with a nude-pink leather studded headboard. Above it, there was a vintage map of Yorkshire which I loved!
The bathroom was marble with a double sink and walk in shower boasting gleaming white fluffy towels and Elemis toiletries.
The decor inside the room was exquisite. I loved the colours and the fact that it lets in lots of light from the French windows was a dream.
5. Breakfast is always a pleasure at the Principal hotel York
I LOVED the breakfast at the Principal Hotel in York. You really take for granted sometimes a great breakfast experience at a hotel.
If the butter is too cold and rips your toast, the coffee tastes awful or tepid, the full English isn't cooked properly or there aren't enough options to choose from, it really can sour your morning.
But, I am happy to report that there was none of that nonsense at the Principal Hotel!
The plates were warmed so your breakfast didn't go cold, the hot breakfast was plentiful and well cooked, the bloomer bread for toast was a DREAM with real butter that actually spread well. The coffee was hot and tasty and they had lots of continental options to choose too.
Breakfast went off without a hitch, with excellent service for so many guests and it just starts your day off on the right foot!
The only thing I would advise is to get up early and avoid peak times. You have to queue at the Principal to be shown to your table and if you come down just before the breakfast ends you may be waiting a while.
6. It's a huge building with lounges, bars and restaurants
Another thing that's great about the Principal Hotel York is they had lots of public areas, bars, cubbies, lounges and a pool area to relax in if you didn't want to stay in your room.
The main lobby lounge, the Garden Room, was magnificent to chill or have a drink in from their bar. They even sell afternoon tea here which must be a wonderful experience.
The Refectory Kitchen and terrace (the same as the breakfast room) also serve lunch and dinner if you didn't fancy eating outside. Plus, their Chapter House Bar serves drinks from 11 am and is open until late.
I was gutted I didn't have time to relax in their heated pool area with a hot tub, it would have been perfect after a long day but I just didn't have enough time.
They also had a Gym facility that is open to guests. But, as I was walking so much around the city, I soon burned off enough calories each day ;).
7. It's ideally situated in central York and an ideal place to visit the cities attractions
Although I wouldn't blame you for wanting to stick around this beautiful hotel, there are so many things to do in York that you'll be spoilt for choice.
Pay a visit to York Minster, the tallest building in York, and hear its bells chime, or climb up the Minster Tower for the most jaw-dropping views of the city.
Did you know that the Vikings took over York and called it Jorvik? You can visit the Jorvik Viking centre to find out more and be transported back in time to that era.
Climb the historic city walls or take a stroll down the magical Shambles. A medieval shopping street and inspiration for JK Rowling to create Diagon Alley in Harry Potter. Make sure to visit The Shop That Must Not Be Named !
Nearby you can see York's shortest street. Click here for an article full of unusual street names in the city!
Or, why not visit Clifford's Tower built by William I in the 11th Century?
Next door is the National Railway Museum which is FREE of charge and has the delightful Countess of York, a vintage train carriage that used to be part of the Orient Express.
Here you can pop inside for a countess of York afternoon tea. I've always wanted to have afternoon tea on a vintage railway carriage so finally found my chance!
Make sure you base yourself at the Principal Hotel York for your trip
There really is SO much to do in York you will struggle for time, but having the Principal York at the centre of it really makes it the ideal place to base yourself for a few days of sightseeing.
Click here to book yourself a room at the Principal Hotel York to explore this magical city!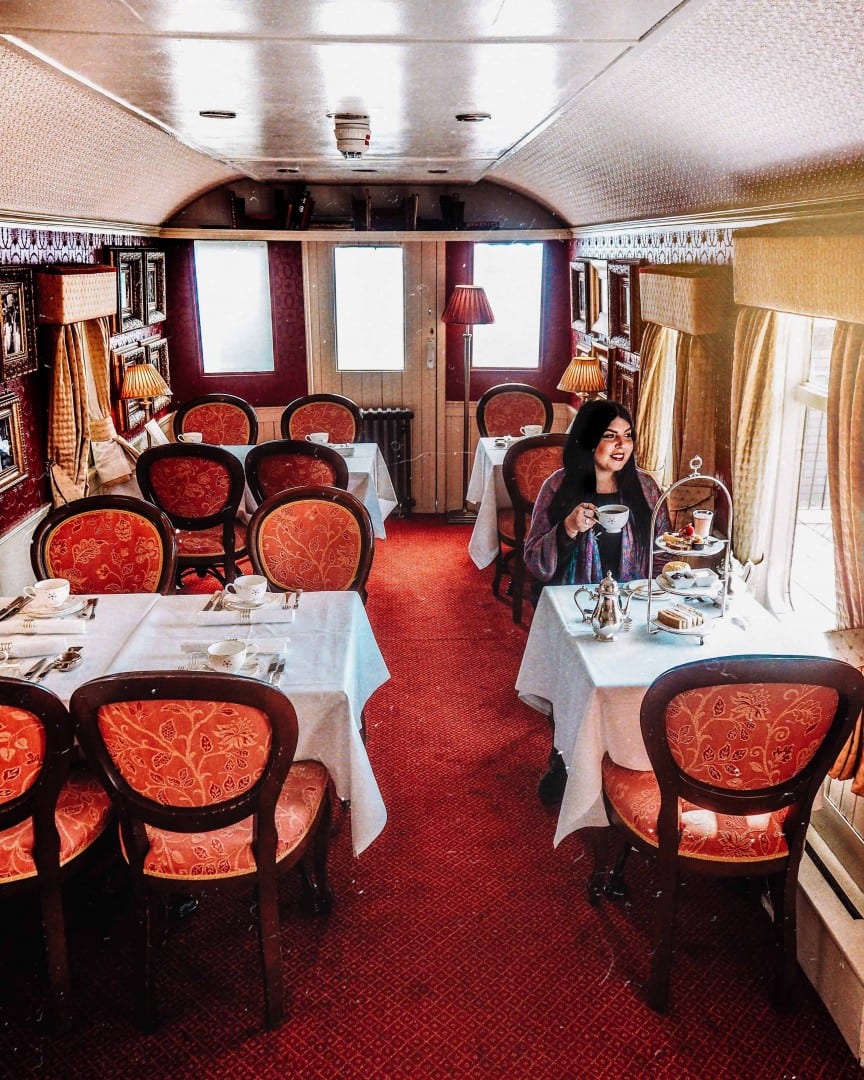 Read more of my posts on Yorkshire
A complete Harry Potter Guide to York
The top haunted places to eat in york
The odd story behind York's shortest street!
A day trip to Whitby to see Dracula
A go-to Whitby photography guide
Why you must visit Robin Hood's Bay
The top places to visit in Scarborough
The ultimate travel guide for Staithes
Save this Principal in York Review for later!
With thanks to the Principal Hotel York for hosting my stay, it was a pleasure to sleep in your beautiful suite overlooking the Minster. As always, although I was a guest, all photos and opinions are my own.