Okay muggles, if there was one event that I could not miss it had to be A Celebration of Slytherin at the Harry Potter Studios in London.
It's a special event that is honouring the green, ambitious and proud house of Hogwarts which, if you're a Slytherin, you'll know doesn't happen very often!
Having a reputation for 'pure-blood' wizards and Dark Magic, Slytherin is often seen as the 'evil' house. But, now it's finally getting some recognition after the popular craze of DracoTok!
So, Warner Brothers are painting the studios Slytherin green. You'll see Slytherin banners in Hogwarts Great Hall, the Slytherin Common Room, and some rare Malfoy family costumes we don't usually get to see.
Here is a complete A Celebration of Slytherin review at the Harry Potter Studios in London!
"Or perhaps in Slytherin, you'll make your real friends, those cunning folk use any means, to achieve their ends."— Sorting Hat, Harry Potter and the Philosopher's Stone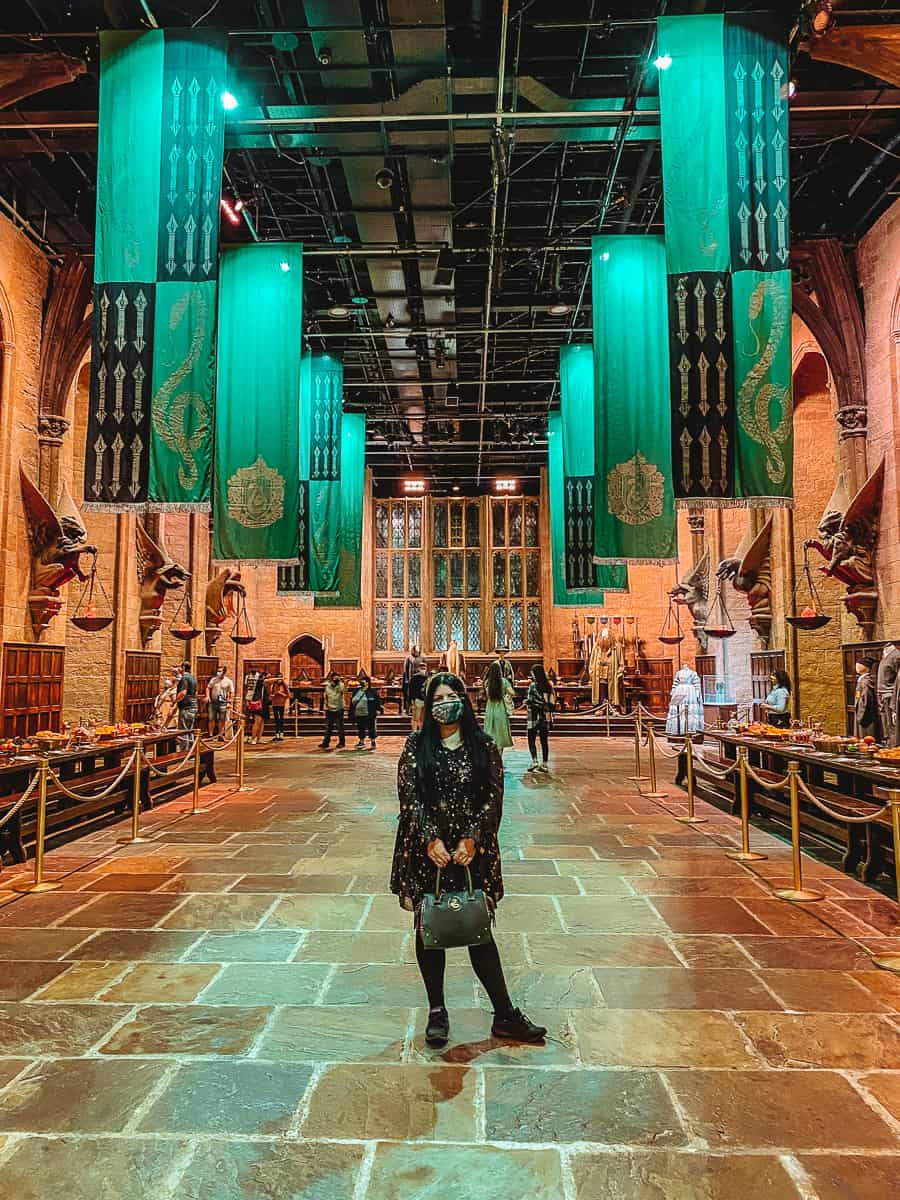 What is A Celebration of Slytherin?
A Celebration of Slytherin is a special event that is happening in the Harry Potter Studios in London.
It's a nod to Hogwarts' ambitious and cunning house that is often related to Dark Magic and the 'evil side' of the Wizarding World.
It came about due to the popularity of #DracoTok (24.5 billion views!) on the social media platform TikTok.
If you weren't aware, DracoTok involves Potterheads showing an appreciation (strike that, obsession) for the notorious bad boy, Draco Malfoy
This saw Tom Felton who played Draco Malfoy creating the 'Pottah' challenge and even holding a charity event "19 years later".
There was a craze for Slytherin fandom and everyone wanted house merchandise, videos, books, etc.
That's right, in a peculiar turn of events, the Potterhead fanbase has done a complete 360 and now seems to be preferring Draco and the Slytherin house. Over the likes of Harry Potter and even…dare I say it…Gryffindor house?!
As a Slytherin fan from when the books came out, it still blows my mind but I'm not complaining.
It even spurred on The Warner Brothers Studio in London to hold 'A Celebration of Slytherin'. They also released lots of exclusive Malfoy family and Slytherin merchandise due to the trend!
Related post – 120+ Draco Malfoy Quotes for any fan of DracoTok
Is A Celebration of Slytherin still running?
Unfortunately, it looks like 'A Celebration of Slytherin' was a one-off event for 2020/2021.
It started in September 2020 but was brought back by popular demand and ran from April 2021 to September 2021.
It was such a good event that celebrated the Slytherin House and Dark Magic. I hope it comes back again. Keep your fingers crossed!
A Celebration of Slytherin review
It's safe to say that I was made up with A Celebration of Slytherin. Way before DracoTok, I've loved Slytherin so it felt surreal to see them being honoured here.
From seeing the green House Banners in the Great Hall, all the Malfoy family costumes, and a rare look at the Slytherin common room up close.
Plus, it was so cool to see all the Potterheads wandering around in Slytherin Robes. It really felt like Slytherin's time to shine and I was here for it.
There was A Celebration of Slytherin Trail and some special Slytherin cupcakes in the Chocolate Frog Cafe.
If it ever comes back to Harry Potter Studios, I would definitely try to attend as it's an event not to be missed in my opinion!
Things to do at A Celebration of Slytherin
So, what was so special about A Celebration of Slytherin? What made it different from a regular Harry Potter Studios tour?
Well, there were quite a few Slytherin pieces that were specially brought out for this event. Here are some things to look out for.
1. See the Slytherin Banners in the Great Hall
Did you know that before Harry Potter came to Hogwarts, the Slytherin Quidditch Team had won the Quidditch House Cup six years in a row?
So, when you enter the Hogwarts Great Hall at the beginning of A Celebration of Slytherin, you'll get to relish in their victory by seeing all the green Slytherin House banners!
This was by far my favourite part of the celebration and had all sorts of green lighting. You'll spot Draco's Hogwarts Uniform on one of the tables to the left.
2. Slytherin Common Room
You won't need a Poly-juice Potion to attempt breaking into the Slytherin Common Room if you're not a house member. (Hint the password is: "pure-blood")
You'll get to see a 25-foot-high replica of the common room brought to life with all sorts of props from the movies. Plus, costumes of Draco Malfoy and his two henchmen Crabbe and Goyle.
As the Slytherin Common Room lies under the Black Lake, you'll find it has a massively different vibe from the Gryffindor Common Room. The tapestries are of course green.
It's in a dungeon, so it's a lot colder with a roaring fireplace in the middle and dark leather sofas. Spot the skull in a case above the mantle!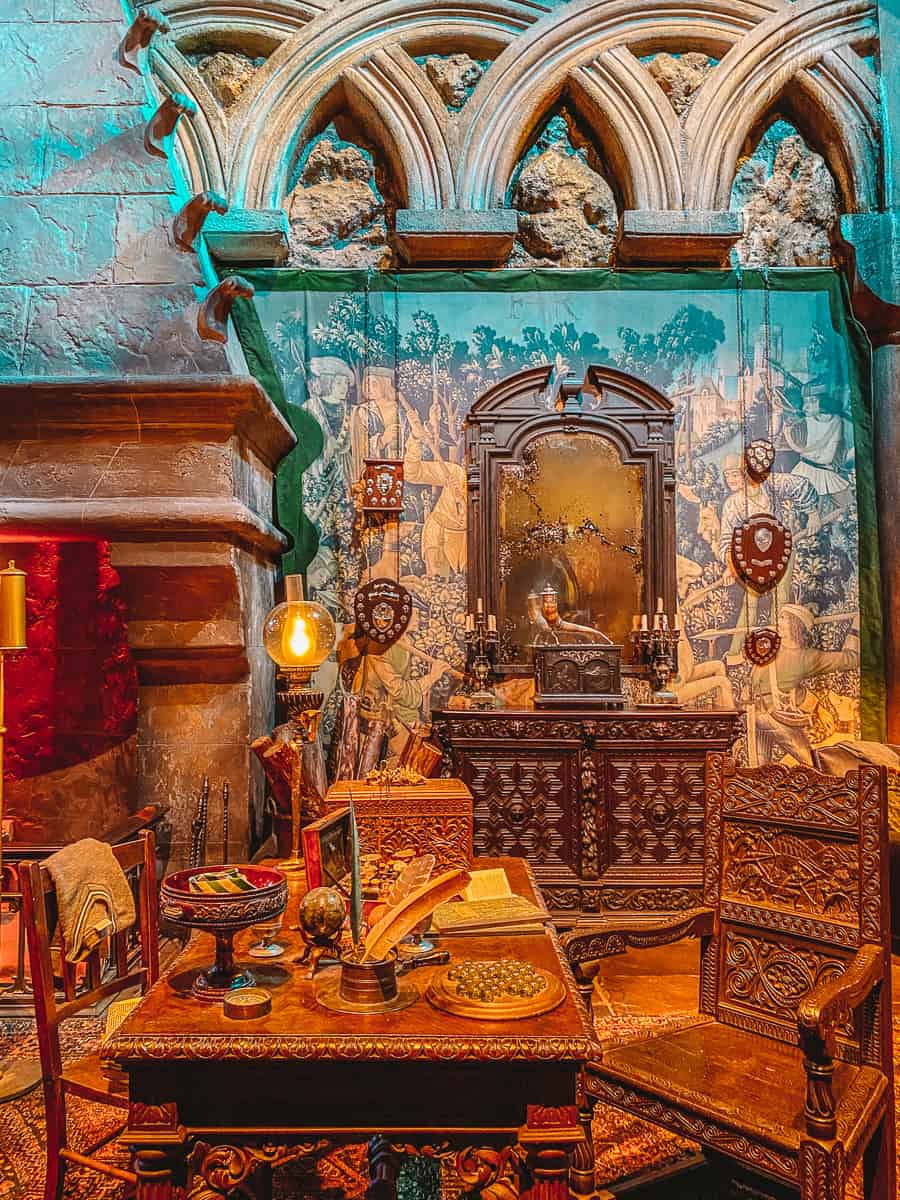 3. Rarely seen Malfoy family costumes
There were lots of Slytherin props brought out here like the portrait of Salazar Slytherin at the very beginning and also Tom Riddle's Gravestone.
But, personally, I loved all the Malfoy Family costumes we got to see as well.
Many of these costumes are usually hidden away but were brought out, especially for A Celebration of Slytherin. Look out for Lucius, Draco, and Narcissa's costumes from the Battle of Hogwarts.
You'll also see the costumes from the scene when Draco is dropping his son, Scorpius Malfoy, off at Platform 9 3/4 with Astoria Malfoy in Harry Potter and the Deathly Hallows Part 2.
Slytherin House facts
It was founded by Salazar Slytherin who was obsessed with 'pure-blood' wizards
Slytherin traits are resourcefulness, determination, pride, cunning, ambition, and self-preservation
The Slytherin mascot is a serpent, a symbol of Salazar's Parseltongue abilities.
Professor Severus Snape is the head of Slytherin house during the events of the Harry Potter books
Merlin the Wizard was once part of the Slytherin House
The Slytherin Common room is located underneath the Black Lake in Slytherin Dungeon
Slytherin's house ghost is the Bloody Baron.
Other things to do at Harry Potter Studios
The Harry Potter Studios tour in London is a must-visit for any Potterhead, regardless if there is a special event happening or not.
It has hundreds of props, costumes, and movie sets that were used in all eight of the Harry Potter movies.
They are constantly adding new pieces to the exhibition and switch things around throughout the year. So, there's always a reason to go back.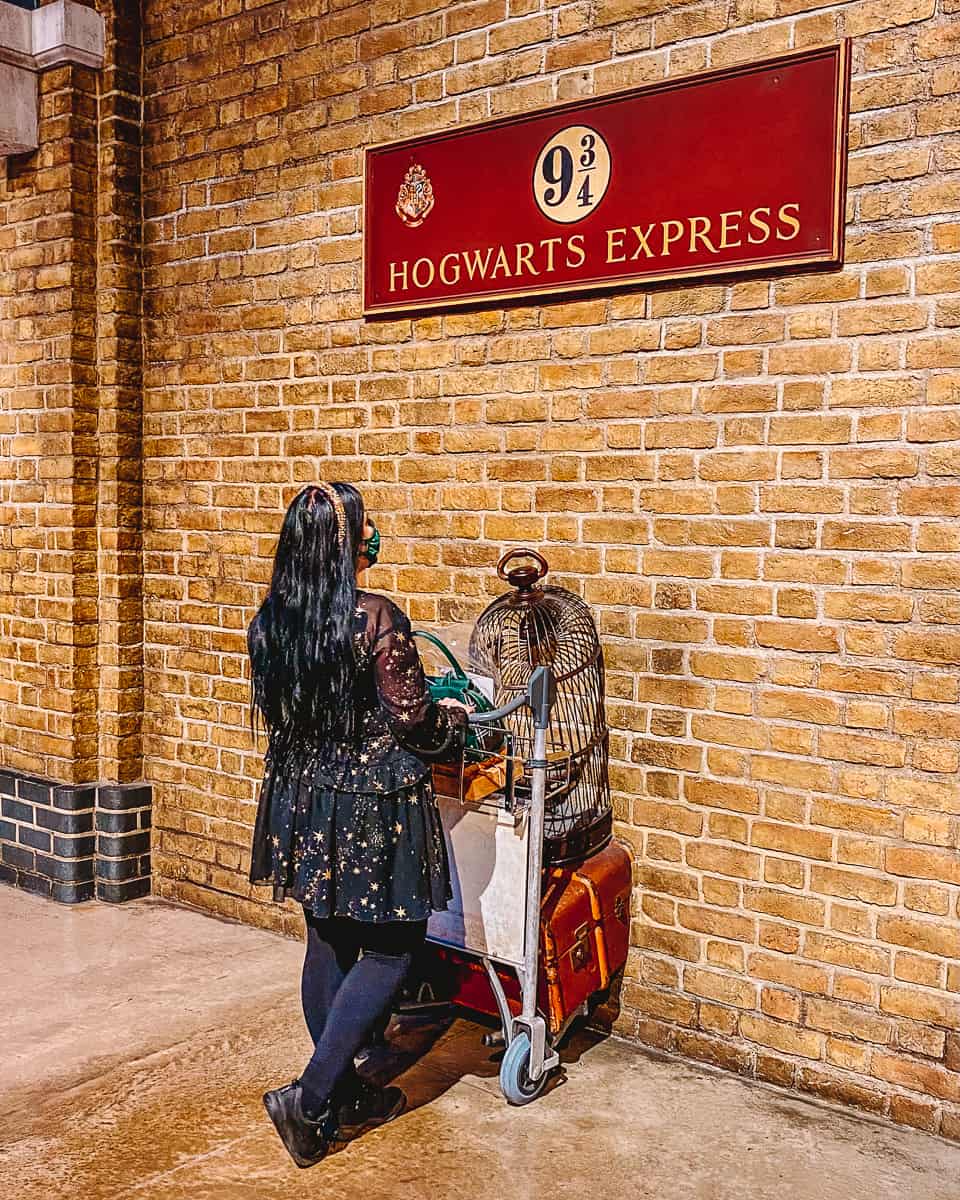 Here is a small selection of the magical things you can see and do at the Warner Brothers Studio Tour in London;
Visit Hogwarts Great Hall
Bow to Buckbeak in the Forbidden Forest
Fly on your very own broomstick
Visit Snape's Potion's Class
Board the Hogwarts Express at Platform 9 3/4
Drink Butter Beer by the Knight Bus
Walk over Hogwarts Bridge
Walk down Gringott's Bank
See the Hogwarts Castle replica used in the movies!
Harry Potter Studios ticket prices
A Celebration of Slytherin was a special event that was included in the regular ticket price for the Harry Potter Studios Tour.
They regularly have events throughout the year like the Dark Arts for Halloween and Hogwarts in the Snow. Both of these events are amazing and I would highly recommend you visit them!
Tickets start from £49.95 per person for adults and child tickets are £39.95. There are family tickets available for £159.95.
There are packages you can book which include a hotel stay, deluxe tours, afternoon teas, and more. So, make sure to have a browse at checkout to enhance your visit.
The studio tour is open almost every day and opens as early as 8.30 am closing the doors at 10 pm. Opening times do vary so make sure to check the website for the day you plan to visit.
You will also be booking a specific time slot for the tour so plan your journey time well in advance.
Click here to check the latest opening times and prices!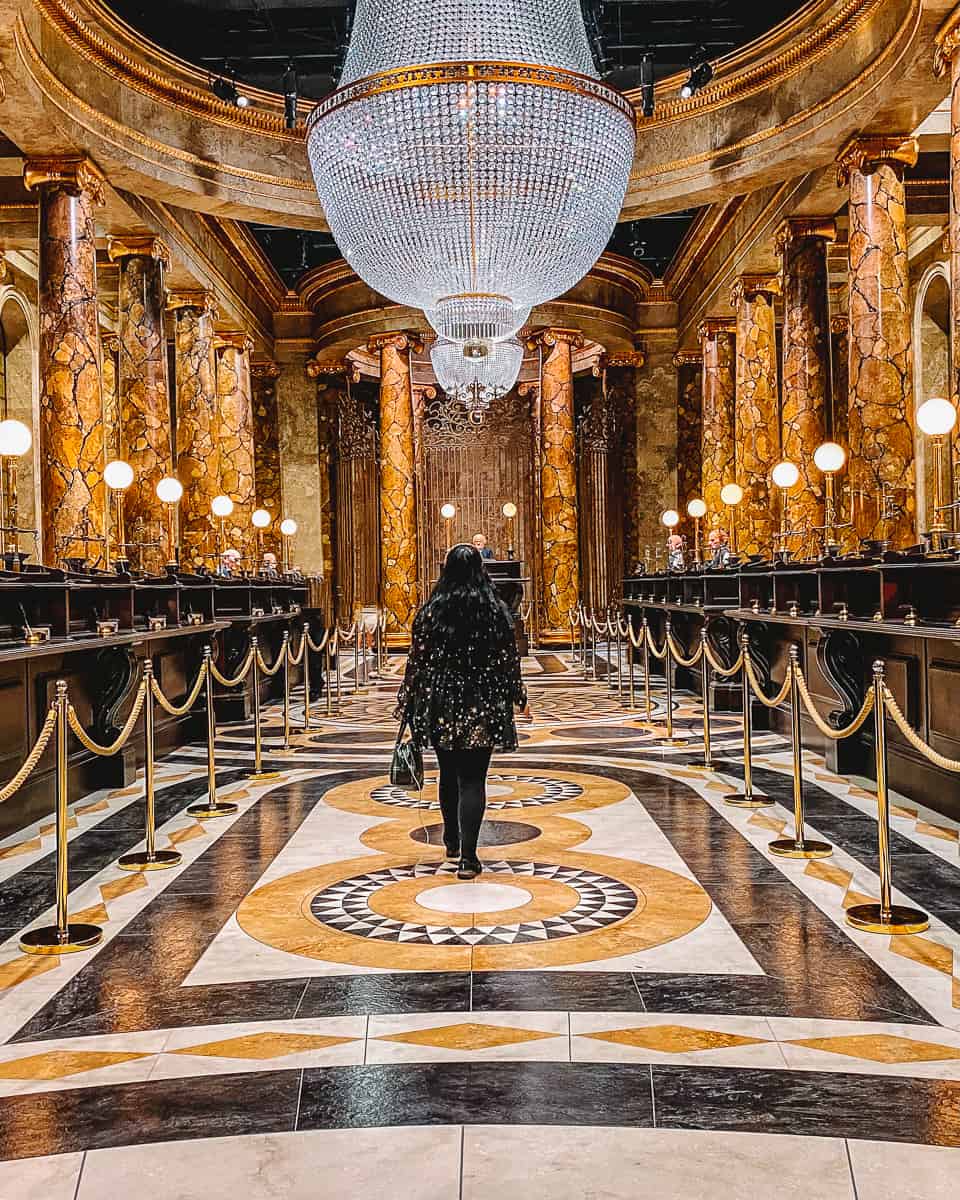 How to get to Harry Potter Studios
If you're driving, the Warner Brothers Studio tour can be found in Leavesden which is near Watford.
You can easily drive here from London by taking the M4 or M1 motorway and then switching to the M25. There is free parking available for everyone who booked a tour.
If you're not driving, you can take the Warner Brothers Studio shuttle bus from Watford Junction station.
Take a train from London Euston (20 minutes) and then the shuttle bus from Watford Junction (15 minutes) to the studios!
The postcode for Harry Potter Studios for SatNav's is WD25 7LR. Click here for a Google Pin!
Looking for more Harry Potter things to do in London?
There are plenty more locations that you can seek out if you're a Potterhead in London!
After your visit to the Harry Potter Studios, I would recommend visiting the Harry Potter Photographic Exhibition in London. This is home to London's only Butter Beer Bar!
One of my favourite locations I visited has to be Leadenhall Market. A gorgeous Victorian wonder that featured as the entrance to the Leaky Cauldron and Diagon Alley.
Talking of Diagon Alley you can visit some of the locations that inspired that wizarding shopping street like Cecil Court and Goodwin's Court.
Nearby you can watch The Cursed Child at the Palace Theatre or lose yourself in the House of MinaLima.
I would catch the tube over to the River Thames to see sights like the Millennium Bridge, Tower Bridge, London City Hall, and Borough Market which all featured as filming locations.
You can also visit King's Cross Station to see Platform 9 3/4 and the Harry Potter Shop. The St Pancras International Hotel and the filming location for 12 Grimmauld Place are nearby. Or, visit the St Pancras Renaissance Hotel where Ron flies his Ford Anglia!
Or, why not enjoy some immersive experiences like cocktails at The Cauldron or an afternoon tea at Cutter & Squidge?
Click here to read my complete guide on London Harry Potter locations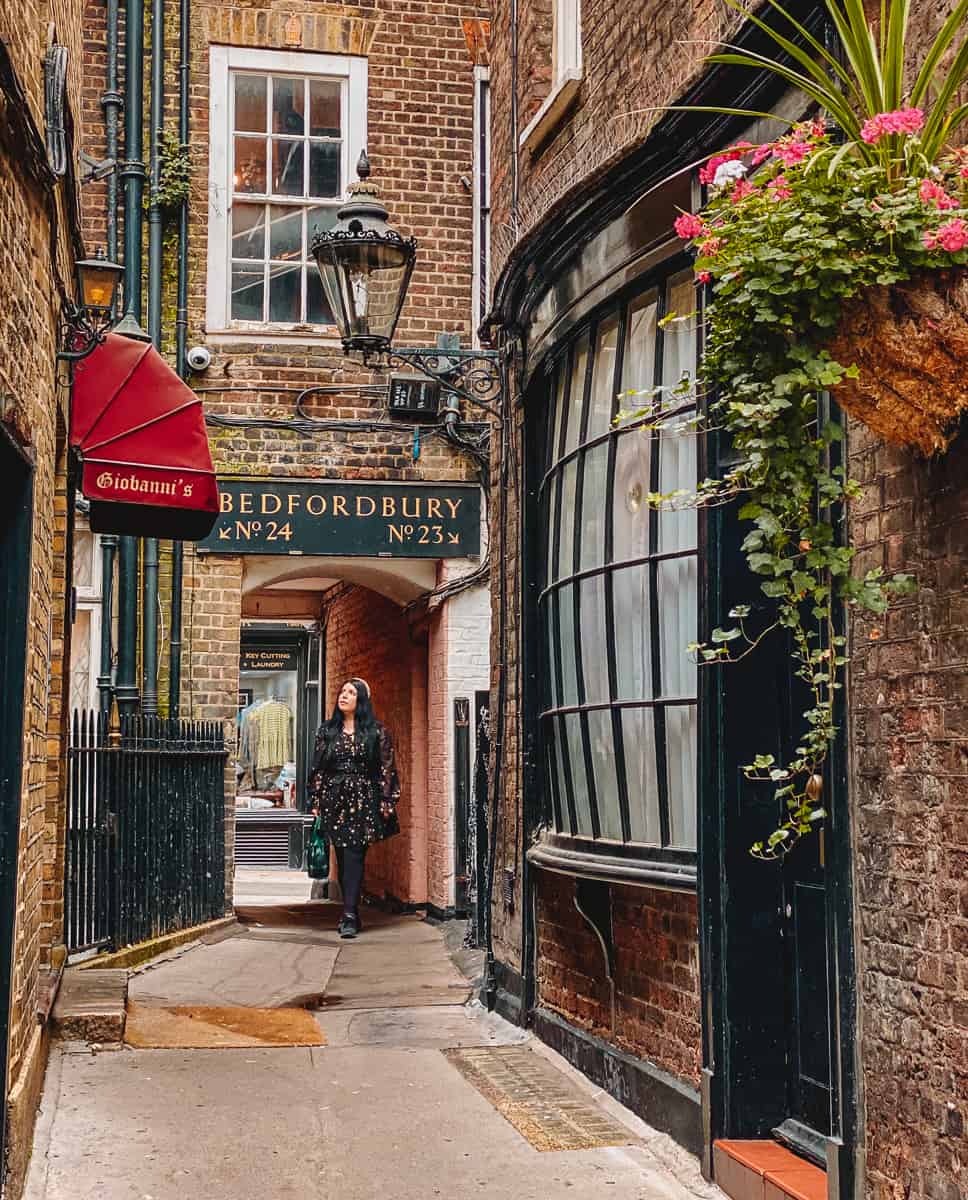 Read more of my Harry Potter travel guides
How to visit the real Godric's Hollow in Lavenham
Harry Potter locations in Edinburgh
All the Harry Potter filming locations in Scotland
How to spend a night in Hagrid's Hut
Harry Potter filming locations in Oxford
Visit the Deathly Hallows filming location at Malham Cove
How to visit Hogsmeade Station in real life
A complete Forbidden Forest Experience review
Harry Potter locations in Lacock
Harry Potter filming locations in Alnwick Castle
Where to find Harry Potter in York
How to find the Harry Potter Tree at Blenheim Palace
The Shop That Must Not Be Named Review
How to find Dobby's Grave in Wales
Harry Potter filming locations in Gloucester Cathedral
How to see the Hogwarts Express in Scotland
How to visit Dumbledore's Grave in Scotland
Visiting Malfoy Manor in Real life!
Where to find Tom Riddle's grave in Edinburgh
Visiting the Quidditch Town of Tutshill Tornados
Harry Potter locations in Exeter along with Gandy Street and the Room of Requirement
Virginia Water – the Other Hogwarts Lake
Instagram locations at the Wizarding World of Harry Potter
How to visit Hagrid's Hut in Scotland
How to visit the Harry Potter Waterfall in Scotland
Harry Potter filming locations at Durham Cathedral
Save this A Celebration of Slytherin review for later!