If you have ever wanted to enjoy an immersive Harry Potter afternoon tea in London then I would recommend the Cutter and Squidge Potion Room in Soho!
It's a spell-binding experience where you can attend your very own Potion's Class and start to brew up some magic whilst enjoying delectable food.
You'll feel like you have been transported to a wizarding world where you can cast your wand with enchantments, stir your cauldron, and munch on magical treats.
Here is my complete Cutter and Squidge Potion Room Review, a magical Harry Potter afternoon tea in London!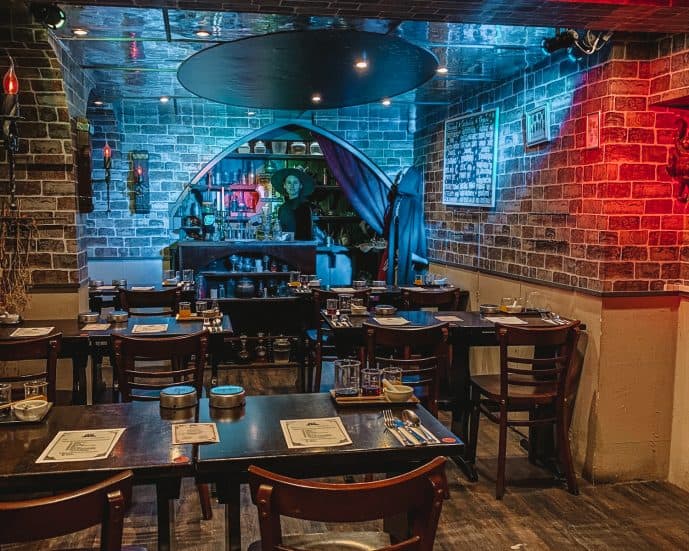 What is the Harry Potter Afternoon Tea at Cutter & Squidge?
If you have ever wanted to attend Severus Snape's Potion Class at Hogwarts School of Witchcraft and Wizardry then this is your chance!
The Cutter and Squidge Potion Room afternoon tea is an immersive experience where you can brew potions, cast spells, and eat amazing food under the instruction of a Potion's Master!
But, instead of having to catch the Hogwarts Express, you can enjoy this right in the heart of Soho which is in Muggle London!
Note: although this is a magically themed tea, Cutter & Squidge is not affiliated with the Wizarding World of Harry Potter in any way. But, don't worry, it will still feel like you've been transported to Hogwarts!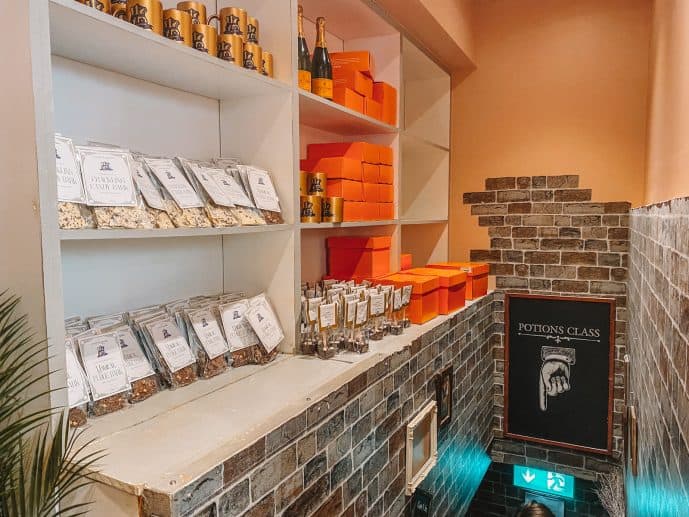 What to expect at the Cutter & Squidge Harry Potter afternoon tea
As per the instructions, you must arrive at Cutter & Squidge 15-minutes prior to your booked appointment. But, be warned that they may ask you to wait outside if it's a busy day in the bakery.
You'll then all walk down to Potion's Class and be seated at your desks/school tables. They will already be prepared with your wands and some of the ingredients you'll need for your first welcome potion!
Your Potion's master/mistress will then appear to guide and entertain you while you work your way through the instructions.
I won't give too much away but you will honestly feel like you're attending Snape's class at Hogwarts…although the professors are much friendlier and funnier in Cutter & Squidge!
What's the food like at the Harry Potter Afternoon Tea?
I had already studied the menu before booking this afternoon tea and so I knew what we were going to eat. But, of course, how it's delivered and presented was all a complete surprise!
We had our welcome drink and were already instructed in our Potion's Classroom to brew some iced galaxy teas that changed colour while mixing. We also had our wands and were casting enchantments in the process.
We could then select our hot tea from a magical menu. I actually picked the unicorn tears tea it was a berry flavoured and a vibrant shade of pink!
A while later, we received all of our food and it was lovingly presented in a Hedwig style cage which added to the Harry Potter style experience.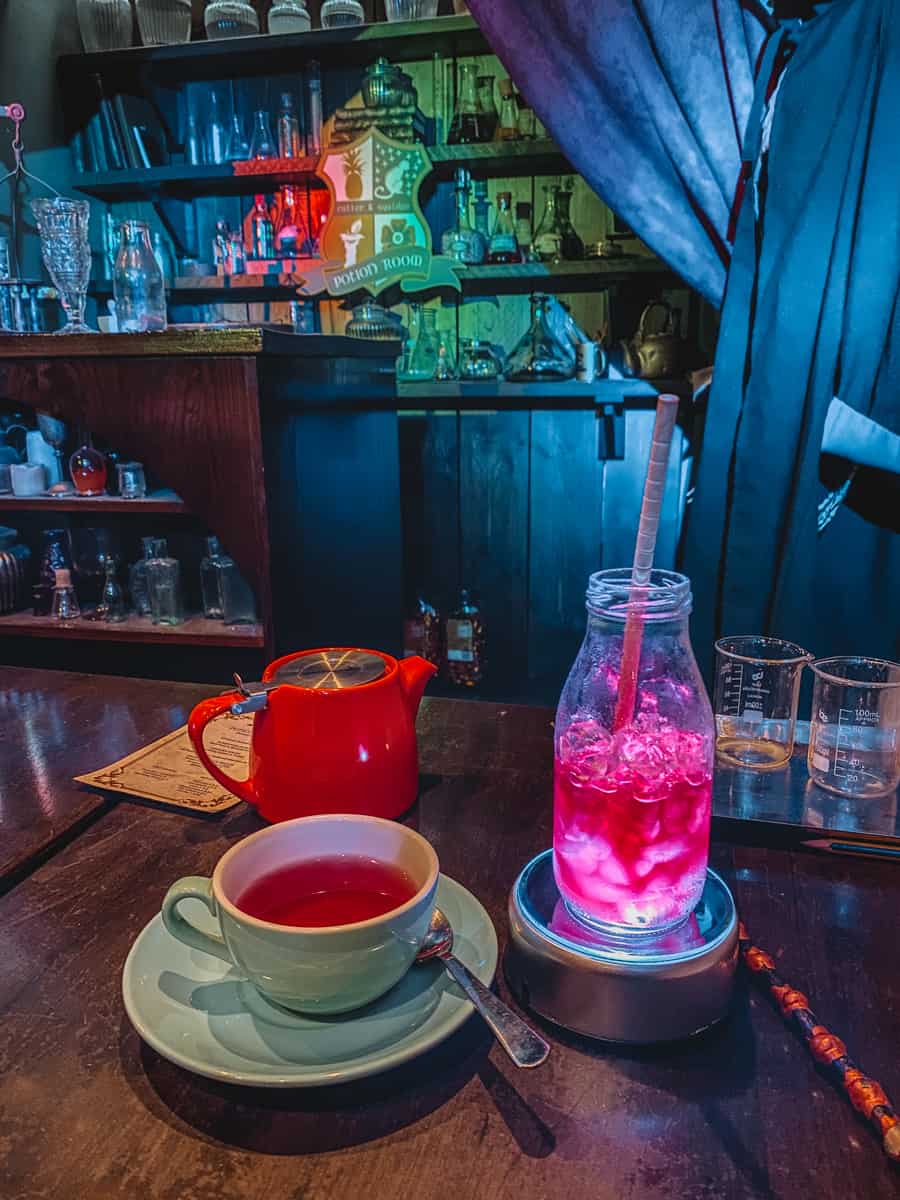 The savoury dishes
This is where I feel the Cutter and Squidge Potion Room afternoon tea excels as an experience as the savoury dishes here were AMAZING!
All the food included in the savoury menu was Harry Potter-inspired and felt like something you could find on the menu of the Leaky Cauldron. It was also a lot more creative than your typical finger sandwiches.
On the plate was a proper pie with leek and potato filling, sandwiches with honey-roasted ham and a ploughman's filler. We even got a Yorkshire pudding with roast beef! Everything was full of flavour and absolutely scrumptious.
Of course, if you have specific dietary requirements they can also cater the menu around you. They provide gluten/wheat-free, vegetarian and vegan. Always check with Cutter & Squidge before you book!
All of the sweet magic!
It wouldn't be an afternoon tea without some sweet treats to finish off the experience.
Cutter & Squidge is a famous bakery in London and so I knew that they would have some incredible dessert offerings to bring to the table.
The desserts were again unique and creative and were designed with a Harry Potter theme. We had a Butterscotch Biskie which looked like a Golden Snitch and a Knickerbocker Pot with some colourful sprinkles.
There was also a separate owl delivery of fresh rock cakes in a paper bag (scones). These came with lashings of jam and cream. Of course, we had to eat them quickly before they turned into real rocks!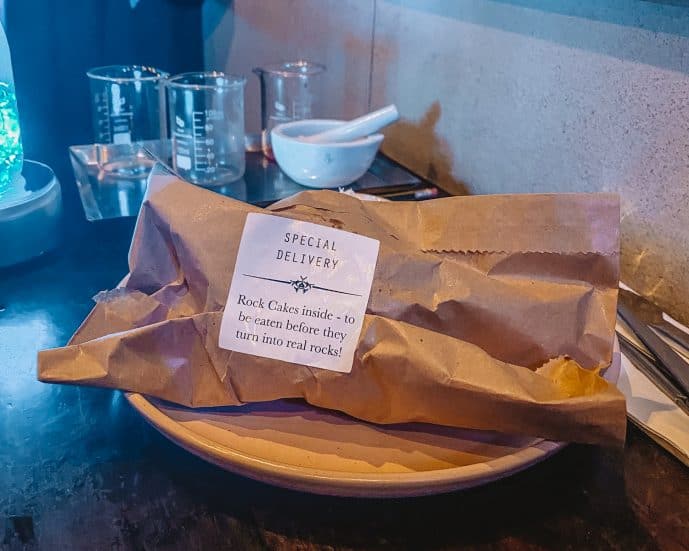 Then, we finished off the meal with a cauldron of boiling white chocolate cake! We got to add our own popping candy to the broth to add a little snap, crackle, and pop! It was honestly so fun.
I felt like the food in the Potion Room was just the right mix of sweet and savoury dishes for this afternoon tea.
Everything on the menu not only looked good and was creatively designed but it also tasted amazing too.
I was so stuffed by the end of my potion's class that I felt sleepy and needed a lie-down, haha! So, make sure to arrive with lots of room!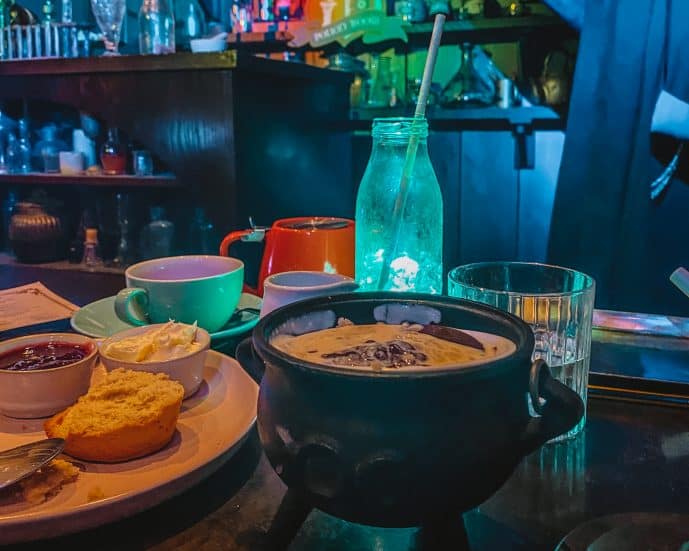 How much is the Cutter & Squidge Harry Potter afternoon tea in London?
The Cutter and Squidge Potion Room experience is currently £49.50 per adult and £39.50 per child. They also offer some VIP tickets that cost £79.50 per adult and £54.50 per child.
The difference between the normal afternoon tea experience and the VIP experience is that firstly you get to sit closer to the potion's instructor.
You also get two cocktails as part of your experience (these usually cost extra) and a goodie bag with lots of extra treats inside from their shop. The bag includes mugs, magical teas, and more!
Although it can seem expensive, the price of this afternoon tea experience is standard for London prices. I thought it was worth every penny.
Click here to book the Cutter & Squidge Potion Room Experience
Is the Cutter & Squidge Harry Potter Afternoon Tea worth it?
As a huge Potterhead and lover of anything magical, I had an incredible time at the Cutter and Squidge Harry Potter afternoon tea.
As soon as you descend into their Potion Room, you'll instantly feel like you've entered Hogwarts and have fun trying to spell cast and brew your own potions.
Beyond it being immersive and magical, the most important part of an afternoon tea is obviously the food and I felt that their menu ticked all the boxes. It was creative, entertaining, and delicious.
I would 100% recommend this experience to Potterheads or anyone that loves magical, fantasy, or immersive experiences. You won't regret it!
How to get to Cutter & Squidge Bakery in Soho
Cutter & Squidge café & tearoom can be found in central London within the Soho District.
Their full address is 20 Brewer Street, Soho, London, W1F 0SJ. Here is a Google Pin.
The easiest way to visit them is to catch the London Underground or the Tube and walk over to the tearoom. Remember, you need to arrive at least 15 minutes before your magical experience begins to get checked in.
The nearest Tube Station for Cutter & Squidge would be Piccadilly Circus, Leicester Square, and Tottenham Court Road. All of these stations are less than a 5-minute walk to the bakery!
Are you looking for more Harry Potter experiences in London?
There are plenty more locations that you can seek out if you're a Potterhead in London!
After your visit to Cutter & Squidge, there are many Harry Potter locations in this area around Soho. You could visit here in between The Cursed Child performances at the Palace Theatre or visit the House of MinaLima.
The Harry Potter Photographic Exhibition is also in Covent Garden nearby that is home to London's only Butterbeer Bar.
Or you can visit some of the inspirations for Diagon Alley like Cecil Court and Goodwin's Court.
Talking of Diagon Alley, one of my favourite locations I visited has to be Leadenhall Market. A gorgeous Victorian wonder that featured as the entrance to the Leaky Cauldron and Diagon Alley.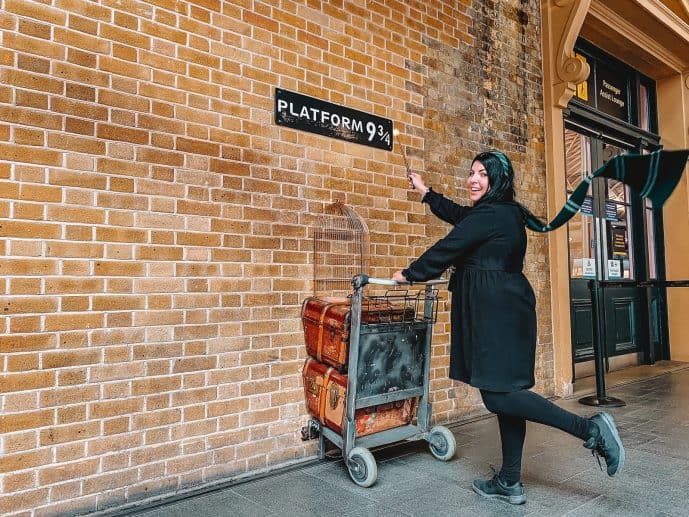 There are also many other filming locations to visit like King's Cross Station with the Harry Potter Shop and trolley photo at Platform 9 3/4. Also, Claremont Square was the Order of the Phoenix HQ. Or, visit the St Pancras Renaissance Hotel where Ron flies his Ford Anglia!
I would then catch the tube over to the River Thames to see sights like the Millennium Bridge, Tower Bridge, London City Hall, and Borough Market that all featured as filming locations.
You can head into St Paul's Cathedral to see their Geometric Staircase that was the Divination Stairwell at Hogwarts.
You could then finish the day off with immersive experiences like magical cocktails at The Cauldron.
Of course, the ultimate Harry Potter experience can be found on the Warner Brothers Studio Tour. This has plenty of sets, props, and costumes from the movies. You can even walk down a real Diagon Alley, see how they filmed Hogwarts Castle and sip on Butterbeer.
If you can I would recommend a visit around one of their special events like the Dark Arts at Halloween or Hogwarts in the Snow.
Click here to read my complete guide on London Harry Potter locations
Read even more of my Harry Potter travel guides!
Visit the Deathly Hallows filming location at Malham Cove
How to visit Hogsmeade Station in real life
A complete Forbidden Forest Experience review
Harry Potter locations in Lacock
Harry Potter filming locations in Alnwick Castle
Where to find Harry Potter in York
How to find the Harry Potter Tree at Blenheim Palace
How to spend a night in Hagrid's Hut
The Shop That Must Not Be Named Review
How to find Dobby's Grave in Wales
Harry Potter filming locations in Gloucester Cathedral
How to see the Hogwarts Express in Scotland
How to visit Dumbledore's Grave in Scotland
Visiting Malfoy Manor in Real life!
Where to find Tom Riddle's grave in Edinburgh
Visiting the Quidditch Town of Tutshill Tornados
Harry Potter locations in Exeter along with Gandy Street and the Room of Requirement
Virginia Water – the Other Hogwarts Lake
Instagram locations at the Wizarding World of Harry Potter
How to visit Hagrid's Hut in Scotland
How to visit the Harry Potter Waterfall in Scotland
Harry Potter filming locations at Durham Cathedral
Save this Cutter & Squidge Harry Potter Afternoon Tea review for later!