Hey witches and wizards, did you know that one of the magical new additions to the Warner Brothers Studios Tour in 2023 is their officially licensed Harry Potter afternoon tea?!
It's a wonderful experience where you get to sit underneath the floating candles of the Hogwarts Great Hall, sip a hot drink, and enjoy some tasty treats worthy of Honeydukes!
I've had Harry Potter-inspired afternoon teas in London before but I was very excited to see what the Warner Brothers Studio team had to offer on my most recent visit.
So, in this Harry Potter Studios afternoon tea review, I'll go through what's included, how much it costs and whether it's worth your Gringotts Galleons!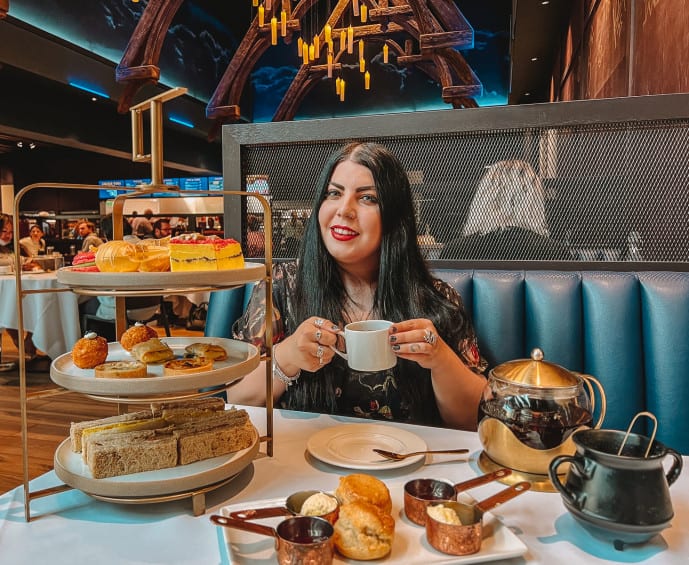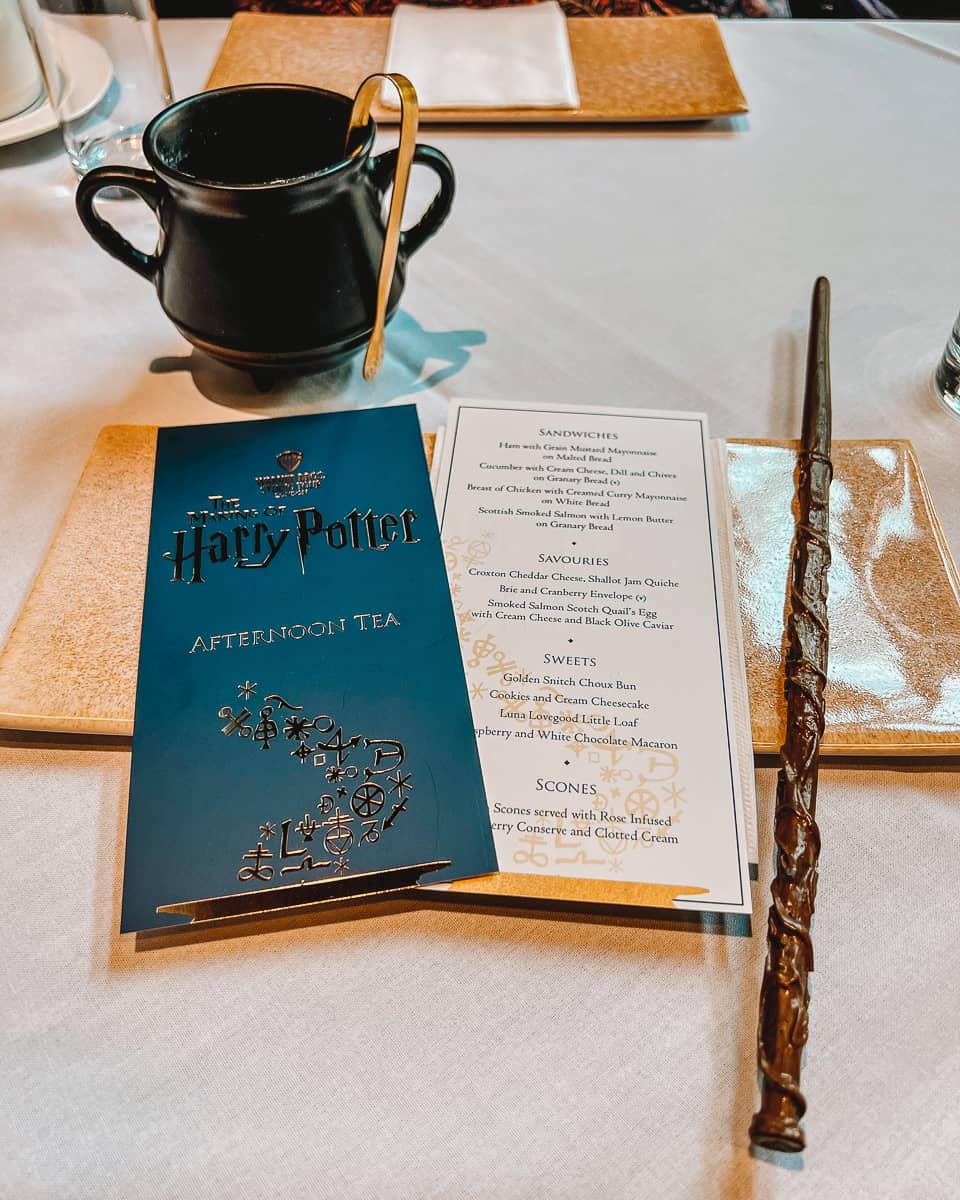 What's included in the Harry Potter Studios afternoon tea experience?
Those who have visited the Harry Potter Studios in London will remember that their Food Hall had floating candles overhead that made you feel like you were dining in The Great Hall.
Well, now this has been exclusively reserved for those who have booked one of the Harry Potter Studios afternoon tea experiences. You'll have 90 minutes to enjoy your afternoon tea.
As part of the experience, you'll get to dine in this exclusive area, sip on your choice of tea and coffee, and be served a Hedwig's cage of savoury and sweet treats.
You'll have three tiers that include finger sandwiches, pastries, sweet treats, and glittery scones with jam preserve and clotted cream!
Have any allergies? Make sure to contact the team at least 24 hours in advance so they can accommodate you!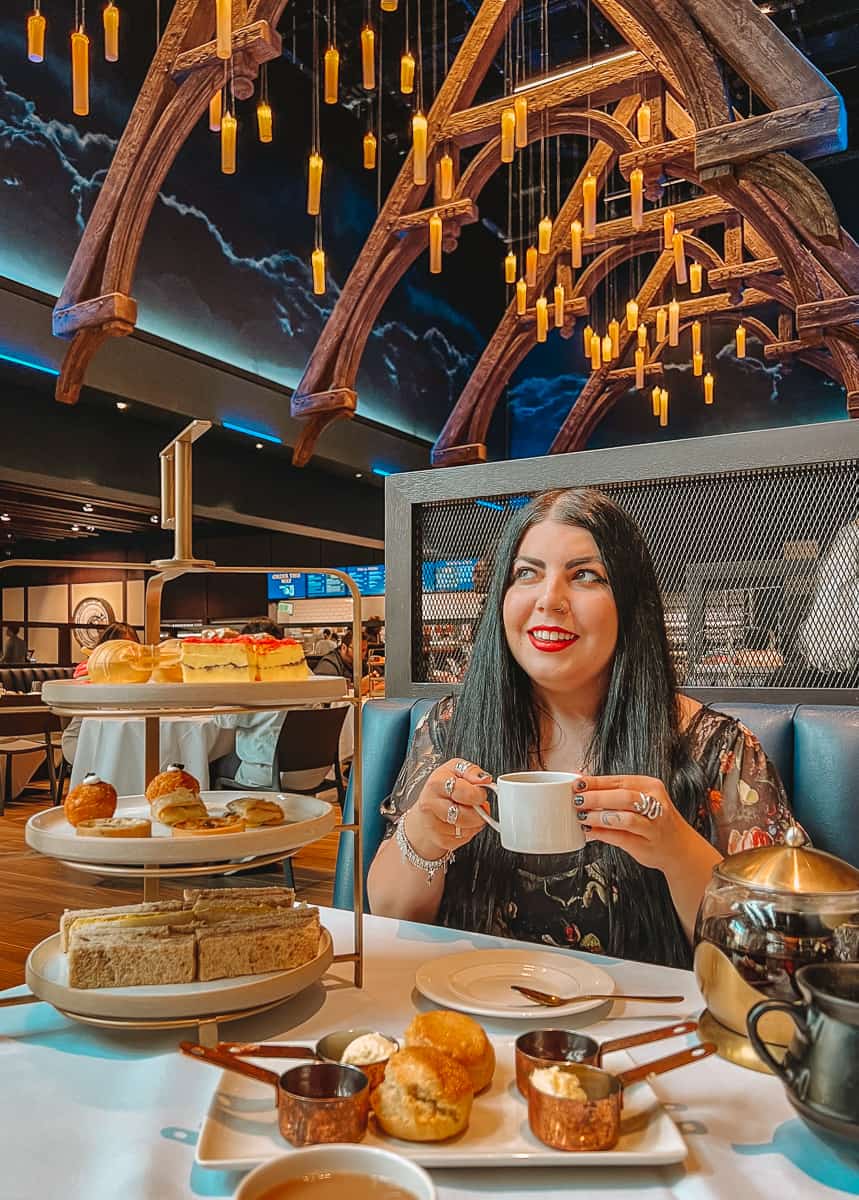 Harry Potter Studios Afternoon Tea in London Review
You'll be seated under the floating candles
What I loved about the Harry Potter studios afternoon tea was the wonderful setting under the floating candles of the Great Hall.
You'll get to choose a booth or one of the round tables that are in the middle. I'm always a booth girl so we decided to sit there to get some great pictures of our tea with the floating candles.
We sat at the very end and I think we made a great choice as it meant more candles to capture behind us. Our booth also had this super cool wall art of a cauldron too!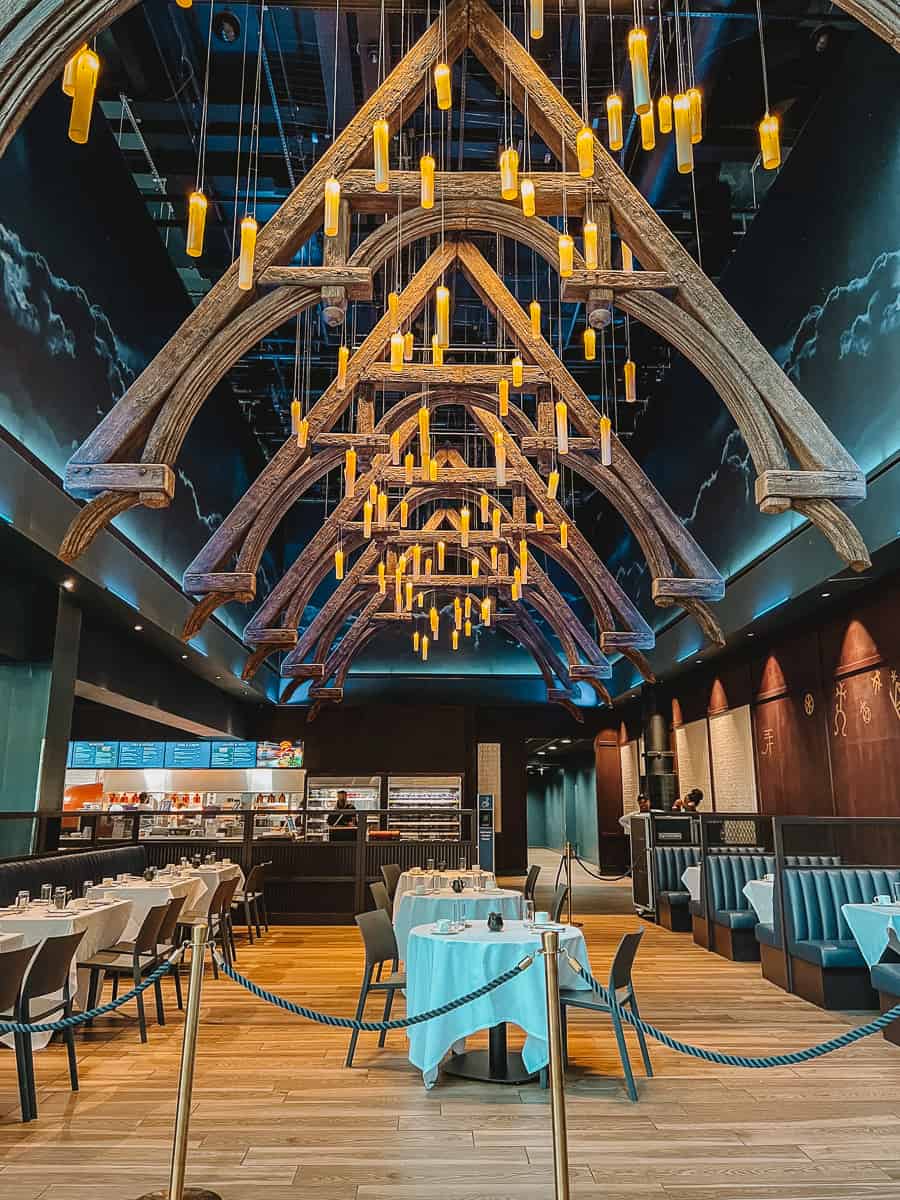 It's good to note that this afternoon tea area isn't a separate/private room, it's just a sectioned off area of the lobby in the studio tour.
This means that you're seated right beside the Chocolate Frog café and Food Hall so it can be a little noisy.
There will be people looking in and walking around as you're having your afternoon tea but I wouldn't say we noticed all that much. It was still really special.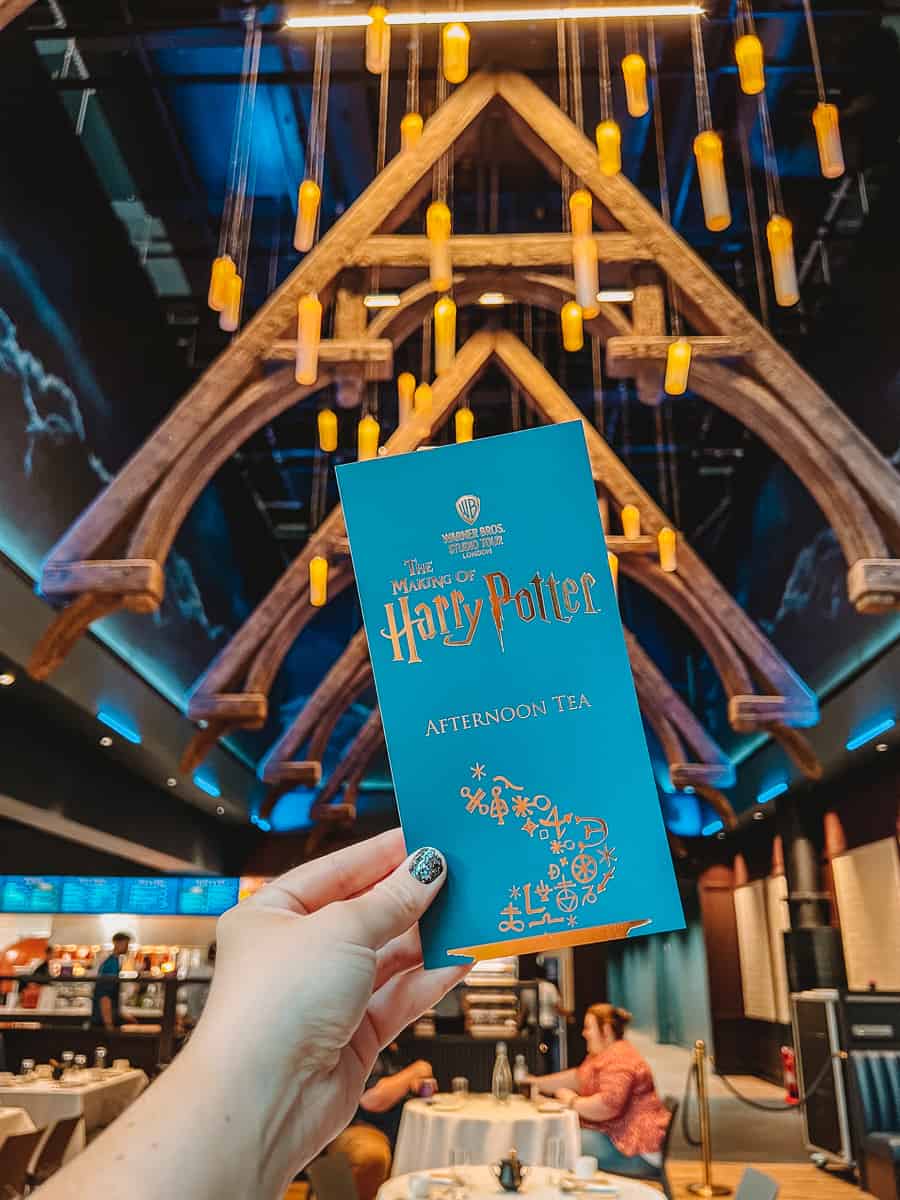 Treat yourself to tea/coffee
When you're seated, you'll be given a menu where it will tell you what your Harry Potter afternoon tea includes.
You'll get to choose a loose-leaf tea and you have a choice of English Breakfast, Earl Grey and Green Tea. I personally went for Earl Grey as it's one of my faves.
If you're not a tea person, you can choose coffee that comes in a cute gold cafetière. I had one after my tea and it was quite strong but I think I needed it after my long drive to London.
Don't like tea or coffee? The staff has a wide range of water, juices and soft drinks to offer you as an alternative.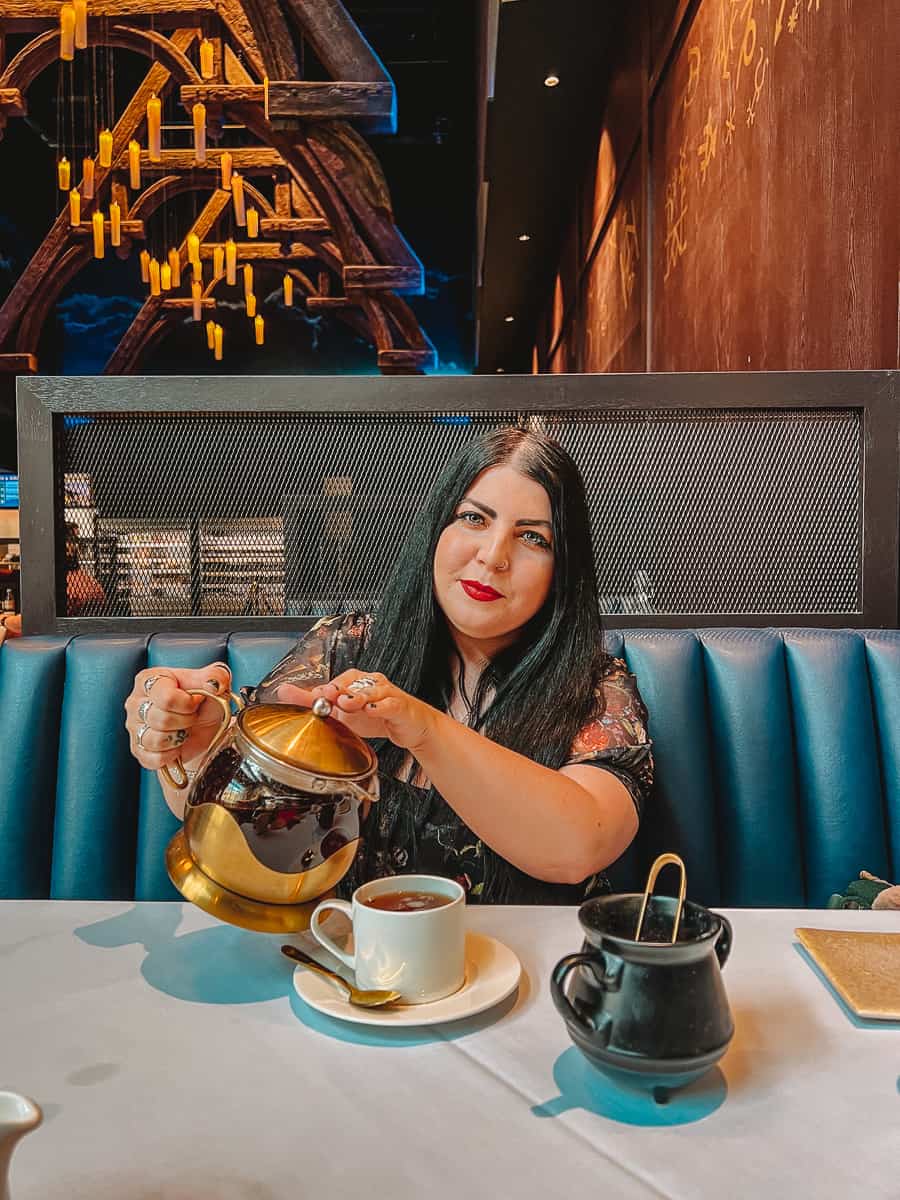 A Hedwig's cage of treats!
After you've sipped on your drinks, you'll be served your delicious afternoon tea on a Hedwig-style gold birdcage as well as some glitter scones.
The birdcage has three cake tiers/layers that are laden with magical sweet and savoury treats;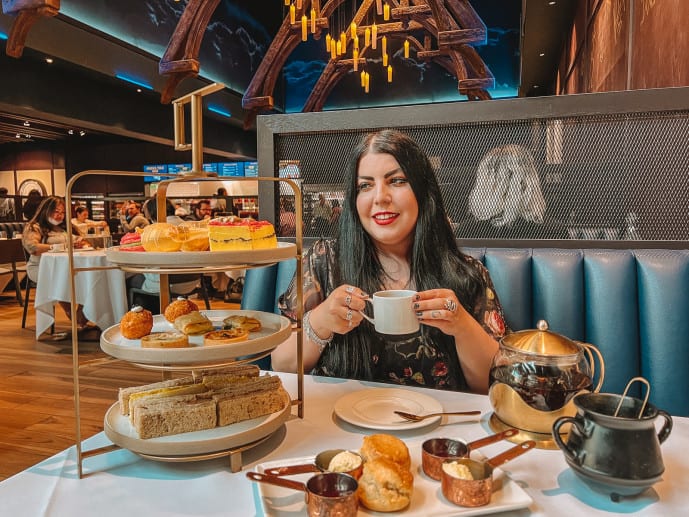 Finger Sandwiches
You get a selection of four-finger sandwiches on your bottom layer.
These are cucumber and cream cheese, ham and mustard, coronation chicken, and smoked salmon.
These were all really tasty and we didn't find we liked one more than the other. Coronation Chicken is one of my favourite sandwich fillings so I saved this until last.
Savouries
The second layer is a selection of savouries. You get an envelope of cheese and jam quiche, a brie and cranberry envelope, and a smoked salmon scotch egg with caviar.
I have to admit this wasn't our favourite layer. The envelope was really greasy and the scotch egg was a strange texture. We tried bits of them and left most of it.
Magical Sweets
This is always my favourite layer of any afternoon tea. I have an insatiable sweet tooth and these Harry Potter cakes were extra delightful!
First, we had a Golden Snitch Choux Bun that had cream inside and chocolate wings that was really light and tasty.
Then, there was a Chocolate Frog cookies and cream cheesecake that was a bright pink and yellow with a glitter chocolate frog on top. To me, this was a little tasteless but my Mum loved it.
I thought the Luna Loaf was really cool. It had a generous helping of blue and pink icing and a chocolate garnish with her iconic Spectrespecs on top.
Lastly, there was a Raspberry and White Chocolate Macaron that had gold leaf on top! It was bright pink and green like the colours of Honeydukes. It was delicious.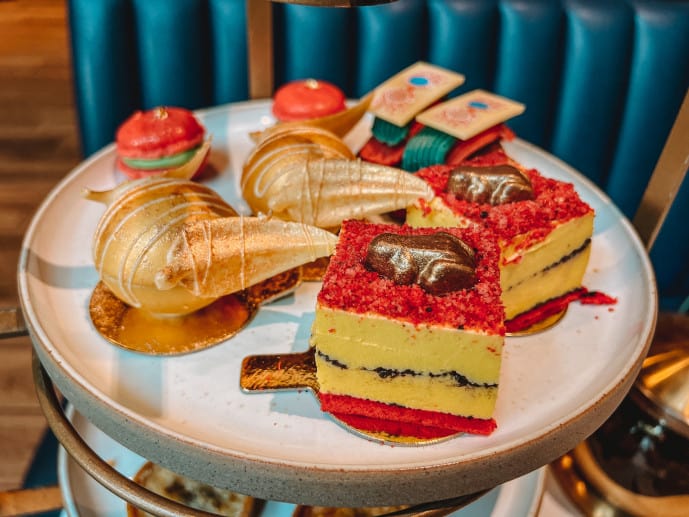 Glittery scones with clotted cream and jam
Is it even afternoon tea if you don't get scones? But, make them extra magical as it's a Harry Potter afternoon tea!
Instead of just being a plain scone, it has edible glitter on top! So, you'll see them sparkling in the light as you cut into them.
The scones come with two little copper dishes of clotted cream and strawberry jam to put on top.
Although we were pretty stuffed after all the food, we just about managed to eat these miniature scones to finish off our tea.
Everything about this afternoon tea was so magical and I would highly recommend booking it if you're a Potterhead visiting the studio tour!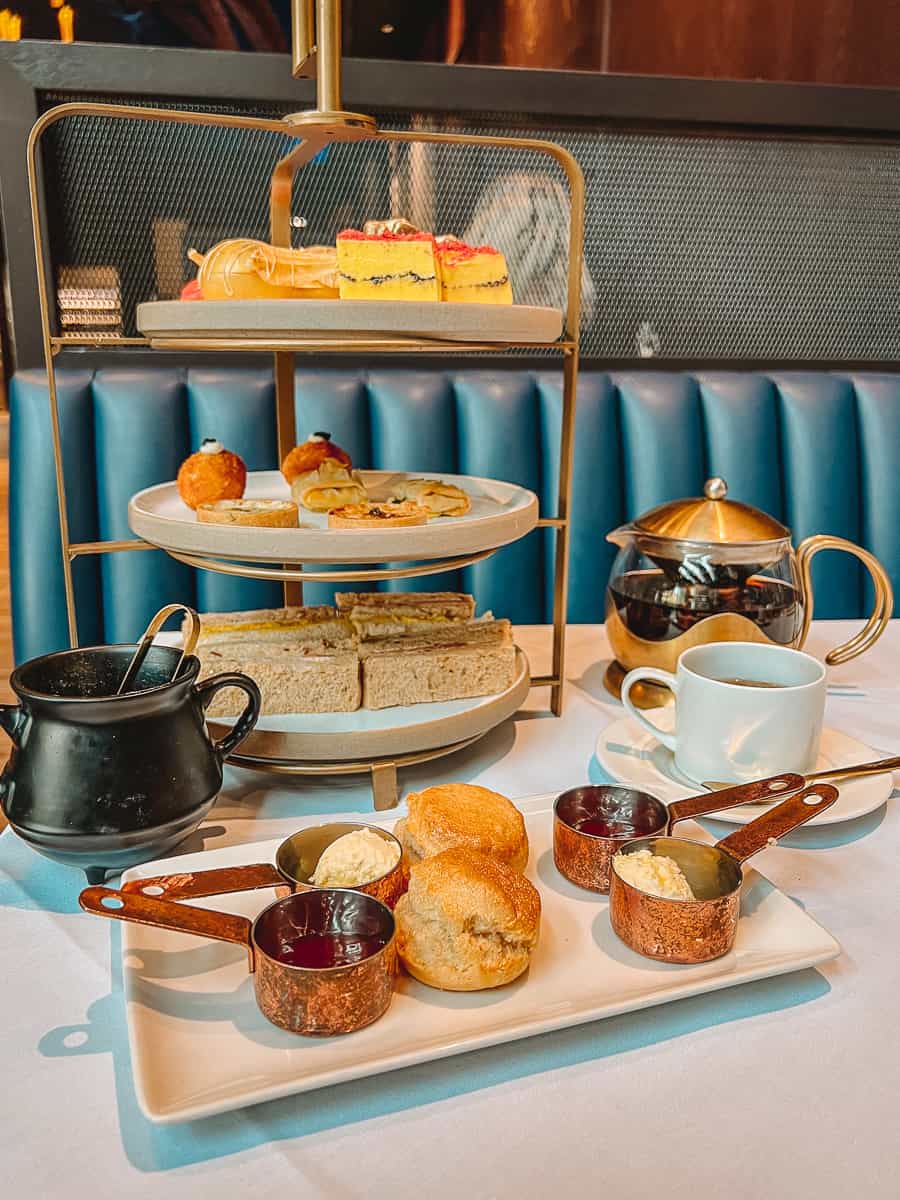 How much is the Warner Brothers studios afternoon tea in London?
The Harry Potter Studios afternoon tea costs £60 for two which I thought was a bargain for a London afternoon tea. They do have a Vegan option that is the same price.
This can be upgraded to a champagne afternoon tea (either regular or vegan) for £90 for two but we just didn't think the extra £30 was worth it for one glass of bubbles.
The only thing you have to keep in mind is that you do have to have a valid ticket to the Harry Potter studios tour in order to have the afternoon tea experience.
It's only available to purchase as an extra add-on when you book your regular tickets to the studios.
So, although the afternoon tea is £60 for two you will have to add on an extra £49.95 per person.
This makes the total price of your studio tour visit and afternoon tea for two £159.90!
Click here to book your studio tour and afternoon tea experience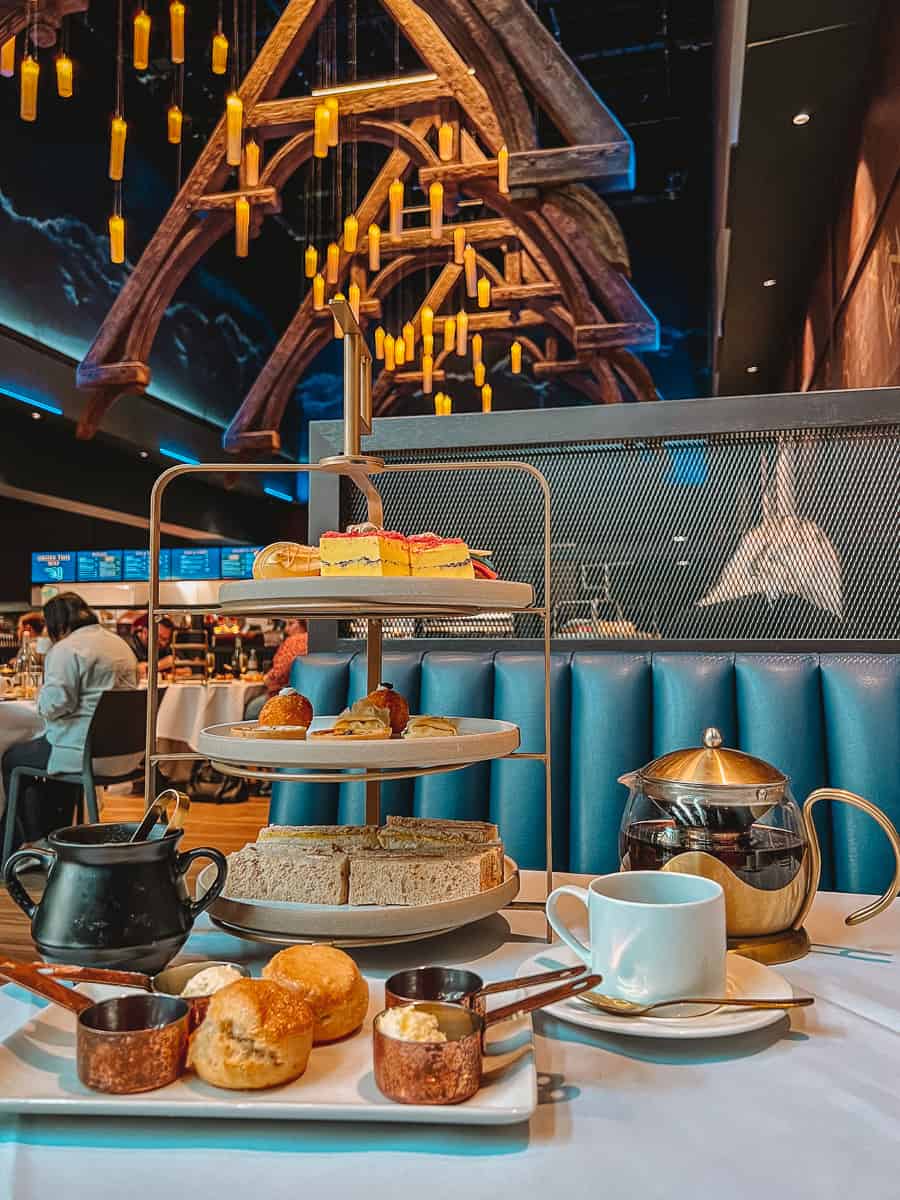 Harry Potter Studios afternoon tea times
The Harry Potter studios afternoon tea is served from 11 am and has slots to reserve every half an hour until 4 pm.
You'll get 90 minutes to enjoy your afternoon tea under the floating candles but I'm pretty sure we spent a bit longer than that!
As you'll need to book your Harry Potter studios tour slot separately from your afternoon tea slot, make sure to leave enough time before/after your tour to enjoy your tea without rushing.
For example, if you've booked a Harry Potter Studio tour slot for opening time at 10 am, I would book an afternoon tea slot for around 3 / 4 pm to make sure you have enough time inside the tour.
This leaves you at least 4-5 hours to enjoy it. Honestly, you could spend all day inside there and not see everything as there is so much to do!
Personally, we thought it would be easier to have our afternoon tea first and then go inside the studio tour afterward.
Then, we knew we wouldn't be rushing to the exit for our tea and could stay inside until closing.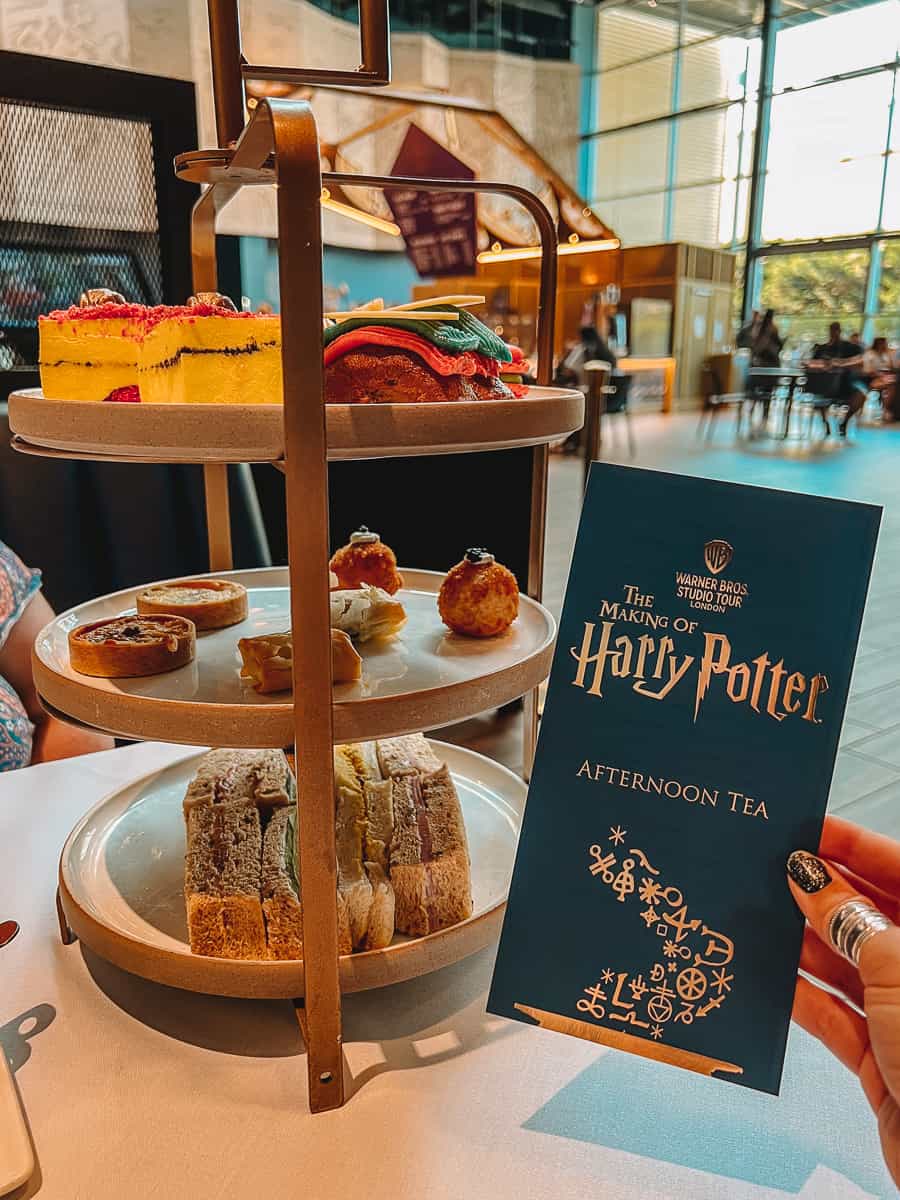 Is the Harry Potter Studios Afternoon Tea worth it?
100% YES! Personally, I think it's the perfect addition to make any Warner Brothers Studio tour visit extra magical.
Although it can seem expensive, the price is on par with many London afternoon tea offerings you can find in the city.
In fact, for two, this was cheaper than the Harry Potter-inspired afternoon teas in London. But, you do have to take into consideration that you'll be paying for studio tour tickets as well.
I thought it was great value for your Galleons as you get lots of amazing officially licensed Harry Potter treats that you can't get anywhere else in the world. It's perfect for Potterheads!
We were absolutely stuffed after our visit and are already plotting how we can go back for another. It was such a magical time and we made some great memories.
What else is new at Harry Potter Studios in London?
So, there are lots of new additions to the Harry Potter Studio tour this year which makes it worth another visit.
The changes are mainly in the Backlot area where you'll find the Hogwarts Fountain from the courtyard in the movies.
There is also the Weasley's Burrow model and an extended 4 Privet Drive where you'll see Aunt Majorie blown up from the Prisoner of Azkaban.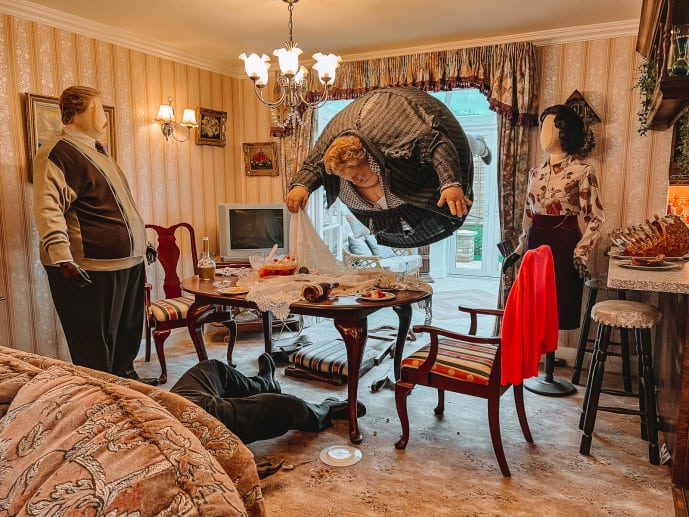 My favourite addition however has to be Professor Sprout's Greenhouse! Here, you can pull out your very own mandrake under her strict instructions. It's a great photo/video opportunity.
For extra Hogwarts House points, make sure to bring a pair of ear muffs so you don't get knocked out by their crying!
Click here to read my complete review of Professor Sprout's Hogwarts Greenhouse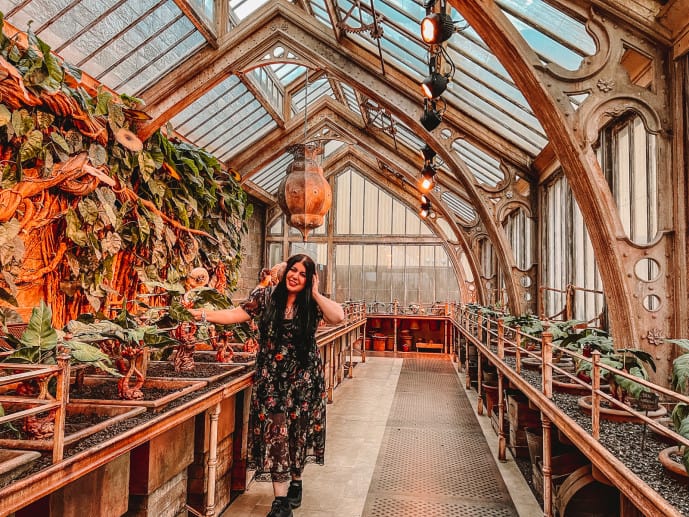 What else is there to do at Harry Potter world in London?
The Harry Potter Studios tour in London is a must-visit for any Potterhead and it's the perfect place to visit all year.
It has thousands of props, costumes, and sets that were used in all eight of the Harry Potter movies.
They are also constantly adding new pieces to the exhibition and switching things around throughout the year. So, there's always a reason to go back.
Don't miss special events that take place throughout the year like their Dark Arts event for Halloween and the Hogwarts in the Snow at Christmas.
Here is a small selection of the magical things you can see and do at the Warner Brothers Studio Tour in London;
Visit Hogwarts Great Hall
Bow to Buckbeak in the Forbidden Forest
Fly on your very own broomstick
Visit Snape's Potion's Class
Board the Hogwarts Express at Platform 9 3/4
Walk down Gringott's Bank
Pull out a Mandrake with Professor Sprout
See the Hogwarts Castle replica used in the movies
Go shopping for souvenirs and sweet treats!
How to reach Harry Potter studios in London
If you're driving, the Warner Brothers Studio tour can be found in Leavesden which is near Watford.
You can easily drive here from London by taking the M4 or M1 motorway and then switching to the M25. There is free parking available for everyone who booked a tour.
If you're not driving, you can take the Warner Brothers Studio shuttle bus from Watford Junction station.
Take a train from London Euston (20 minutes) and then the shuttle bus from Watford Junction (15 minutes) to the studios!
The postcode for Harry Potter Studios for SatNavs is WD25 7LR. Click here for a Google Pin!
Looking for more Harry Potter locations in London?
There are plenty more locations and experiences that you can seek out if you're a Potterhead in London! You can visit King's Cross Station to see Platform 9 3/4 and the Harry Potter Shop.
Plus, there are many Harry Potter locations in this area. You can head on to Claremont Square which was the Order of the Phoenix HQ or the St Pancras Renaissance Hotel where Ron flies his Ford Anglia!
Then, I would recommend heading over to Soho to visit. The Harry Potter Photographic Exhibition is in Covent Garden nearby which is home to London's only Butterbeer Bar.
There is also the House of MinaLima and The Cursed Child performances at the Palace Theatre. Or, you can visit some of the inspirations for Diagon Alley like Cecil Court and Goodwin's Court.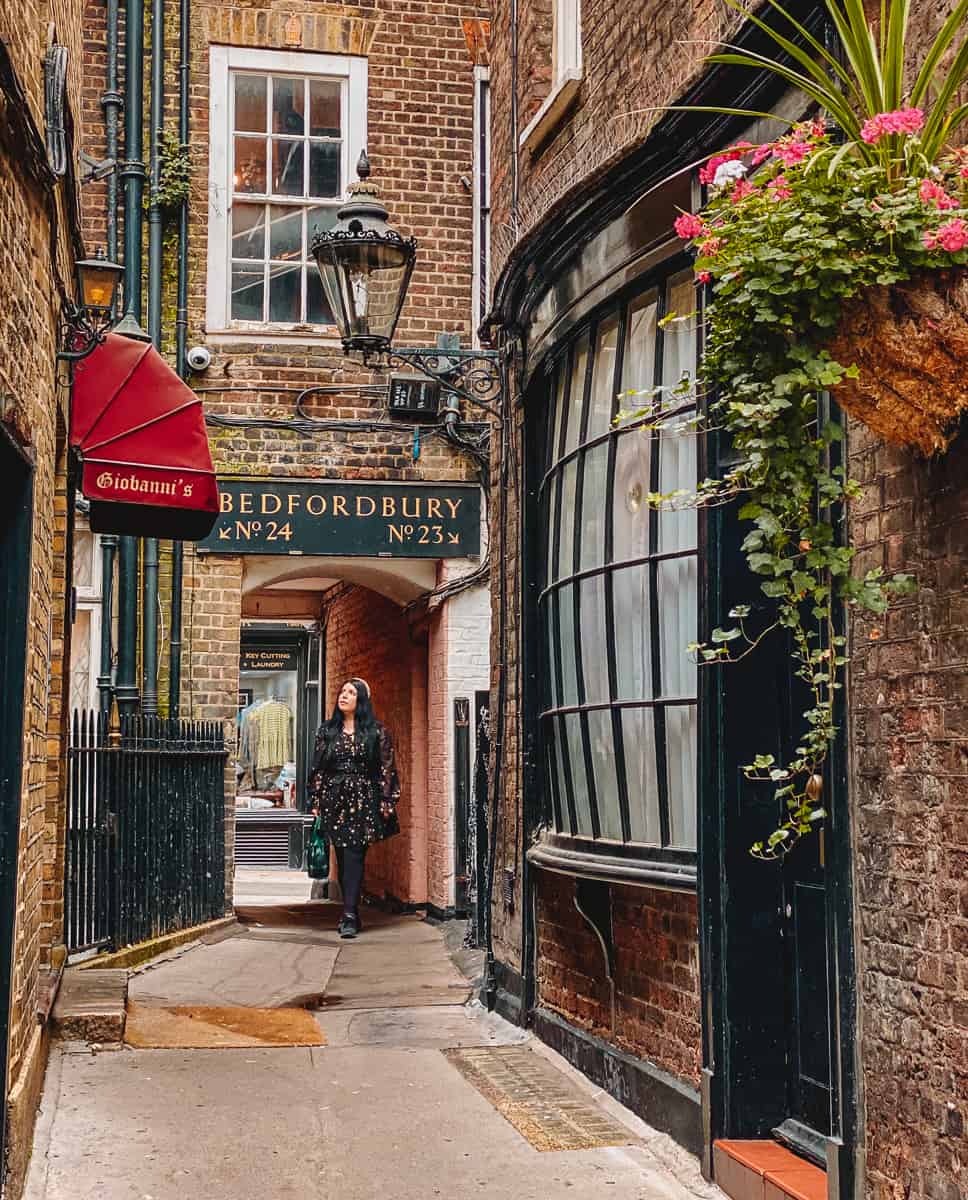 Talking of Diagon Alley, one of my favourite locations I visited has to be Leadenhall Market. A gorgeous Victorian wonder that featured as the entrance to the Leaky Cauldron and Diagon Alley.
You can head into St Paul's Cathedral to see their Geometric Staircase which was the Divination Stairwell at Hogwarts.
I would then catch the tube over to the River Thames to see sights like the Millennium Bridge, Tower Bridge, London City Hall, and Borough Market which all featured as filming locations.
You could go for a Harry Potter afternoon tea at Cutter & Squidge and then finish the day off with immersive experiences like magical cocktails at The Cauldron.
Click here to read my complete guide on London Harry Potter locations
Save time and book a tour!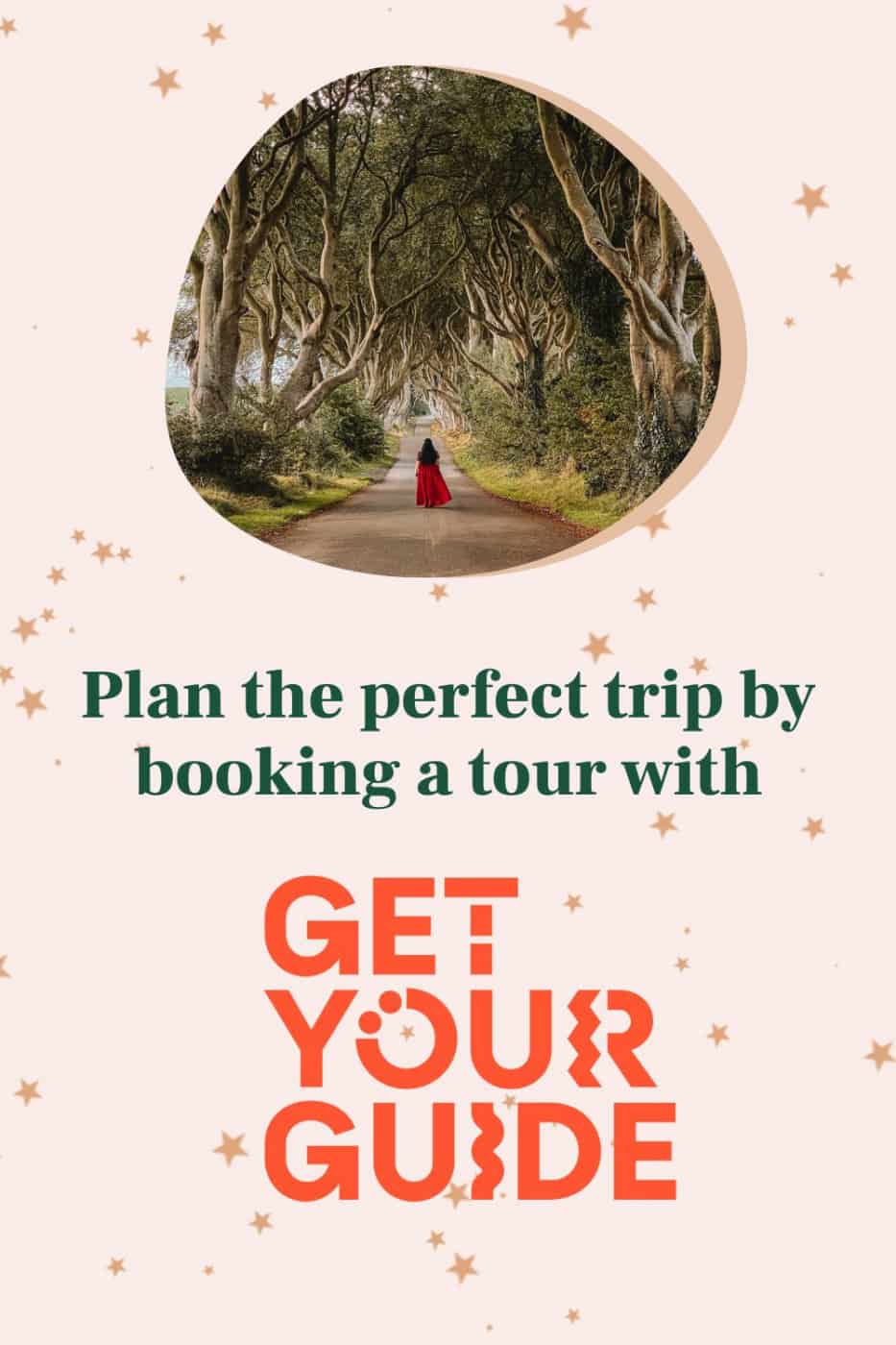 Book tours & tickets for London!
Read more of my Harry Potter travel guides
Visit the Deathly Hallows filming location at Malham Cove
Harry Potter filming locations in Oxford
How to visit Hogsmeade Station in real life
How to spend a night in Hagrid's Hut
How to visit the real Godric's Hollow in Lavenham
A complete Forbidden Forest Experience review
Harry Potter locations in Lacock
Harry Potter filming locations in Alnwick Castle
Harry Potter locations in Edinburgh
All the Harry Potter filming locations in Scotland
Where to find Harry Potter in York
How to find the Harry Potter Tree at Blenheim Palace
The Shop That Must Not Be Named Review
How to find Dobby's Grave in Wales
Harry Potter filming locations in Gloucester Cathedral
How to see the Hogwarts Express in Scotland
How to visit Dumbledore's Grave in Scotland
Visiting Malfoy Manor in Real life!
Where to find Tom Riddle's grave in Edinburgh
Visiting the Quidditch Town of Tutshill Tornados
Harry Potter locations in Exeter along with Gandy Street and the Room of Requirement
Virginia Water – the Other Hogwarts Lake
Instagram locations at the Wizarding World of Harry Potter
How to visit Hagrid's Hut in Scotland
How to visit the Harry Potter Waterfall in Scotland
Harry Potter filming locations at Durham Cathedral
Celebrating Back to Hogwarts Day at King's Cross Station
Save this Harry Potter Studios Afternoon Tea review for later!