The Bridge Tea Rooms Bradford on Avon has got to be my favourite tearooms in the UK.
As you enter through their door it's like stepping back in time; you can just lose yourself in a bygone era.
It effortlessly oozes Victorian decor and you can sip on your loose leaf tea, munch on a scone, have a chat, and just listen to the beautiful chinks of fine china teacups!
Having adventured around Wiltshire since I was a child, it's amazing that I have these quaint little oldy-worldy villages right on my doorstep.
Bradford on Avon is a picturesque chocolate box town with the Avon canal snaking through it. It's the absolute definition of the west country.
So, it's the perfect getaway for a day trip if you find yourself in this part of the world.
The Bridge Tea Rooms is internationally renowned having won the Tea Guild's top tea rooms in the UK and has been awarded a 'near-perfect' status.
To me, it is more than perfect, it's heavenly!
Recently, I once again found myself drawn back to this beautiful town and made my essential escape for a spot of tea in The Bridge Tea Rooms.
How to travel to the Bridge Tea Rooms Bradford on Avon
Bradford on Avon is on the fringe of the Costswolds and conveniently located around 7 miles from Bath in the South West of England.
So, it's only a quick 10-minute train journey from Bath Spa train station. By car, it's around 30 minutes along the country roads.
If you're coming from London, this will be a 2-hour train journey. Simply catch the train from London Paddington station directly to Bath Spa, then switch for a direct train heading to Bradford.
A peek inside the Bridge Tea Rooms
This quirky little tea room packs a punch with character and dates back all the way to 1502.
Originally, this was a blacksmith's cottage and over the centuries it was falling into decay.
The owners then bought the derelict property in 1989 and transformed it into the delightful tea rooms we can visit today.
The tea room is covered wall to wall in tasteful antique decor with old portraits, blue willow crockery and vintage photos on the walls.
Classical music plays in the background making it a peaceful retreat for a few hours. It's quite compact as it's an old building but is cosy and it has a tonne of atmosphere.
Top Tip: The upstairs of the tea rooms is the best part. Make sure you make a reservation in advance on weekends and request to sit on their upper floor. It can be very popular, especially in summer!
A Victorian afternoon tea at the Bridge Tea Rooms
The Bridge Tea Rooms have a quintessentially British afternoon tea menu and showcase teas sourced from all over the planet.
You can sip on Chinese Orange Pekoe, a Jane Austen blend if you wanted something touristy and even spicy Indian Chai.
But, being an English girl, after all, I always go for an English Breakfast tea.
All the teas will come served in beautiful fine china teapots and cups with saucers.
It will be served to you lose leaf in the pot so you'll have to use a strainer.
The 21st century is so transfixed with everything being instant. Instant coffee, instant food, instant everything!
So, it's refreshing to take some time out and go back to the art of pouring tea the traditional way. Be careful to remember to strain it, or you'll have leaves in your cup!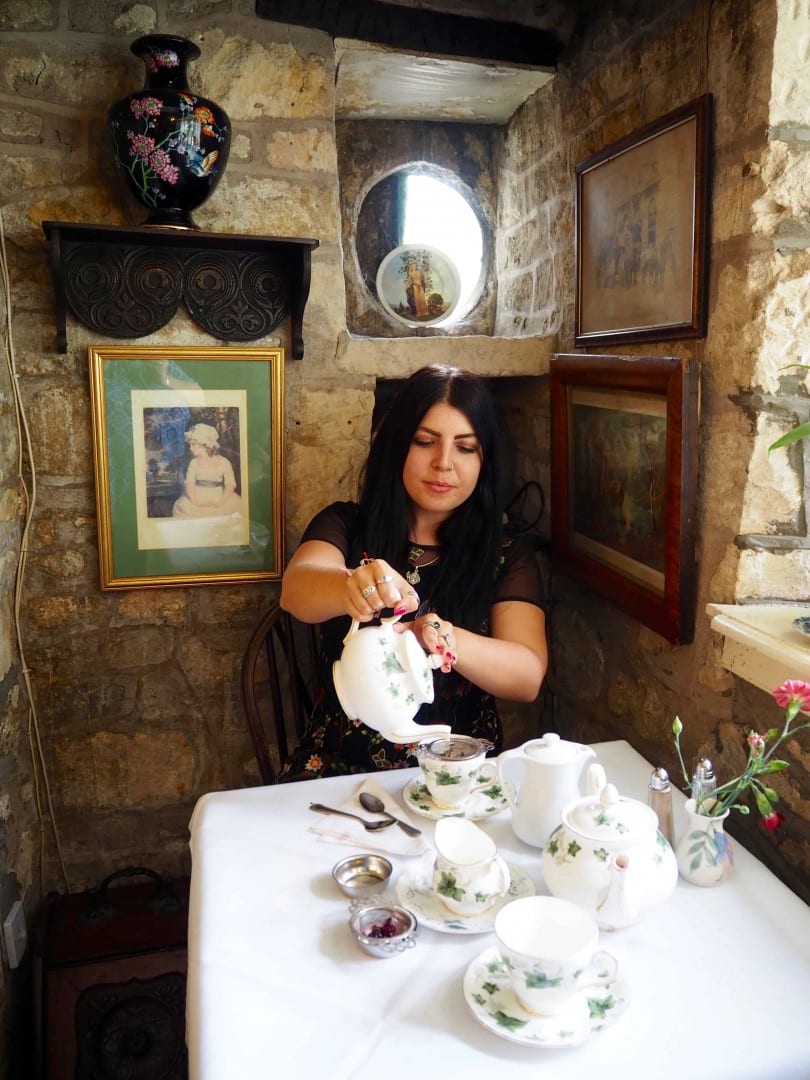 You can also order a scrummy range of savoury and sweet delights to fill your tummy. All made fresh to order from their upstairs kitchen.
The cakes of the day will be on display downstairs so make sure you have a gander to see what sways your sweet tooth.
When I was here, I sampled the prawn, rocket, and lemon mayonnaise baguette to start. It came beautifully presented with a colourful side salad and was really filling.
Never one to leave an afternoon tea shop without something sugary, I went for a non-traditional key lime pie with a ginger base.
It was naughty but delicious.
Having been here throughout the years, I thought I would go for something different than the traditional scone.
But, if you were after the traditional tiered afternoon tea affair with all the trimmings, this is all here for you to order off their menu.
All the teas vary in price depending on what takes your fancy but all are fit for a king or queen!
The service at the Bridge Tea Rooms
All the ladies and gents who work here are clad in Victorian-style dress, even to the point that the girls wear traditional maid hats!
So, you really feel like you've transported yourself into the 19th century.
I've always rated the service in these tea rooms. The staff are always here and happy to help and are really friendly.
They'll even be happy to tell you a few tales about the history if you say please :).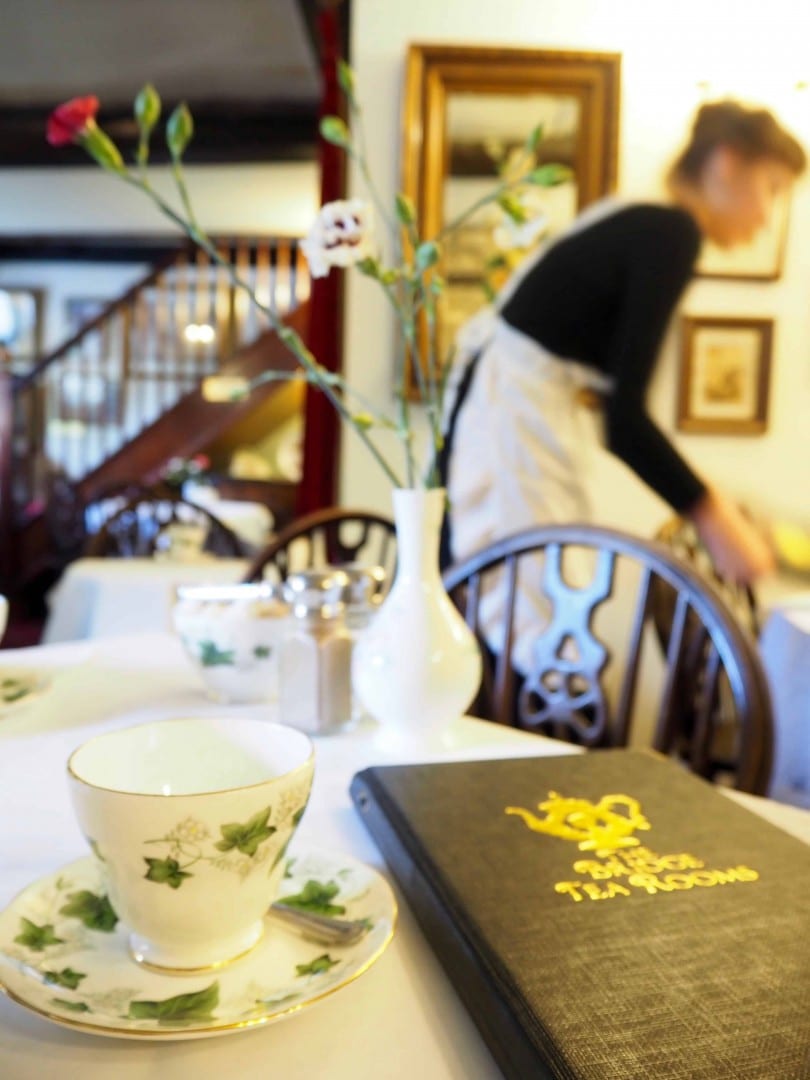 Things to do in Bradford on Avon
Bradford is such a quaint little village and rests on the edge of the Kennett and Avon Canal.
Being near Bath, most of the houses here are built with Bath or Cotswold stone making it picture-perfect.
Houses seem almost stacked on top of each other in the valley and it's a wonder to explore the tiny parish town with cobbled streets.
The main draw is the medieval bridge which dates back to the 13th Century.
It's the centerpiece of the town and today it boasts throughway traffic at all times of the day.
The old prison still stands, where one unfortunate person would be held for an offense overnight. I don't envy that!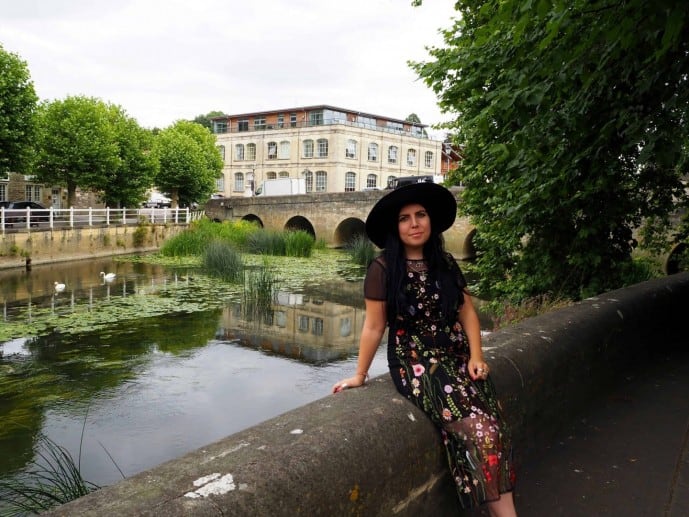 The pretty canal is a scenic walk and typical scenes include graceful swans and colourful houseboats moored along the edge.
You can take a nice stroll here to work off all that cake!
Spooky goings on
Okay, so maybe I'm going a bit mad here but hear me out.
When I was going through my photos of the day and editing them, I noticed something or someone in the right middle window of the tea rooms.
When I zoomed in on the picture, I saw the likeness of a Victorian woman staring out.
It actually freaked me out a little bit as when I scrolled to the next picture I took on the day, I just saw houses. Spooky!!
When I did some research into whether the place was haunted, there has been some sightings of a lady in the tea rooms.
So, maybe I caught her in action, you never know! What do you think? Ghost or just a trick of the camera?
Don't miss out on a visit to the Bridge Tea Rooms in Bradford on Avon!
We Brits love an afternoon tea and some may even go as far as to call it a therapeutic pastime.
Sometimes, all you need is a good cup of tea, a cake, and a chat with friends to forget the world outside.
The Bridge Tea rooms make the perfect distraction and I would highly recommend a visit.
Looking for more places to visit in the Cotswolds?
As I live in Wiltshire, travelling around the Cotswolds is my favourite way to spend a weekend! See some of my informative guides below;
Check out my guide to the Widbrook Grange Hotel in Bradford on Avon
How to visit Imber, the abandoned ghost village in Wiltshire
Why you must visit King Alfred's Tower in Stourhead
Harry Potter locations in Lacock
How to see the Cotswold lavender fields
A complete guide to the quaint village of Castle Combe
The things you cannot miss in Burford
A complete guide to Lower Slaughter
Why you need to visit Upper Slaughter
A stroll down the weavers cottages of Arlington Row
Places you cannot miss in Tetbury
Visiting the Tolkien door in Stow-on-the-Wold
The legend of the 99 Painswick Yew Trees