Last week my Mum and I went on a little staycation in the Cotswolds at Widbrook Grange Hotel. A beautiful historic property just minutes from Bradford on Avon, a picturesque town in Wiltshire.
Having lived on the gateway to the Cotswolds all my life, I've never actually thought of staying there. But, all that has now changed. It was such a great experience to stop over and have a home away from home for the night.
Staying in amongst the Cotswold countryside is always idyllic by default, but this luxury retreat really makes it special.
Here are some easy ways to have the perfect Cotswold staycation at Widbrook Grange!
9 ways to have the perfect Cotswolds staycation at Widbrook Grange!
1. Explore the grounds of Widbrook Grange's 19th century farmhouse
According to Widbrook Grange, the name Widbrook has actually been around since 127AD as Wyggebrok in the Assize rolls and named after a small stream that runs in the grounds called Wigca's brook.
The Georgian farmhouse itself was built in 1834 as part of the Earl of Manvers estate. In the time of King George, this farmland used to be a huge 365 acres and a fine example of modern farming.
Today, the acres have now been reduced to 11 but there is so much to explore! I particularly loved the gardens opposite the house. In March, there was the first sign of spring with flower buds and daffodils!
The quirky statues, neo-classical fountains and birdcages were a nice touch and in the summer it would be a beautiful spot to relax with G&T in hand!
2. Indulge in a tipsy Widbrook Grange Afternoon Tea
Afternoon tea at Widbrook Grange is a staple affair you must put in your calendar while you're here!
On a crisp spring day, we decided to have ours in the cosy parlour room by a roaring fire.
We decided to go for the gin afternoon tea, at the time of booking it was two can dine for £25 which is an absolute bargain. With some Widbrook Grange offers at the hotel, this afternoon tea comes included in your room rate!
Our tea was served with large fishbowl glasses filled with lavender gin, sparkling tonic and fresh berry garnishes. But, there are so many options of gin to choose from. We also had the option of tea or coffee on the side.
The savoury and sweet part of the afternoon tea was served in style on an artisan cake tier. On the bottom, shelf were two homemade scones plump with fruit and two pots of clotted cream and homemade jam preserve.
The second shelf had traditional finger sandwiches which were ham and mustard, cucumber, salmon and cream cheese.
The top shelf (my favourite part) was the seasonal dainty cakes! Which were for us chocolate brownie, lemon drizzle, Victoria sponge and a fruity oaty crumble.
It was absolutely delicious and we came away stuffed! I would highly recommend this treatment while you're here.
3. Check into your beautiful room for the night
I was so excited to see where we were staying. We were kindly shown by our host and checked into the Music Room which was a double room with extra living space!
It was lovely, light and airy despite a rather grey day in the Cotswolds. The room came with all sorts of vintage chic furniture and I loved the musical instruments for a boutique touch.
There were framed vintage sketches on the walls, a dial-up telephone, Robert's radio, a grammar phone on top of the wardrobe, an old fireplace and even our teas and coffees were served in an old violin case.
As I made my way into the heated bathroom, I was blown away by our basin which was converted from an old retro bicycle! There was also an open monsoon shower and lovely scented smellies!
4. Relax and bathe in the bedroom!
The highlight of this room is the clawfoot bathtub that sat in the bedroom!
I had never seen anything like it before. I absolutely loved this unique feature and couldn't wait to pour a nice warm bubble bath to relax.
There was also a rail next to it with lovely white fluffy towels to avoid a funny awkward walk to the bathroom to get dry.
5. Head down for a nightcap at Widbrook Grange Gin Bar
I love a gin and tonic and I was delighted to find out that Widbrook Grange has their very own gin palace in the house itself.
The bar has over 150 craft gins to choose from with 14 tonics to mix, so you will never be short of choice! I always think that there is an art to pairing a gin with a suitable tonic and garnish and Widbrook Grange does this very well.
You can even come for a Widbrook Grange gin tasting session with a gin expert! Or, go for the gin tasting experience which comes with a three-course dinner included.
6. Dine on exquisite food in Widbrook Grange Kitchen Restaurant
On arrival, we booked our slot for dinner and I couldn't wait to tuck in at the Kitchen. We were treated with a slap-up three-course meal which was expertly prepared all washed down with scrummy Rosé wine.
The restaurant serves up farmhouse cuisine with a gastro twist! The menu was prepared by Sandor Szucs, a World Championship Chef, and a lot of the ingredients make use of the farm's herb garden and local produce. I love farm to table dining so this was right up my street.
There were so many choices on the menu including gluten-free and vegan options. As I was browsing through the menu, everything sounded delicious so I had a hard time choosing my dishes.
To start I decided to go for the Cherry smoked duck breast which came with a cherry relish, caper salad and even had edible pansies on the side. It was (almost) too pretty to eat but was packed with flavour!
The main course was the fillet of beef with potato fondant, carrots, red cabbage hash, cocoa jus and fennel purée. The beef was cooked to perfection and as soon as I took my first bite I could tell the quality of the meat was top grade.
To finish we had a happy ending of a chocolate trio. This came with chocolate ice cream, borozzi torte, cherry tonka compote and chocolate mousse.
Everything was mouthwatering and I was so full I felt like I needed someone to carry me to my room!
7. Relax in the heated swimming pool, work out or have a massage
Widbrook Grange has their own pool and gym facilities on-site to enjoy free of charge should you wish to relax by the pool or swim a few laps. There are also regular exercise classes that the place each week and guests can get involved at an extra cost.
There is also massage packages and treatments that guests can pamper themselves with while here including manicures and pedicures!
8. Wake up to a hearty farmhouse breakfast
I'm always excited to start the day with breakfast and Widbrook Grange wins the prize for having the most Instagrammable breakfast parlour. It looked like it popped straight out of a Wes Anderson movie!
To start we helped ourselves to the cold buffet items which included juices, cereals, pastries, yoghurt compot and fruit.
On the menu came a list of hot breakfast items to choose from. I decided to choose the farmhouse full English breakfast with toast on the side. But, there were plenty of options to choose like egg and soldiers, omlette and even avocado smash.
All washed down with a steaming cafetiere of espresso coffee or pot of tea.
9. Explore the beautiful Cotswold town of Bradford-On-Avon
After you've spent time here relaxing, it's worth exploring the local area.
Widbrook Grange is only minutes away from Bradford on Avon by car and a walk through the countryside takes less than twenty minutes.
Bradford on Avon is a picturesque town in the heart of the Cotswolds where every street looks like a postcard.
Here, you can explore canal towpaths, stroll through green parks, browse in the boutique shopping streets and fall in love with historic buildings.
My favourite pastime while visiting Bradford on Avon was having an afternoon tea at the Bridge Tea Rooms.
A double UK Tea Guild award winner in a building that dates back to 1502! All the staff wore Victorian dress and it's beautifully decorated inside.
A must visit! See my full review of the Bridge Tearooms here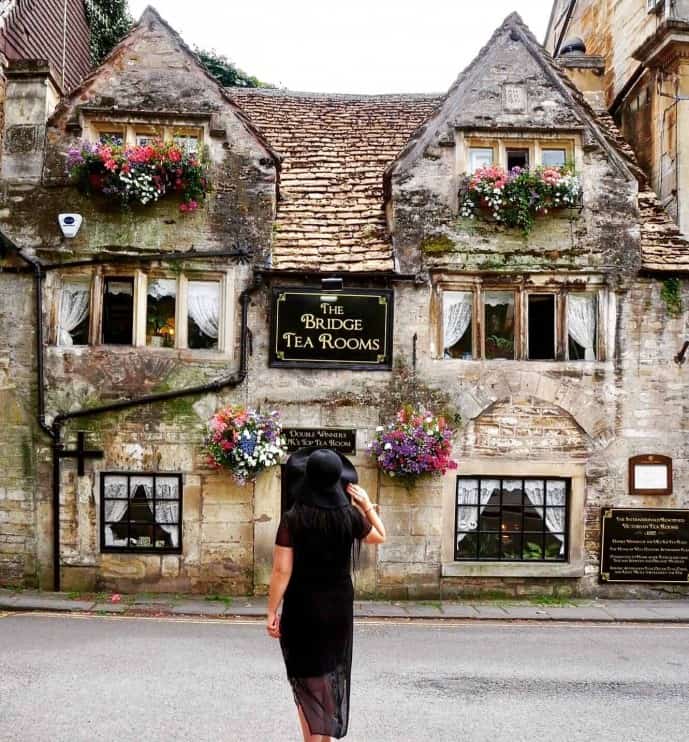 Bonus: bring your furry friends along for a Petaway!
I don't have dogs myself but I know how frustrating it can be for my friends who do when they're deciding on a place to stay. Well, Widbrook Grange are happy to be dog friendly!
Dogs are free to stay in the rooms and they even have their own doggy dining room (separate to the main dining room) so that owners who want to dine with their furry family members can do.
They even have doggy afternoon teas where the dogs get their own treats! It's such a great idea and means that you don't have to leave them at home or get a dog sitter.
Don't miss out on a stay at Widbrook Grange in the Cotswolds
I quite honestly didn't want to leave this little getaway in the Cotswolds. It was just so relaxing and I felt like the staff did a great job of making you feel at home here.
It's always good for the spirit to recharge and disconnect with fresh countryside air and Widbrook Grange was a dreamy escape.
If you would like to book a room please see their official Widbrook Grange website or call 01225 864750, they often have special deals which include room, dinner and afternoon tea packages with a gin on arrival!
Where is Widbrook Grange and how to reach Widbrook Grange?
Widbrook Grange is based in Wiltshire, near Bradford on Avon in the Cotswolds.
There are a few ways to head over to this amazing property;
How to reach Widbrook Grange by Car
This is the most convenient option and if you're heading here by your own car or rental then plug in Bradford Upon Avon, Widbrook Grange or BA15 1UH into your Satnav or Google Maps.
It's actually only 25 minutes from the historic city of Bath, so you can arrive here along the B3108 road easily.
How to reach Widbrook Grange by train and taxi
Bradford on Avon has a railway station and from London, it will be around a two-hour journey with a switch over at Bath Spa station.
From Bath Spa station you can arrive in Bradford on Avon in 12 minutes!
From here, you will need to hail down a taxi to take you to Widbrook Grange. Bradford on Avon taxis can be accessed by calling 01225 862277.
Parking at Widbrook Grange
Widbrook Grange has free parking if you're driving over! There is lots of space at the front and the back of the property so don't worry about not getting a spot.
Like it? Pin it
Third Eye Traveller was kindly hosted by Widbrook Grange hotel. All thoughts, photos and opinions are my own.